March 15, 2011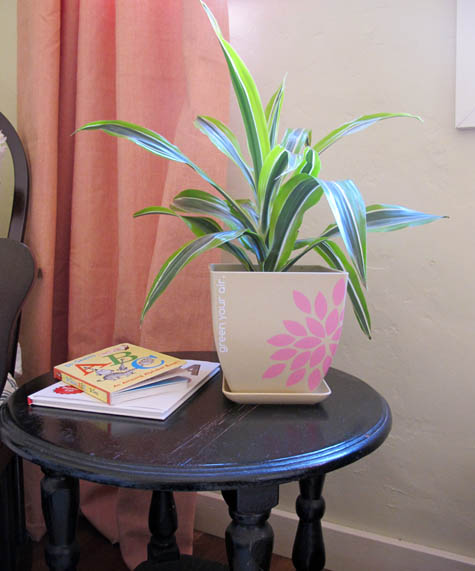 A friend of mine recently brought Liv a most unique gift – a plant for her nursery that's known for eliminating harmful pollutants from the air.
Maryam, & co-founder Jennifer, began the company Green Your Air earlier this year and specialize in selling plants that have unique chemical-eliminating properties.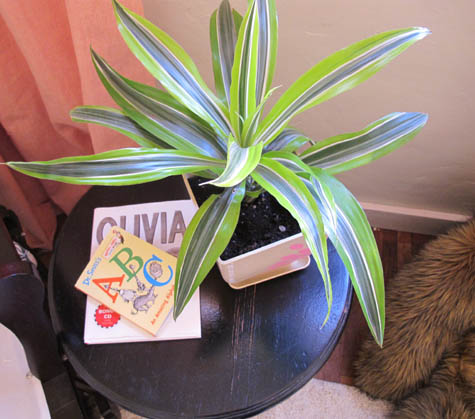 I was checking out their new website and they have a great selection of plants in the cutest pots. I love this pink zinnea print (even the pots are made from bamboo fiber, rice husks, wheat straw, and corn stalks that can biodegrade in 2-3 years after discarding). I'm sure I'll use it again and again though!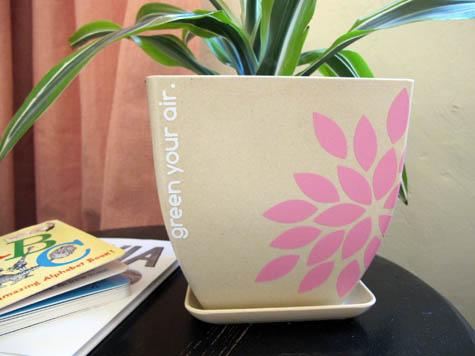 From their website: "Green Your Air products are a natural, effective way to eliminate harmful pollutants in your home or office. Each live plant is backed by NASA research proving its ability to green our air naturally – each with its own specific and unique chemical-eliminating properties. (Oh yeah, and they're designed to look as good as they work). Green Your Air: Brought to you by two moms trying to make the earth a little greener."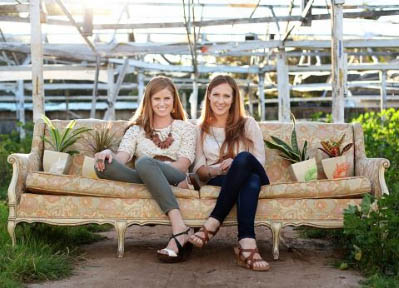 And I love how it looks in the animal-themed nursery! (Gotta love that cute little Olivia the Pig book, too – have you heard of the series?)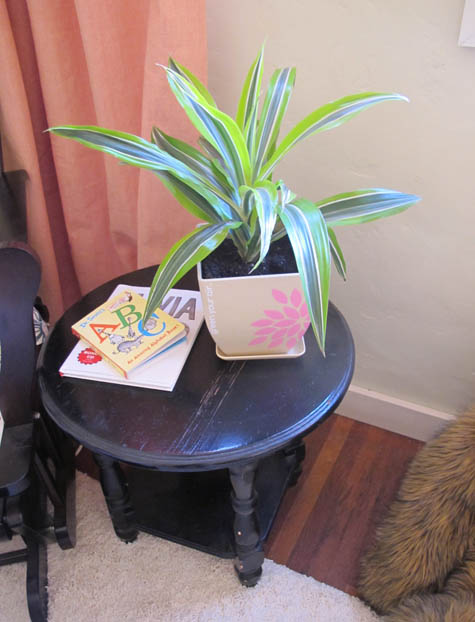 Can't wait for the nursery reveal. The glider's custom cushion covers, DIY crib bedding and basket liners are all nearly finished!
Tags:
Decorating
,
Home
,
Kid's Rooms
,
Nursery
Posted in
Family & Friends
,
Going Green
,
Home
,
Renovating Adventures
|
2 Comments »
February 2, 2011
Look what arrived in the mail!
Ever since I spotted the little wooden rocking horses in several of these nursery inspiration rooms, I decided I'd love to track one down for Liv's room, too. There's just something about an old-fashioned wooden rocking horse that is the iconic symbol of a kids room (besides the fact that it's soo adorable).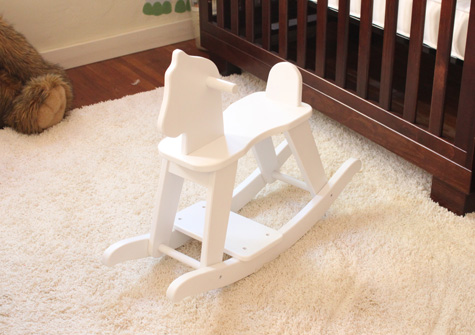 And a modern, plastic version won't do. It needs to have that vintage, antique feel that stands the test of toy time (I'm not a huge fan of the box store plastic toys, anyhow.)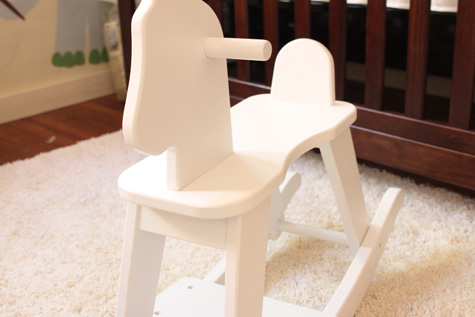 I did a bit of Craigslist searching and even some antique shopping but only came across pricier, not-for-kids collector models. Wooden rocking horses are not easy to find!
Then a friend, knowing I was on the hunt, sent me a link to Zulily – a daily deals site for moms, babies and kids (just like Gilt and One Kings Lane, but for the babes!). KidKraft was one of the featured sellers for the day and they had the perfect wooden rocking horse for $32.99. Sold. (I found the same rocking horse on Amazon today as well – ironically it's called the Modern Wooden Rocking Horse).
Liv doesn't take much interest in it now, but I think she'll love it here in a few years.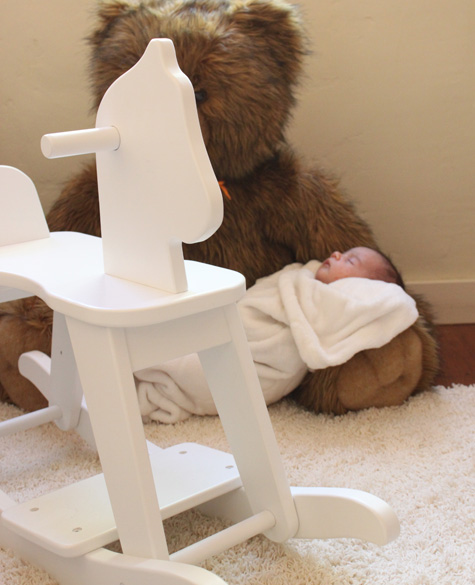 She helps me out a lot in the nursery these days – and by helping out I mean she finds a comfy little nook and passes out while Mom compares fabric swatches and organizes bins of clothing & toys.
I'm considering painting the horse a complimentary color (but not matchy matchy) to the curtains, which are in the same palette as the wall animals. Perhaps a more saturated tone? Or maybe I'll leave it white?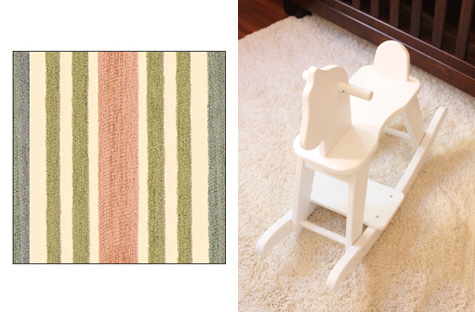 Decisions, decisions. Until then, it's back to creating those curtains!
If you're catching up on Project Nursery, here's a link to the fabric board, curtains part 1, new pendant light, vintage wall art addition, changing table makeover, nursery wall striping tutorial, painted animal project, the initial inspiration board and the before picture posts.
Tags:
Accessories
,
Crafty Solutions
,
Decorating
,
DIY
,
Home
,
Kid's Rooms
,
Nursery
Posted in
Home
,
Liv's Nursery
,
Renovating Adventures
|
11 Comments »
December 29, 2010
We've been on the search for a changing table for some time. Since the rest of the furniture in the nursery is a bit more traditional and boxy in style, I thought it would be fun to find a piece with softer lines, such as this Jenny Lind changing table: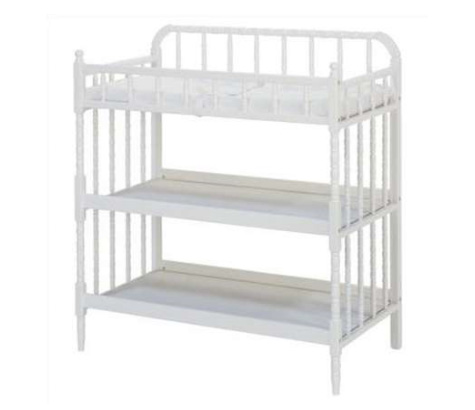 I searched and searched… and being the great price it already is on Amazon was near tempted to purchase, when it popped up on Craigslist one day for just $25!
And so home with us it came and very soon after received a coat of rust red paint. There aren't many spray paint color options out there so this little combo is actually Valspar's primer (which conveniently is a rust color) covered by Valspar's clear satin to provide that shine and function as the top coat of the primer.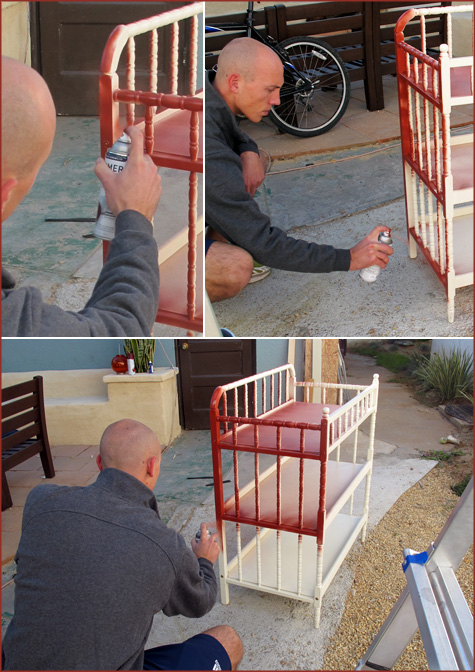 After testing in a few places we felt pretty confident that skipping the sanding process would not interfere with how the paint would adhere to the surface. I'd recommend a light buffing with rough sand paper to be sure the wood is paint-ready though. The changing table stayed painted and ready outside for a full weekend so the fumes had a chance to dissipate long before it was brought inside.
The original inspiration board for the room included browns and reds, but with the addition of the awesome animals on the walls (see more on that project here), the bright brick red we had originally envisioned transformed to a rusty, less saturated version of primary red to match.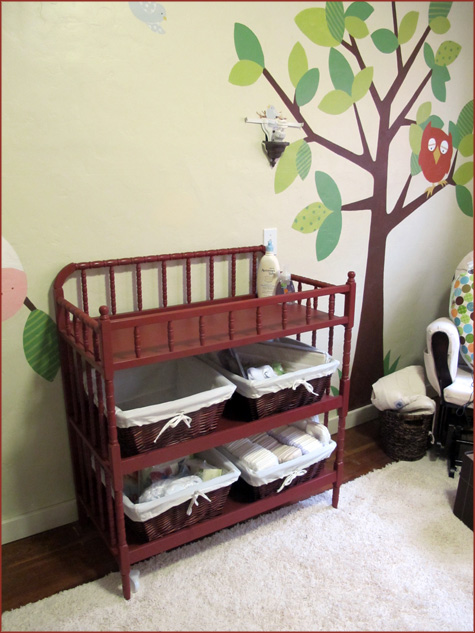 Now the table works into the palette and looks great with Mr. Owl! (That awkward sconce/light is about to undergo it's own diy project… it won't be staying like that).
Next up was finding baskets to sort all of the changing table goodies. Anyone who has hunted down the right sized baskets for a space can attest that it's pretty tricky! I checked out all of the usual hot spots: Target, Ikea, Bed Bath & Beyond, Marshalls, Kohls… you name it. Finally I took my measurements to the net and found this set on Amazon. I think it might be fun to make new patterned liners one day but for now the baskets do their job quite well: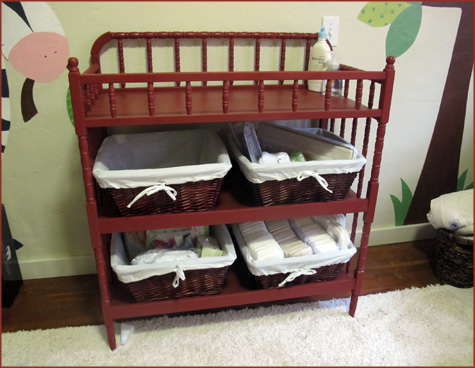 The room has received several more updates such as the new base board that Kevin installed and a white rug that helps to balance and soften the space. We're almost there!
Today's my official due date but babe is still very content and happily curled up in his/her space so we have even more time to build up the nursery in anticipation of the big arrival. We plan on keeping little one in a co-sleeper for the first couple of months in our bedroom anyhow, so even if he/she arrives tomorrow we are more than ready to go.
Tags:
Accessories
,
Before & After
,
Decorating
,
DIY
,
Home
,
Kid's Rooms
,
Nursery
,
Paint
,
Red
Posted in
Crafty Solutions
,
Home
,
Liv's Nursery
,
Renovating Adventures
|
12 Comments »