April 23, 2010

It would be a close call… but if I could choose one person to decorate my home from top to bottom it would be Janell of Isabella & Max Rooms. Her style is a creative combination between traditional & contemporary – with a comfy twist.
I adore her daily posts about diy projects and decorating – Janell shares step-by-step tutorials on everything from sewing and lining drapes to reupholstering occasional chairs, along with her inspiration process for her beautifully decorated home & client projects.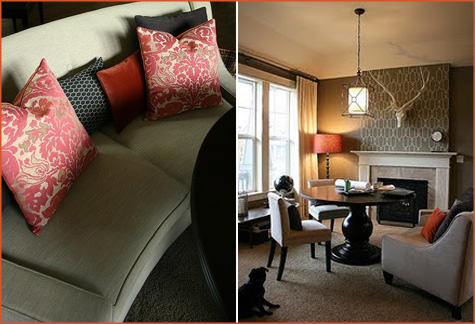 You might recognize the above room from an inspiration board I created a while back for my own living room . I *love* it – everything from the colors to the beautiful patterns and those wonderful antlers above the mantle.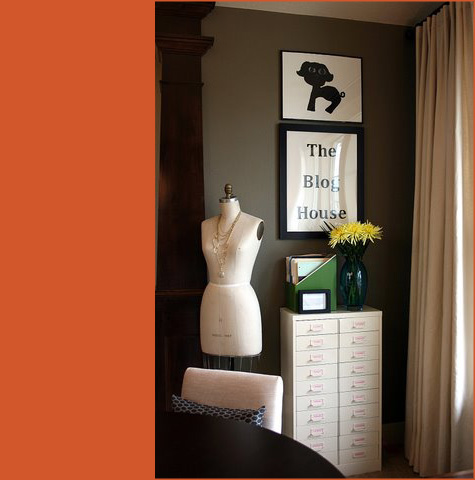 A bit about Janell: "I have always been passionate about design… I first studied painting and drawing, receiving a BFA from the School of the Art Institute of Chicago. After working briefly for a clothing manufacturer, I launched my own line [and] when a move took me to San Francisco I opened a boutique where I continued to design for my wholesale line.
Several years later, with a move to Portland, Oregon and the arrival of my wonderful children Isabella and Max, my focus shifted to the home and interior design. In 2006, I started my current business creating warm and eclectic interiors. It is a field I am thoroughly enjoying being involved in and challenged by!"
Let's dive right into this interview and see the rest of her home! Including her son Max's map-inspired bedroom (the chalkboard paint is genius), a beautiful teal & coral bedroom and remodeled living room. Read more »
Tags:
Bedroom
,
Decorating
,
DIY
,
Guest Blog
,
Guest Interview
,
Kid's Room
,
Living Room
,
Office
,
Patterns & Color
Posted in
Guest Blog
,
Home
,
Interview
|
9 Comments »
April 15, 2010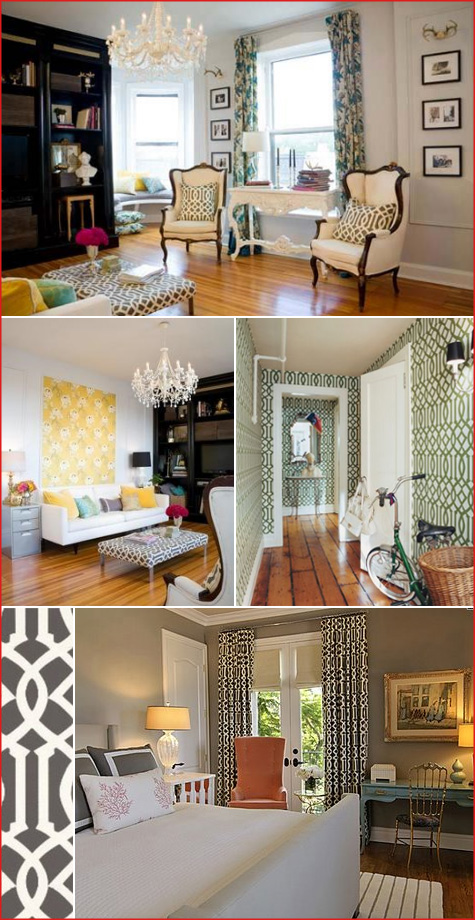 A favorite trend that I'd like to share today is one that has really lit up the design world over the past year. Kelly Wearstler's contemporary pattern covers everything from throw pillows to hallway walls (that's Chloe Sevigny's green entry way above).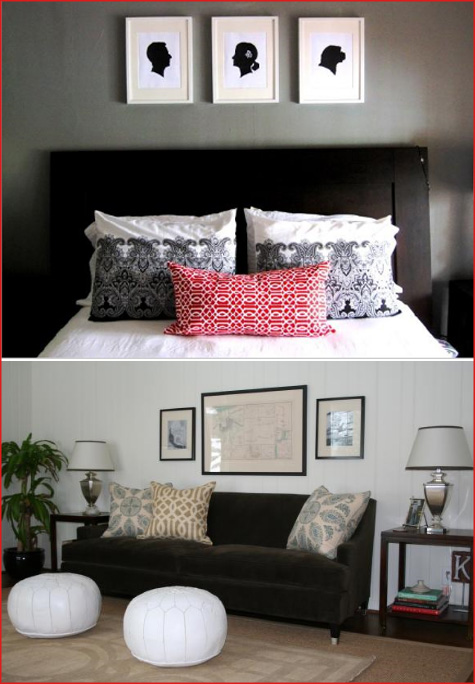 What's special about the design is that even in small doses the imperial trellis print adds just enough modernity to update a living room that's feeling dated, it's amazing what a super-trendy fabric, wallpaper or stencil (check out that dining room wall just below) can do for a room!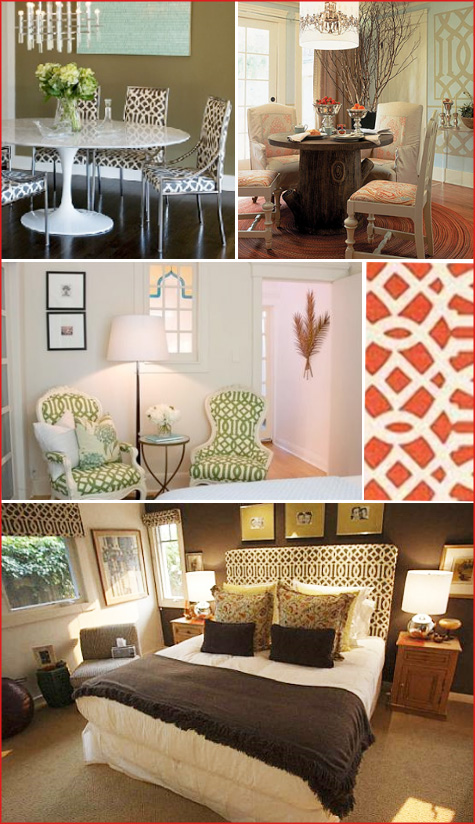 Kirsten over at 6th Street Design School even made her own trellis fabric for a recent pelmet box project – see the process here. And there's my update for today! Images from DecorPad (more great imperial trellis inspiration over there, too).
Tags:
Bedroom
,
By Color
,
Decorating
,
Dining Room
,
DIY
,
Fabric
,
Favorite Trends
,
Home
,
Living Room
,
Patterns & Color
Posted in
Favorite Fabric
,
Home
|
5 Comments »
April 12, 2010
We're celebrating our 21st month of home ownership and that re-decorating itch is creeping up once again…
In all honesty though, it seems to be a constant in our home – in with the new ideas, out with the didn't-we-just-change-that from six months ago. And while I can't make drastic upgrades on such a whim, throw pillows, art and mantles have been known to make the hit list on a regular basis. I keep it as close to DIY, thrift store and Etsy as is humanly possible for the dear wallet's sake.
Here's what we began with nearly two years ago (taken before we moved in):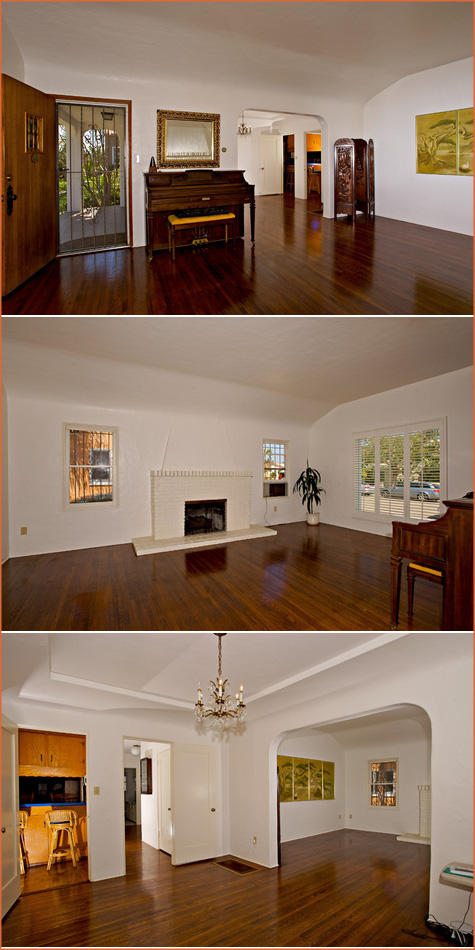 And here's a bit of inspiration that I'm currently smitten with: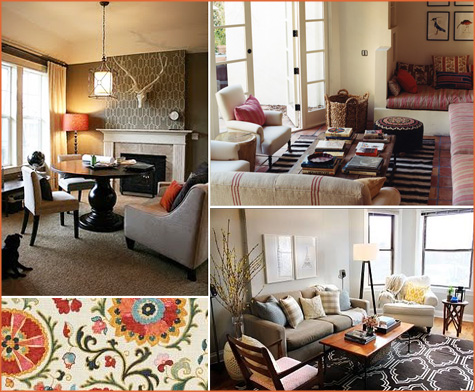 I love a soft and cozy palette of rosy reds, burnt oranges and various shades of brown. Texture is a key component as well as modern lines & patterns (keeping the 1930′s Spanish cottage new, in an older sort of way). More inspiration: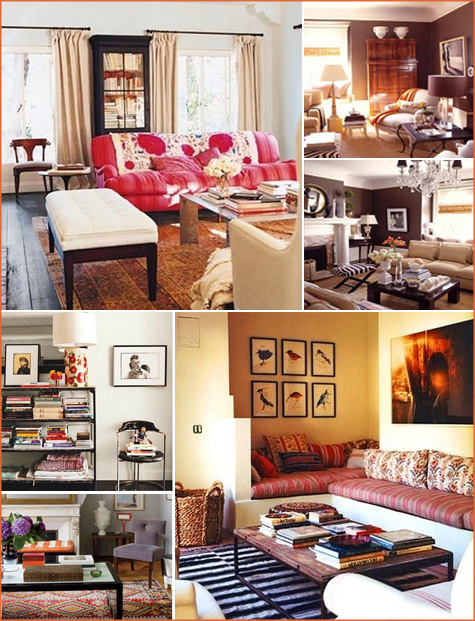 I fell in love with Amanda Peet's home from my first issue of Domino and it's been downhill ever since. Other sources for the above photos include DecorPad, the fabulous blog over at Isabella & Max, the latest issue at Elle Decor and this perfect suzani print from Calico Corners.
The troops pulled together and we began with a painting overhaul (white to tan might not seem like much of an overhaul, but keeping a modest, clean backdrop for the rooms was a key strategy in future decor change-ability).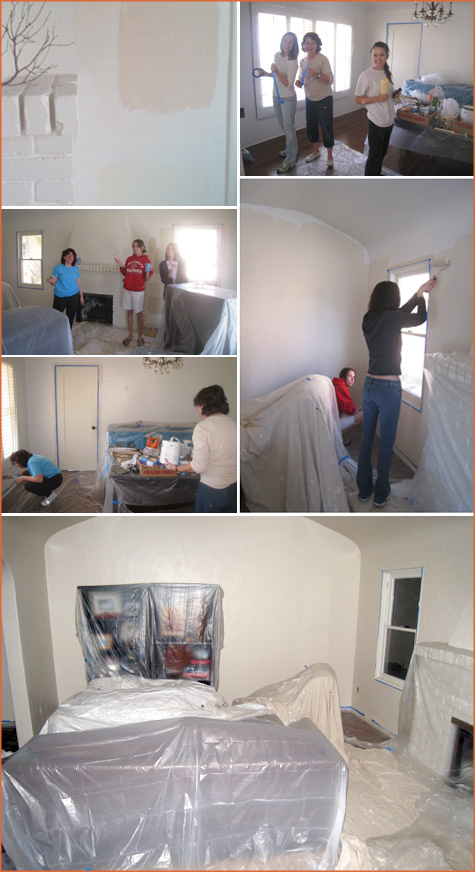 In one amazing Saturday morning we had the entire living room and dining room covered, taped and painted. I am blessed with some pretty fabulous friends – a big heartfelt thank you to our team. We have a little home makeover project going on amongst the group and every few months we join forces to conquer a major project at someone's home. On this particular day we were inside painting while the boys were out back ripping up the backyard (pretty cool, right?).
A bit of painting, quite a few DIY projects, some major Craigslist finds… and a new living room is just around the corner. Excited to show you soon!
Tags:
Before & After
,
Brown
,
Decorating
,
DIY
,
Home
,
Living Room
,
Orange
,
Paint
,
Red
,
Renovating Adventures
,
Tan
Posted in
Home
,
Renovating Adventures
|
10 Comments »