June 21, 2012
We have a new rug in the living room! This little addition may have gone unnoticed (it looks just like our old rug after all) except that I was so SO thrilled with our new rug purchase that I had to share it here so that I could recommend a favorite rug to any future white-shag-rug-shoppers out there.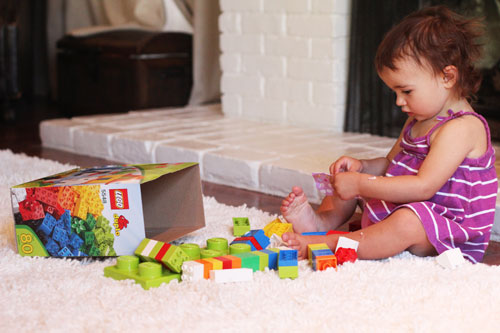 I love a white rug. Even though they can be tough to maintain (with a busy house, a baby and a dog) I make every effort because to me that classic, easy look is so very much worth it (plus finding anything else at a reasonable price for a large room is so tough!). Sadly, our previous rug underwent some serious water damage last month when carpet cleaners from a Groupon deal accidentally cleaned the area rug on top of the rug pad and pulled all of that recycled rug pad color right up through the carpet fibers leaving big brown water spots all over:(. We tried to reclean it three times before we finally gave in to replacing it.
But! Not long after we said goodbye to a favorite plush play mat, I found this guy on Overstock. Huge rugs are hard to come by at a good price, and since I still have to figure out the whole reimbursement situation with the local rug company, I was very wary of purchasing anything that we couldn't afford if we ended up having to pay for the new one out of pocket.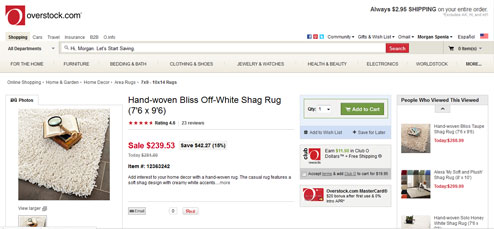 Yay for Overstock! and yay for the plushest, softest rug we have ever owned in an awesome size and at an awesome price. I ended up purchasing during their 15% off rug sale (going on through today) and bought this huge 7'6″x9′x6″ for $239.50 along with this rug pad (which we then cut to size) for $63 + $2.95 for shipping. I've shopped, I've searched and you just can't beat it. Truly, truly.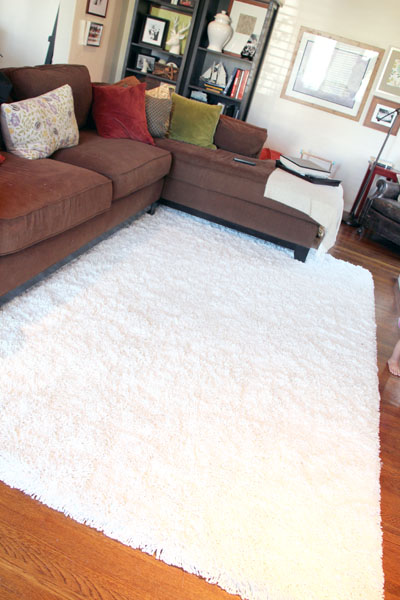 We've had this rug for a couple of weeks now and it's our favorite play spot in the entire house. We unload blocks and legos and books and play, play, play. I use it for short yoga sessions at the end of the day, we watch movies curled up with pillows, we crawl, we sprawl and we relax in its coziness.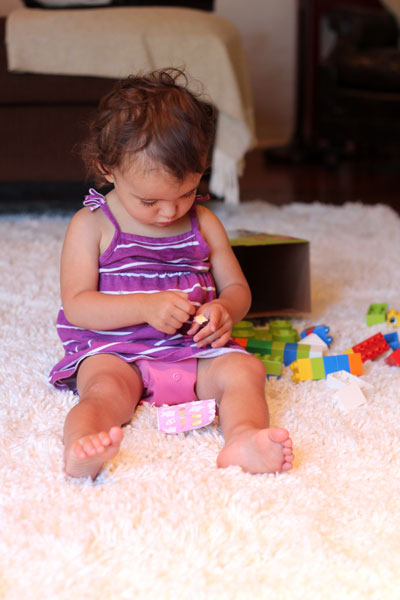 Any reservations about a huge rug at this crazy reasonable price are absolutely gone! It feels just like a plush shag Pottery Barn or West Elm rug (in my world that's the high end budget) and it's a necessity in our house since our living room is very much Liv's full time play room.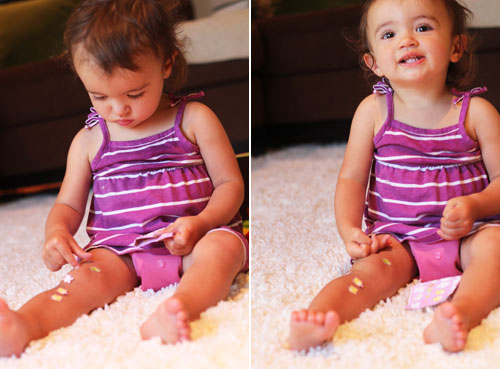 And yes, Bodie hair blends right in – total plus, but we do vacuum it often. Being the shag rug that it is a good vacuuming is recommended to get rid of the initial shedding anyhow.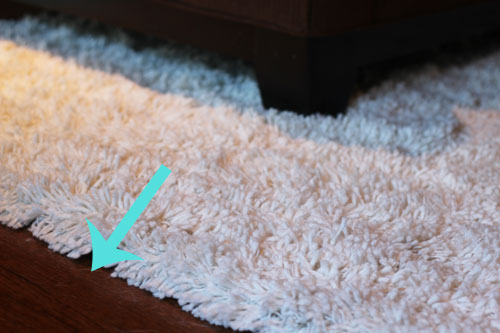 When it comes to keeping rugs clean, shag rugs are my best friend. Any funky spots get a bit of spot cleaning and a little trim (aka just cut those bad fibers right out and give the rug a nice tousle). Good to go. I mentioned a while ago that I buy two rug cleanings per year off of Groupon for bigger issues, too. That $40/pop every six months is worth every penny for all of the area rugs and couches in our house – but next time I will make sure that the carpet cleaners are the well-reviewed Yelp types that separate rug pad from rug and don't work directly on wood floors – also so bad for the house with all of the water they use. Ah well, live and learn. No major harm done and now we have an awesome new rug!
PS more living room posts right here.
Tags:
Accessories
,
Decorating
,
Home
,
Living Room
,
white
Posted in
Home
,
Our Living Room
,
Renovating Adventures
|
5 Comments »
February 15, 2012
Hope you had a great Valentine's Day!
I have a funny story… Kevin took me to a really lovely restaurant last night in La Jolla (just north of San Diego) called Whisk n Ladle. It's a place that I've wanted to check out for some time and it was delicious! I'm not sure you can call us 'foodies' but we're big on locavore-style restaurants full of unique flavor. If a menu mentions anything with the words 'fig compote', 'breaded goat cheese' or 'lavender infused anything' I start to salivate immediately. It's the unique pairings that you can't always accomplish in your own kitchen that I like most about eating out.
Well, this menu was everything and more and I was so excited to try it all. We narrowed our choices down to two specialty cocktails to start, braised pork shoulder with dates and roasted brussel sprouts as well as seared local halibut for our main courses — and to start us off delicious pan fried sweetbreads with onion confit in an au jus sauce. Are you salivating yet? But this is where things got a little crazy. What do you think of when you hear 'sweetbreads'? (this is officially why we're not foodies), I was picturing a most delectable french-toast style of handmade bread with an onion confit for dipping. Nope! Sweetbreads are a friendly word for the throat, glands, stomach and intestines of a lamb or calf. We were half way through the appetizer when I decided to Google it because it just didn't taste like I was expecting… ha! Kevin happily finished off the rest. So maybe he's the foodie in the family.
Okay, back to a fun little laser cut butterfly art project that brought a little more Spring to our living room.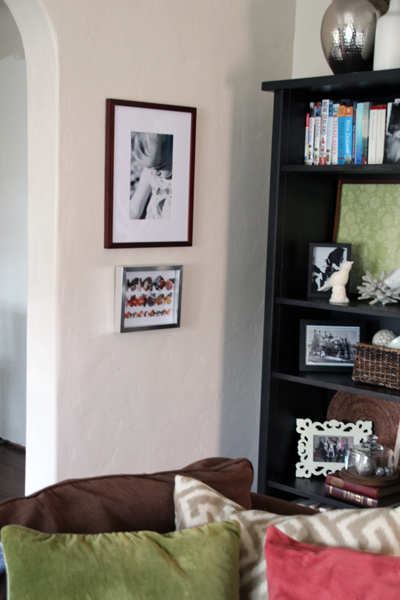 There's just something about these natural beauties that is so lovely to look at! And such an easy way to add color and bring nature into a space.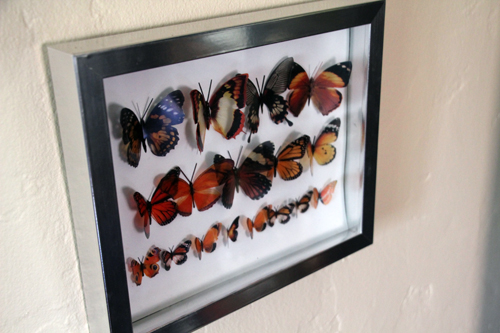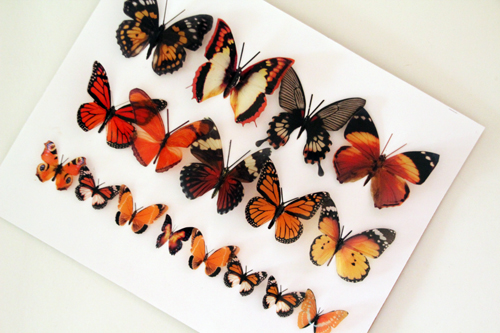 More lovely inspiration: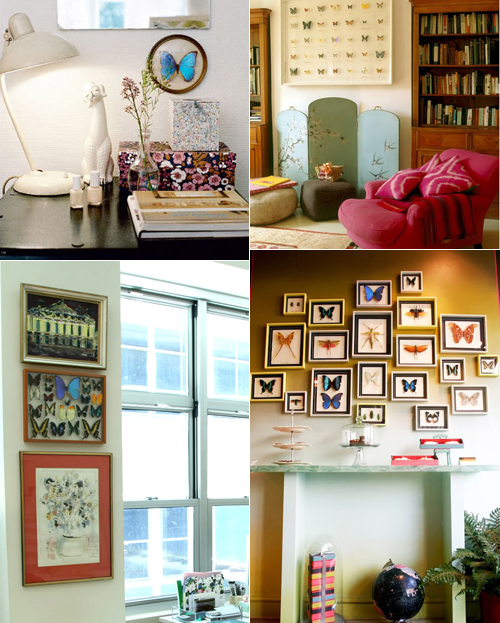 Lots of folks are not fans of taxidermy butterflies. It doesn't bother me so much if I'm purchasing from a humane seller who harvests butterflies after they have naturally passed (since many live only 3-4 weeks) but if you're looking for an alternative (or you don't want to spend $50-100 for a shadow box) plastic laser cut butterflies are the way to go.
Krista of Kiki's List (who I learned about from this favorite site) turned me on to Etsy seller Clear Cut Crafts that creates just that – beautiful, natural looking thin plastic butterflies that can be used for cake decor, weddings, you name it.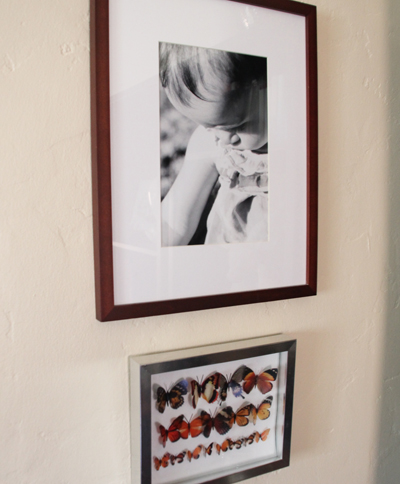 I placed an order for 2 dozen Monarch colored butterflies (love that orange! and thought they were the most realistic – plus I grew up near Monarch groves which are just beautiful when full of butterflies). To hang them, I found a cheap Ikea frame in silver that I altered just a bit to function as a shadow box.
***************************************************************
Butterfly Art
(and converting a Ribba frame to a shadow box)
m
Materials: laser cut butterflies (or the like), Ikea Ribba frame, white construction paper, scissors, pliers, 1″ tack nails, hammer, glue
Using the back of the frame as a guide, I cut out a piece of white construction paper to match. My butterflies came pre-cut (huge time saver! hence the laser cut) and so I gently folded the wings and laid them out on my paper to get an idea of how I wanted the finished display to look.
Once I had settled on a layout I used a white glue (so that I could adjust placing as I went) to hold them in place.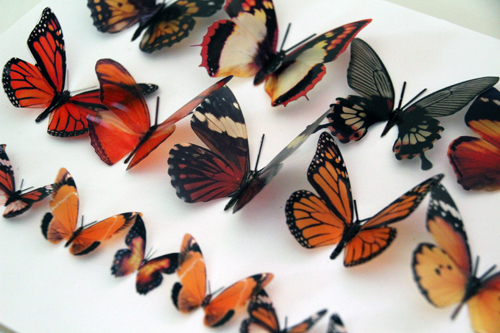 I let this dry over night and began working on the frame. Apparently there is a shadow box frame that Ikea makes – and I thought that I had picked up that version when I found my $4.99 find. But later after arriving back home I realized that while it's deep for a frame (as most Ikea frames are) the photograph mounting was smooshed right up against the glass.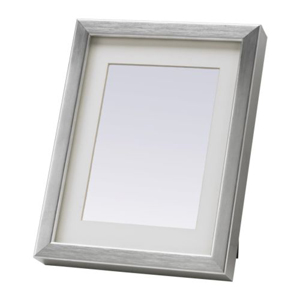 To create a shadow box out of the Ribba frame, I popped out the glass and mat and pulled out each mounting clasp (is there a more accurate term for those little metal clips?) with pliers.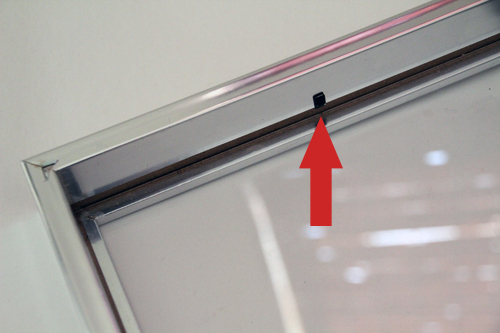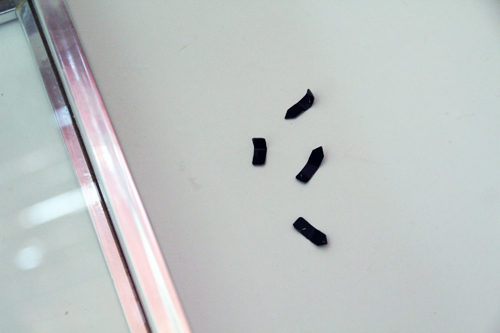 Then I added small tack nails between the edge of the glass and the frame. Just a gentle bump with the hammer and a little glue held these guys in place. I also let the glue dry overnight.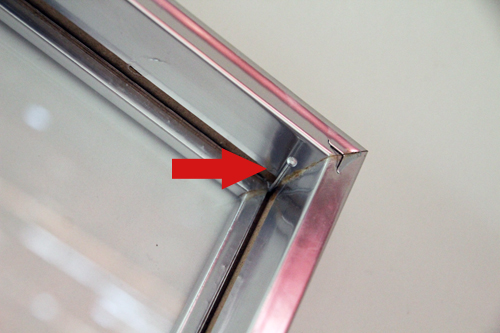 Now the back of the frame would sit atop the nails and the nails would bridge the distance between the glass and artwork — making the frame a shadow box (and perhaps the cheapest I've ever bought).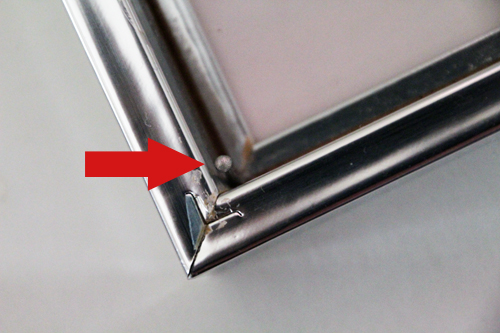 Since I pulled out the little clasps that keep the back in place (because they were in the wrong location for a shadow box) I simply glued my back to the frame edge. Since it's a tacky white glue that I used it will hold my artwork in place for as long as I'd like but will allow me to easily pull the back off (maybe with the help of a utility knife) later down the line to update the contents. A glue gun here would be equally useful but might not allow the versatility to easily replace the artwork inside. Let dry overnight if using white glue.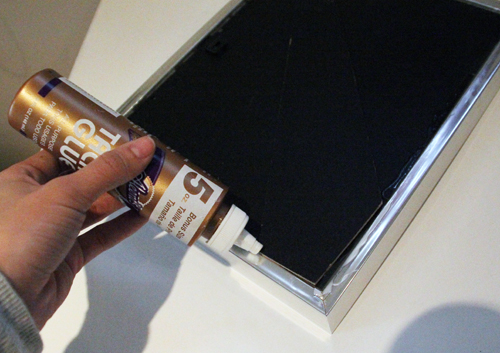 Finally, flip over and hang!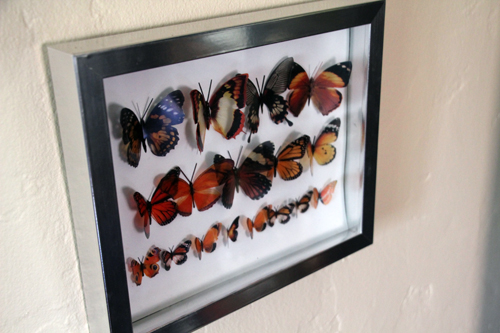 ***************************************************************
The finished frame fits in well with my Spring update for the living room with the bright colors playing off of the new throw pillows.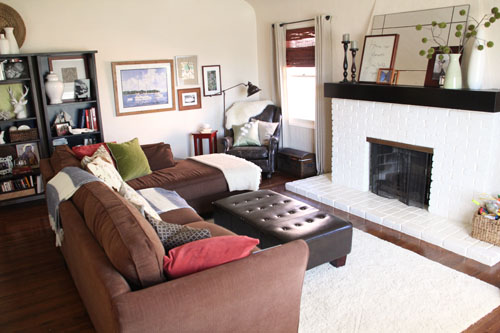 And another shot of the corner of the room with the new butterfly artwork: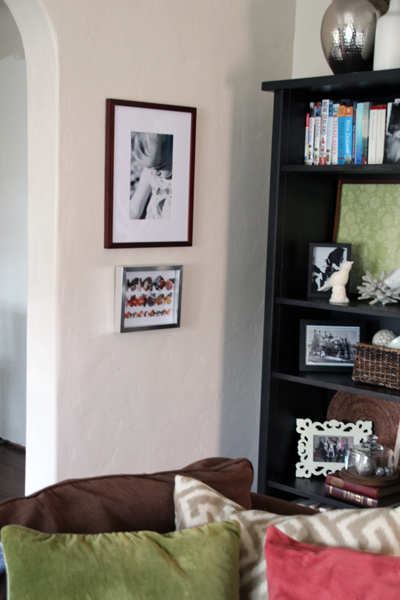 Do you have any funny stories to share from Valentine's Day? Or any new DIY artwork projects? What are your thoughts on butterflies – fake or taxidermied?
More living room posts right here.
Tags:
Accessories
,
Artwork
,
Before & After
,
Crafty Solutions
,
Decorating
,
DIY
,
Home
,
Living Room
,
Orange
,
Tutorial
Posted in
Crafty Solutions
,
DIY
,
Favorites
,
Home
,
Our Living Room
,
Renovating Adventures
|
6 Comments »
February 2, 2012
Back with a quick example of how easy it is to make envelope pillows (no zippers, no buttons) out of cloth napkins and remnant fabric. I made four new pillows in a couple of hours last Saturday morning and featured them here in my Spring living room update.
The truth is, I've had several of these cloth napkins lying around the house for months if not years! They were waiting for the perfect opportunity and new throw pillows fit the bill.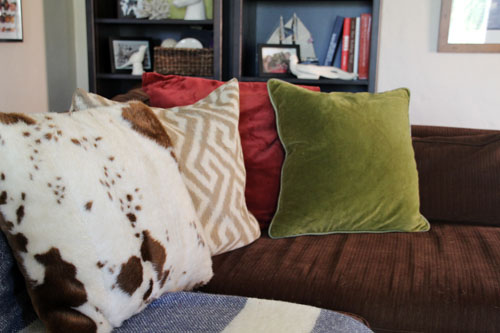 These raspberry red velvet guys are from a yard of fabric from my local discount fabric shop. The store is actually called Discount Fabric and it's in an old movie theater about a mile from our house – such a treasure so close by! The tan pillow was from a previous project and you can find its invisible zipper tutorial here.
My two new cloth napkin envelope pillows are over here on this side. Kev was seeing Christmas with my green and red mix (even though I tried to insist they were more kelly meets raspberry) and my horizontal floral print pillow helped to bring Spring back in. Next to that guy is a smaller brown trellis pillow made from three Target cloth napkins (still can be found in store, bought these around Thanksgiving). Yes, that raspberry red pillow needs a 20″ insert and not the current 18″– it's definitely on the to-do list.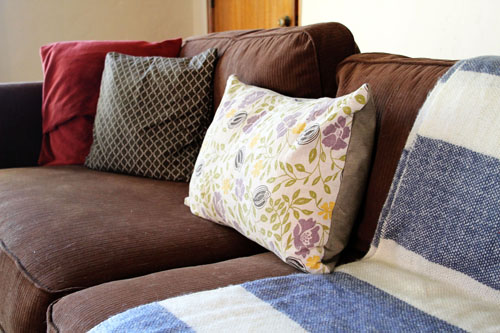 When mixing so many pillows, I try to throw a couple over-sized ones in the mix (wish I had one BIG one), a few medium throw pillows, a horizontal size and maybe a little guy. But with pillows I really think that anything goes–mix patterns, colors and sizes and when you get bored invest in a few more cloth napkins.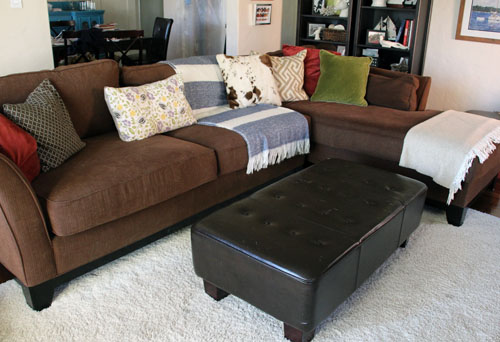 But really, cloth napkins are pretty genius as pillow covers. Since napkins already have a hemmed edge and are roughly the size of a throw pillow, they make for an easy solution – especially when there are no zippers involved!
******************************************************************************************
Easy Envelope Pillows
m
Materials: fabric, pillow insert, pins, fabric scissors (a dedicated, super sharp pair is always a plus to have around and will make fabric cutting SEW much easier. hehehe), sewing machine
I'll go through all four pillows, but let's start with the horizontal botanical print pillow. This is the cloth napkin that I've had for years – it's so pretty but it gets very little use buried in my linen basket! The back of the pillow is just a tan fabric scrap from my remnant box.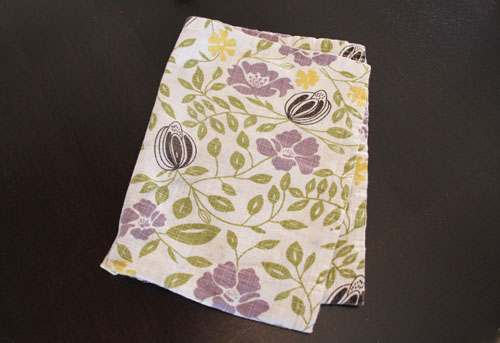 1. I began by laying out the napkin right side up to cut my fabric to size for the backing.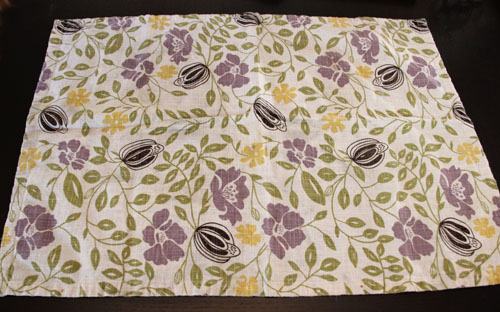 2. Using the cloth napkin as my template (I didn't alter the size or shape at all), I cut out a panel for the right side of the pillow that was roughy 2/3 the size of the front side of the pillow and folded over the inside edge about 2″. You could seam this edge but if it's folded over a far enough amount (and the raw edge is buried deep within the pillow) no one will be the wiser. These top pieces should be facing down (we're pinning and sewing this inside out).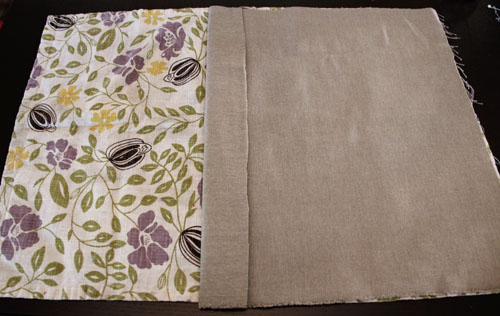 3. A similar panel is cut and folded in for the left side.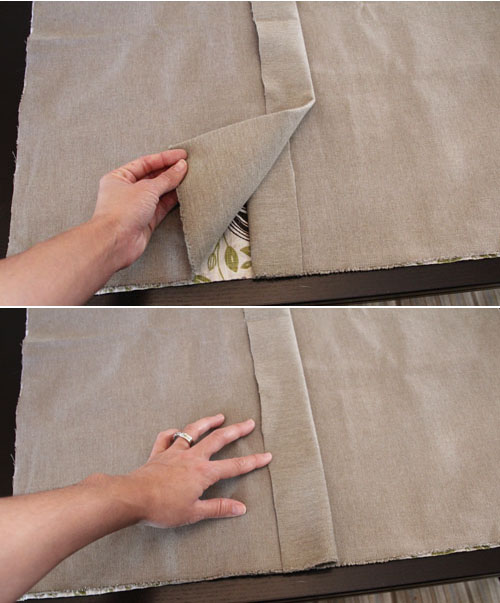 4. Time to pin!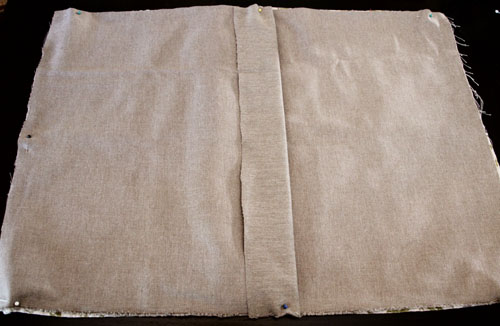 5. and over to the sewing machine we go.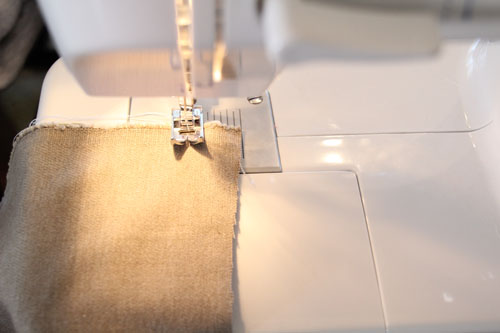 The entire pillow cover gets a simple stitch all of the way around the outer edge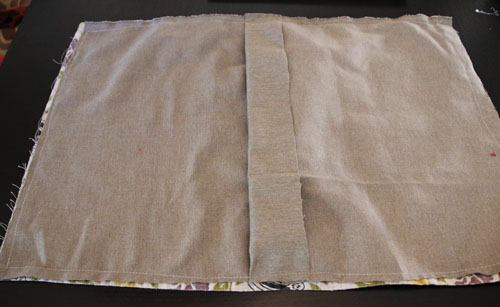 And while even cloth napkins don't have even edges, I tried to stay as close to this edge as possible. This is especially true if you're making a pillow cover for a specific size insert size (16″, 18″ or 20″ for example).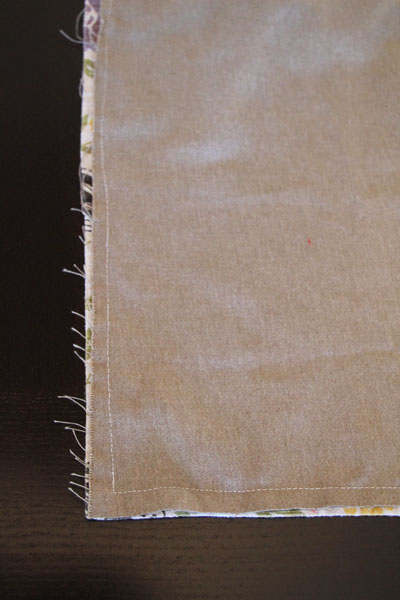 6. Flip your pillow cover outside in to reveal its final shape: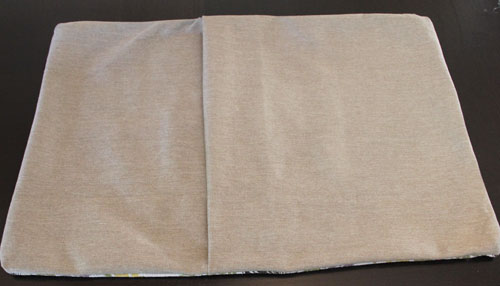 You can see here that hemming each of those folds isn't really necessary as mentioned above. The raw envelope edges are buried inside the pillow cover.
As mentioned on Monday, I used a standard bed pillow to stuff this guy (it was the perfect length and nearly the right height – but that extra stuffing added the right amount of soft 'pouf'). When it comes to buying and reusing pillow insets though, I highly recommend West Elm inserts. I've tried everything from buying my own fiber fill to upcycling old pillows (great solution if they have great inserts) but in the end I've found that the $12 investment in a good insert will be comfortable and cozy on the couch, will hold its form and will stand up to the abuse of constantly switching out covers.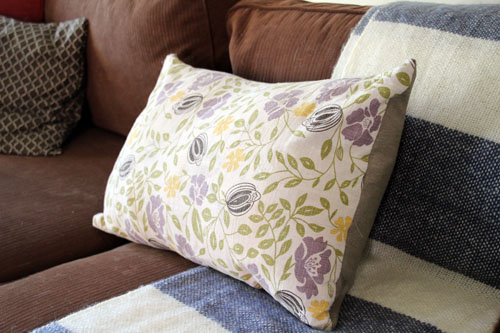 Moving on to the square trellis pillow which is actually even easier since we're starting with three cloth napkins with hemmed edges.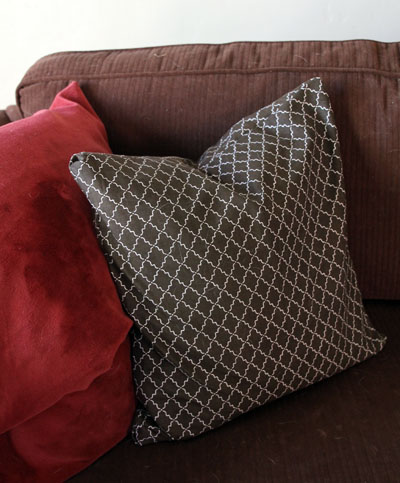 Picked these guys up at Target and actually did a test run by washing the fourth napkin first. It came out significantly faded so I didn't prewash this batch and I'm secretly just hoping that this pillow won't see any spills or stains in the near future (or perhaps I'll just let it sun dry if I must wash…).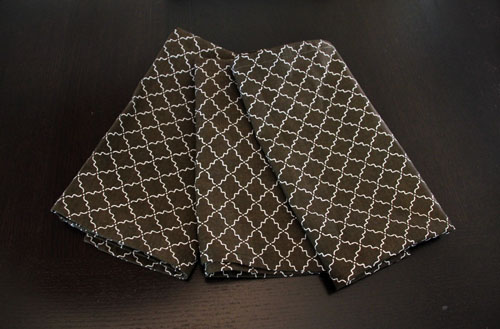 1. Following the same steps above, cut panels for the envelope backing out of two of the napkins (2/3 the size of the actual napkin should do the trick).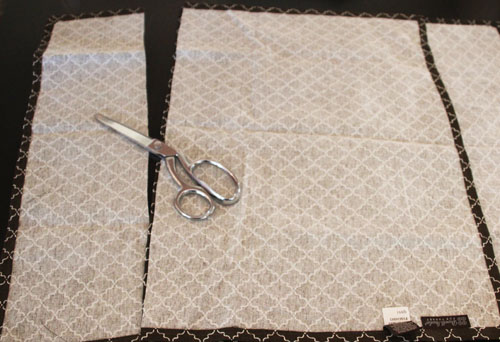 and now the other side…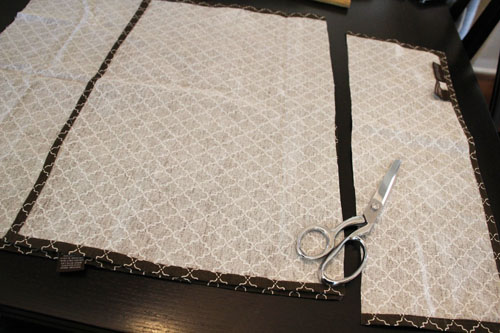 So that I am ultimately left with one whole napkin and two 2/3 napkins that were laid on top of each other and overlapping. Because the edges are already hemmed there's no folding necessary.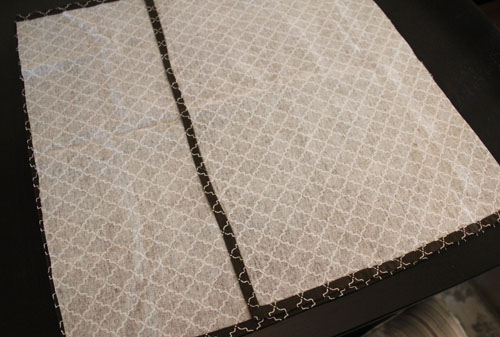 2. Pin and sew around the edges!
Wait… this is not how it's supposed to look on the other side. Bah! I forgot to start with my top piece facing up and not down!

Just keeping it real…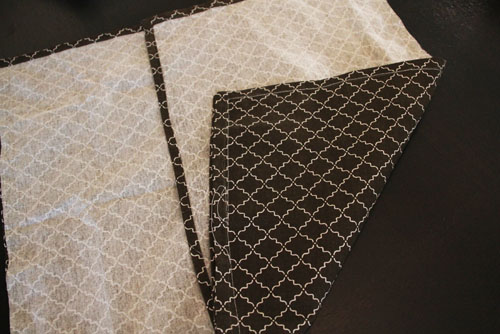 I ended up just cutting off my recently sewn edges and made a 16″ pillow instead of 18″ rather than pull out the seam ripper. It actually worked out well since the other pillows were on the larger 18″ side – a little variety is nice!
And here she is again finished: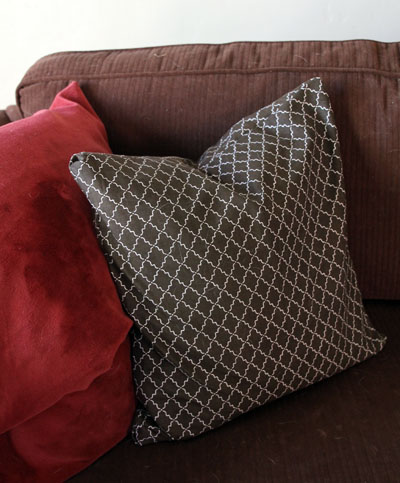 The last set of remnant pillows I made were from a yard of raspberry colored velvet that I picked up at the fabric store.
1. No need to repeat the above photos, but what essentially made this project even easier is that I was able to cut down on two hems by cutting out one long strip of fabric (my pillow was to be 20″ so my long strip of fabric ended up being 21″ in height (to account for the hem) and ~45″ in length) and then folding in each side to create a 20″ front and an overlapped envelope in the back.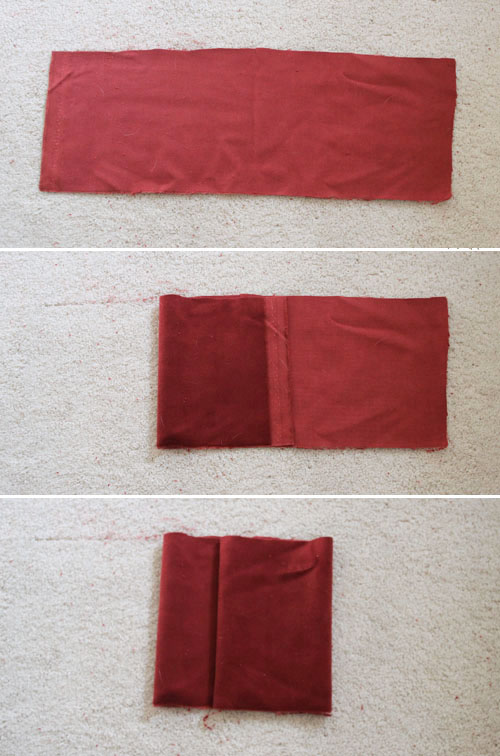 2. A simple stitch along the top and bottom and I had a cover! The above would of course need to be turned inside out before this step.
I didn't hem the envelope edges because I didn't want a stitch across the thick velvet (and I didn't want to change out the thread in my machine!), so I folded each edge and when sewing the top and bottom included the folded over piece in the hem just like the first pillow (so that it was nice and secure).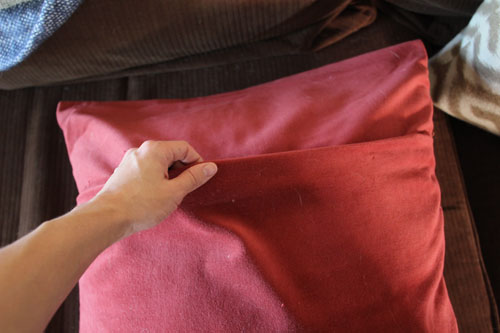 In hindsight, I should have made the envelope pocket even deeper,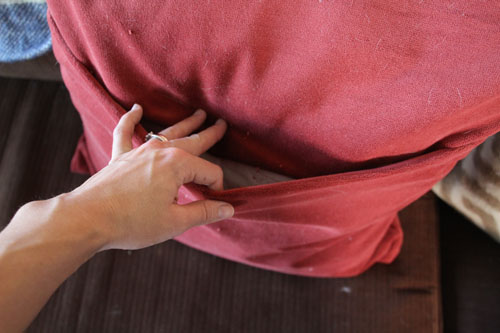 because that raw edge of the envelope overlapping piece began to sneak out of the envelope every so often (see above photo on couch as an example).
3. I added a few basic cross stitches in matching thread to keep the flap in place. I didn't close the envelope up so that I wouldn't interfere with stuffing and sliding the insert in and out but just to keep a clean folded edge on that flap. (the cross stitch is barely visible but it's there!)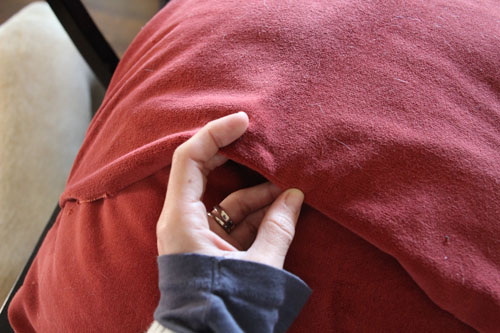 One of the velvet pillows was designed for the front to face outwards and one was designed with the envelope side facing outwards.
4. For the envelope out version, I sewed a big button from one of my previous pillows onto the lower overlapping piece of the envelope and created a slit on the top piece of the overlapping envelope with sharp fabric scissors.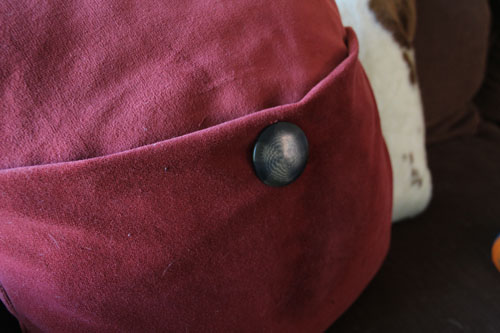 And here she is finished: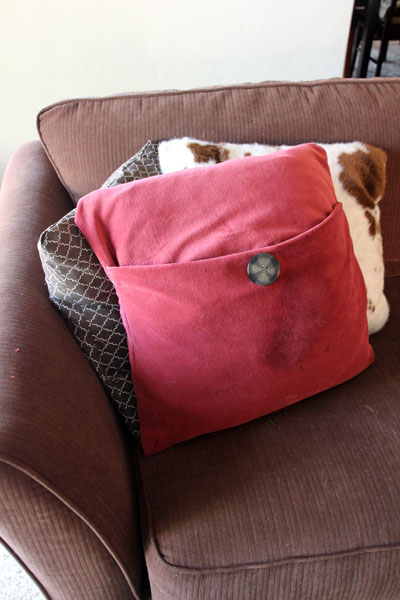 There you have it! Four new easy pillow covers for under $20.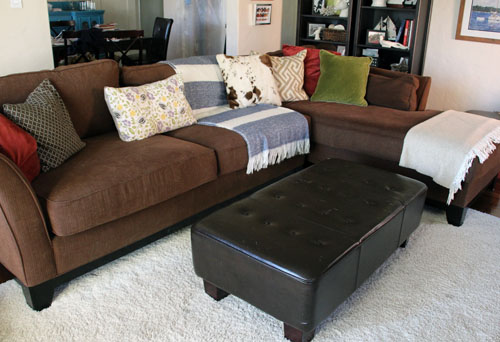 The entire project took me a couple of hours of cutting, pinning and sewing machine time but I love the finished pillows and they're sure to last me at least a few months (in all seriousness).
More living room posts can be found right here.
Tags:
Accessories
,
Brown/Tan
,
Crafty Solutions
,
Decorating
,
DIY
,
Fabric
,
Green
,
Home
,
Living Room
,
Pink
,
Red
,
Sewing
,
Tutorial
Posted in
Crafty Solutions
,
DIY
,
Home
,
Our Living Room
,
Renovating Adventures
|
4 Comments »