August 17, 2011
The living room is secretly getting an overhaul without us even realizing it. As we've been concentrating on the new office/guestroom, I've casually found items to diy, that are on sale or while Craigslist shopping that happen to be on my 'living room list,' and have slowly added them to the mix. But without meaning to, really!
It started with this new mantel, then I jazzed up the new mantel with the mirror from the dining room and decor from the garden (more on that soon…), then added these new cloth napkin throw pillows, after that was a new lamp for the office – but it came in pairs so one ended up in the living room, and just this week – a new rug! For a mere $75, including the super sweet rug pad.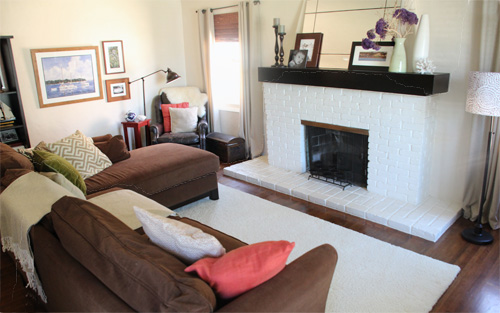 The rug came about quite accidentally. We've had the same chenille jute rug since moving in about three years ago and it definitely has seen better days. In fact, I can tell you with certainty which stain on the rug was associated with which unsupervised Bodie incident. Now Bodie is a great dog – never was a chewer and is usually quite obedient around the house. But if we leave him for an extended period of time and there's, say, See's candy on the dining room table, or an irresistible bowl of faux orange pumpkins for Halloween, he'll help himself, settle down into the rug and create a ridiculous mess. Stomach issues aside, he's inevitably ashamed when we get home and discover the new carpet spot. Bad dog.
This photo is pre-spots – but the circles show where the pumpkin and See's suckers became engrained in our rug for all of eternity. We tried steam cleaning but it's not recommended nor really possible on a natural fiber rug. We tried flipping the rug to hide the stains, but low and behold we had already used that trick for a spilled something a couple of years ago.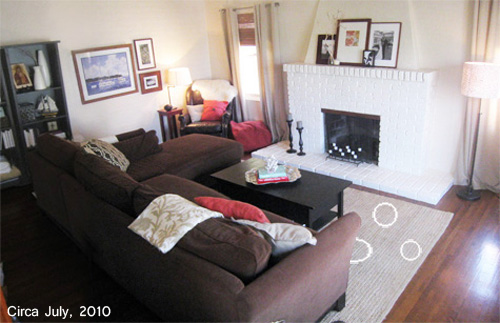 SO with Liv now crawling I've been on the look out for a new rug that would meet some criteria:
Cheap! (we're not ready to shell out $500-1000 for the traditional 8×10 rug)
Soft and plush (no more jute – even though chenille jute is soft, we want something softer for little knees)
Must be a cut pile rug (Bodie's shedding gets caught in flat weave or dhurrie rugs which is such a shame, plus the cut pile rug means we can use a carpet cleaner on it, something you just can't do with jute. And for us that's huge.)
I really wanted something with a little interest and I have kept my eyes open for a great patterned rug.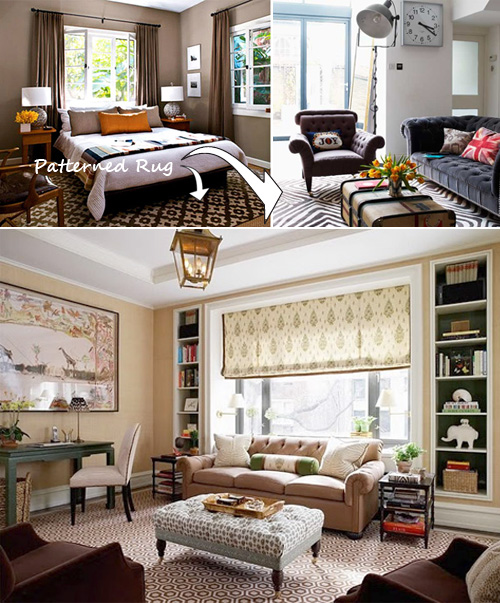 But finding one on a small budget was tough. That plus a pattern that I thought would work well in the room.
And then I fell in love with stripes. How great would a striped rug be?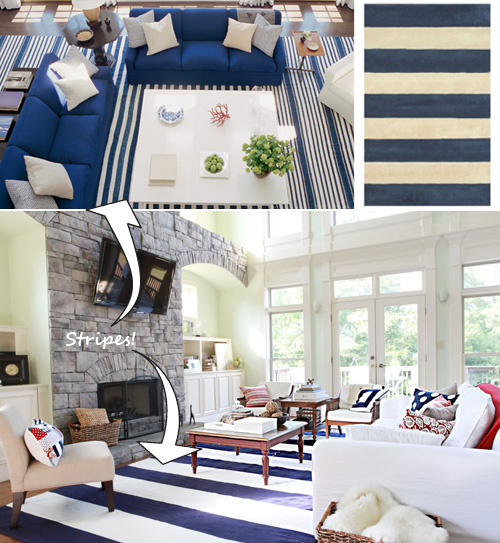 The above striped rug (in the Bower Power living room) is on sale for $159! Alas it's a flat weave rug meaning Bodie's shedding hair will be forever embedded in the fibers and your random stains won't come up with a steam carpet cleaner (our favorite friend). The above right rug is from RugsUSA.org and while it's cut pile, it was still to pricey for us right now.
I decided the CSN Nate Berkus chevron rug was perfect before I discovered it was both sold out and flat weave.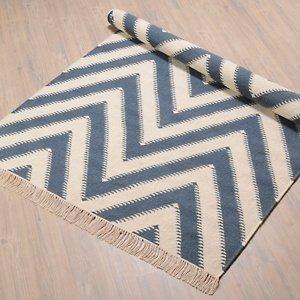 Time was a ticken' (who knew Liv would crawl so soon) and I needed to find something that would work well in the space while meeting all of our criteria. Then I discovered this living room on Houzz: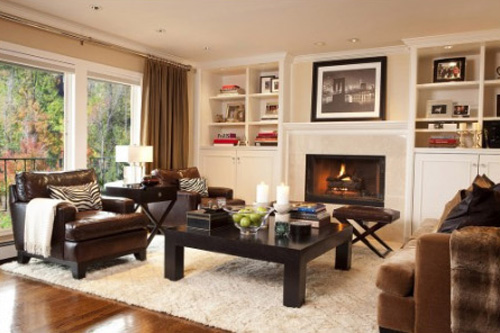 Maybe a white rug wasn't so boring after all? Maybe it was a great neutral that would both brighten up our living room and meet all of our needs in terms of cost, ease of cleaning (if it was cut pile we could use a shop vac and water to get those stains right up – it works wonders on white!) and could be found in a soft material for crawling?
I reached out to the designer of the above room on Houzz (a very cool feature, by the way) and this was a pricey pricey rug. But! I decided to track a cheaper version down anyway. It wouldn't have that beautiful diamond pattern but heck, I needed a kid-friendly rug.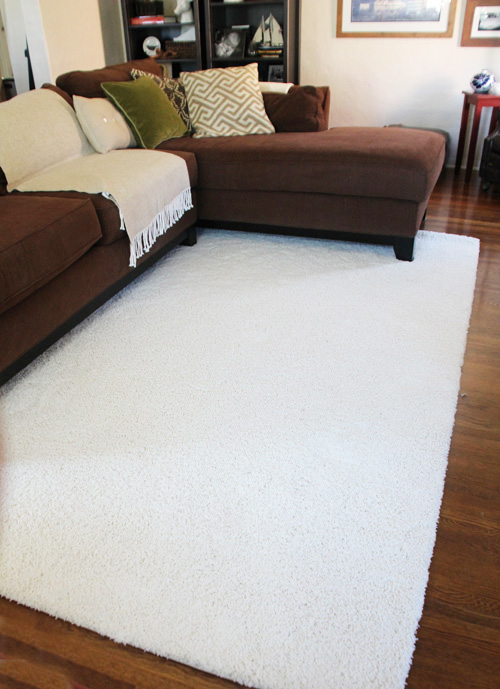 My first instinct was to see if Craigslist offered any options that were still in great shape. Low and behold! An Ethan Allen white cut pile rug for $100. The seller offered $75 if I picked it up right away, and to my surprise, it came with a really thick rug pag (Note: rug pads are awesome. Rug pads should never be skimped on, they make the biggest difference in softness and help to plump up even the cheapest, thinnest of rugs to help pass as the more expensive version!).
When the rug was home and rolled out it looked surprisingly like the carpet we had just installed in the new office. As in identical. Then I began thinking… we actually have remnants left over from that installation that would probably be the right size. A little research revealed a measly $2/foot will get you a brand new, bound carpet rug from a remnant shop.
So when this lovely gets too many baby & dog stains to keep up with, it's replacement is waiting in the garage. And the price? Probably around $60 to have the edges bound.
Bodie digs the new rug and couldn't wait to try it out.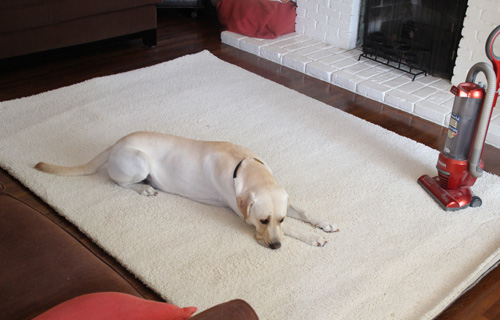 You can't beat perfect-condition, $75 rug that comes with a rug pad (probably more than $75 itself) that is both pet and baby friendly. One day we may get that striped or patterned rug, but for today this is a great solution.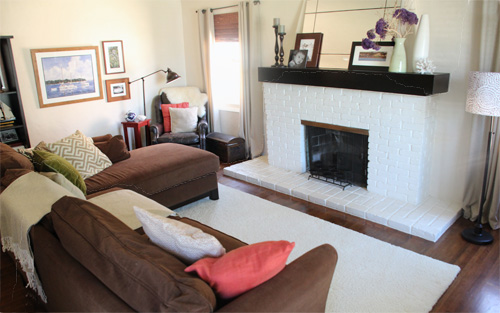 The coffee table is missing in the above shot, for the moment we have it pushed up against the front window so that there's premium crawling/entertaining space for Liv.
My main focus is still the office/guestroom – man I can't wait to have that finished, though I do love the process. But as new little treasures are found for the living room, we'll see what design ideas grow!
Tags:
Before & After
,
Decorating
,
Home
,
Living Room
,
white
Posted in
Home
,
Our Living Room
,
Renovating Adventures
|
10 Comments »
August 11, 2011
So the sun has been shining with full force and the weather has been warm! and then just like that the switch was flipped and this morning we have grey skies here in San Diego. Oh funny weather…
A way while back I had mentioned finishing up a couple of sewing projects that involved zippers, one being new throw pillows for the living room. And these aren't just any zippers, they're the infamous invisible zippers! I accidentally purchased a ton of these for a few new projects around the house, and then realizing my mistake (and being a bit stubborn) I set out to tackle the invisible zipper rather than return for the regular version.
You'll find invisible zippers on most store bought cushions and pieces of clothing, they're great because when applied correctly, the zipper literally disappears within your fabric.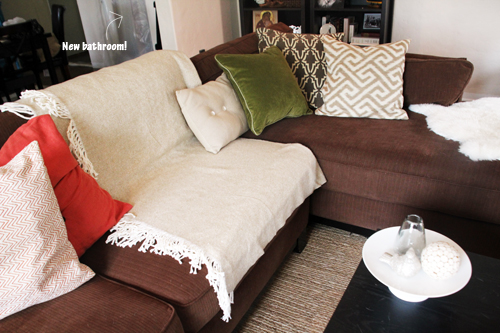 The new bathroom project is hiding there in the background. We've had to pause that guy temporarily while we wait on permits and Kevin works on summer school.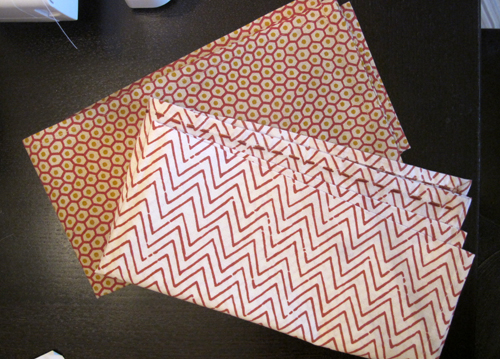 I found a few clearance napkins at West Elm that fit with my color scheme and I knew they'd be perfect for the project at just $4 a pop. That plus left over fabric from my favorite nursery glider makeover (that awesome tan ikat) left me with three new pillows that were quick and easy to sew up.
I researched a few slipcover pillow ideas but settled on adding a zipper because I knew that I wanted these pillows to really stand the test of time. Plus, I was dying to experiment with zippers, something I haven't tried in ages. The first pillow was a challenge (think twisted, inside out fabric and thread), but as soon as I had the 'invisible zipper' down, the other two were easy peasy. It looks difficult, but I promise that if you go that extra step to hide your zippers, you'll love the results.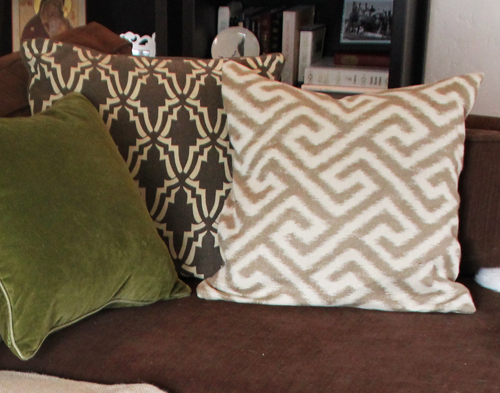 For stuffing, I usually cover up an existing throw pillow. You can also purchase bags of filler at your local fabric shop for a few dollars. If you go that route, I recommend making an insert for your pillow as well so that you're not constantly fighting clumps and wisps of filler material as you zip and unzip your covers.
***************************************************************************************************
Sewing Throw Pillows with an Invisible Zipper
a
Materials: 2 19×19″ squares of fabric for one 18″ pillow OR a set of cloth napkins, an invisible zipper (two inches shorter than one side of your pillow, though you can always shorten a longer zipper by sewing across the zipper, too), zipper footer for your sewing machine, complimenting thread, threaded bobbin, pins, scissors, pillow stuffing/inserts

1. To sew an 18″ pillow, cut your fabric into two 19×19″ pieces. This should allow a 1/2 hem on all edges. Remove one set tags if you're using a napkin – I like to keep one set hidden inside with washing instructions for the future. Baby + dog + dinner parties = definite spots

. Cloth napkins are great because they're already hemmed and provide a clean finish on the underside of your new pillows. Plus, they're the perfect size!
2. Pin the fabric/napkins together at the corners with the top sides facing each other (we're going to do this first step with the pillows inside out).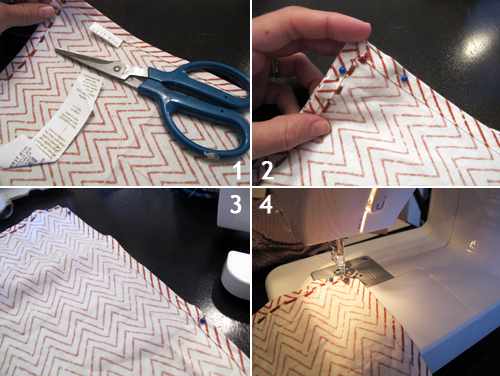 3. Add a pin roughly half way between each corner.
4. Sew three sides of your pillow together, leaving just the edge for your invisible zipper open.
5. Now comes the tricky part. The easiest way to add your invisible zipper is to pin it in place as you imagine it functioning. Go ahead and pin your zipper in a couple of inches from the edge so that you leave yourself a little working space. We'll close that up at the end.
6. Then flip your pillow right side out and try it. If the zipper opens and closes correctly without twisting any fabric, great job – you nailed it on the first try. It took me a couple of times of pinning, flipping, repinning to get this just right. Note: if you'd like, you can iron your invisible zipper flat before pinning to help you get as close of a stitch to the zipper part as possible.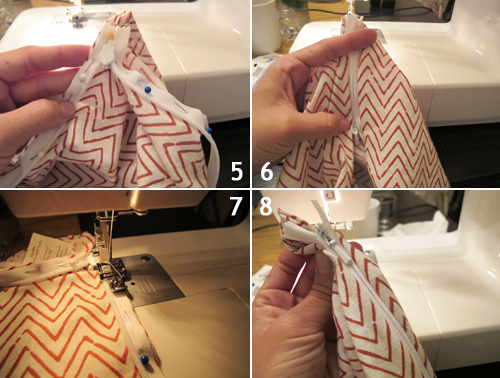 7. Add your zipper foot to the sewing machine. It usually comes with your machine in that little parts bag below the main compartment, but you can also pick a plastic one up from the store for a few dollars. Sew your zipper edges to the fabric running that little zipper foot right up against your zipper.
8. If you flip your pillow inside out now, you'll notice that your zipper closes (yay!) and that your fabric edges are hidden.
9. This picture illustrates the end of the zipper which has been left open – that's the extra 'working space' we left from step 5.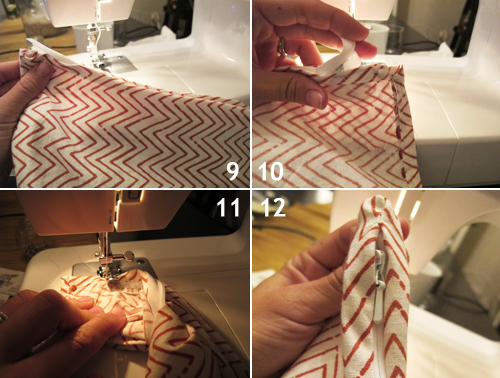 10. Lifting the zipper out of the way, pin together the two loose ends of the pillow.
11. Now sew the two pinned pieces together, don't forget to repeat on the other side (don't worry about the loose zipper portion, it's hidden inside your pillow).
12. Flip the entire pillow inside out and you should have a clean, finished end and an invisible zipper!
Stuff your insert in your cover and your throw pillow is done!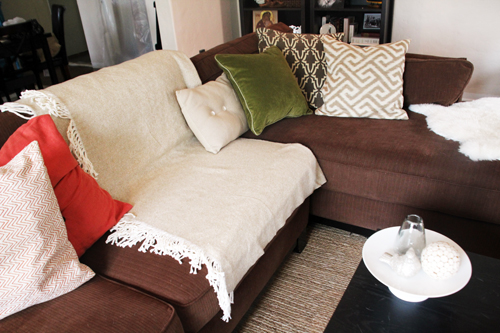 Love how the new pillows look, the added patterns were just what the space needed.
Tags:
Crafty Solutions
,
Decorating
,
DIY
,
Fabric
,
Home
,
Living Room
,
Patterns & Color
,
Sewing
,
Tutorial
Posted in
Crafty Solutions
,
DIY
,
Home
,
Our Living Room
,
Renovating Adventures
|
4 Comments »
July 15, 2011
The latest Ballard Design catalog arrived in the mail and it is full of beautiful dark brown rooms. I've always been a fan – but it's so bold! What a commitment to cover your walls in such a rich color.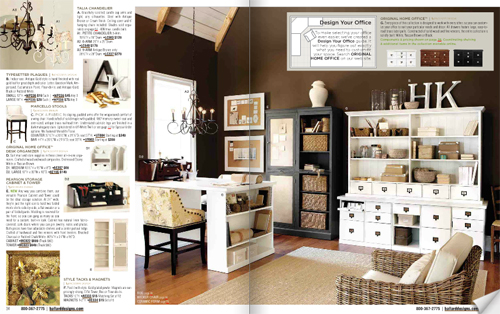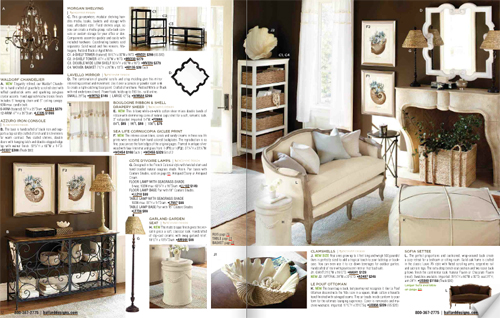 But the wheels began spinning and I set out for more wall-to-wall brown inspiration.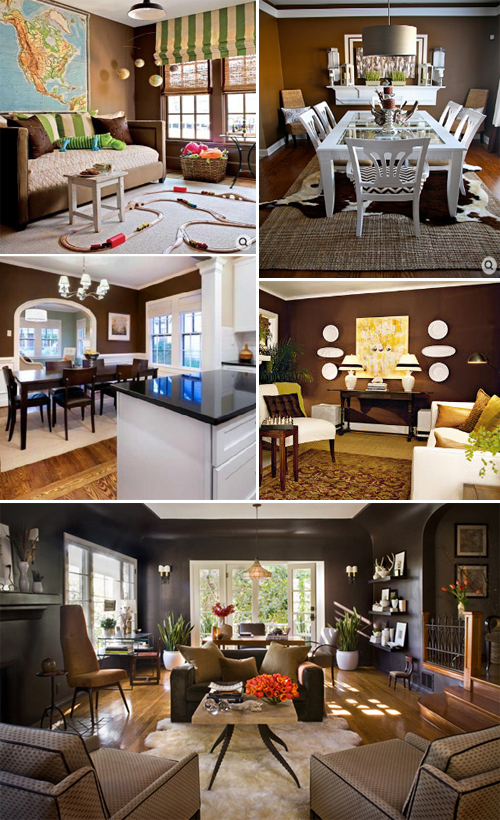 The best part of dark walls is the ability to really take advantage of contrasts in the forms of bright white molding, furniture – even ceramic decor. And how about those pops of raspberry, lime green and teal? And brass and gold? Oooh pretty.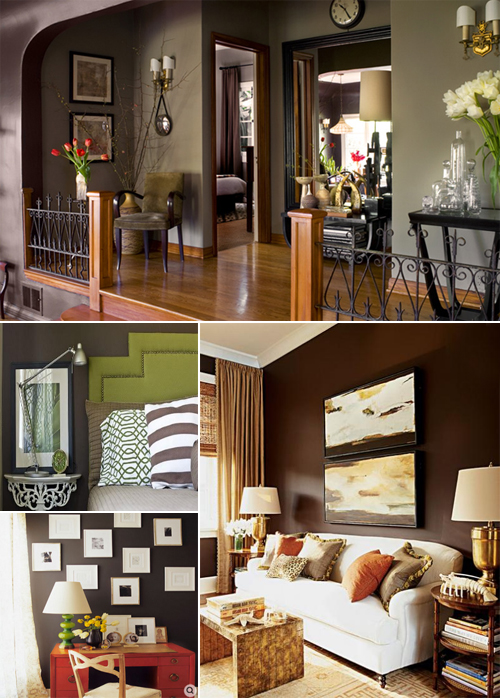 So stunning! But so bold. Do I dare paint an entire room dark brown? Most designers insist that the old adage of dark colors making a room feel smaller simply isn't true. It has much more to do with proportions and lighting.
What do you think? Too much? Or just right?
Tags:
Bedroom
,
Brown
,
By Color
,
Decorating
,
Dining Room
,
Home
,
Living Room
,
Office
Posted in
Home
,
Our Guestroom/Office
,
Renovating Adventures
|
13 Comments »