May 9, 2012
Liv has just recently discovered the world of crayons, colored pencils and drawing (right about the time I made the floating bookshelves for the tree painting in her nursery and stocked up on the art must-haves), so this Mother's Day I'm creating little gifts for her Grandmas and Great Grandmas out of her very own art. Speaking of, if you are one of the above mentioned, I recommend skipping this post or you might spoil your surprise

. Oops, maybe it's too late.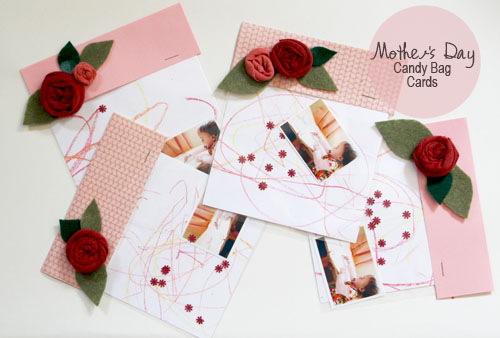 I call these guys candy bag cards because they're made out of the small clear bags found in the make-your-own-candy aisle of most craft stores. They're perfect for packaging up wedding favors, homemade lollipops, handfuls of M&Ms and adorable pictures or pint sized drawings by your kids!
To add a little of my own artistic love to each drawing bag, I made little rosettes out of cotton fabric and felt. They're really simple to whip up and are a favorite little accent of mine.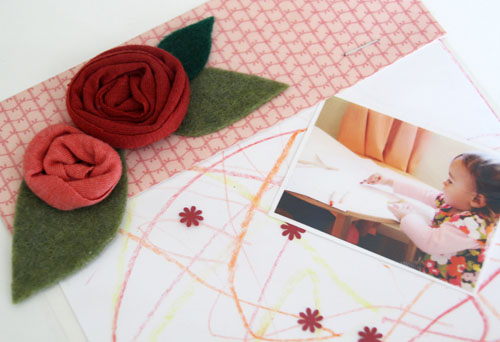 The last time I created these little treat bags-turned-card was for Valentine's Day when I sent salt water taffy and a photo of Liv to family.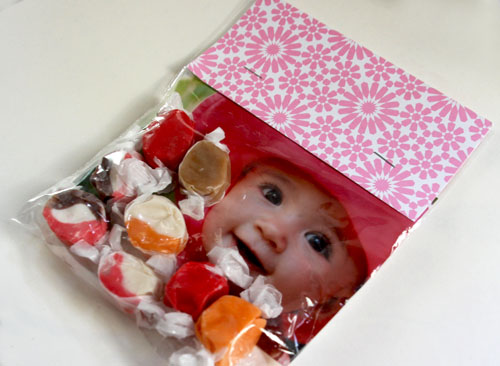 Super easy idea.
For this version, Liv had a blast drawing on several pieces of white card stock for the bags. I included a picture of her making each creation because it was just too darn cute.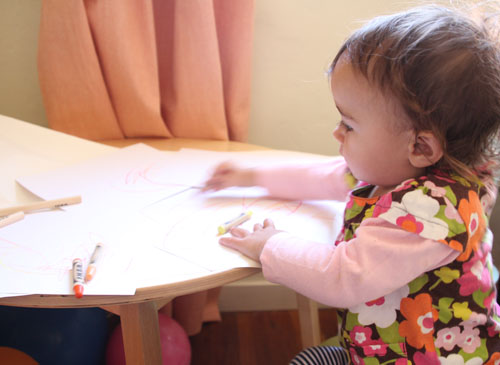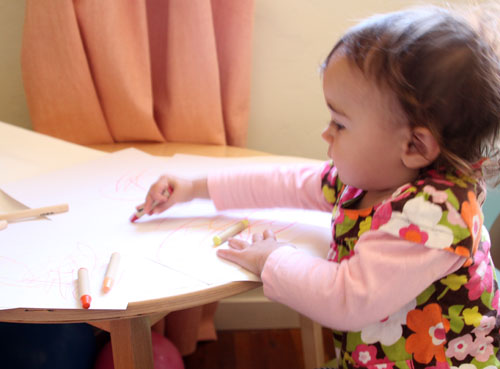 Here's a look at all of the contents: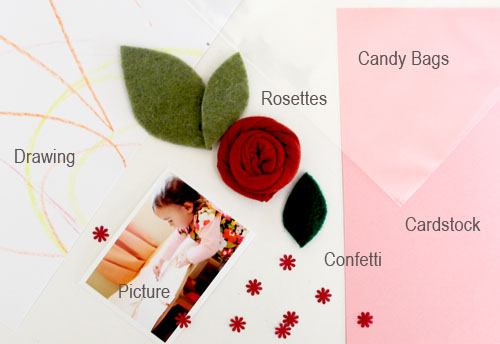 ********************************************************************
Candy Bag Cards


m
Materials: translucent bags, card stock or greeting cards (for the top of the bag), fabric for rolled flowers, needle and thread, felt for flower leaves, art, a photo to share, confetti for the bag (or candies that won't melt), stapler, scissors, glue
Creating the rolled flowers was a quick and simple project, one that I'm thinking I might copy for a few cute barrettes or headbands for Liv?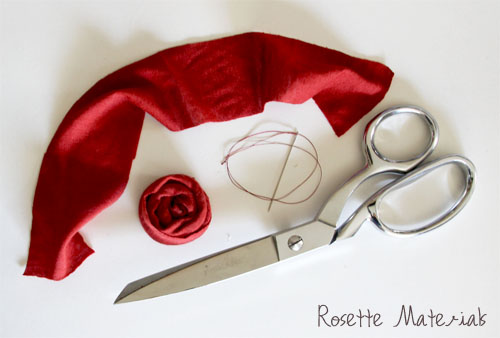 To begin, I cut my fabric into roughly 2×6″ pieces (I used a t-shirt cotton found in my remnant box), and then began rolling the fabric lengthwise. Then I wound the thin roll around my finger to create a flower and added a small stitch at the end to keep the rosette in place. A second stitch helped me to tuck the edge of the fabric under so that it was hidden from out of view. Once I had my supplies together it took me 2 minutes per flower, maybe.
Lastly, using two contrasting colors of green felt I cut out little leaves for the rosette.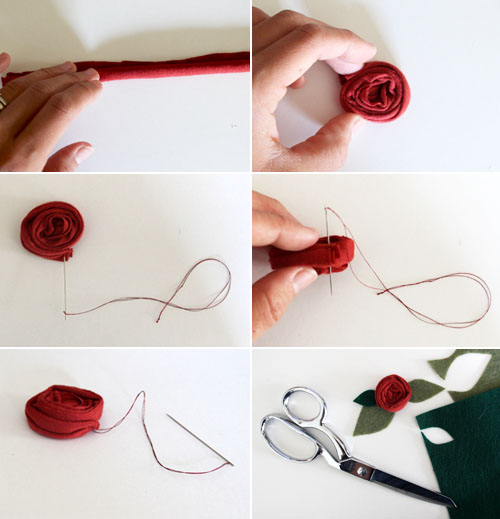 Next up was cutting out Liv's art into bag-sized pieces. In went the confetti, the small picture of Liv drawing (which I just printed right from the home computer onto photo paper) and the actual drawing.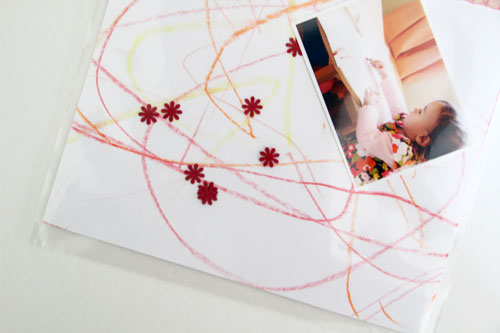 I used a little floral craft punch and burgundy card stock to make the confetti.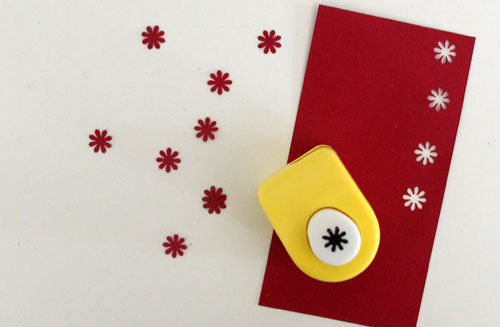 The last time I created these I used left over greeting cards cut to size to create the top of the bag (still love that idea), but this time I simply cut card stock and scrapbooking paper to the appropriate size and scored the edge with a credit card.
The card was stapled to the top on either side of the baggie and then I added the little rosettes for a finished look.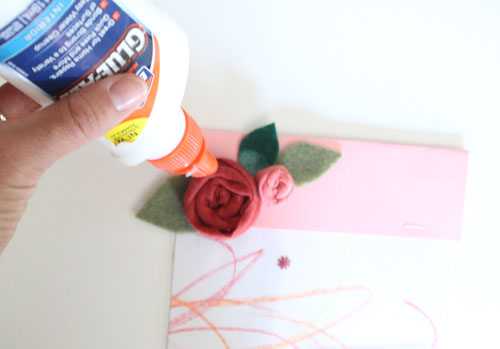 You could also write a little message right onto the front or back of the top of the bag making this a Mother's Day present, drawing and card all in one!
********************************************************************
I love this idea for a birthday or shower invite, too! The possibilities are endless.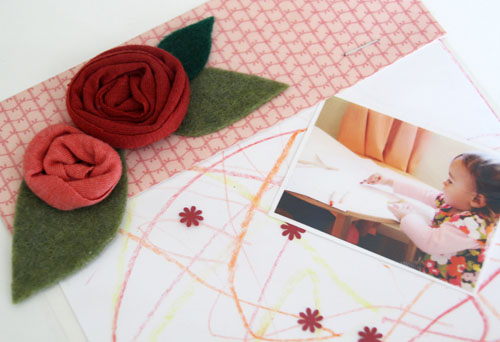 Another idea is to deliver the treat bags with candy instead of confetti. Choose a candy that won't melt, such as a wrapped hard candy, conversation hearts or another favorite.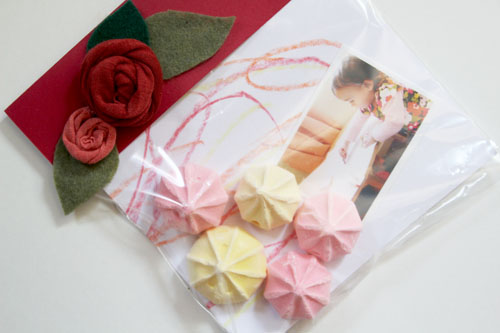 Perfect for Mother's Day! I'm mailing these guys out as we speak, the Grandmas and Great Grandmas in Liv's life should have their drawings by Sunday.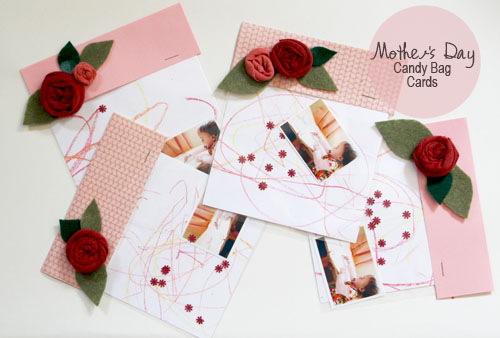 Happy Wednesday to you all!
PS All Mother's Day ideas can be found under the pink 'Entertaining' button in the left sidebar (with the rest of the posts sorted by holiday or event), or by using this short cut right here.
Tags:
Crafty Solutions
,
Kids Party
,
Mother's Day
,
Tutorial
Posted in
Crafty Solutions
,
Family & Friends
,
Holidays
,
Olivia
|
5 Comments »
May 7, 2012
I have a neat kitchen project to share with you, but before I jump into the recent home progress happenings over here, did anyone else just recently realize that Mother's Day is sneaking up on us?
It is! and less than a week away at that. I'm trying to decide what special little family outing I'd like to plan…. but I also couldn't help but put together a round up of a few gifts that I think would be loved by many mama's alike (even if the best gifts do come in the form of breakfast in bed and a handmade card that makes your heart melt).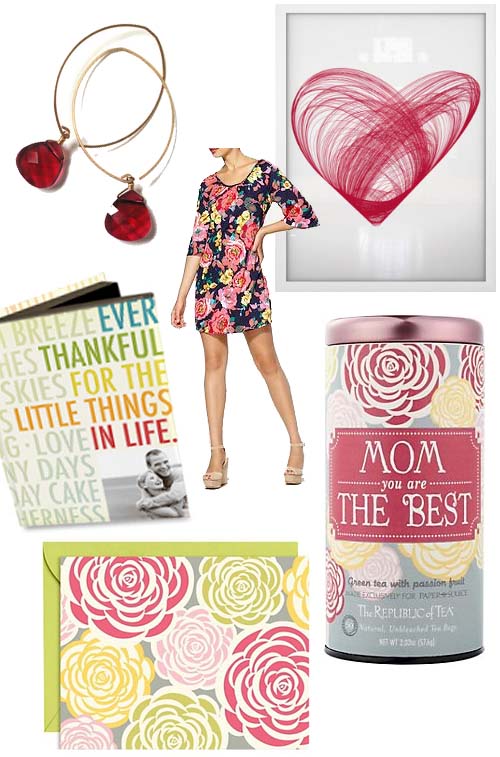 But, just in case you're looking for something more tangible to recommend to that special someone, here are a few favorite ideas of mine.
*Crystal drop earrings that look universally beautiful on all
*A heart print that would make me smile everyday
*A floral tunic for the perfect Mother's Day brunch outfit
*Memory keeper boxes from Paper Coterie that I've begun collecting family keepsakes in (one for every 3-4 years – this makes me pair down just my favorite knit baby caps and travel souvenirs to pass down to generations to come. I've been purchasing the Petite Pattern, and they can frequently be found on sale through sites like Hip2Save.com)
*Everyone loves a steaming cup of delicious tea and I'd reuse this tin again and again
*Ahhh beautiful stationary – these colorful rosette cards are some of my favorites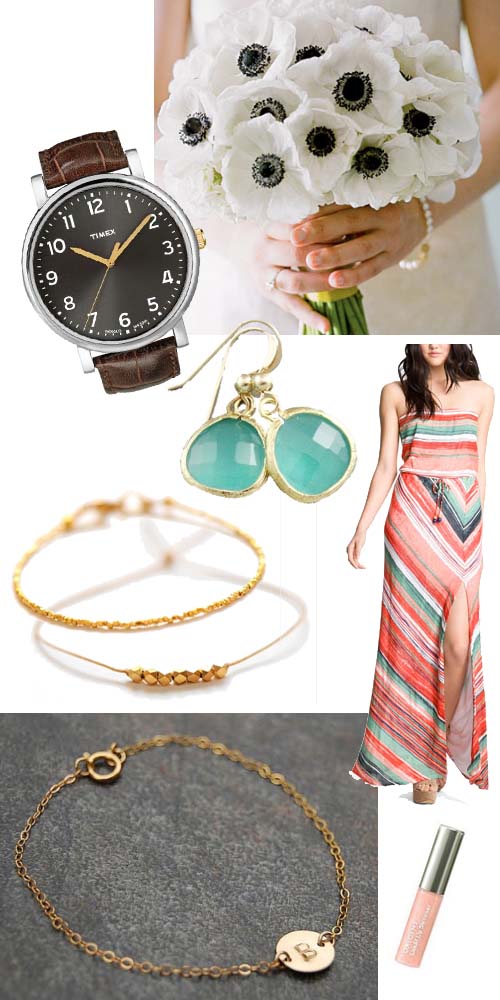 *A beautiful bouquet of anemones! Flowers always win
*Large face grandpa watches that can be worn with anything and that stand the test of time (I have worn this affordable Timex into the ground and still love it)
*Back to those crystal earrings… here's a shorter, minty-er pair for everyday wear
*A beautiful Ella Moss number for summer adventures to the zoo and park
*A favorite lip gloss for years – just the right amount of light pink shine
*I'm really falling for bracelets this year and these are three that have caught my eye: continuous gold beads, seven bead wish bracelet and the very beautiful but simple gold initial bracelet. Any woman would be charmed by the thought put behind one of these as a gift.
*Speaking of initials, how lovely is this hand formed necklace?
*An organic nail polish in red that's perfect for summer
*I would be amiss if I didn't include a few favorite home items that I've been eying… such as this floor lamp in gold, this fantastic urban map of San Diego and this beautifully made paper mache bowl
*Decorating lovers would probably be equally keen on the new Decorate by Holly Becker – a must-add for my bookshelf
*Last but not least a pair of summer flats that are both comfortable and in style. Perhaps one on the list for mama's to treat themselves to (this mama is seriously thinking about it)
There you have it! My top suggestions for a gift that is both thoughtful and very unique for this Mother's Day. What is the best Mother's Day present you've ever received or given (handmade or otherwise?) Any of the above resonate with you? I was a big fan of 'coupon books' as a kid and I can't wait to get them from Liv when she's a little older! 5 minute back massage? Help unloading the dishwasher? Yes please!
PS you can find all gift guides posted here at PDB by checking out this link.
Tags:
Mother's Day
Posted in
Gift Guides
,
Holidays
|
4 Comments »
May 11, 2011
My first official Mother's Day was wonderful. We had both Grandmas in town and Kevin treated us to a special picnic at the Organ Pavilion at Balboa Park in San Diego. It was cloudy and even a little drizzly out so Liv got to try out her new adorable hat: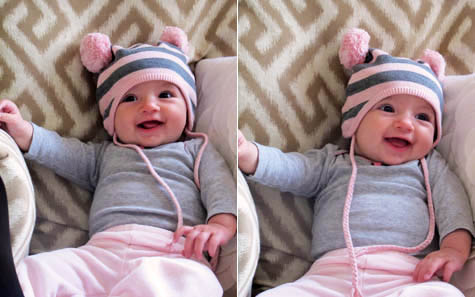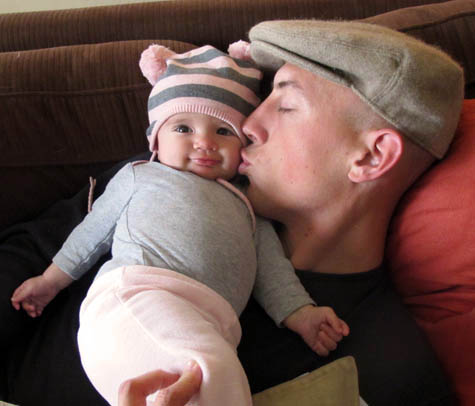 I wanted to put something special together for Mother's Day for my mom-in-law, Eileen, and thought of Thank You Tea.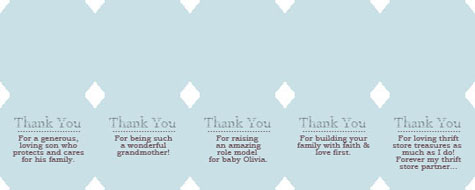 I know that she loves tea and so I created tea tags with little thank you sayings and replaced the usual black tea tea tags with my handmade versions.
Here's a full size blank tag if you'd like to create your own for a future birthday or holiday: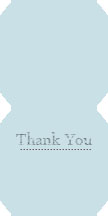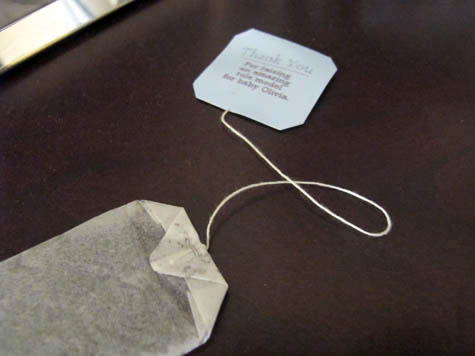 Next up were the cookies and I was inspired by an image I found on Pinterest (just starting to discover this amazing tool!).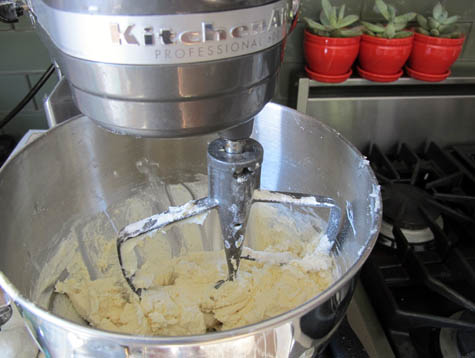 I made lemon sugar cookie dough and cut notches out of each cookie prior to baking. When finished, the cookies will slide right onto the tea mug!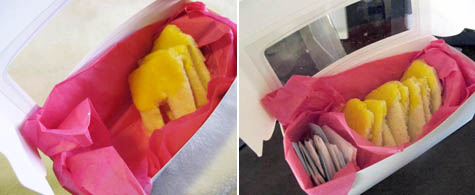 You could decorate to fit any party theme but I dipped mine in a simple powdered sugar + lemon icing and finally yellow sugar/sprinkles.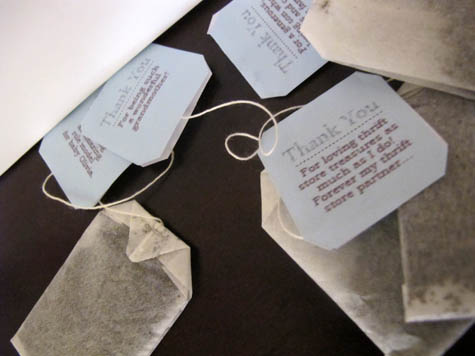 I also made photobooks for both Moms, more to come on that project.
And my gift for Mother's Day?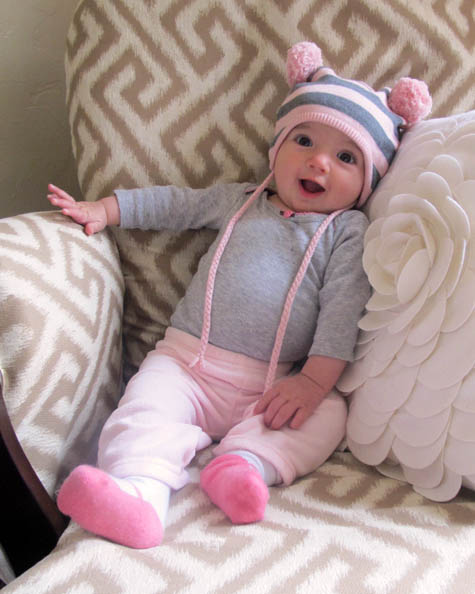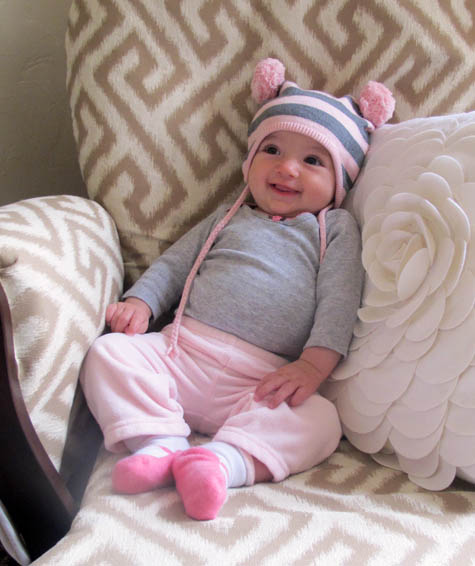 She's the best, and already four months old! New hat from Zulily.
Tags:
Cookies
,
Desserts
,
DIY
,
Mother's Day
,
Recipes
Posted in
Family & Friends
,
Parties & Entertaining
|
10 Comments »