December 12, 2011
Hope you had a lovely weekend! Ours was fairly low key with quite a bit of catching up on our to-do lists plus a Christmas party on Saturday. Speaking of Christmas parties,  Maryam and I each put together two December-themed style boards of what's inspiring us this season. (To check out the full list of boards, jump out to the Wardrobe Style Board gallery.)
Maryam's up first!
**********************************************************************************
Hello again!
I am guessing you're probably spending time with your loved ones, decorating the home and adding a little tinsel here and some shimmering lights there. In the midst of all this wonderful holiday cheer (or madness), you may have forgotten about you…As in what you'll be wearing for the possible events to come. So I thought I'd share a little of my sparkling style inspirations for this season.
Shimmering sequins abound these days, and I am all for it. Glitzing up a bit can really change your mood. I wanted to show a few different ways you can be both bold or subtle with your sparkle use.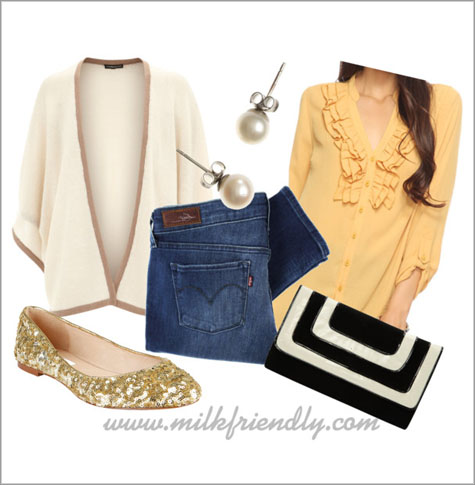 Grabbing yourself a pair of sequined flats is a sure fire way to subtly elevate a simple outfit and take it to chic town. Plus, if you're out in an uncomfortable situation, you can always tap those toes together and mutter "there's no place like home."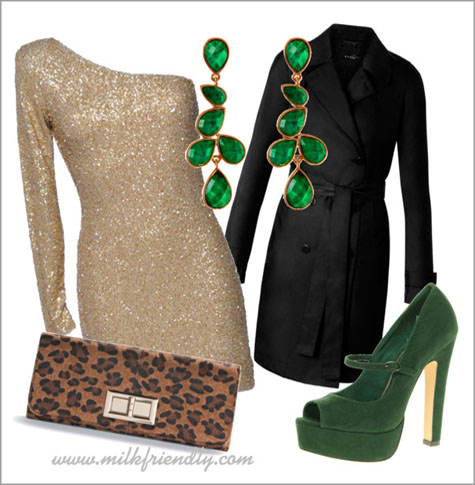 More formal holiday parties and/or New Years Eve celebrations are the time to go all out. Asos has a fabulous variety of glam dresses to chose from. Decide quick, so you can get your treasures in time to par-tay!
No matter what holidays you may be celebrating this season, I hope you all get to savor the little moments with loved ones. Enjoy and I'll see you next week!!
a
With love,
Maryam
**********************************************************************************
Alright, the baton's been passed back to me. I'm jumping on the sparkly bandwagon this Christmas as well and agree that it's the perfect time of year to incorporate glittery shoes, handbags and tops into your everyday wardrobe. I also have a love for all things matchstick cords and am really adoring this giant navy chunky sweater. A go-with-everything watch (like this classic Timex) is on my Christmas wish-list.
Shabby Apple sent me over the below skirt and I've been coming up with clever ways to wear it for winter. I love the look of a baggy top tucked into a high-waisted skirt and this particular skirt is so flattering! I'd match it with a sparkly boat neck like this one or a navy loose knit sweater. That plus knit tights and a bright clutch and I'd be set for a Christmas party.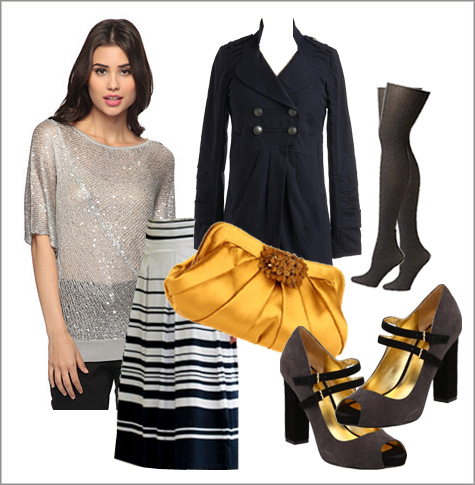 We'll be sharing one more style board post (and four more fun ideas) next week… with New Years Eve in mind!
As always, you can find sources and prices for the above in the gallery. Thanks, Maryam! (Oh, and for more sparkly style posts by Maryam don't forget to check out her blog.)
Tags:
Christmas
,
Fall
,
Fashion
,
New Year's Eve
,
Winter
Posted in
Wardrobe
|
2 Comments »
December 28, 2010
There are so many inspiring ideas out there for New Year's Eve! If you're planning on throwing a dinner or late-night bash, here's a round up of a few of my favorites. They may not all be designed for New Years (some of the tablescapes are from weddings and photoshoots) but the colors and diy ideas are beautiful.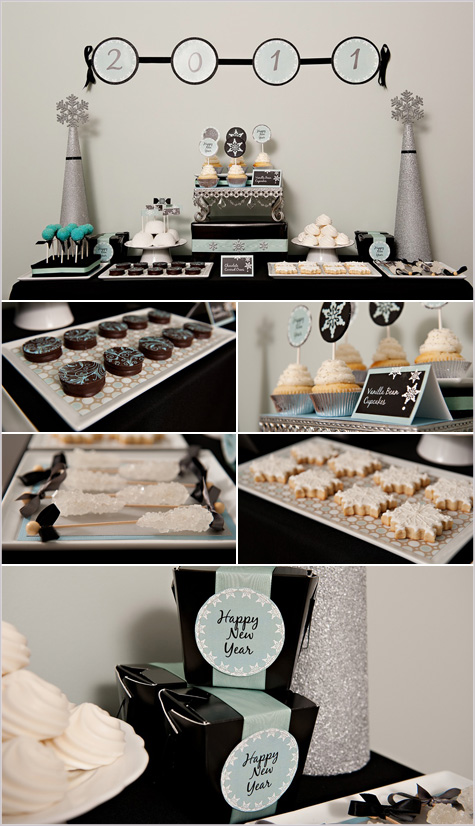 Sandra from The White Library recently sent over the above Winter Wonderful New Year's Eve dessert bar. The entire table is so fun but my favorite is the paper lined party trays – what a great idea!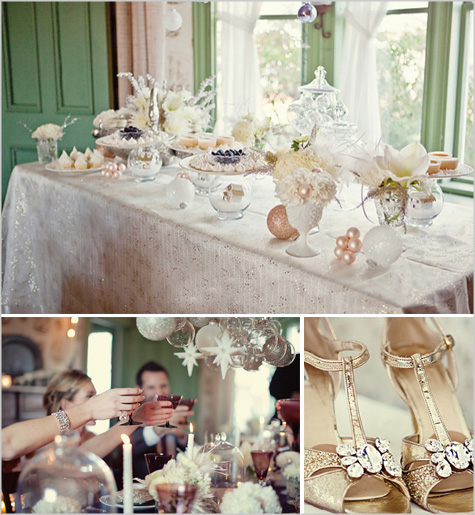 The above Style Me Pretty photoshoot is the perfect combination of a little dash of Christmas filled in with a whole lot of glittery New Years. A dinner party focused on soothing colors such as green, pink and gold would be oh-so-lovely.
This Glitter and Snow themed celebration was sent over by Bird from Bird's Party. I adore the little details that make this black & white party so special – from the mini glitter disco balls to the cute labels it's a classic way to ring in the New Year.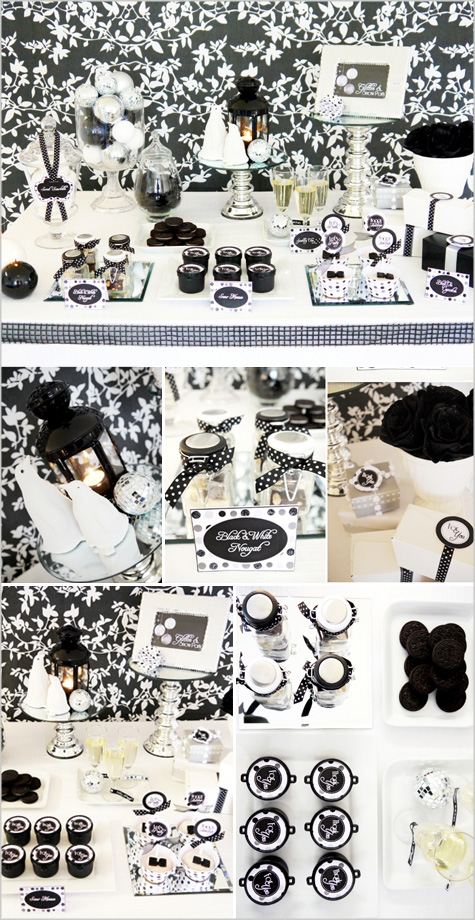 This Kate Spade-inspired shoot could easily be modified to create a beautiful New Year's Eve party. How great are the colors?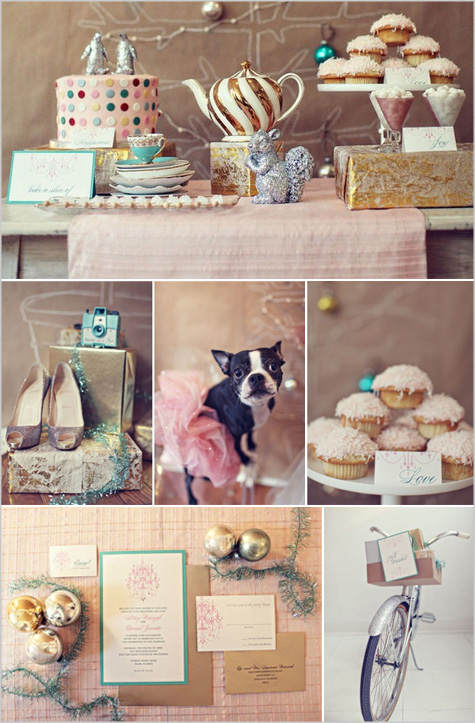 I think if I had to pick a theme for a dinner party at our house I would lean towards a rich peacock blue with vintage silver accents setting like this inspirational photoshoot (found here at SMP).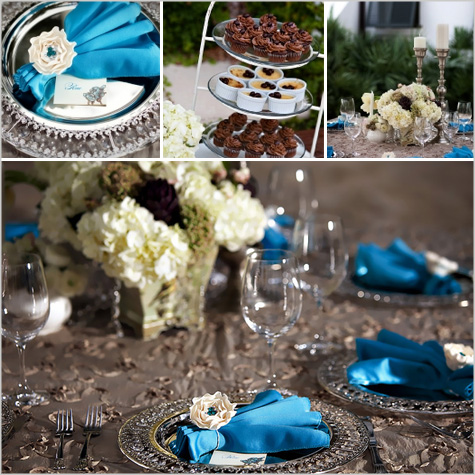 Finally, The Couture Cakery designed a damask-themed dessert table and party (shared recenty at HWTM) that pulls in big white feathers and bold prints perfect for the holiday!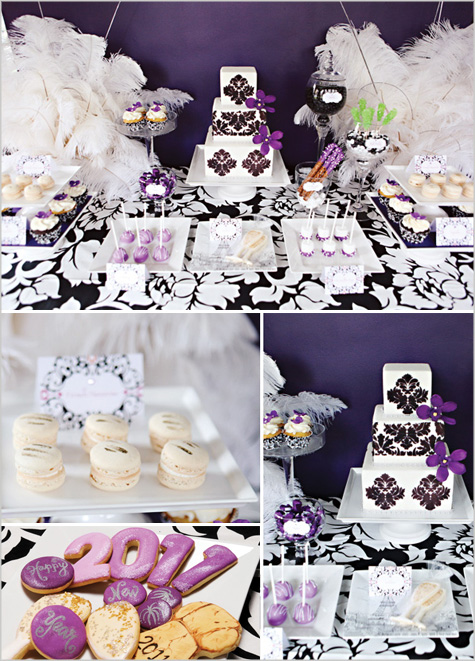 There you have it, five themes to inspire for the final days of 2010! I'm always so surprised at how quickly the week between Christmas and New Years flies by…
Tags:
Decorating
,
Dinner Parties
,
DIY
,
Glitter
,
New Year's Eve
,
Parties & Entertaining
Posted in
Holidays
,
Parties & Entertaining
|
2 Comments »
January 28, 2010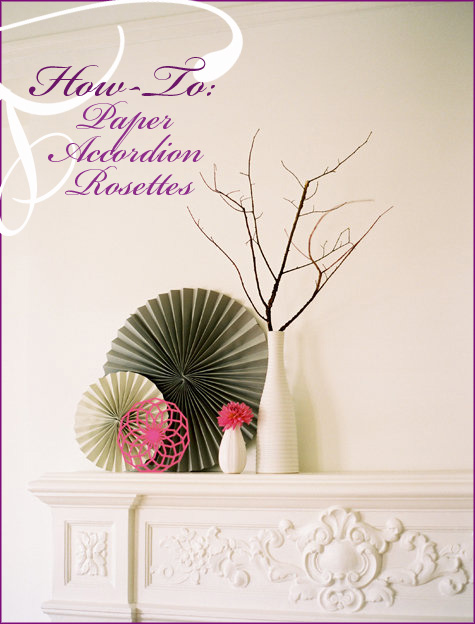 I love when you find inspiration in the most unexpected of places… the other day I was thinking about those little accordion paper fans I used to make as a little girl by folding up 8 1/2×11 sheets of white printer paper. They might turn into turkey tails for Thanksgiving or maybe even folded hearts for Valentine's Day.
I found this lovely inspiration board (below) at Paper Crave and it brought me right back to the 2nd grade. The grown-up version of paper accordions comes in the form of folded maps, book pages or antique wallpaper.
I really love the simple way these accordion paper poms fit into every type of party decor. I can imagine them delicately hung above a wedding reception dance floor, lined neatly over a bridal shower dessert buffet or in bright & bold hues for a child's birthday party.

The rosette 'table confetti' is my favorite. And how pretty are the button and brooch centerpieces? A little pearl bead would be perfect.
Once Wed designed an entire grey, green & pink dinner party around this theme (see top top photo), and design*sponge shares it here. To make your own paper accordion rosette, Paper Source provides a free downloadable pdf. And finally, a super easy DIY awaits after the jump! Read more »
Tags:
Baby Shower
,
Birthday
,
Blue
,
Bridal Shower
,
By Color
,
Christmas
,
Crafty Solutions
,
Decorating
,
Dinner Parties
,
DIY
,
Green
,
Grey
,
Kids Party
,
New Year's Eve
,
Paper Crafts
,
Parties & Entertaining
,
Patterns & Color
,
tea party
,
Tutorial
,
Wedding
,
white
Posted in
Crafty Solutions
,
Parties & Entertaining
|
8 Comments »