March 29, 2011
In our efforts to go green, we've decided to switch over to cloth diapers for Olivia. (Read more about that decision and the beginning of our experiment here.)
When I began my cloth diapering adventure two weeks ago, I was as much a novice as anyone can be in the world of cding. I scoured cloth diapering blogs only to find myself more bewildered with the more research that I did – this isn't your mama's cloth diapering! No sirree, times have definitely changed.
Words like 'pocket diaper', 'hybrid' and 'all-in-one' made me wonder which style and brand would be best for us. Despite all of the reviews for this diaper or that, the only way to truly nail down what worked for Liv and our fam (and to learn the lingo) was to take three of the main cloth diaper styles out for a test drive.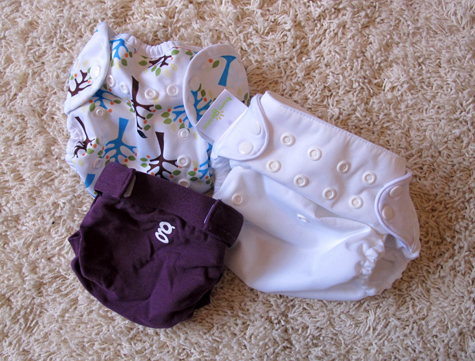 Clockwise: Thirsties cover, BumGenius and G Diaper
Just to make sure there was no cheating involved, we began our little experiment as soon as we ran out of disposable newborn diapers (alright… I kept a few for traveling) – meaning Kev had to give each one a whirl as well. Above is the line up of the first three cloth diapers we tried out.
And now for the tools of the trade: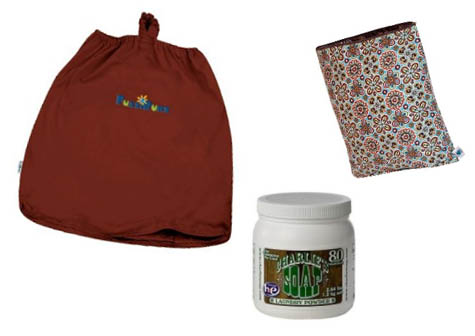 Clockwise: Fuzzi Bunz Hanging Wet Bag, Planet Wise Small Wet Bag, Charlie's Soap Powder
1. A large hanging diaper pail or wet bag keeps dirty cloth diaper smells in and makes laundering easy. I just pour my entire contents of the bag every other day into the wash (tossing the bag in, too) for a quick cold rinse and a hot cycle – voila! Clean diapers. Most can be tumbled dry as well.
2. A small travel wet bag is key – this zippered version comes in a ton of cute patterns and holds 2-3 cloth diapers on the go.
3. Charlie's Soap Powder does an excellent job of cleaning tough stains. 1 tb per load means over 80 loads out of this little container – plus it's biodegradable.
Not bad, right? After all, it's as one reader put it: You can either drop your dirty diaper into the trash bin or into the washing machine – it doesn't have to be difficult.
*****************************************************************
Cloth Diaper Review #1
a
My top three criteria: ease of use, trimness and durability.
My ideal cloth diaper needs to be easy to use (dad-friendly) whether we were changing diapers at home or on the go. The cd would be trim – it would be nice if the diaper fit nicely beneath Liv's little newborn clothing (and not resemble an over-sized stuffed bum), and finally (and most importantly!) the diaper needed to do its job and do its job very well.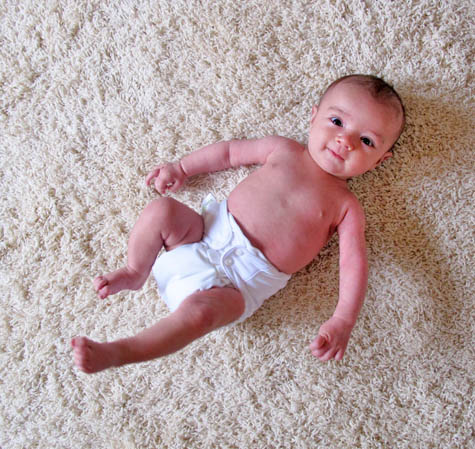 First up: BumGenius
BumGenius is a popular cloth diaper that offers a variety of different sizes and styles for cding. Before Liv was born, I invested in a white, one size pocket diaper after reading rave reviews. "Pocket" refers to an inner lining that fits a pad-like cloth insert for absorbency. The insert can be pulled out for washing and then re-stuffed into its pocket for quick drying (at first I thought that was silly, why have to stuff anything? but I quickly learned that it can take quite a few dryer rounds – or days of hang drying – for an all-in-one diaper to dry, and that the pocket is really sort of genius).
Pros: The diaper does its job well – it easily holds up to long nights (especially when two inserts are added) and is my go-to diaper for absorbency. The one size diaper means one investment on diapers that will fit Liv from 8-35lbs, no need for multiple sizes.
Cons: There is nothing trim about the one-size-fits-all look. Any diaper that can fit an 8lb and 35lb baby (despite the numerous snaps for resizing around the legs and belly) is bound to be bulky on an infant. So bulky, in fact, that I reserve this diaper for night time use only. Kevin doesn't get the stuffing of the pocket quite yet and finds it a bit silly. My easy remedy is to have the diapers stuffed with their lining and ready to go in the changing table for anyone to use.
Conclusion: Great night time diaper for infants! I think this diaper will begin to get more use as Liv grows into it.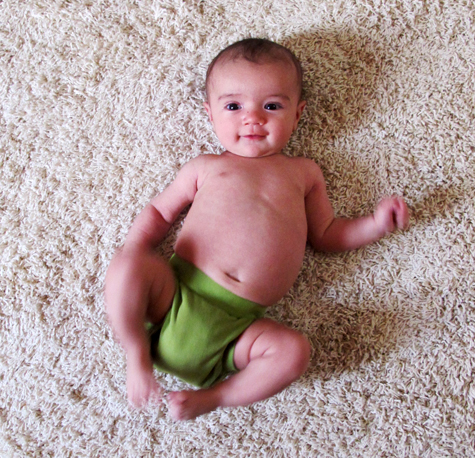 The G Diaper
The G Diaper is a hybrid diaper that can hold both cloth and disposable/biodegradable inserts. I use the cloth inserts 99% of the time but appreciate the flexibility of the disposable inserts for travel. There are three components to the diaper: the insert, a plastic lining snapped into the cover that holds the insert, and the actual cloth cover.
Pros: The G is by far the trimmest of the bunch and hides itself well under any infant outfit. I have found it to be about as reliable as a disposable, meaning it won't hold in the occasional explosion but does a really great job at containing just about everything else. The disposable insert can be tossed into a landfill and will biodegrade within 30 days (granted it's not encased in a plastic bag) – better yet, it can even be flushed. When we have our new bathroom I look forward to taking advantage of this feature (I did get to try it out while at the in-laws – fantastic!).
Cons: The three-part diaper is both frustrating and convenient. It's a lot of pieces to assemble and break down which can get quite annoying, but on the other hand you only have to change out what gets dirty during that diaper change. For example, I usually am replacing the cloth or disposable insert but reuse the cover and plastic lining for future changes (not possible with a pocket diaper). The separate plastic lining helps to contain messes that might come out of a traditional cloth diaper at the legs.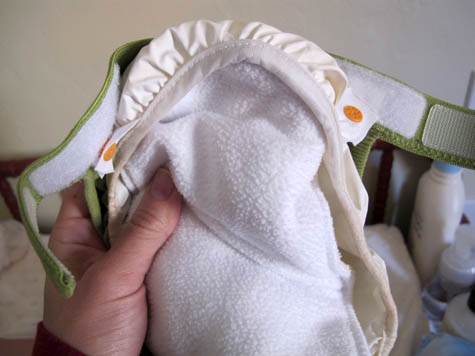 Conclusion: The disposable inserts are nearly as expensive as disposable diapers so motivation to use them is purely environmental. The cloth inserts on the other hand are an easy option and are definitely wallet-friendly. With the reusable lining and cover, plus the slim fit, this is a great around-town diaper!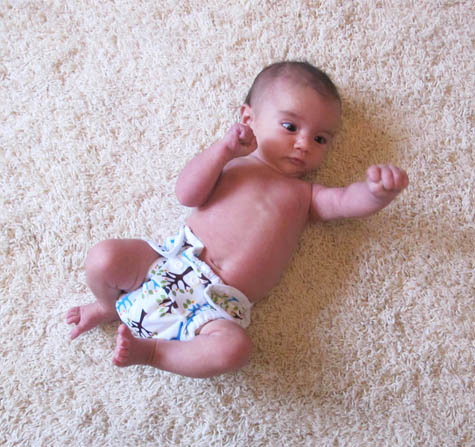 Thirsties Cover + Prefold
Last but not least is the final style of diaper reviewed: a traditional cloth diaper covered by a water repellent (and super cute) cover. I've since learned that there's an actual fitted cloth diaper option for underneath the cover, but since it is also made to cover the most economical cloth diaper out there (a prefold – the rectangular square of cloth that is today used as a burp cloth and twenty years ago was pinned into place) I gave it a trial run.
Pros: Absorbent is this cloth diaper's middle name. It not only holds in everything, the water repellent cover keeps any wetness on the inside from affecting outfits and blankets on the outside.
Cons: Liv is now 11lbs and super lean (97th percentile in height and just 50% in weight), which means that her skinny legs easily allow messes to sneak through the diaper leg holes. Because this Thirsties cover has no elastic around the legs, I was cleaning up my fair share of outfit messes.
Conclusion: I'd like to try a fitted diaper for under this particular cover. I'd use again for night (yeah, absorbency!) but it wouldn't be my first choice for everyday use.
Before I can announce any cloth diaper winner…
It was near impossible for me to stop my testing here. After having learned what I love and hate about the above three cloth diapers, I jumped online and purchased three more brands/styles that will hopefully help me track down the best option (do they make a trim, hybrid, tight-elastic-in-the-legs diaper, for example?). Come back soon for Review #2!
Tags:
Nursery
Posted in
Family & Friends
,
Going Green
|
18 Comments »
March 15, 2011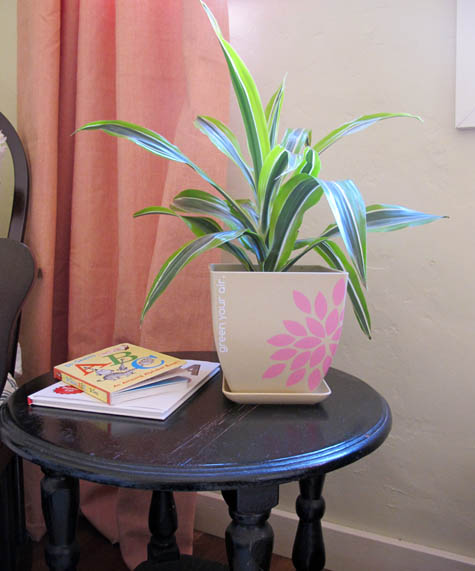 A friend of mine recently brought Liv a most unique gift – a plant for her nursery that's known for eliminating harmful pollutants from the air.
Maryam, & co-founder Jennifer, began the company Green Your Air earlier this year and specialize in selling plants that have unique chemical-eliminating properties.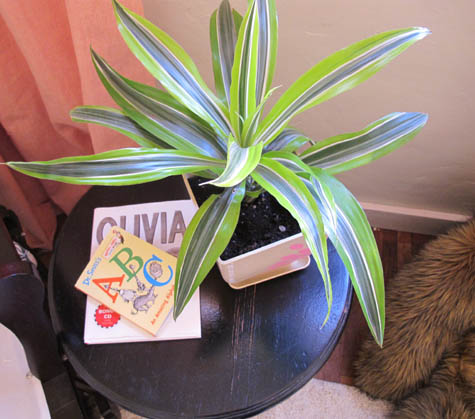 I was checking out their new website and they have a great selection of plants in the cutest pots. I love this pink zinnea print (even the pots are made from bamboo fiber, rice husks, wheat straw, and corn stalks that can biodegrade in 2-3 years after discarding). I'm sure I'll use it again and again though!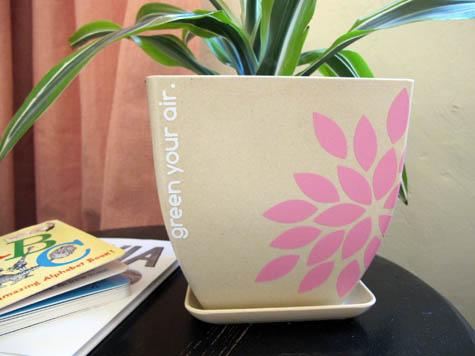 From their website: "Green Your Air products are a natural, effective way to eliminate harmful pollutants in your home or office. Each live plant is backed by NASA research proving its ability to green our air naturally – each with its own specific and unique chemical-eliminating properties. (Oh yeah, and they're designed to look as good as they work). Green Your Air: Brought to you by two moms trying to make the earth a little greener."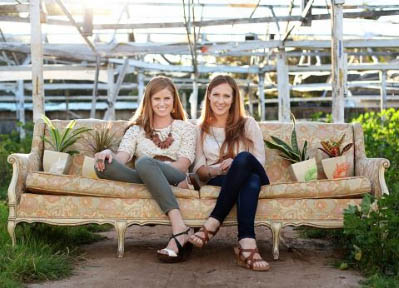 And I love how it looks in the animal-themed nursery! (Gotta love that cute little Olivia the Pig book, too – have you heard of the series?)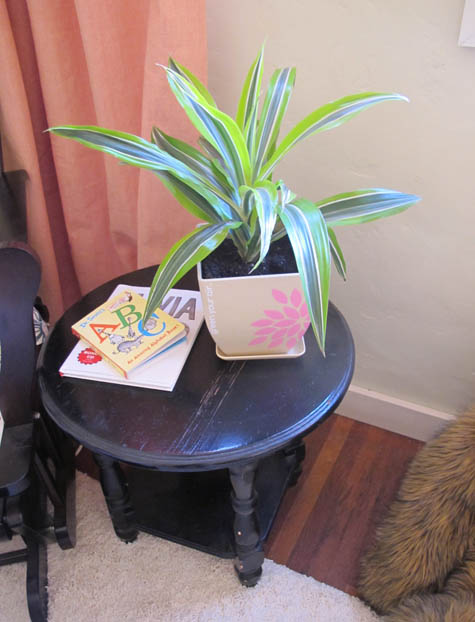 Can't wait for the nursery reveal. The glider's custom cushion covers, DIY crib bedding and basket liners are all nearly finished!
Tags:
Decorating
,
Home
,
Kid's Rooms
,
Nursery
Posted in
Family & Friends
,
Going Green
,
Home
,
Renovating Adventures
|
2 Comments »
March 7, 2011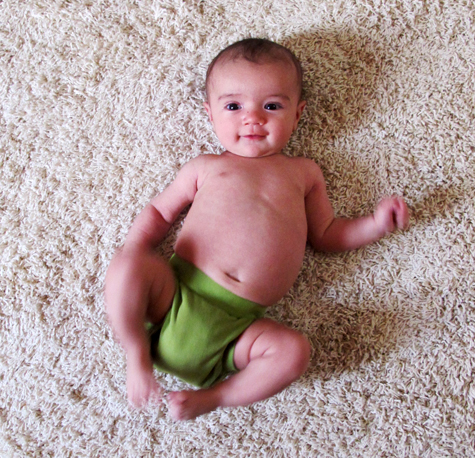 I knew cloth diapering would be my choice for Liv from the start – Kevin on the other hand, was a bit skeptical. Although we work to be extra green around the Spenla household (in what we eat, in our cleaning products and in the materials we choose for remodeling, for example) cloth diapering appears on the surface to be all sorts of messy, inconvenient and just, well, icky.
But my decision had been made early on. Back in college I had the opportunity to travel down to Managua, Nicaragua with Nica HOPE to work with kids that lived in and around the city dump. Coming face to face with landfills that stretched for acres and acres was a life changing experience, and a chance to witness the devastation that piles and piles of garbage are for us and our planet makes you rethink many of your own trash habits.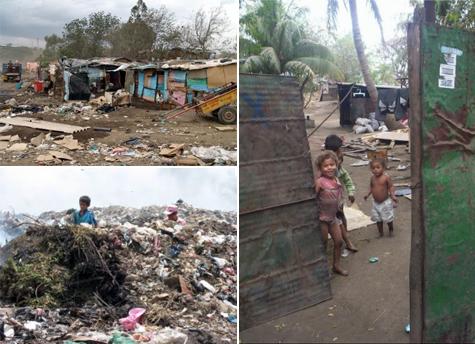 Our landfills in the States don't look quite like the versions in third world countries, but they are multiplying at a scary rate nonetheless.
Surprisingly, diapers take up 4% of that space (it's estimated that the average little baby bum uses roughly 4-6,000 diapers in their first two & half years, that's somewhere around 40 billion in the US alone) and since it takes between 250-500 years for a diaper to decompose, we're talking mounds and mounds of plastic & rotting waste for our kids, our kid's kids, our kid's kid's kids and so on. Here's another crazy fact – the weight of just one year of disposable diapers used in the US is 7.2 billion pounds, and laid end to end these diapers would circle the earth 90 times.
Then there's the whole health side of the issue and the fact that diapers contain a high amount of chemicals… and the economical point of view that cloth diapering is quite friendly on the wallet (diapering a child in disposables runs between $1500-$3000, depending on the brands you choose and how many your little one needs).
But at the end of the day it all boils down to which one's cuter, just kidding

: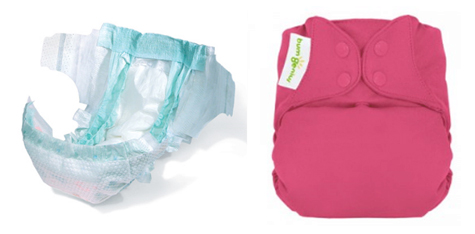 All of that being said, I know the choice isn't for everyone and there's zero judgment on my part for mommies that prefer the flexibility and convenience of disposables (we agree – they are easier! and we'll likely use them for travel and what not in the future). It's a personal choice and every parent has the right to make it for their own family.
Right now we are slowly weaning ourselves off of newborn disposables. Liv was so teeny as a newborn that she really didn't fit well into the small cloth diapers until now (although for babe #2 I'll probably start using them sooner).
And so for the next week I'll be checking out three versions that I've read rave reviews about: G Diapers, BumGenius and Thirsties – and I'll be sharing all of the fun details here (sorry in advance to everyone out there that could care very little about what goes on Liv's bottom – I promise there are many great remodeling and design posts to come as well!).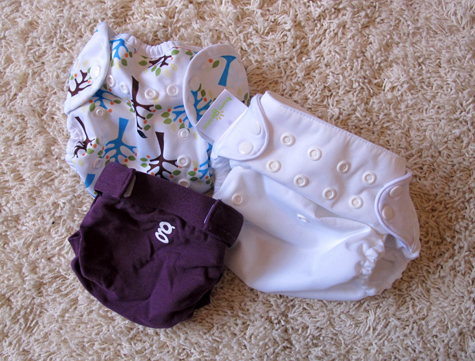 Clockwise from top: Thirsties, BumGenius, G Diapers
I chose these three options because they are three very different versions of cloth diapers (the concept in general has moved leaps and bounds in a more mom-friendly direction from years ago!).
G Diapers: hybrid diapers made of a soft cloth that you can fill with either a disposable, compostable insert or a cloth reusable insert.
BumGenius: a cloth diaper with no insert – or an All-In-One as the pro CD moms say (you wash the entire diaper when it gets dirty).
Thirsties: A cover that goes over a traditional three-part cloth diaper (you know, the type that used to be clipped with an extra large safety pin, the type of cloth diaper commonly used as a burp cloth today?).
Let the Baby Green project begin!
If you have any CD tips and tricks, feel free to share!
Tags:
Nursery
Posted in
Family & Friends
,
Going Green
|
18 Comments »