June 15, 2011
Now that the nursery is finished and Liv has a comfy room to sleep in and plenty of play space to explore, it's time to get back to the office/guest room makeover (man oh man are kitchen barstools not a comfortable place to work on your computer all day!).
Last time we left this space, just before Christmas, we were working on projects like this: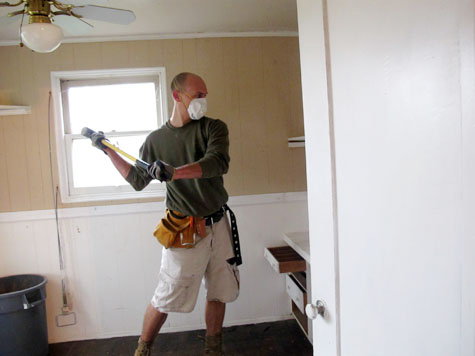 Demo time! We were hoping that we might be able to squeak out a new office/guest room before Liv joined us (not a completely furnished space – just a bare room would do) and before you knew it the entire room had been torn to shreds.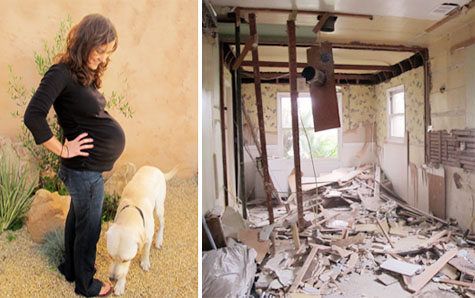 Here's a quick recap on the tiny bedroom and old kitchen space before demo (actually, before we moved in). You can see in the top sledgehammer photo that we painted the little bedroom a neutral tan and used the paneled walls to create a chair rail look, and that's how it lived for the first two and a half years. But for a more dramatic before and after, these are the two rooms that are now the office at the time we purchased the home: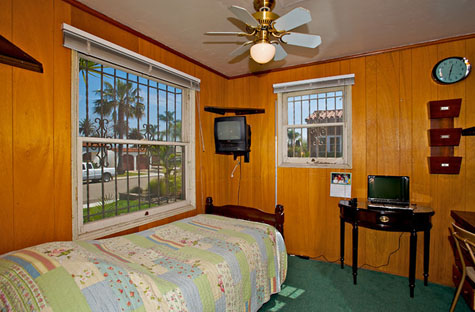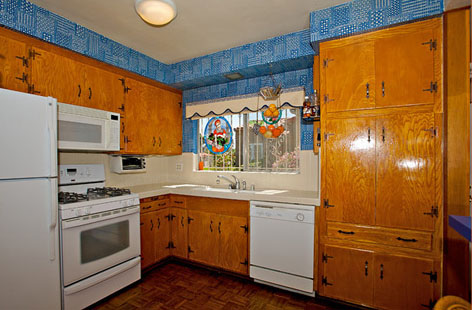 Kevin worked for about two weeks over Christmas and New Years to bring down the wall between the two rooms and to clear out the entire space.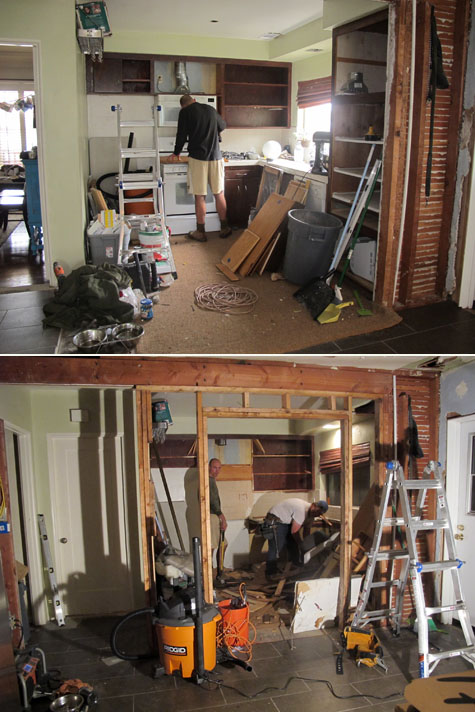 You can see from above that we had made a few changes to the old kitchen after we moved in as well, such as painting the walls a soft green and staining the older cabinets a dark espresso. We also changed out the hardware and added a jute window shade where a valence had once hung.
When family came to town for Christmas, this is what they were met with. They're used to construction around here but boy was the inside of this room dirty! We attempted to tape it off to the outside world but there wasn't much to be down to hide the elephant in the room.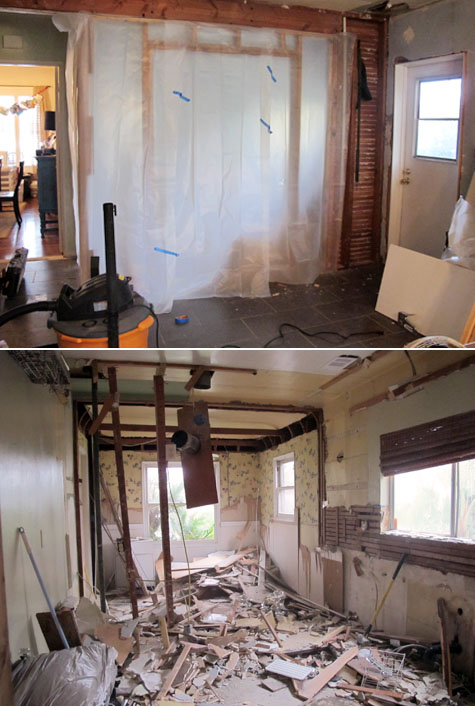 The smashed drywall and extra dust didn't have much time to settle in, and just before Liv's arrival on January 9 we were able to clear the extra debris out of the room so that it looked a bit more like this: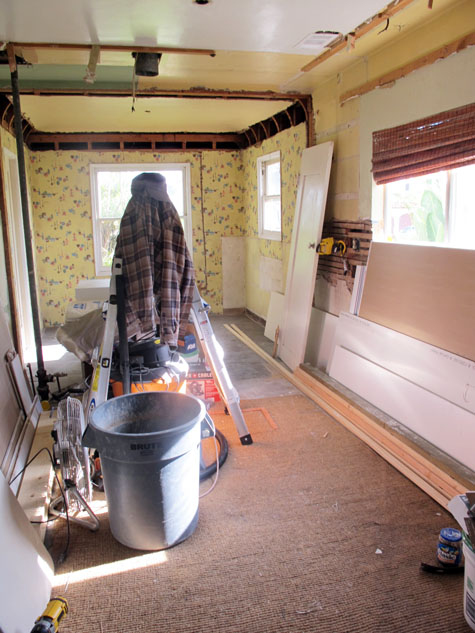 And then Liv was here! And the office makeover rested as-is for several long months… Kevin went back to school, we all got to know beautiful baby and we started working on the new guest bathroom after the-best-email-ever arrived.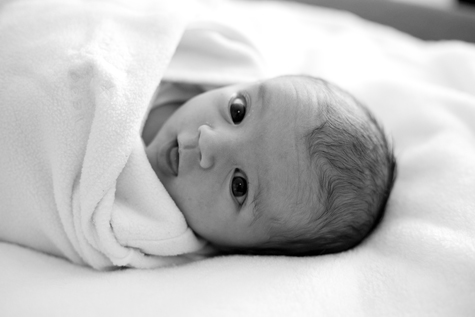 But the office is back! We're diving into it as we speak (doing double duty on the office/guest room and the new bathroom) and today the office looks a bit cleaner from the outside: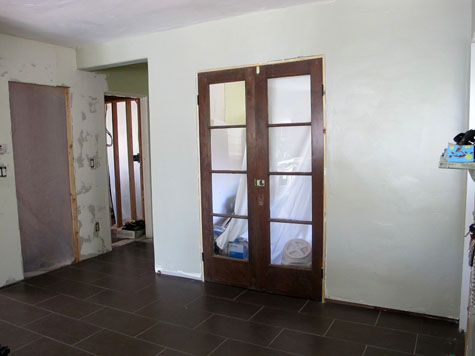 Her framed walls are now covered in hardibacker and plaster, they have the slight 'Spanish texture' applied and they're painted the same Buzz Brown as the kitchen (which is just behind me in this picture.) Even the ceiling with its previously open attic access (left over from installing the new AC/heater) is all closed up with a new attic door and a coat of white paint.
Now you're all caught up to where we've left off. I'm so excited for this new space! and doubly excited to move my home office from the kitchen island into an organized room.
For more Office Makeover posts, check out: desking hunting for under $300, bookcases under $300, inspirational rooms, room layout options, demo part 1 & demo part 2.
Tags:
Construction
,
Decorating
,
Home
,
Office
Posted in
DIY
,
Home
,
Our Guestroom/Office
,
Renovating Adventures
|
6 Comments »
March 10, 2011
I'm back on the hunt for the future work space! Earlier this week I posted a round up of ideal bookcases under $300 to fit the new office. Now it's on to the desk… There are so many great options out there that I've found it easiest to narrow the selection down based on the ideal size, color and design.
A bit more on the criteria…
Size: The standard desk is about 44-48″ wide and 18-22″ deep, but my ideal desk would be either wider or deeper than this so that I can stretch out multiple projects and still feel organized.
Color & Design: I'd like the material/color of the desk to be different from the bookcases (so that we don't get too matchy matchy over here) while still complimenting each other. And you know, if one is more French-inspired (with the 'x', for example) it would be nice if the other was a different design, say more modern or more rustic.
I took this dilemma to Craigslist hoping for an awesome makeover project that would be perfect for the space. Alas, no results to be found. So, here's my favorite resource round up for desks under $300!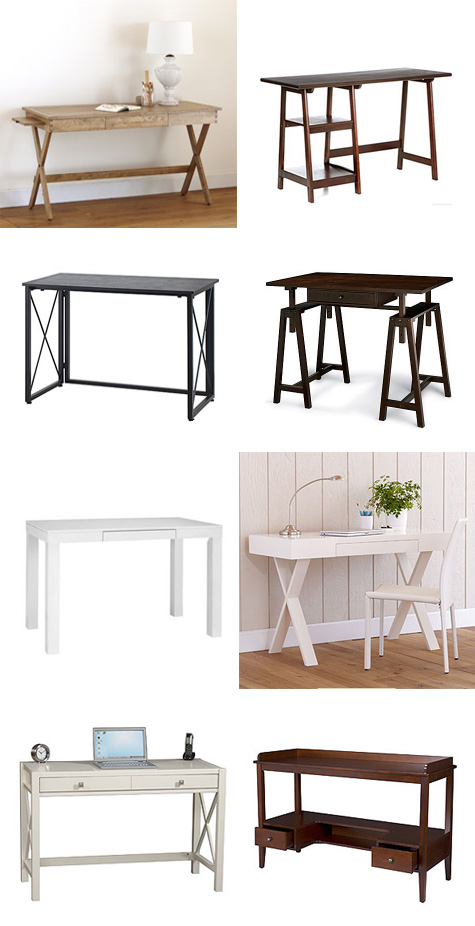 That first one is near an exact copy of the inspiration board desk I used for San Diego Magazine's Office Organization article. I mentioned how much I lovvvveedd the Layla & Grayce option but loathed the $2,000+ price. And now there's a $200 option!
This  round up includes options from JC Penny's, Home Decorators Collection, Ikea, West Elm & World Market. I'd throw in a few from Overstock as well (always a great resource) but I couldn't find any that I loved that beat the prices of these stores, the above range being from $99-$299.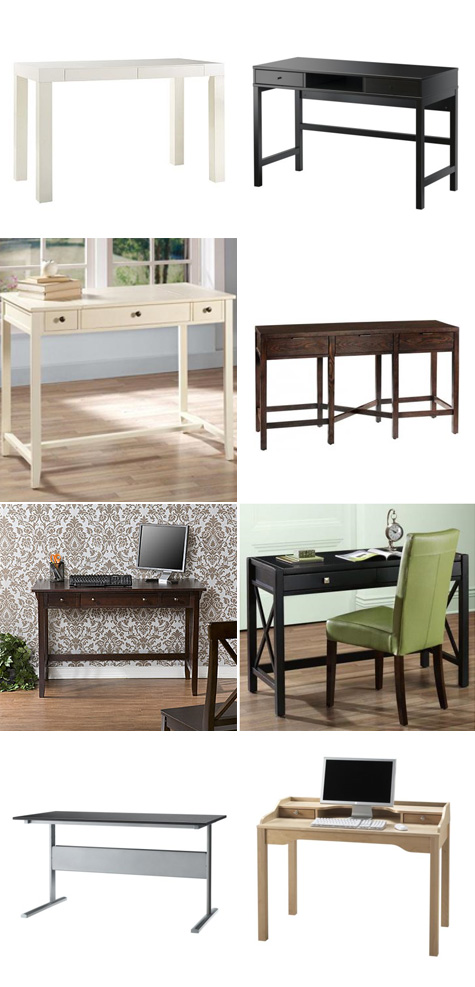 Some these are a bit smaller than I'd prefer, but I'm going to pair them up with the bookcase round up from Tuesday and see if I can't find a good set nonetheless. There may be more options for extra storage to make up for the lack of desk space…
Back to the drawing board I go.
For more Office Makeover posts, check out: bookcases under $300, inspirational rooms, room layout options, demo part 1 & demo part 2.
Tags:
Accessories
,
Decorating
,
Home
,
Office
,
Shopping Source Lists
Posted in
Home
,
Organizing
,
Our Guestroom/Office
,
Renovating Adventures
|
9 Comments »
March 8, 2011
While the future guestroom/office still looks like this (as soon as Olivia arrived we halted construction for a bit):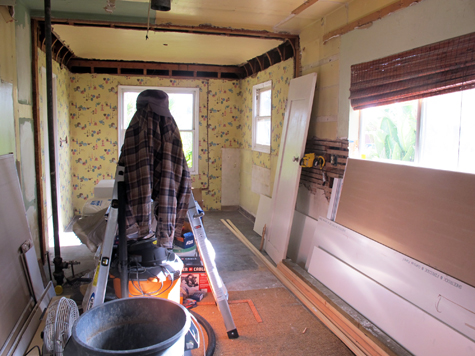 We've made tentative plans to resume renovation for the last week of March! Oh how I've been counting down the days. I'm working full time again and my dining room table loathes me and my bazillion piles of work. It's an organizational nightmare – especially when we need the dining room to feed family and friends.
Since Kevin is a full time architecture student, much of the physical construction work revolves around his school schedule. When he has a break between quarters projects are finished in the blink of an eye, and then I get a good several months to mull over decorating ideas until the next big undertaking begins.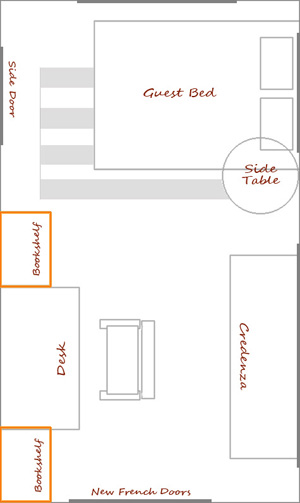 But now that we're in countdown mode to finishing the office/guest bedroom AND beginning our brand new guest bathroom, there's much happy dancing going on over here! And shopping. Because suddenly we are very much in need of a desk, bookshelf storage and a bed.
First up, bookshelves.
I love the look of French Baker's Rack-style bookshelves. The variation in materials (especially the natural wood and metal contrast) compliments so many design styles and although it can be dangerous, open shelving is my favorite (forces you to be organized!).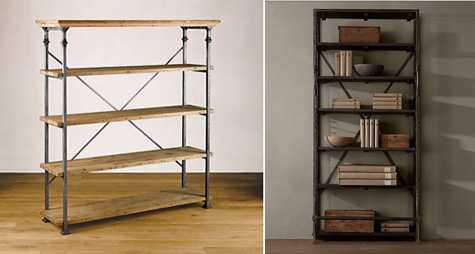 These sets from Restoration Hardware are out of my league, but here are several options that fit the price and look: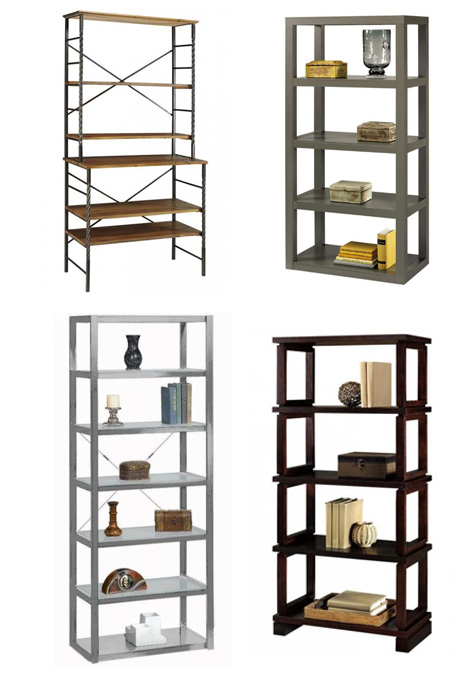 I found most of my favorites at Home Decorators and World Market, two stores that consistently deliver quality products (usually taking cue from the trendier designer stores) at an affordable price. In fact, each of them had their own variation of this design: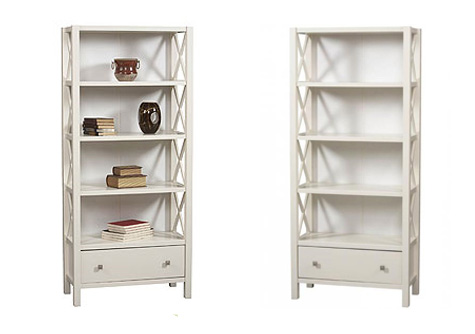 Copy cats. World Market coming in just $30 under.
I love the bare Parsons look (such as the white bookcase above or the grey below) or the X detail of the French-inspired bookshelves (flanking the sides of the shelves or back).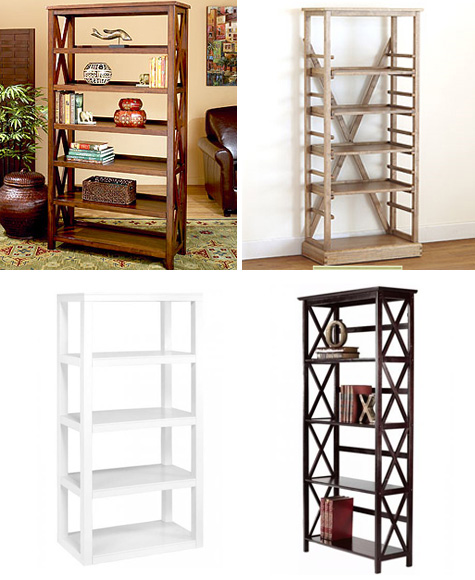 If you're on the hunt as well, Ballard Designs had several fantastic bookcases, but they all broke my $300 a piece budget.
Most of the above bookshelves came in between $99-$250! Great, right? Add to that a Googled coupon code for free shipping or 10% off and two bookshelves for either side of the new desk might be affordable after all. And there's always Craigslist – I've searched for the last two weeks without finding the perfect fit but it usually is a great tool.
After finishing my desk hunt, I'll start pairing options up and hopefully have something ordered this week.
Tags:
Accessories
,
Decorating
,
Home
,
Office
,
Shopping Source Lists
Posted in
Home
,
Organizing
,
Our Guestroom/Office
,
Renovating Adventures
|
7 Comments »