February 28, 2011
I recently put together a trends piece for the March issue of San Diego Magazine that offers tips for designing & organizing your home office (spring cleaning time is almost here!). I also included a collage of inspiring office additions – many of the pieces which represent a 'dream' office space in our office/guestroom remodel – that pull together a very gender-neutral (but pretty!) organized office space.
Here's the inspiration board I created: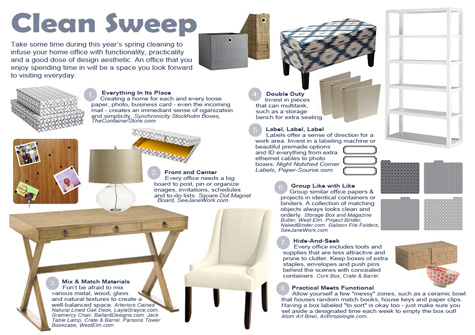 And just for fun, here's the published spread (find the online issue – as well as the eight organization/decorating tips & tricks – here on pages 82 & 83):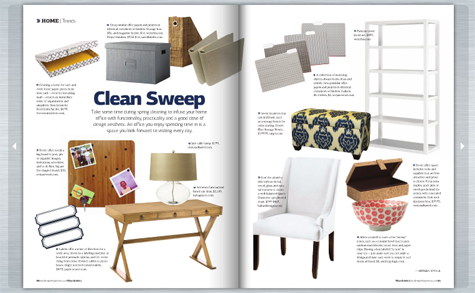 I also wrote an article on a beautiful "ultra modern" home here in San Diego by famed local architect Jonathan Segal: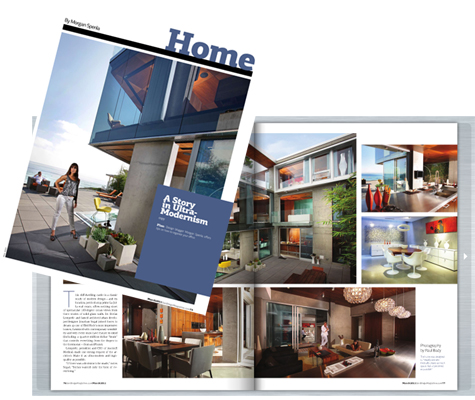 A fun read if you love contemporary design and architecture!
Now if I can only find that beautiful wood desk from Layla & Grayce at about an eighth of the price… it's stunning

and would make an excellent addition to the new office. Hope you had a lovely weekend!
You can find the February San Diego Magazine edition on masculine and feminine bedroom inspiration boards here.
Tags:
Office
Posted in
Home Inspiration Board
,
Organizing
,
San Diego Magazine
|
6 Comments »
January 19, 2011
Progress on the new home office/guestroom has stalled a bit with all of the excitement over here. In fact, now that Olivia has arrived I'm keeping my fingers crossed that we'll find the time to finish up this new space that we conveniently opened up just three weeks before her arrival.
Until then, I'm having plenty of fun dreaming up the design of the future multi-functional room.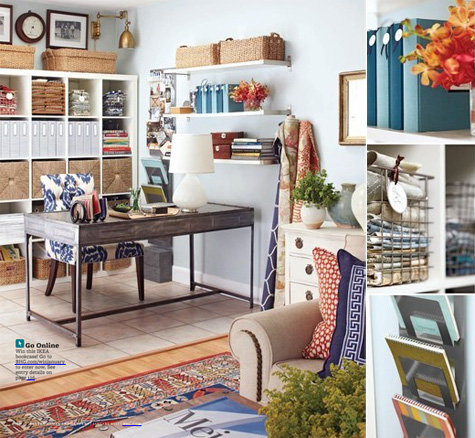 The above room from BHG's January issue fits in some of my favorite organizational ideas and I love how the wood and various metals work together. The below DecorPad rooms show off clean, well-designed office spaces that balance style and functionality.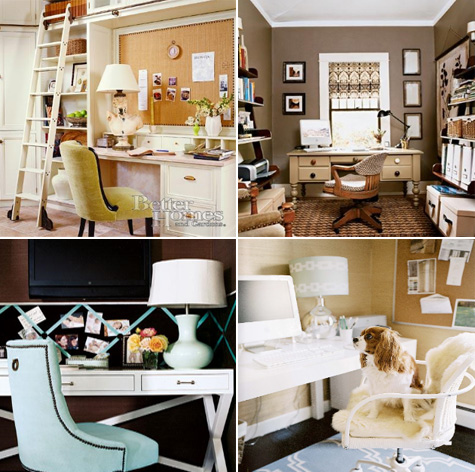 I'd love to find a white desk similar to this version shown on the front page of the January issue of BHG, and how great are those beautiful linen, rattan and leather organizing binders and boxes?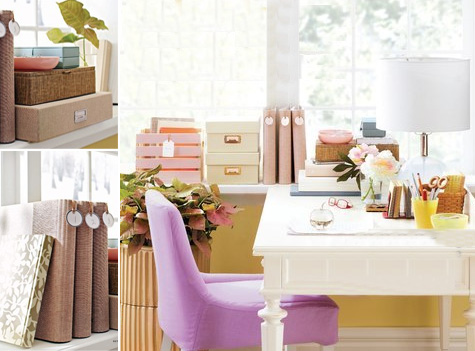 More great examples of that perfect style-meets-function from Houzz and Ish & Chi.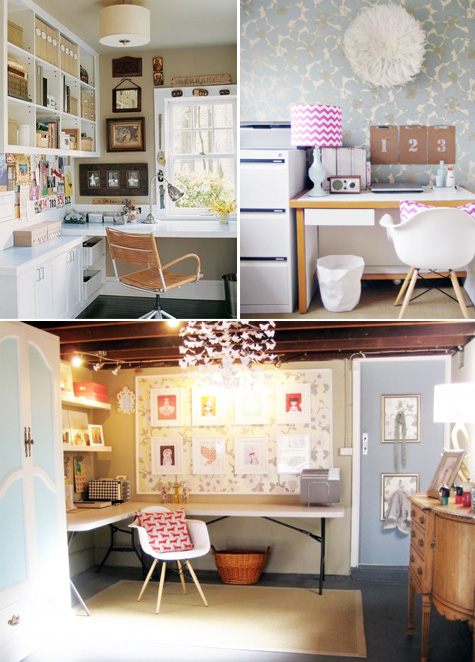 And a few more from DecorPad.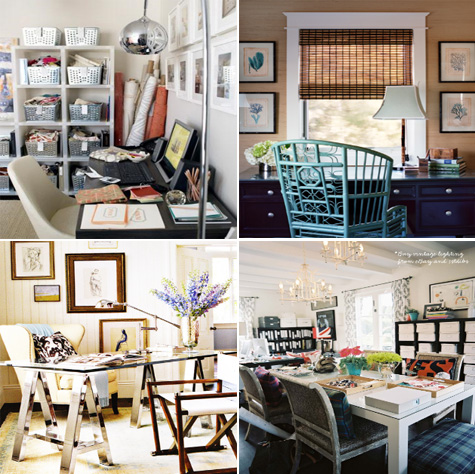 I love the look of floor to ceiling bookcases as in the first room below – painting or wallpapering the back of them to mix it up would be a fun idea too. These examples of beautiful diy spaces are from Centsational Girl, Turquoise Design and House Beautiful.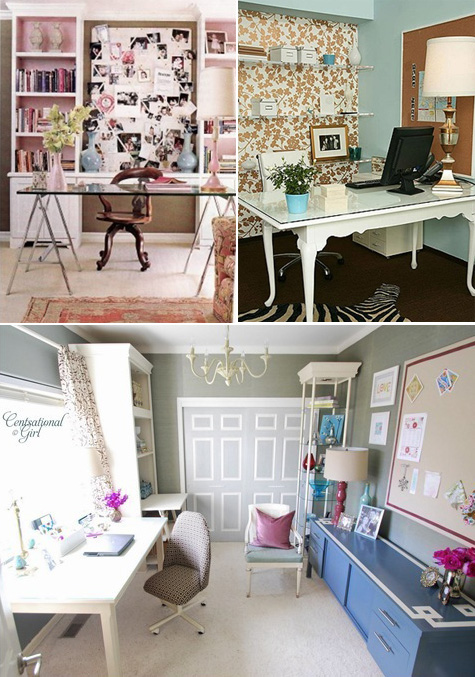 Finally, I've been putting some thought into the bedroom end of the room as well. These examples of rooms in soft greys and blues would be soothing for the guestroom and complimentary to the adjoining office, which might use the same tones but in more saturated varieties and with more patterns. Rooms from Rue Magazine and BHG.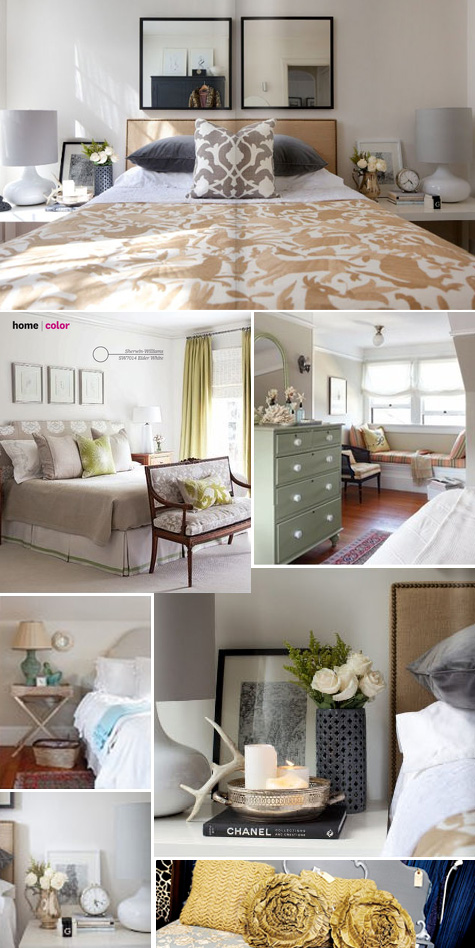 Hopefully we'll get back to the building, plastering and hammering soon, but in the mean time I've begun the hunt for the perfect desk, bookshelves, bed… *sigh* and so on, and tracking down, salvaging or refurbishing each of these pieces on a serious budget will leave me plenty to do in the mean time.
Back to Craigslist I go! (what else is there to do at 2, 4 & 6am, anyhow?)

Tags:
Bedroom
,
Construction
,
Decorating
,
Home
,
Home Office
,
Office
Posted in
Home
,
Home Inspiration Board
,
Our Guestroom/Office
,
Renovating Adventures
|
6 Comments »
January 6, 2011
The new office/guestroom space is humming along and it's about time to consider how we'll organize this somewhat looong and narrow space. Since I hope to have it fulfill two very different functions (that of an organized and well-designed office as well as a comfy space for our guests to hang their hats) the narrow-ness (is that a word?) of the room might be a bonus in disguise.
But just to lay a little context to the gray & white diagrams below… here's the spa-like color palette I'm mulling over at the moment:

We love dark, warm furniture (as you can tell from the rest of the house) but we're playing with the idea of keeping everything white in this room… maybe.
Here's the layout that has been floating around the back of my mind since day 1: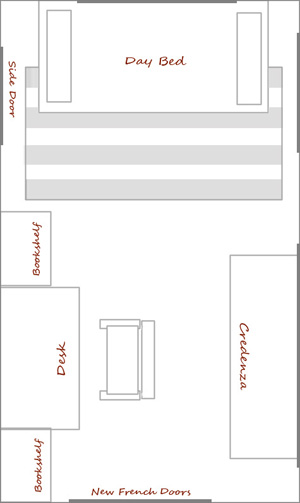 The day bed end of the room would be the bedroom and the desk end the office space. The off center french doors actually line up with the doors to our kitchen and the island, but it looks a bit odd in the diagram.
Of course a day bed isn't exactly the comfiest option for couples spending the night – and we regularly have more than one guest (such as our parents, grandparents, friends with children) so here are two potential designs that would include a full bed.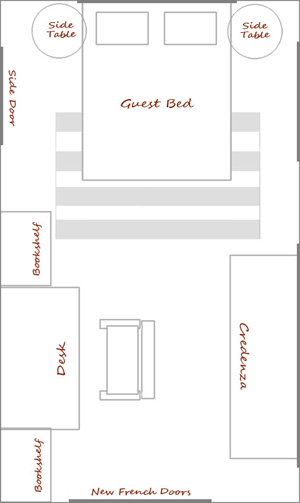 Or: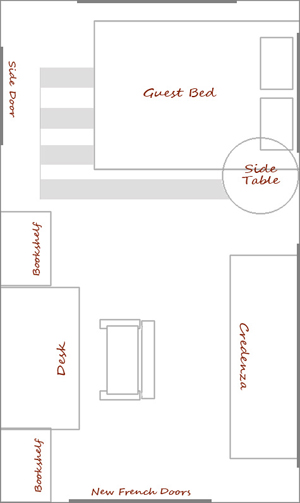 The office space portion might change as we hunt down thrift store and Craigslist finds to fit the area, but this at least gives us a list to start exploring. Ideally we could track down a set of bookshelves and even create a 'built-in' look with molding for around the new desk.
The thought of creating a more natural partition between the two spaces has crossed my mind as well – perhaps an open bookshelf or fabric screen divider will find its way into the space, as long as it doesn't compromise the little room we're working with!
Oh the decisions… back to the drawing board we go.
Tags:
Bedroom
,
Construction
,
DIY
,
Office
,
Room Layouts
Posted in
Home
,
Our Guestroom/Office
,
Renovating Adventures
|
8 Comments »