January 5, 2011
First, thank you to everyone for your kind comments about our growing family! It's been so neat and encouraging to read your supportive words and suggestions from the past week.
Besides a restful and wonderful Christmas break, these past two weeks have been a whirlwind between our most recent house projects, family in town and that anxious when-will-we-meet-baby feeling!
And to keep busy (above and beyond my actual work), I've had too much fun planning the new spaces and pulling together inspiration boards for what these rooms might be… but before any designing can get underway, the rooms have to be, well, rebuilt.
I last left you with this lovely image of our soon-to-be guestroom/office (here's the lovely 70s wood paneled before post):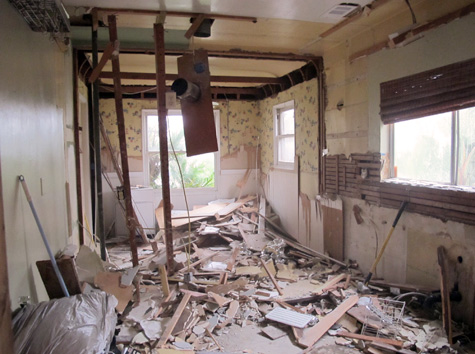 Oh boy. We bit off a big chunk of home makeover.
Just to be sure that this room was well partitioned off from the rest of the house (aka dust, debris and the like could stay contained) in anticipation for Baby Spenla's arrival, we blocked off the space just before Christmas. And then the rest of the house received a thorough cleaning to welcome in incoming family from out of town.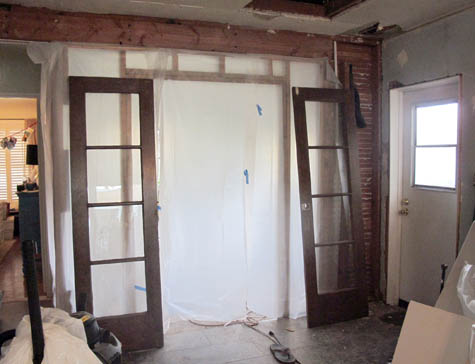 PS Do you see those great doors? More to come… but we found this pair in a local San Diego neighborhood full of beautiful Spanish homes, and the original owner was throwing them away! So of course we scooped up this set as well as a larger pair to refinish for our little Spanish bungalow. You can't beat the craftmanship of original doors and we saved ourselves a bundle with this find.
But first a peak inside the room…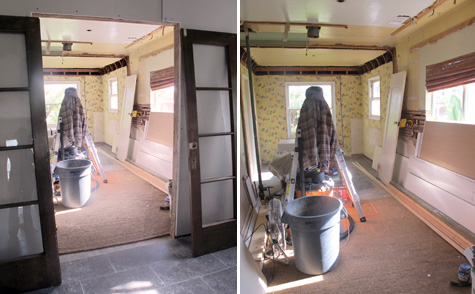 Yes! Are you noticing that wallpaper too? We revealed a real gem under the paneling when it was torn off. This must be original to the 1930s interior decor of the home and I seriously wish I had the power to scrape it off the wall and save it.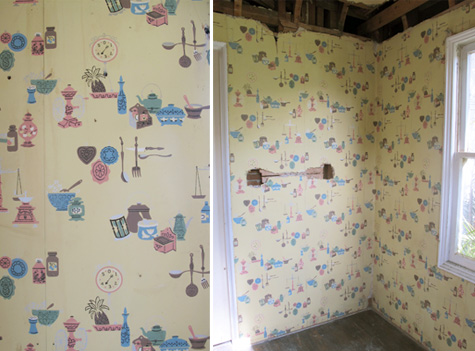 It's covered in little medicine jars, mixing bowls, weighing scales – even pineapples! It's the neatest find – but don't worry, it's not staying.
And as the baby gives us more time to finish this makeover, we'll continue to work on it. How wonderful would it be to have a completed office/guestroom before more family arrives later this month?
Meanwhile, I'm a week over due and I've received the official baby-must-be-out orders from the midwife by January 11, or it's induction time. Kevin potentially has t-minus 7 days to drywall, plaster and add flooring to the new space, but knowing him it's definitely doable (and even if Baby S graces us with his/her arrival sooner – which we would LOVE! – the room will most definitely be finished in its due time, no pun intended).
Tags:
Bedroom
,
Construction
,
DIY
,
Office
Posted in
Home
,
Our Guestroom/Office
,
Renovating Adventures
|
13 Comments »
December 22, 2010
It would not be far fetched to suggest that the projects we've taken on this year have grown in equal proportion to the belly.
Quick recap: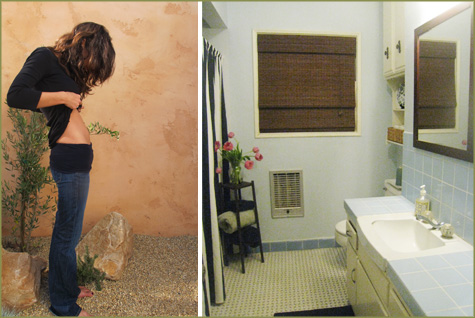 We started with a $100 minor bathroom upgrade during the first trimester. No major demo, just a quick touch-up with paint, fabric and fresh accessories.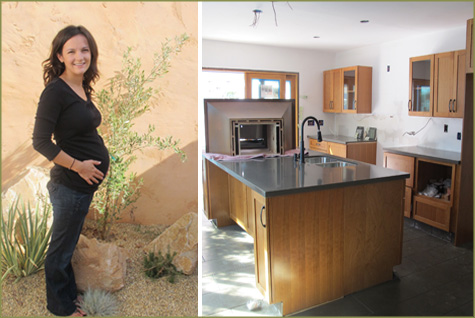 The second trimester brought with it a major overhaul on the den which became our new kitchen. It's nearly complete with just a few final finishing touches needed. The above picture is roughly midway through the renovation.
And then this past week…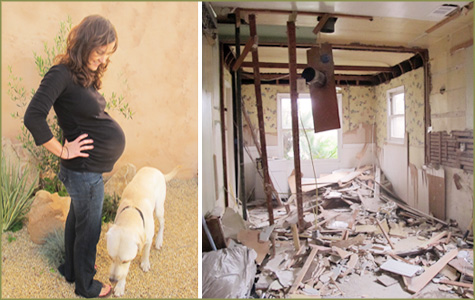 That would be the week before little Baby S is due, we tore into the old kitchen to create a third bedroom and home office.
Here's what the old kitchen looked like when we moved in: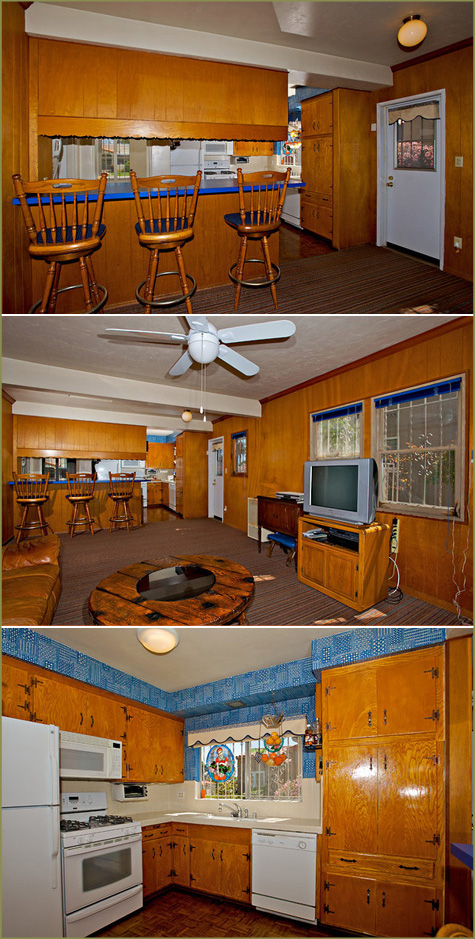 We made minor live-in updates, like covering up that blue formica and staining the cabinets a dark espresso. Here's a look at the space today from the same angle (from the sealed-off perspective and just inside):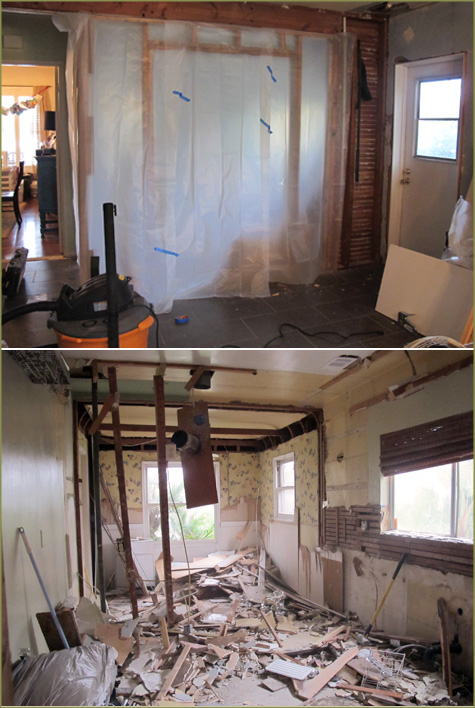 Woohoo! Thrilled that we're tackling this project before little one is here. Dust and debris would not be ideal in the air in just a couple of weeks and thankfully baby is obliging by staying put so far.
A little in-process action: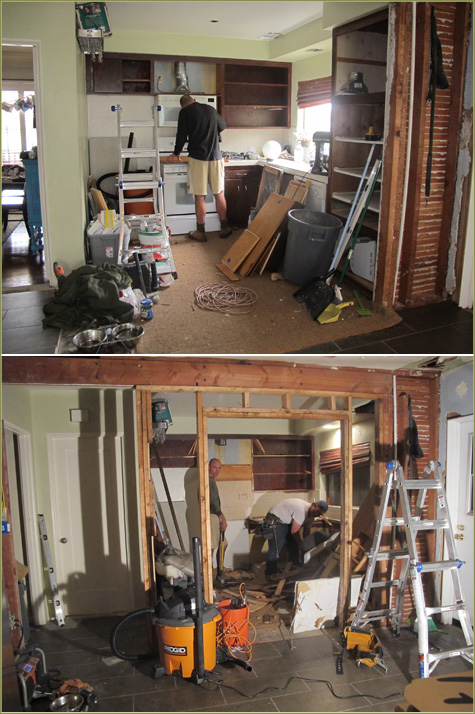 We knocked down the wall between the kitchen and the front bedroom as well, here's a look at that front room when we moved in: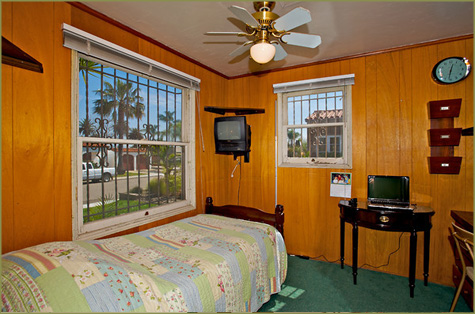 Boy did that family love wood paneling! We painted the space to create faux beadboard around the entire room and tore out the carpet, but today the little bedroom received a big overhaul: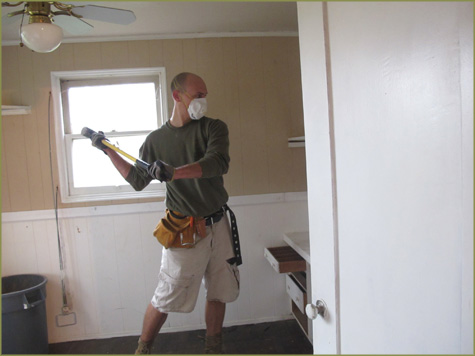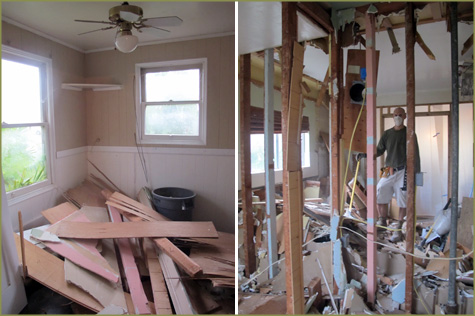 We pushed this part of the renovation off until Kevin wrapped up school just last week, knowing full well that if babe came at all early we'd have to hold off for months to turn these two useless spaces (nobody really needs two kitchens…) into a new office and guest room.
Big plans brewing for the new space! And don't worry – the nursery, master bedroom and kitchen are all receiving little updates (thank goodness for nesting overdrive right now) that I look forward to posting about soon.
Three days until Christmas!
Tags:
Bedroom
,
Before & After
,
Construction
,
DIY
,
Home
,
Office
Posted in
Home
,
Renovating Adventures
|
10 Comments »
December 21, 2010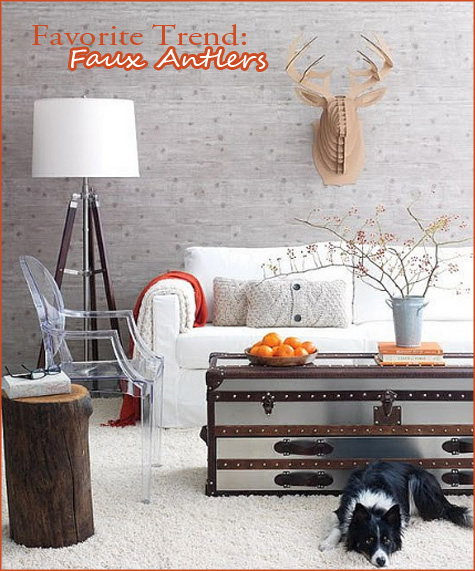 I fell in love with the little fella below when I was wandering the racks at Kohls for last-minute Christmas shopping this past weekend.
I kind of have a thing for ceramic animals (and antlers!) and have always felt that they add a little special and contemporary something to a room.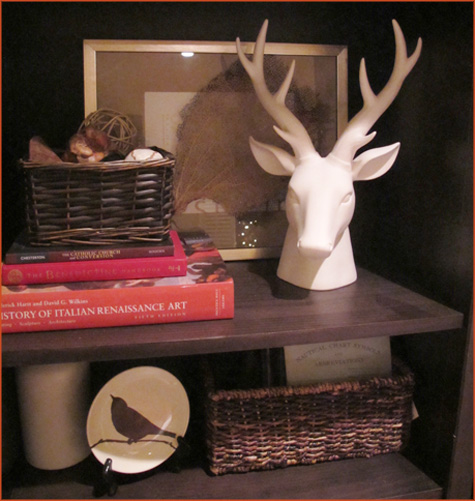 Bringing him home made me wonder what other inspiration is out there for decorating with faux antlers throughout the house.
The search was on and it produced some seriously beautiful results: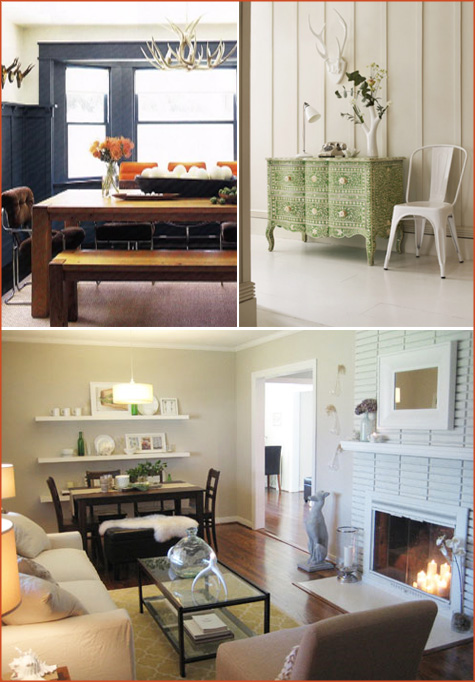 Can you spot the antlers? It's kind of like a Where's Waldo for deer heads… each of these homes creatively showcase their version in a different way.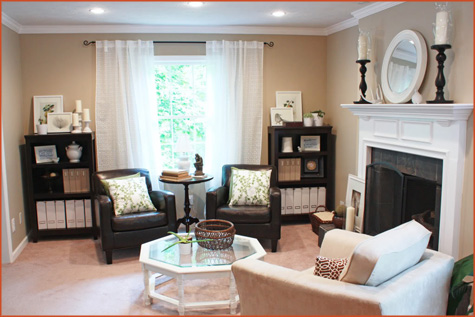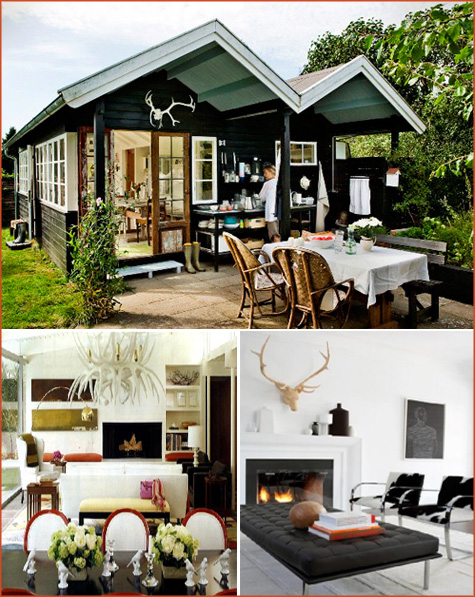 Plus this is sort of the perfect time of year to add them to your space, no?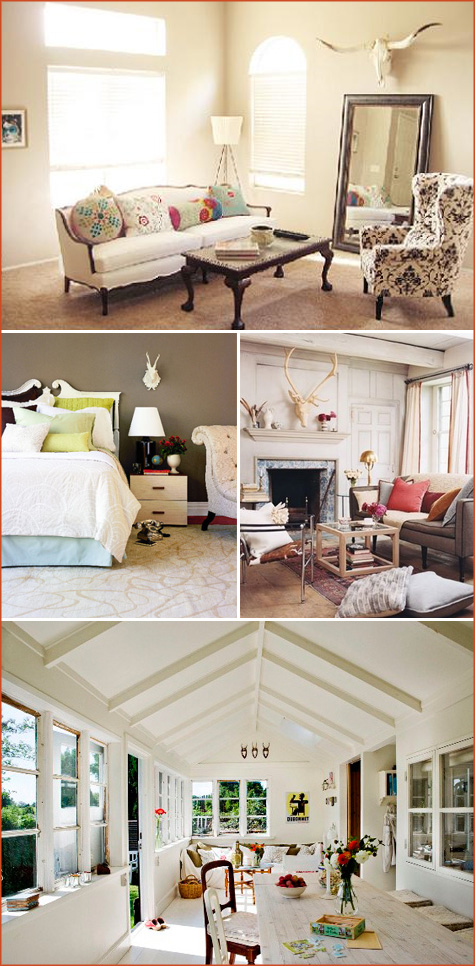 I don't know how I feel about the real deal – I think I prefer the animal-friendly, crisp white versions for now (and on the pro side, they won't turn your living room into a hunting lodge decorating-wise).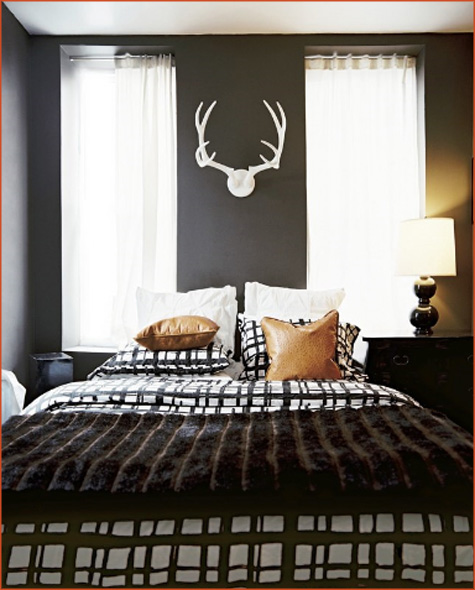 And here's the last of them! Mmm, love the look. It's bold and maybe a bit trendy, but they sure look darn good in these inspirational spaces.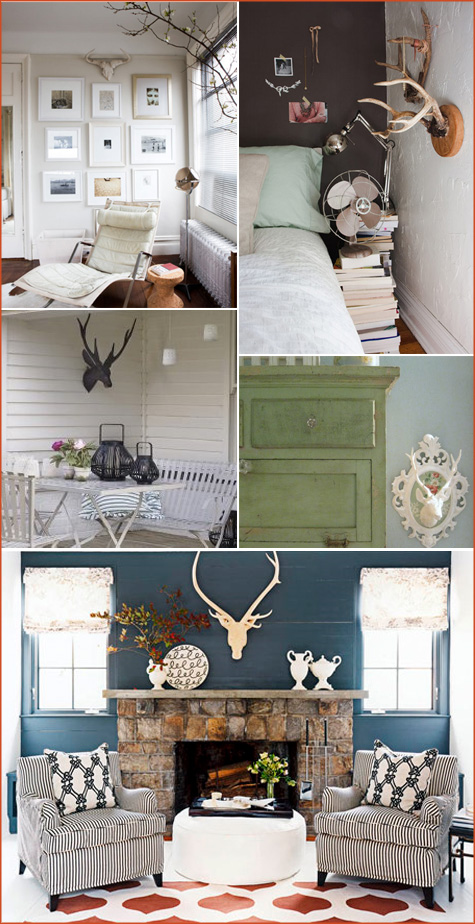 Image sources from top: Flickr "It's Great to be Home", DecorPad, Graham and Green, Young House Love, Bower Power, Made by Girl's living room via Hygge Nook, Decor8, Domino Magazine, Lonny Magazine via Things We Love, Style Files, Just Something I Made and House Beautiful.
Four days until Christmas!
Tags:
Accessories
,
Bedroom
,
Decorating
,
Favorite Trends
,
Home
,
Living Room
,
Office
Posted in
Home
|
6 Comments »