January 31, 2013
Do you ever puzzle over which type of paint should go where? Flat or gloss for the kitchen? What type of roller for the cabinets? Should I invest in a synthetic or natural brush for latex paint? To prime or not to prime (that is the question). I am always quizzing the paint desk folks at my local home improvement store with questions like these.
This in mind, here's a cheat sheet that I've put together with the help of paint specialists Nicole Jones and Kimberle Greene of Olympic Paint. Olympic teamed up with us to paint the exterior of our home and I have been blown away by their helpfulness and expertise with the project!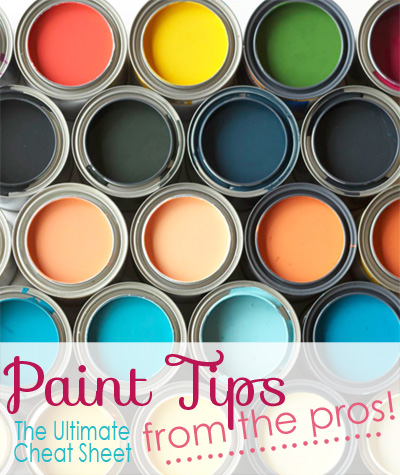 This post includes super helpful tips on topics such as how to choose your brush type, when and where to prime, and even stain application suggestions for wood makeovers.
But because I'm all about a visual cheat sheet, if I could wrap all of the paint sheen tips into one graphic that would be easy to pin, print out for a trip to the store or post on my bulletin board, here it is: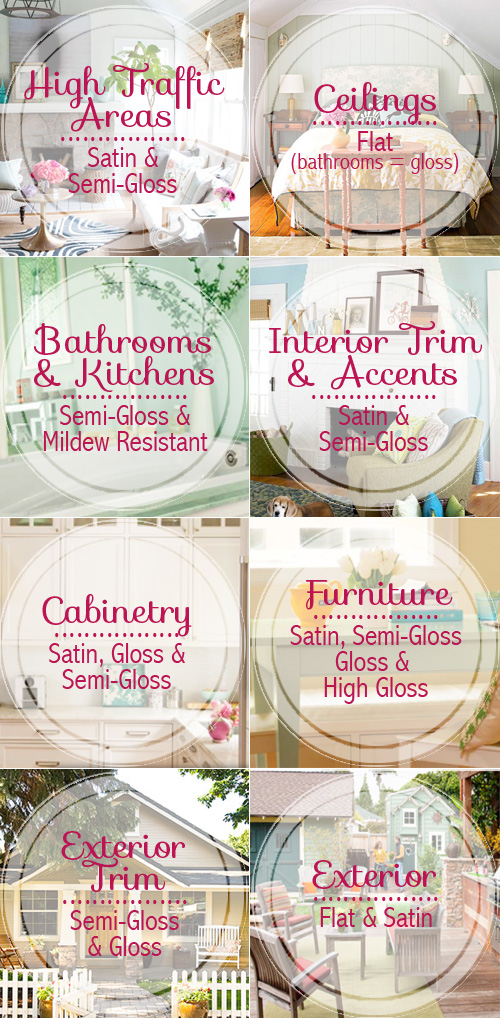 Now I need to process all of that through my long term memory asap. But first, let's jump into the full Q&A with Nicole and Kim!
Let's start off with a frequently asked question… what are your tips for high traffic areas and living spaces?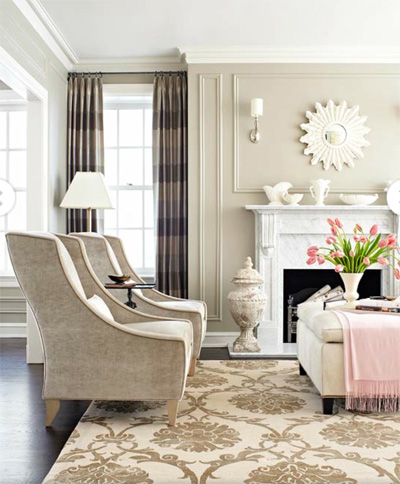 Flat to satin for most rooms depending on how busy your home is and satin/semi-gloss for bathrooms, kitchens and kids rooms or even laundry rooms.  When choosing the right paint for a project, it is important to consider the durability attributes of the paint and sheen. Typically, the higher the sheen, the higher the durability; therefore, satin and semi-gloss sheens are usually recommended for high-traffic areas where the paint finish needs to withstand multiple scrubbings and resist staining. Super-premium paints like Olympic ONE, however, have advanced durability benefits like superior scrub and stain resistance in all sheens.
What about bathrooms and kitchens?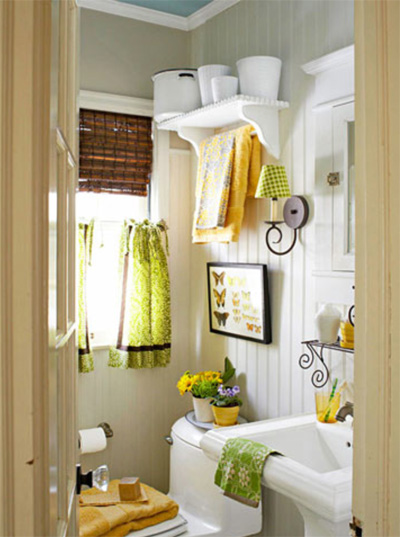 In high-moisture environments, like kitchens and baths, rooms require paint with mildew-resistance. Some paint lines have kitchen & bath specialty products and some paint lines offer mildew-resistance in all sheens. In the Olympic line, our ONE paint has mildew-resistance in all sheens and is appropriate for high-moisture areas, and we also offer Premium Kitchen & Bath Semi-Gloss.
Lets talk about ceilings and trim work for a moment.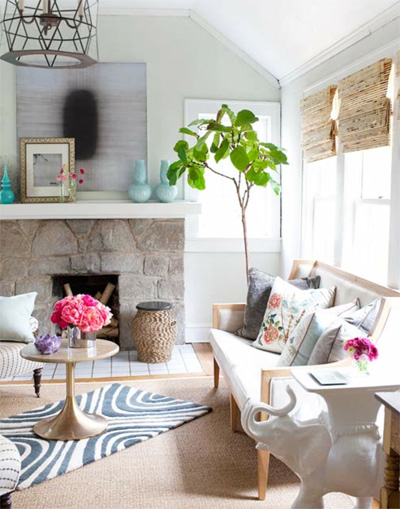 Flat works best for ceilings, however if you're painting a bathroom, kitchen or kid's room a semi-gloss may be more appropriate considering the high levels of moisture and or accidents that can occur in these areas. The higher you go in sheen, the easier it will be to clean. Though, if there are problem areas, flat will be best in all cases (glossy paint tends to accentuate flaws such as uneven walls or textures).
Satin and semi-gloss sheens are great for trim. Though if using Olympic ONE interior paint, any sheen could work including flat for those that prefers no sheen.
What type of paint do you recommend for furniture?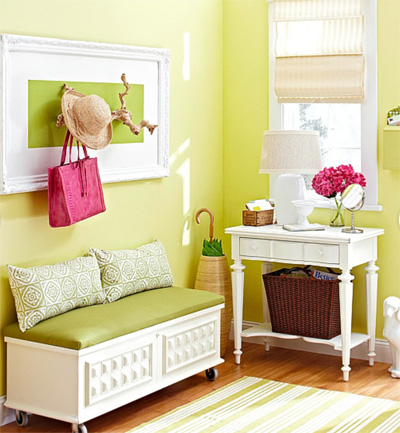 A satin to high gloss sheen of paint will work great here. First however, if there is an existing coating of varnish or lacquered paint finish that already exists on the piece, sanding and priming may be required to dull/remove the sealer or glossiness and prepare the surface prior to painting. NOTE: The paint finish should be allowed to cure (dry) fully prior to everyday use.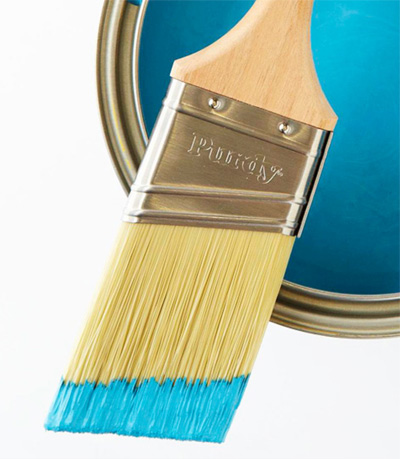 When and where must we prime, and when can we skip it? 
When in doubt of whether or not to use a primer the first test that can be performed is the water test. In an inconspicuous area spray some water on the wall. If the water absorbs quickly, a primer will be needed. If the water beads and rolls down the wall without much penetration a primer may not be needed. However, if not sure whether latex or alkyd paint is currently on the wall, another test can be performed using nail polish remover (acetone). Apply a small amount of the nail polish remover to a cloth and wipe the wall in a circular motion. If the paint comes off onto the cloth, then the current coating is latex. If the paint does not come off on the cloth, then the current coating is alkyd. When applying a latex coating over an alkyd coating, a primer is recommended.
A primer is also recommended when dealing with the following:
-Difficult stains such as water marks or smoke
-Visible debris, oils etc.
-Shifting from an extremely dark color to a n an extremely light color
I've recently been experimenting with staining wood to bring it back to its natural brilliance, any suggestions for this process?
Make sure that the surface is clean. If any sanding or puttying is needed, be sure to take care of it before applying the first coat. Always keep a wet edge, in other words once you start be sure to complete the entire area before stopping to take a break (i.e. if you're staining a chair and you start on the back, complete the back before moving to another section). After applying the stain use a varnish or polyurethane to seal it and provide a protective finish.
If I'm attempting to hide wall stains (not mold or water damage but more of the kid's marker/previous home owner variety), what do you suggest?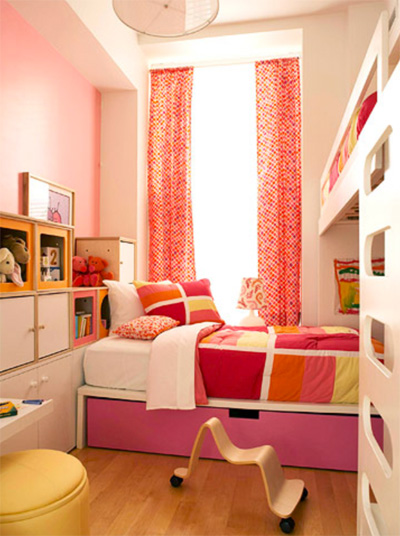 If you're referring to stains such as dirt, oil, marker etc. spot priming would be fine so that the stains are sealed in and don't bleed through the paint finish.
We recently tackled the exterior of our home and learned quite a bit from Heather, our Olympic paint rep. What are your thoughts for choosing exterior sheens?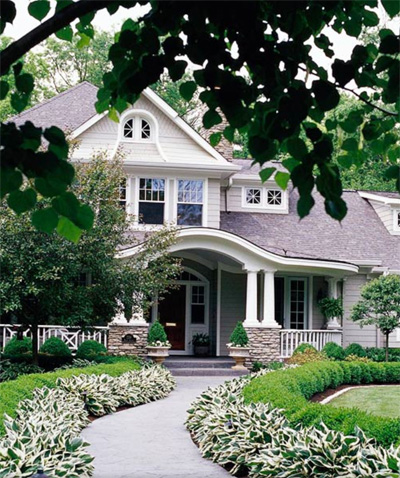 For exteriors, flat and satin are typically recommended for siding. Flat is less likely to show imperfections. Semi-gloss and gloss are recommended for accents (such as shutters) and trim – the higher sheen allows these architectural details to pop. It is also important to consider a paint that will resist dirt, mildew, cracking and peeling to provide a longer lasting finish. Additionally, super-premium exterior paints can "bridge" hairline cracks, helping provide a smoother finish when painting over old paint. In the Olympic line, our Premium Exterior paint features a proprietary technology called Dirtguard™ that helps rain naturally wash away dirt and grime, keeping siding cleaner longer, in addition to offering the other properties that help provide a longer lasting finish.
Lets talk about tools. When should I use an angled brush, foam brush, roller, etc? Natural, synthetic, nylon, foam – there are so many choices?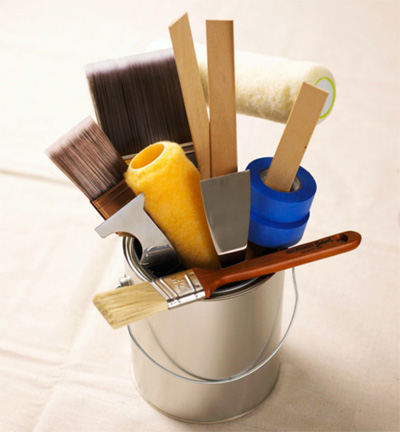 Use a brush (2 ½" angle brush to cut-in the walls (paint the edges and corners)) or for painting trim. Be sure to use the appropriate brush with the product i.e. if your painting using a latex based paint, then you would not want to use a natural bristle hair brush because the filaments will swell and make it difficult to paint. A synthetic blend or nylon will be best.
Quick brush guide:
-Use a foam brush or roller when painting super smooth surfaces (cabinets)
-Use a roller to paint in the remaining unpainted area once cutting in is complete. The roller will allow you to cover more area and at a faster pace than brushing alone.
-The type of roller will vary by the smoothness or roughness of the substrate. Smoother walls/substrates will require a shorter nap (3/16", 3/8") whereas a semi-rough to plaster wall may require a 1/2" nap or more.
-Rags are appropriate for staining. There are also brushes that are specific to staining.
Additional resources:
We have a lot of great color tips on our website (my favorite is the visualizer color tool) and here's a link to our full range of color brochures. Give this fun color personality game a go, as well!
***************************************************************
Thank you so much, Kimberle and Nicole!
Images can be found at Olympic.com and BHG.com
Tags:
Construction
,
Decorating
,
DIY
,
Home
,
Paint
,
Tutorial
Posted in
Construction
,
Crafty Solutions
,
DIY
,
Favorites
,
Guest Blog
,
Guest Post
,
Home
,
Project Lowe's
,
Renovating Adventures
,
Tips & Ideas
|
5 Comments »
November 28, 2012
Great news! The deck is stained and sealed and it's looking awesome.
Just as a quick update, you can see the jungle that this space started as by hopping back to the first post in this series, or catching up with parts 2, 3 and 4 to see the full transformation.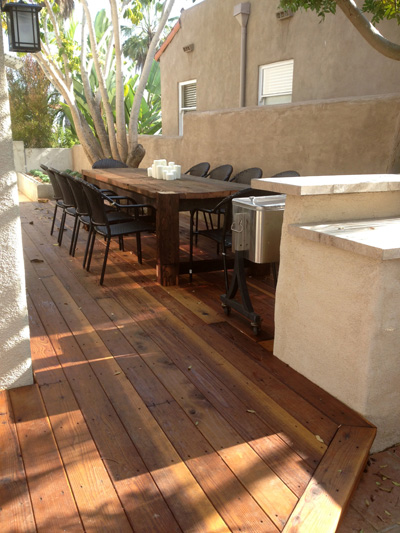 The entire staining and sealing project from prep to dry time took about five days, with just a few hours of that dedicated to full on painting.
Here's the before:
The deck is a decent amount of square footage so for this particular project we pulled out our Graco Magnum paint sprayer (the kind folks over at Graco teamed up with Lowe's to sponsor our curb appeal efforts this year, a huge honor so thank you again, Graco!). This is one excellent example that paint sprayers, once you have an area thoroughly prepped, can make a painting project fly by.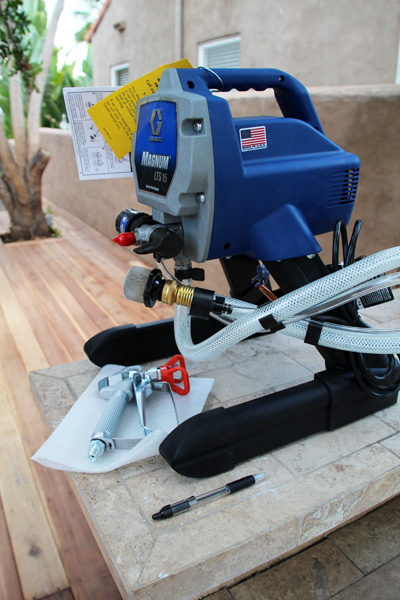 As far as a stain and sealant is concerned, we chose a two-in-one penetrating oil sealer that prevents wood damage and adds a slight natural color to the grain. We will have to reapply annually, but the process is supposedly easier than other coatings because there is no sanding involved. And an oil-based sealant means that this stuff is absorbed into the deck wood rather than just a layer on top.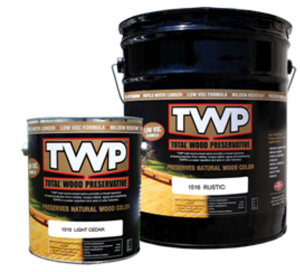 Other benefits of this particular stain include: eliminates mold and mildew, helps prevent wood rot, helps to prevent warping, cracking or splitting, low VOC and is excellent at repelling water. Click on the above picture to learn more about the stain/sealer, we chose 'Natural' of the options listed.
Up first was thoroughly taping and papering off any areas that we wanted to make sure were absolutely not in the 'spray zone'. Kev and I woke up bright and early one Saturday morning to completely secure the side yard while Liv was sleeping .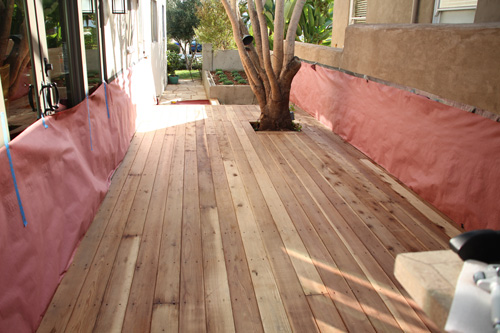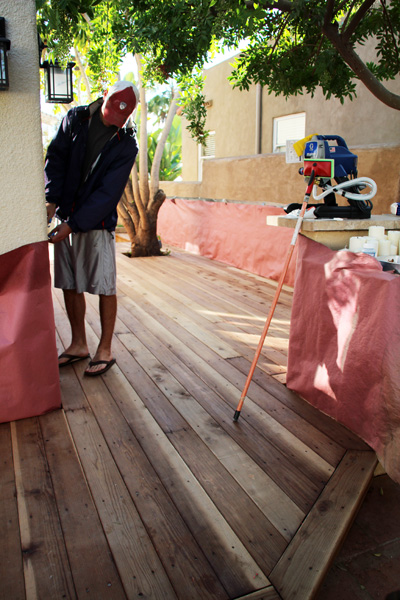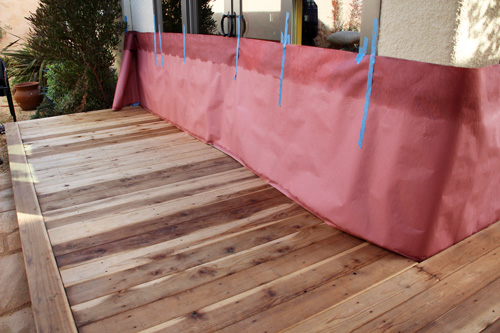 Next it was time to stain. I should first mention, backing up two days, that we power washed the deck and then allowed the deck to naturally weather and dry out before this particular Saturday (aka the day of the sealing). This is a step that is easily neglected and if skipped, can turn into an issue when it comes time to apply the actual sealant to the wood (aka make sure that moisture content isn't too high – the wood is like a sponge and needs time to completely dry out before it will soak up the sealant appropriately). Check with the manufacturer of the stain/sealant that you choose and follow all the guidelines for surface preparation and application.
Then Kevin came back through and used compressed air to blast the last little bits of residue from the cracks and crevices of the deck. You can see that he found a new (and better) use for my just-purchased vegetable scrubber… (don't worry, he literally stole it out of the grocery bag, it's brand new).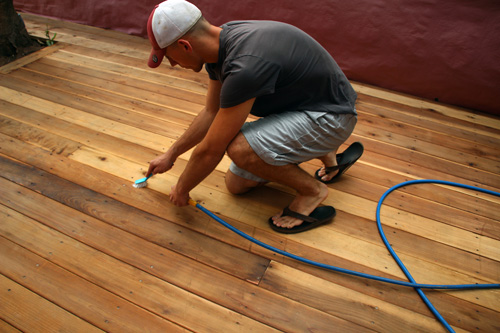 Now it's time to paint! Keeping the contents of the paint sprayer and various buckets (the front paint bucket contains the stain, which is being sucked up into the sprayer, the back bucket is the mucky bucket, full of all output and solvent from the sprayer) in one large container – an extra under-the-bed storage bin did the trick for us – is a really easy tip for moving your entire set up around the deck as you go while also keeping items orderly with fewer potential accidents (hose knocking over a bucket of paint, etc).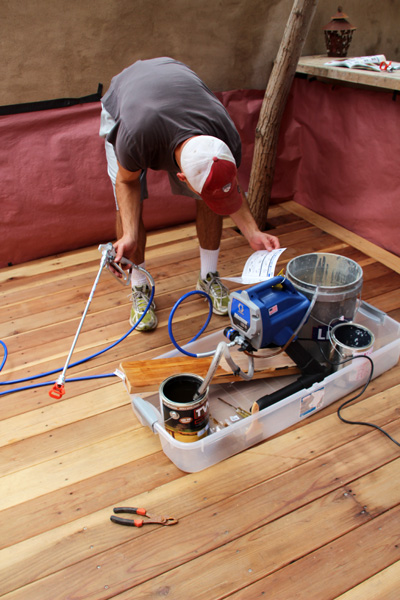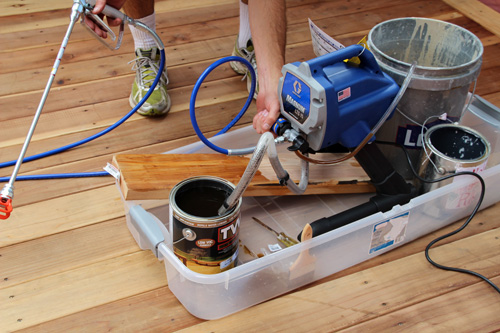 Deck in progress! The deck itself was a quick spray once all equipment was ready to go.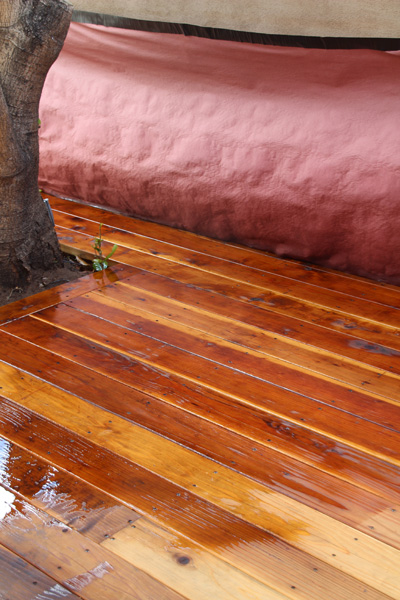 The paint sprayer has a two foot wand attachment that can be purchased to help focus your spray directly onto the targeted area (and not leave you with a hunchback). Kevin being the super tall man that he is especially enjoyed this feature.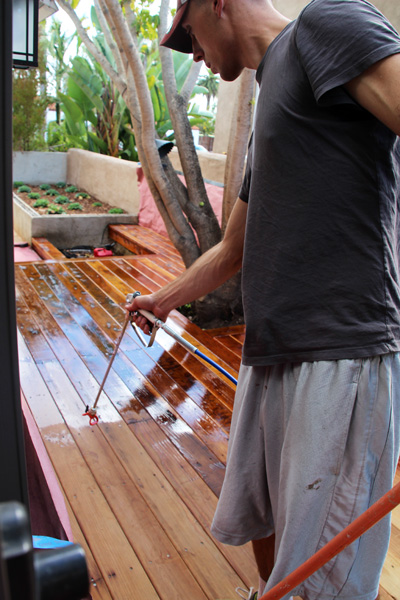 Once the sprayer had coated a generous amount of sealant directly onto the deck, Kevin used a squeegee/sponge (there has to be a proper name for this, but we couldn't find one) to push the liquid into each and every crevice and deck crack (don't want to leave those cracks exposed

). The pattern went something like: spray, spray, spray, squeegee, squeegee, squeegee, repeat.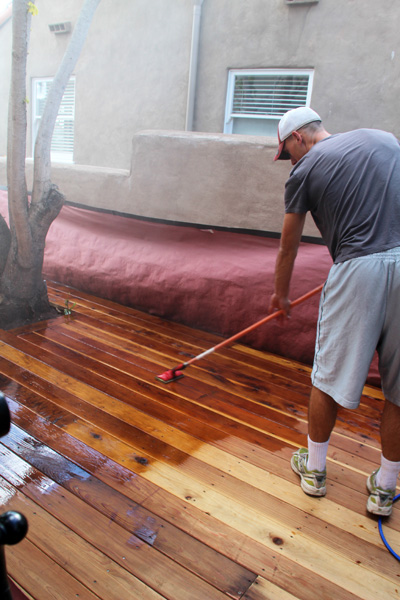 Using a paint brush, Kevin applied a coat of sealer directly to the sides and stairs of the deck. Possibly the most time consuming portion of the morning.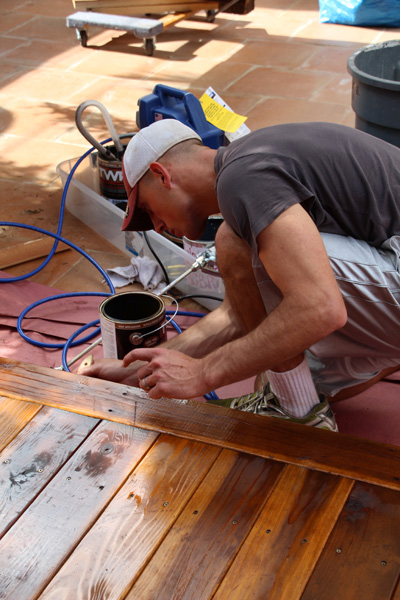 And she's done! After drying for 48 hours (per instructions for the oil-based sealant), the deck is a pretty golden hue now. The entire project took Kevin a few hours (including prep) and another hour or so for clean up, pretty darn great for such a large space.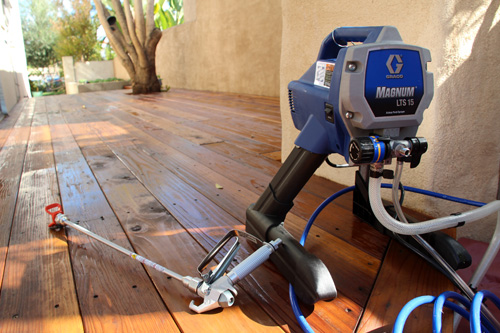 Here's the man behind the machine, finished and ready to enjoy his Saturday.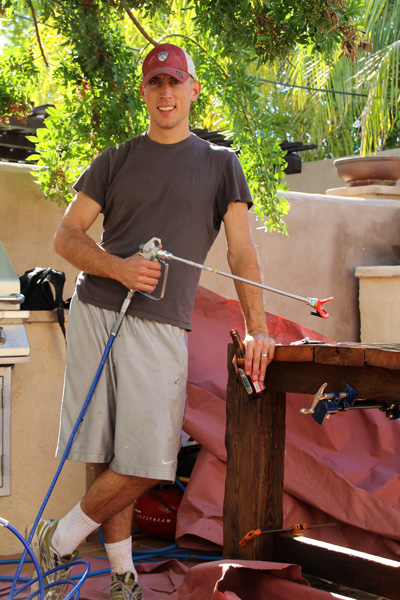 And after a recent overnight sprinkle, the sealant is already proving to be worth its weight in deck gold.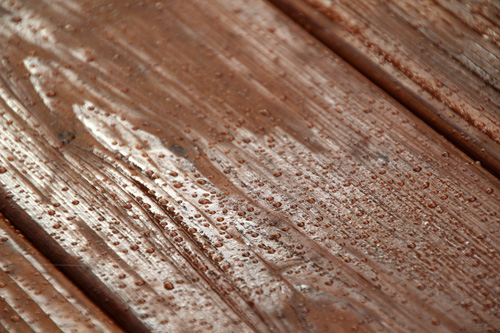 The warm, natural color that we chose will continue to lighten with time to reveal the beautiful, natural redwood color variations and grain beneath.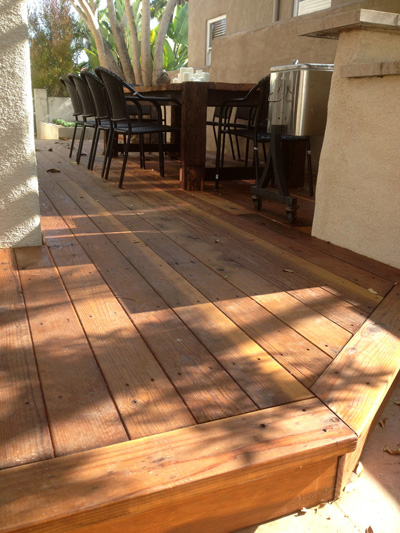 A near-finished deck to bring us into fall.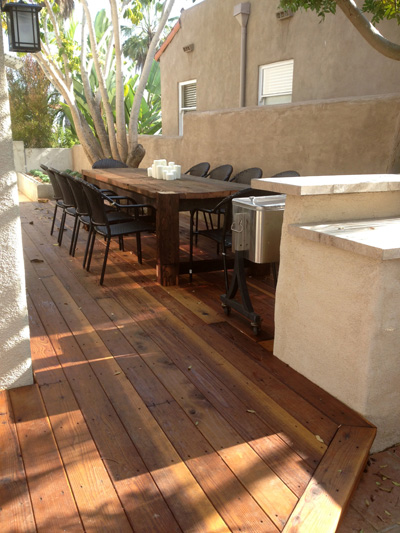 And before I forget… a big thank you to iVillage for featuring Liv's felt Christmas tree in their Christmas Tree slideshow, honored to be included amongst those creative bloggers who were also showcased!
We are incredibly excited to have partnered with Lowe's and Graco for various parts of this project. All opinions are always our own and as usual we try to keep it as real as can be.
Tags:
DIY
,
Home
,
Paint
Posted in
Construction
,
Home
,
Our Yard
,
Project Lowe's
,
Renovating Adventures
|
6 Comments »
October 15, 2012
It feels a little funny to leave home in the middle of a hot summer and come back right in the thick of fall, Halloween, cool weather and changing leaves (well, that last one is almost true. We have only two trees on our street here in San Diego that go from green to red but I marvel at them all season long…) This past weekend we made our annual trip to our favorite pumpkin patch (complete with pumpkin spice lattes before hand and a delicious chili potluck after) and the reality of the season has finally hit! More on that below…
While at the pumpkin patch I picked up a handful of pumpkins to decorate the house with too, and thought I'd share my faux 'dipped' versions today.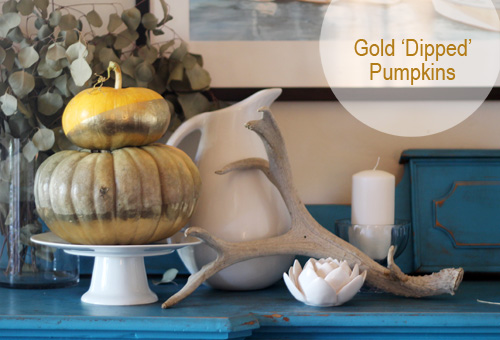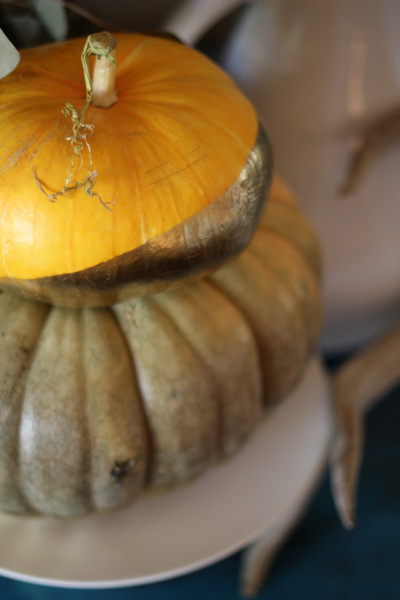 I'm not sure where the idea came from but while brainstorming fall & Halloween decorations I thought it might be fun to bring a few organic, neutral details into our house (that I wouldn't mind leaving up for a few months) while also filling it with plenty of oranges and reds and traditional colors.
Gold has been a favorite accent color of mine, from shiny knob handles to burnished vintage vases to classic jewelry – and that became a starting point. Creating some sort of dipped decor out of white and green pumpkins seemed like a neat way to try it out.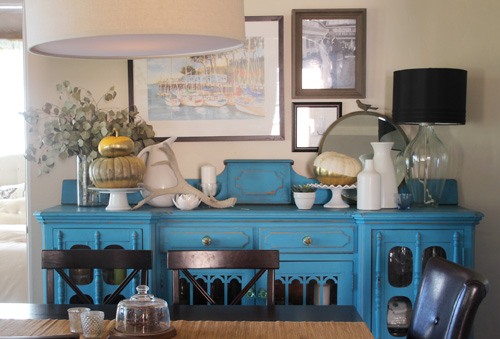 I'll have to mix some spooky Halloween decor in there soon, too.
These pumpkins really don't looked as if they were 'dipped' in paint in the traditional sense, but I actually love the contrast of the lines and attempted to give it a slightly crooked, mis-aligned feel on purpose. A little more organic.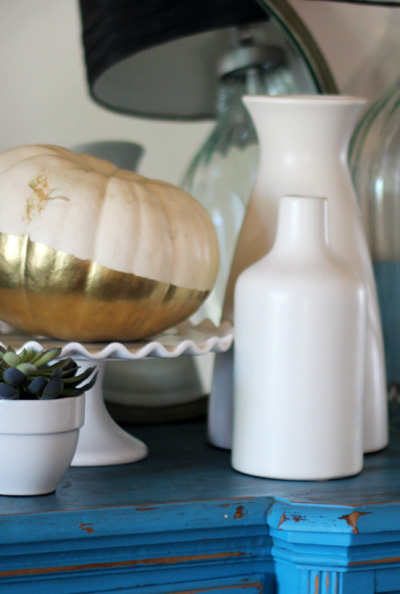 My original thought was that maybe I'd actually try to dip the pumpkins and considered buying a quart of gold paint, filling a round bowl large enough for my pumpkins and literally 'dipping' them, but then realized that spray paint might be a bit more efficient in application, cheaper and less wasteful.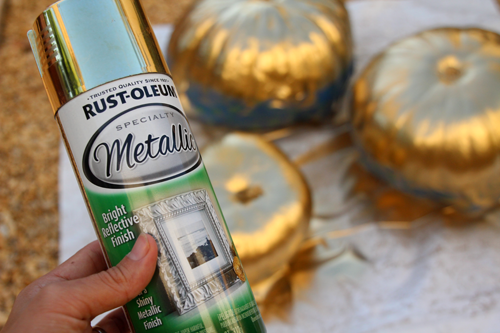 I love the result!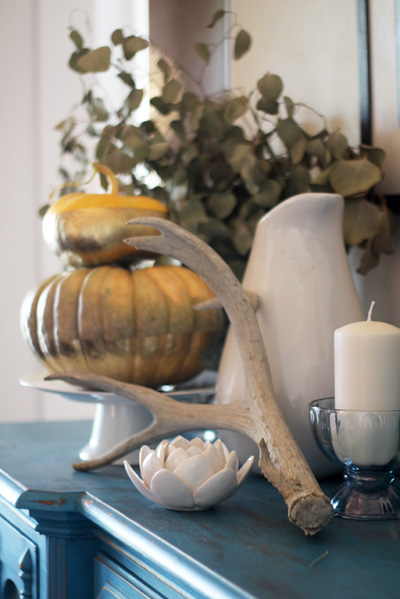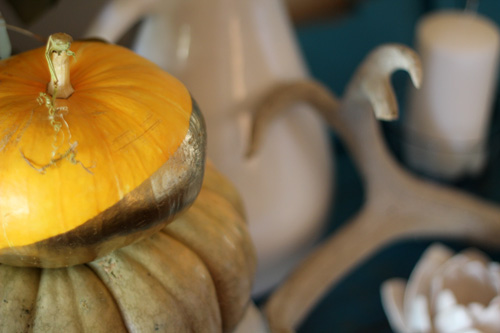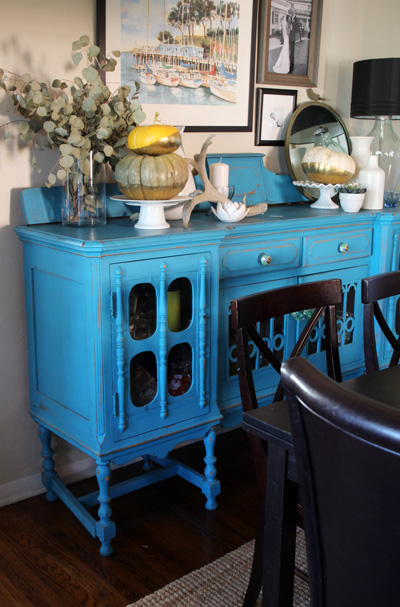 Just a little bling for the room, and a fun alternative to decorating pumpkins in the usual way. Soon Liv will be old enough to really help!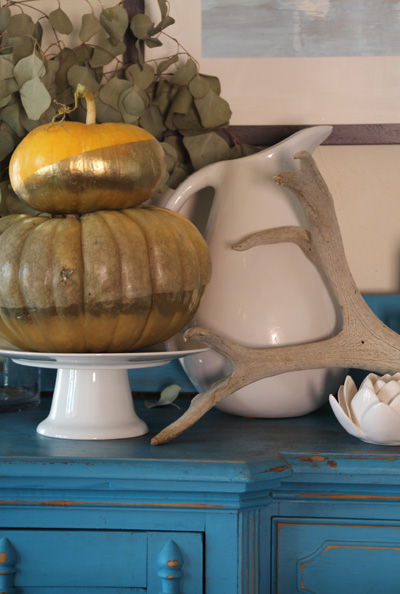 The process was simple. I first wrapped the pumpkins with painters tape (choosing the wider version since spray paint can get a little crazy and I wanted to avoid paint getting on the top half of my pumpkins. The alternative would be to tape on some type of barrier like cellophane or paper to cover the top completely), pressing down on just the lower half of the tape (since the edges are round to prevent creases in the tape) and aligning it at a bit of an angle.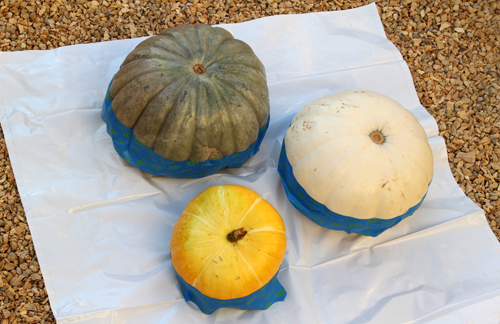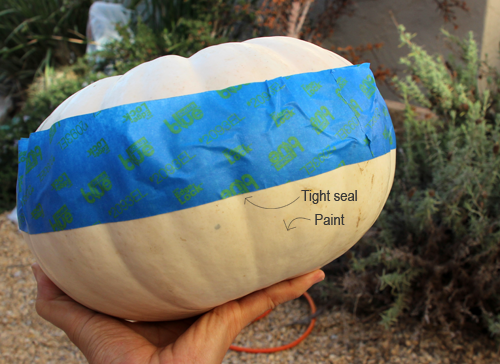 Then spray away! Be sure to keep your can of spray paint at least 10-12″ from the actual pumpkin to avoid dripping.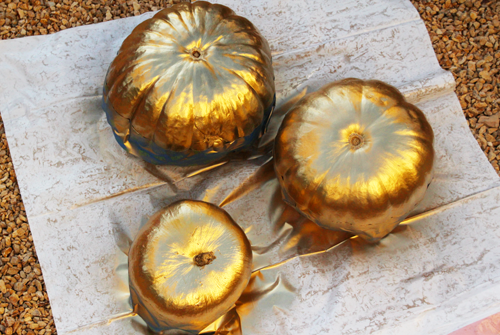 And here they are again in the dining room: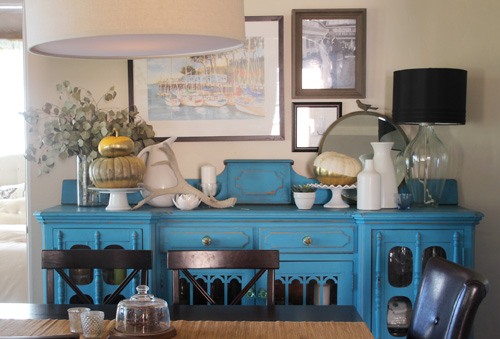 Looks great with the turquoise buffet!
Decorating the pumpkins has been a lot of fun, but visiting the pumpkin patch to find them is a great family tradition, too! Years back a friend found the perfect pumpkin patch for our annual trip just about 25 minutes east of us here in San Diego.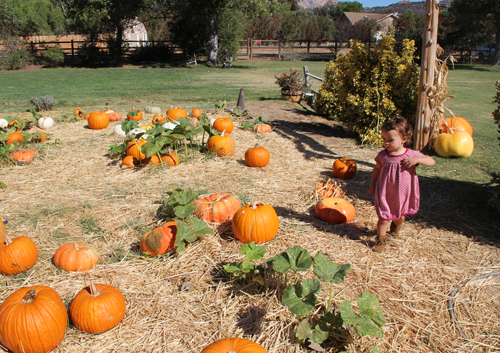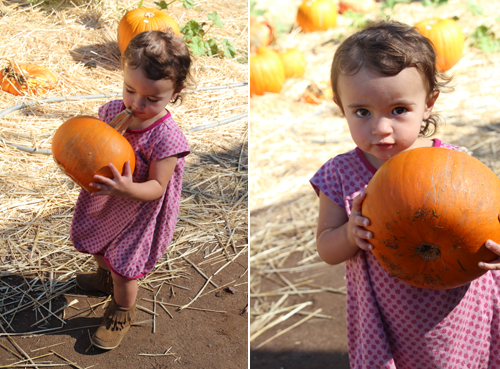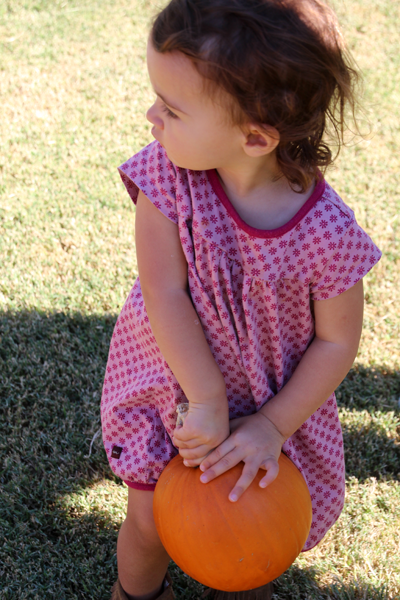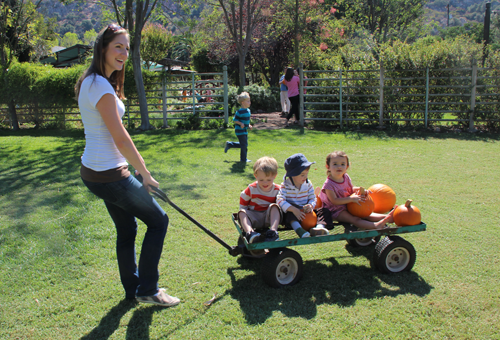 Summer's Past offers huge, crawling gardens to roam, a snap pea 'maze', animals for petting, a coffee bar for warm beverages (although the weather in October is always about 75), a cute little shop full of lavender soaps and such, little 'vignettes' around the property that are perfect for holiday photos, jump houses for the kids and a great big open pumpkin patch. We've even aligned our visit with their little harvest festival in the past for even more goodies.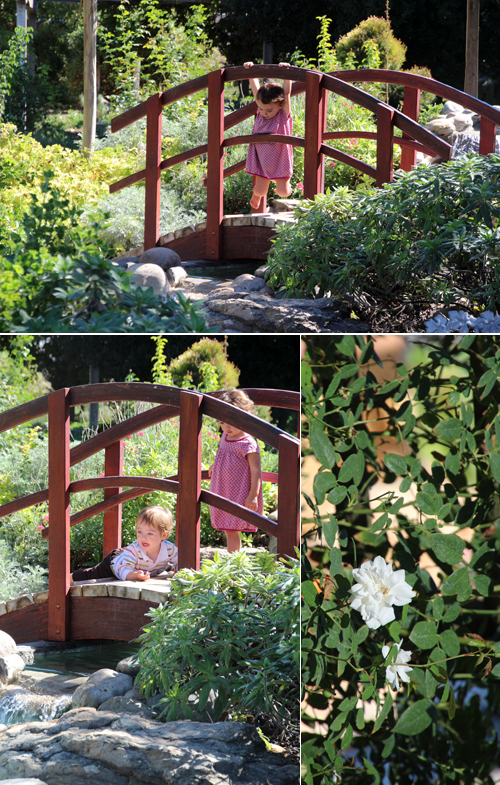 Liv romantically walking the gardens with her potential future hubby, Gavin.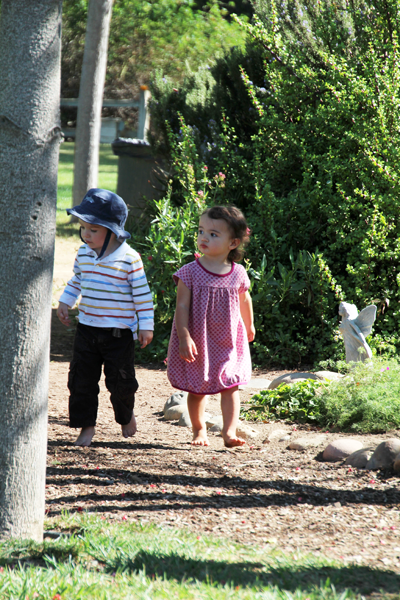 Why won't it move!?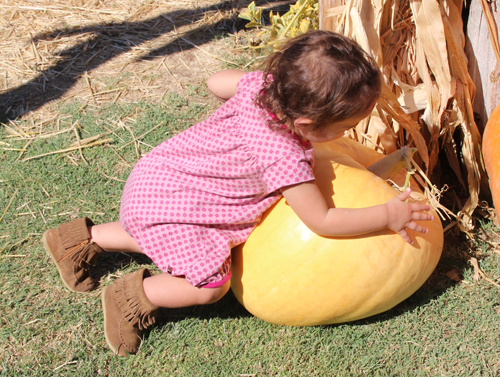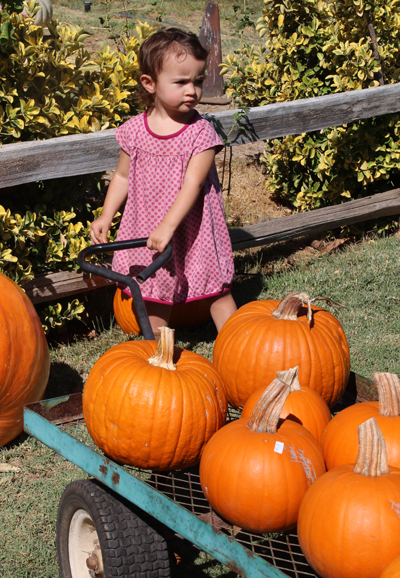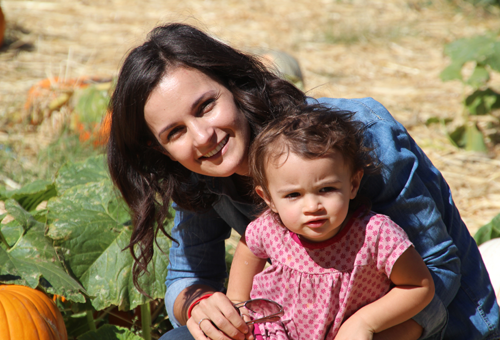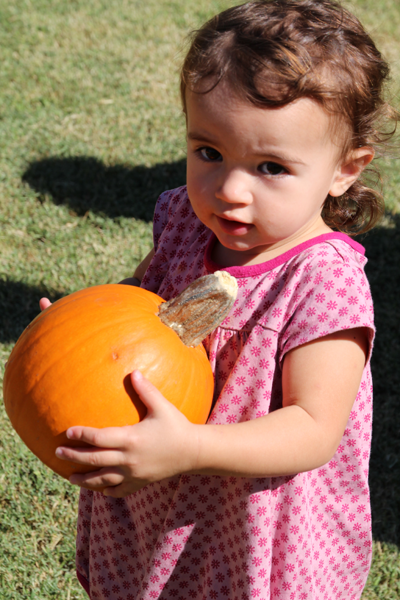 Here's our group shot this year!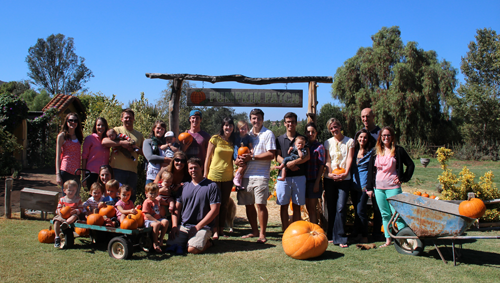 And a sneak back on previous years… the quantity of children continues to climb!
2010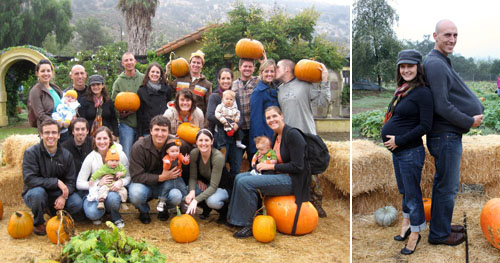 2011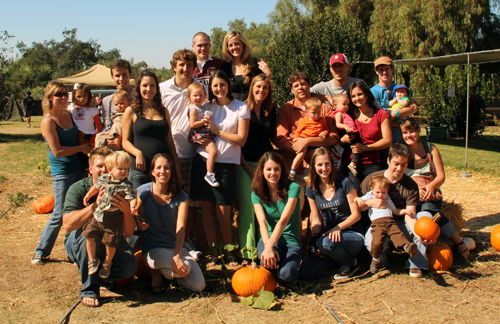 2012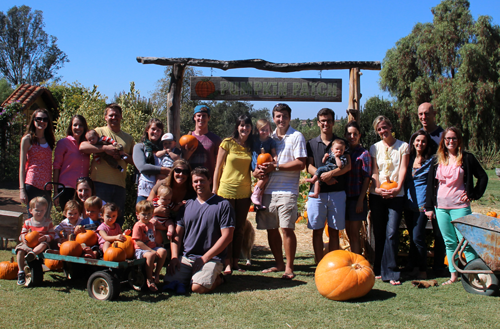 Liv picked out a few pumpkins, enjoyed a little cart ride and played in the jump house for most of the morning. We managed a family photo as well.
Sort of. Liv's not paying attention, but what can you do…
I look forward to this event with amazing anticipation every fall! This one sort of snuck up on me but I already can't wait to go back. And now it's time to really get decorating for Halloween! We're also throwing a little dinner and trick or treating around the neighborhood party again this year. Yay for fall!
Tags:
Accessories
,
Crafty Solutions
,
Decorating
,
Dining Room
,
DIY
,
Fall
,
Gold
,
Halloween
,
Home
,
Paint
,
Patterns & Color
,
Thanksgiving
,
Tutorial
Posted in
Crafty Solutions
,
DIY
,
Family & Friends
,
Holidays
,
Olivia
|
11 Comments »