August 25, 2011
With a three-day weekend quickly approaching at the end of the month, I thought it would be fun to share this creative idea from guest contributor Karina over at Hostess with the Mostess.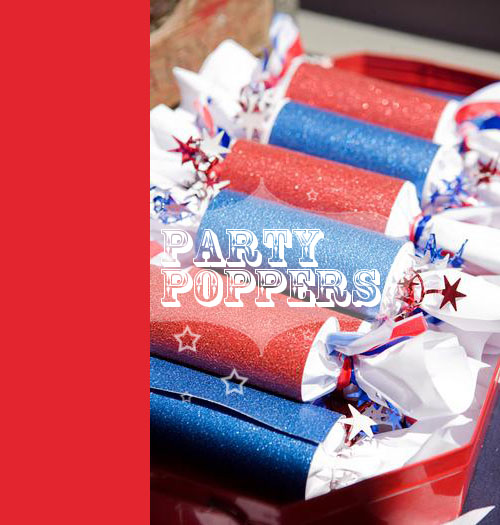 She designed an adorable Red, White & Blue party that includes a fun treat for kids or adults: party poppers!
They make great favors, name cards (across a dinner plate) or prizes. A quick Google search revealed a super easy party popper tutorial, materials include: goodies for inside the popper (candy, little toys, a handmade fortune), toilet paper/paper towel roll, cracker snaps (from a local packaging store or online at packaging/party supply site), tissue paper, ribbon, cardstock, tape or glue. Read all about assembly here.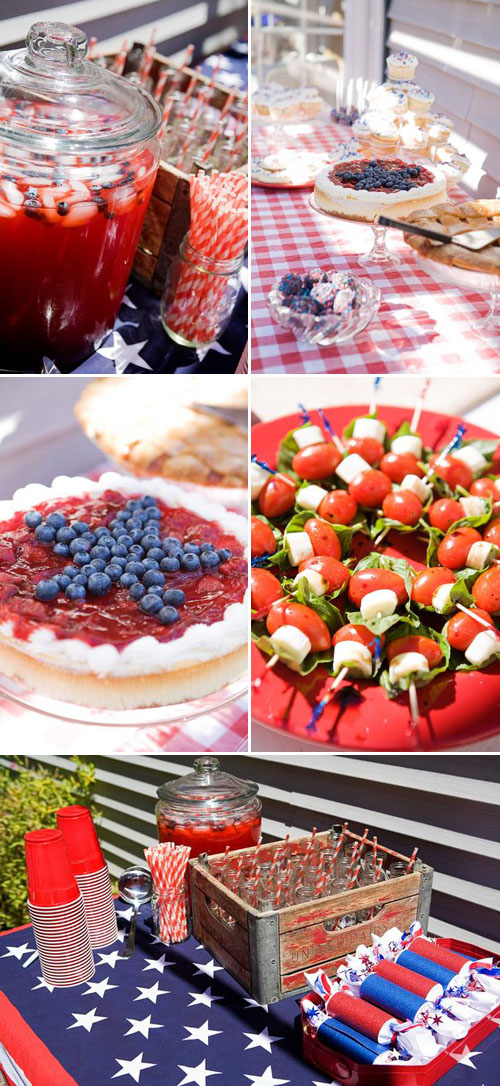 Looking for more Labor Day inspiration? Check out this link which sorts through all July 4th, Memorial Day and Labor Day parties & ideas shared on the blog!
Tags:
DIY
,
July 4th and Labor Day
,
Kids Party
,
Memorial Day
,
Paper Goods
,
Parties & Entertaining
,
Tutorial
Posted in
Parties & Entertaining
|
4 Comments »
August 1, 2011
With all of this talk of construction over here it's time for a little prettiness. Here's a fabulous tutorial that I recently spotted that I can't wait to try!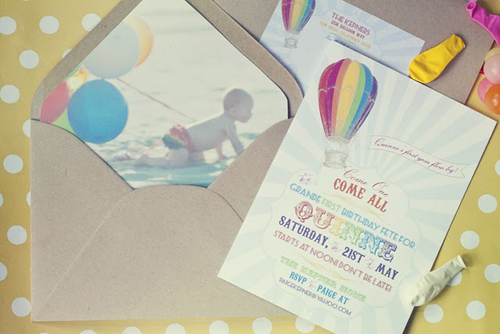 How creative! This would be so cute for a shower, wedding announcement or even as the lining in a thank you card (I'm picturing an adorable picture from a kid's party with a little handwritten note from the birthday boy or girl).
Because it's an artistic twist on the usual envelope liner rather than a picture to be displayed on the fridge, you could definitely get away with printing on regular cardstock paper from your home computer. Better yet, try printing a favorite photo over a subtly patterned piece of scrapbooking paper.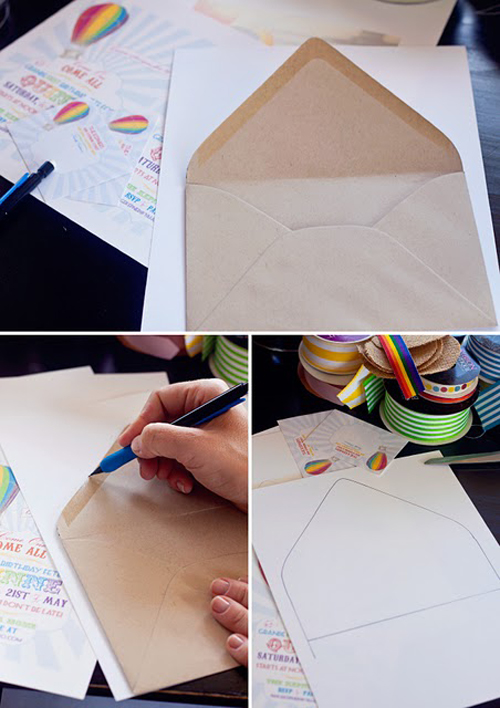 Full tutorial over here at Paiges of Style. Love this idea.
Tags:
Baby Shower
,
Birthday
,
Bridal Shower
,
Crafty Solutions
,
DIY
,
Kids Party
,
Paper Goods
,
Parties & Entertaining
,
Tutorial
,
Wedding
Posted in
Parties & Entertaining
|
4 Comments »
January 7, 2011
Alas, no baby news. I am officially nine days overdue and I've tried reflexology, acupuncture, spicy foods, plenty of exercise and a decent amount of driving over large pot holes that just happen to get in my way on the road.
Yesterday afternoon we visited San Diego snow (yes, it sort of snows here – crazy but true) in the nearby mountain towns of Mt. Laguna and Julian, our favorite get-out-of-dodge locations for a quick distraction.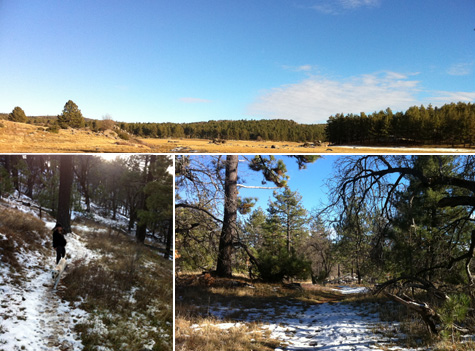 Wow it was beautiful! We took advantage of the clear skies and enjoyed an hour induction hike with Bodie, who just loves the snow.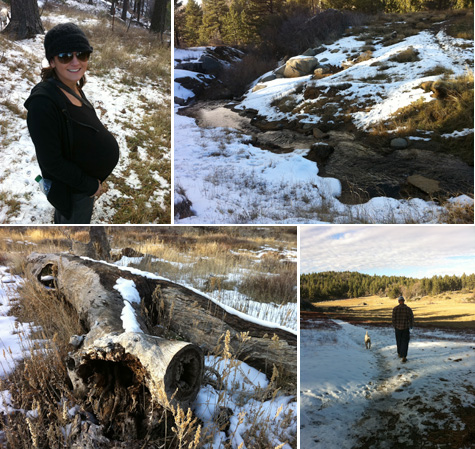 Meanwhile, the nursery received a new addition. I've had my eyes out for a vintage alphabet poster since my first trimester and when I came across this one on a family trip to Sedona back in July, I scooped it up knowing it would be part of the inspiration for the space.
Fast forward six months later and an Ikea frame + the print (found the same one on Amazon) + a little spray paint (same red oxide primer we used for the changing table) = one new piece of very wallet-friendly art.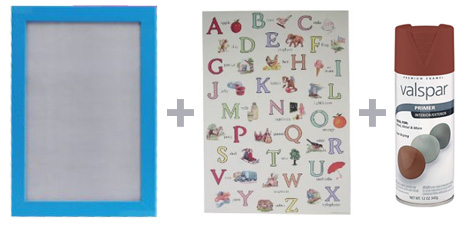 This particular Ikea frame has a plastic (instead of glass) insert, which makes it even more ideal for a nursery space.
I don't know where it will finally end up (waiting on baby photos and additional wall art before hammering any nails into the wall) but it turned out just as I had hoped.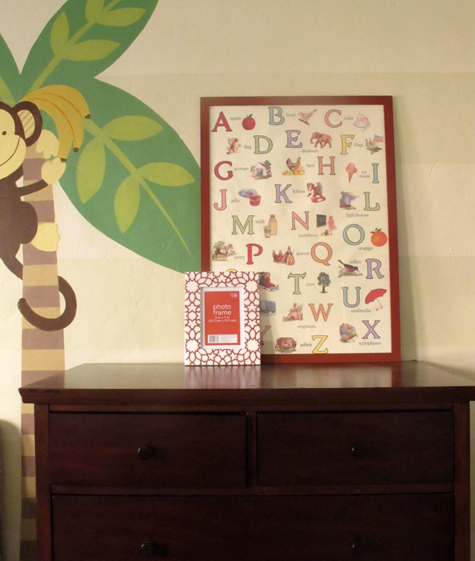 If you're playing catch up, here's a quick Project Nursery run down of posts: painting the wall animals, finding a great Craigslist changing table, adding stripes to one accent wall, the initial inspiration board and the really crazy before pictures of the room.
Today's the last day to enter the Lowe's giveaway for a new air purifier! Check it out here.
And do share, all you mommies out there, what natural induction secrets do you know?
Tags:
Before & After
,
Decorating
,
DIY
,
Home
,
Nursery
,
Paint
,
Paper Goods
Posted in
Crafty Solutions
,
Home
,
Liv's Nursery
,
Renovating Adventures
|
9 Comments »