December 15, 2010
Wrapping presents is always a task that I oddly look forward to each Christmas. I love beautifully wrapped packages with that added homemade love (when you can really tell the gift giver put some time into perti-fying the gift) and this year I'm attempting to find unusual odds and ends from around the house to embellish gifts for under our tree.
When Tiffany from Simply Modern Mom asked me to participate in her Wrap It Up series today, I decided to give felt, ribbon and newspaper clippings a try to make an easy project that I could replicate for all of our gifts. Check out the full post here.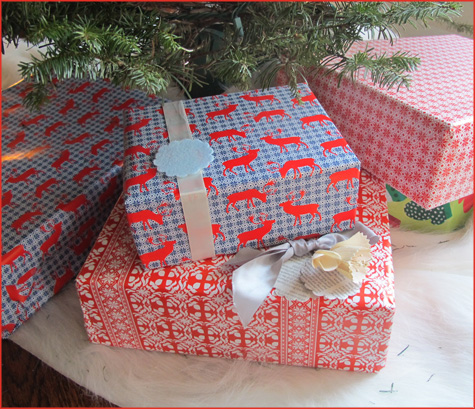 Why have I never thought of newspaper before! Same goes for old book pages – they make great little name tags and there's something a bit homemade and antique-y (and very wallet-friendly) that's so pretty about the look. For more details (and fun wrapping ideas), be sure to check out Simply Modern Mom's site!
Tags:
Blue
,
Christmas
,
Crafty Solutions
,
DIY
,
Paper Goods
,
Patterns & Color
,
Red
Posted in
Crafty Solutions
,
Holidays
|
2 Comments »
November 26, 2010
Happy Thanksgiving!!
Earlier this week I shared a few of my favorite Tiny Prints designs for our 2010 Christmas cards, and Tiny Prints has followed up with an offer to host a $50 giveaway for one of PDB's readers!
Here's the final design that we chose. I love the circular shape of the cards, the modern print and the great colors: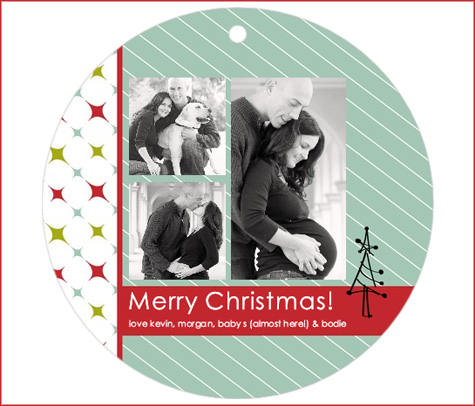 But they have a ton of terrific designs to choose from – and if you already have your Christmas cards in order, use your credit for birthday, wedding or shower invites (or even baby announcements! We'll be in need of those soon…).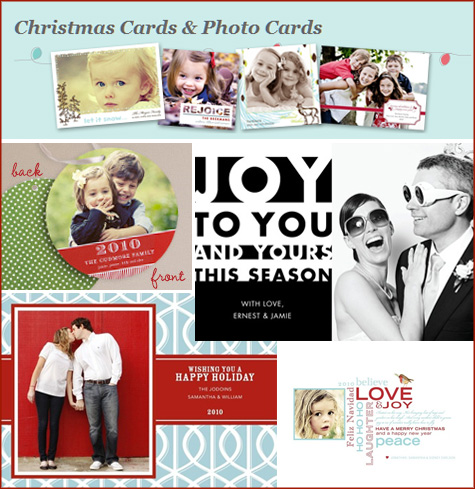 From Tiny Prints: "Tiny Prints provides stylish, modern and unique stationery from photo cards to personalized greeting cards to thank you cards and business cards. Offering exclusive designs from the nation's top designers, easy card personalization, a powerful preview engine and top-notch customer service and paper quality, their designs have been lauded by celebrities, numerous television networks and publications. Tiny Prints offer adorable Christmas Cards, Hanukah Cards,  and even New Years Cards. All fully customizable!"
******************************************************************************************

Tiny Prints is offering a $50 credit towards any cards/products on the site!
To Enter: Please visit Tiny Prints and leave a comment here sharing your favorite design or card. For extra fun, share whether you traditionally send holiday cards (before or after the holidays) and how you choose the photos!
For Additional Entries: Become a fan of PDB or Tiny Prints on Facebook! Be sure to leave a separate comment here for each letting us know you are already a fan or currently added either page.
Giveaway ends Wednesday, December 1 at midnight PST, winner will be chosen randomly and announced the following day. Good luck!

******************************************************************************************
Tags:
Christmas
,
Holiday
,
Paper Goods
Posted in
Giveaway
,
Holidays
|
51 Comments »
November 22, 2010
I can't believe Christmas is just around the corner! I love this time of the year and even though it's not yet Thanksgiving I'm making progress on crossing items off of my to-do-before-Christmas list. The goal is to have presents bought (not easy when you have 7 brothers between the hubby and myself) and the house decorated by the first week of December. I'm very much trying to avoid a 9 1/2 month pregnant me cruising down the aisles of Target before closing on Christmas Eve!
On one note, offering up our home in an open-house sort of fashion for family over the holidays made sense. We're not planning on traveling (both of our families live a good 6 hour drive away) but we'd love to be surrounded by our loved ones during this special time. On another note, the realization that we are a home under construction with a babe shortly to follow while hosting three families is now catching up to me.
So! Back to knocking out those items on the list early. First up? Christmas cards.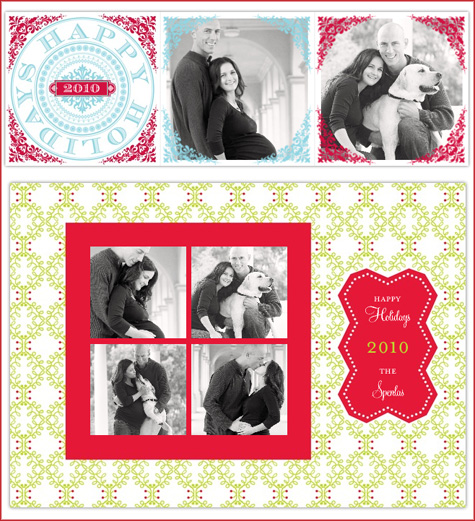 I knew I wanted to invest in maternity photos and the fact that they will play double duty as our 2010 holiday card is even better. We shot family photos with the very talented Robert Goold here in San Diego just last week (a wonderful team to work with if you're in the area!) and now I'm editing and pulling together my favorites. (Kevin insisted Bodie be included!)
I love love the contemporary Christmas designs offered by Tiny Prints this year. The graphic designer in me has a deep affection for beautiful fonts and I was all over the options in their Signature and Premium collections (the pop-up and tri-fold designs are very cool, too).
Ultimately, I was won over by this unique card shape and beautiful design layout (I love the colors!):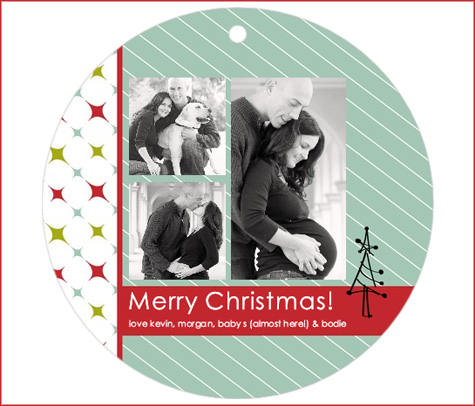 Loading, cropping and editing the images directly in Tiny Prints was super easy – and since I had created 8 different mock-ups (not unusual…) I was pleased to find an easy-to-sort folder to save my favorites for comparing.
One big item on the list complete – now I just have to figure out what neat & exciting gifts I can purchase for college-aged boys and if I can get a bulk discount

.
Tags:
Christmas
,
Paper Goods
Posted in
Family & Friends
,
Holidays
|
6 Comments »