November 9, 2010
Courtney from Pizzazzerie shared these adorable (free!) printable labels from Anna and Blue Paperie a while back and I wanted to pass on the neat find here with you since I thought they'd be perfect as that extra-something-special for the Thanksgiving table.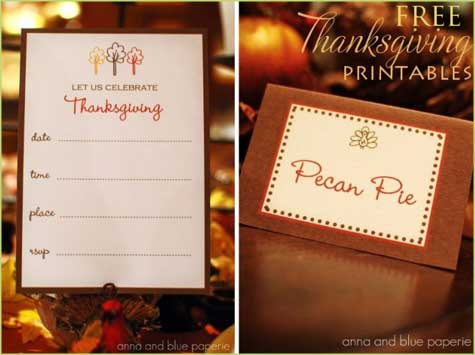 To download and print, click here! And be sure to check out the full collection here. Whether you're looking for invitations, placecards, gift labels, dessert buffet markers, menus… there's a seasonally-inspired option to use in this little selection.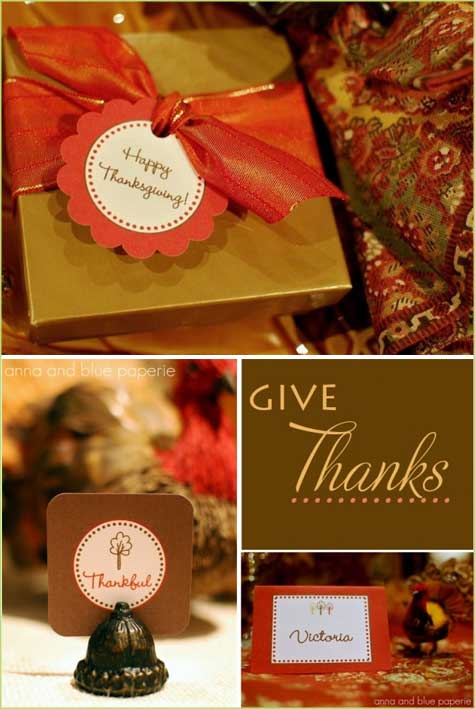 Thanks, Anna and Blue Paperie, for sharing the holiday love!
Tags:
Decorating
,
Dinner Parties
,
DIY
,
Orange
,
Paper Goods
,
Parties & Entertaining
,
Thanksgiving
Posted in
Parties & Entertaining
|
Comment »
November 3, 2010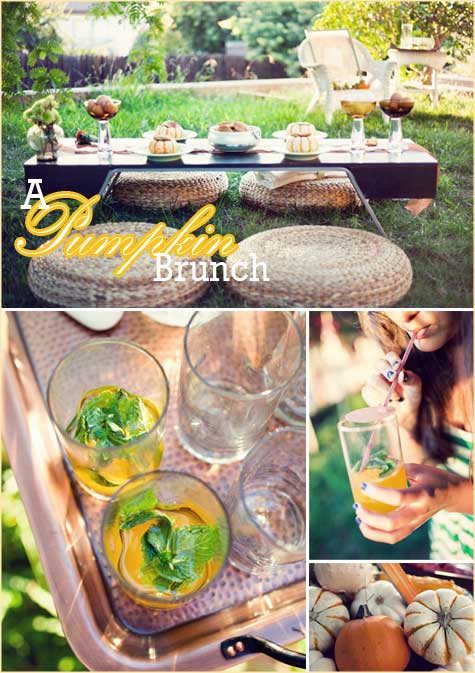 It's the perfect time of year for a sweet fall outdoor celebration. It's beginning to crisp up elsewhere in the States but here in San Diego the weather is still offering it's sunny, cloud-less skies in the first week of November.
This pumpkin brunch by City Cradle Design is a cozy and simple way to celebrate autumn with friends. Mmmmmm. And I'm definitely inspired to purchase rattan floor cushions ASAP!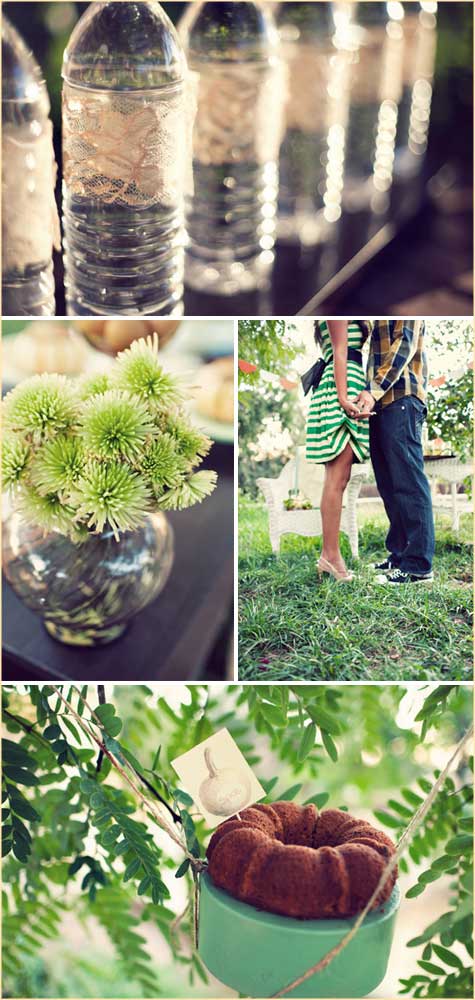 The details are great – from the hanging cakes in the trees to the scooped out pumpkins filled with pancakes and handmade, heart-shaped toppers. And replacing the standard water bottle labels with lace (see above) is an idea I'd love to steal for a tea party or shower. Victoria offers all of the little DIY projects at her site.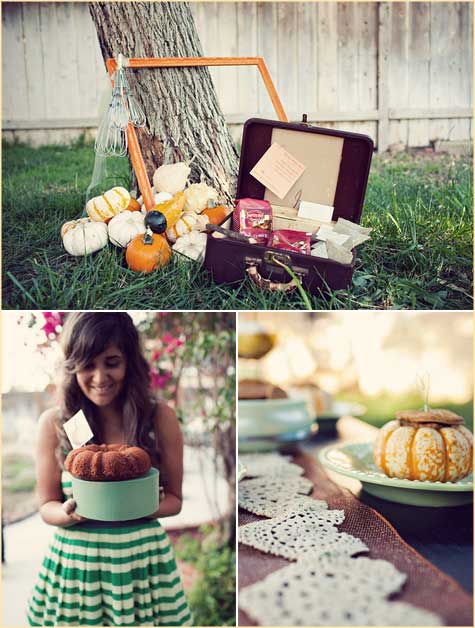 The paper flags in the trees would be a neat decoration to leave up from September through Christmas and sharing a meal out on the grass (again on those great cushions) sounds like a fun way to dine any time of the year (maybe even for Thanksgiving?).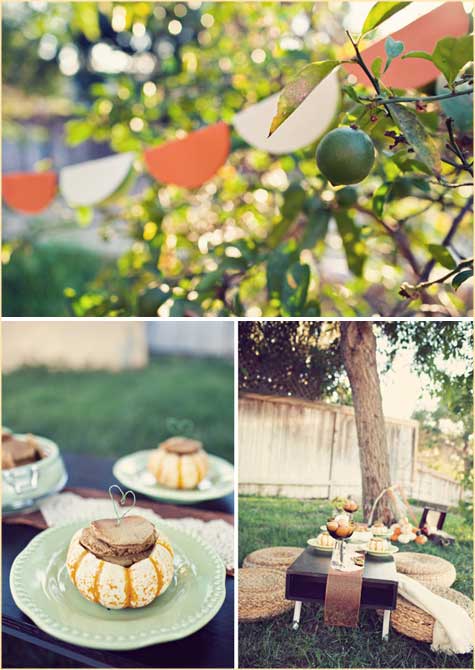 Ahhh sweet fall inspiration. Isn't this the perfect way to spend a Sunday morning in November?
Tags:
Autumn
,
Decorating
,
Dinner Parties
,
DIY
,
Fall
,
Halloween
,
November
,
October
,
Orange
,
Parties & Entertaining
,
Thanksgiving
,
Yellow
Posted in
Holidays
,
Parties & Entertaining
|
3 Comments »
October 26, 2010
We're preparing for our annual Halloween dinner party this coming Sunday and I've pulled together a quick round up of a few of the amazing *spookified* table settings & dessert bars that have caught my eye: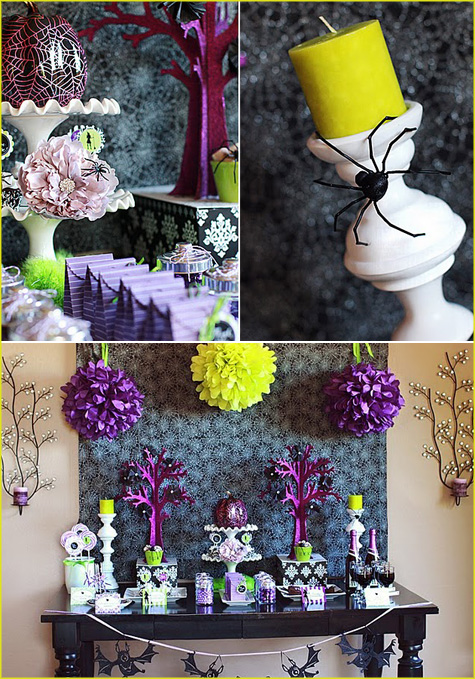 This glam Halloween dessert bar by TomKat Studios mixes in nontraditional lavender, lime and glitterfied decor to a create a fun, creative spread.
Sandra of The White Library created an equally chic tablescape full of spiders & crows. Rich jewel tones provide a much friendlier alternative to your everyday Halloween color palette, proving that the holiday doesn't have to be all about gore to be spooky and fun.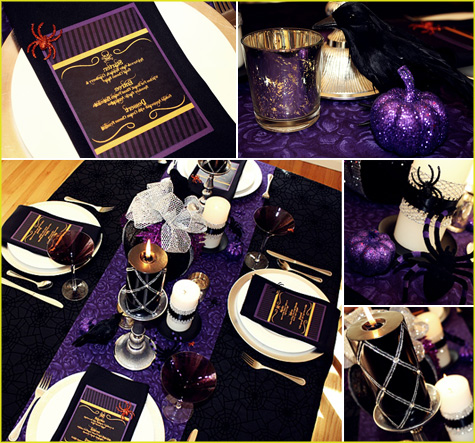 Katie recently showcased her orange and grey kid's dessert buffet on Celebrations at Home – simple, clean, beautiful!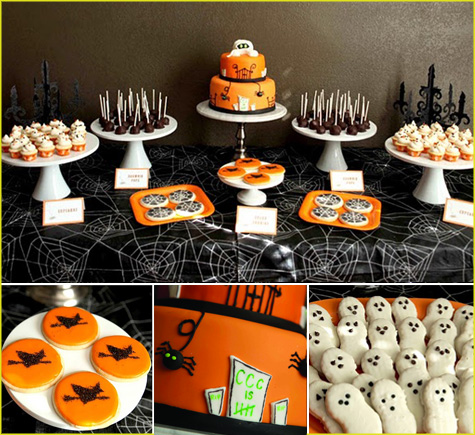 Anna and Blue created a delicious dessert buffet with similar colors in mind. Check out all of the great diy projects from this party at Hostess with the Mostess.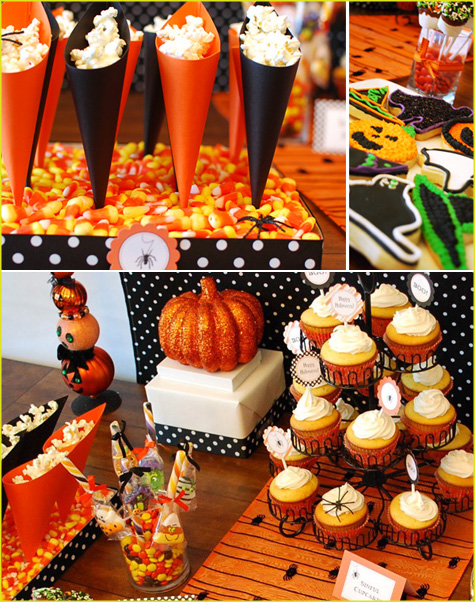 Finally, Sweets Indeed designed a delectable feature that's full of Victorian-esq details – including lace patterned cookies, paper products, black swags and even filigree-inspired icing. More on table decor and those mouth-watering desserts here.
Purple seems to be the accent color of choice this year! I do love how it provides a soft contrast to the bright oranges, blood reds and black that we often see. I might just have to make it a feature color of our Halloween spread as well…
Tags:
By Color
,
Desserts
,
Dinner Parties
,
DIY
,
Halloween
,
Orange
,
Parties & Entertaining
,
Patterns & Color
,
Purple
Posted in
Holidays
,
Parties & Entertaining
|
5 Comments »