December 22, 2009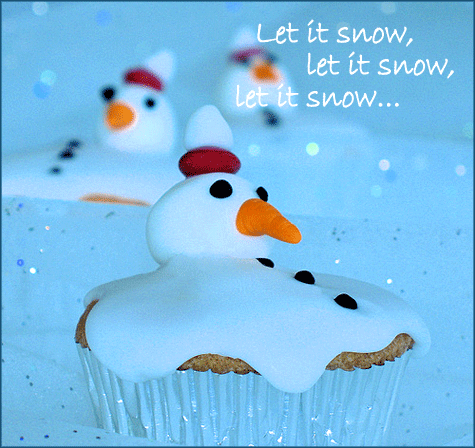 These are too cute not to make this winter… and they're really pretty easy! I found this great idea over at Cherrapeno (a very neat blog). The base is a cranberry cupcake, but you could really go with your favorite!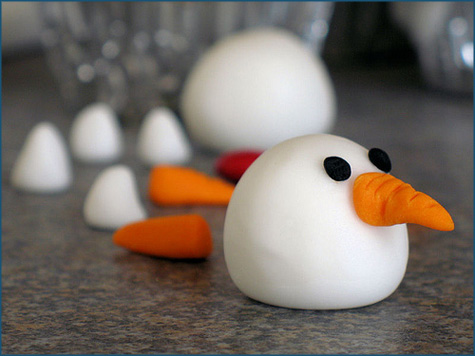 The recipe calls for fondant and homemade icing for the melting snowman, as well as orange food coloring paste for the carrot nose, a tube of black icing for the eyes/buttons and red Smarties or M & M's for the hat. Check out the entire recipe and step-by-step directions here!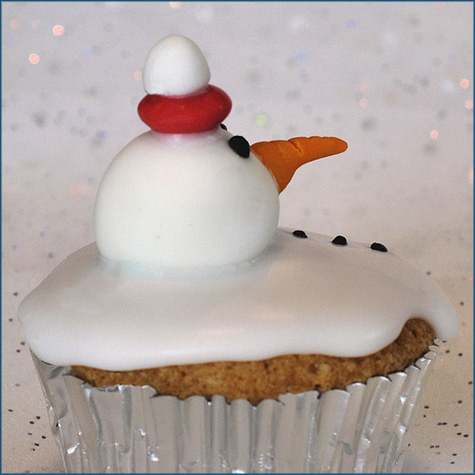 Tags:
Christmas
,
Desserts
,
New Years
,
Parties & Entertaining
Posted in
Parties & Entertaining
,
Recipes
|
1 Comment »
December 21, 2009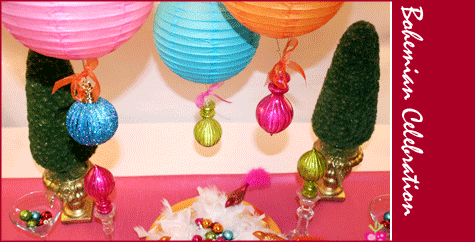 Looking for a unique party theme for Christmas or New Years? Top Party Ideas shares a very festive bohemian spread that would be perfect for either holiday!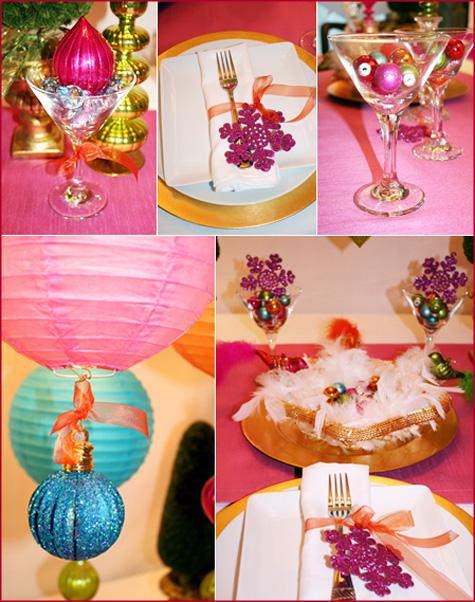 I love the bright colors and sparkly details! Martini glasses filled with pastel mini bulbs and gems as well as the stacked paper lantern ornaments are a few of my favorites (check out this post on handmade paper ornaments to replicate the combination). Read more »
Tags:
Birthday
,
Bridal Shower
,
Christmas
,
Crafty Solutions
,
Decorating
,
Dinner Parties
,
DIY
,
Kids Party
,
New Year's Eve
,
Orange
,
Parties & Entertaining
,
Patterns & Color
,
Pink
,
Purple
Posted in
Crafty Solutions
,
Parties & Entertaining
|
1 Comment »
December 20, 2009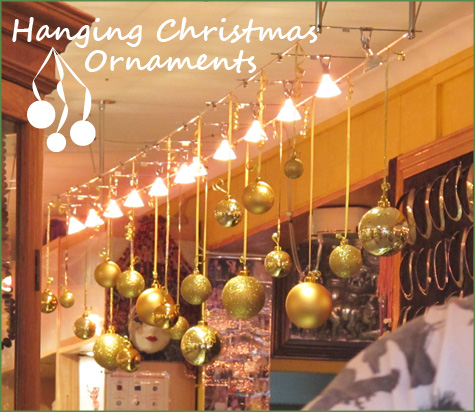 While we may have all seen this neat idea before, I thought I'd take a quick moment to point it out after finding this 'ornament chandelier' in a shop in Port Douglas.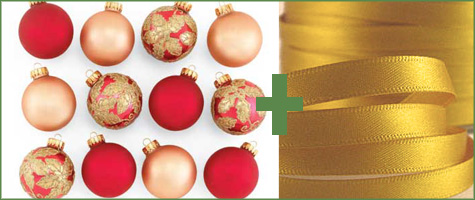 So easy to make! These would be beautiful from any hanging lamp pendant or chandalier — or inside a window frame for a glittery display.
These yarn ornaments (or decorative party spheres for any other time of the year) were also showcased in a little eclectic shop here. They're made by: wrapping yarn or thin colored twine around a perfectly round balloon, covering yarn in a glue + water mixture (similar to paper mache), and waiting until dry before popping balloon. So fun! GIANT ornaments hanging from the ceiling, a staircase or from the mantel in front of the fireplace (when it's not in use, of course

).
Now… where to find said perfectly round balloon…
Tags:
Accessories
,
Christmas
,
Crafty Solutions
,
Decorating
,
DIY
,
Home
,
Parties & Entertaining
Posted in
Crafty Solutions
,
Home
,
Parties & Entertaining
|
3 Comments »