November 12, 2009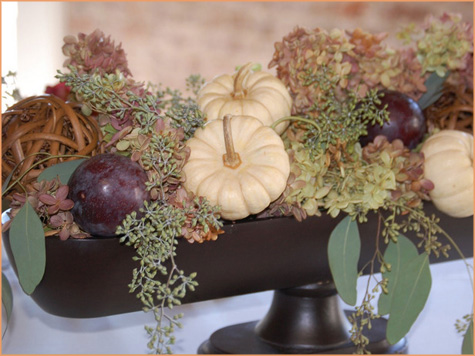 A few Thanksgiving centerpieces to mull over as you plan for the special day… whether your style is muted & soft or blazing with color there are so many brilliant ideas out there to give you inspiration. I've collected a few of my favorites from design experts around the web: BHG, Party Perfect Blog, HGTV and Cathie Filian.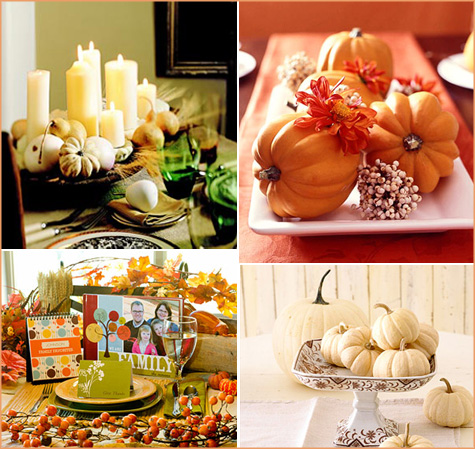 Before you begin… choose your theme wisely. Will this holiday be traditional & cozy or modern & eye-catching? Choosing your color palate can be most challenging but incorporating just one 'wow!' color can make a huge difference. Bright pastels like orange, pink and green give your table a pop and are all over the place this season.
By the way, isn't this idea of incorporating photos into a centerpiece runner a neat tribute to family?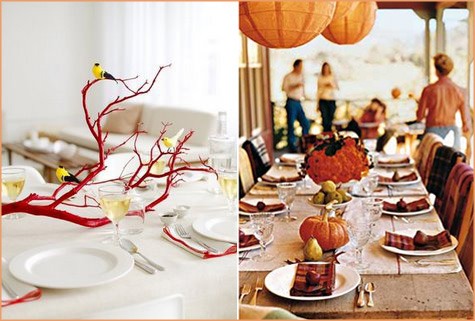 Be out of the ordinary. Surprise your guests with unique elements that will make them remember this holiday for years to come. It can be as simple as a painted red branch, as crafty as ribbon wrapped paper lanterns or as unique as veggie candle holders (for those last two ideas, jump on over to the next page).
Where ever your inspiration comes from your guests will surely appreciate the extra effort! Read more »
Tags:
Centerpiece
,
Centerpieces
,
Crafty Solutions
,
Decorating
,
Dinner Parties
,
DIY
,
Flowers
,
Parties & Entertaining
,
Thanksgiving
Posted in
Crafty Solutions
,
Parties & Entertaining
|
4 Comments »
November 9, 2009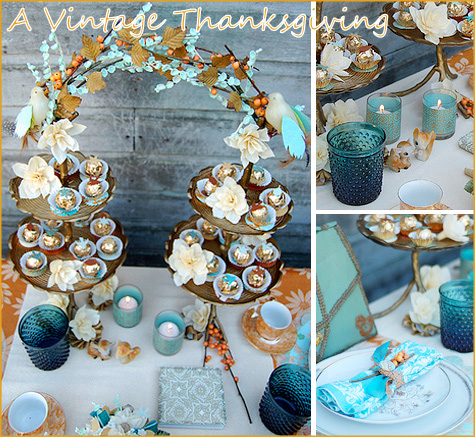 This Vintage Tablescape was created by Laurie Cinotto for a beautiful wedding featured on Once Wed and spotlighted on Hostess with the Mostess last year… but I've always had it in the back of my mind as the PERFECT Thanksgiving spread.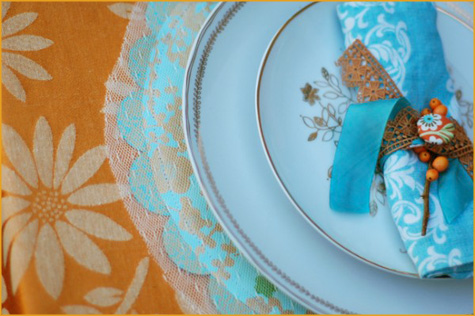 The color scheme is fantastic — and the delicate vintage feel is perfect for this fall. This tablescape would be easy to recreate with richly patterned fabric remnants, lace scraps and orange berry swags from your local craft store. Matching scrapbooking paper with filigree detail for favor boxes and placemats… as well as an assortment of various china pieces from thrift stores mixed in with your traditional place settings. It's so lovely!
Homemade boxes filled with your favorite dessert make unique favors. For something simple and personal, cover match boxes in scrapbooking paper, lace and buttons and fill with a short note on why you're thankful for that person.
Beautiful details: Napkins tied with lace and berries, votives lined in paper, colored tumblers that match your theme and single flower blooms scattered about. Read more »
Tags:
Baby Shower
,
Bridal Shower
,
Crafty Solutions
,
Decorating
,
Dinner Parties
,
DIY
,
Orange
,
Parties & Entertaining
,
Thanksgiving
,
Turquoise
Posted in
Crafty Solutions
,
Parties & Entertaining
|
7 Comments »
November 3, 2009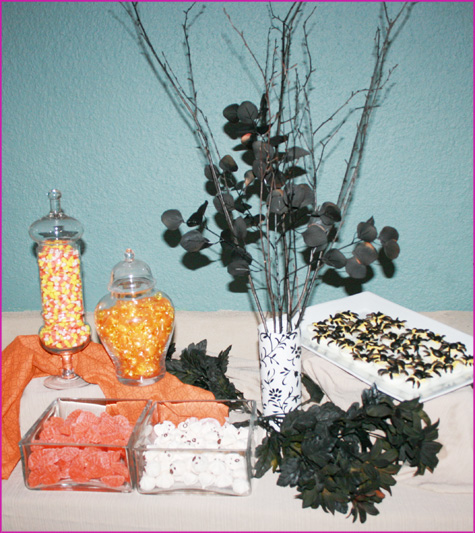 Halloween was a blast! I thought I'd share a few pictures on the details of the event (and a follow-up on my 'dead floral arrangements'… as promised). My apologies in advance for the sub-par pictures, I snapped as many as I could before the sun finally set (oh, winter!).
Friends filled in the table with all sorts of yummy treats for the evening… but here's the start of our appetizer/dessert buffet.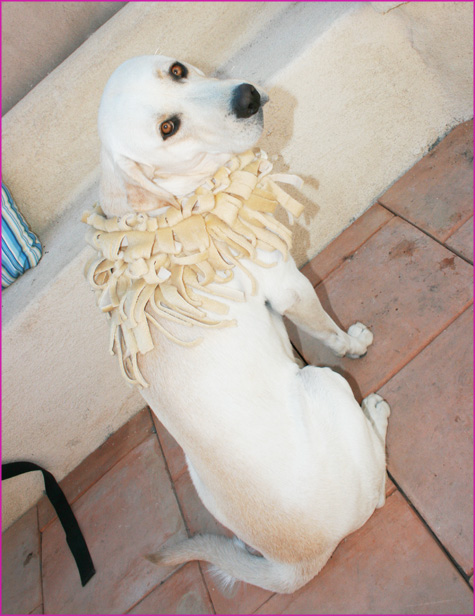 And my puppy as the King of the Jungle. Roar. He was such a sport to wear his homemade mane all night long!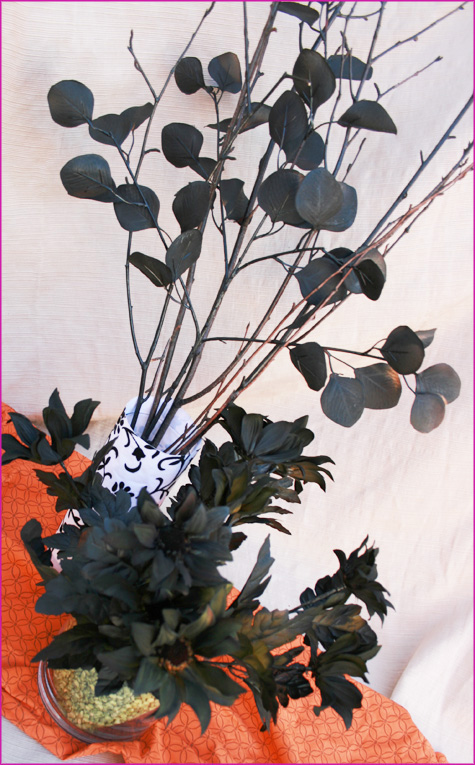 Follow the jump for more party pics from our Halloween evening! Read more »
Tags:
Crafty Solutions
,
Decorating
,
Desserts
,
DIY
,
Halloween
,
Parties & Entertaining
Posted in
Crafty Solutions
,
Parties & Entertaining
|
7 Comments »