February 16, 2011
Ready for spring? Nothing announces the coming of spring like wedding invitations! I love getting a little dressed up and a wedding is the perfect occasion to pull out my favorite pumps and go shopping for a new cocktail dress.
We have a wedding next month and right now I'm leaning towards a blush/beige ensemble like this: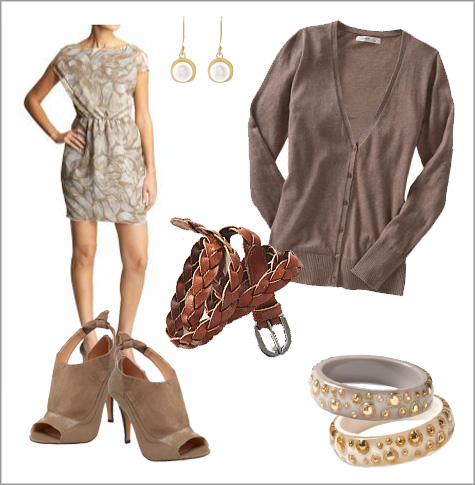 This color palette is really complimentary to olive complexions such as mine and the layers make for easy wedding indoor/outdoor transitions. Now that my waist is slowly beginning to make an appearance, I'd love a beautiful cinched-waist dress and casual-ish belt (such a this braided version) to emphasize the return of the non-pregnant stomach. Pair that with suede pumps, gold jewelry and a long cardigan and this would be my perfect outfit!
When not in wedding mode, I tend to run around town in a work-meets-play get-up of dark trouser jeans, slightly dressed-up blouses and comfortable wedges or flats. Pair that with a military-inspired jacket and another slimming belt and I can go from home office to lunch meeting to errand running mom (eek – did I just say mom?) to cocktail hour and feel appropriately dressed for all of the above.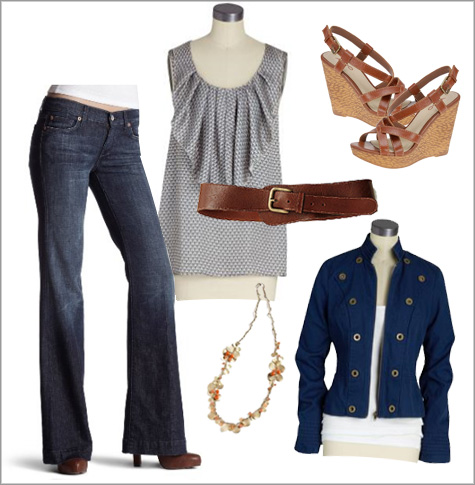 Oh I love this cascading ruffle blouse!
For source and pricing info (and more fun ideas), head on over to the Wardrobe Style Boards page. Happy Wednesday!
Tags:
Fashion
,
Party Style Boards
Posted in
Wardrobe
|
3 Comments »
December 27, 2010
I hope you all had a wonderful Christmas! Ours was very low key – we enjoyed a delicious Christmas Eve meal with family, went to Mass to celebrate the Reason for the Season and checked out Christmas lights around town. On Christmas day we slept in, enjoyed a delicious brunch by Kevin and opened presents with family – an afternoon walk and a trip to the movies (maybe our last for a while?) capped off the perfect day!
This weekend has already been pretty productive when it comes to home updates – we had electricians over all day yesterday installing lights and outlets in the new guestroom/office while Kevin cleared up the ceilings (being an old kitchen, there were plenty of gas lines and the like).
Meanwhile… my mind has already begun to wander to our next big holiday. And when I think of New Year's Eve, all that glitters is what comes to mind!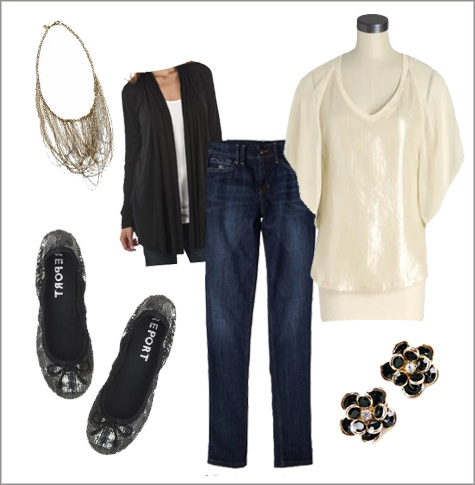 While I may not get to partake in the skinny jeans and sheer dress look this coming weekend, I've been inspired by a couple of New Year's Eve wardrobe ideas (here's a link to the entire list of style boards). I can't think of a better reason to embrace sequins, sparkles and glitter!
Two looks that I'm especially drawn to:
A Casual Dinner Out: I'm loving the above white sequin top for so many reasons, especially that casual/comfy shape that looks so great when paired with skinny jeans. These Report flats are spot-on in price and would add that little something to outfits throughout the year.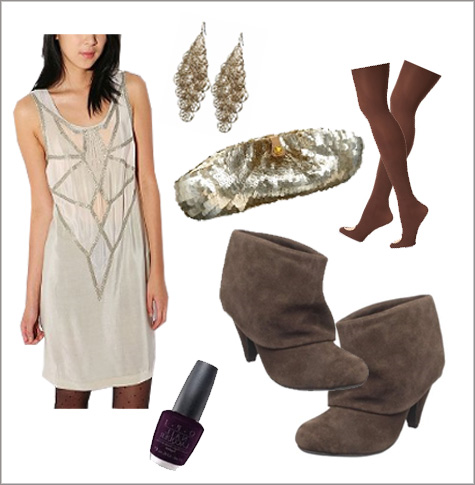 Downtown with Friends: These semi-low booties would be the perfect pair for walking the streets of downtown with friends for the final countdown. Whether it's bar hopping or setting up shop at one favorite locale, I love this shear little dress and glittery clutch.
To track down any of these finds and see pricing info, check out the slideshow here.
This weekend you'll likely find me uber pregnant and curled up on the couch with hubby and Martinellis enjoying the last few days of Christmas decor around the house, but here's to dreaming of a sparkly, glittery night welcoming in the new year!
Tags:
Fashion
,
Party Style Boards
Posted in
Holidays
,
Wardrobe
|
5 Comments »
December 6, 2010
It's that time of the year! This past Friday we attended our first Christmas party of the season and I'm reminded of how fun it is to dress up for the evening and mingle with friends. There are so many reasons to celebrate in December – work dinners, cookie exchanges, cocktail parties – and usually wearing something a bit more fancy is all part of the fun.
Here are three ideas that I love – from the dressy dinner to the weeknight happy hour to the black tie event here's a bit of inspiration for different styles of entertaining:
For a Friday night celebration, I'd pair these velvet leggings with a sexy pair of glitter pumps and a slouchy satin dress. Add a splash of color in the clutch, a chunky necklace to break up the boatneck dress and matching earrings and you're set. This sequin cropped jacket is the perfect topper! Would look great on another night paired with jeans and a white tee – it could easily become my holiday go-to piece.
For a more casual event such as happy hour or a cookie exchange, pair metallic heels with a flattering blouse and bootcut jeans. Corral it all in with a knitted sweater and braided belt, and add contrasting color in your accessories. This style board is perfect for any time of the year.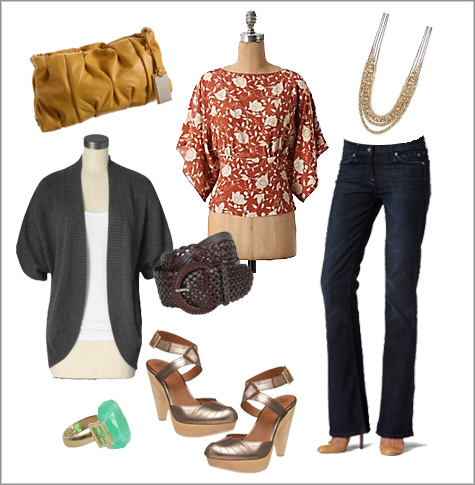 Finally, if you're one of the lucky few to attend a black tie event this Christmas, keep it simple but add plenty of sparkle (you really can only get away with it a few times a year…) and pair with flashy nude pumps (these Charles David heels come in over a dozen different colors! I love the structural look of this shoe). Again, choose your favorite 'pop' of color – whether that's turquoise, fuchsia, royal blue… – and tie it in through jewelry.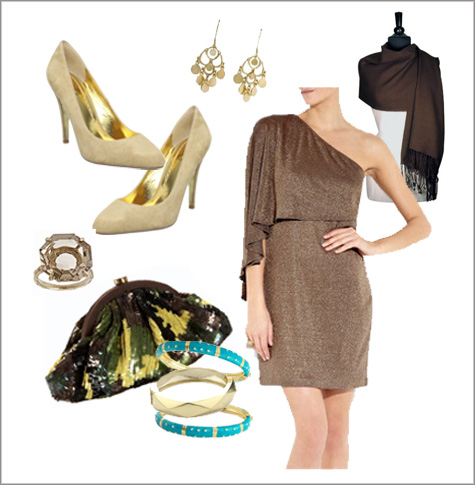 For sources, pricing and more style boards, jump to this link. *Sigh* so many great reasons to love this time of the year.
Tags:
Christmas
,
Fashion
,
Party Style Boards
Posted in
Wardrobe
|
4 Comments »