August 11, 2011
So the sun has been shining with full force and the weather has been warm! and then just like that the switch was flipped and this morning we have grey skies here in San Diego. Oh funny weather…
A way while back I had mentioned finishing up a couple of sewing projects that involved zippers, one being new throw pillows for the living room. And these aren't just any zippers, they're the infamous invisible zippers! I accidentally purchased a ton of these for a few new projects around the house, and then realizing my mistake (and being a bit stubborn) I set out to tackle the invisible zipper rather than return for the regular version.
You'll find invisible zippers on most store bought cushions and pieces of clothing, they're great because when applied correctly, the zipper literally disappears within your fabric.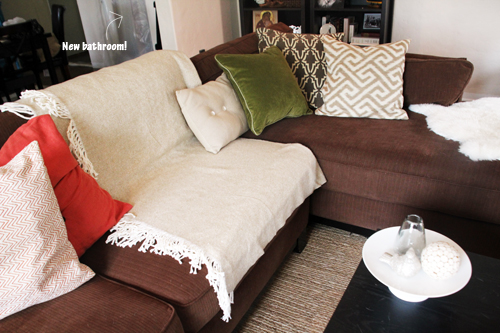 The new bathroom project is hiding there in the background. We've had to pause that guy temporarily while we wait on permits and Kevin works on summer school.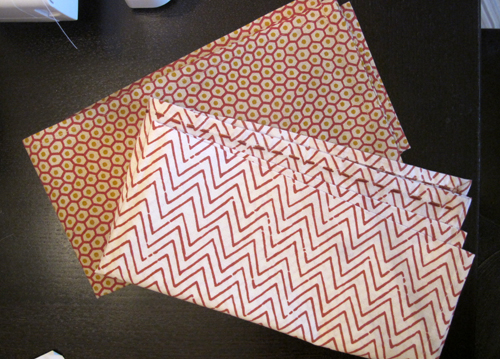 I found a few clearance napkins at West Elm that fit with my color scheme and I knew they'd be perfect for the project at just $4 a pop. That plus left over fabric from my favorite nursery glider makeover (that awesome tan ikat) left me with three new pillows that were quick and easy to sew up.
I researched a few slipcover pillow ideas but settled on adding a zipper because I knew that I wanted these pillows to really stand the test of time. Plus, I was dying to experiment with zippers, something I haven't tried in ages. The first pillow was a challenge (think twisted, inside out fabric and thread), but as soon as I had the 'invisible zipper' down, the other two were easy peasy. It looks difficult, but I promise that if you go that extra step to hide your zippers, you'll love the results.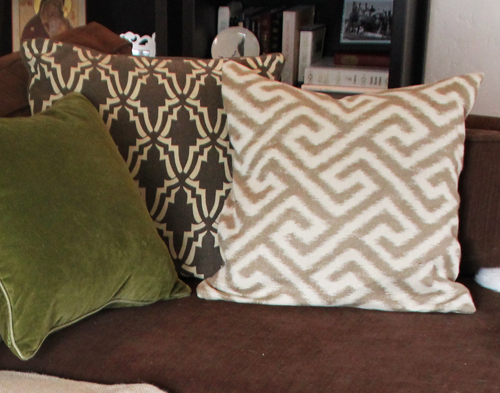 For stuffing, I usually cover up an existing throw pillow. You can also purchase bags of filler at your local fabric shop for a few dollars. If you go that route, I recommend making an insert for your pillow as well so that you're not constantly fighting clumps and wisps of filler material as you zip and unzip your covers.
***************************************************************************************************
Sewing Throw Pillows with an Invisible Zipper
a
Materials: 2 19×19″ squares of fabric for one 18″ pillow OR a set of cloth napkins, an invisible zipper (two inches shorter than one side of your pillow, though you can always shorten a longer zipper by sewing across the zipper, too), zipper footer for your sewing machine, complimenting thread, threaded bobbin, pins, scissors, pillow stuffing/inserts

1. To sew an 18″ pillow, cut your fabric into two 19×19″ pieces. This should allow a 1/2 hem on all edges. Remove one set tags if you're using a napkin – I like to keep one set hidden inside with washing instructions for the future. Baby + dog + dinner parties = definite spots

. Cloth napkins are great because they're already hemmed and provide a clean finish on the underside of your new pillows. Plus, they're the perfect size!
2. Pin the fabric/napkins together at the corners with the top sides facing each other (we're going to do this first step with the pillows inside out).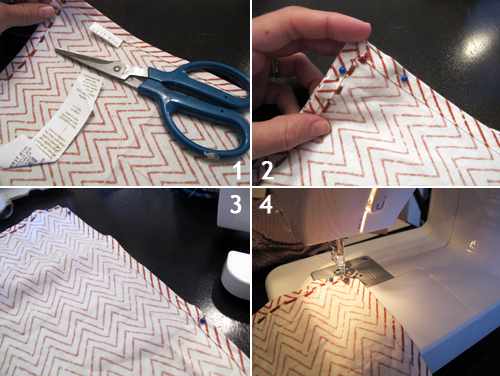 3. Add a pin roughly half way between each corner.
4. Sew three sides of your pillow together, leaving just the edge for your invisible zipper open.
5. Now comes the tricky part. The easiest way to add your invisible zipper is to pin it in place as you imagine it functioning. Go ahead and pin your zipper in a couple of inches from the edge so that you leave yourself a little working space. We'll close that up at the end.
6. Then flip your pillow right side out and try it. If the zipper opens and closes correctly without twisting any fabric, great job – you nailed it on the first try. It took me a couple of times of pinning, flipping, repinning to get this just right. Note: if you'd like, you can iron your invisible zipper flat before pinning to help you get as close of a stitch to the zipper part as possible.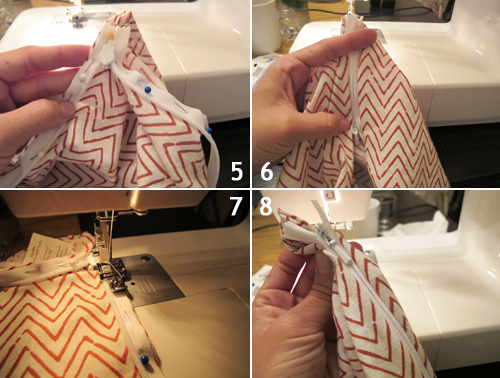 7. Add your zipper foot to the sewing machine. It usually comes with your machine in that little parts bag below the main compartment, but you can also pick a plastic one up from the store for a few dollars. Sew your zipper edges to the fabric running that little zipper foot right up against your zipper.
8. If you flip your pillow inside out now, you'll notice that your zipper closes (yay!) and that your fabric edges are hidden.
9. This picture illustrates the end of the zipper which has been left open – that's the extra 'working space' we left from step 5.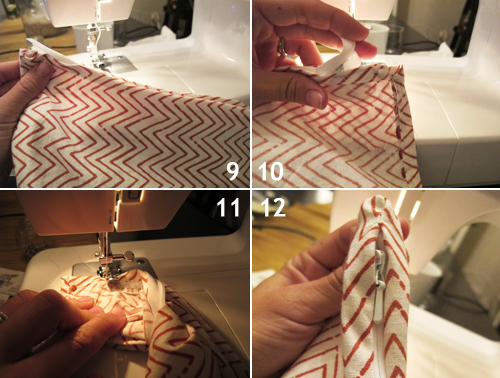 10. Lifting the zipper out of the way, pin together the two loose ends of the pillow.
11. Now sew the two pinned pieces together, don't forget to repeat on the other side (don't worry about the loose zipper portion, it's hidden inside your pillow).
12. Flip the entire pillow inside out and you should have a clean, finished end and an invisible zipper!
Stuff your insert in your cover and your throw pillow is done!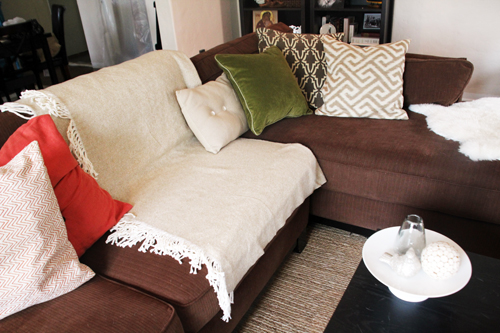 Love how the new pillows look, the added patterns were just what the space needed.
Tags:
Crafty Solutions
,
Decorating
,
DIY
,
Fabric
,
Home
,
Living Room
,
Patterns & Color
,
Sewing
,
Tutorial
Posted in
Crafty Solutions
,
DIY
,
Home
,
Our Living Room
,
Renovating Adventures
|
4 Comments »
May 23, 2011
Recently Centsational Girl began a terrific little weekly 'Best of the Blogosphere' round-up that I've really enjoyed checking out. When this idea popped up by Ruffled, it reminded me immediately of these West Elm lanterns that I used in this outdoor inspiration board for the May issue of San Diego Magazine.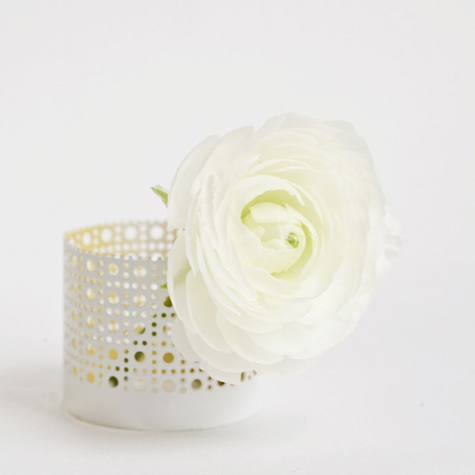 Pretty similar, right?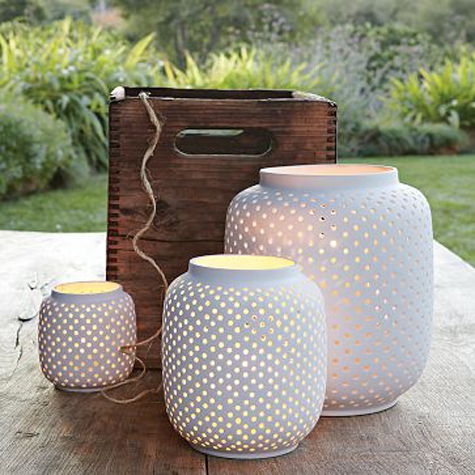 So simple and so lovely – these would look beautiful around a garden party or as centerpieces for a wedding. And I love that they're made out of the metal found on a used radiator cover!! Really, I know it's crazy. So resourceful. You could also use upcycled perforated metal sheets or purchase from a major home supply store.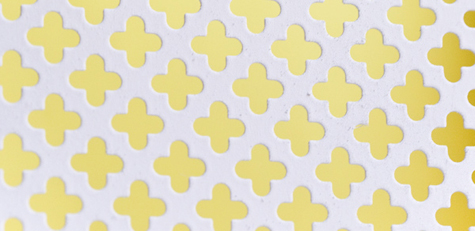 A bit of white spray paint for the metal and an immediate transformation. The clover design is an added perk.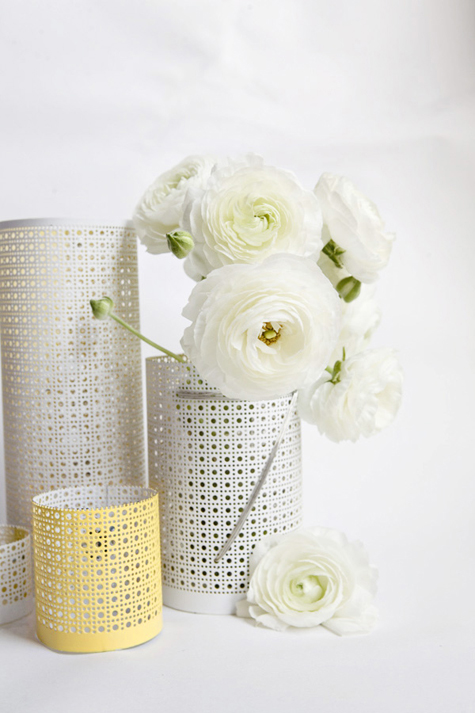 Full tutorial here.
Hope you had a lovely weekend! We traveled out to South Bend, Indiana for my brother's graduation from the University of Notre Dame. We're having a great time and I had the chance to celebrate my birthday on Sunday with family while there!
Tags:
Accessories
,
Crafty Solutions
,
Decorating
,
Dinner Parties
,
DIY
,
Home
,
Parties & Entertaining
,
Patterns & Color
,
Wedding
,
white
Posted in
DIY
,
Home
,
Parties & Entertaining
|
1 Comment »
May 10, 2011
If you've been around for a bit you know that we built a kitchen out of a dated den in the back of the house (which actually used to be a master bedroom). Kevin spent much of his summer/fall last year tearing up walls, installing cabinets, tiling backsplashes and plastering/painting – and we LOVE our new space! Scouring sales, taking full advantage of promotional codes and becoming Craigslist addicts helped to make it all possible (that and a whole lotta sweat equity).
The kitchen has sat for over six months at 90% complete – it's functional, it's beautiful and there's little motivation to get that last 10% done. But this past week we're about 5% closer!
One of the new updates is new cushions for the barstools (a Craigslist find – I think the stools may have originally been from World Market):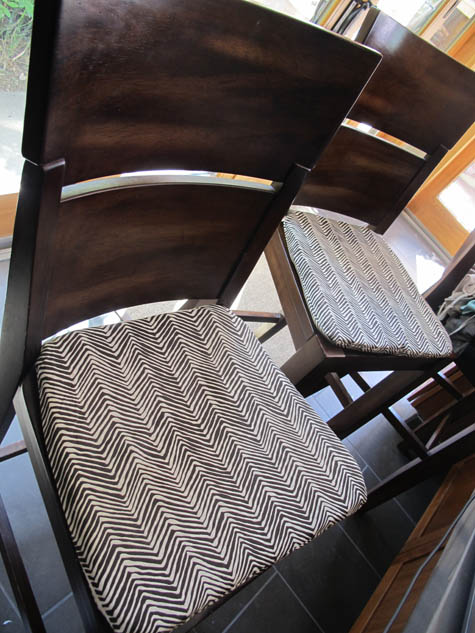 A decorative element missing from the space included a few complimentary and contemporary patterns.
A year or so ago I came across a pattern that I dogeared in magazine after magazine… and when I found inspiration filled with it again earlier this year the images popped back into my mind.
You know when you just can't shake something? This was one of those things.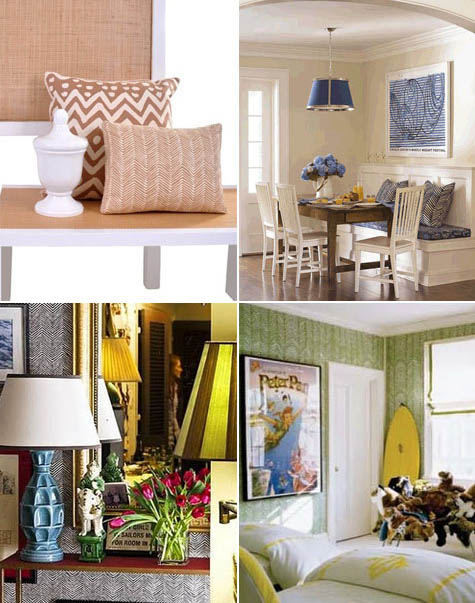 What's similar between all of these rooms?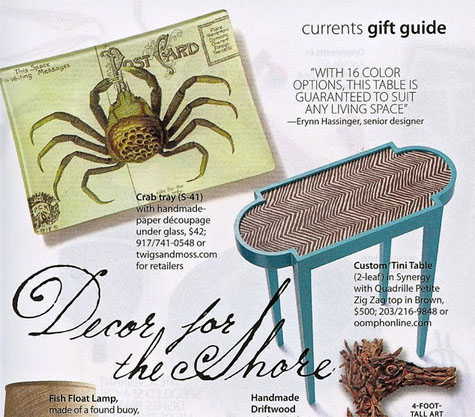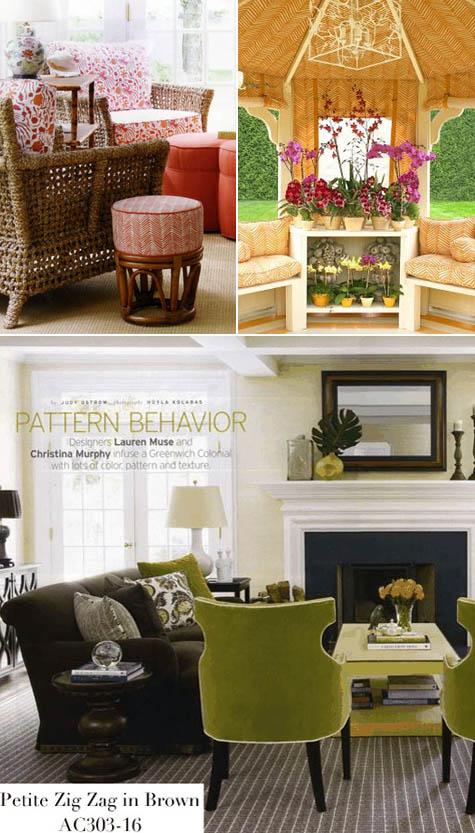 A classic zig zag print! I love the simplicity of the basic but modern zig zag pattern. Premade cushions weren't an option (the stools are an awkard size) and so I began sketching out cushion shapes (box vs knife edge vs french) that would fit evenly on a one yard piece of fabric (all three cushions) and finally took the plunge and ordered just one yard of Petite Zig Zag by Alan Campbell for Quadrille from Pacific Design Center (great resource for traditionally to-the-trade fabrics). Knife edge ended up winning out because it required a simple sandwich-style seam (like a pillow) as opposed to welting, edging, etc. and three could be sewn with one simple yard.
It arrived and it's beautiful! A few invisible zippers (more to come + a tutorial) and several seams later and the bar stools have a brand new look.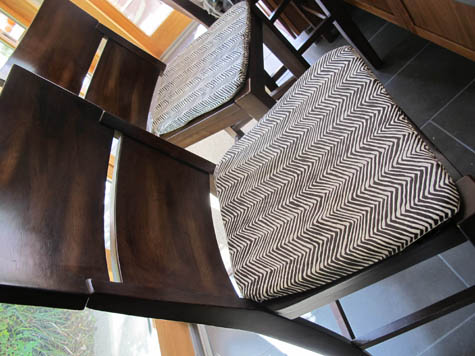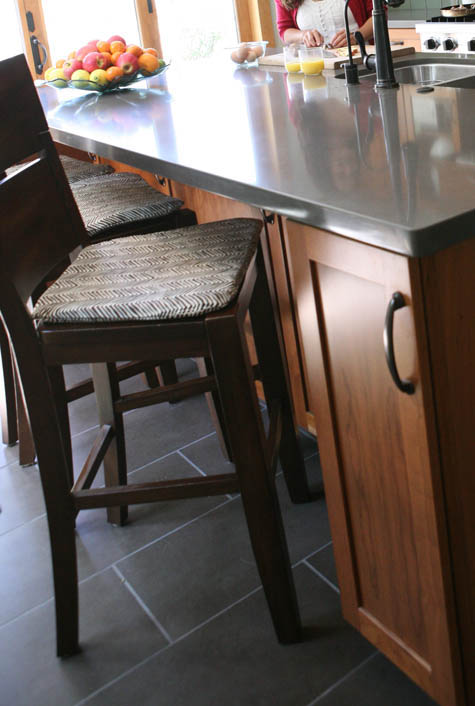 I've always been a fan of adding bits and pieces of modern and contemporary (maybe even trendy?) pieces to a room in the right quantity. A remnant or fabric sample is a great way to achieve that at a fraction of the price. To make projects like this even cheaper, purchase the foam insert from a discount fabric shop (I chose a thin foam because our bar stools are high – choose a thick, sturdy foam if going for a box-style of cushion) and sew the pieces together yourself (OR find a reasonably priced seamstress such as at a dry cleaning shop).
The cushions add a new something to the space – love that.
More den to kitchen posts here: days 1-6, 7-12, 13-19, 20-28, 29-30, plus the inspiration board and 'before' pictures.
Tags:
Accessories
,
Brown
,
Crafty Solutions
,
Decorating
,
DIY
,
Fabric
,
Home
,
Kitchen
,
Patterns & Color
Posted in
Home
,
Our Kitchen Remodel
,
Renovating Adventures
|
12 Comments »