June 1, 2010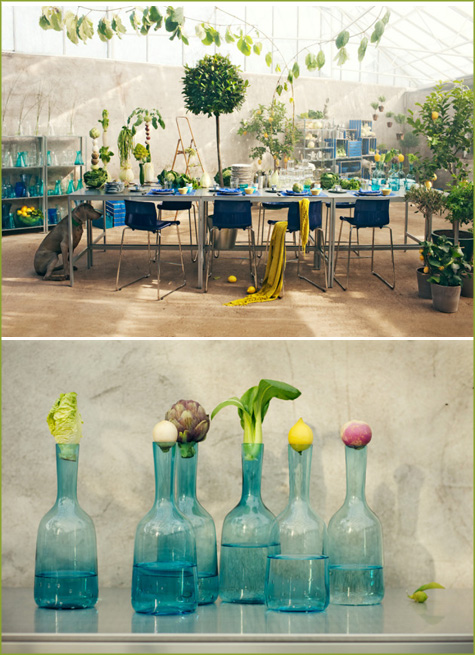 When it comes to beautiful presentation few do it better than the bona fide Stylists, so I thought it might be fun to take a quick look at one of my favorites for a few ideas and inspirations for a future party. Lo Bjurulf is a prop and food stylist for Agent Bauer: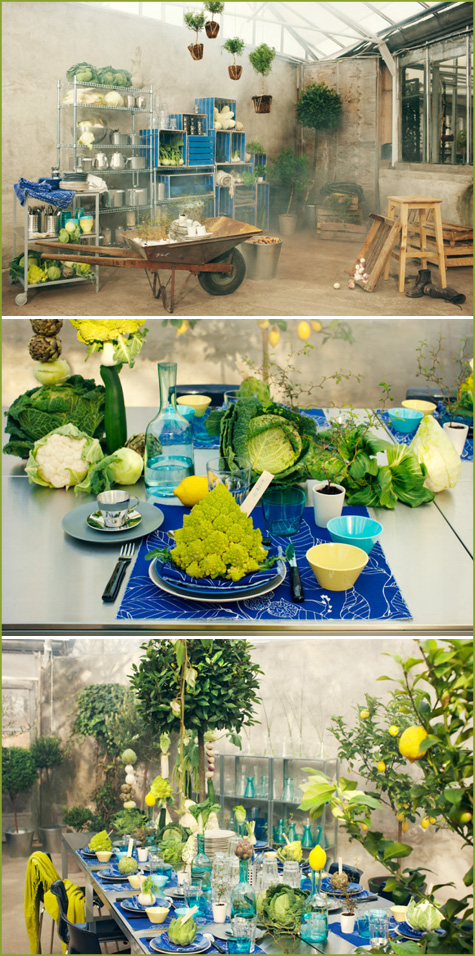 An earthy garden party complete with veggie centerpieces, beautiful blue glass bottle displays and enough casual draping and carefully placed silverware to create a realistic and stunning table. This would be so fun this summer and easy to pull together for an impromptu gathering – everything on the table could probably be found in your kitchen right now, from simple plates and glasses to veggies from the fridge!
This next one is one of my favorites – I think of it as a Moroccan Barnyard Dinner Party!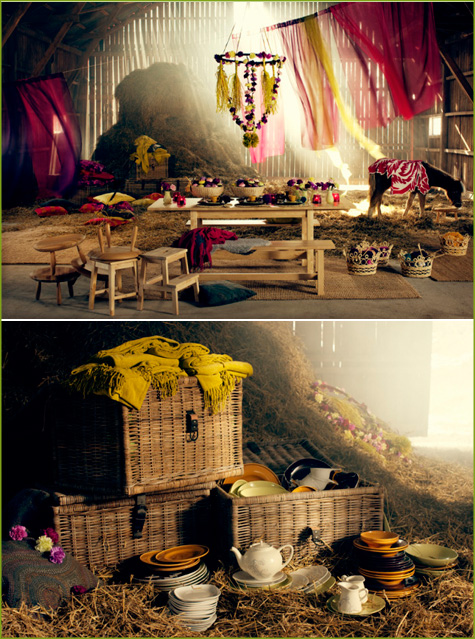 The images are whimsical and imaginative but offer great inspiration for thinking out of the box. What I love about the storyboard is how it highlights the understated importance of staging a party so that it's as eye-catching for all of your guests as you'd hoped it would be.
Staging basics offer a few rules we often forget, like:
*decorating at all eye-levels (bright pillows on the floor, a show stopping centerpiece mid-height and a beautiful chandelier just above the head – or how about those billowy curtains in the backdrop?)
*choosing the proper setting (no need to find a barn…)
*incorporating colors that work well together (be it complimentary or contrasting)
*and don't forget the finite details that makes everything come together (such as the flower blossoms scattered like confetti in the image below or the softly stacked afghans that leave guests appreciative of a considerate hostess on a chilly night – I actually attended a party where they were readily available and I couldn't wait to start my own collection for guests).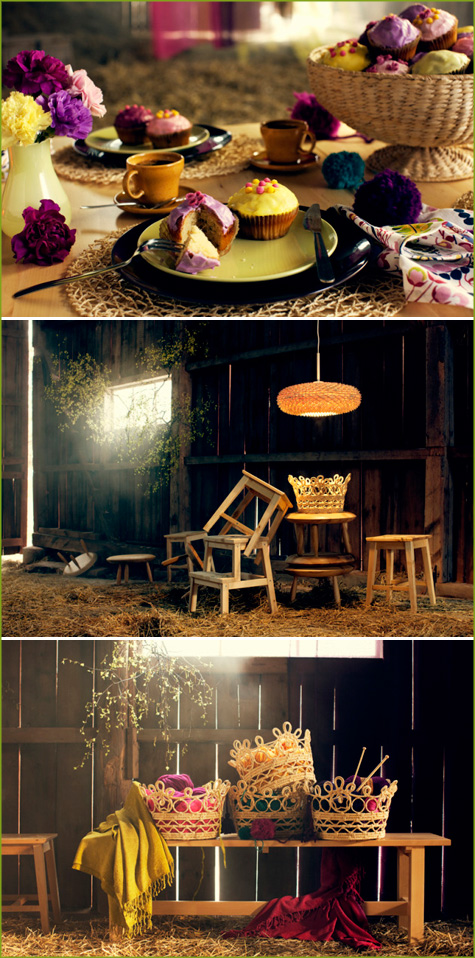 So beautiful! I'm so inspired by these images and the creative possibilities…
Tags:
Baby Shower
,
Birthday
,
Blue
,
Bridal Shower
,
Decorating
,
Dinner Parties
,
DIY
,
Green
,
Parties & Entertaining
,
Patterns & Color
,
Pink
,
Purple
,
Teal
,
Wedding
,
Yellow
Posted in
Parties & Entertaining
|
3 Comments »
May 27, 2010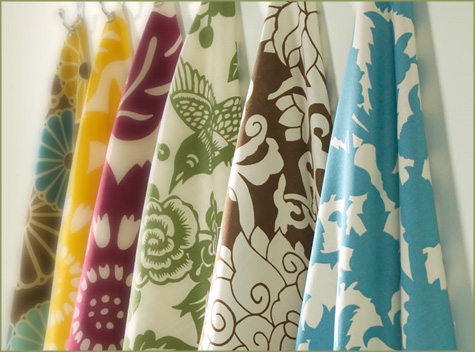 I owe a big thank you to my fabric sponsor for the Stylish Spaces Interior Design Expo and TV appearance – Calico Corners provided the beautiful fabrics you'll see over the next few weeks as I get a chance to post these projects and their easy step-by-step directions. ($20 coupon link at the end of this post!)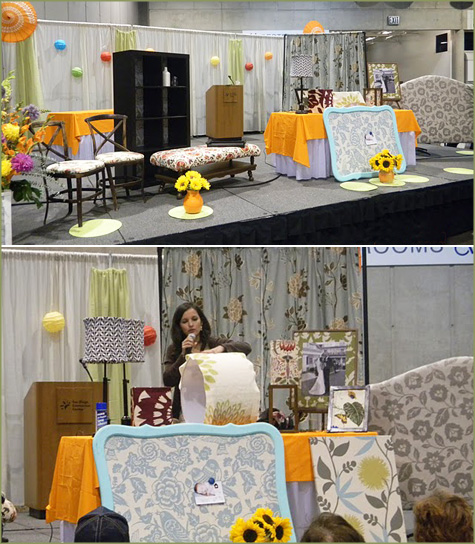 Projects included updating an old wooden headboard into a beautiful upholstered version, covering several lampshades, creating fun canvas boards, building a magnetic wall board (from an old dresser mirror) covered in a chic aviary print, covering chinese paper lanterns to really 'spice up' a party theme, simple diy night lights, using fabric for matting b&w pictures, lining an Expedit Ikea bookcase (this idea is so quick and easy for any bookshelf…) and a few more!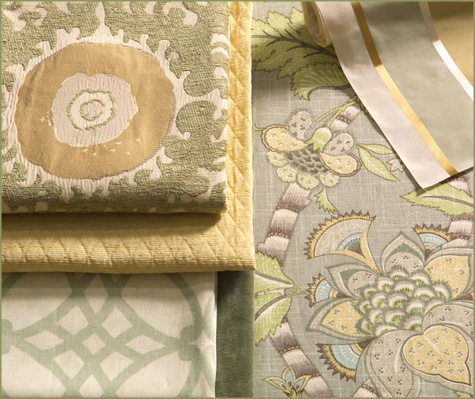 Calico Corner prints are modern, trendy and so fun to sort through to find the perfect look. I have had a wonderful time building quick and easy fabric projects out of the vast online selection and since my expo theme was a 'design on a dime' version of how to update your space, I knew that featuring home remodel ideas that involved small amounts of fabric (usually just 1/4 to 1 yard of fabric) was the perfect solution.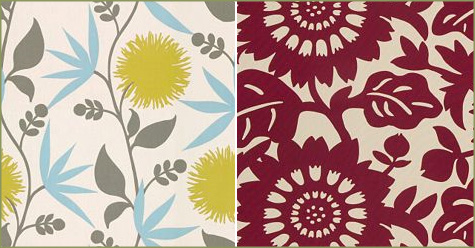 Here's a quick link to a $20 off coupon from Calico Corners to get you started. To find the store nearest you (or order online – that's the easiest for me!) plug in your zip code on this page.
Tags:
Accessories
,
Before & After
,
Crafty Solutions
,
Decorating
,
DIY
,
Fabric
,
Favorite Fabric
,
Home
,
Patterns & Color
Posted in
Crafty Solutions
,
Home
|
7 Comments »
May 19, 2010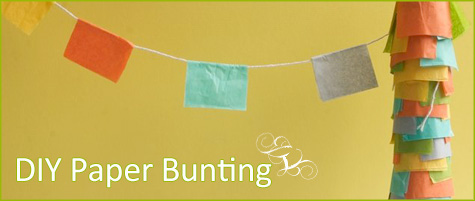 I love the look of paper flags draped around a room, outside from tree to tree, or even as the backdrop to a dinner or dessert buffet. There's something sweet and festive about the idea and it creates instant party ambiance.
Jump over to this quick tutorial for detailed step-by-step directions from Project Wedding to create your own.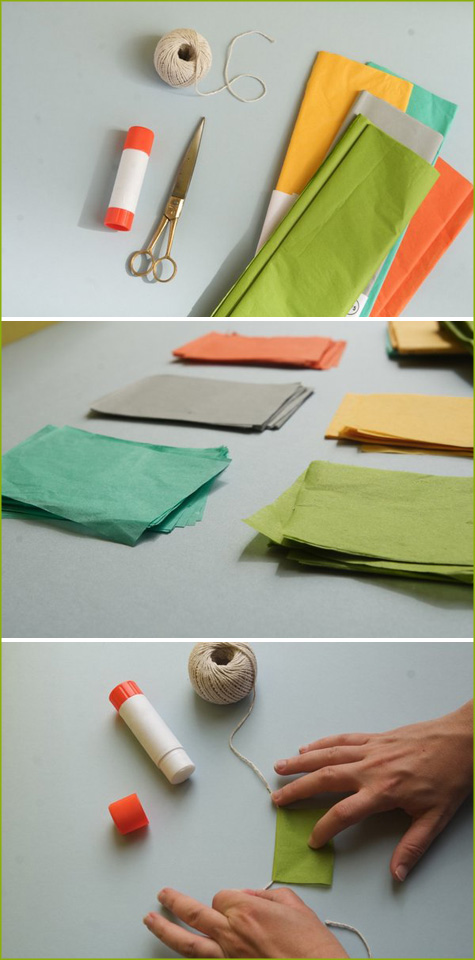 Tissue paper cut into rectangles, glue and string are the only materials needed for this quick version (perfect for a Memorial Day picnic!).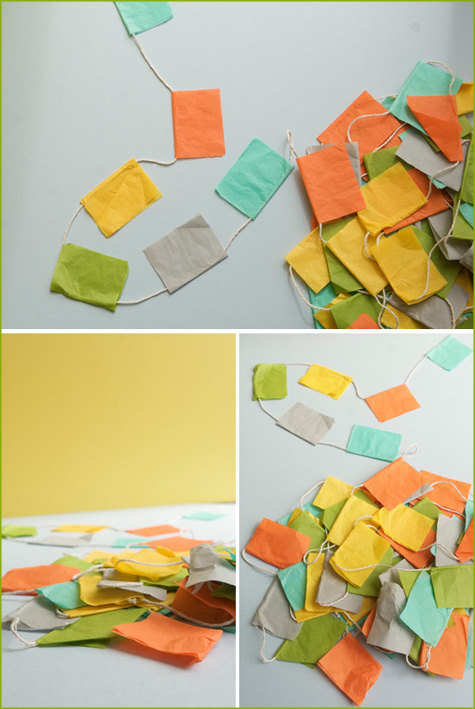 Wrap your newly created bunting around an empty gift wrapping paper roll or paper towel roll for easy storage and transportation. This would be perfect for a birthday, shower or even wedding (image strings of soft whites and creams hung around an outdoor venue). Can't wait to try it out.
Tags:
Baby Shower
,
Birthday
,
Bridal Shower
,
Crafty Solutions
,
Decorating
,
Dinner Parties
,
DIY
,
Kids Party
,
Parties & Entertaining
,
Patterns & Color
,
Tutorial
,
Wedding
Posted in
Crafty Solutions
,
Parties & Entertaining
|
6 Comments »