December 14, 2009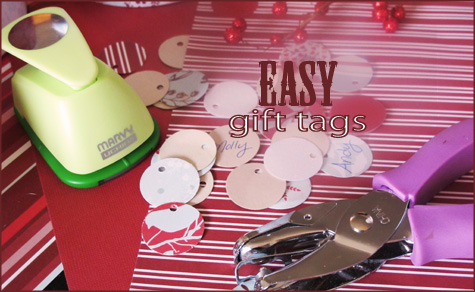 If you didn't have a chance to take advantage of the PDB 25% off Christmas gift tag discount from several fantastic artists earlier this month, here's another quick idea for DIY gift tags that are both practical and pretty!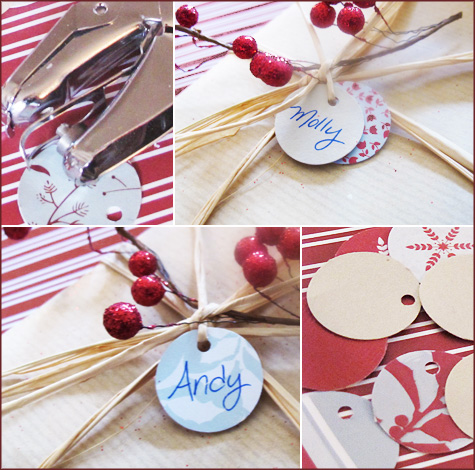 For this project, I used Christmas scrapbooking paper, a 1″ craft punch and a 1/8″ smaller punch for the inside hole.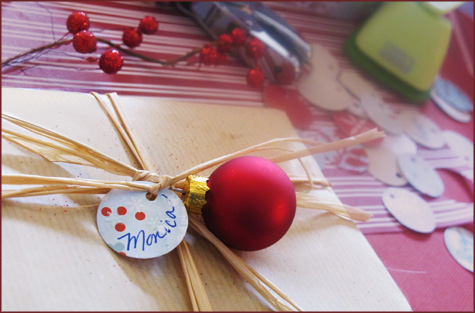 So quick and easy to make! And an excellent way to differentiate between gifts on Christmas morning. Since I tend to wait and wrap all gifts in one afternoon, these tiny tags make it easy to remember which package, bottle of wine or plate of cookies is for which friend/family member while I'm racing out the door to a holiday party.
Instead of writing the recipient's name in sharpie on the outside of the wrapped box, give this DIY project a try for pretty packaging!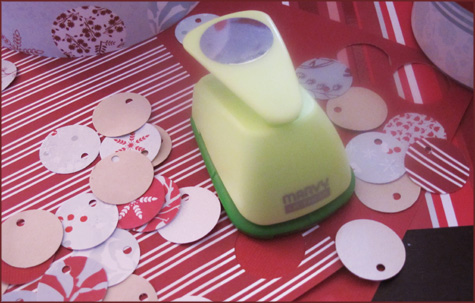 Tags:
Birthday
,
Crafty Solutions
,
Decorating
,
DIY
,
Parties & Entertaining
,
Patterns & Color
,
Tutorial
Posted in
Crafty Solutions
,
Parties & Entertaining
|
2 Comments »
December 12, 2009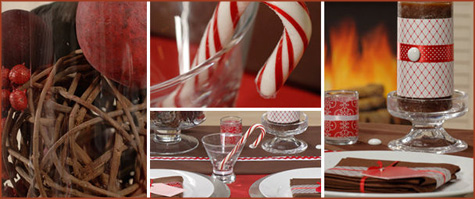 On the search for some really wonderful holiday party inspiration? Head on over to Hostess with the Mostess to find nine beautiful themes that are ready to be replicated!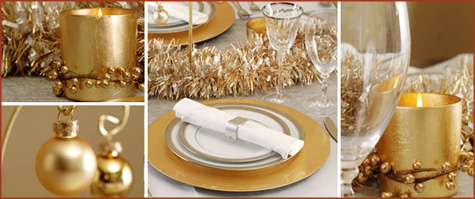 Whether you're aiming for something traditional & classy or very modern & chic, Jenn has assembled several wonderful tablescapes to get you on your way. From 'Santa Baby' to 'Green and Serene' you'll find a theme that's perfect for your holiday shindig.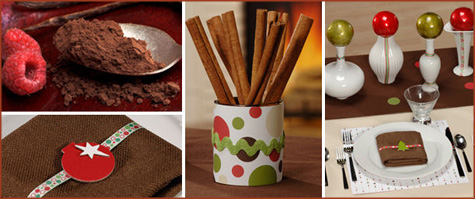 She includes detailed suggestions for party and table decor, what to serve and pour, as well as neat favors that match the theme. It's so easy to throw a beautiful party — and the extra effort makes a special impact on your guests.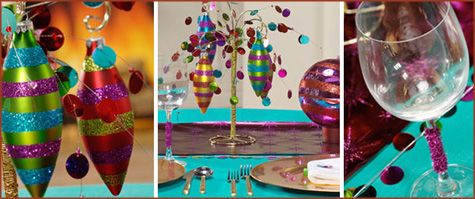 Follow the jump for five more ideas and a few tips on keeping your event decor on theme and low budget. Read more »
Tags:
Christmas
,
Decorating
,
Dinner Parties
,
DIY
,
Parties & Entertaining
,
Patterns & Color
Posted in
Crafty Solutions
,
Parties & Entertaining
|
10 Comments »
December 9, 2009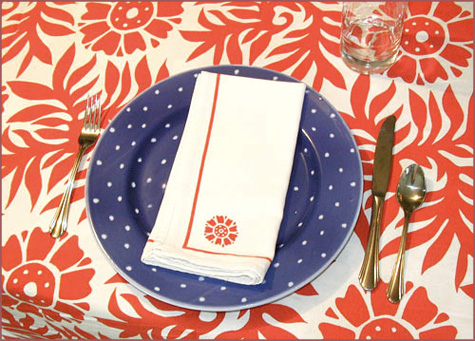 Inspired by Susan Sergant's affection for very bright colors (this is one of her patterns above), here are a few cheery room ideas that make even the dreariest of fall days a little brighter. I am not usually so bold as to paint an entire room lime green — but I must admit I'll be stealing more than a few of these ideas for the house!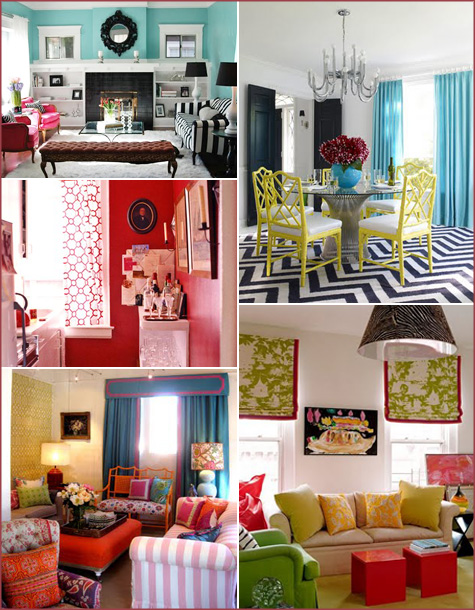 This fall, muted colors 'pale' in comparison to bright statement choices (I couldn't help myself) — bold colors abound this season for the wardrobe, throughout party themes and definitely in home decor. If you're not ready to go all in, try a few accent pieces here or there in a bright and bold hue. How great are the yellow dining room chairs in Jonathan Adler's design (above) and the brilliantly pink foot stools (next page)?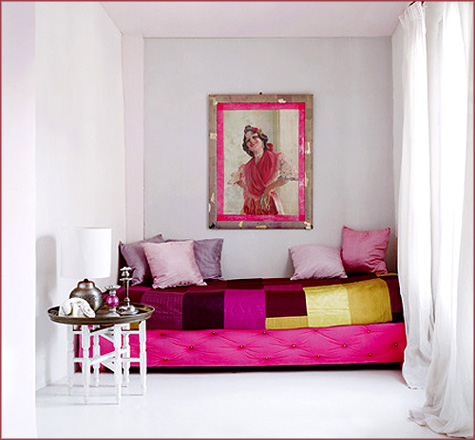 Nine more inspiring rooms full of color to go! As well as accent pieces (such as bedding and throw pillows) that leave a similar — yet not so permanent — effect. Read more »
Tags:
Accessories
,
Bedroom
,
Blue
,
By Color
,
Decorating
,
Dining Room
,
Fabric
,
Furniture
,
Green
,
Home
,
Living Room
,
Orange
,
Paint
,
Patterns & Color
,
Pink
,
Purple
,
Red
,
Yellow
Posted in
Home
|
4 Comments »