May 9, 2013
I have a fun project to share with you today!
I've been on the hunt for a neat centerpiece (to either DIY or buy) for the big outdoor table that Kevin built on our new deck and am so happy with how this oversized planter's box project has turned out. My favorite might be the pops of color in the form of five added geometric hexagons.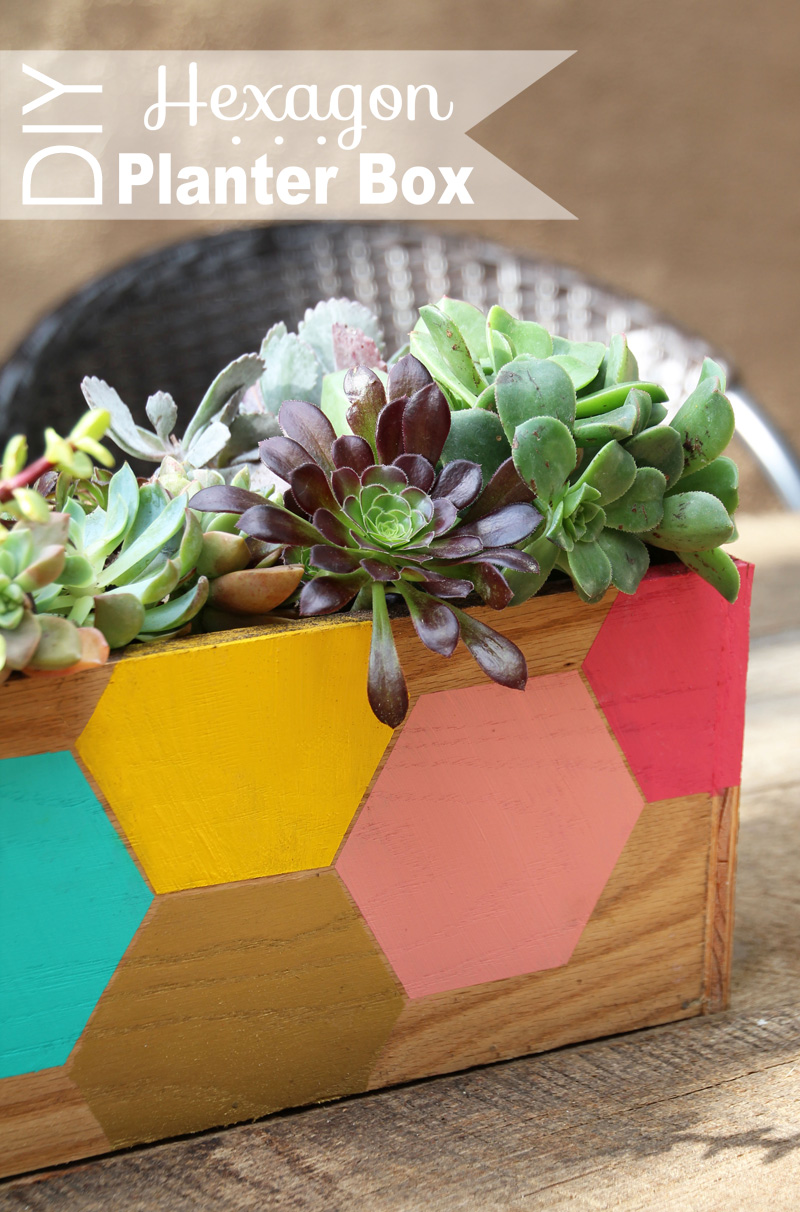 Succulents and I get along really well, and they look so pretty all together in one large container! I've been wanting to play with them more in our garden in unique ways, maybe even designing a succulent wall along the back bbq area.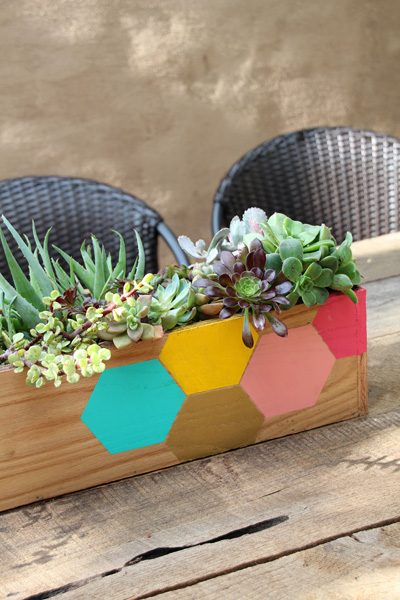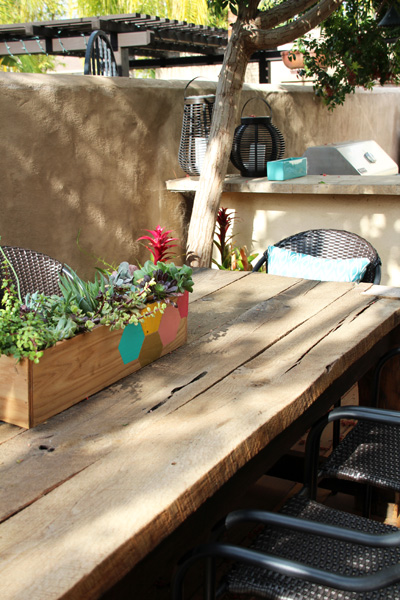 The hexagon pattern wraps over the top edges of the box and along one corner as well, I love the symmetrical pattern and how the painted shapes work together but provide their own little bursts of bright, unexpected color.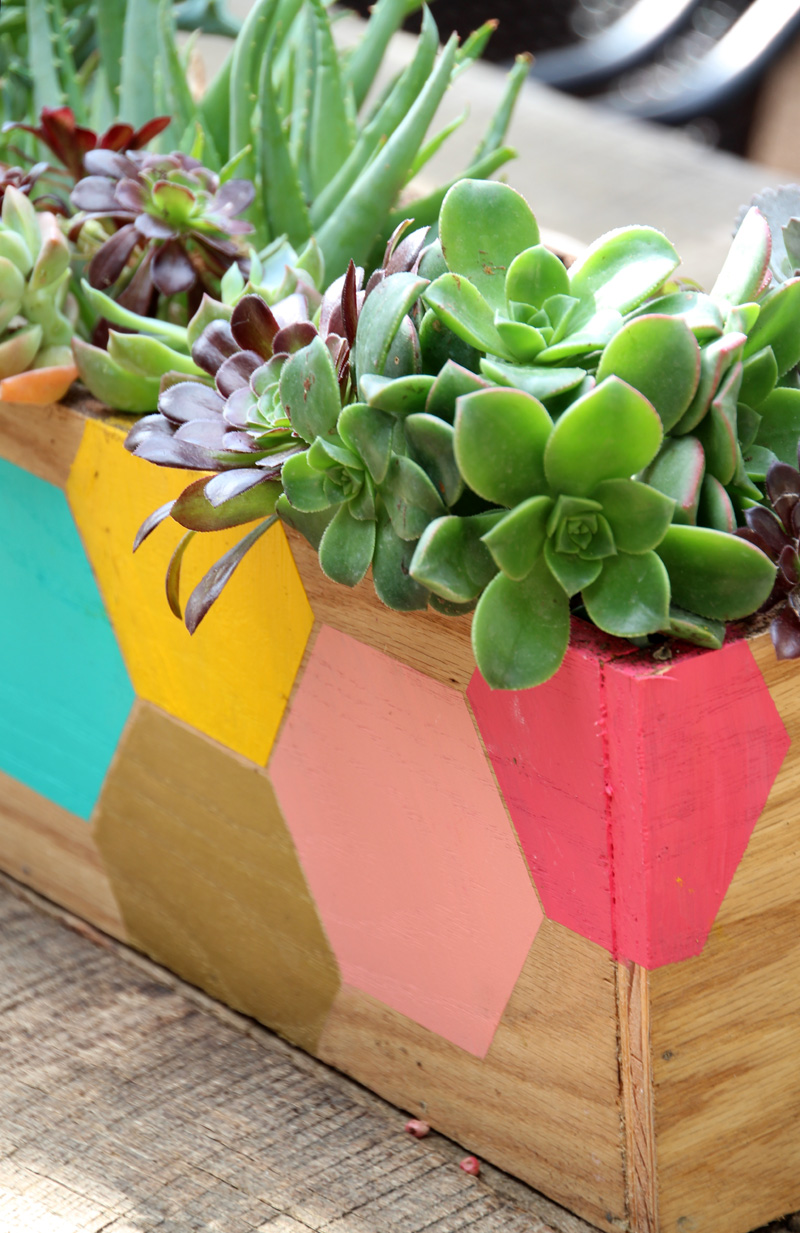 I was actually inspired to finally getting around to finishing this project by Katie and Sherry's Spring Pinterest Challenge:

It provided the inspiration needed to pull my materials together and take a couple of hours to build, stain, paint and plant my new succulent centerpiece.

The goal of the challenge is to take a pinned idea and make it happen – here's my pinned inspiration: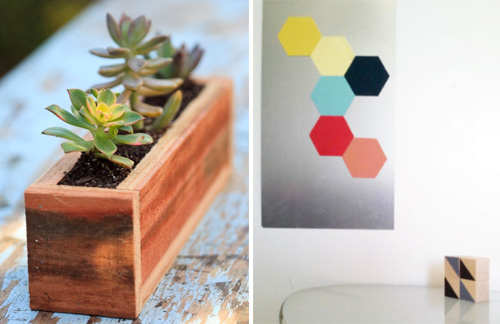 This lovely wooden planter box from The Growing Wall and these neat felt hexagon shapes by Squared Array. I imagined them as potentially very pretty when combined together.
Let's get into the nitty gritty…
The process for building my initial planter was pretty simple. To keep material costs on the low end, I purchased a single piece of 24×28″ plywood from Lowe's and asked the technician to cut the board horizontally into three strips  that were 24×6.5″ in size and the remaining 24×6.5″ piece into two 6.5″ square sides. That used up just about every inch of the wood perfectly (I had just one large rectangle left over).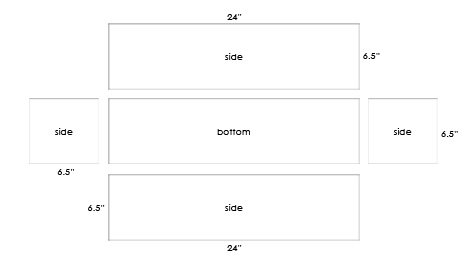 Cutting plywood often causes freying at the edges so if I had needed a more exact cut I might have opted for real (rather than compressed) wood instead. But this worked out perfectly as the cuts were kept to a minimal and the plywood cost just $6! And all of the cuts were made at Lowe's so I didn't have to bring the board home, pull out the table saw and add that extra step to the process.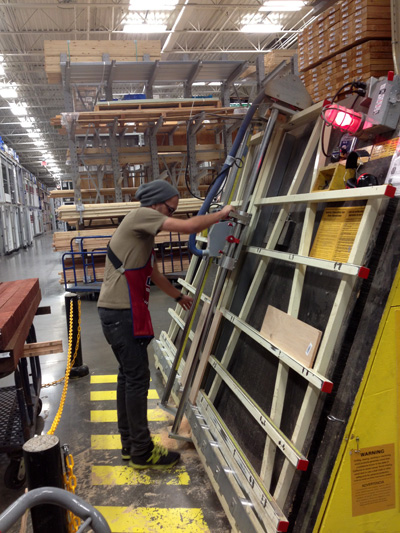 Thanks, Lowe's man.
To nail the box together I used small tack nails that I had on hand.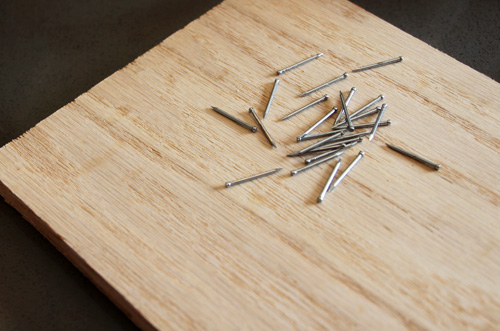 As well as my trusty floral hammer! No need to dig through the garage and pull out a massive hammer from the tool chest, I really love having my smaller-than-average tools in my office and waiting for everyday use.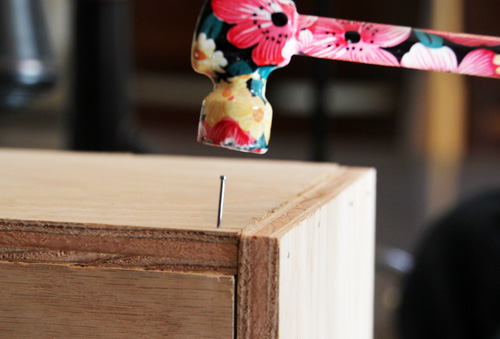 I placed a nail every 3″ or so along all edges of the box that met with another edge. 32 nails and one finger later, and the planter box was assembled.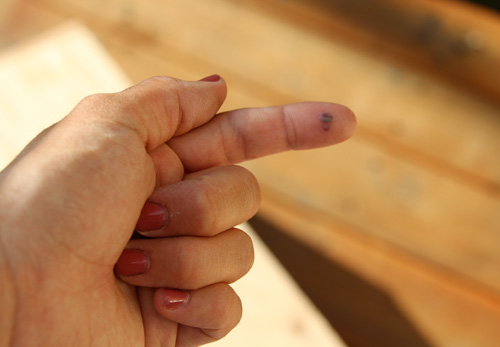 To hide the silver tops of the nails, I used a stainable wood filer that we had on hand (but I would say that this step is optional).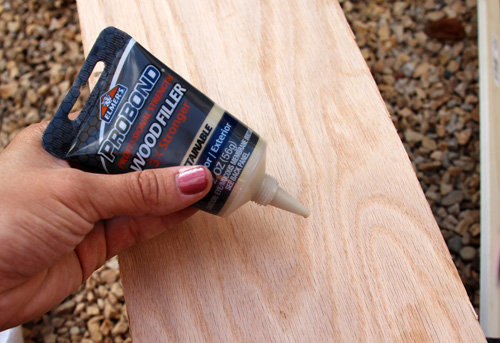 And to remove any pesky store barcode stickers (why do they make them actual stickers??), a little Goo Gone.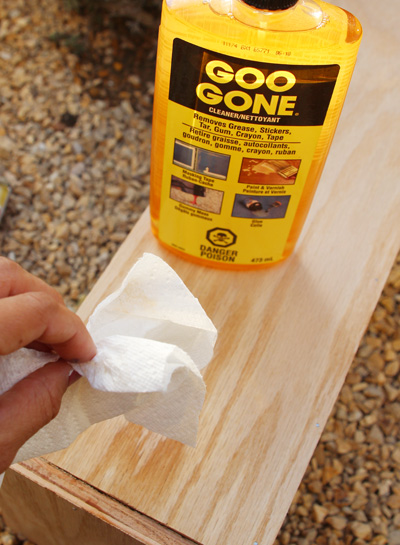 We have a decently sized stain collection from various projects in our garage so I chose from two of the lighter finishes. I ended up using both the "ash" and "oak" (oak first followed by a quick layering of ash) to give the box a slightly birchy, slightly weathered look.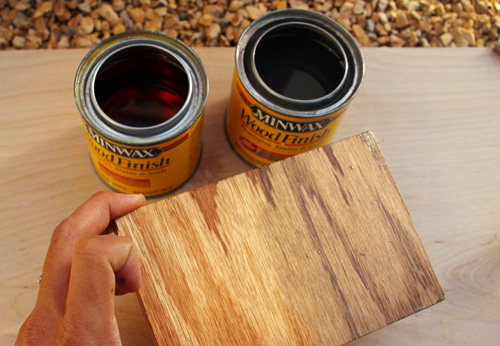 With the glare of the light it's hard to see the finished stain coat here, but the coloring came out just as I had hoped.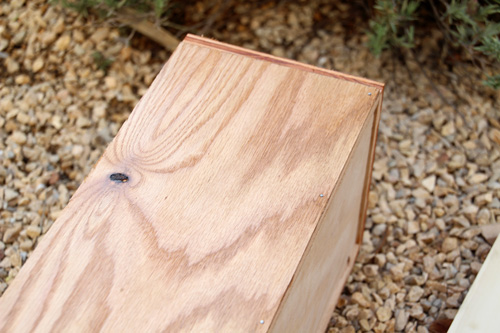 I stained the first few inches of the inside of the box as well, the rest will be filled with soil and will be pretty much unnoticeable.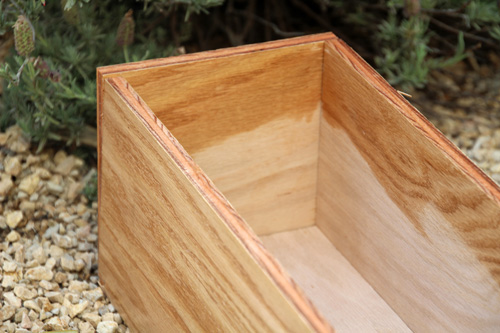 To make my hexagon painted shapes, I printed out a basic hexagon outline (using the Illustrator shapes feature) on to cardstock. Feel free to download my copy here. Laying out the cut out shapes in various formations helped me to come up with a final pattern.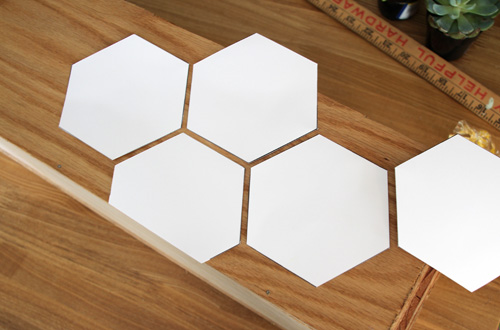 Using that pattern as my template, I taped out the various paintable hexagons one at a time.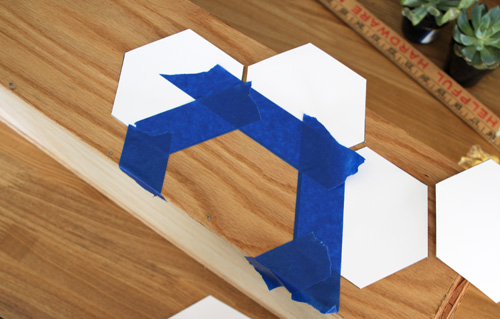 And slowly filled in the taped off areas with various colors. You can see that I left a sliver of wood showing between each shape, I love that little detail.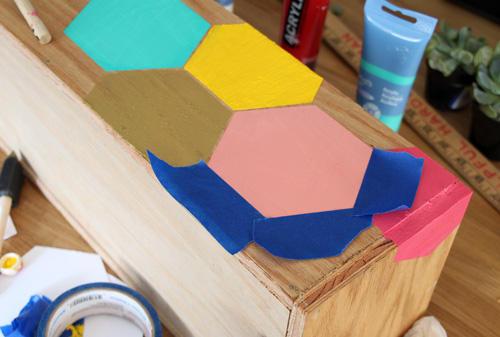 Press down solidly on those edges to prevent any under tape bleeding! And as soon as you've applied the paint to the wood, pull up that tape right away for a flaw free line.
Next up was planting. I found it was cheaper to purchase most of my succulents in one large prearranged plastic round planter from Lowe's (that I broke apart and replanted), then supplemented with littler containers and cactus from our garden.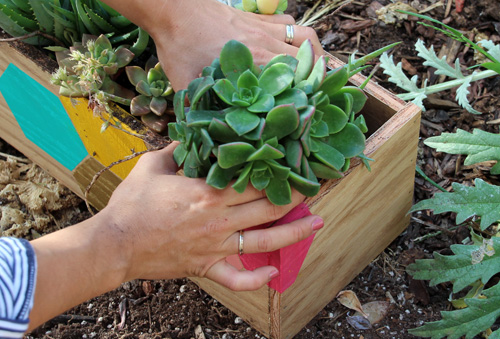 Finished!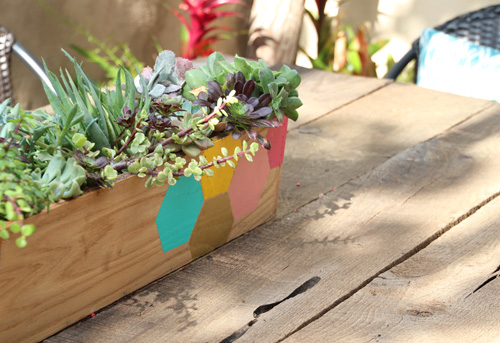 A new, pretty centerpiece that is just the right size for our 12 person table. This will look great in the summer for outdoor picnics and parties – I'm picturing a pretty table set in whites and navy blues, or even pinks and mint greens to compliment the colors of the planter box.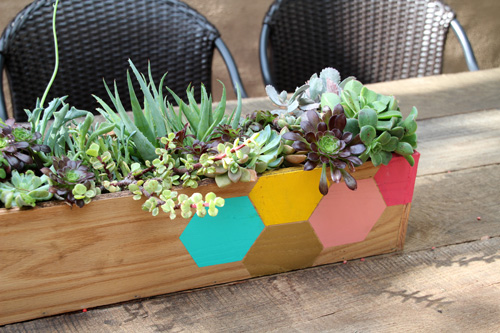 The hexagon shapes are definitely my favorite part.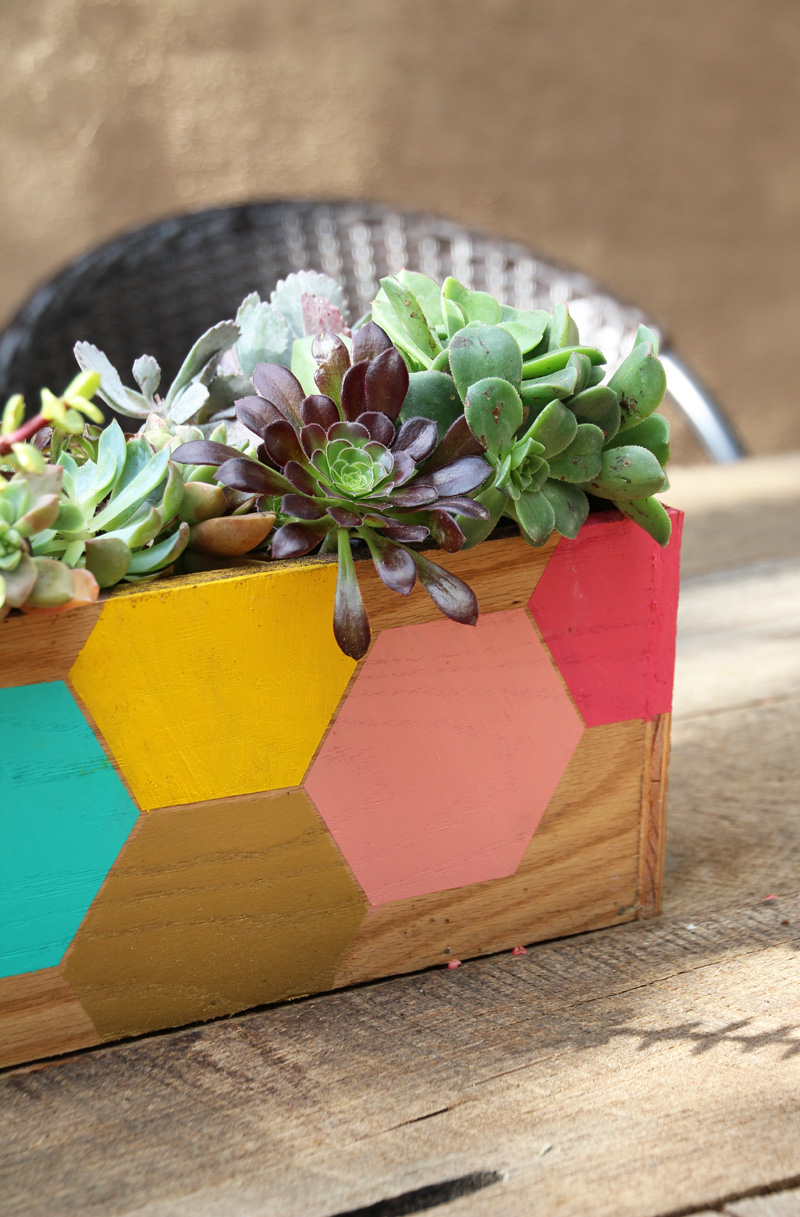 I will be linking this project up with the four hosts of this season's challenge: Katie, Sherry, Emily and Renee. Check out all of the great projects!!
Here's a link to my previous Pinterest Challenge projects (including the fireplace facade that has an exciting announcement to make soon, an ombre step stool for Liv, faux gold mercury glass, a chevron cloth napkin project, a painter's tape stenciled hallway and so many more fun ideas…).
Tags:
Accessories
,
Crafty Solutions
,
Decorating
,
DIY
,
Gold
,
Home
,
Paint
,
Patterns & Color
,
Pink
,
Pinterest Challenge
,
Teal
,
Turquoise
,
Tutorial
,
white
,
Yellow
Posted in
Construction
,
Crafty Solutions
,
DIY
,
Downloadables
,
Favorites
,
Gardening
,
Handmade Gifts
,
Home
,
Our Yard
,
Renovating Adventures
|
6 Comments »
May 6, 2013
Liv and I spent some time this weekend working on a few handmade Mother's Day gifts. I thought I'd share the first round with you today!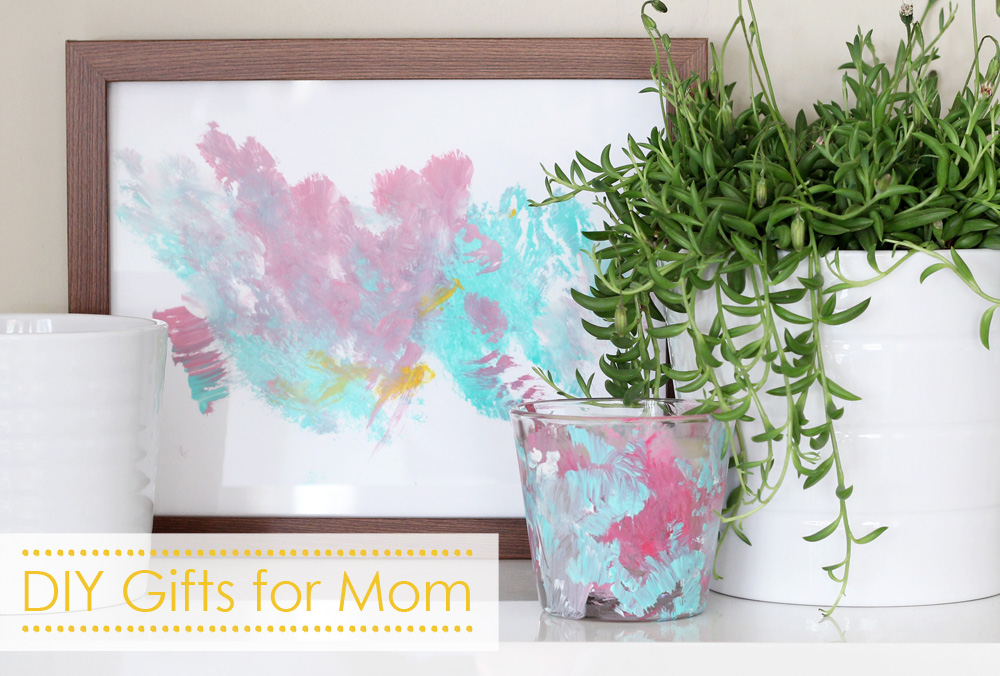 Our theme for this year's gifts is clearly leaning towards all things paint now that I'm looking back… painted candles and candle holders, mugs and glasses, vases and framed pictures, you name it. It's been fun to take everyday objects and spice them up with a little handmade love. Especially Liv's handmade love.
This first project was easy peasy but I LOVE how the candle holders came out. We used Ikea TINDRA candles in vanilla – which I absolutely adore and constantly have a back up supply on hand – to transform into mini canvases. Actually these burn through really quickly (way to quickly) but keeping the heavy duty glass cup around is a great way to turn this project into a unique vase, whiskey glass (just don't put it through the dish washer with acrylic paint on it) or flower pot (how pretty with a succulent!).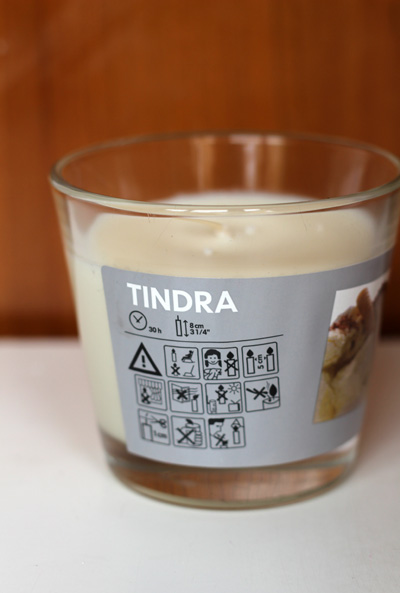 The label comes off so easily making this a pretty candle to keep out all of the time, and an easy one to decorate.
We focused on mint green, raspberry pink and white as our paint colors of choice, and then Liv got busy!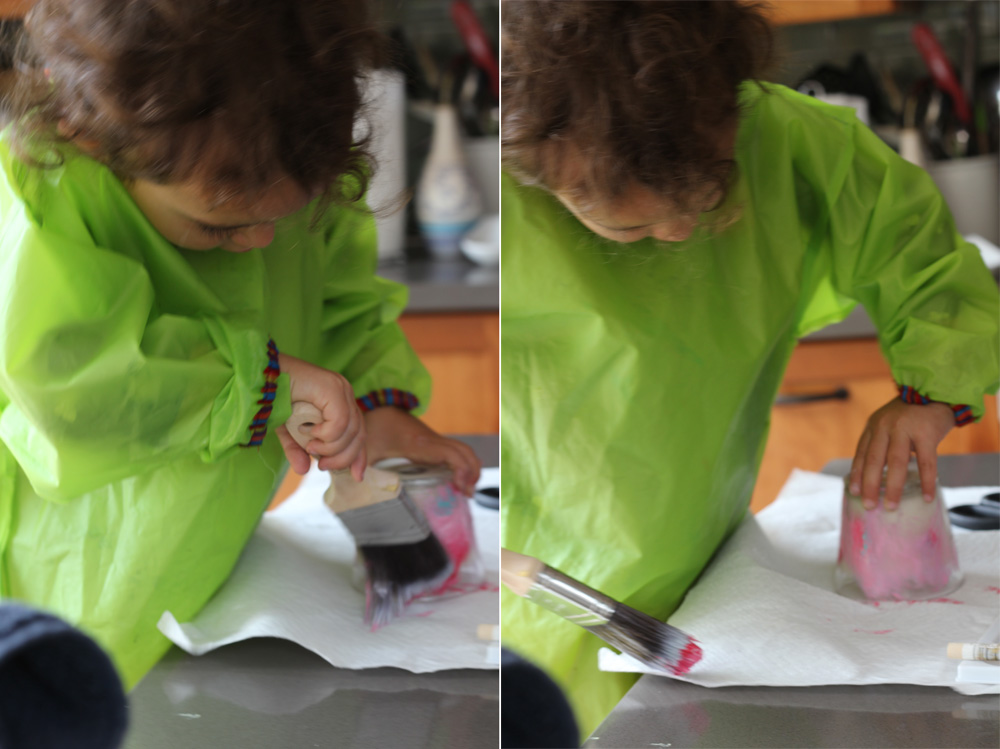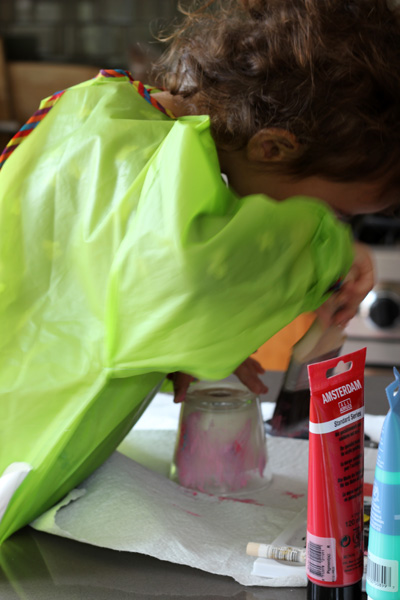 A bristled paintbrush helped to create the splotched effect.
While we had our paints out, Liv also painted white pieces of construction paper for framing.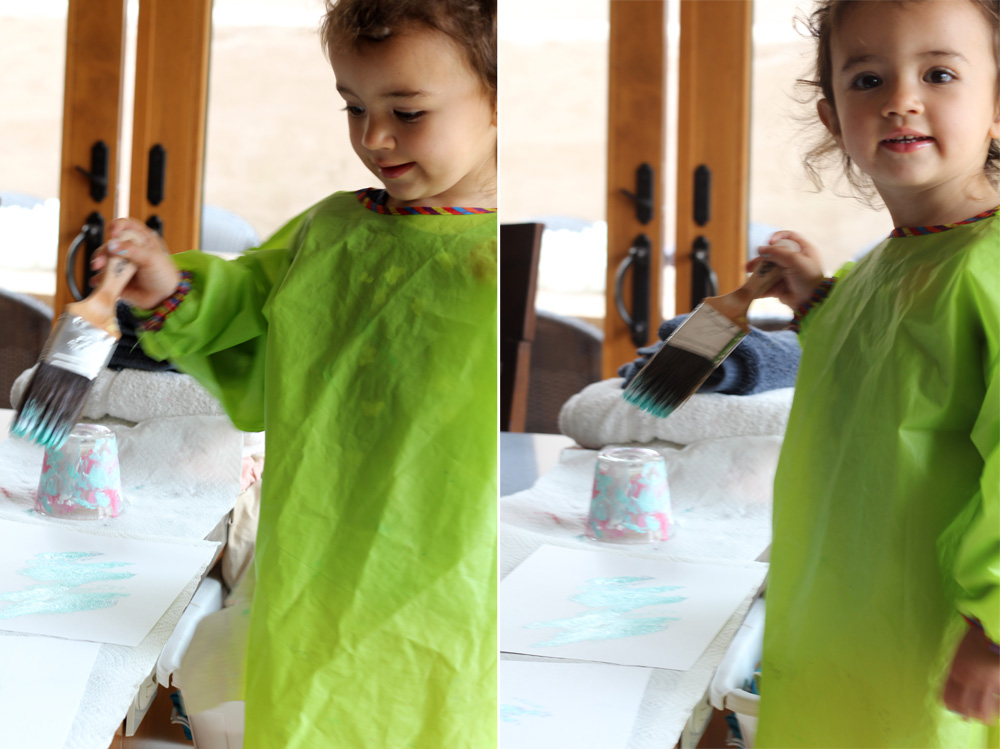 Love my abstract painting! Good thing she made a few so I'll have a couple to give away… I'm having trouble parting with any of her gifts.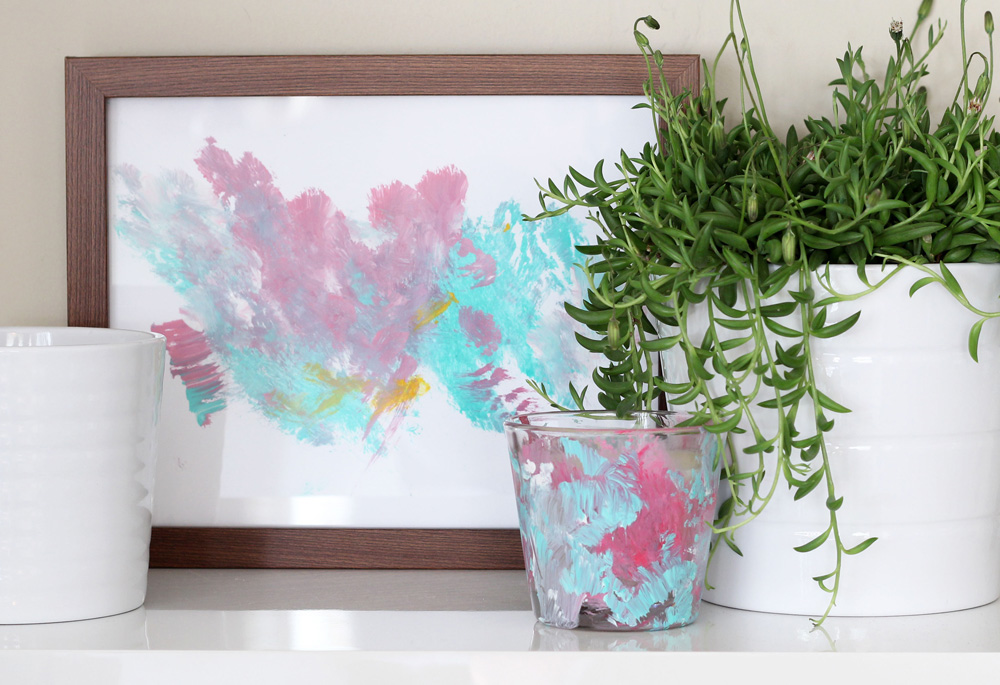 Since we already owned the acrylic paint, these gifts came in at about $2 for each candle and $5 for each framed print (the walnut RIBBA frame is also from Ikea).
More handmade ideas to come, and here's a link to last week's line up of store bought or *purchased* gift ideas.
All gift idea boards can be found right here and all posts tagged with 'Mother's Day' right here!
Tags:
Accessories
,
Crafty Solutions
,
Decorating
,
DIY
,
Green
,
Mother's Day
,
Paint
,
Patterns & Color
,
Pink
,
Tutorial
,
white
Posted in
Crafty Solutions
,
DIY
,
Handmade Gifts
,
Home
,
Olivia
|
3 Comments »
April 28, 2013
Liv is collecting little art supplies and toys by the bucket full. The big bins that we initially added to her bookcase are great for storing bigger toys, but little cars, wooden blocks, doll clothing and so on is quickly swallowed up – and finding complete toy sets (like Liv's wooden train) is impossible these days! So we're working on adding small container storage to the room little by little.
One of the first organizing projects I tackled included Liv's art supplies in her little reading nook.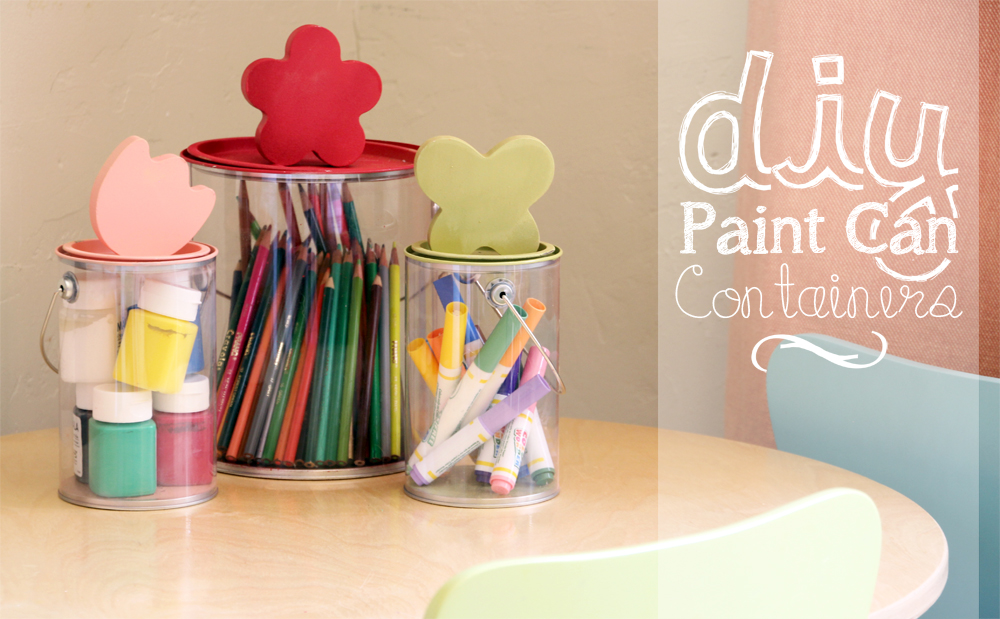 Rather than collect colored pencils, markers and paint into one central storage location (as we had previously done for a while), separating out supplies makes it easier to focus on one specific art activity, put that craft away, and then move on to the next. I first attempted this with open buckets but soon everything was mixed together and crazy again. What is it about organized spaces with a home for each little item that is so darn appealing? It makes my world feel right.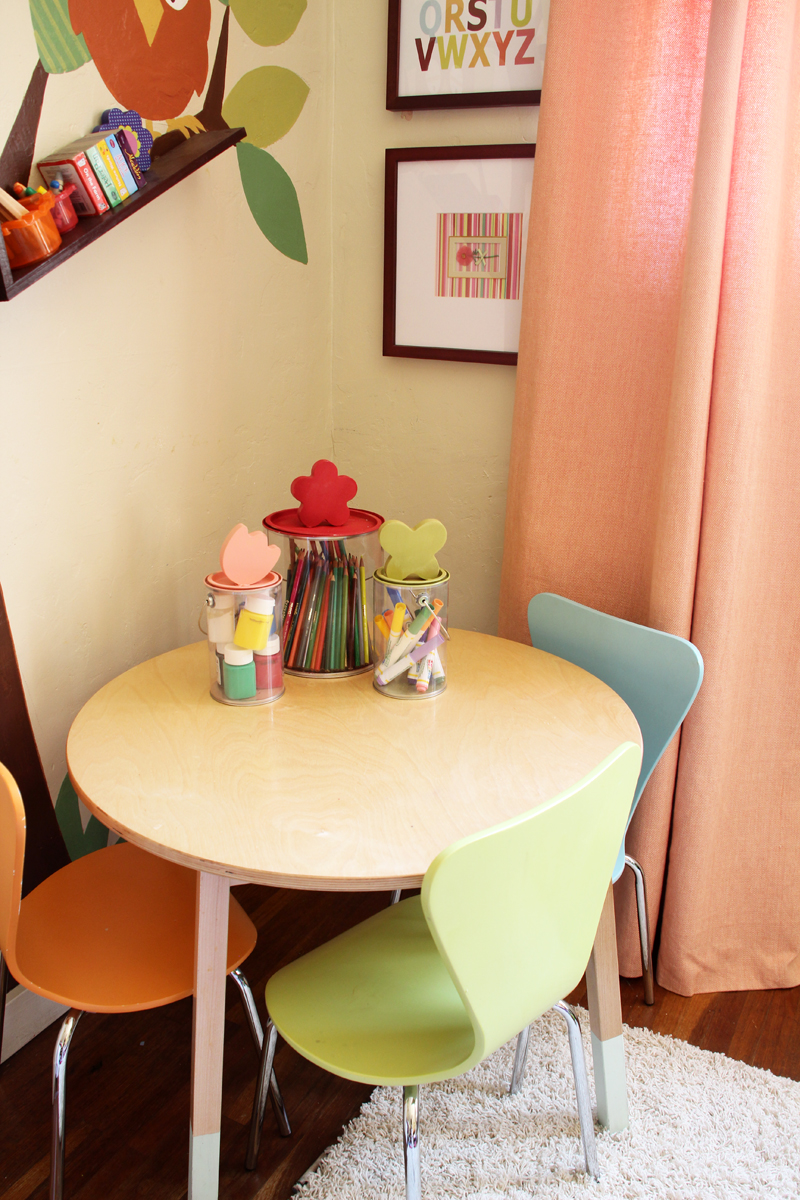 When I spotted these clear containers at Michaels I thought that they might work well just for Liv's art supplies. I love that they're plastic paint cans

.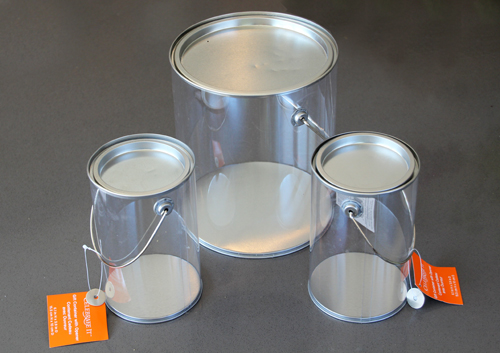 After bringing them home I discovered that cheap was too good to be true – the tops are impossible to pop off! Just like a real paint can, to open and retrieve anything inside requires some prying from a really strong object (like a screwdriver) which is not ideal for kids. Poor design.
I thought it would be fun to come up with a DIY handle that would help Liv open up the cans whenever she wants to play, and I kind of like that I can press the lids in extra tightly for art supplies that I don't want her to have easy access to (like real tubes of paint) so that even with a makeshift handle the lid sticks really well.
I thought about gluing little plastic animals or some other little toy to the top of the paint cans and then remembered that we have a very cute wooden Melissa & Doug flower puzzle that has received quite a bit of wear and tear since Liv began assembling and disassembling two years ago.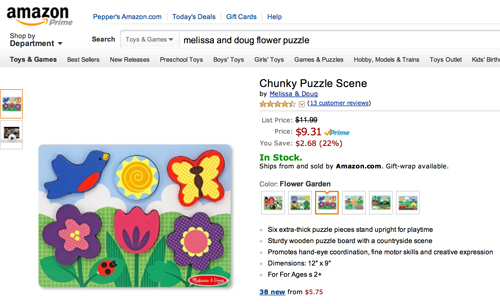 I love the shapes and use them all of the time as decoration for her floating tree bookshelves so the entire puzzle really doesn't stay assembled nor is it really used anymore.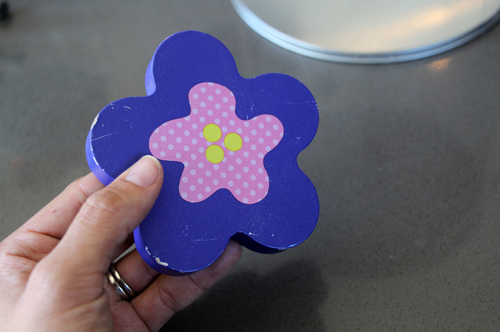 I picked out three of the shapes and hot glued them to the top of each of the paint cans.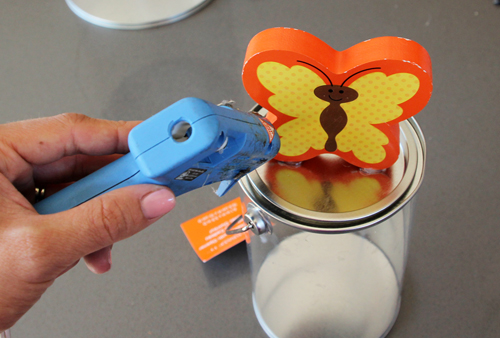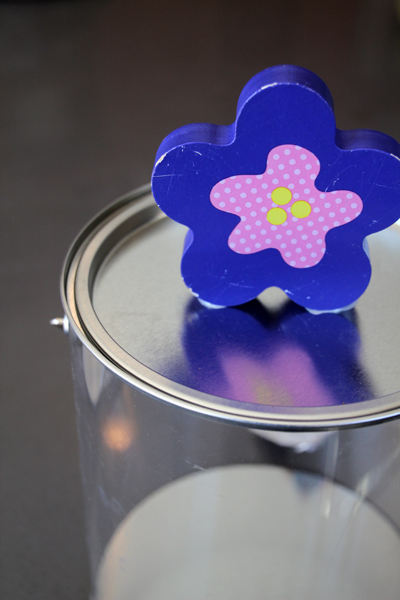 But after a night of drying quickly found out that even with strong hot glue the wooden shapes popped right off of the lids if the lids were really well planted onto the container. Boo.
Thankfully the puzzle pieces were wooden and not plastic, so plan b was to drive a little tack nail or two into each shape through the bottom of the lid (with my favorite floral desk hammer – perfect size to keep inside). Now the wooden pieces are stuck stuck.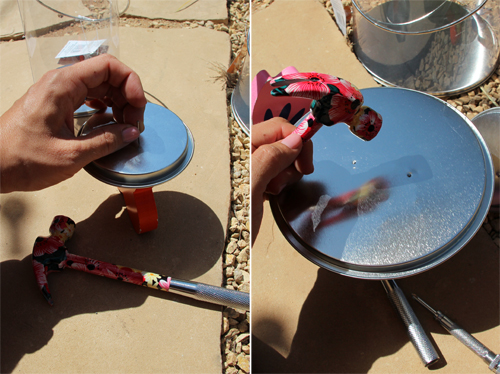 I used three paint spray colors that I thought worked well in Liv's nursery today, and would also match her new nursery for two.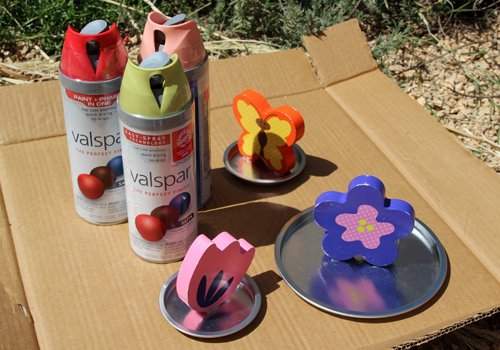 The colors turned out a bit chalky rather than pretty and polished, I'm actually really disappointed in the consistency of these particular primer + paint in one Valspar paint cans. I picked up a glossy varnish to cover all with at some point in the future that I'm hoping will fix that.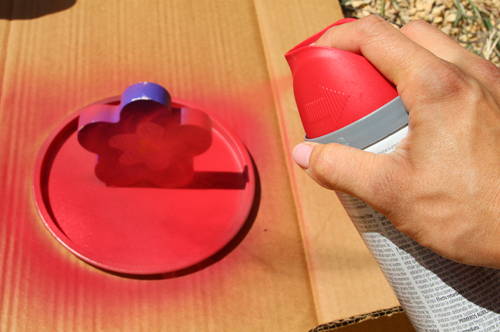 For the paint can itself I wanted just the edge painted out so I carefully taped off all exposed clear areas inside and out. Learned that lesson the hard way with a slightly careless first round of taping. Thanks goodness for Goo Gone.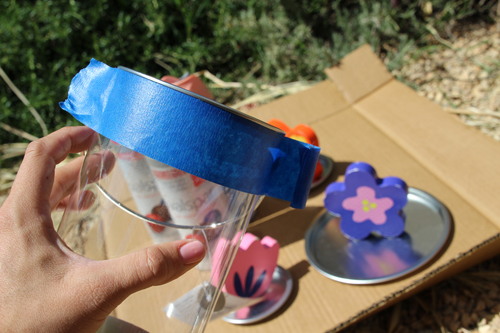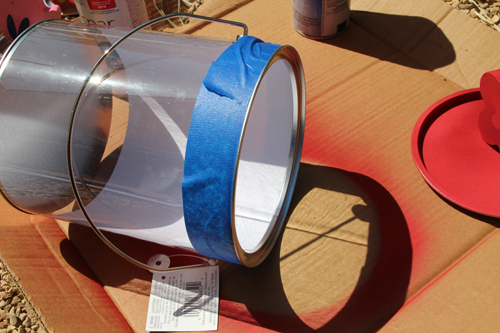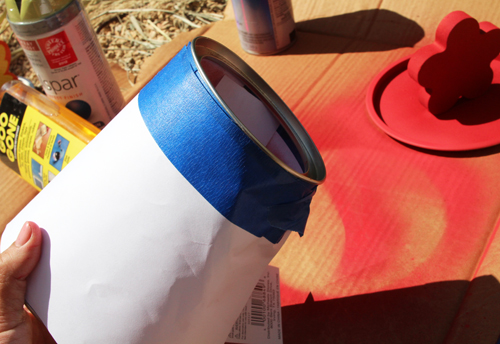 If spray paint still makes it through onto the clear plastic, Goo Gone to the rescue.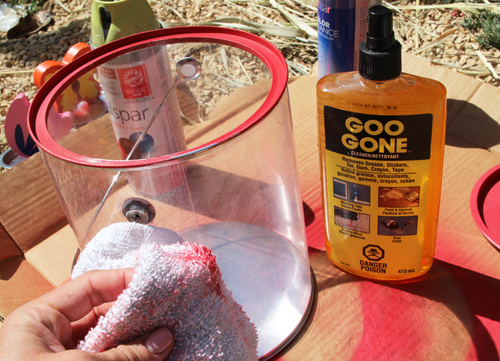 Finished! You can see the chalky consistency if you look closely…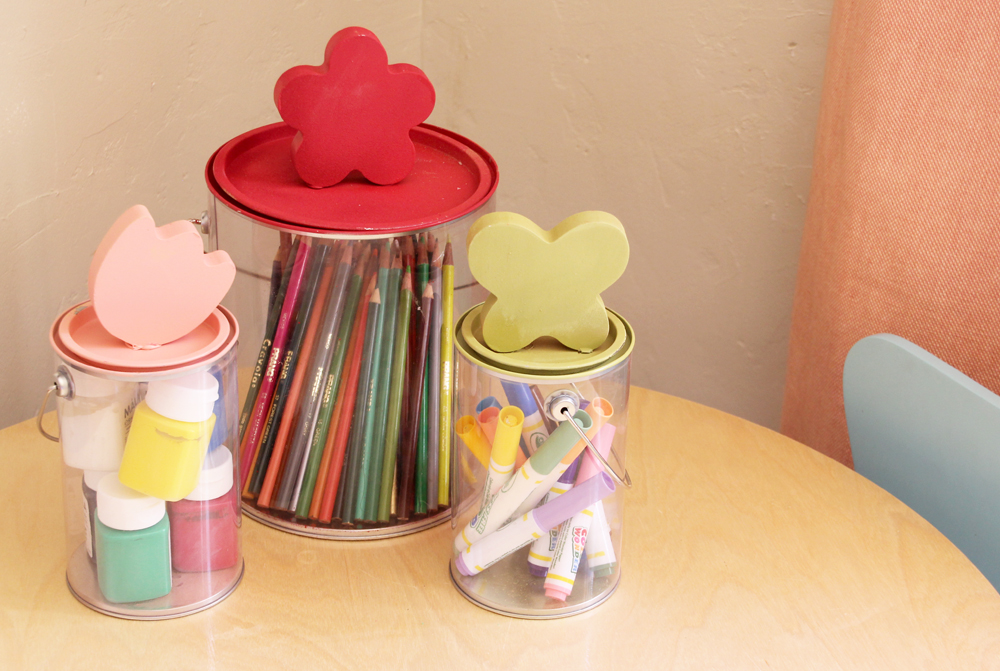 But for now they're a cute new addition to the nursery.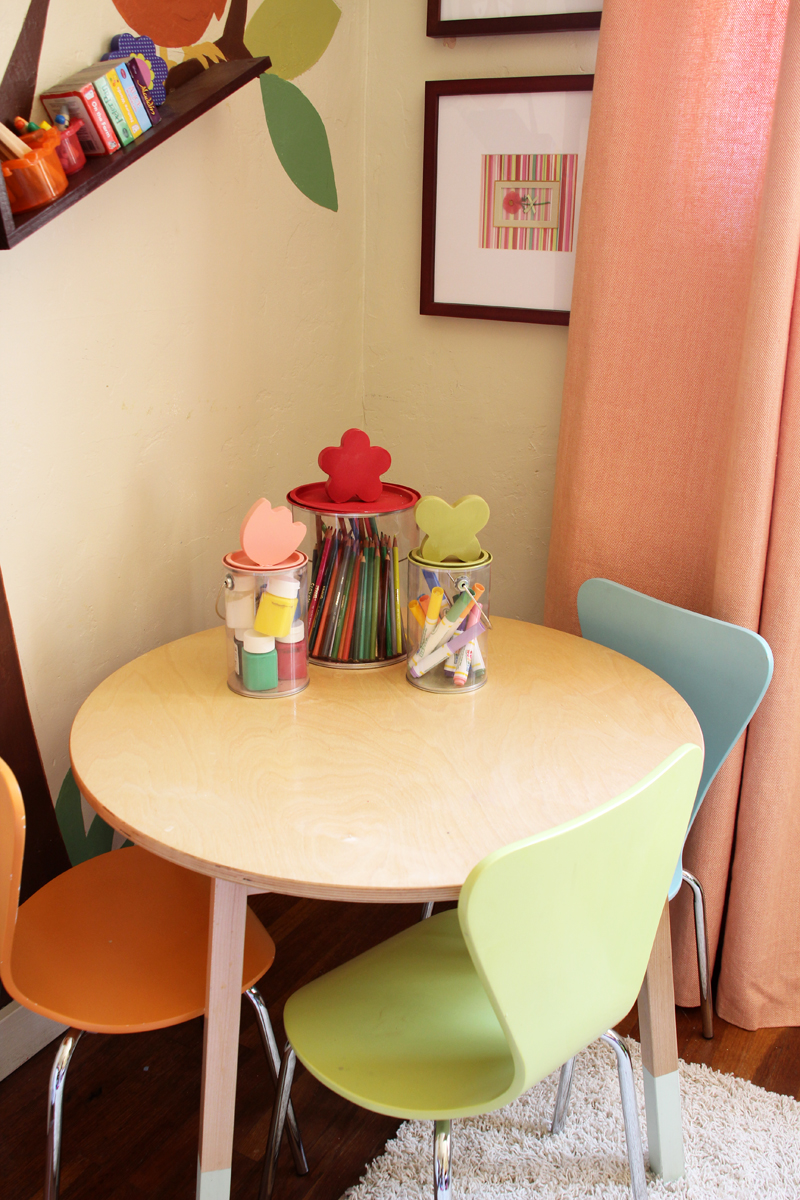 Love that the colors work well with the artwork hanging above the little table and chairs and with the painted tree and owl on the wall.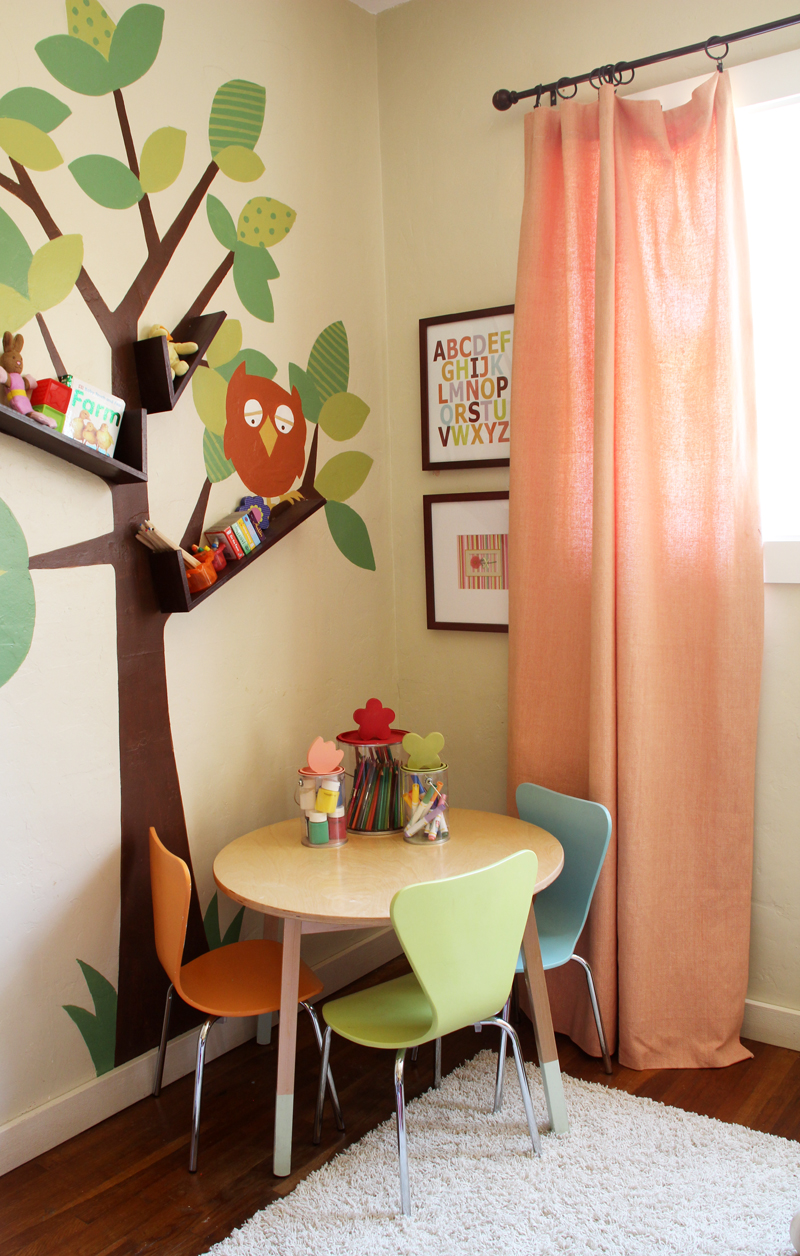 Now onto all of the other little toys (like bubble wands and figurines and musical instruments…) that are filling up Liv's room! Time for a spring cleaning.
PS all Project Nursery posts are sorted right here.
Tags:
Accessories
,
Bedroom
,
Before & After
,
Crafty Solutions
,
Decorating
,
DIY
,
Green
,
Home
,
Nursery
,
Patterns & Color
,
Pink
,
Red
,
Tutorial
Posted in
Crafty Solutions
,
DIY
,
Home
,
Liv's Nursery
,
Organizing
,
Renovating Adventures
|
4 Comments »