June 28, 2012
Last week I added the new Orla Kiely curtains to the dining room and I immediately loved how the vibrant pop of blue worked with the vintage buffet! But with the new matching color scheme, the room also felt like it was lacking a dose of contrasting color to really mix things up. So the wheels began turning for updating our current ottoman-turned-dining bench…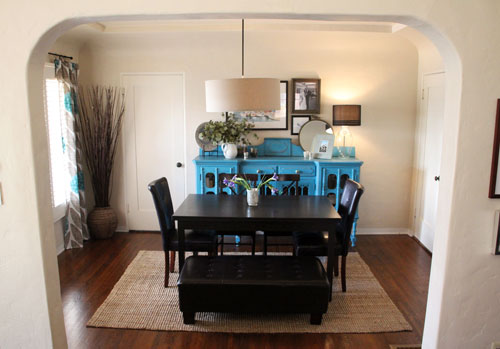 Right off the bat I'm thinking that a new set of taller legs and a covering in a soft velvet would make this guy work for the space. The tufted ottoman is a Craigslist find (surprise!) but he's been with us for a while and has slowly begun to wear and tear (literally) and up until recently has been on the replace or let go list.
But perhaps he can be remade into something awesome. Here are a few badly photoshopped ideas of what colors might work well with that bold blue (and a few random lumbar pillows that might coordinate well for the end chairs):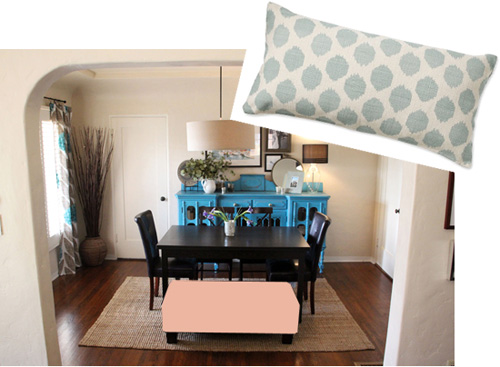 A soft pink to lighten things up? I found the softest pink velvet for $10/yard at our discount fabric shop. (pillow)
Or how about mint green? A favorite summer accent of mine! (pillow)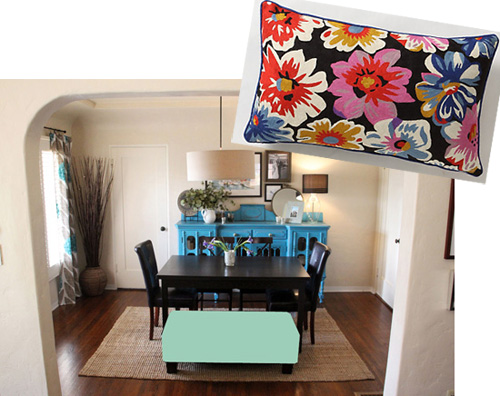 Or perhaps something a little more limey would look best… (pillow)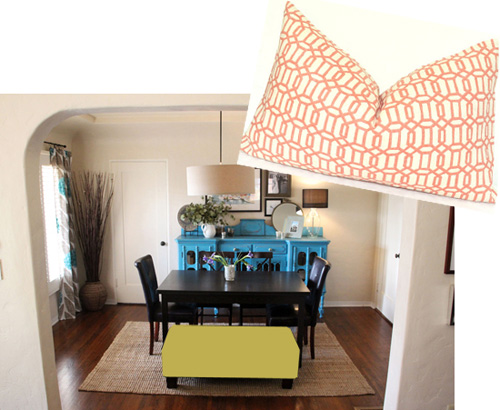 Burnt orange?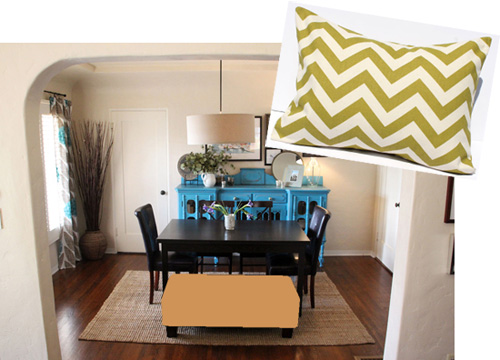 Or how about plum to cool down that bright blue? (pillow)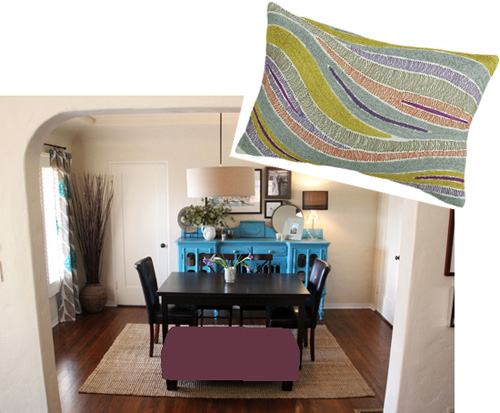 I'm not quite sold on any of the pillow pairings but you can see where I'm hoping to go with a little color in this space, and if pricing out velvet and new legs ends up being pricier than a new upgrade, here are a few benches that I have my eye on: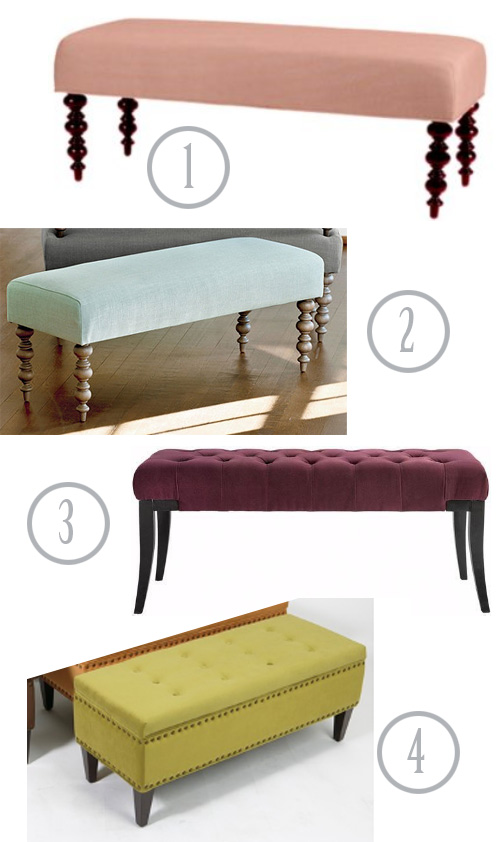 Oh I love that minty Ballard bench with the curved legs!
Read the full dining room story by starting here: choosing a rug, curtain call part 3, curtain call part 2, curtain call part 1, newly styled bookshelves, a buffet-over, upgrading the lighting, the before.
Tags:
Accessories
,
Crafty Solutions
,
Decorating
,
Dining Room
,
DIY
,
Fabric
,
Green
,
Home
,
Orange
,
Patterns & Color
,
Pink
,
Purple
,
Turquoise
Posted in
Home
,
Our Dining Room
,
Renovating Adventures
|
11 Comments »
June 12, 2012
Back before Liv was born and I was unsure if we were having a little boy or girl, I had put together a pretty gender free nursery (we added the coral and pink touches just after Liv's birth) inspired by cute little playful baby animals. I hadn't wanted to carry the theme too far throughout the room and stuck to these awesome wall designs with coordinating solid and patterned fabrics. But I had always had an eye for these guys!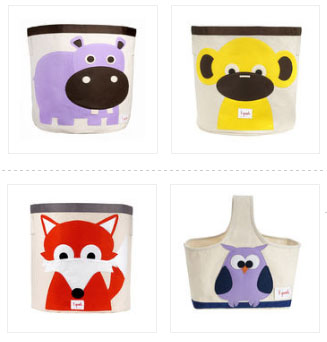 I had imagined making my own with whichever storage bins we ended up needing for the space. 18 months later and I've finally given it a go, converting a standard brown canvas hamper into a cute little owl bin for dirty clothes.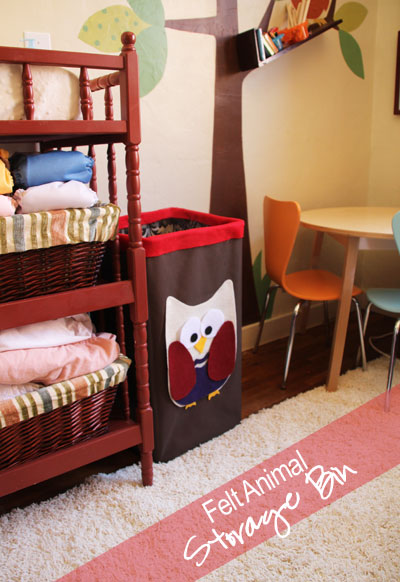 A fabric bin like this would be great for toys, too!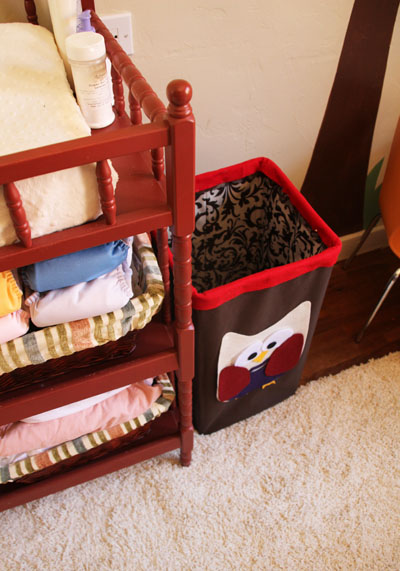 The process could have been incredibly simple but my quest for a smaller-than-average laundry basket proved to be daunting! The usual (in case you're interested) is roughly 14x14x30″ and is quite a big size for a nursery space. I finally found the above at The Container Store and spent a little more than I had planned (this guy was on sale for $22.99) for my 11.5×11.5×23.5″ mini-me laundry bin.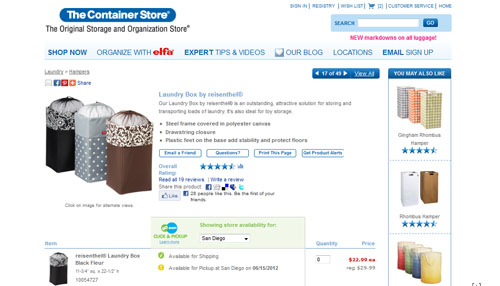 The good news! If a regular laundry bin will fit your space, there's a plethora of options in all colors and price points over at Amazon.
I created the little owl out of felt sheets from Michaels (I think they were $.99 each) and sort of winged the design (hehe) after Googling images of nursery owls. This guy ended up with an oatmeal tan body, burgundy wings and purple feathers.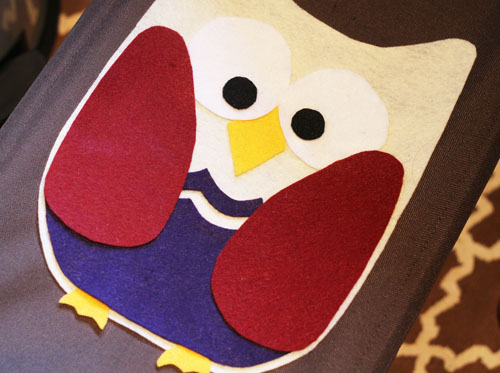 I used a standard white glue to adhere him together, though I noticed that it started to seep through the felt! and ended up creating a few funny blotches. I might try using just a little crazy glue next time instead, hot glue would be tough as I bet it might melt parts of the felt material.
Next up was the top red lining. You'll notice in the picture from The Container Store that the actual hamper has a damask fold over lining and a mesh closure, both of which I didn't need and both of which I carefully cut out.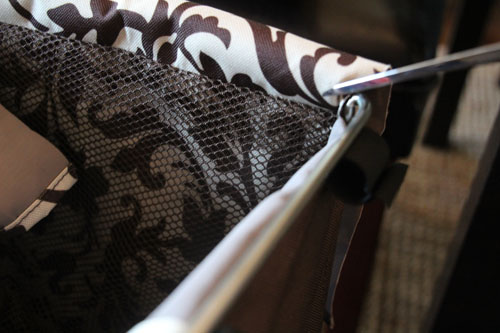 Here's a shot of the outside lip which is now sans the fold over lining and mesh: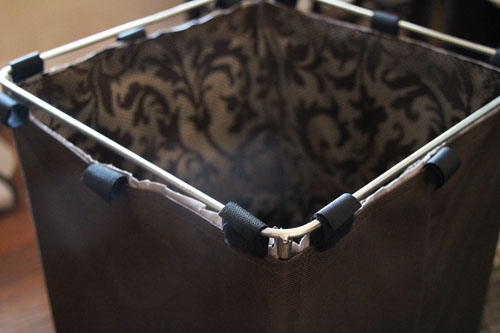 And one of the inside of the bag: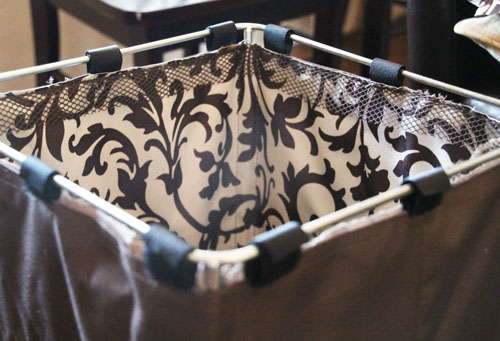 If you had a laundry basket that is ready to go as is, this is where you'd jump into the tutorial to add the top lining and animal on the front.
I made the red lining for the top of the bin out of red felt as well.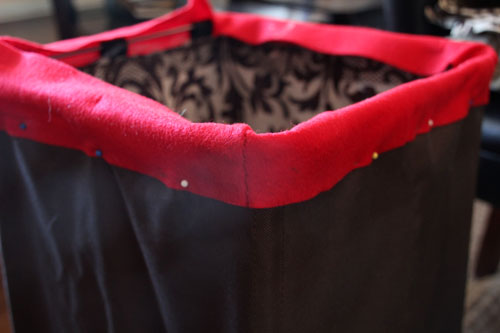 Because my edges were 11.5″ in length, I cut four 12×3″ sections of felt and then sewed the lengths together to create one long piece with three seams.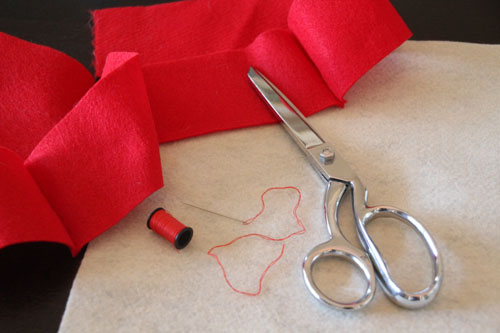 Then I added a few stitches at each corner, sewing the felt seams directly to the hamper seams. You could always use a ribbon for a similar effect but I wanted a material I could actually fold over the metal bars of the hamper rather than just line the very top edge.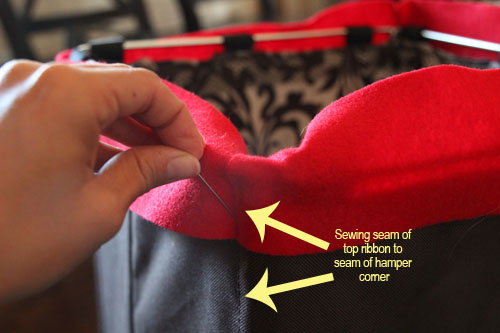 Instead of continuing my stitch (which could have taken a long time! plus I was going for a pretty seamless look) I used a line of glue down both the inside and outside of the lining and pinned the felt in place on the laundry bin to dry (ended up needing pliers to pull the glued pins out, maybe I waited too long

, clothes pins might be a nice alternative).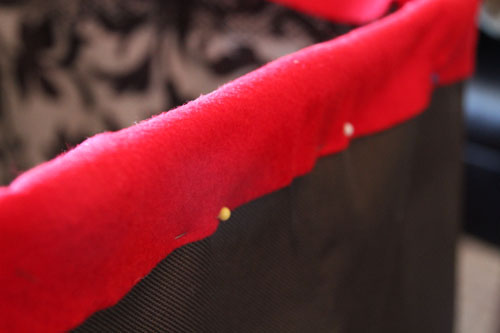 And here she is! Ready for clothes and ready for action.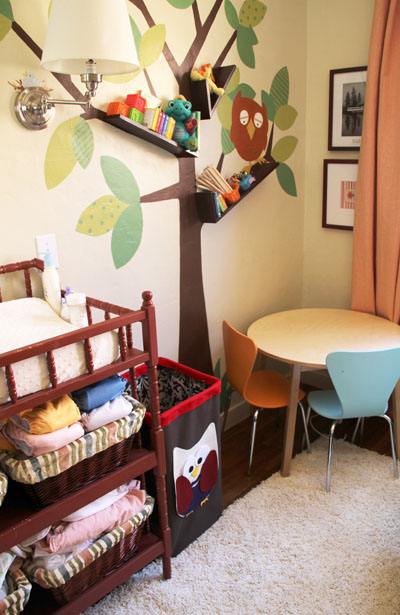 Do you like my empty Aaron's Brothers frame up there in the right corner? I have so many pictures that I really need to hang up…
I looove how small it is, it fits perfectly into the space between Liv's reading/play nook and her changing table. The damask lining actually adds a nice, unexpected touch!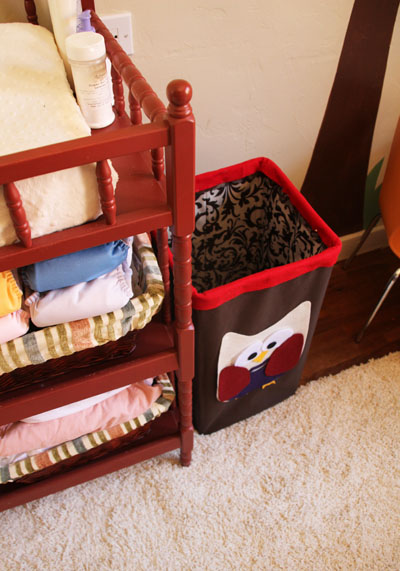 Now how fun would it be to convert these storage bins into toy catch-alls around the house? or on a bookshelf in a playroom?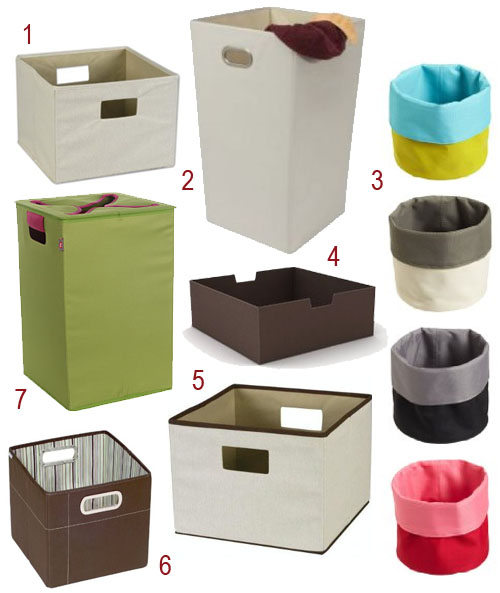 Happy crafting

.
PS If you want to go waaaay back, here are more Project Nursery posts: tree branch floating shelves, tree branch bookshelf inspiration, newly updated felt mobile, a new reading nook part 1, finished after photos, no sew fabric pennant, baby clothing art, handmade felt butterfly mobile, DIY crib skirt, basket liners part 1, part 2, the, glider makeover, recovering an ottoman, sewing lined curtains part 1, part 2, part 3, curtain fabric selection, nursery fabric board, rocking horse find, new pendant light, new sconce lighting, vintage wall art addition, changing table makeover, nursery wall striping tutorial , painted animal project, the initial inspiration board breakdown, the before pictures
Tags:
Accessories
,
Before & After
,
Crafty Solutions
,
Decorating
,
DIY
,
Fabric
,
Home
,
Nursery
,
Patterns & Color
,
Purple
,
Red
,
Tutorial
Posted in
Crafty Solutions
,
DIY
,
Favorites
,
Home
,
Liv's Nursery
,
Renovating Adventures
|
6 Comments »
September 1, 2011
I love fresh flowers in the house. It's one of my favorite splurges because flowers instantly brighten up a room, add that 'pop' of unexpected color (like fuchsia tulips in a navy bedroom) and bring life to a space of wood & textiles. I'm always on the look out for ways to bring in that floral feel in a more permanent way.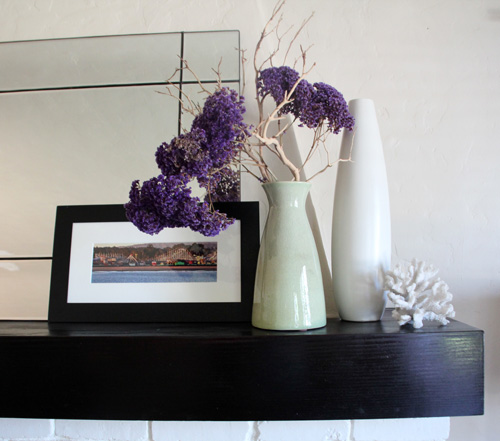 Branches have been a great way to do this, and the occasional faux can be pulled off if it's just right (try using a realistic silk orchid in a single stem orchid pot when the flower is dormant). Another way? Dried flowers. I know, I know… not your Grandma's bowl of potpourri or an upside down bouquet from last Valentine's Day… but instead a few sprigs of lavender in the kitchen tied together with twine, or even a dozen yellow craspedia (billy balls) poking out of a tall vase with their modern, spherical shape lighting up a room. It's a careful line between playfully artistic and horribly dated… no plastic ivy, if you know what I mean.
We have a unique plant in our front yard that I pass by everyday and adore, and when Kevin brought me a clipping of Sea Lavender (Statice) while he was pruning, I was pleasantly caught off guard at what a great cut flower it turned out to be.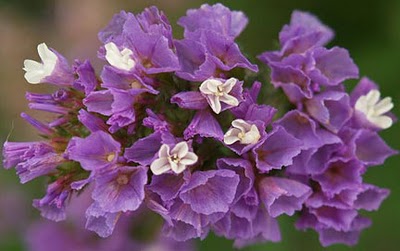 Naturally dried looking by nature, the large clumps of paper-like blooms are beautiful on their own or when paired with a contrasting color. I opted for a sage green ceramic vase and a few bleached manzanita branches – and zero water.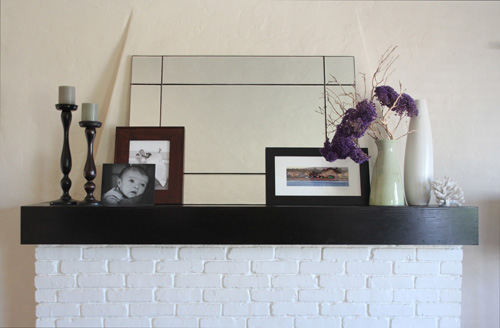 I wanted to see how long the dried-looking flowers would last when, well, dried. Happy to say that five weeks later they're still beautiful! Providing just enough contrasting color to a dark mantel with a few framed pictures (isn't that shot of the Santa Cruz Beach Boardwalk stunning? A gift from my dad who took it from the pier and had it printed on metal for that shimmery affect. Santa Cruz is my home town so it's nice to have a few reminders around).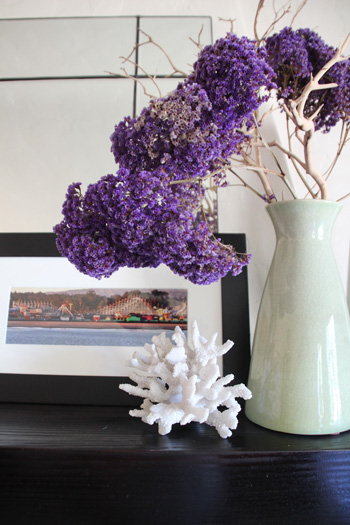 The shape almost reminds me of a Monterey Oak leaning over the edge of the cliffs up near the coast of Big Sur, another favorite spot. And I'm digging how purple way unexpected in a room full of tan, burnt orange and various greens.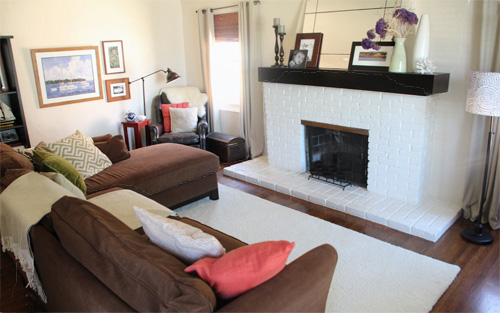 That new rug is Liv and my favorite place to hang out during play time – we spread foam building blocks all over and then I build towers while Olivia takes great joy in knocking them down! I think the flowers will be sticking around for a little while, too!
More living room posts here.
Tags:
Decorating
,
DIY
,
Flowers
,
Home
,
Living Room
,
Purple
Posted in
Home
,
Our Living Room
,
Renovating Adventures
|
4 Comments »