December 2, 2009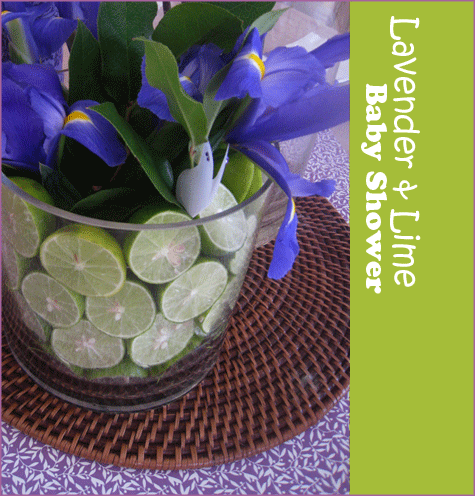 Lavender & Lime is the perfect inspiration for a baby shower for those Mamas waiting to find out 'if it's a boy or girl'! The theme is bright, cheery and still makes for a very girly celebration on a Sunday afternoon.
A few friends and I recently held a baby shower with this in mind, and here are a few of the ideas we came up with.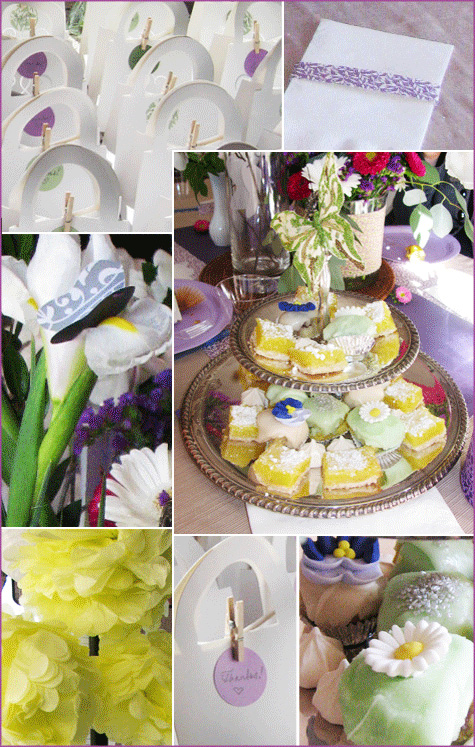 Decorations included: Martha Stewart lavender leaf scrapbooking paper for a table runner and napkin wraps, bright yellow poms to accent the theme, homemade petit fours in matching colors, lemon bars that were delicious! and favors tagged with a tiny clothespin to thank our guests for celebrating with us.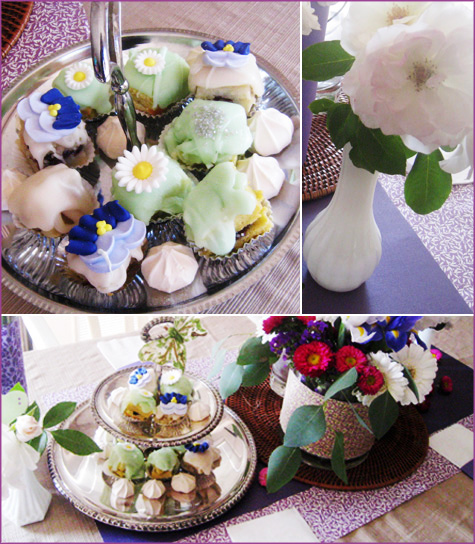 Assorted vintage white milk glass vases and fabric covered cylinder vases collected irises, mums, wild roses and daises. We lined vases in sliced limes and added teeny handmade paper butterfly cutouts for extra detail.
Covering vases in your favorite fabric is an easy way to incorporate pattern and color into your theme! Read more »
Tags:
Baby Shower
,
Decorating
,
Desserts
,
Fabric
,
Green
,
Parties & Entertaining
,
Purple
Posted in
Parties & Entertaining
|
3 Comments »
October 14, 2009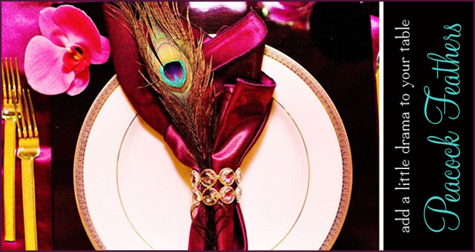 I found this stunning picture on The Party Dress and loved it so much I went on the search for more gorgeous peacock finds. The colors are rich and beautiful — perfect for fall without being the traditional palette. I love the jeweled napkin ring above and am wondering if I can recreate on my own, could be a fun project. Plum, fuscia, emerald green, burgundy, cerulean blue… all beautiful!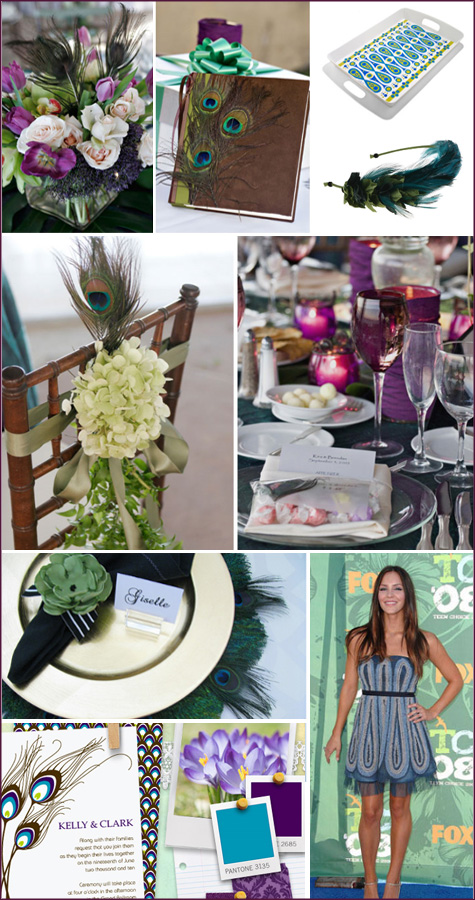 So much inspiration for any kind of celebration — I would love to see this turned into a beautiful bridal shower! Follow the jump for the where-to-find for this inspiration board. Read more »
Tags:
Baby Shower
,
Birthday
,
Blue
,
Bridal Shower
,
By Color
,
Decorating
,
Dinner Parties
,
Green
,
Inspiration Board
,
Parties & Entertaining
,
Patterns & Color
,
Purple
,
Wedding
Posted in
Parties & Entertaining
|
1 Comment »
October 8, 2009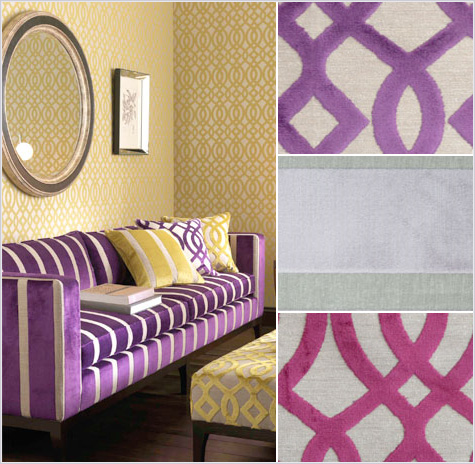 So I've changed the name of my favorite fabric show-and-tell postings to "Fabric of the Week", which more aptly explains the purpose of sharing my favorite prints that I get so darn giddy over (old name: Fabric of the Day, despite the fact that I kept just one beautiful design posted all week!).
This week's fabric, a rich velvet by Du Barry, is a gorgeous print that has caught my eye with it's vibrant colors and bold texture. You want to reach out and pet the walls thats how great the fabric/wallpaper combo looks. Du Barry Velvets is part of the Spring 2009 collection over at Osborne & Little (a treasure trove of great fabrics and wallpapers to check out). I'd LOVE to reupholster a bench or settee for the end of my bed in this bright purple or fuscia — I wonder if the husband would concede.
Tags:
Accessories
,
Bedroom
,
Decorating
,
Fabric
,
Home
,
Living Room
,
Patterns & Color
,
Pink
,
Purple
,
wallpaper
,
Yellow
Posted in
Crafty Solutions
,
Favorite Fabric
,
Home
|
1 Comment »