January 28, 2013
This wax paper project is a really fun way to spice up a simple dessert, and perfect for Valentine's Day with a heart shaped cut out like the one I made for this chocolatey gooey treat.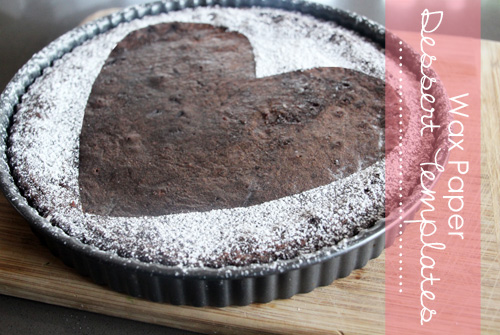 Brownies look so much fancier in a tart pan, no?

Liv and I used wax paper, scissors and powdered sugar to create a little design, and it took us just a few minutes to make these ordinary sheet brownies a little prettier. A heart shape is easy to cut out and perfect for the upcoming holiday, but wax paper is such an easy medium to work with that you could cut out just about any shape, set of initials, numbers for a birthday cake… you name it. And no need to stick to just powdered sugar, colored sprinkles or sugar would make for colorful designs!
I'm thinking this would be especially pretty on a flourless chocolate cake, individual cupcakes, or now that the imagination is spinning, really any dessert with a flat top.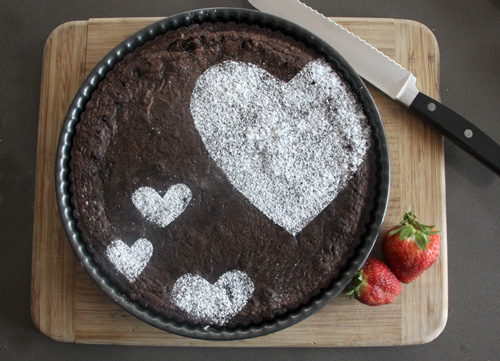 The reverse of the template is equally special, an entirely different effect.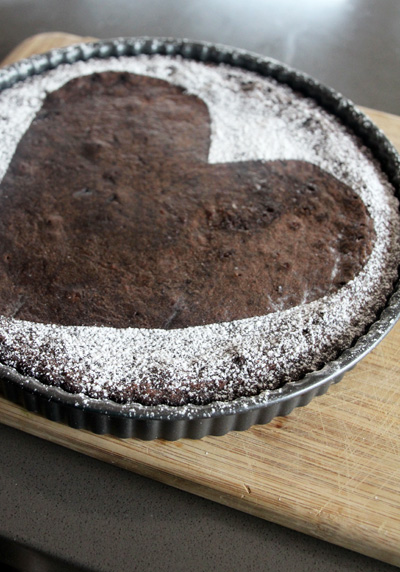 Soooo simple, but let's break it down just for fun

.
******************************************************************************
Wax Paper Dessert Template

a
Materials: wax paper, scissors, dessert, powdered sugar
Bake up your most delicious dessert of choice and let cool (the wax paper will stick to any warm dessert, so completely cool is a must to avoid pulling the top up and off of your baked good).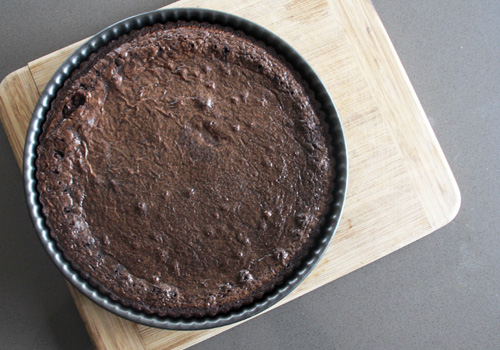 I chose a heart shape because Valentine's Day is just around the corner! And it's super simple to snip out of wax paper (fold the paper in half for an even easier cut).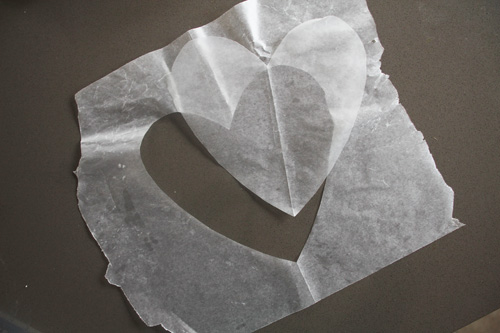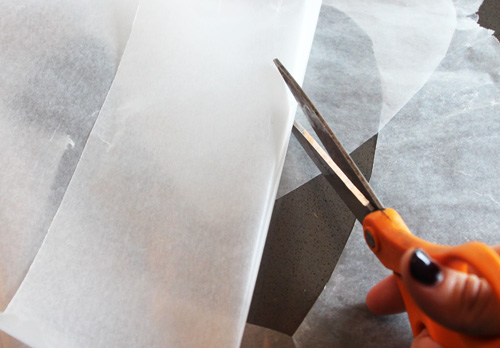 Liv thought the heart shape was cool, too.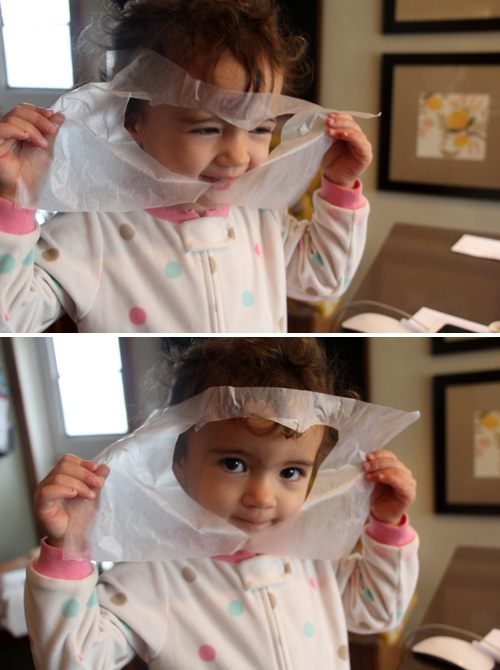 I ended up making several different shapes and sizes for my powdered sugar topping, the more the merrier.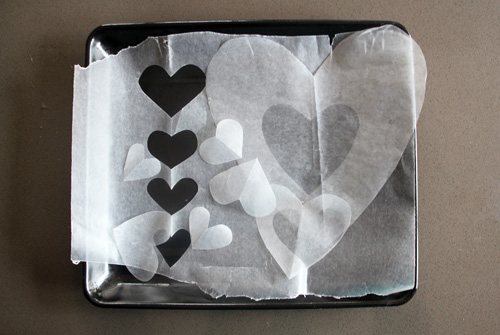 I added my hearts to my dessert in a somewhat random pattern, and filled bits of wax paper into gaping holes that I thought might let powdered sugar through (and where I didn't want it to be).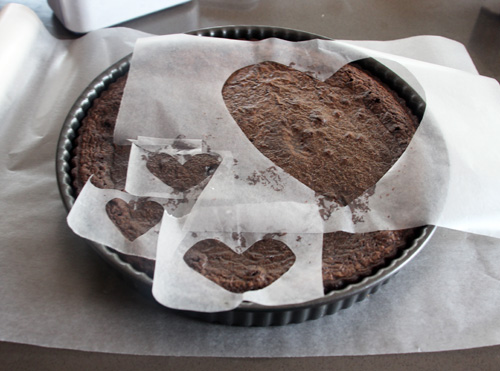 The beauty of wax paper over any other template material (cardstock, vellum, sheet protectors, etc) is that with a little body heat (aka the touch of your fingers), it will lightly adhere to the dessert to create a nice little barrier, but not enough to tear the top.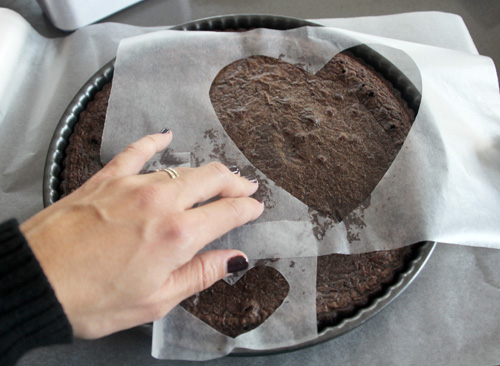 Then sprinkle away!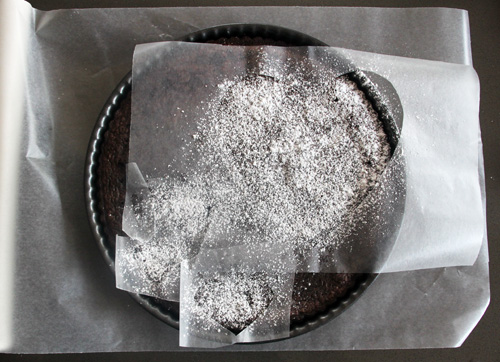 I don't have a fancy powdered sugar dispenser so I just used my good ole tea steeper (what is this called? a tea ball? a tea spoon?), filled it up with powdered sugar and shook. It's nice because it's small and you can control exactly where that sugar ends up.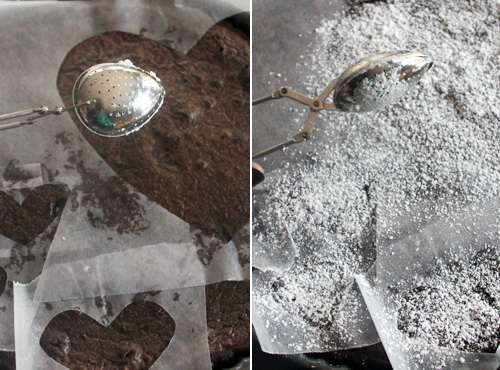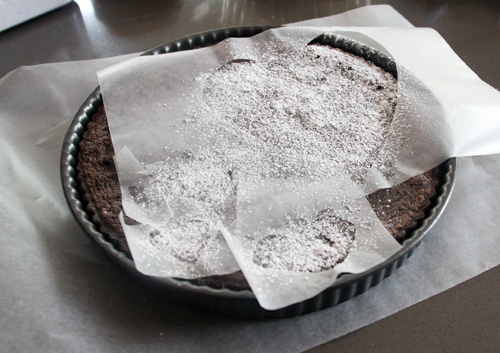 Slowwwwllly peel away your template and voila!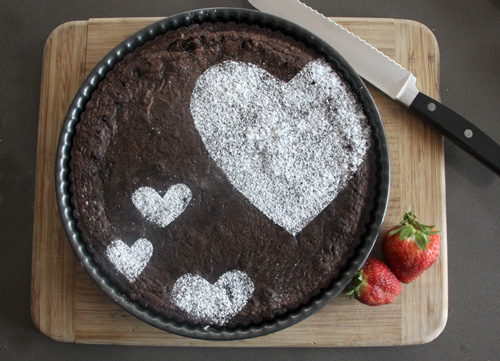 Or use the reverse of your cut outs to create an entirely different look.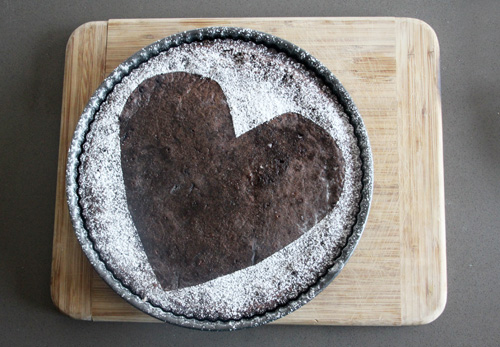 Here's the process in one nice little collage: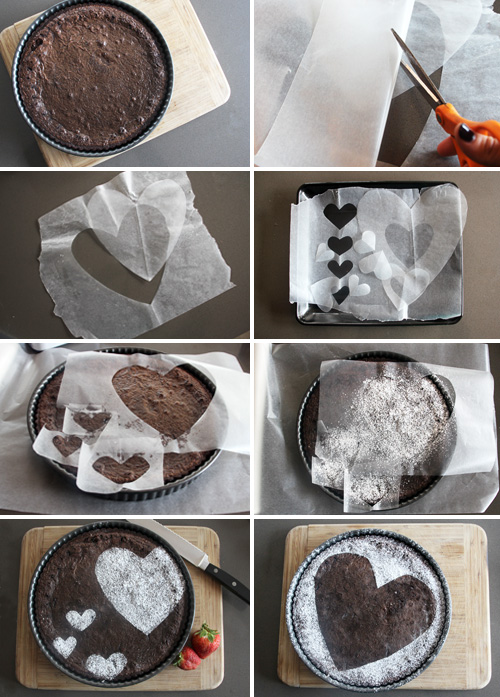 So pretty! Ready for a candlelit dinner and a Valentine's date night…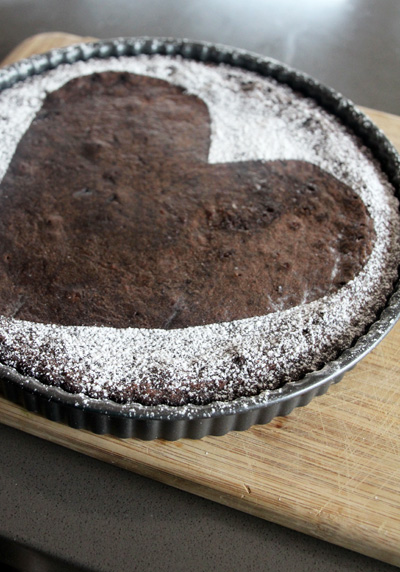 PS More Valentine's Day ideas here and recipes here.
Tags:
Decorating
,
Desserts
,
DIY
,
Parties & Entertaining
,
Recipes
,
Tutorial
,
Valentine's Day
Posted in
Crafty Solutions
,
DIY
,
Holidays
,
Parties & Entertaining
,
Recipes
|
6 Comments »
December 22, 2012
I haven't had much time to blog about the different types of handmade gifts I've been working on, but just in case you're scrambling for a certain someone on your list, here are four more semi-DIY gift ideas that ended up under our tree for family and friends.
Fort Kit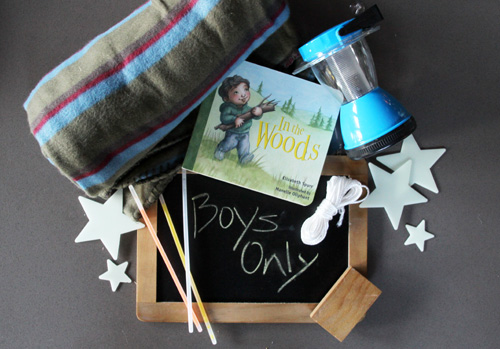 I put this kit together for three special toddler-aged boys and I hope that it's something that will inspire fun living room camping (a favorite past time of mine!). All of the above was placed in a muslin bag and labeled with 'Fort Kit' in stamped letters (similar to the Felt Town Kit below).
This was so easy to assemble and while I relied on Amazon (my best Christmas friend) for many of the above components, you could find most of these goodies around the house, at the Dollar Store or local home improvement center. My kit included: a flannel blanket to build the 'fort', rope and little suction cups to keep it assembled, a camping book to snuggle up with, a mini lantern to read and play by, glow-in-the-dark stars for star gazing, glow bracelets for fun and a chalkboard sign to post outside. You could also include: clothespins, zip ties, rubber bands, twine and a flashlight or head lamp (instead of a lantern).
Cocktail Kit (French 75)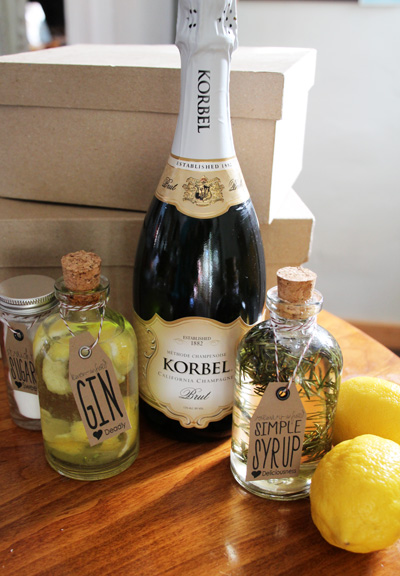 This little semi-DIY project could really be for any favorite cocktail. It's all about assembling each piece of the chosen drink (including garnishments and maybe even tools or glasses) in one sweet presentation so that the giftee might even be able to enjoy their drink when opening. Perfect for a hard-to-shop-for guy in the family, for the novice bartender or as a hostess gift. I created a Bloody Mary Kit one year for Kevin (complete with unique pickled oddities that are only for the true connoisseur) and discovered that a Cocktail Kit can be pretty easy and fun to assemble and create – even last minute.
A girlfriend and I attended a cooking class together where we learned how to make a delicious lemon, rosemary and gin French 75. To remember the night, I assembled a 'French 75 Kit' and went ahead and premade some of the more intricate ingredients for her. This included lemon-infused gin (I used a bottle from this project and added lemon rind directly to gin from our own bar) and rosemary-infused simple syrup (same style of bottle, but to make the simple syrup boil 1 part sugar and 1 part water with your herbs, voila). Extra ingredients like sugar for the rim (used an extra jar from this project) and lemons for garnish were thrown in for fun. The final ingredient? Champagne.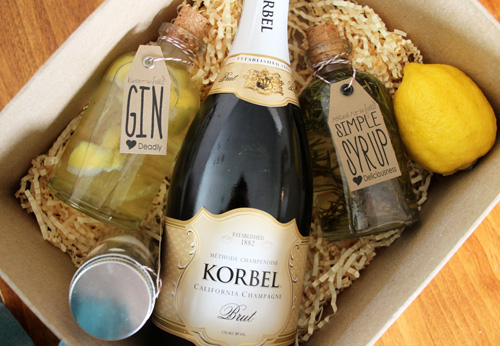 The label on the front of the box offered the recipe and a list of the contents inside.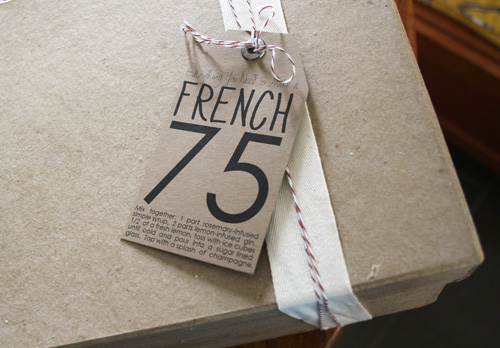 Personable and unique!
Stationary Kit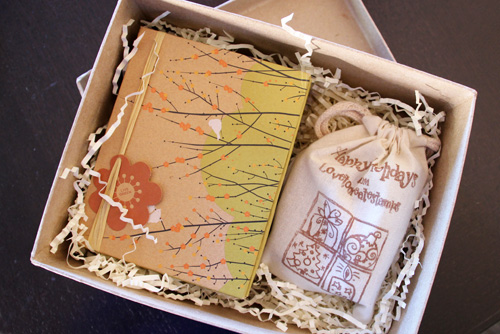 Here is an easy kit that involves assembly only. I have an Aunt who is an avid letter writer with a recently engaged daughter, and I thought that a self-inking address stamp and cute stationary would be the perfect combo for her to stay on top of pre-wedding notes, invites and thank you cards. The stationary is from Paperie and the address label from this Etsy seller (love the cute little bag they provide, too).
I dressed it up in a brown box and twine! My favorite wrapping combo this Christmas.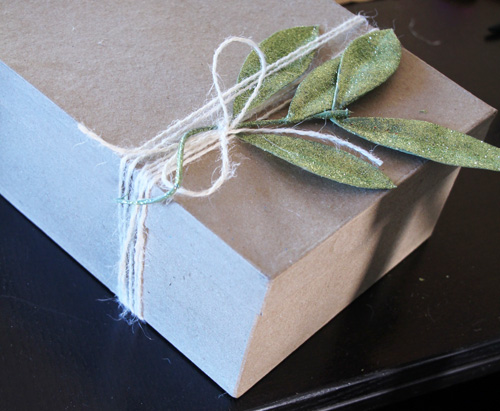 Felt Car Kit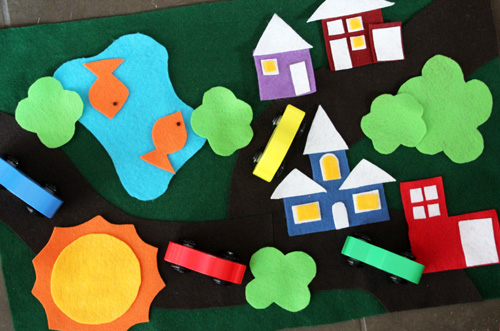 Liv pulled her buddy Isaac's name for our annual gift exchange amongst friends. We made him a little felt town and car kit – complete with what I hope looks like a firehouse, Church and pond – for him to play with while on the go (running errands, doctor's office, appointments, etc).
The only permanent pieces are the below road sections: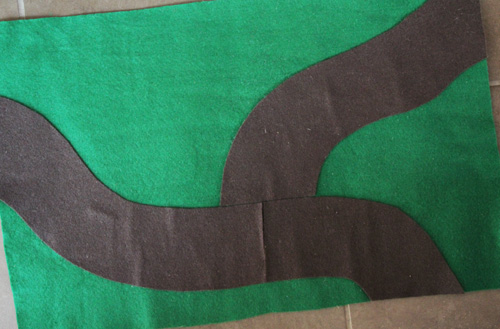 The houses, big sun, fishies, trees and other decor are all movable to build different 'towns', though the small little pieces that make up each of the buildings are glued together as well. Bonus part? Felt has become a staple in our household (since this felt Christmas tree project) and most of the materials needed were already on hand.
Melissa & Doug wooden cars help bring the town to life: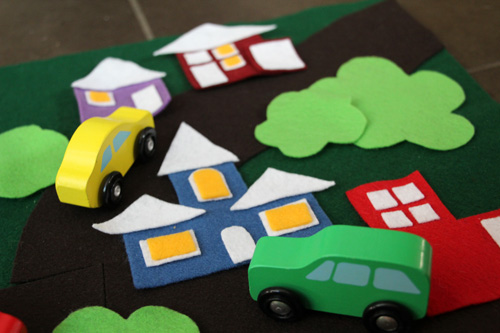 and a muslin bag makes carrying around and storing the felt car kit easy.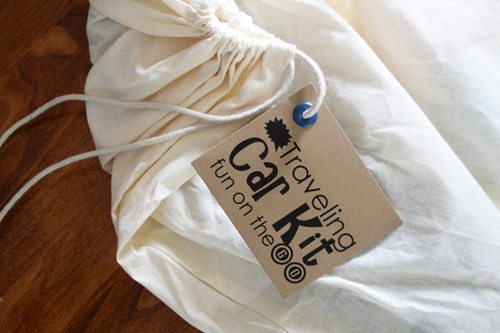 ****************************************************************
There you have it! Four more ideas that will hopefully make last-minute gift giving fun and easy this year. You can also check out the Cupcake Kit, Rosemary-Infused Olive Oil and Lavender & Lemon Sea Salt projects that we tackled in early December for a few more ideas.
Merry Christmas!
Tags:
Christmas
,
DIY
,
Kids Party
,
Parties & Entertaining
,
Recipes
,
Tutorial
Posted in
Crafty Solutions
,
DIY
,
Gift Guides
,
Handmade Gifts
,
Holidays
,
Parties & Entertaining
|
5 Comments »
December 14, 2012
Oooh I have infusion fever. Once you start you just can't stop, there are too many creative and easy ideas out there. My next big project is a custom salt (inspired by the one that I currently love) with ingredients that are readily available from the kitchen or yard.
Rather than a straight sea salt, which can get very strong very fast, I created a Kosher and sea salt blend with dried lavender and lemon.
PS the last big infusion project included olive oil and rosemary, you can find it right here.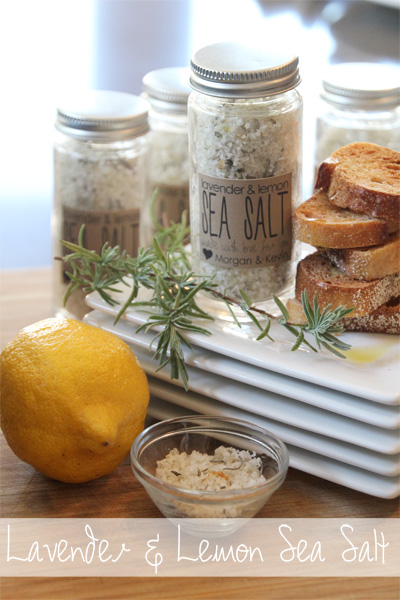 This is the perfect top salt for a finished dish – sprinkle on roasted chicken, raw salads, sliced tomatoes, avocados, in olive oil and vinegar with toasted baguettes… you name it. One of my favorite uses? Bruschetta.
An added bonus is that this was so very easy to whip up – even easier than my rosemary infused olive oil! And it doesn't need ages to infuse, either. You could use the finished salt right away (ideal for a last minute gift) or allow to sit for a more intense mingling of flavors.
Lavender & Lemon Sea Salt
m
Materials for six 3.4oz jars: 10-15 fresh lavender sprigs, grated rind of one lemon (more is optional), 1 pound sea salt, 1 pound kosher salt, small glass bottles/jars with a sealable lid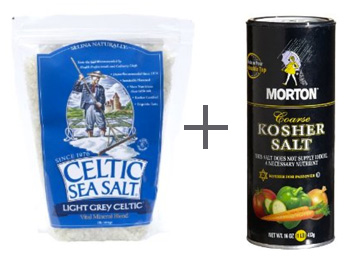 As mentioned above I chose a blend for my salts, Celtic sea salt as the dominate flavor and a standard Kosher to help balance out the taste buds (Kosher is an excellent everyday cooking salt). Granulated salt is extra important here! Table salt just won't be the same.
As far as my little containers go, I picked up a 12 pack of these 3.4 oz spice jars (though I might try this cute corked version next time).
I chose lavender and lemon as my concentrated flavor mix, though you could really substitute any delicious herb or infusion here (the sky's the limit!). Lavender was an easy pick because we grow it right in our front yard.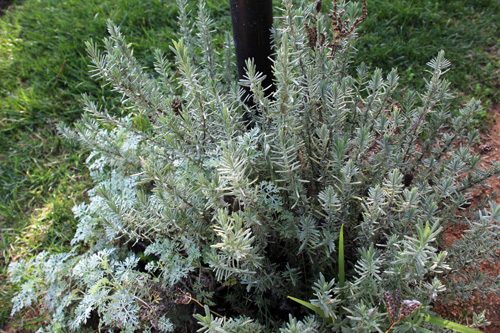 As with the rosemary from last week, I thoroughly soaked my lavender clippings in a bowl of water for about an hour and then rinsed to ensure that all I had left was fresh and clean sprigs.
Then I lined them up on a cookie sheet (covered in foil) and popped the sprigs into the oven at 200 degrees until they were nicely dried (there's no precise time here, but maybe 2 hours ish).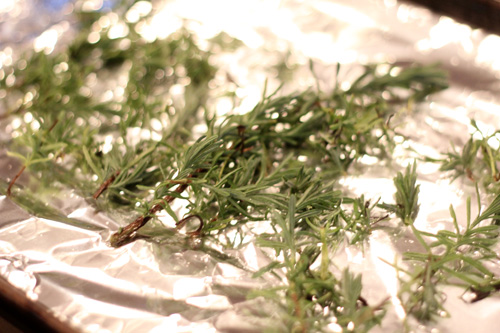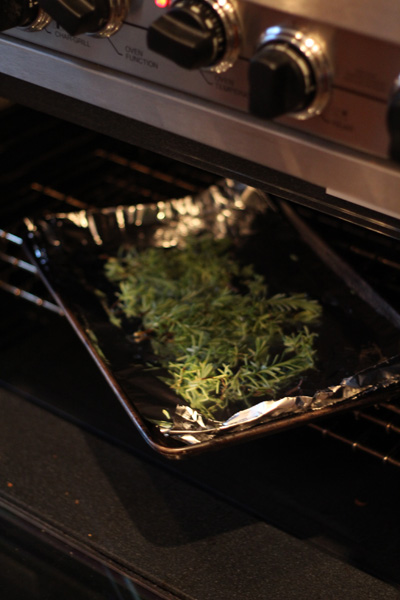 When they came out, they were ready to go!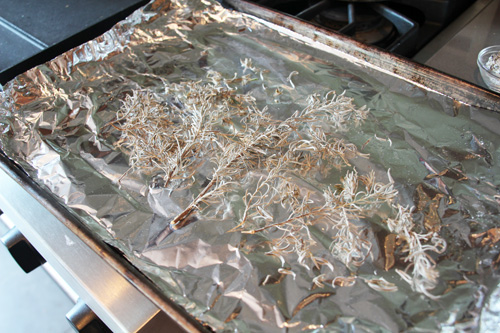 I stripped the leaves from the stems and discarded any extra crispy pieces. I added the dried lavender leaves and fresh lemon rind to my Kosher salt:
And spread the entire mixture out onto my cookie sheet once again for another round of light toasting. The goal now is for the Kosher salt to bake with the lavender and lemon, and also for our lemon rind to dry out completely (to avoid any bacteria growth in our salt containers).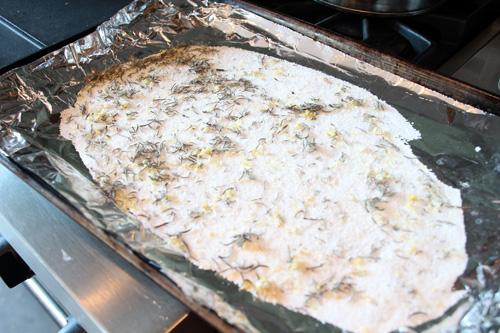 Once my mixture is sufficiently dried out, I added the infused blend to my raw sea salt and mixed well.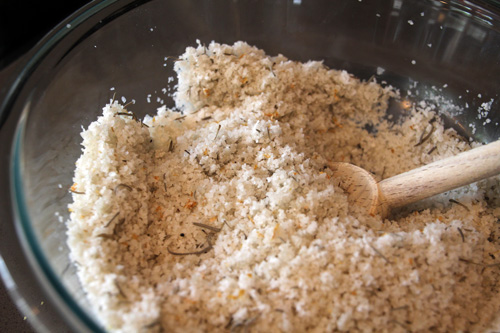 I used a small spoon (a baby spoon or cocktail spoon) to add the mixture to each of my little jars.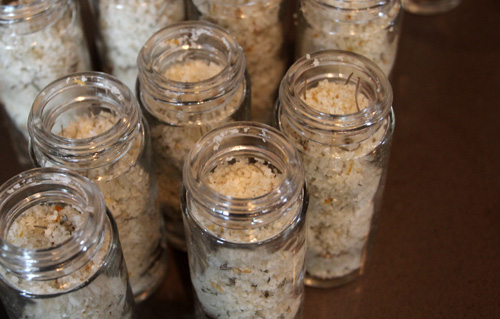 I made matching labels for the sea salt mixture (similar to my olive oil labels) and applied a sticky backing (available at most craft stores) to create mini stickers for the front of each jar. Here's a link to a downloadable pdf with a generic version of the below labels if you'd like to print out a version for yourself, and you can always email me for the .ai file to substitute your own name.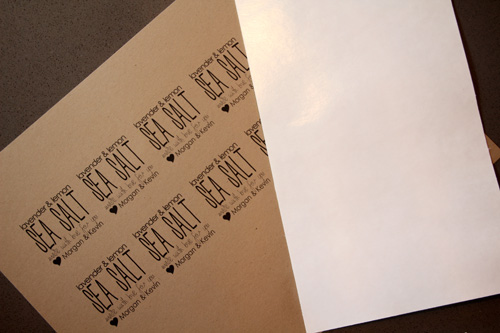 Then I cut the stickers into tiny squares and applied to each jar: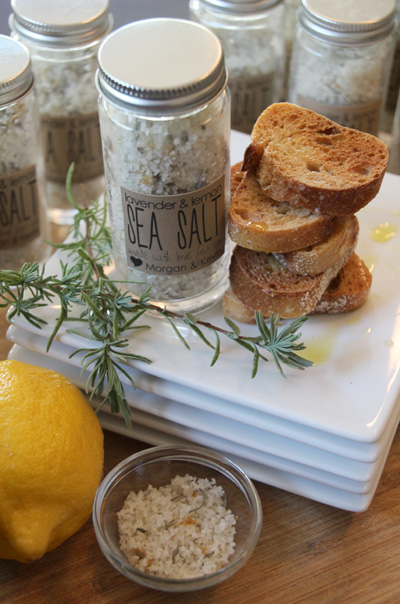 Sure is delicious with just crudités and olive oil!
That's two infused projects down and a couple of more handmade gifts to go… happy cooking!
PS You can find the line up of this year's handmade projects by sorting all posts here.
Tags:
Parties & Entertaining
,
Recipes
,
Tutorial
Posted in
Crafty Solutions
,
DIY
,
Handmade Gifts
,
Holidays
,
Parties & Entertaining
,
Recipes
|
1 Comment »