April 28, 2013
Liv is collecting little art supplies and toys by the bucket full. The big bins that we initially added to her bookcase are great for storing bigger toys, but little cars, wooden blocks, doll clothing and so on is quickly swallowed up – and finding complete toy sets (like Liv's wooden train) is impossible these days! So we're working on adding small container storage to the room little by little.
One of the first organizing projects I tackled included Liv's art supplies in her little reading nook.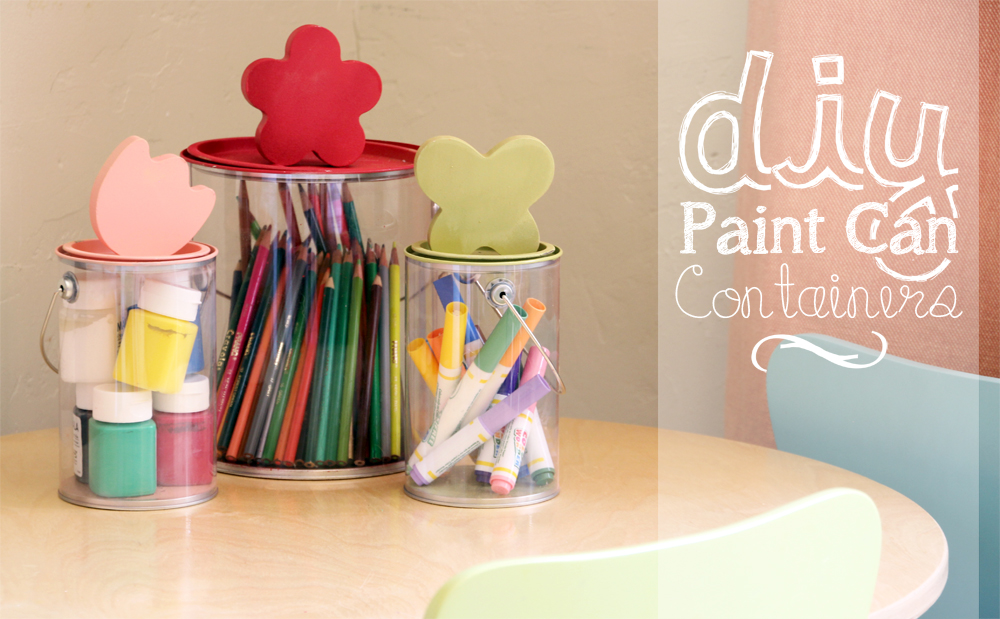 Rather than collect colored pencils, markers and paint into one central storage location (as we had previously done for a while), separating out supplies makes it easier to focus on one specific art activity, put that craft away, and then move on to the next. I first attempted this with open buckets but soon everything was mixed together and crazy again. What is it about organized spaces with a home for each little item that is so darn appealing? It makes my world feel right.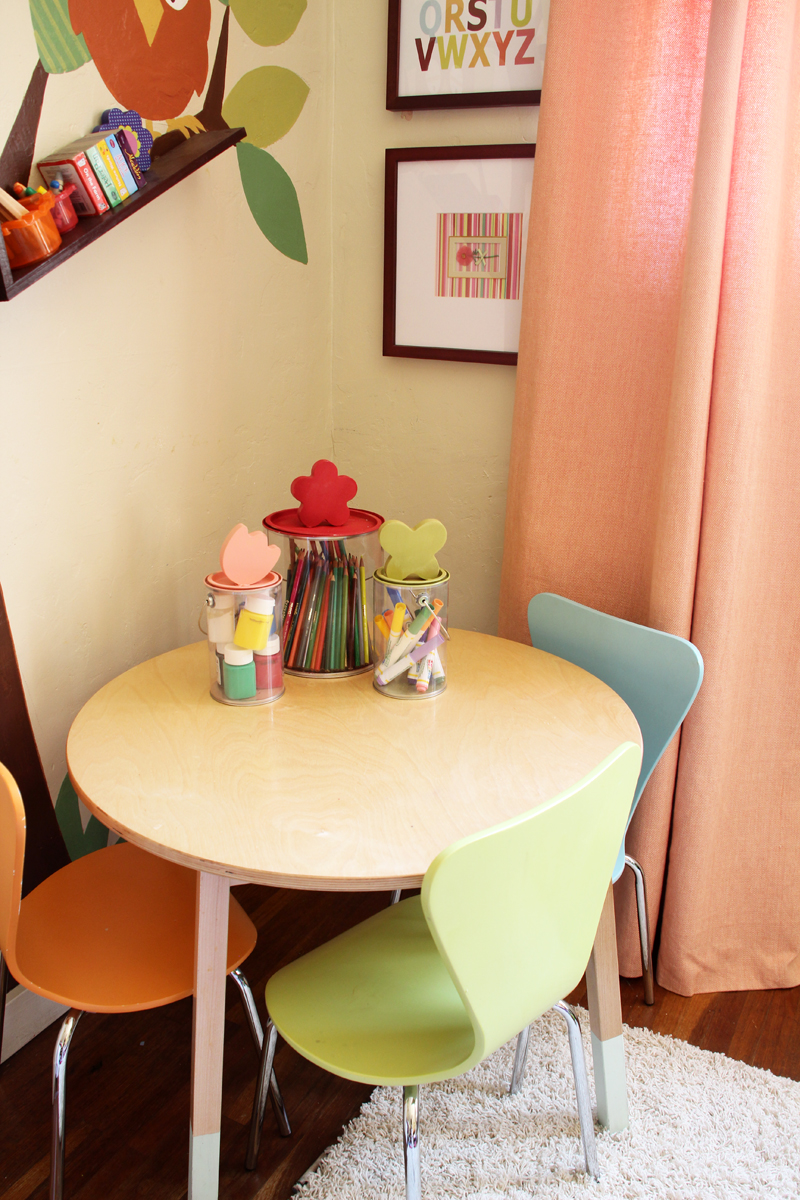 When I spotted these clear containers at Michaels I thought that they might work well just for Liv's art supplies. I love that they're plastic paint cans

.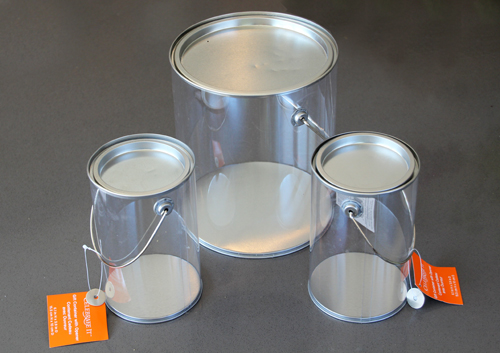 After bringing them home I discovered that cheap was too good to be true – the tops are impossible to pop off! Just like a real paint can, to open and retrieve anything inside requires some prying from a really strong object (like a screwdriver) which is not ideal for kids. Poor design.
I thought it would be fun to come up with a DIY handle that would help Liv open up the cans whenever she wants to play, and I kind of like that I can press the lids in extra tightly for art supplies that I don't want her to have easy access to (like real tubes of paint) so that even with a makeshift handle the lid sticks really well.
I thought about gluing little plastic animals or some other little toy to the top of the paint cans and then remembered that we have a very cute wooden Melissa & Doug flower puzzle that has received quite a bit of wear and tear since Liv began assembling and disassembling two years ago.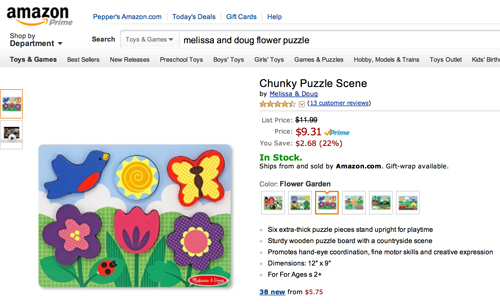 I love the shapes and use them all of the time as decoration for her floating tree bookshelves so the entire puzzle really doesn't stay assembled nor is it really used anymore.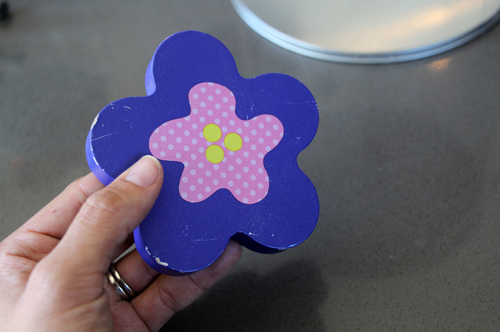 I picked out three of the shapes and hot glued them to the top of each of the paint cans.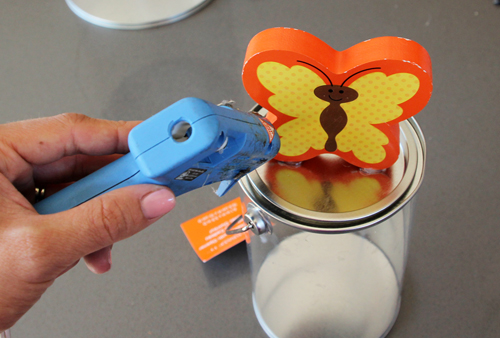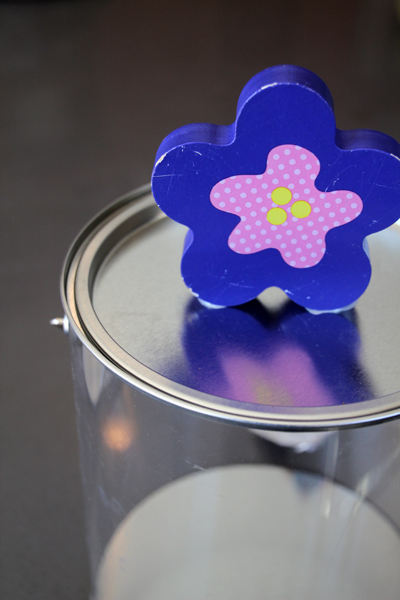 But after a night of drying quickly found out that even with strong hot glue the wooden shapes popped right off of the lids if the lids were really well planted onto the container. Boo.
Thankfully the puzzle pieces were wooden and not plastic, so plan b was to drive a little tack nail or two into each shape through the bottom of the lid (with my favorite floral desk hammer – perfect size to keep inside). Now the wooden pieces are stuck stuck.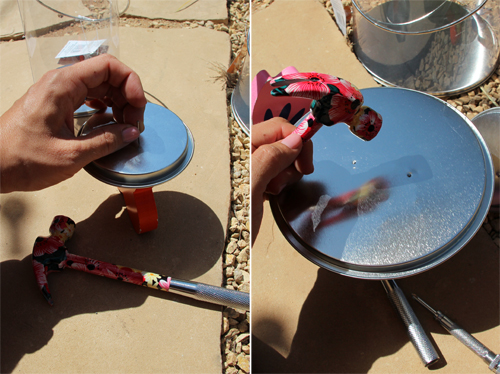 I used three paint spray colors that I thought worked well in Liv's nursery today, and would also match her new nursery for two.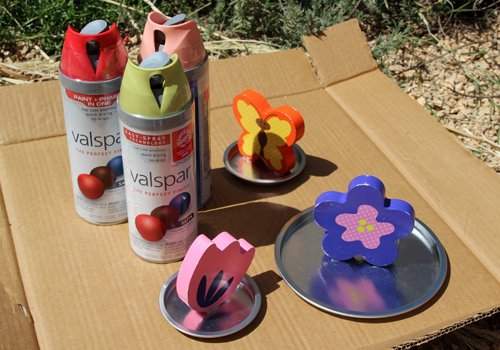 The colors turned out a bit chalky rather than pretty and polished, I'm actually really disappointed in the consistency of these particular primer + paint in one Valspar paint cans. I picked up a glossy varnish to cover all with at some point in the future that I'm hoping will fix that.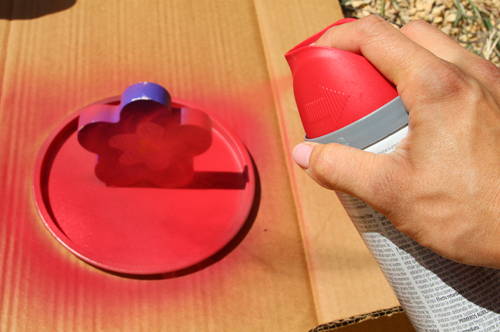 For the paint can itself I wanted just the edge painted out so I carefully taped off all exposed clear areas inside and out. Learned that lesson the hard way with a slightly careless first round of taping. Thanks goodness for Goo Gone.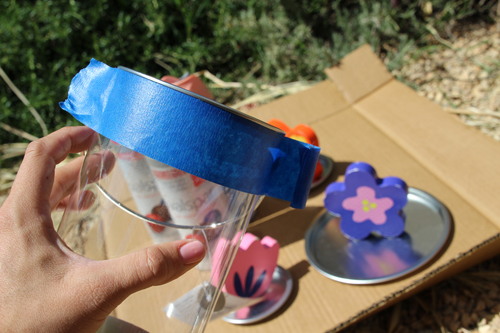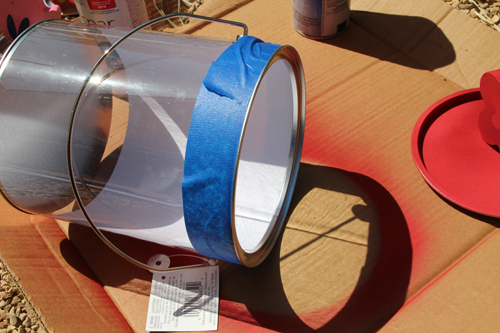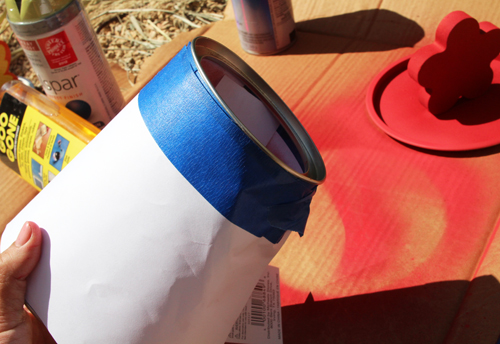 If spray paint still makes it through onto the clear plastic, Goo Gone to the rescue.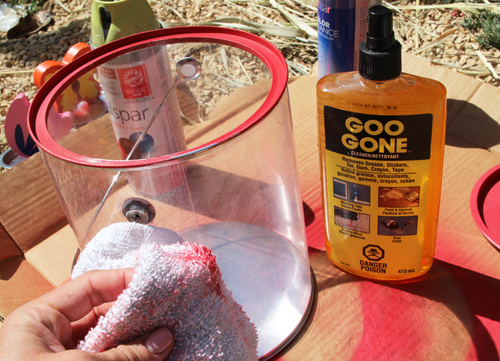 Finished! You can see the chalky consistency if you look closely…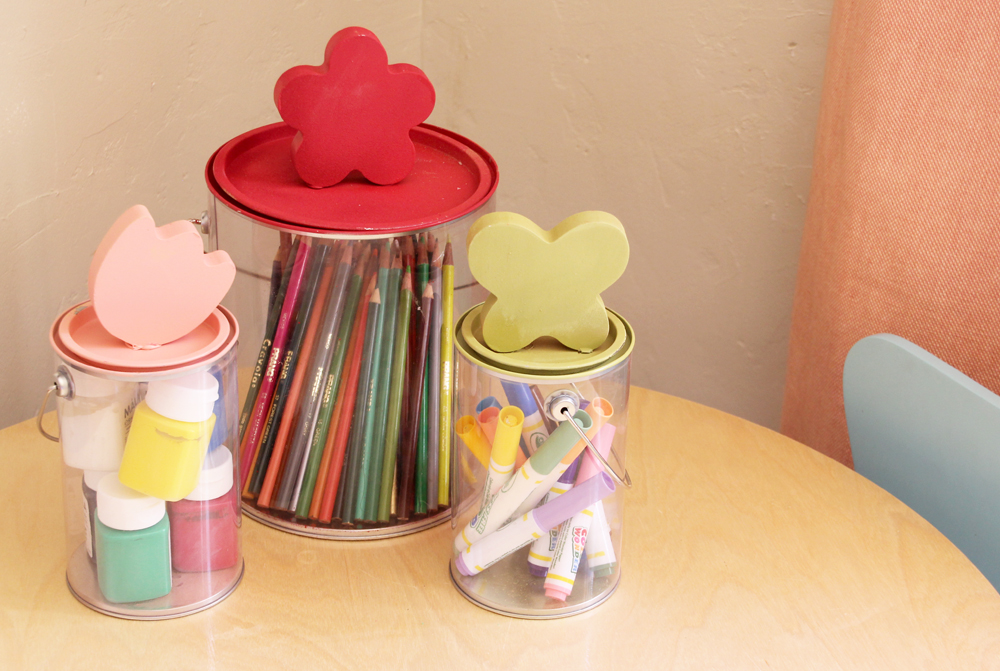 But for now they're a cute new addition to the nursery.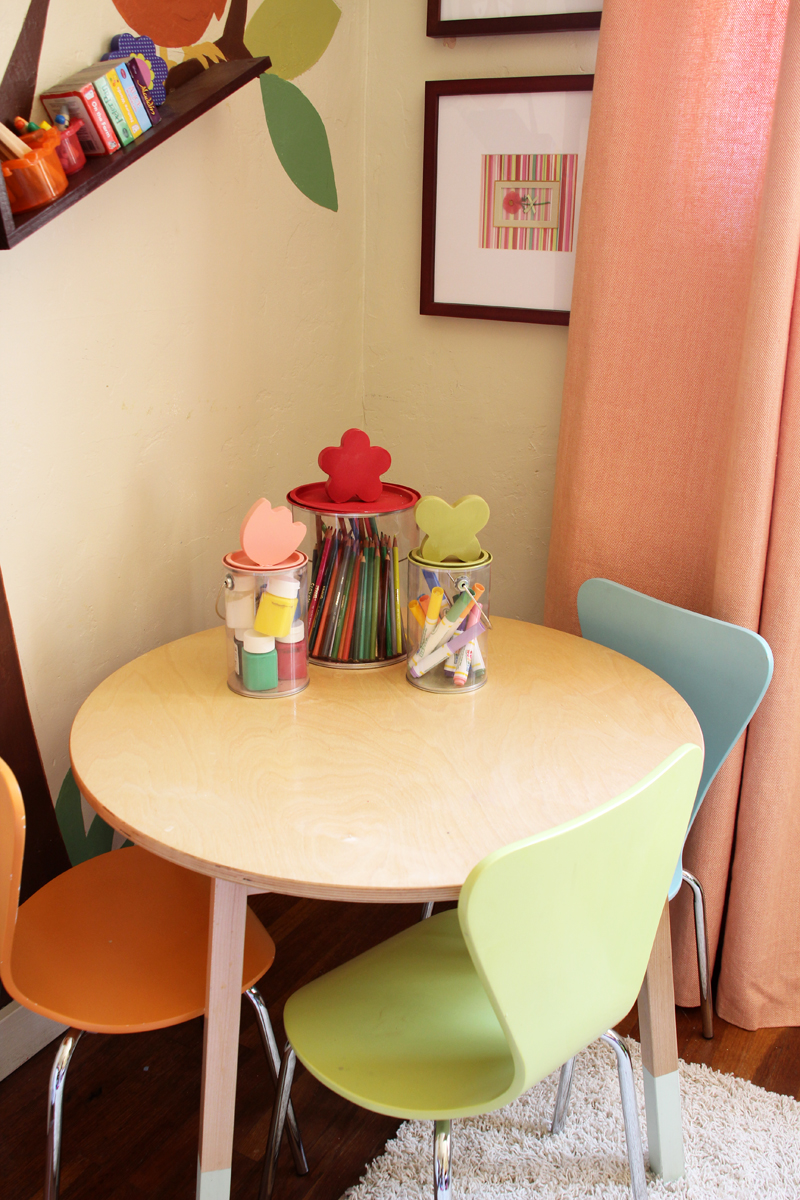 Love that the colors work well with the artwork hanging above the little table and chairs and with the painted tree and owl on the wall.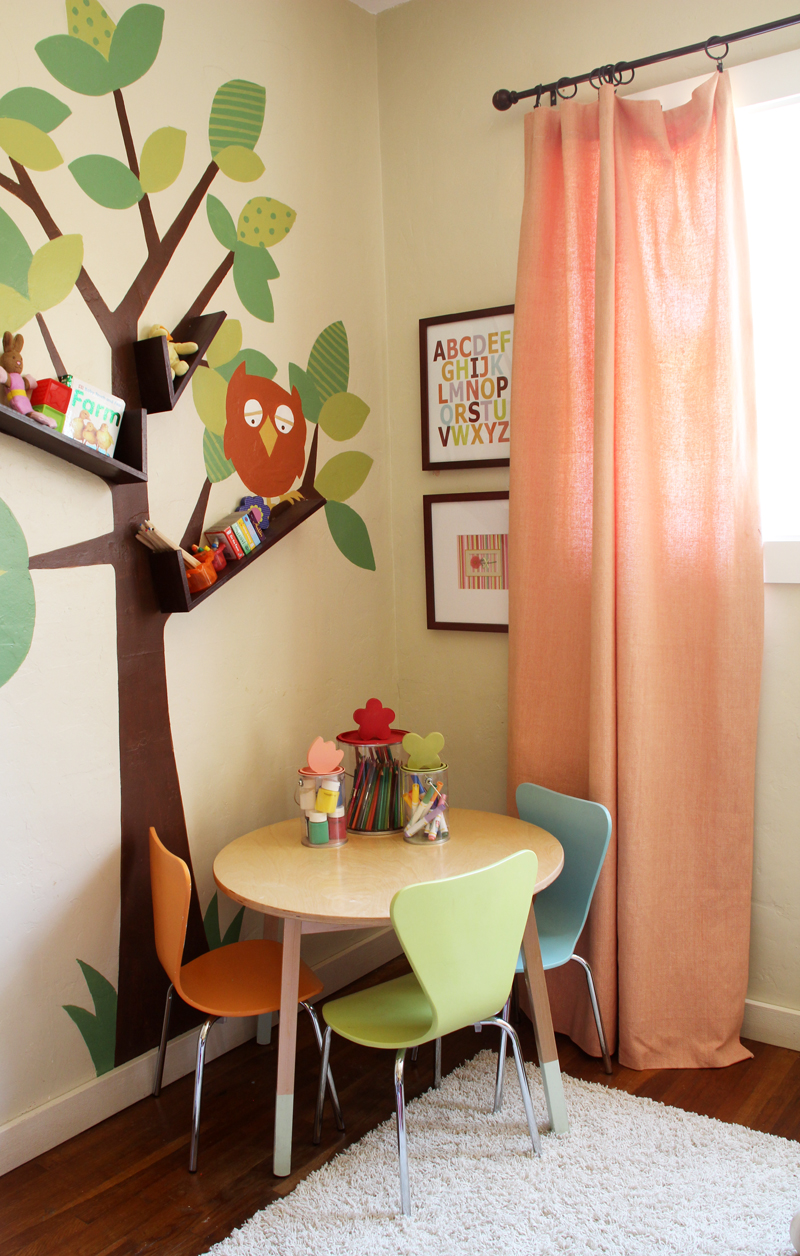 Now onto all of the other little toys (like bubble wands and figurines and musical instruments…) that are filling up Liv's room! Time for a spring cleaning.
PS all Project Nursery posts are sorted right here.
Tags:
Accessories
,
Bedroom
,
Before & After
,
Crafty Solutions
,
Decorating
,
DIY
,
Green
,
Home
,
Nursery
,
Patterns & Color
,
Pink
,
Red
,
Tutorial
Posted in
Crafty Solutions
,
DIY
,
Home
,
Liv's Nursery
,
Organizing
,
Renovating Adventures
|
4 Comments »
February 11, 2013
***Congrats to Ashley D. on winning the $100 Minted.com giveaway!! Thank you to everyone who entered***
Liv and I made little Valentine's Day treat bags for her grandparents and great grandparents (they were inspired by this version we made last year for Mother's Day with drawings by Liv and taffy), and this time around we filled the little clear bags with Hershey's kisses to officially send 'Bags of Kisses' through the mail.
BUT, before I share this super easy and customizable candy bag, I have to share that we had our little gender reveal party yesterday and it was so much fun! So neat to experience the awesome surprise of what we're having with everyone at the same time!! Caught it on camera so I can share the surprise with you all. But you have to wait just one more day or two while I edit the video! So sorry for the suspense… let me just say I was totally caught off guard!
Okay… back to the cute little baggies

.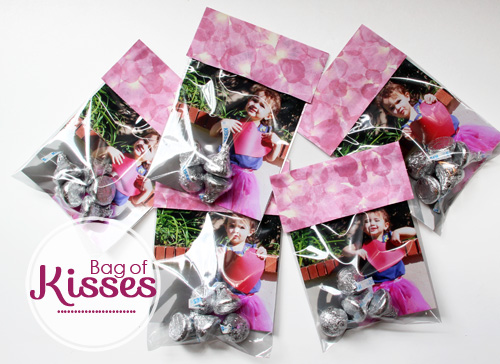 ********************************************************************************************
'Bag of Kisses' Treat Bags
m
Materials: pretty paper, clear treat bags (almost any size will work – I used 5×7 bags for this project and 4×6 bags for today's project), an optional photo or image for the bag, Hershey's kisses, paper cutter, glue/stapler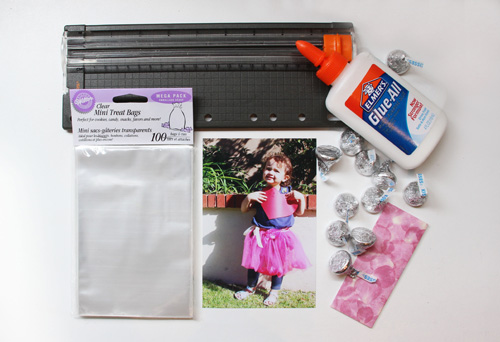 A very quick and simple project to assemble.
First up was Liv's Valentine's Day photo shoot! I actually caught Liv on a day that she was wearing her little tutu (as a 'ballerina' – which rarely happens) and handed her a construction paper heart to play with (I made two which turned out to be the smartest plan because the first was crinkled and torn before I had even pulled out my camera).
Then we shot away!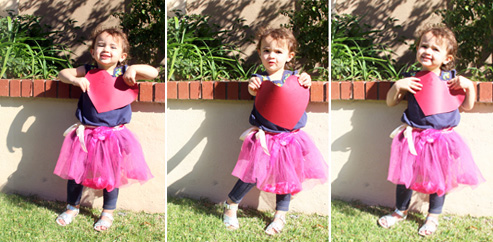 500 pictures later (in about 45 seconds) and Liv was smiling and standing and carrying the heart in the same photo. I love that middle shot – I always have to take a ton, but it's always worth it.
Actually this might be my favorite: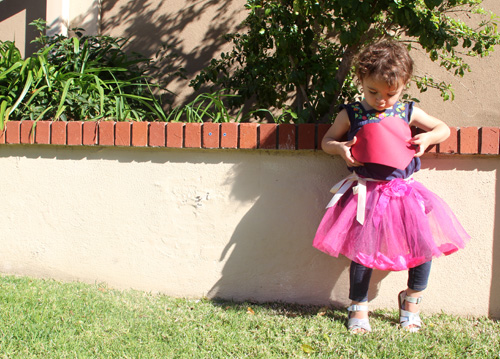 We turned it into the little card that we'd send out with the bags: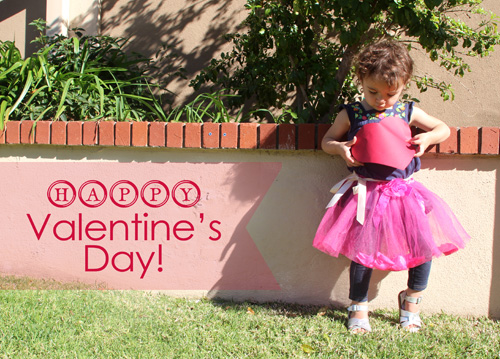 Ahhh and here's Liv last Valentine's Day! One year makes a huge difference.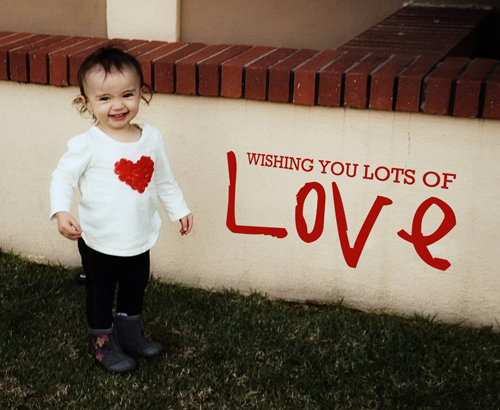 After processing the photos, I ended up cropping both the bag and photo to make the finished bags just a little smaller.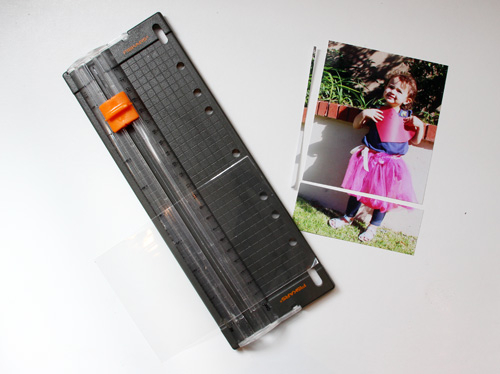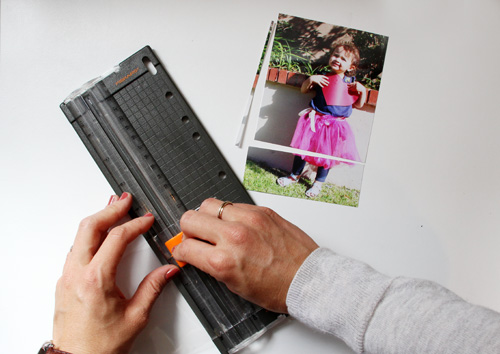 Then into the bag went a handful of kisses and on the top of the bag a cut rectangle of a pretty paper (from the scrapbooking aisle) that was folded in half. You could easily staple the top directly onto the clear bag as well, but I tried something new for a seamless look this time around with glue.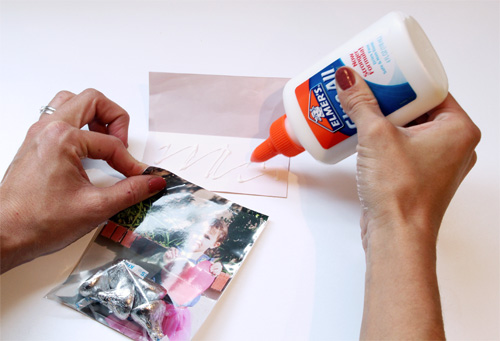 Finished!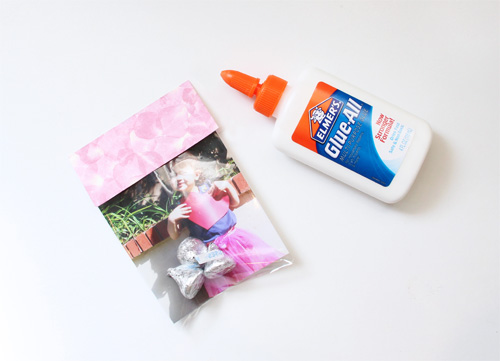 I couldn't decide on which pose I loved best, so I made several of each: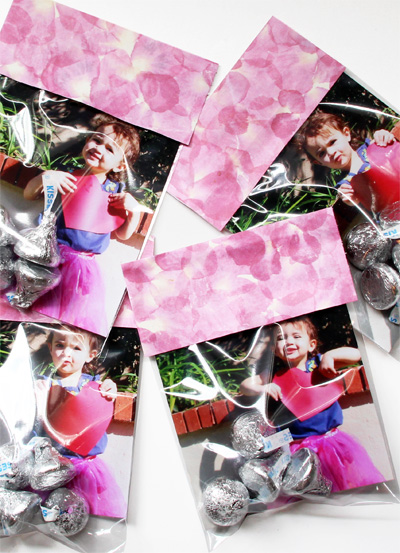 Here's the entire project in one quick collage: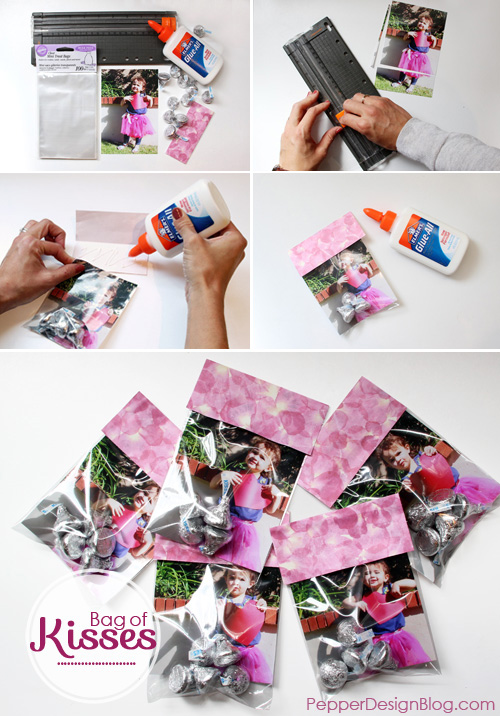 ********************************************************************************************
This is a favorite and easy project in our house, we've made them for Mother's Day (which I referenced above here) but you could use them for parties (they make great favor 'thank you' bags) or as treats for school. You could really add any image (be it a favorite photo, paper, fabric square, etc) as the backdrop or even leave it blank as a clear bag. Use a solid piece of paper at the top to include a little message, too! And we've also filled these with miscellaneous goodies such as confetti or glitter just for added fun.
Valentine's Day is just around the corner! Here's a quick link to search by all heart-day related posts.
Tags:
Crafty Solutions
,
Parties & Entertaining
,
Party Favors
,
Pink
,
Red
,
Tutorial
,
Valentine's Day
Posted in
Crafty Solutions
,
DIY
,
Family & Friends
,
Favorites
,
Handmade Gifts
,
Holidays
,
Olivia
,
Parties & Entertaining
|
6 Comments »
December 19, 2012
I'm working on adding a few homemade Christmas touches each year to our collection and this year I decided to DIY a new pillow cover for our couch. The sectional is an ever-changing pillow hodge podge (I tend to just cover up a current pillow with a new cover, so sometimes you can find two or three previous designs underneath

) and I scooped up this particular basic tan throw pillow cover from Ikea for $6.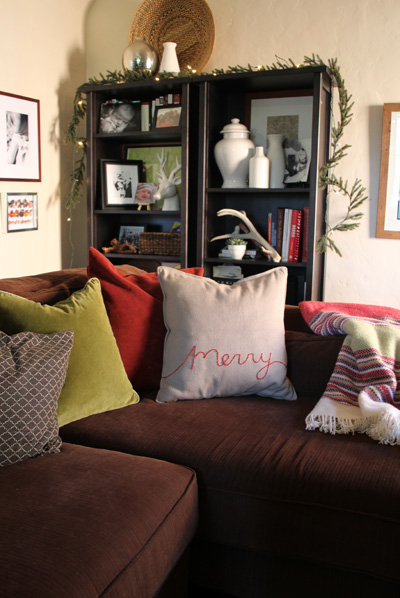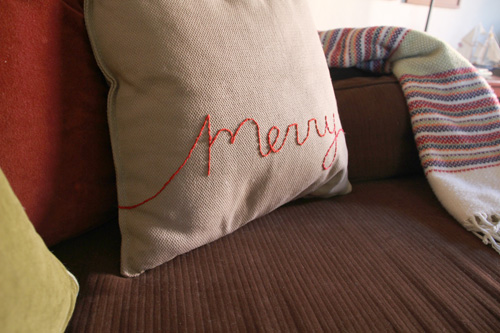 I thought about felting an ornament or Christmas tree design onto the front (maybe a future project?) but then recalled seeing pillows of seasons past with a simple, scripted message and decided to give it a go.
The toughest part was deciding on what word! I love the pretty flow of 'Merry' and the joyful message – or state of Christmas being – that it conveys. It's a good word to see day in and day out during this special time of gratefulness. Plus 'M's are just too fun to write out in cursive! (yeah for an 'M' first name)
Supplies for this project included two bright red embroidery thread bunches, an embroidery needle and my blank pillow cover.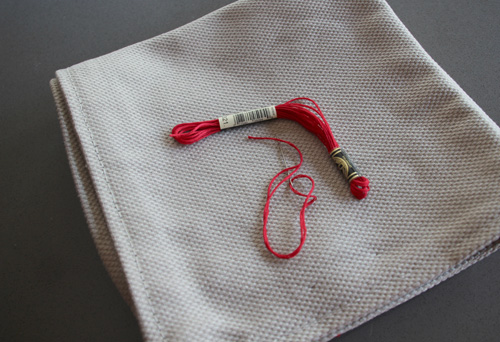 An embroidery stitch is quite simple, it involves a basic back stitch technique so that while you're stitching forward in your design, each stitch will head backwards as you go. Forgive the left hand awkwardness of this shot while I balance my camera in the other:

So my forward progress is on the reverse side of the pillow (though make sure you're not stitching the two pillow sides together) and my needle pops up and out of the fabric about 1/4 of an inch out from the previous stitch. Then I head back towards that previous stitch to cover up my 1/4 fabric gap. The back stitch allows me to overlap my stitches just a hair so that the embroidery might appear to be close to one continuous line.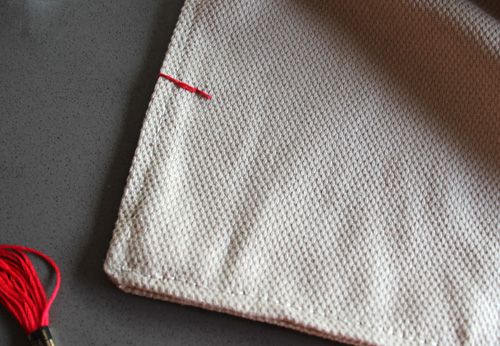 Writing out the entire word 'Merry' took a couple of hours one late evening while we had some friends over. I like projects that occupy the hands but don't require too much thinking

.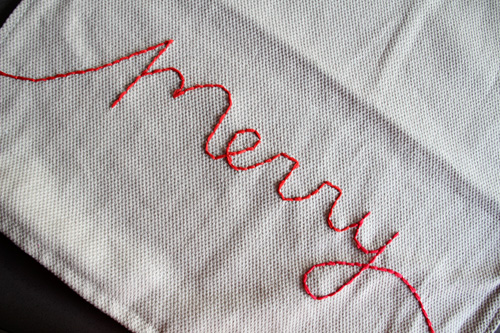 I first attempted to draw a light pencil line on the actual fabric to give myself a template to follow with the needle, but quickly found that it disappeard into the color of the tan fabric too quickly. Anything darker and it would have been harder to erase off of this heavily weaved fabric. Update: Sheila just shared with me that you can purchase a vanishing fabric marker that will write purple and disappear by the next day! Perfect!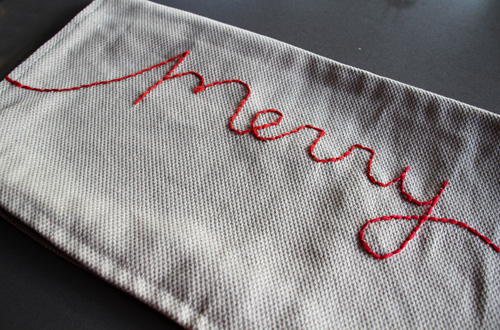 In the end I wrote out 'Merry' on a card and free handed the pillow. The imperfections are part of what makes it special, though I see areas where I would have dipped my cursive down further, should have slanted my 'y' more, or might have added more flourish for interest. Ah well.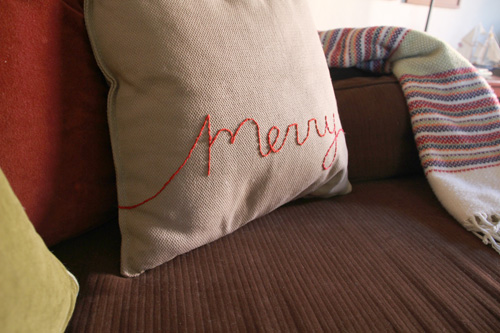 I'm really excited with how this project turned out given the time I worked on it and the easy update it makes to the living room! When Christmas is over I can pull off the cover of one of my favorite pillows (those ikat tan ones left over from the nursery glider fabric) that's hiding below and pack up the 'Merry' cheer into my Christmas boxes for next year.
Christmas is just around the corner! So exciting!
Tags:
Accessories
,
Christmas
,
Crafty Solutions
,
Decorating
,
DIY
,
Home
,
Living Room
,
Red
,
Sewing
,
Tutorial
Posted in
Crafty Solutions
,
DIY
,
Holidays
,
Home
,
Our Living Room
,
Renovating Adventures
|
3 Comments »