June 28, 2010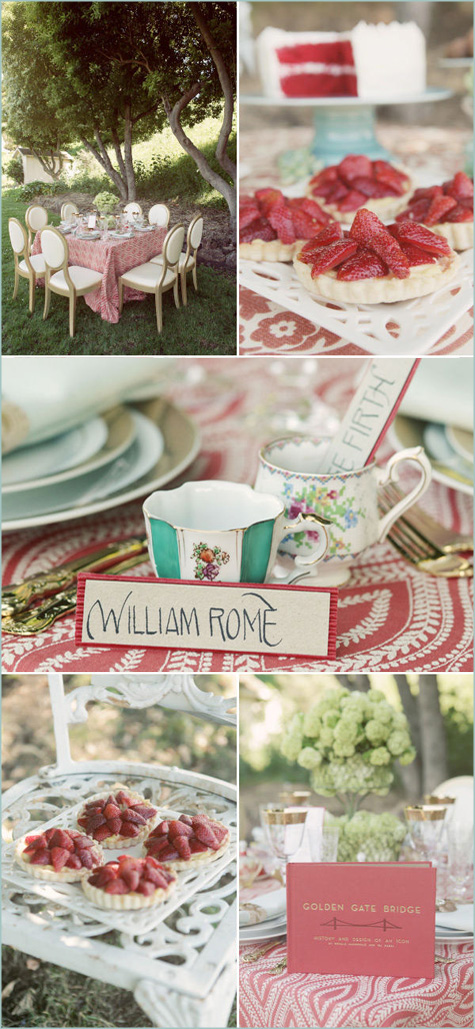 Kevin and I love to host impromptu dinner parties every couple of weeks at the house. We might find ribs perfect for smoking on sale at the grocery store that morning or perhaps Kev just carbonated another round of his favorite home brew (we always have a batch going…) but by 7 that night we love nothing more than good friends and good food crowded around the outdoor fireplace.
So while we keep it mellow… I couldn't help but recently be inspired by a fancier version of an outdoor dinner party. SMP recently featured this red & teal San Francisco-themed spread (and all of the gorgeous details) by photographer Edyta Szyszylo.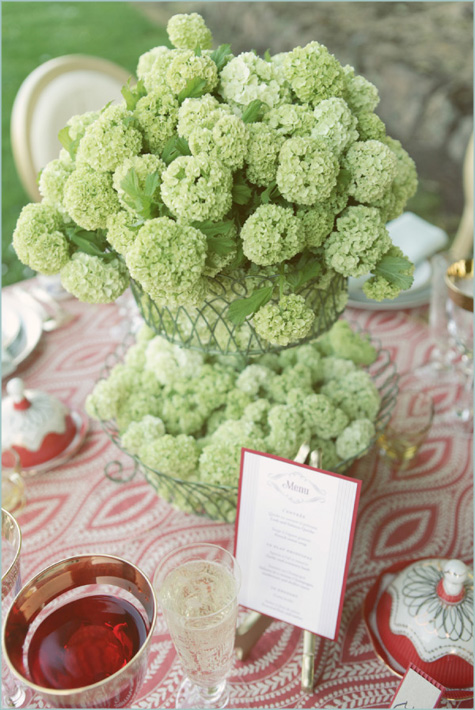 I love love the printed tablecloth (so easy to make yourself with a fabric remnant and a bit of hem tape or spray glue) and the brilliant green viburnum (hydrangea's little sister) centerpiece made out of a thrift store two-tiered planter.
Details: "Brocade and broach napkin rings, vintage demitasse cups as favors and place card holders, as well as the wrought iron lounge furniture were all added for Victorian appeal. The gold-rimmed dinnerware, gold flatware, gold dining chairs and gold-rimmed wine glasses added some glamour and elegance to our outdoor setting."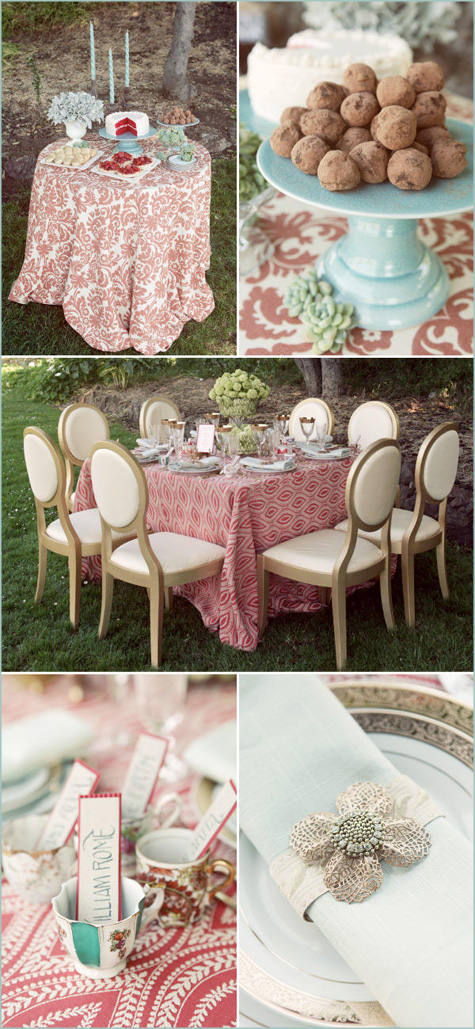 To keep the photo gallery going… follow the jump for a many more delicious pictures! Read more »
Tags:
Birthday
,
Blue
,
Bridal Shower
,
By Color
,
Decorating
,
Dinner Parties
,
DIY
,
Parties & Entertaining
,
Patterns & Color
,
Red
,
Teal
,
Turquoise
Posted in
Parties & Entertaining
|
4 Comments »
June 3, 2010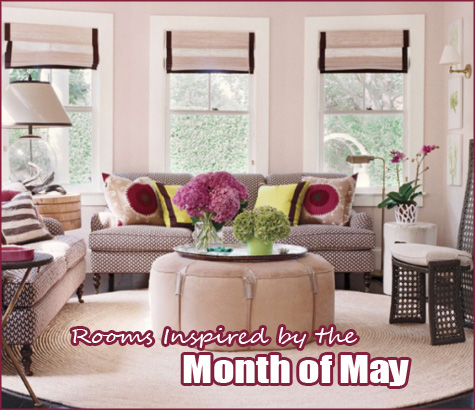 May has come and gone… and so quickly! One minute you're enjoying your first truly warm weather days and the next Memorial Day is celebrated and over. But it's too sweet of a month to be forgotten! Here's a quick roundup of my favorite May inspired rooms.
There's something about shades of coral, fuschia, magenta, pink, raspberry… these colors remind me of May.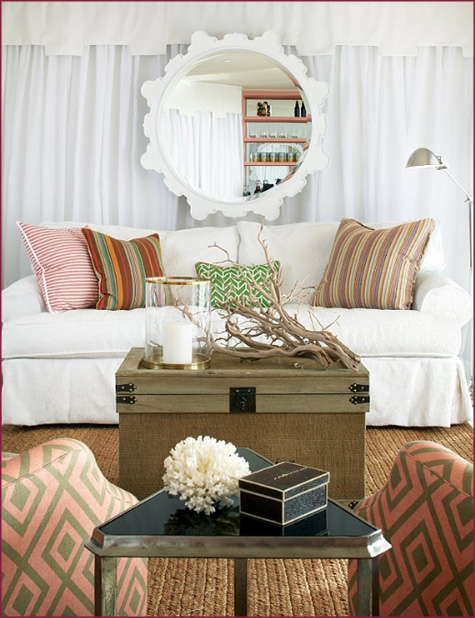 Accent colors can be as overwhelming as painted walls or as subtle as a few throw pillows or a bowl of fresh flowers. I love how all of these rooms use various shades of pink in different and unexpected ways.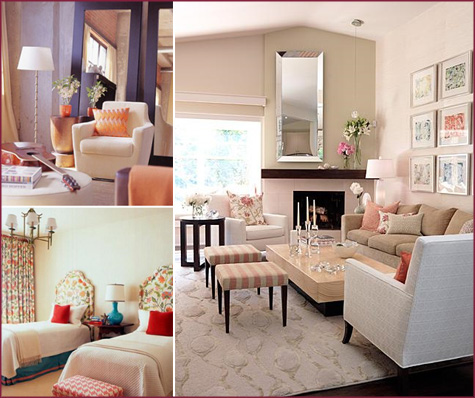 I love the wall collage and the pink striped ottomans in the above picture – and the soft burgundy accents in the below image keep the room a step above neutral. See the below occasional chair? Only the outside is upholstered in that fun, geometric pattern – what a great idea.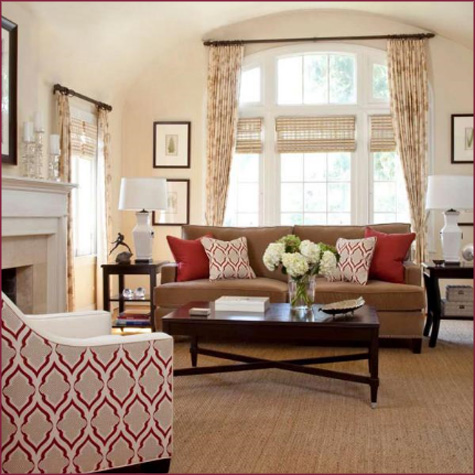 This room would be fun inspiration to modify into a parlor (we should bring those back again…) or dressing room or little girl's room: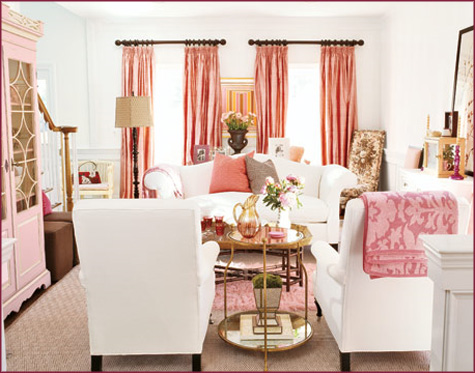 Here's to May – we will see you again in twelve short months!
For more Rooms Inspired by the Month, check out this link. Images courtesy of Decorpad, Country Living and Full House blog.
Tags:
Coral
,
Decorating
,
Home
,
Living Room
,
Pink
,
Purple
,
Red
,
Rooms Inspired by the Month
Posted in
Home
|
4 Comments »
May 31, 2010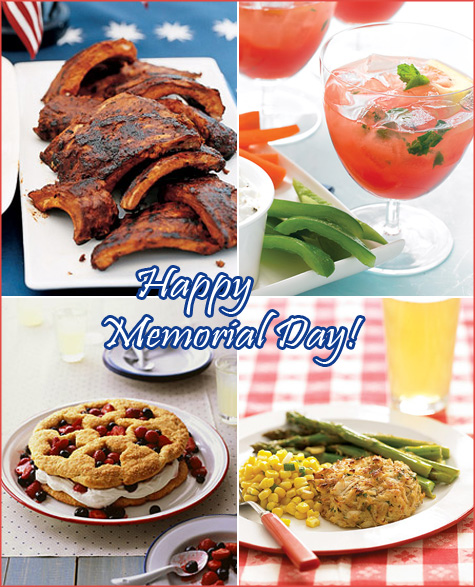 Happy Memorial Day and happy BBQing! Hope you're having a relaxing and restful weekend.
Recipes from Martha Stewart: baby-back ribs, watermelon lemonade, summer shortcake, crab cakes with corn salad and garlic asparagus
Tags:
Blue
,
July 4th and Labor Day
,
Red
,
white
Posted in
Parties & Entertaining
|
3 Comments »