May 21, 2012
Hope you had a lovely weekend! We celebrated my birthday on Saturday night (so fun) which made it an extra special weekend for me. My actual bday is tomorrow and I'm looking forward to celebrating again with Kevin and Liv. There's nothing like a little family time to make for a great day.
During a bit of my spring cleaning around here, I came across a camera card full of photos from this time last year, including this adorable Dr. Seuss baby shower thrown for our good friend Grace and her baby boy Cyrus! I had made Dr. Seuss-themed cupcakes for the special day and I forgot how much I had loved using the creative children's books as inspiration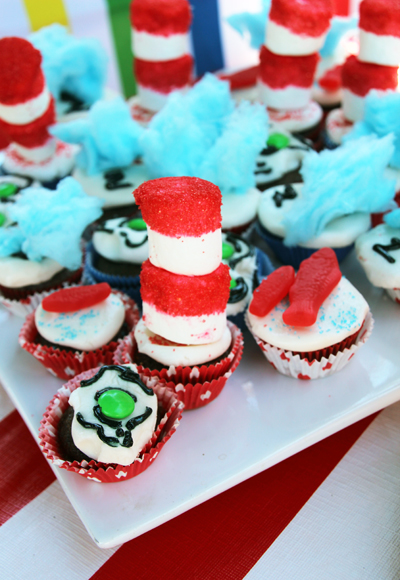 The shower was absolutely adorable with lots of Dr. Seuss inspired decorations and food. Great job Cassie and Denise! As for my part, I put together four different cupcake designs based off the One Fish Two Fish, Green Eggs and Ham, The Cat in the Hat and Thing 1 & Thing 2 books.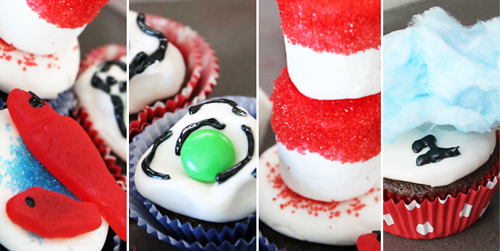 I'm pretty sure I used a standard boxed cake mix for the actual cake part of these guys, but when it came to the neck up I had the chance to get a little creative. I had fun creating four unusual looks and used inspiration from plenty of images found 'round the web, two designs that I especially loved were this one and this one.
The base for each of the four different cupcakes was a flat round icing disk that I made out of a pliable homemade fondant. I must have spent an hour yesterday looking for the recipe I used 11 months ago to share here – but I can't find it anywhere… argh. You can actually purchase pre-made fondant and marzipan from craft stores or there are a ton of great DIY recipes out there (the marshmallow ones look especially intriguing). Now I need a new go to!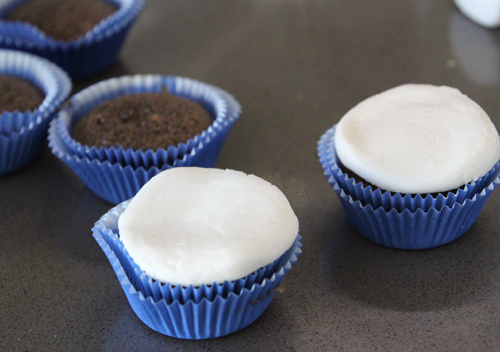 My one suggestion for creating your own is to watch how much you mix your icing. You want the fondant to be stiff enough to mold but you also want to avoid any cracking when it begins to dry. Aim for playdough consistency. (This is for small projects – if you were covering a cake with this stuff I would say that playdough consistency is far too soft and will lead to several lumps and bumps).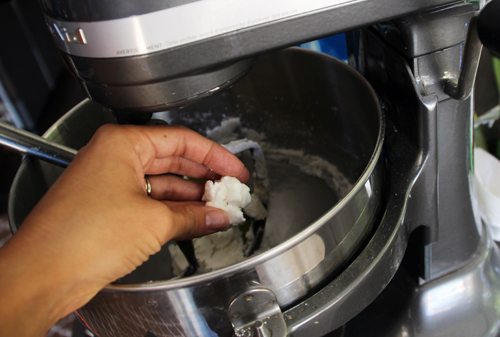 First up in assembly were the Cat in the Hat cupcakes. I dipped marshmallows halfway up in a small bowl of water and then in a dish of red sugar (or red sprinkles) to create the illusion of a striped hat. I stacked two marshmallows onto a skewer (that has been cut in half to size) and used the pointed end of the skewer to hold the flipped over hats into place on top of the cupcakes.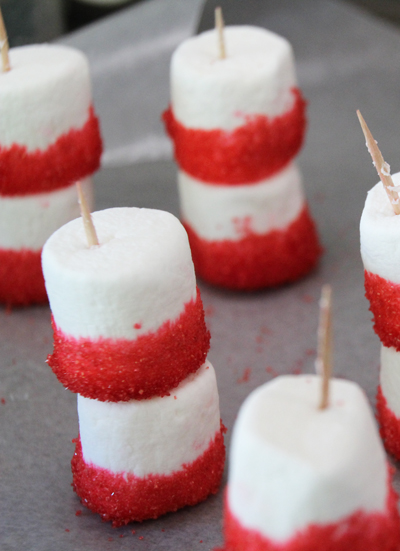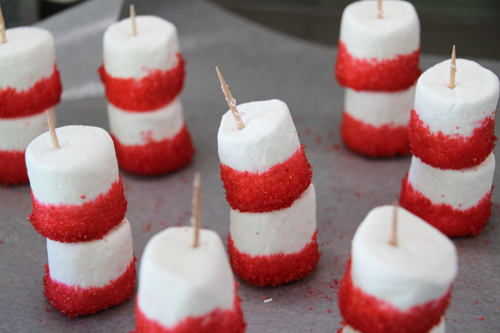 The One Fish, Two Fish cupcakes were as simple as a bit of blue sugar, a couple of Swedish fish and a small black icing dot to accentuate the eye facing up. A small dot of icing will also hold the fish in place.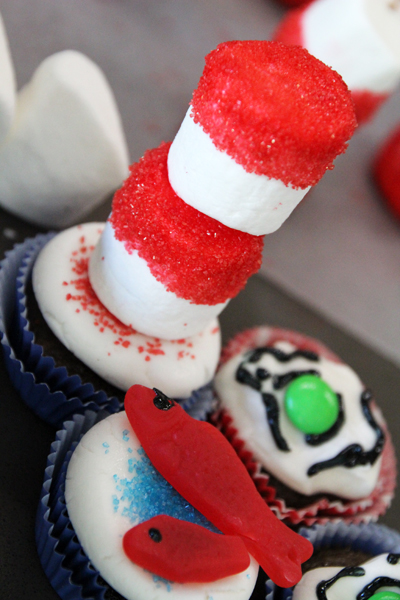 My Green Eggs and Ham cupcakes were actually just green eggs without the ham… but I used a green M&M to serve as the egg yolk and reshaped the flat round icing disk into more of an over easy egg shape. Black icing (bought pre-made in a squeezable tube) helped to outline the cracked egg.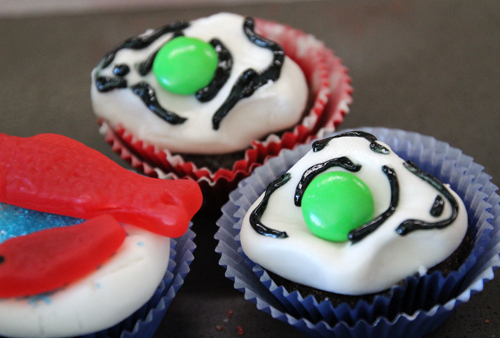 Tracking down blue cotton candy for the Thing 1, Thing 2 cupcakes was a bit more challenging… luckily we had visited Sea World the day before the shower and I snagged a cotton candy on my way out for 1/2 price! A glob of semi-shaped stringy cotton candy helps form the hair for Thing 1 and Thing 2, and a simple '1′ or '2′ in black icing finished the look off.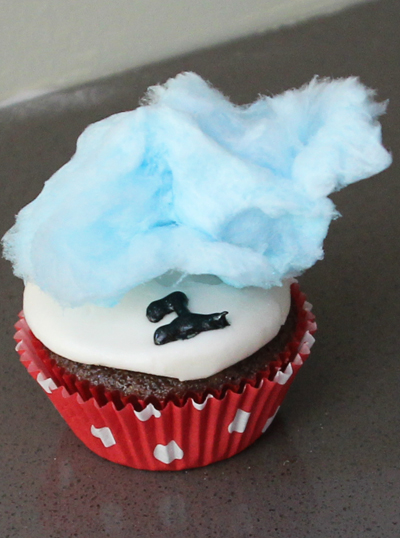 Cotton candy has a tendency to melt when in direct sunlight! Lesson learned. Best to bring out the dessert just before everyone gets ready to eat it lest you have a melted, sugary, globby mess on your hands: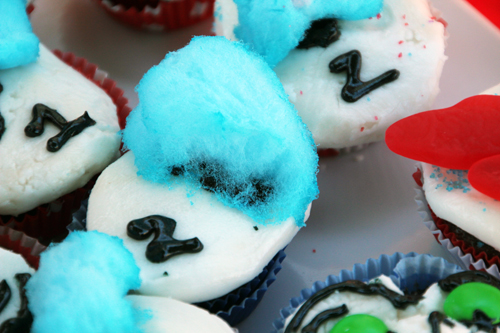 All in all a success though! And so much fun to put together. I think my favorites were probably the Cat in the Hat cupcakes and next time I might try and cover that fondant base in a red sugar too for a little extra pop.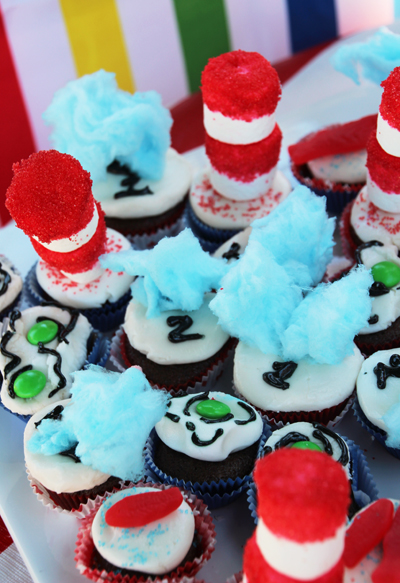 More from the shower!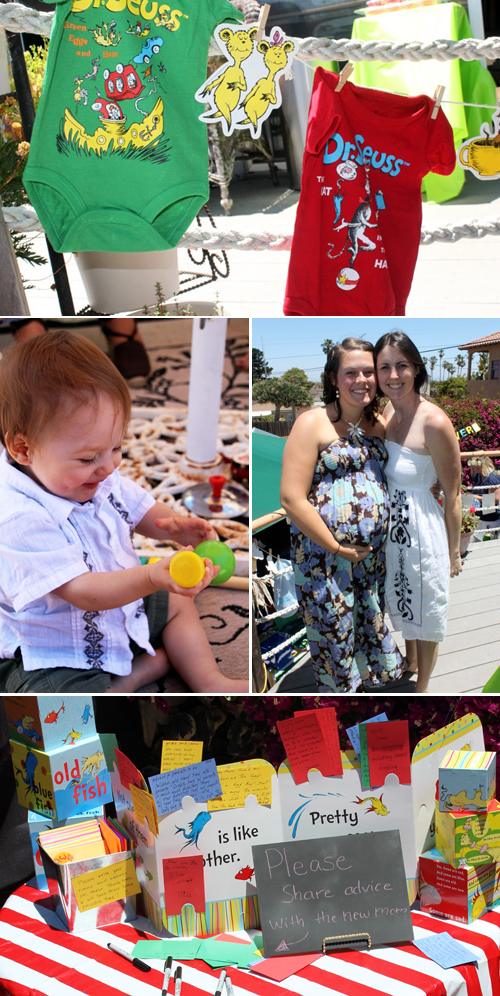 That's the guest of honor and the host there in the center above, and several of the cute ideas, labels, food and decor from the rest of the day.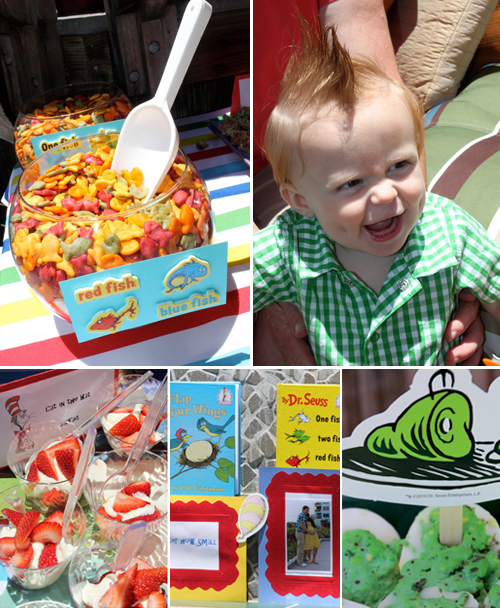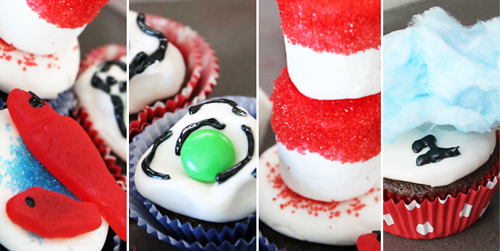 Dr. Suess is a classic that I cannot wait to share with Liv when she's a little older. And the books – amazing. I think my favorite is probably 'Are You My Mother?', do you remember that one?
Tags:
Baby Shower
,
Birthday
,
Blue
,
Desserts
,
DIY
,
Kids Party
,
Parties & Entertaining
,
Recipes
,
Red
,
Tutorial
Posted in
Crafty Solutions
,
DIY
,
Family & Friends
,
Parties & Entertaining
|
5 Comments »
April 2, 2012
Easter is just a week away! It is a favorite holiday of mine for so many reasons… one of those being the significance of new life, the passage of winter to bright, fresh spring. It's also a holiday that we celebrate with extended family. This year my aunt is pulling my Dad's side together to spend time with my Grandma who is turning 85 and I'm really looking forward to it.
Speaking of fresh, spring colors, these tablescape ideas are right up my Easter brunch alley. Perhaps I'll see if I can't call dibs on hosting the egg hunt next year.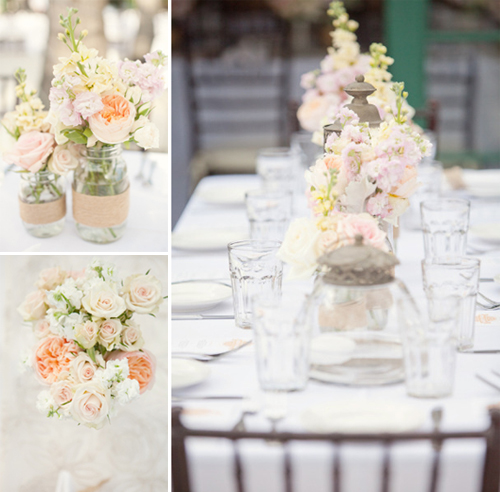 I love the muted coral, pinks and whites of this traditional table setting, and the sweet burlap, vintage jar and striped straw accents add thoughtful detail, as do the handwritten food labels.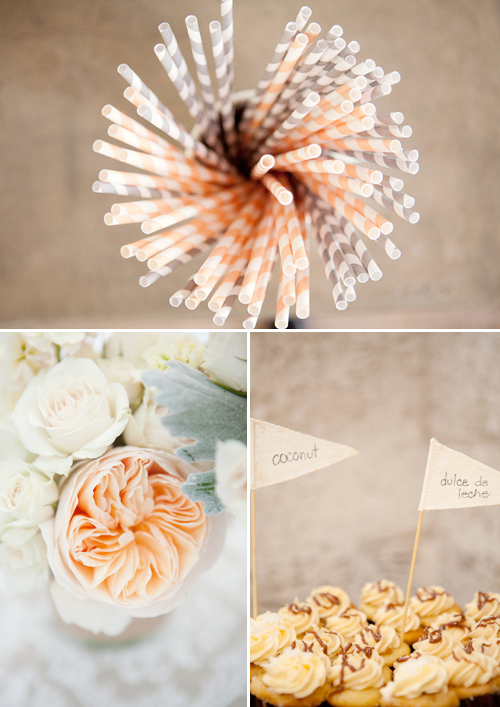 An alternative and brighter Easter palette to play with includes pops of fuchsia, burgundy and pink. Love the hanging floral spheres below (craft your own inexpensively from foam balls covered in hot glued plastic hydrangea flowers and hung from thick ribbon – we used white for our wedding five years ago and the floral spheres were hung high enough that guests were none the wiser of the faux decor).
A tablescape featuring a long fabric runner in a solid color and a hodge podge of silver vases full of wild flowers is the perfect centerpiece – pull brightly colored accents (such as throw pillows, a mirror or candles) into an outdoor space to tie the theme together.

Both parties found right here at Style Me Pretty.
Here's a nifty idea from Decor8′s contributing writer Leslie for incorporating pastel ribbons into an Easter tablescape. She suggests rummaging through your current supply to find unique ways to show off bits and pieces left over from other projects, including tying around vase stems or rolled napkins for breakfast.
And a grown-up Easter basket idea?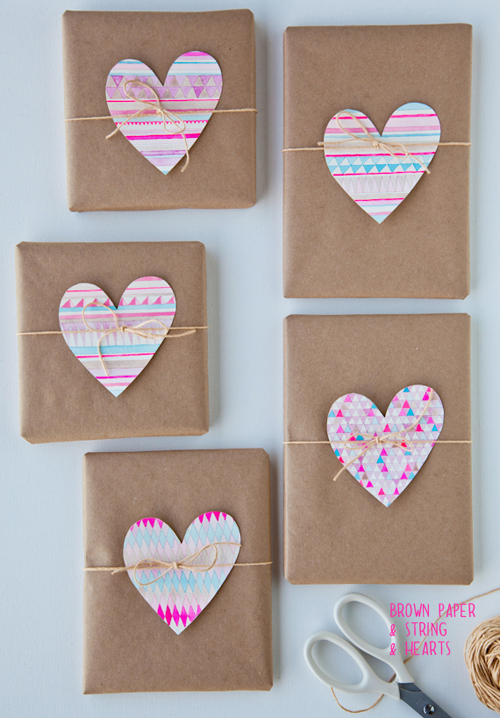 A box of trinkets, a favorite book or a boxed chocolate rabbit wrapped up in butcher block paper and tied in twine.
Happy Monday, and happy Easter preparations!
Tags:
Baby Shower
,
Bridal Shower
,
Decorating
,
Dinner Parties
,
Easter
,
Parties & Entertaining
,
Pink
,
Red
,
Wedding
,
white
Posted in
Crafty Solutions
,
Parties & Entertaining
|
7 Comments »
February 7, 2012
I have a massive stationary collection (I heart beautifully made cards) and was rifling through my stash the other day to write thank you notes for Liv's first birthday when I came across a handful of cards that I had purchased for envelope purposes only. I am often short on envelopes and sometimes buy the super cheap cards just for extras!
These cards have a sweet pattern that remind me a little of a playful Valentine's day note – and an idea was born.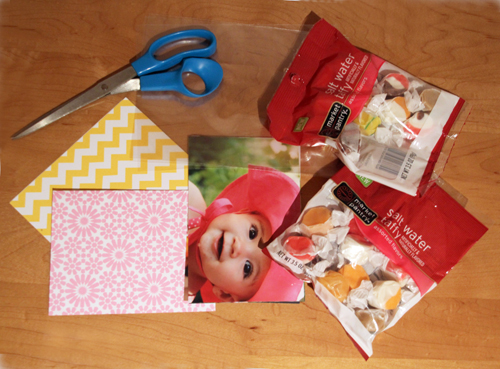 After hunting around the house I was happy to find that I had nearly everything I needed on hand for my Valentine's Day treat bags. Though I did pick up those two small bags of salt water taffy for $1 at Target.
**************************************************************
Custom Valentine's Day Treat Bags


m



Materials: cellophane treat bags (available at Michaels or on Amazon), note cards, candy, photos, scissors and stapler
To make the treat bags, I filled each plastic sack with salt water taffy and a photo of Liv trimmed to size (I keep a stack of pictures on hand from Costco to send to grandparents and great grandparents when they're needing a Liv fix). My cellophane bags were just the right size to match up with my 4×6 note cards, but if you're buying all of your materials from scratch that's something to keep in mind (you can always trip down your note cards but you don't want the bag to be wider than the cards).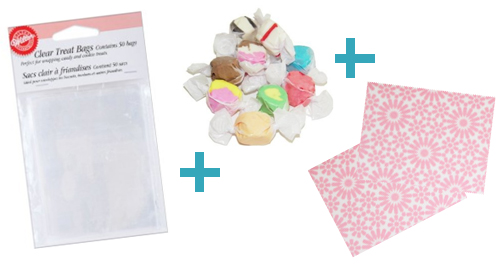 The notecards have the perfect fold for the top of your treat bags, I simply chopped mine in half length-wise (so that the card was shorter near the fold) and sandwiched the treat bag between each side of the card. Two staples held my finished bag in place.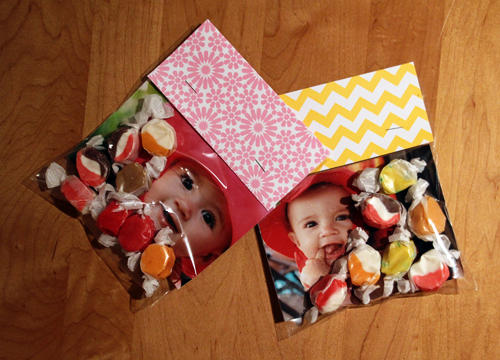 An alternative to note cards would be scrapbooking paper with a bone folder for a professional looking fold (this tool scores and creases your paper). Or for a cheaper option just fold that sucker in half and press between heavy books so that the fold stays put.
These would be great for family, but for a kid-friendly option I would fill the baggie with animal crackers and include a fun illustration instead of a photo, or perhaps a few crayons and a coloring sheet. Cookies and wrapped candies are probably the way to go since any candy prone to melting would smudge up the photo and transfer ink to the candy. Fun stamps or stickers might make for a neat note at the top of the treat bag, too.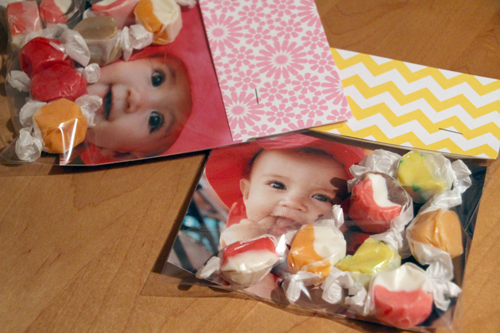 I can see reusing this ideas for party favor bags somewhere down the line… PS I can't believe it's already the middle of February!
More Valentine's Day ideas right here.
Tags:
Birthday
,
Crafty Solutions
,
Decorating
,
Desserts
,
DIY
,
Kids Party
,
Paper Crafts
,
Parties & Entertaining
,
Party Favors
,
Patterns & Color
,
Pink
,
Red
,
Tutorial
,
Valentine's Day
,
Yellow
Posted in
Crafty Solutions
,
DIY
,
Family & Friends
,
Holidays
,
Parties & Entertaining
,
Valentine's Day
|
8 Comments »