November 15, 2011
There are three trees in our neighborhood that change colors during the fall. Three. In the entire neighborhood. When Liv and I go for walks I stare longingly up at the branches willing those crisp green leaves to take on their yellow and orange shades.
When my mother-in-law was in town this past weekend it happened! Not only did the trees change color but they shed a good portion of those beautiful leaves to the ground. When she came back from taking Liv for a stroll she brought with her a huge bundle of these: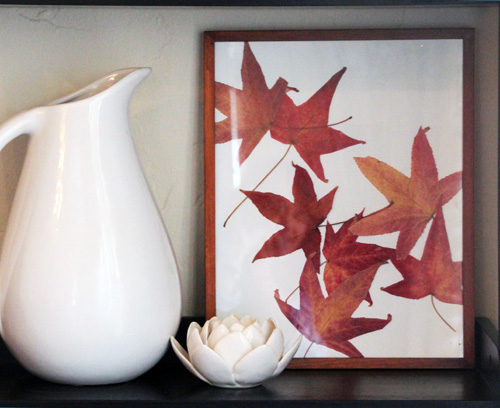 Naturally I pressed and framed them. I don't know how long they'll last but just maybe I can preserve them for the future. Waaaaay better than the fake ones I used over here.
Here they are sitting on a shelf in our dining room: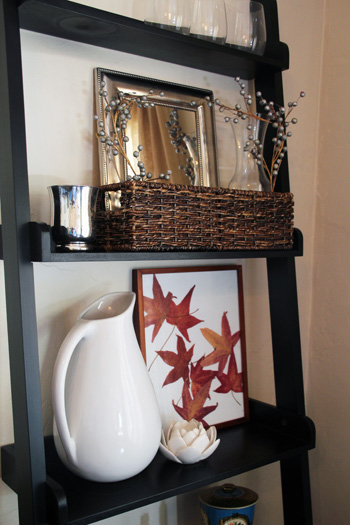 I first attempted to frame without flattening and the result was a bit sloppy, so my next approach was to organize them on my white sheet of construction paper, attach to paper with a double sided adhesive and then smoosh between two big heavy books.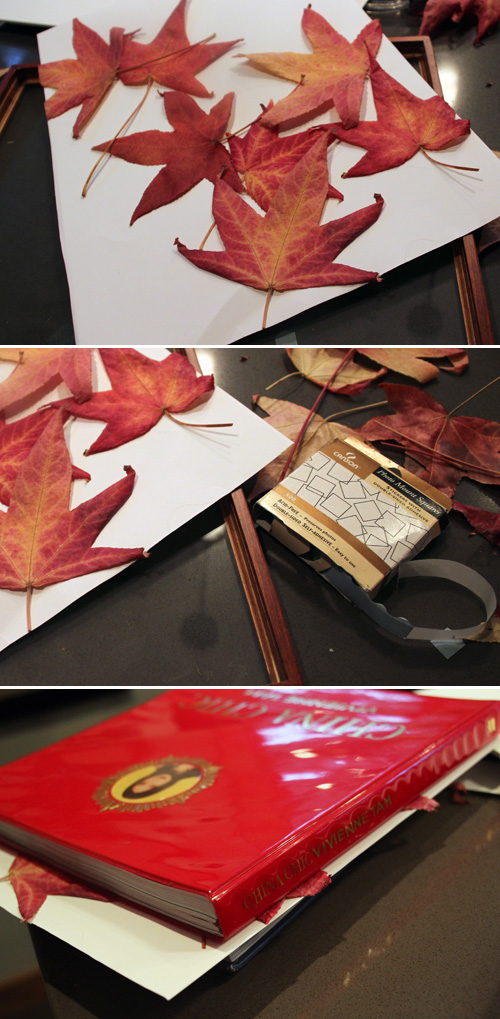 Then I added the construction paper back into the frame and sealed it up.
I love the colors, especially against the brownish red frame.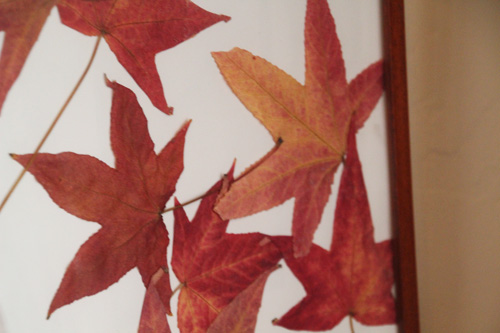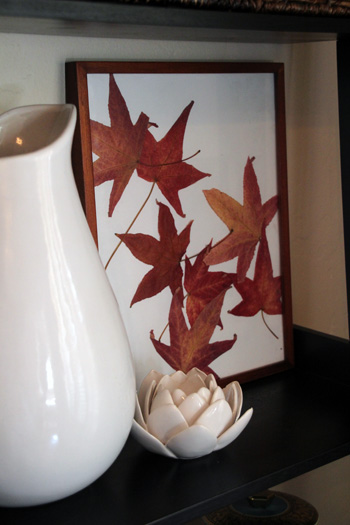 I had quite a few leaves left over so I made a very simple garland by stringing the leaves through twine. Here they are on the other bookcase: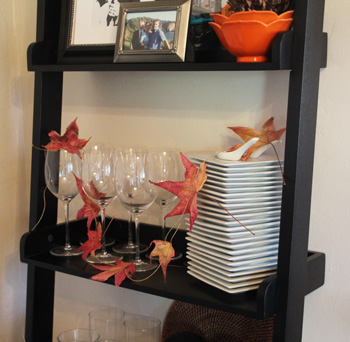 I think it's a nice little fall detail, especially when casually strung up like they are here.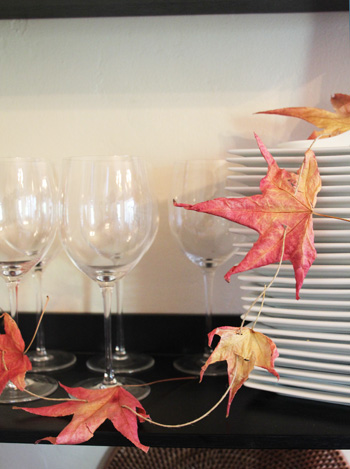 The process to make this guy was so simple and so quick: poke two holes in each leaf and string through – up and over for the first leaf, down and under for the next.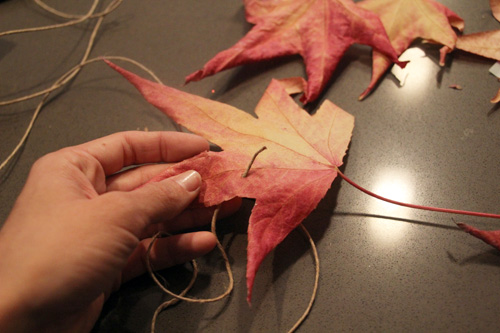 Just like you're sewing a simple stitch.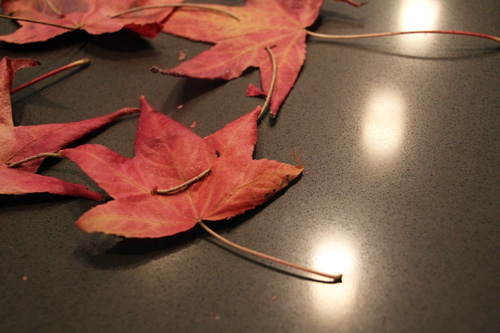 Until you've finished the whole lot:
They're perfect for the upcoming Thanksgiving holiday and I love how they bring just a little bit of the outdoors in!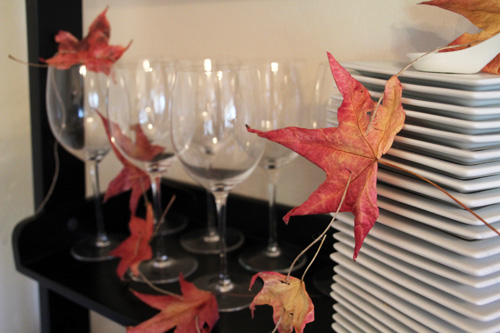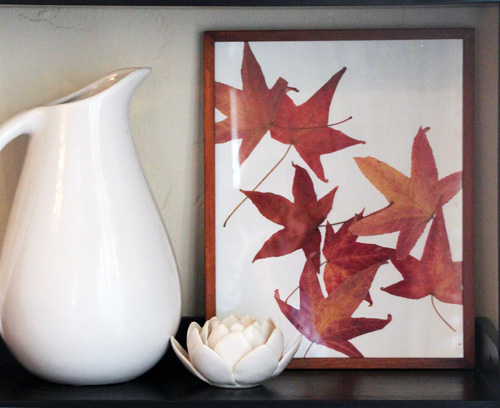 Tags:
By Color
,
Crafty Solutions
,
Decorating
,
DIY
,
Fall
,
Halloween
,
Home
,
Orange
,
Patterns & Color
,
Red
,
Thanksgiving
,
Tutorial
,
Yellow
Posted in
Crafty Solutions
,
DIY
,
Holidays
,
Home
|
6 Comments »
September 20, 2011
Here's a quick and easy way to decorate for any season. Choose your favorite flat decor, mount it on white matting or construction paper (or a patterned fabric!) and frame.
I found a few plastic fall leaves (though it would be interesting to try drying the real deal – that is if leaves changed color in San Diego

) and lined several frames that I had on hand with white construction paper for a simple look.
Side note: Kevin thinks I have a frame problem… it's true, *sigh*. I have a huge box of frames that I constantly rotate in and out around the house. Sometimes frames will sit for months, sometimes even a couple of years before their day of display comes. Most all of my frames are basic white, brown or black – nothing ornate and most made for hanging on a wall. The penny sale at Aaron Brothers is awesome – I have dreams of photo collages and what I will hang!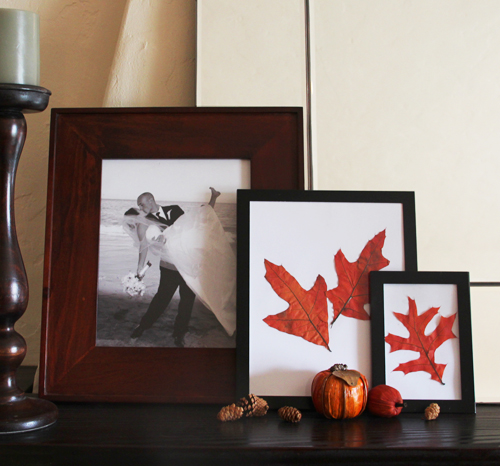 But I digress… For Christmas, I might change out the leaves for little felt Christmas trees or maybe mount doilies that resemble snowflakes on patterned fabric.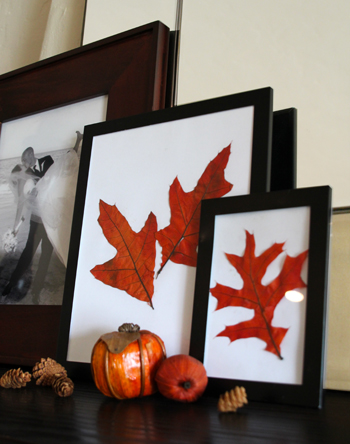 If you're not a frame addict, try switching out a few of your family photos just for the holidays – or you could always put that Aaron Brothers, Joanns or Michaels 40% off coupon to good use

.
Tags:
Crafty Solutions
,
Decorating
,
DIY
,
Fall
,
Halloween
,
Home
,
Orange
,
Red
,
Thanksgiving
,
Tutorial
Posted in
Holidays
,
Home
|
7 Comments »
June 29, 2011
There's nothing like a holiday designed just for fun in the sun. Whether you'll be spending it on the sand, by a pool or bbqing in the backyard, I hope that this adorable party (featured over at hwtm.com) provides a little Independence Day celebration inspiration.
And don't forget to check out the Entertaining button there on the left sidebar to find even more ideas for the 4th of July (including delicious recipes).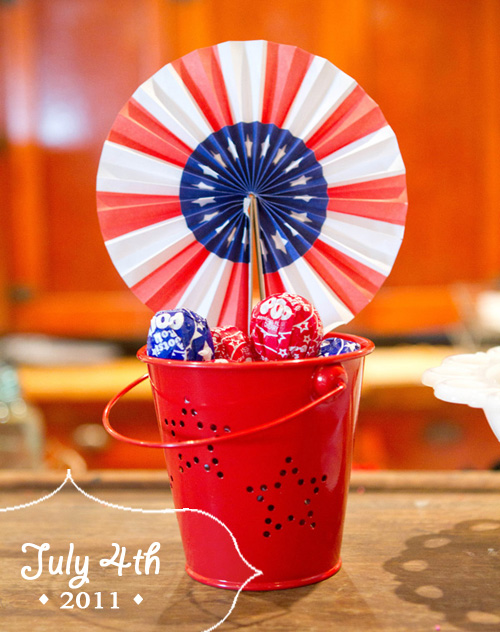 This "vintage Americana" tractor party was designed by Aubrey of Sweet Cheeks Tasty Treats for her son's birthday – but how perfect is it for the 4th of July? Invite the neighbors over for strawberry shortcake and potato sack races, and plan an afternoon of relaxing on this beautiful July day.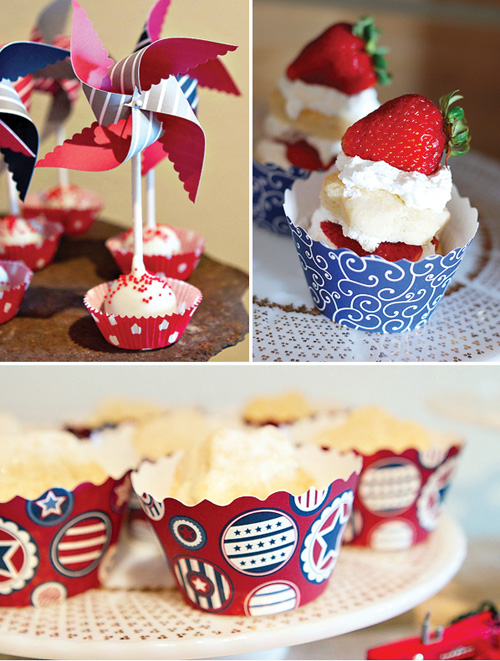 Handmade pinwheels, bunting and delicious cake pops (see how the pinwheels are the cake pop sticks? so clever) add a DIY touch.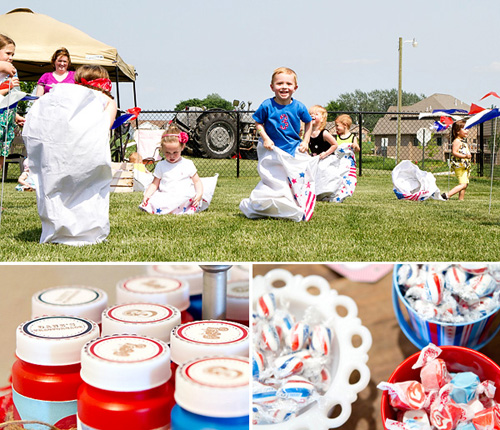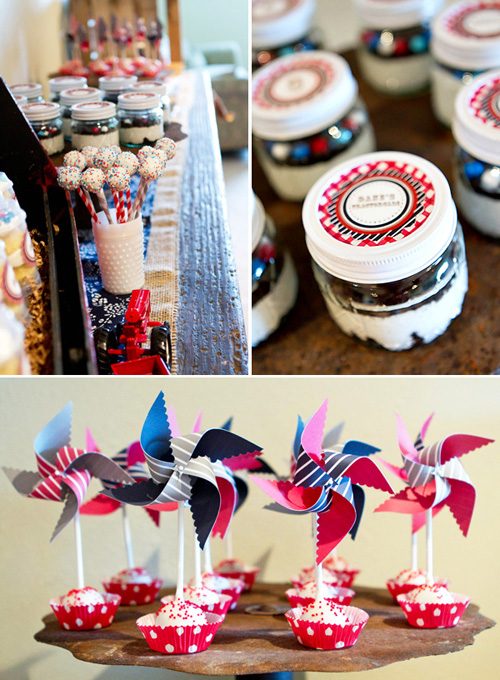 Adorable labels by Printable Parties.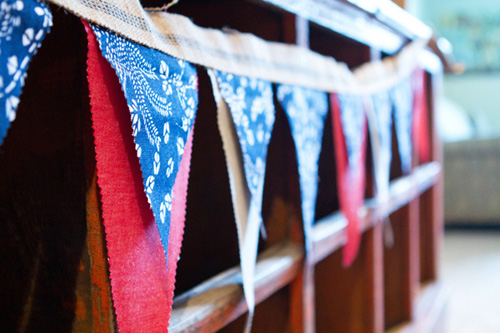 Be sure to check out the full post (and all of the fun details) over at Hostess with the Mostess.
And if you have a few extra minutes today, check out the July/August issue of High Gloss Magazine. I love all of the virtual lookbooks that are being published these days and I thought this particular issue was one of the best I've read by High Gloss. SO much inspiration! I was adding every other page to my inspiration folder on my computer.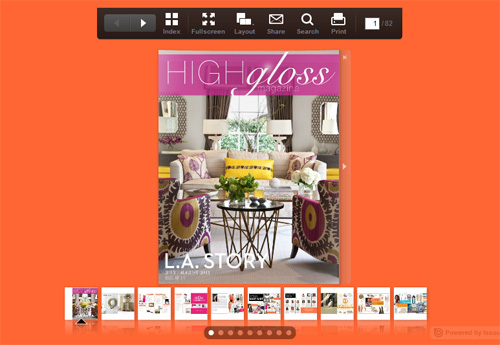 Tags:
Blue
,
Decorating
,
July 4th and Labor Day
,
Kids Party
,
Memorial Day
,
Red
,
white
Posted in
Parties & Entertaining
|
4 Comments »