February 2, 2012
Back with a quick example of how easy it is to make envelope pillows (no zippers, no buttons) out of cloth napkins and remnant fabric. I made four new pillows in a couple of hours last Saturday morning and featured them here in my Spring living room update.
The truth is, I've had several of these cloth napkins lying around the house for months if not years! They were waiting for the perfect opportunity and new throw pillows fit the bill.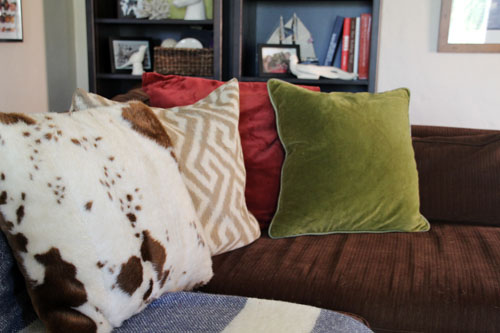 These raspberry red velvet guys are from a yard of fabric from my local discount fabric shop. The store is actually called Discount Fabric and it's in an old movie theater about a mile from our house – such a treasure so close by! The tan pillow was from a previous project and you can find its invisible zipper tutorial here.
My two new cloth napkin envelope pillows are over here on this side. Kev was seeing Christmas with my green and red mix (even though I tried to insist they were more kelly meets raspberry) and my horizontal floral print pillow helped to bring Spring back in. Next to that guy is a smaller brown trellis pillow made from three Target cloth napkins (still can be found in store, bought these around Thanksgiving). Yes, that raspberry red pillow needs a 20″ insert and not the current 18″– it's definitely on the to-do list.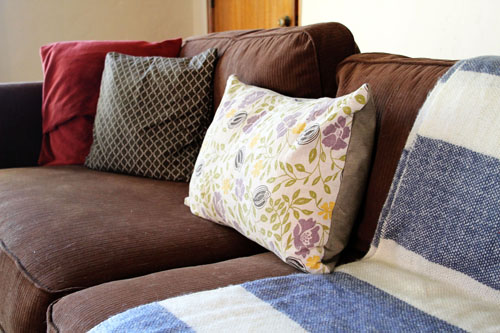 When mixing so many pillows, I try to throw a couple over-sized ones in the mix (wish I had one BIG one), a few medium throw pillows, a horizontal size and maybe a little guy. But with pillows I really think that anything goes–mix patterns, colors and sizes and when you get bored invest in a few more cloth napkins.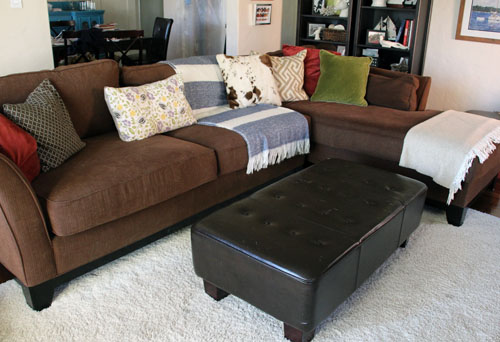 But really, cloth napkins are pretty genius as pillow covers. Since napkins already have a hemmed edge and are roughly the size of a throw pillow, they make for an easy solution – especially when there are no zippers involved!
******************************************************************************************
Easy Envelope Pillows
m
Materials: fabric, pillow insert, pins, fabric scissors (a dedicated, super sharp pair is always a plus to have around and will make fabric cutting SEW much easier. hehehe), sewing machine
I'll go through all four pillows, but let's start with the horizontal botanical print pillow. This is the cloth napkin that I've had for years – it's so pretty but it gets very little use buried in my linen basket! The back of the pillow is just a tan fabric scrap from my remnant box.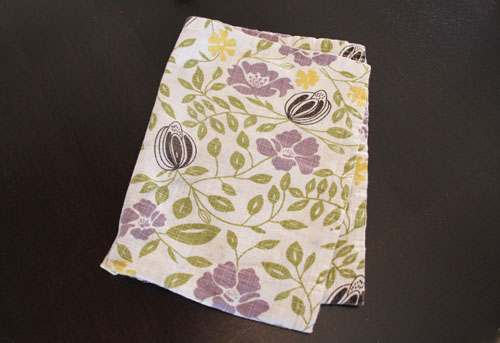 1. I began by laying out the napkin right side up to cut my fabric to size for the backing.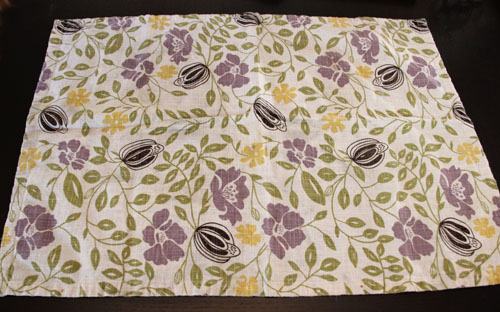 2. Using the cloth napkin as my template (I didn't alter the size or shape at all), I cut out a panel for the right side of the pillow that was roughy 2/3 the size of the front side of the pillow and folded over the inside edge about 2″. You could seam this edge but if it's folded over a far enough amount (and the raw edge is buried deep within the pillow) no one will be the wiser. These top pieces should be facing down (we're pinning and sewing this inside out).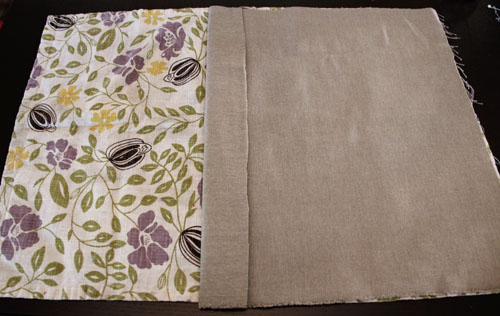 3. A similar panel is cut and folded in for the left side.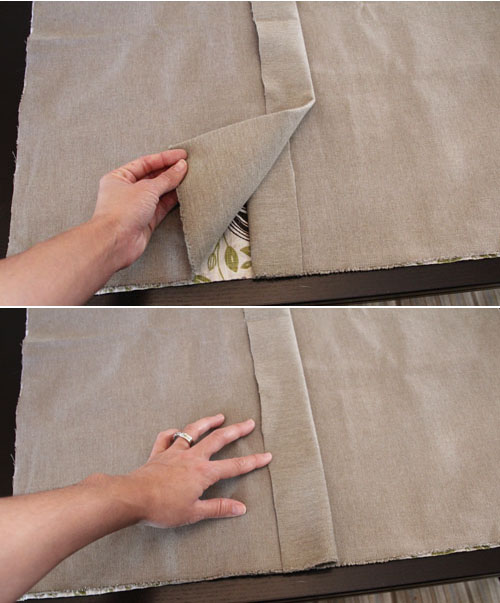 4. Time to pin!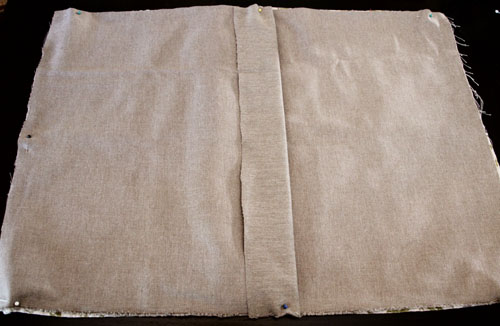 5. and over to the sewing machine we go.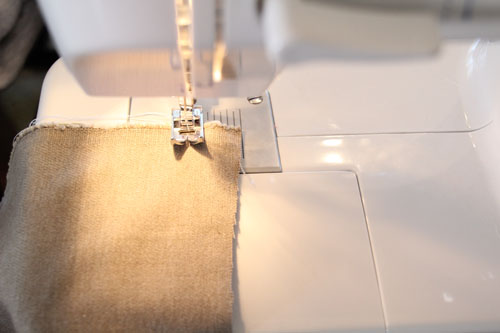 The entire pillow cover gets a simple stitch all of the way around the outer edge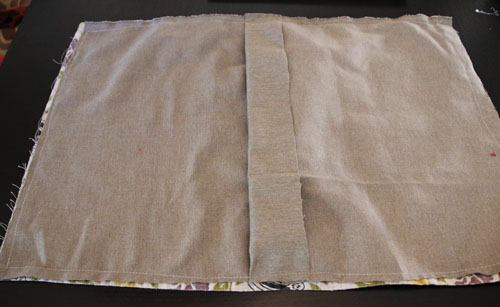 And while even cloth napkins don't have even edges, I tried to stay as close to this edge as possible. This is especially true if you're making a pillow cover for a specific size insert size (16″, 18″ or 20″ for example).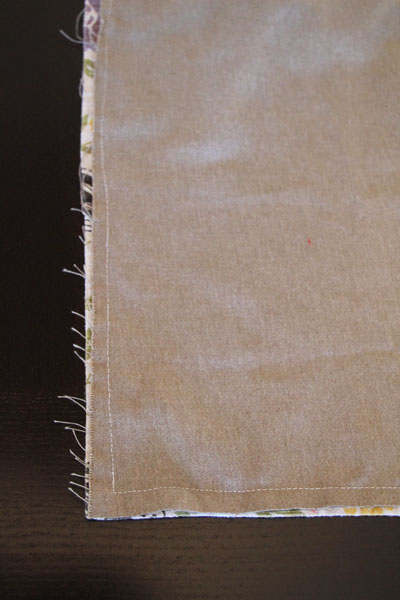 6. Flip your pillow cover outside in to reveal its final shape: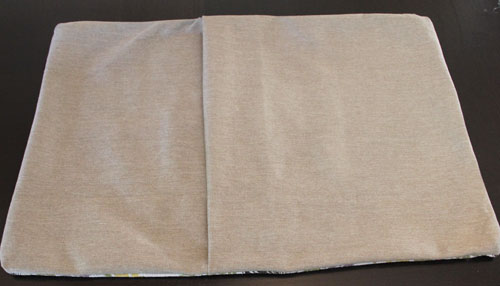 You can see here that hemming each of those folds isn't really necessary as mentioned above. The raw envelope edges are buried inside the pillow cover.
As mentioned on Monday, I used a standard bed pillow to stuff this guy (it was the perfect length and nearly the right height – but that extra stuffing added the right amount of soft 'pouf'). When it comes to buying and reusing pillow insets though, I highly recommend West Elm inserts. I've tried everything from buying my own fiber fill to upcycling old pillows (great solution if they have great inserts) but in the end I've found that the $12 investment in a good insert will be comfortable and cozy on the couch, will hold its form and will stand up to the abuse of constantly switching out covers.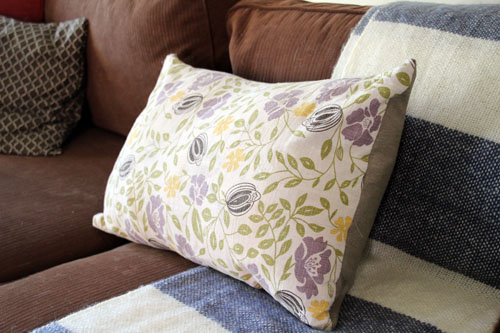 Moving on to the square trellis pillow which is actually even easier since we're starting with three cloth napkins with hemmed edges.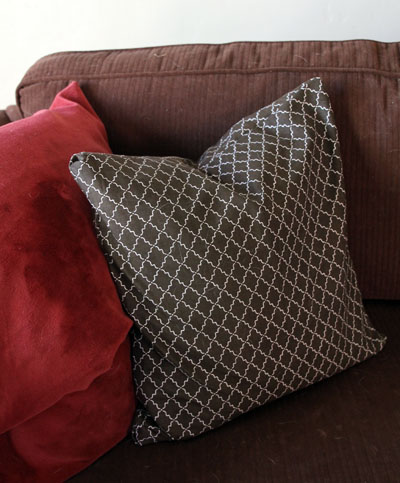 Picked these guys up at Target and actually did a test run by washing the fourth napkin first. It came out significantly faded so I didn't prewash this batch and I'm secretly just hoping that this pillow won't see any spills or stains in the near future (or perhaps I'll just let it sun dry if I must wash…).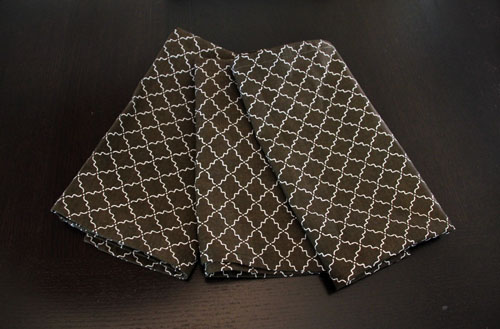 1. Following the same steps above, cut panels for the envelope backing out of two of the napkins (2/3 the size of the actual napkin should do the trick).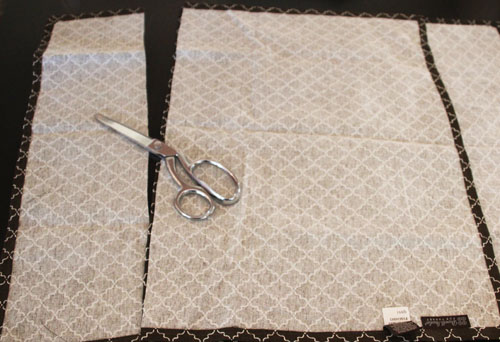 and now the other side…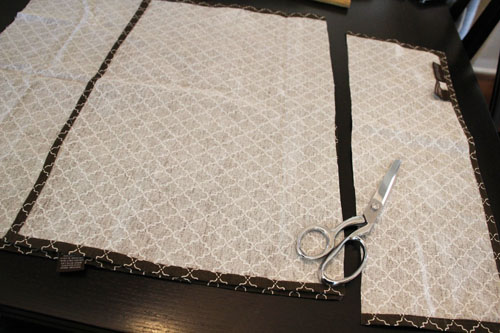 So that I am ultimately left with one whole napkin and two 2/3 napkins that were laid on top of each other and overlapping. Because the edges are already hemmed there's no folding necessary.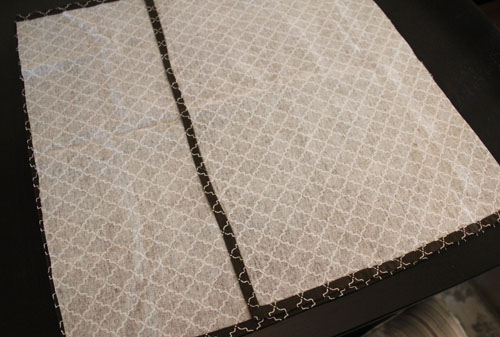 2. Pin and sew around the edges!
Wait… this is not how it's supposed to look on the other side. Bah! I forgot to start with my top piece facing up and not down!

Just keeping it real…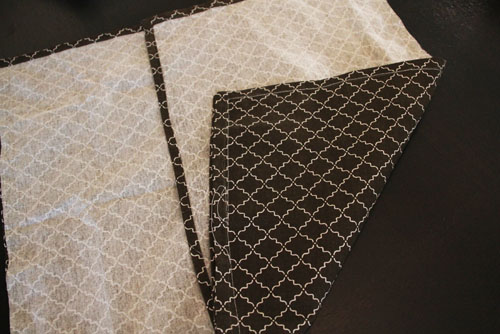 I ended up just cutting off my recently sewn edges and made a 16″ pillow instead of 18″ rather than pull out the seam ripper. It actually worked out well since the other pillows were on the larger 18″ side – a little variety is nice!
And here she is again finished: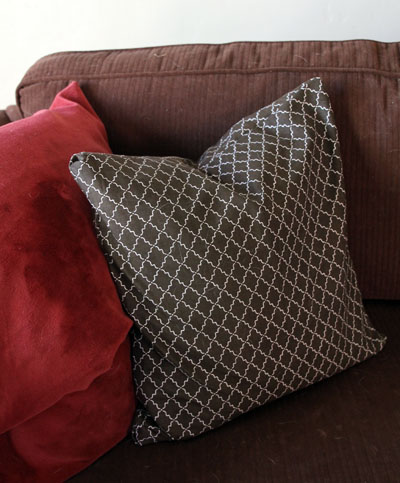 The last set of remnant pillows I made were from a yard of raspberry colored velvet that I picked up at the fabric store.
1. No need to repeat the above photos, but what essentially made this project even easier is that I was able to cut down on two hems by cutting out one long strip of fabric (my pillow was to be 20″ so my long strip of fabric ended up being 21″ in height (to account for the hem) and ~45″ in length) and then folding in each side to create a 20″ front and an overlapped envelope in the back.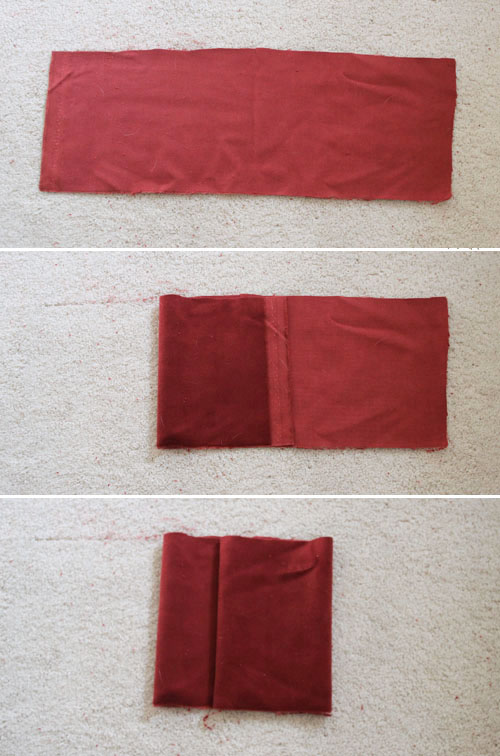 2. A simple stitch along the top and bottom and I had a cover! The above would of course need to be turned inside out before this step.
I didn't hem the envelope edges because I didn't want a stitch across the thick velvet (and I didn't want to change out the thread in my machine!), so I folded each edge and when sewing the top and bottom included the folded over piece in the hem just like the first pillow (so that it was nice and secure).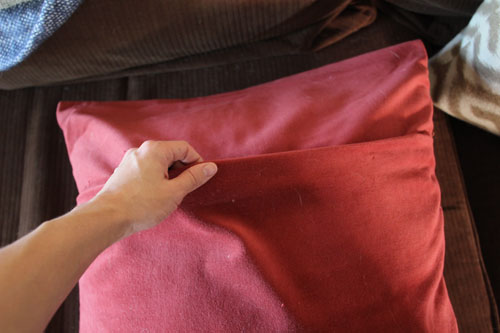 In hindsight, I should have made the envelope pocket even deeper,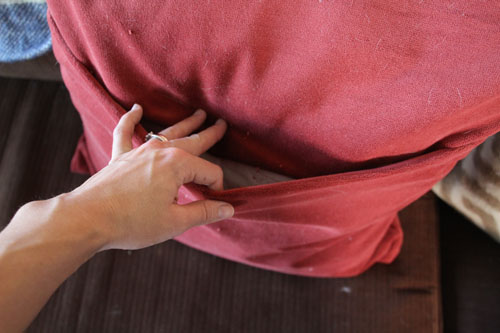 because that raw edge of the envelope overlapping piece began to sneak out of the envelope every so often (see above photo on couch as an example).
3. I added a few basic cross stitches in matching thread to keep the flap in place. I didn't close the envelope up so that I wouldn't interfere with stuffing and sliding the insert in and out but just to keep a clean folded edge on that flap. (the cross stitch is barely visible but it's there!)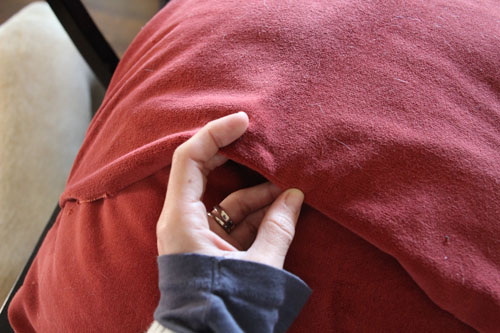 One of the velvet pillows was designed for the front to face outwards and one was designed with the envelope side facing outwards.
4. For the envelope out version, I sewed a big button from one of my previous pillows onto the lower overlapping piece of the envelope and created a slit on the top piece of the overlapping envelope with sharp fabric scissors.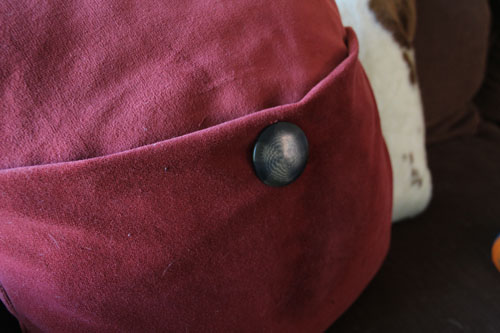 And here she is finished: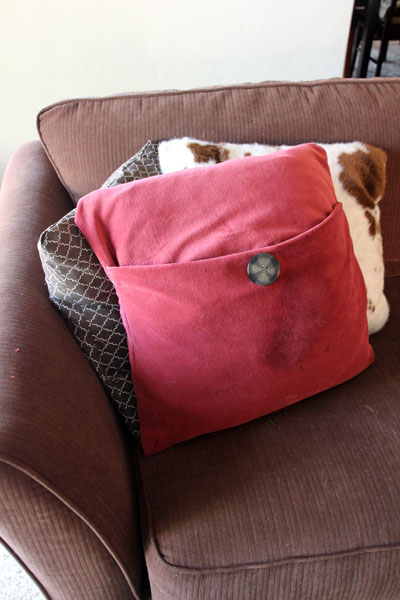 There you have it! Four new easy pillow covers for under $20.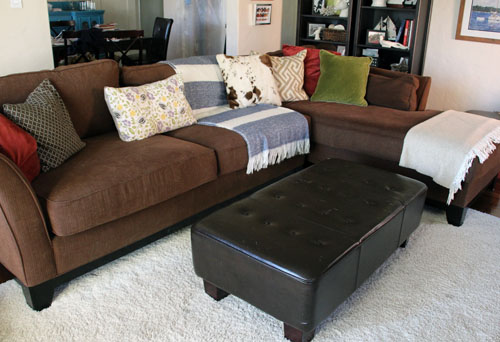 The entire project took me a couple of hours of cutting, pinning and sewing machine time but I love the finished pillows and they're sure to last me at least a few months (in all seriousness).
More living room posts can be found right here.
Tags:
Accessories
,
Brown/Tan
,
Crafty Solutions
,
Decorating
,
DIY
,
Fabric
,
Green
,
Home
,
Living Room
,
Pink
,
Red
,
Sewing
,
Tutorial
Posted in
Crafty Solutions
,
DIY
,
Home
,
Our Living Room
,
Renovating Adventures
|
4 Comments »
January 24, 2012
Back with a few more details from Liv's 1st birthday. When it came to creating little invitations for her party I was a big time procrastinator. Actually, it was during my few days off between Christmas and New Years that it suddenly dawned on me that her birthday was just a few weeks away! and we needed to get something in the mail asap.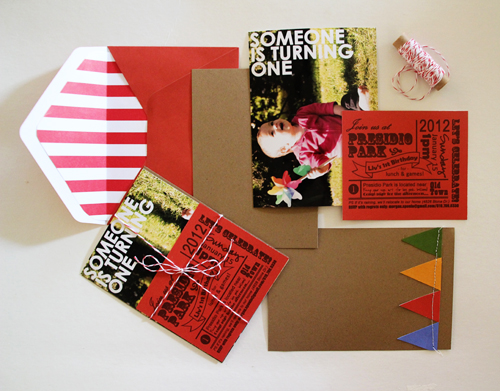 It was fairly simple to throw these guys together quickly. I used Photoshop to add some cute, bold text to two of my favorite photos of Liv (I couldn't pick between the two! So half of the invitees received one and half the other), but you could use one of the free programs reviewed here to do the same.
I sandwiched that photo between a smaller red card (bought a set of red envelopes and matching cards at Michaels and printed the party info in fun fonts directly on to the red inserts, then cut them to size) and a piece of brown construction paper.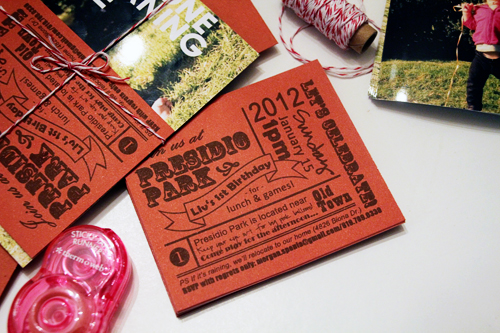 Inspired by this creative girl's Christmas card and this beautiful invite from Pinterest, I tied up the bundle with Martha Stewart's striped baking twine (found in the scrapbooking department in a pack of 6).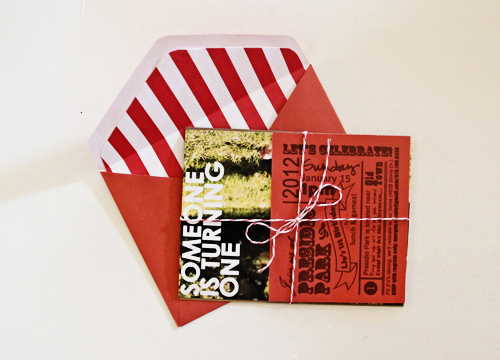 The other half of the fun was creating envelope liners that for me really made the entire invite. I love the peak of red and white striped paper and it tied in perfectly with the rest of the party. It was a little teaser of what was to come!
To make the envelope liners (by the way, they've been on the back of my mind since seeing this adorable version), I created a simple template of the inside of the envelope (trace the shape of the envelope on to thicker paper, cut out and then snip off about 1/3″ of an inch from each side) and then cut out about 25 from 12×12 striped scrapbooking sheets of paper from Michaels. I used double sided scrapbooking tape to adhere into place.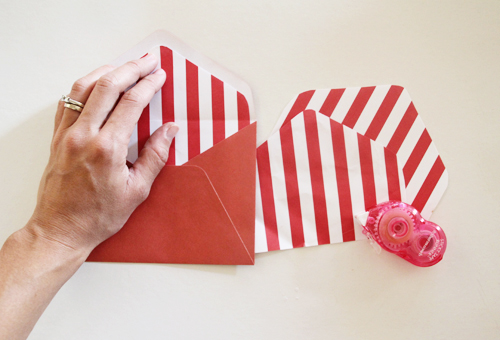 My last addition was a failed attempt. I had originally hoped to sandwich the information card and photo of Liv between a piece of paper bag brown construction paper (that was the specific color I was on the hunt for

) and a top piece of the same size but with cute, colorful bunting (a la a few images from my Pinterest board on Liv's party).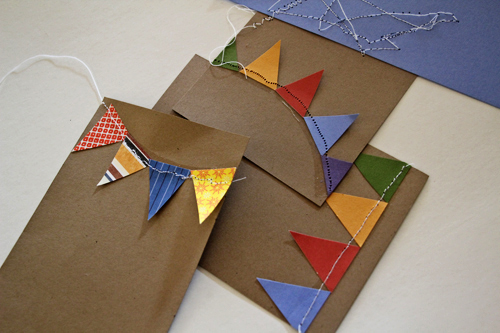 Sewing paper is seeeeeeew difficult (see that crazy stitching above?), and after a half hour of testing, tearing, tangling and tormenting I decided to omit the addition.
But I was thrilled with the results of the invites and we got those puppies in the mail just in time to notify friends and family that there was a par-tay coming up!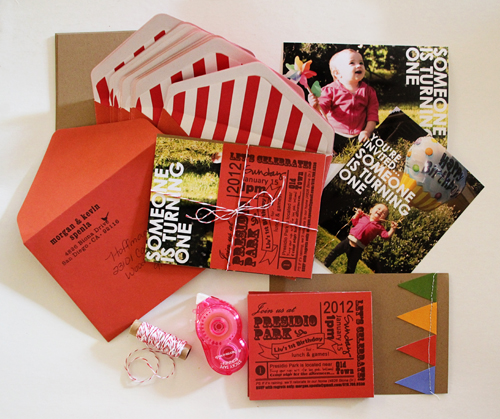 Total cost was about $.25 per invite and from the time I hit 'send' on my online Costco photo order to the time I picked up my pics at our local Costco, all of the supplies at Michaels and assembled the invites, it took just a day or two to get them finished and in the mail.
And just for fun, here was my assembly workstation: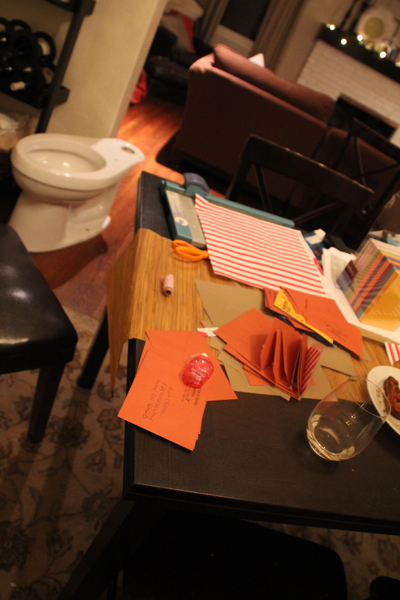 Wait, you don't have a toilet in your living room? Just us?
Tags:
Birthday
,
Carnival
,
Circus
,
Crafty Solutions
,
DIY
,
Kids Party
,
Liv's 1st Birthday
,
Paper Crafts
,
Paper Goods
,
Red
,
Sewing
,
Tutorial
,
white
Posted in
Crafty Solutions
,
DIY
,
Family & Friends
,
Parties & Entertaining
|
7 Comments »
December 19, 2011
The guest bedroom portion of the office is full of unwrapped presents, tissue paper, empty Amazon boxes, raffia, wrapping paper, scissors, tape… gift boxes, gift bags, gift everything. But I cleared it out to snap a few pics because there are officially four new curtains in the space!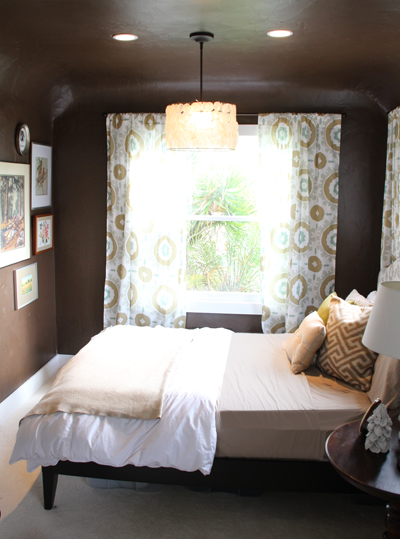 You might remember that I had initially attempted to hunt down store bought curtains or fabric (not-too-heavy because of the dark walls, not-too-airy so that they would still 'ground' the space) but none was to be found.
Then I decided to make my own design and my own fabric using Spoonflower. I designed a Suzani print in Illustrator and then pulled colors out of other spaces in the room – the turquoise in the new fabric bulletin boards, the browns in the grasscloth wallpaper and chocolate walls, and then a soft sage green to pull the two together. You can find the fabric here in Spoonflowers' gallery (plus all of the different color variations I tried out).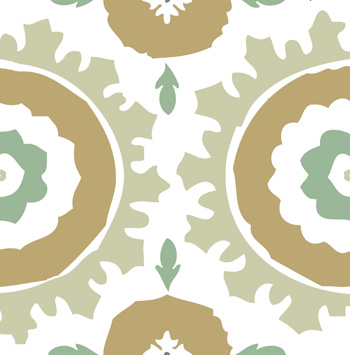 It took so long to finally get the fabric because Spoonflower and I were playing send-the-swatch. They would send me three swatches and the colors would be all wrong, I'd adjust in photoshop and resubmit. Repeat that for about four more times and finally the ideal color showed up on my doorstep. Spoonflower has plenty of helpful color matching tools but really screen resolution can be so subjective – it's hard to not end up with some crazy bright greens and marine blues when all you're really looking for is subtle aqua. Spoonflower was great though, they even credited me for a crazy batch or two of samples (betcha can't spot which ones below).
Remember this post? Who would have thought that I would have a complete change of heart just as I was clicking the 'order now' button and would end up choosing the lightest (color-wise) of the bunch?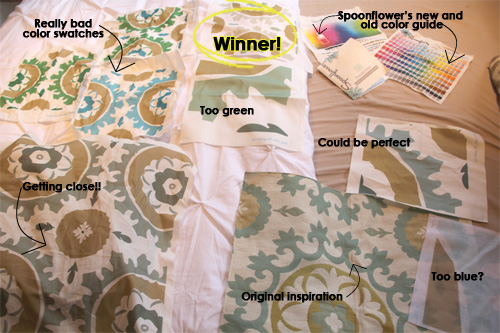 Here's the funny mock-ups I made in Photoshop to test out the different colors.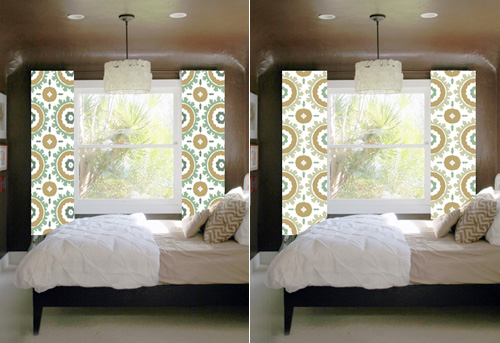 You might notice that I have just a plain white comforter on the bed now and not that pretty pin-tuck version (above) that I found at HomeGoods for a lot cheaper than the one that I love at West Elm — only problem was that it's a king (the last size left)! and I tried to make it work (even considered cutting it and hemming it to a smaller size) but after whipping up my own version of the pin-tuck to cover a body pillow (leaning up against the headboard) I realized that I could make my own duvet cover for MUCH cheaper. That's in the works.
So back to those curtains… the fabric from Spoonflower arrived! And I love it! To me it's just perfect in the space. The sheen allows just enough light through and it matches so well with the dark brown walls, grasscloth, tan bedding and even wood furniture in the room.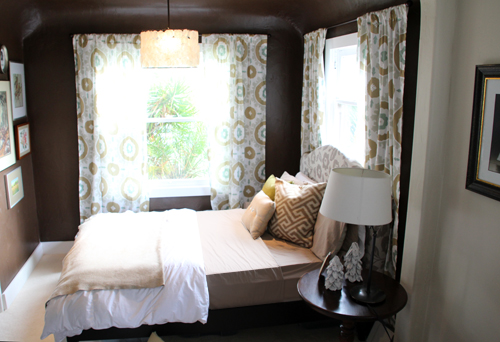 Here's a close up of how the light easily passes through the curtains to help brighten the dark walls.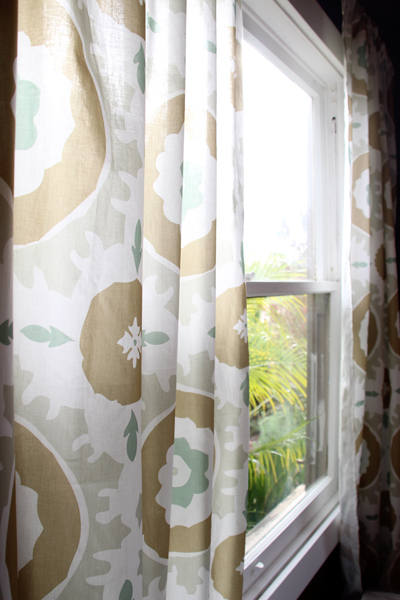 After sewing up the curtains I love, love, love how they turned out.
But there is one small problem… I guessed (from the little swatch) that the new fabric would work swimmingly with the current headboard fabric. And I really guessed wrong on that one.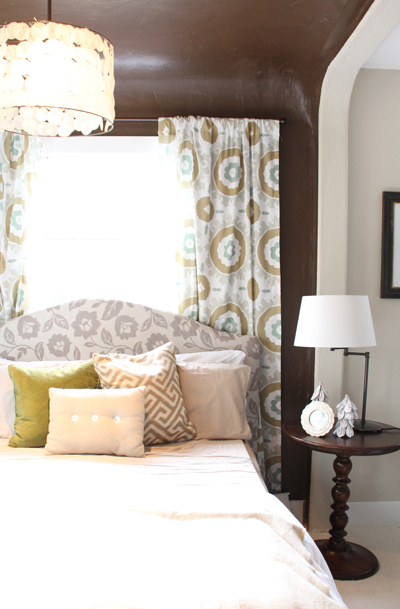 Here's a close up of how the fabrics don't play well together: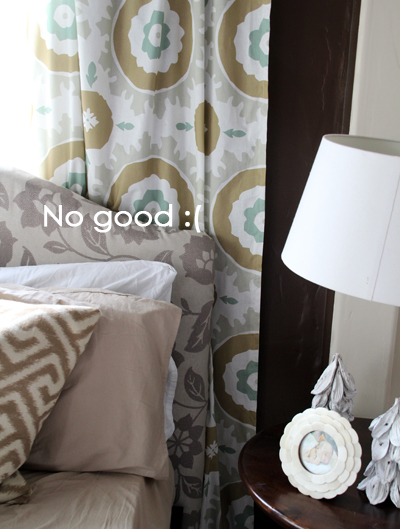 I guess maybe the headboard is too silvery grey with its cool undertone and the curtains are too warm with their bronze and tan colors.
SO the big decision is do I scrap the curtains for the headboard and put them in a different room (our dining room, perhaps?) or do I cover up my headboard (which I equally love!) in favor of the new curtains?
That's going to be a tough one.
When it came to sewing the curtains I  made an easy pocket at the top for hanging.
Good thing Liv is such a solid sleeper at night. My sewing hours these days are somewhere between midnight and 2am. That's probably Late Night with Jimmy Fallon in the background.
To make a quick pocket curtain out of fabric, I cut my fabric into four panels that were each the length of the curtain rod to floor + 5″ for top hem + 4″ for bottom hem. I pinned the hems into place (1″ for each length-wise side, 4″ for the bottom and then 1″ for the top) and then folded the top of the panel over to create a 4″ pocket (so that initial 1″ hem + new 4″ pocket is how I got my 5″ top hem).
Here's a shot at one side plus the pinned pocket: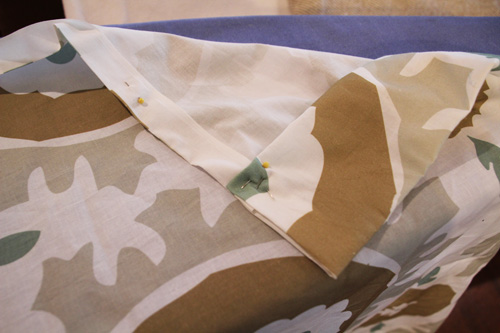 I then pressed those hems into place and pulled out the pins: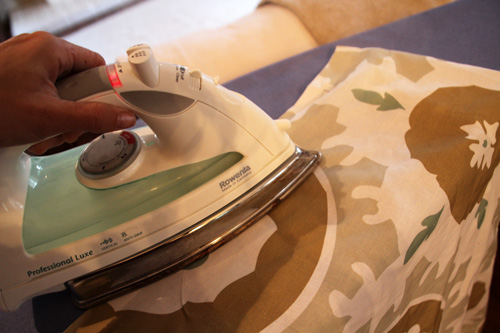 And then I sewed, sewed, sewed!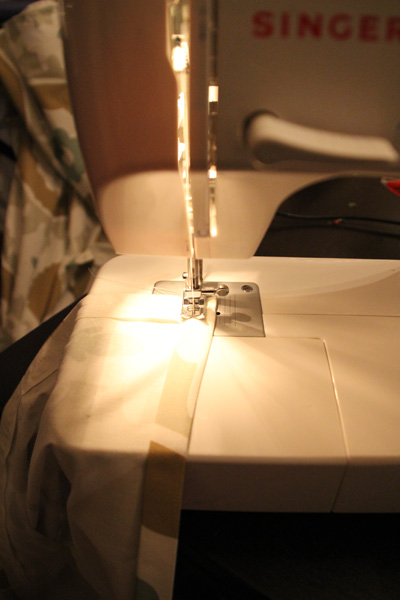 But here's a tip that I'm sure you all know… and that I didn't pick up on until three curtains in. To make a cleaner hem, fold your fabric once: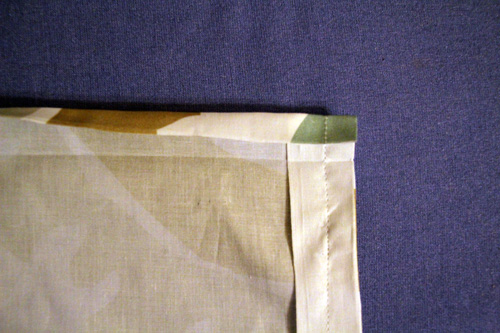 Press: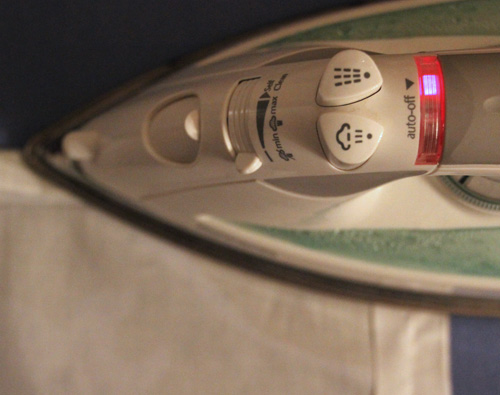 Fold a second time:
Press: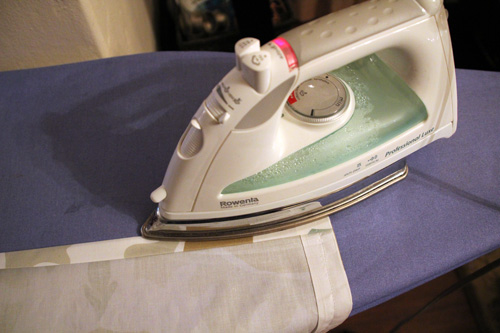 And sew the double fold. So much prettier!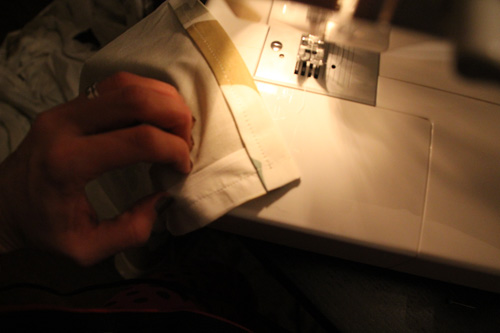 To compliment all of those night shots of sewing

, here's a later-in-the-evening shot of the curtains where you can see the colors a bit better: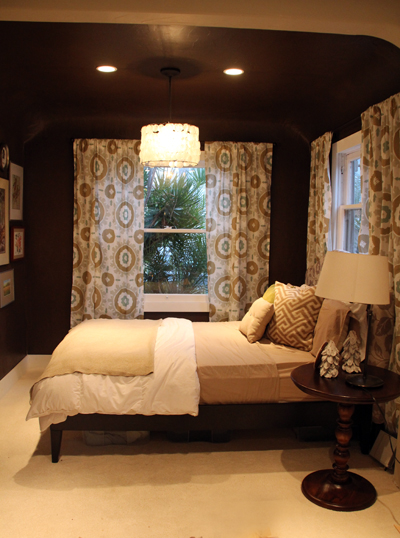 I love how my Spoonflower curtains turned out, but now we have to solve the problem of whether they'll stay or go… or if the headboard gets an update.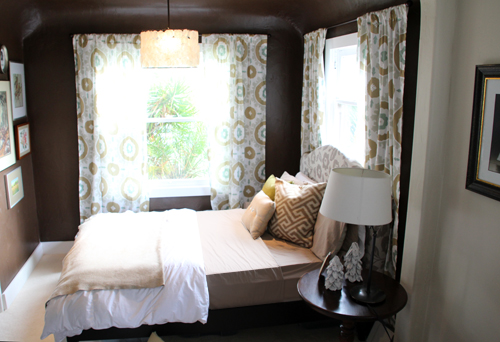 Happy Monday! Just six days until Christmas

.
For more Office Makeover posts, check out: diy fabric bulletin board panels, handmade capiz pendant light, organizing the bookshelves, wall collage part 1, part 2, fabric bulletin board inspiration, (new) inspiration board, new lamps, wallpapering open shelves, finding the perfect credenza, new trim, dining table-to-desk, a new desk & bookshelves, installing remnant carpeting, grasscloth wallpaper, painting the office nook, finding carpet for the office, chocolate brown wall ideas, plastering progress,  inspiration for a diy desk, back in action!, desking hunting for under $300, bookcases under $300,inspirational rooms, room layout options, demo part 1 & demo part 2.
Tags:
Sewing
Posted in
Crafty Solutions
,
DIY
,
Home
,
Our Guestroom/Office
,
Renovating Adventures
|
6 Comments »