October 16, 2012
Rather than share a few of my favorite packing list items for Spain as I did for Ireland, I thought I'd share two style boards inspired by what I saw, loved and wished I had brought with me! (PS a round up of all style boards can be found right here, including detailed info on sources).
Just as expected, Spanish women dazzled. They wore unforgivingly beautiful clothing on an everyday basis – the same ones that we might reserve for special occasions. They are unabashed about their jewelry selections and their shoes made you wonder 'oooh, I wonder how she does that?'. Even Kevin remarked on how nice everyone always looked. And for someone not so concerned with appearances, that's an observation.
I came with a stash of cotton dresses, braided belts, staple cardigans, a bright skirt and a few sets of earrings to switch out over our ten days, and I thought I'd do well in my one pair of very comfortable Seychelles sandals and grey Toms to troll the city in (left my beloved rainbow flops in SD by accident). When we arrived in Spain after Ireland though (more on the full adventure here), those beautifully warm days and nights that we had planned for soon turned cool and chilly (and some days really wet), unexpected weather that left me reaching for my Ireland pile! It all worked out perfectly, but if I could repack a late-September suitcase of must-haves for the beautiful cities of Spain, here's what I'd take: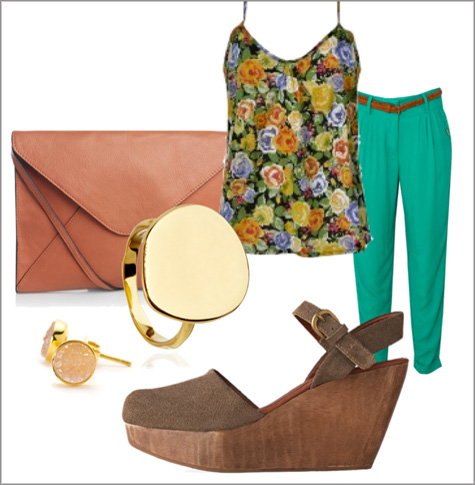 Brightly colored pants are all over the place! Much like here, but with a more free flowing harem twist. I loved the ruched, formal (70′s!) pleated pant waists that narrowed down to a tight cuff on the calf. They looked incredibly comfortable, and when paired with a flowy floral tank, cardigan and wooden heels – awesome. I might not trot around Spain in heels like this, but I am surely impressed by the Spanish women who do!
My second favorite Spanish trend were the beautiful three-quarter length silk blouses that women casually and effortlessly wore everywhere. They'd sit on the patio at a local cafe with a glass of wine watching their kids play at the little park (there's at least one every two blocks), their silk blouses rolled to their elbows, stacks of bracelets casually clinking as they chatted and laughed with one another. I wanted to bottle it up and bring it home.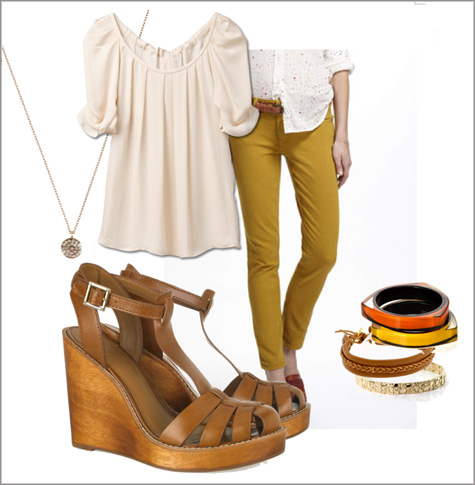 White blouse found here. And with a blue blouse? Can't help myself.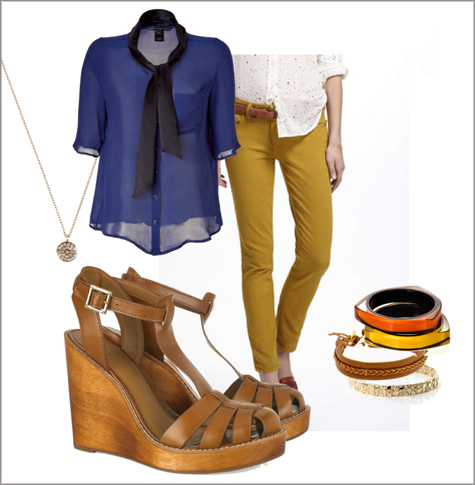 I managed to find one silk blouse, one set of skinny cords and a thin red beaded bracelet to bring home as my own Spanish wardrobe contributions. Perhaps those fabulous silk blouses will make their way to playgrounds here? I'm not sure I could master the everyday European flair that these women embody (oh that polished, unafraid-of-overdoing-it confidence!) but next time, maybe I'll pack a few comfy cropped trousers. They might actually be perfect for travel.
The entire wardrobe style boards section + links to the above can be found right here.
Tags:
Fall
,
Summer
Posted in
Fall
,
Summer
,
Wardrobe
|
5 Comments »
August 27, 2012
Hope you had a beautiful weekend! The weather here in San Diego has been a bit on the muggy side, but I can't complain when it's sunny and bright outside. I'm traveling today so I thought I'd share a couple of my favorite summer wardrobe pieces with a new Style Boards installment.
I built these two boards around wardrobe staples this summer, pieces that I love and wear every day! I have a few more coming with lighter, airier dresses in mind, but these are a few go-to pieces for after the sun sets or when it's not quite so hot out.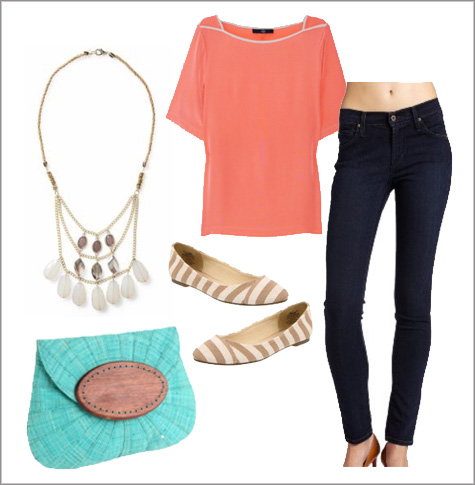 I love a good second hand shop that sells designer jeans for a discount (eBay is a great source, too), but when I was in a pinch and could not find a flattering skinny jean (and getting frustrated at my bad luck), I gave these a go and fell in love. They're perfect rolled as capris, all the way to the ground with flats or tucked into boots (yay, fall!) and won't scrunch, stick or stretch out too terribly. Likewise, this bib necklace is an absolute steal right now and it's stunning in person! I really am digging it this summer.
I've become a big fan of the oversized statement necklaces this summer and I was really excited to find this one on sale over at Piperlime, too. That pink is quite the pop! Love it against the dark purple of my favorite silk tank (which is easily one of the most versatile pieces right now – matches great with shorts, as a shell with suit pants for the office or tucked into a skirt).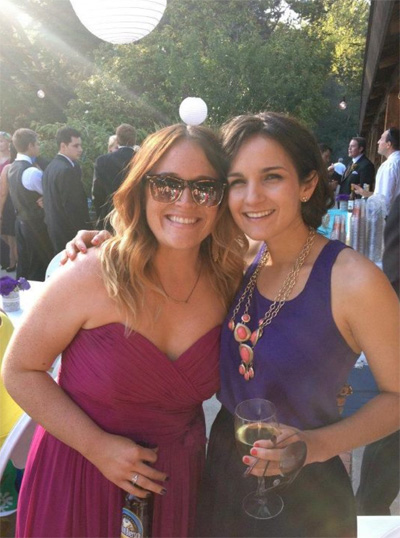 And so my next little round up includes the above plus a maxi skirt that I have found to be incredibly flattering (with a seam down the front that helps to flatten everything out) in a soft cotton for running around town: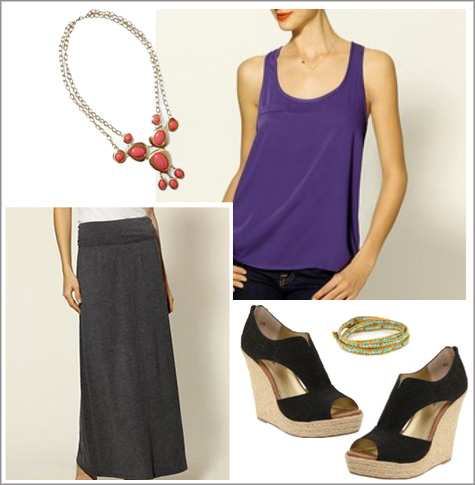 There you have it, five of my favorite finds this summer (after a little trial and error!) that add a little trend and spunk to my usual wardrobe. Will be back soon to post these in the actual gallery with all of the sources/pricing for everything I've shared.
Tags:
Fall
,
Fashion
,
Spring
,
Summer
Posted in
Wardrobe
|
4 Comments »
April 4, 2012
Here in California the weather has been slowing crawling towards beautiful spring – but with just enough chill to make you want to keep a cozy sweater nearby. It's the season of Spinter – make that Spring emerging from Winter.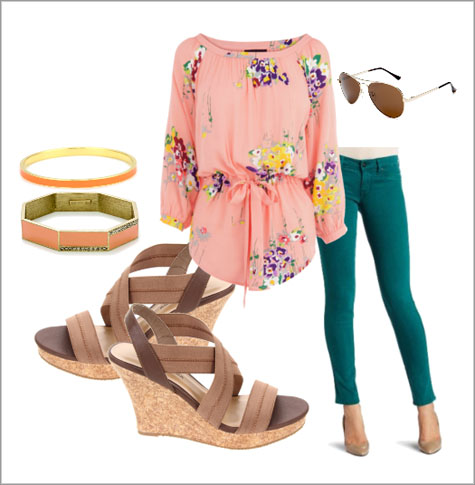 This time of the year I'm drawn towards bright colors but in slightly comfier cuts, such as a blousy long sleeve top paired with a dark pant. I'll be the first to admit that I'd probably pair the above with everyday sandals, but the elastic on those Chinese Laundry heels look awesomely comfortable for a slightly dressier weekend brunch or luncheon.
The color I'm leaning towards this spring? Coral! I love the versatility of the bold shade of peach meets pink. Coral is easily paired with so many contrasting colors, including lavender, navy, teal, plus all of the neutrals.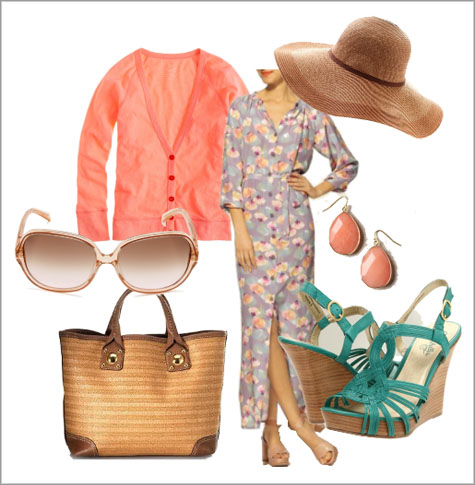 Another spring meets winter go-to is a classic maxi dress matched with a cardigan. A long sleeve, long skirt like the above is the perfect find for this time of year! And if you're feeling a little resort-ish, pair with a wide brimmed hat (beach, anyone?) and a straw tote.
My everyday early spring attire is usually in the form of a cuffed jean, a casual top and a pair of colorful drop earrings. This floral blouse offers a great cut with the knotted front.
Have you heard of Rent the Runway? It sounds like a really awesome alternative to purchasing dresses for big events, and this coral color block silk dress is one of my favorites. I would pair this dress with gold for a wedding or flat leather sandals and a shoulder bag for a more casual shower. I love the idea of being able to invest a small percentage into a rented, stunning dress rather than purchasing a full price outfit you might only wear once or twice. I haven't tried it out yet but rumor has it that they ship you the same dress in two sizes to be sure of the fit.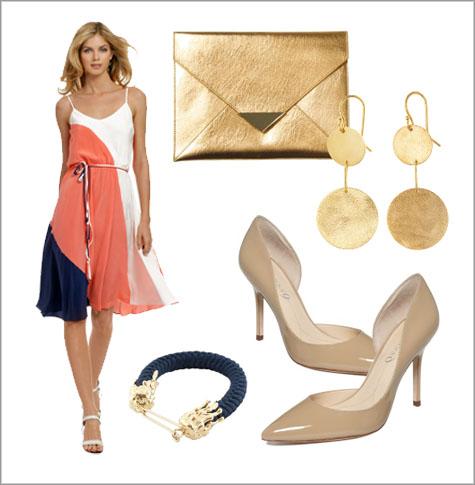 There you have it, a few of my coral favorites perfect for this early spring weather! Happy Wednesday

.
Pricing and all sourcing can be found on the Style Boards page right here.
Tags:
Fall
,
Fashion
,
Spring
,
Summer
Posted in
Wardrobe
|
2 Comments »