February 1, 2012
Spring and its gorgeous palette of brilliant pastels is sneaking up on us be it for wardrobe or home design (check out this article on Houzz for more fun proof) and I'm so excited to welcome Maryam back to share her take on this coming season's fashion favorites (you can catch the full style board gallery over here). Take it away!
******************************************************************************
Hi there!
Maryam here, dropping in to give a little peek on one of this spring's trends that is sure to brighten up your coldest winter days! I am talking about PASTELS!
Heaps of sorbet and pastel color pieces are popping up all around the fashion world. Colors like cantaloupe, honeydew, peachy pink, lavender, mint, sea foam (sounds like dessert time. huh?) are all adorning anything from skinny jeans, heels, tanks, blazers, backpacks, rings- truly, the possibilities are endless.
This is a color trend that doesn't have to stop with one accent piece. Don't be afraid to mix and match colors and shades to create a cohesive outfit. The neutral tones compliment each other quite nicely… a lot like the sorbet section in the ice cream shop, so I say, go all out!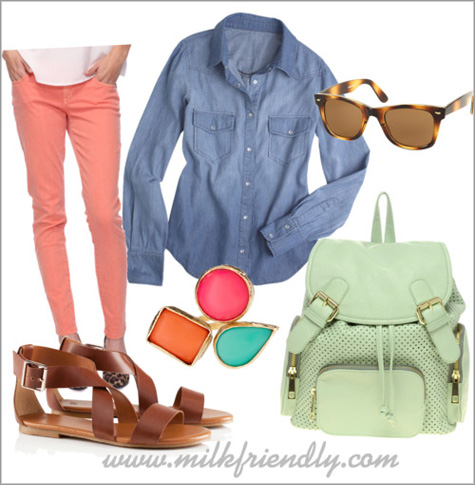 If you just want to just try a little taste of this sorbet-lovin' trend, buy yourself a great pair of colored skinny jeans. Almost every online and in-store boutique is carrying them, and it's a great way to ease into this color trend. Pair them with a chambray or denim button-down (one of my closet staples) and you got yourself a great looking outfit if I do say myself. And I could go on for days on that minty backpack… so very dreamy.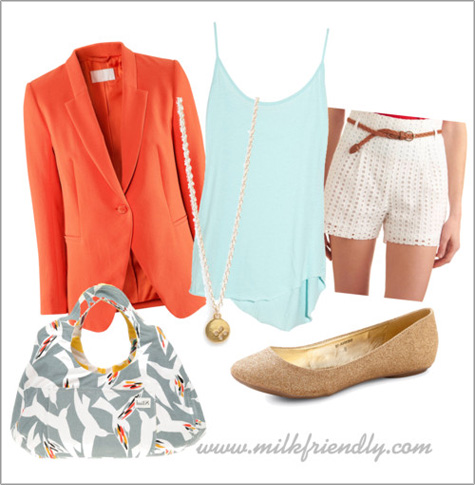 If you're a gal who likes to dress it up or down, I adore the boyfriend blazer. The blazer is so very versatile, wear it with jeans, shorts, a mini or maxi skirt, over a dress- truly there are so many ways to style it. My favorite is to pair the blazer with a textured short. This look is classy, but you don't have to worry about matching your shorts with the blazer, because its special feature is the texture. Eyelets or lace give a great contrast while still looking put together.
So what do you think about this year's pastel trend? Are you going to eat it all up?
Maryam
******************************************************************************
As always, you can visit the slideshow gallery for sourcing info to track down any of the above.
I have always loved Maryam's LOVE for bright and beautiful colors, these style boards are the perfect example of how well and easily she mixes her favorites – be it an outfit of pastels, primaries or saturated colors – so wonderfully. I am in awe, being the neutral gal that I am. As hinted at yesterday, I'm working on taking the leap into brighter signs of spring for the house, too (a slow leap… but working my way up that color confidence ladder). Thanks again for visiting, Maryam! (PS You can always visit her right here.)
Tags:
Fall
,
Fashion
,
Spring
,
Summer
Posted in
Wardrobe
|
2 Comments »
October 10, 2011
It's been far too long since that little button marked 'Wardrobe Style Boards' over there in the left sidebar has received any attention.
I'm here today with a fall update! I've loved the lace inspiration that has inspired both summer and fall clothing lines this year and I'd love to find a casual way to incorporate it into an everyday wardrobe.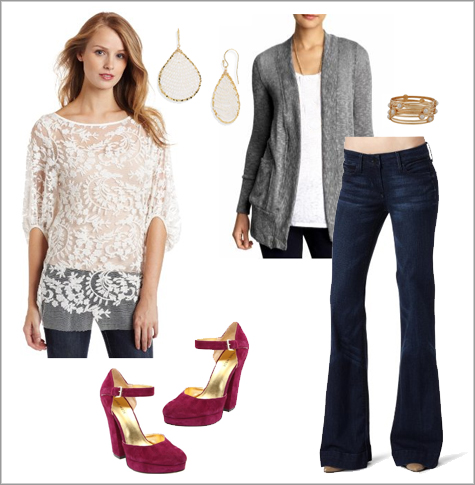 Enter the lace tunic. An ideal top that could be tucked in, belted, worn with a skirt, over a dress or as a layering blouse over trouser jeans for a Casual Friday at the office. So versatile and absolutely a piece that can be both dressed up and dressed down for any type of occasion.
Pair with a pop of color in the form of adorable pumps or handbag, a super soft fall cardigan and simple gold jewelry and you have my fall staple. Minus the heels… perhaps a pair of classic black or cheetah print flats for everyday wear and tear.
For more style boards, head on over here or click that 'Wardrobe' button in the sidebar to the left! Prices and sourcing after the jump.
Tags:
Fall
,
Fashion
,
Summer
,
Winter
Posted in
Wardrobe
|
3 Comments »
June 22, 2011
Did you know that yesterday was the longest day of the year? Always neat and one that reminds me of our wedding anniversary. Our big day is actually tomorrow on the 23rd, but when the longest day of the year comes 'round, I'm reminded of a long warm summer evening, a sweet serenade atop a deck adorned with globe lights, and a happy reception in the rolling hills of Santa Cruz.
Alas, Monday I was out with a mean case of food poisoning (the can't-get-out-of-bed type – I'll save you the gory details) but I think I'm finally better. And just in time for the 4th anniversary.
But before that day arrives, a quick splash of summer in the form of two hot-weather outfits.
This billowy white top would look great over ruched grey shorts (either loose and airy or tucked in for a form-fitting feel). You can't go wrong with casual but bright jewelry and a pair of Ray Bans, and I'm really loving this 7 Chi hobo bag that would hold an entire day's worth of errand running gear (you have plenty with a baby in tow). Plus, cute comfortable sandals? So says LifeStride.
My favorite go-to staple is a summer dress and this buttoned version is one that I know Maryam would approve of. A bit of contrasting color in the jewelry and bag balances the look out.
Sources and more style boards over here. Happy day-after-the-longest-day-of-the-year!
Tags:
Fashion
,
Spring
,
Summer
Posted in
Wardrobe
|
4 Comments »