June 1, 2011
We've been having that off-on sunny weather here in San Diego – such a teaser for summer. One day the skies are blue and the weather is beautiful and warm, and the next the sky is thick with clouds and the morning is cold and chilly. The good news! It's just about time for shorts, dresses and everything beach worthy.
Plus, it's about time the Wardrobe gallery (see button in the left panel) gets a little love and a couple of new additions.
I'm a huge fan over-sized tops right now, they make perfect swim cover ups and have an awfully forgiving fit (especially with that extra bit of baby weight that is soooo slow to come off). Pair this casual look with a slightly snazzier necklace and you have the perfect go-to summer outfit.
For something a little dressier – tis the season for baby and bridal showers – try out a fun floral print. I love this dress because of the casual, soft fabric in a very classy cut. Could easily be worn with a pair of wedges or dressed down with flats. This olive bag is the perfect around-town crossbody hobo.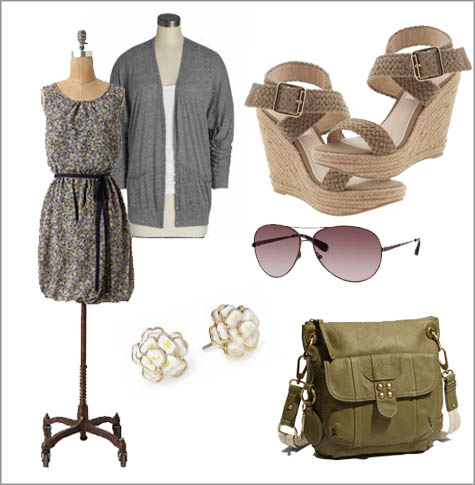 Sourcing for all of the above (plus a gallery of previous wardrobe style boards) here! Hope the weather is treating you nicely wherever you are

.
Tags:
Fashion
,
Spring
,
Summer
Posted in
Wardrobe
|
5 Comments »
March 24, 2011
A few new style boards to head into the weekend…
I spent last weekend in New Orleans and the beautiful, sunny weather offered the first glimpse of a warm spring that's just around the corner. The weather called for a light jacket and shorts or a dress, it was great! Today we have just a bit of rain out here in Cali but I'm dreaming of a few great outfit ideas for spring.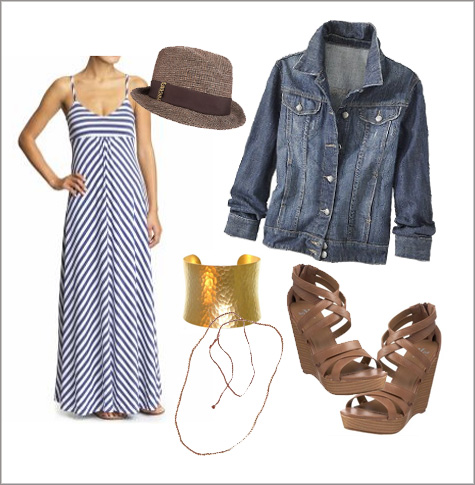 A casual maxi dress paired with sandals is perfect for the beach, but the same dress matched with a higher heel, a little jean jacket and a few pieces of jewelry creates a dressed up, around-town outfit. I really love that Ella Moss striped dress and the simple Sashi leather necklace!
My go-to spring staple is a comfy pair of cuffed boyfriend jeans. They're great layered with flowy blouses and tanks and the floral version below is ideal. How versatile is a cross body leather saddle bag? I'd love to add this Fossil version to my collection.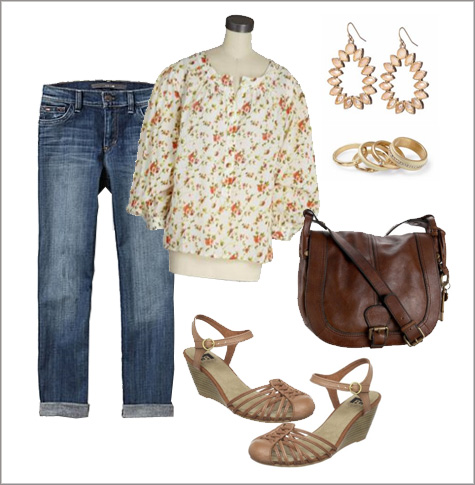 Did you know that Kohl's carries different off-the-rack labels? I didn't! I love this Lauren Conrad summer dress (at a steal of a price) and would pair it with one of my favorite J Crew Forever cardigans. My favorite dress secret is how perfectly a dress can be transformed into a tucked-in tank when you add a skirt as the next layer (especially a high-waisted skirt such as this). Love a versatile white leather carryall, a sturdy pair of cowboy boots and this adorable Zedena bird song necklace – which is perfect for spring – too.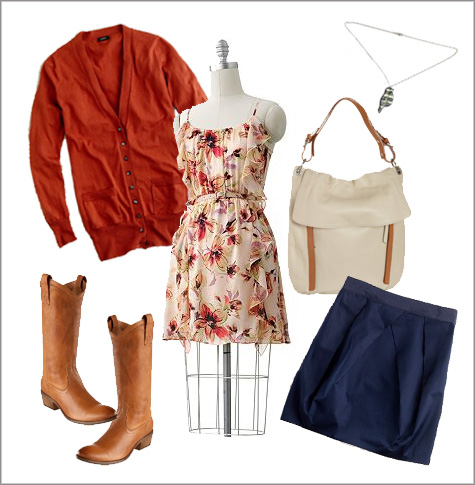 For sources, pricing and other great ideas, head on over to the Wardrobe Style Boards page. Happy Friday!
Tags:
Fashion
,
Spring
,
Summer
Posted in
Wardrobe
|
8 Comments »
October 6, 2010
It's been a bit drearier than usual in San Diego lately. Overnight our weather has gone from beautiful, sunny skies to cold, overcast weather with the occasional raindrops. This week's three style board additions are inspired by this slow change into fall! Check out all of the boards here.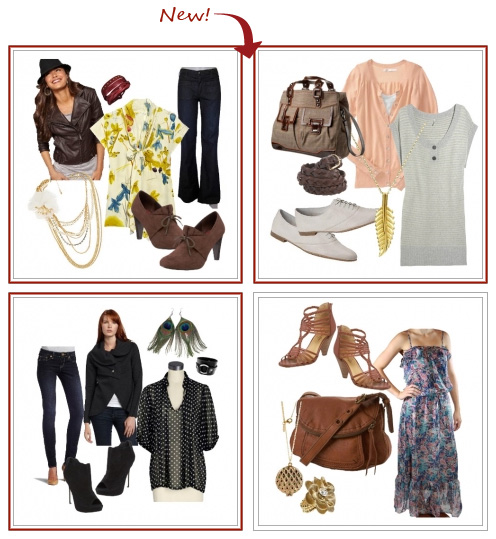 October weather is a perfect launch into cooler temperatures. We start to bring out our big chunky sweaters (though we can still get away with pairing them with leggings and flats) and begin to pack up the sundresses and shorts. As you can probably tell from above, I'm loving oxfords, silky soft blouses and lots of layers at the moment!
Just in case you missed the launch of this new addition last week, I've added a little pink "Wardrobe" button in the left sidebar for easy access to a growing number of style inspiration boards (including sources & pricing for all of the looks). The slideshow to the right links directly as well.
Hope October is treating you well, wherever you're located!
Tags:
Fall
,
Summer
Posted in
Wardrobe
|
2 Comments »