May 9, 2013
I have a fun project to share with you today!
I've been on the hunt for a neat centerpiece (to either DIY or buy) for the big outdoor table that Kevin built on our new deck and am so happy with how this oversized planter's box project has turned out. My favorite might be the pops of color in the form of five added geometric hexagons.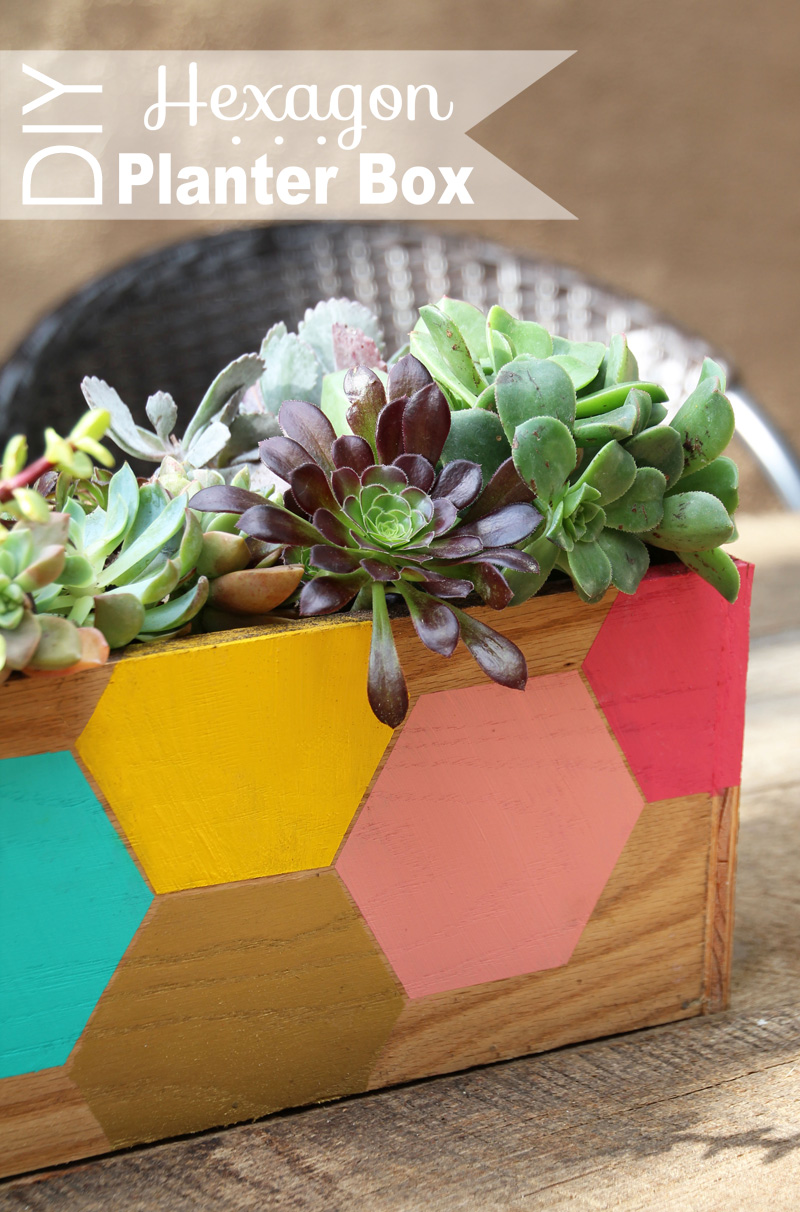 Succulents and I get along really well, and they look so pretty all together in one large container! I've been wanting to play with them more in our garden in unique ways, maybe even designing a succulent wall along the back bbq area.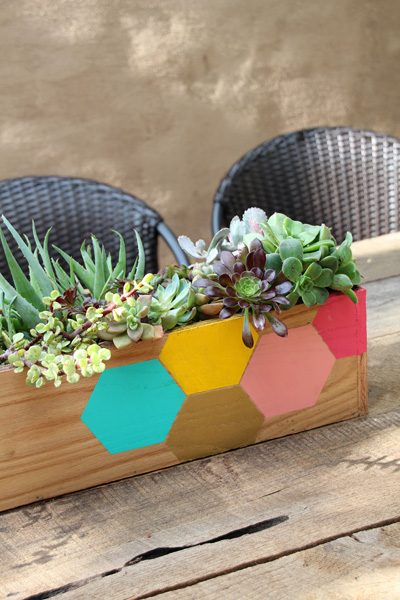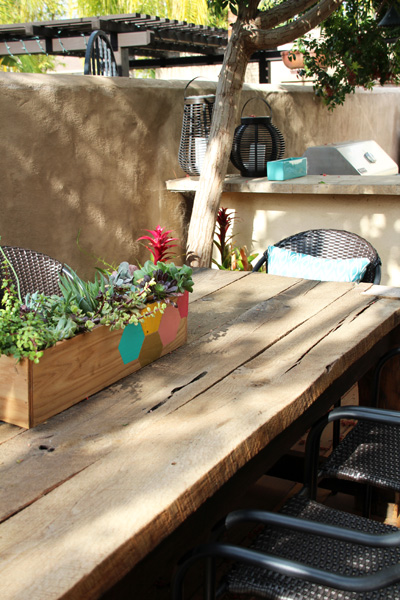 The hexagon pattern wraps over the top edges of the box and along one corner as well, I love the symmetrical pattern and how the painted shapes work together but provide their own little bursts of bright, unexpected color.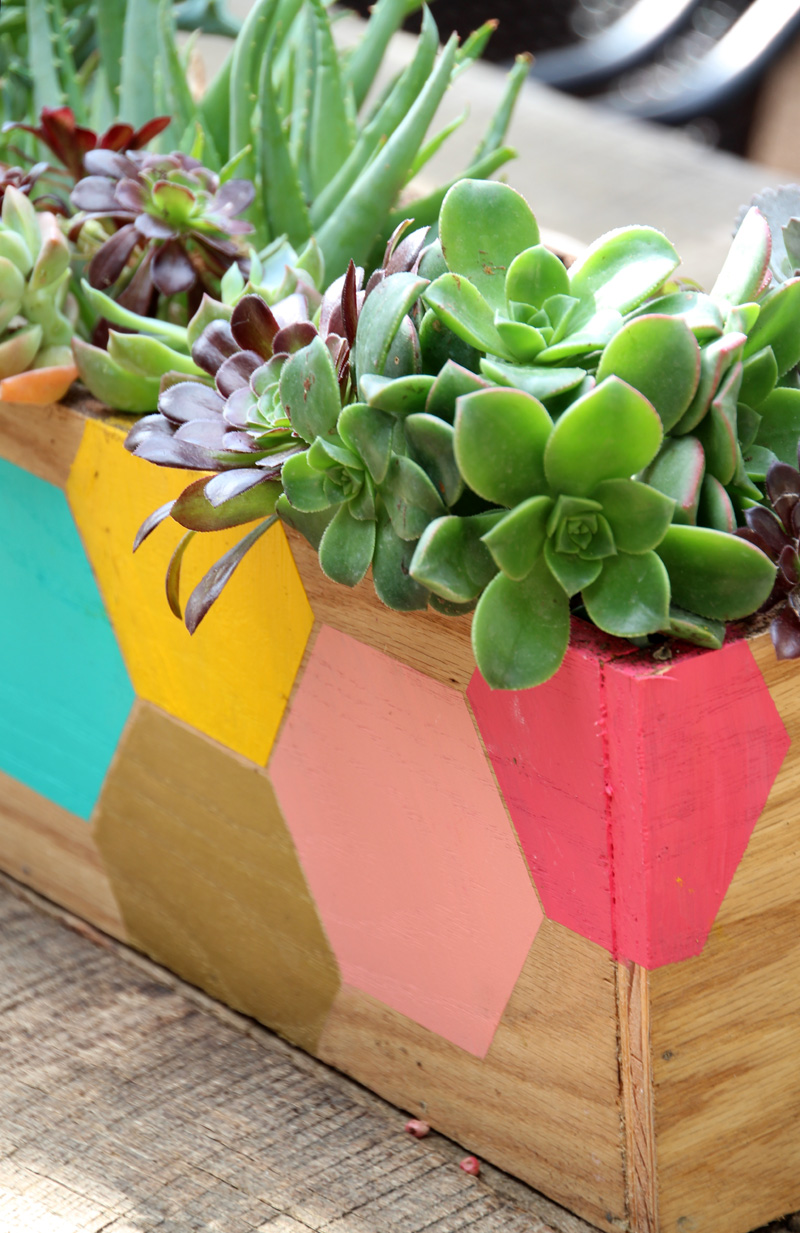 I was actually inspired to finally getting around to finishing this project by Katie and Sherry's Spring Pinterest Challenge:

It provided the inspiration needed to pull my materials together and take a couple of hours to build, stain, paint and plant my new succulent centerpiece.

The goal of the challenge is to take a pinned idea and make it happen – here's my pinned inspiration: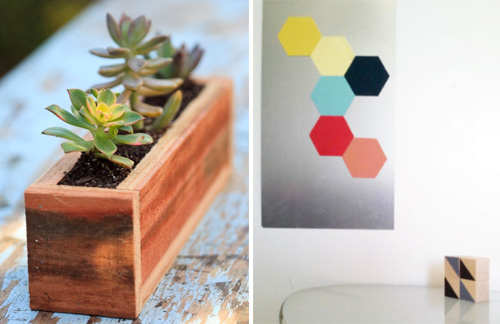 This lovely wooden planter box from The Growing Wall and these neat felt hexagon shapes by Squared Array. I imagined them as potentially very pretty when combined together.
Let's get into the nitty gritty…
The process for building my initial planter was pretty simple. To keep material costs on the low end, I purchased a single piece of 24×28″ plywood from Lowe's and asked the technician to cut the board horizontally into three strips  that were 24×6.5″ in size and the remaining 24×6.5″ piece into two 6.5″ square sides. That used up just about every inch of the wood perfectly (I had just one large rectangle left over).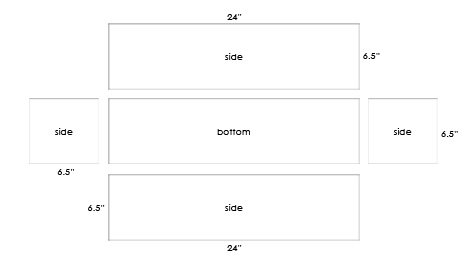 Cutting plywood often causes freying at the edges so if I had needed a more exact cut I might have opted for real (rather than compressed) wood instead. But this worked out perfectly as the cuts were kept to a minimal and the plywood cost just $6! And all of the cuts were made at Lowe's so I didn't have to bring the board home, pull out the table saw and add that extra step to the process.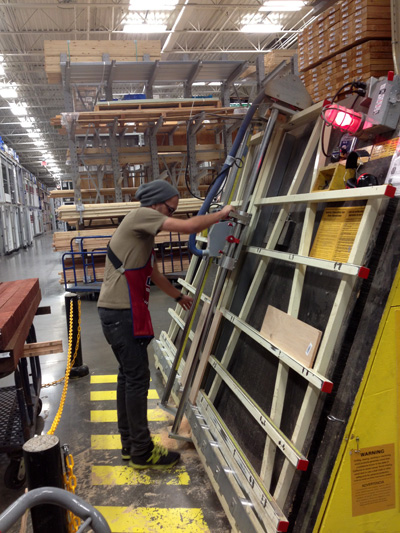 Thanks, Lowe's man.
To nail the box together I used small tack nails that I had on hand.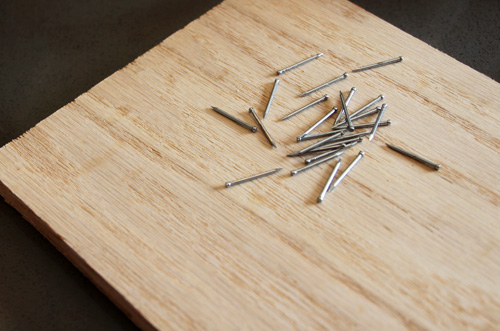 As well as my trusty floral hammer! No need to dig through the garage and pull out a massive hammer from the tool chest, I really love having my smaller-than-average tools in my office and waiting for everyday use.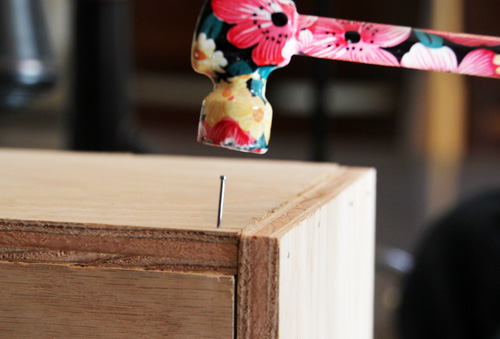 I placed a nail every 3″ or so along all edges of the box that met with another edge. 32 nails and one finger later, and the planter box was assembled.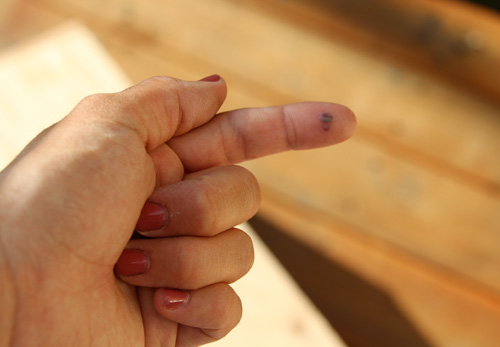 To hide the silver tops of the nails, I used a stainable wood filer that we had on hand (but I would say that this step is optional).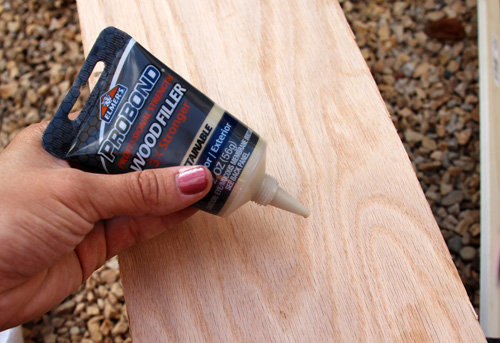 And to remove any pesky store barcode stickers (why do they make them actual stickers??), a little Goo Gone.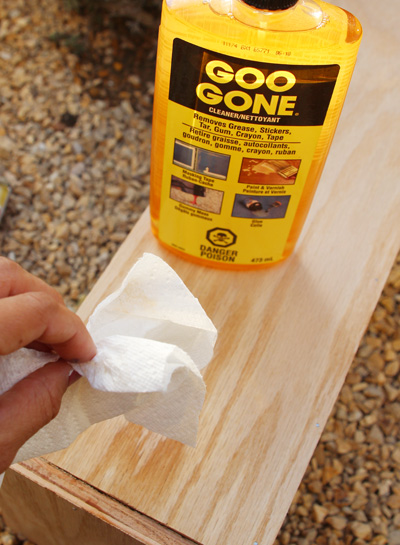 We have a decently sized stain collection from various projects in our garage so I chose from two of the lighter finishes. I ended up using both the "ash" and "oak" (oak first followed by a quick layering of ash) to give the box a slightly birchy, slightly weathered look.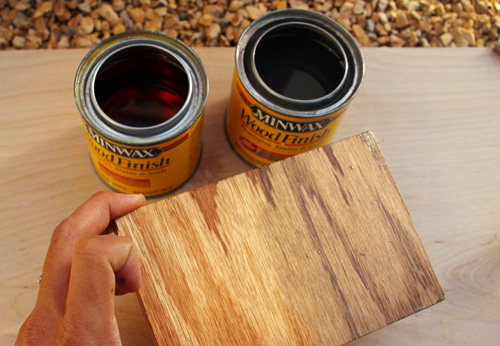 With the glare of the light it's hard to see the finished stain coat here, but the coloring came out just as I had hoped.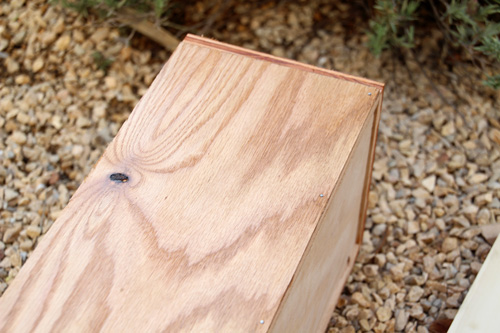 I stained the first few inches of the inside of the box as well, the rest will be filled with soil and will be pretty much unnoticeable.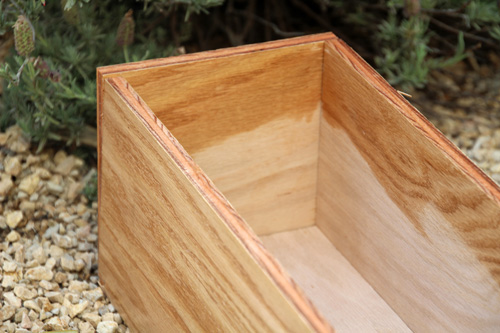 To make my hexagon painted shapes, I printed out a basic hexagon outline (using the Illustrator shapes feature) on to cardstock. Feel free to download my copy here. Laying out the cut out shapes in various formations helped me to come up with a final pattern.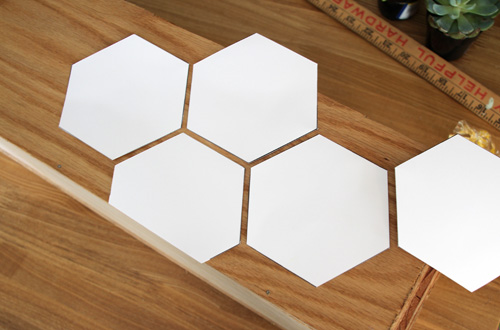 Using that pattern as my template, I taped out the various paintable hexagons one at a time.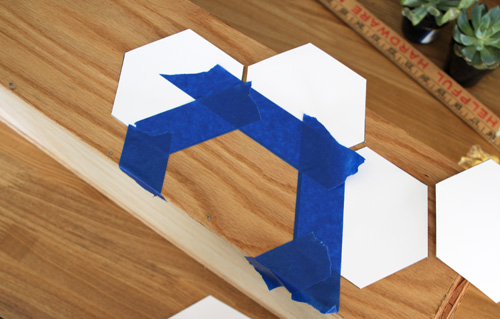 And slowly filled in the taped off areas with various colors. You can see that I left a sliver of wood showing between each shape, I love that little detail.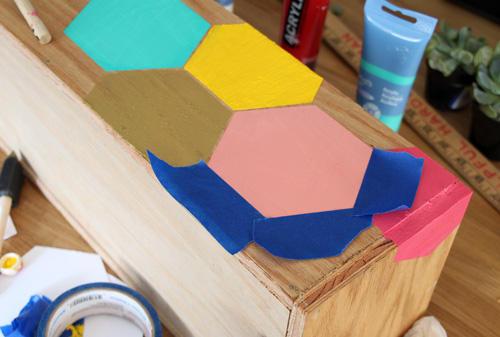 Press down solidly on those edges to prevent any under tape bleeding! And as soon as you've applied the paint to the wood, pull up that tape right away for a flaw free line.
Next up was planting. I found it was cheaper to purchase most of my succulents in one large prearranged plastic round planter from Lowe's (that I broke apart and replanted), then supplemented with littler containers and cactus from our garden.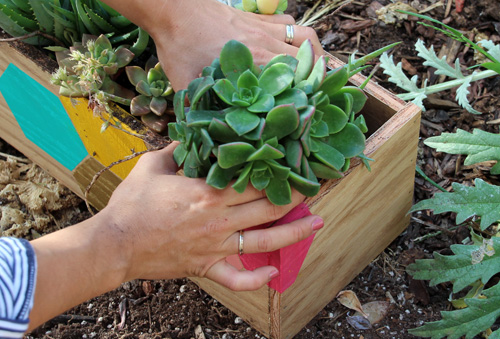 Finished!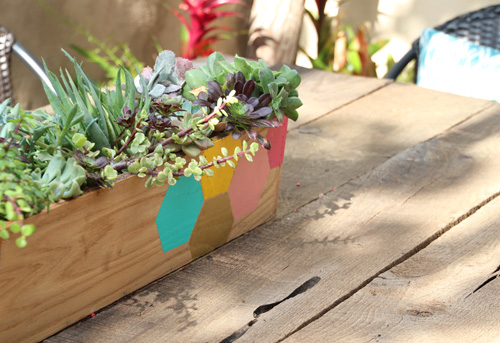 A new, pretty centerpiece that is just the right size for our 12 person table. This will look great in the summer for outdoor picnics and parties – I'm picturing a pretty table set in whites and navy blues, or even pinks and mint greens to compliment the colors of the planter box.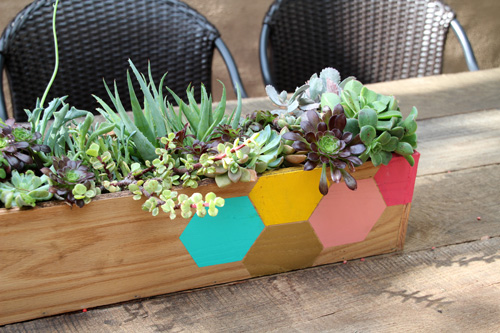 The hexagon shapes are definitely my favorite part.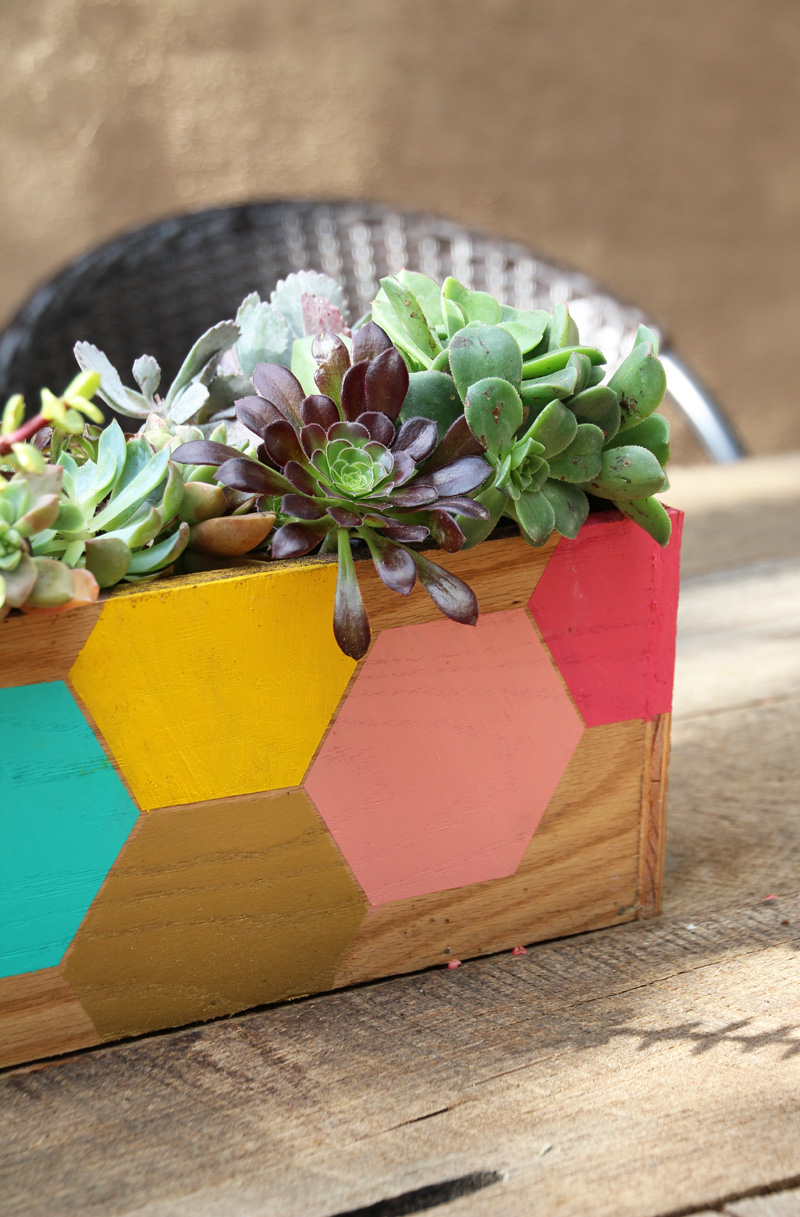 I will be linking this project up with the four hosts of this season's challenge: Katie, Sherry, Emily and Renee. Check out all of the great projects!!
Here's a link to my previous Pinterest Challenge projects (including the fireplace facade that has an exciting announcement to make soon, an ombre step stool for Liv, faux gold mercury glass, a chevron cloth napkin project, a painter's tape stenciled hallway and so many more fun ideas…).
Tags:
Accessories
,
Crafty Solutions
,
Decorating
,
DIY
,
Gold
,
Home
,
Paint
,
Patterns & Color
,
Pink
,
Pinterest Challenge
,
Teal
,
Turquoise
,
Tutorial
,
white
,
Yellow
Posted in
Construction
,
Crafty Solutions
,
DIY
,
Downloadables
,
Favorites
,
Gardening
,
Handmade Gifts
,
Home
,
Our Yard
,
Renovating Adventures
|
6 Comments »
August 9, 2012
I went to bed last night thinking that the morning would bring a brand new Friday. But alas, that's how long this week has felt

(poor Liv had a 103 degree fever all through the night and day Tuesday and work has lately been getting the best of me). Instead though, it is a beautiful Thursday and one that I'm more than happy to embrace. Especially considering that tomorrow is Friday!
Before I share my latest room update, a BIG thank you to Kate for featuring me in her Best of the Blogosphere round-up at Centsational Girl! Her every-other-Friday posts are among my favorites because they share some serious talent and new bloggers to explore and follow. I near fell out of my chair when she linked a recent project of mine up, check it out here.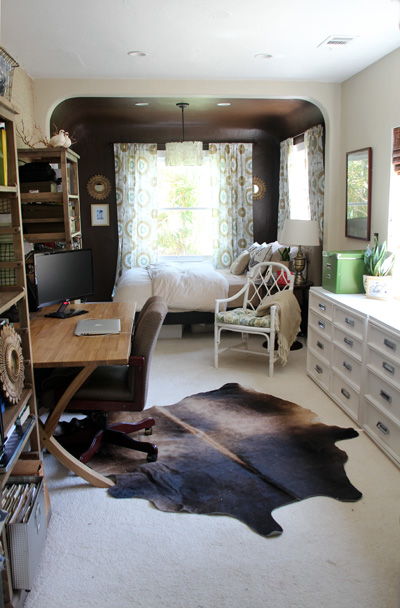 I have a little room progress to update you all on today! This room has admittedly become the hardest and most challenging room to get right in our house. And being that it's my woman-cave, I've been working extra hard to make sure that it feels right, that it feels like a space that I would happily spend most of my day in (my company is up in Northern California, so I really do spend most of my day at that desk and on those computers).
The office was on a serious roll back in 2011 when we knocked down the old kitchen (rebuilt it on the other side of the house) and turned that space into my work zone. But then half way through the new office design process, my ideas and inspiration fell apart and the room came to a halt. For quite a long time. (I've never been a fan of finishing a space just to get it done, I figure that new inspiration will eventually come and I'll be all the happier with a result that is right on.)
But I have made a few changes along the way! And I'm really happy again with how everything is coming together.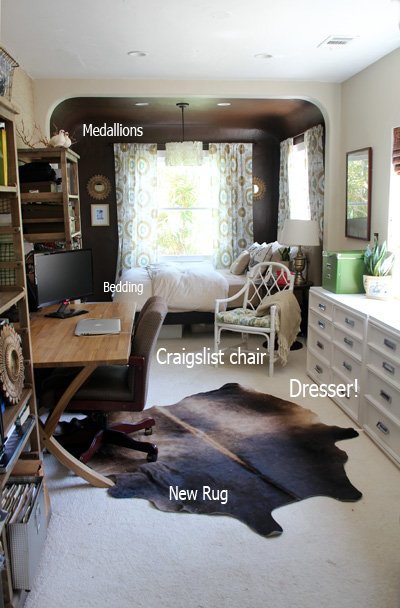 Among the new changes, a new bedding set from Target in a neutral, cozy tan, an awesome bamboo Craigslist chair find, amazing bookshelves (same Craigslist sale) with the most wonderful, original campaign-style handles ($100 for two huge bookcases!), moving my favorite Ballard Design gold medallions to either side of the window (plus one on the bookshelf in the above pic), and finally stealing a rug from the dining room and swapping out the below trellis version in the office (an all jute rug is the way to go in there – and doesn't the organic shape in the above photo look much better than the rectangular one below?).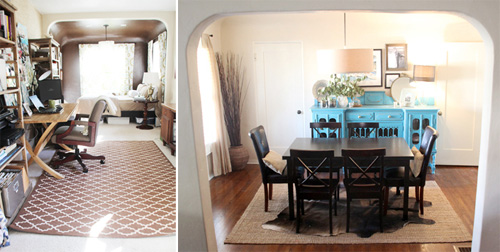 Often shopping is not necessary. A space can easily be refreshed with a bit of shopping the house! Amazing how moving one bright vase to a new room or exchanging accent chairs with another bedroom will give those accessories a new life.
The new white dressers are making a huge difference in the room as well. Previously, I had found a neat mid-century modern wood credenza that fit in the space, but I quickly out grew it storage-wise and have been on the lookout for something fun in a bright color. When these dressers popped up on Craigslist I went to check them out and knew they were immediately right.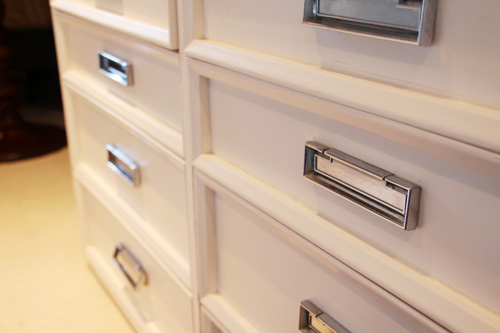 That crisp white look makes all of the difference! And the original handles and pristine shape these vintage guys are in is perfect for this home.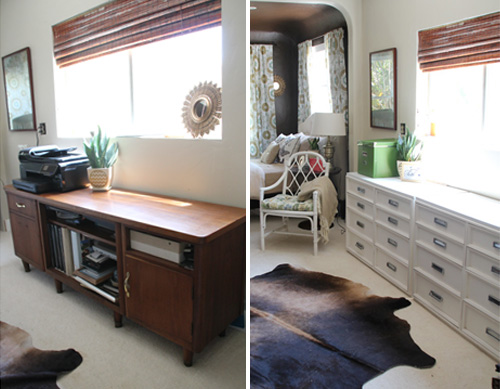 All of that storage! It's wonderful.
My desk (which is actually an old dining room table) is usually covered in notebooks and computer screens and glasses of water… but occasionally I put away all of the clutter and find this: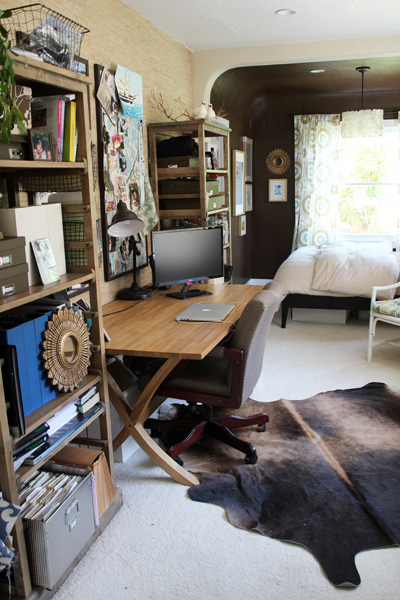 I'm still on the search for the perfect velvet to recover my chair in – perhaps a navy blue? and the rest of the wood could use a new coat of stain (in a non-cherry color). It's worth noting that I love to be organized but am not a sparse person – I really, truly enjoy staring up at those tall bulletin boards (made back here) and finding dozens of pictures of Olivia, our family, my favorite tear sheets, work docs and a few quotes and prayers that help to focus me. Even if it means that above my desk might feel a bit crowded. A well-organized file bin is helpful, a stack of unsorted papers on top of that is usually the regular.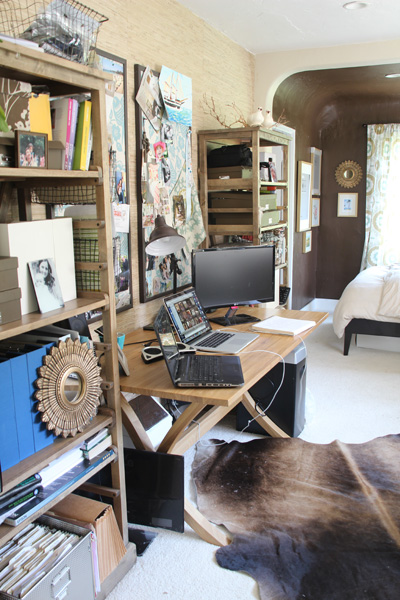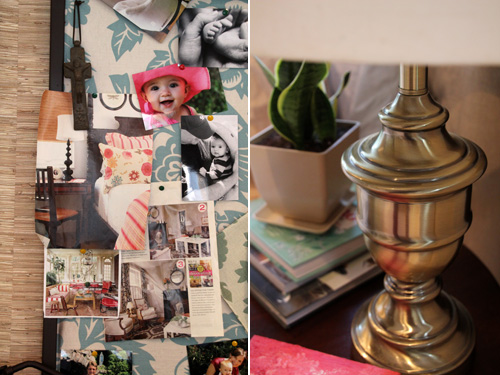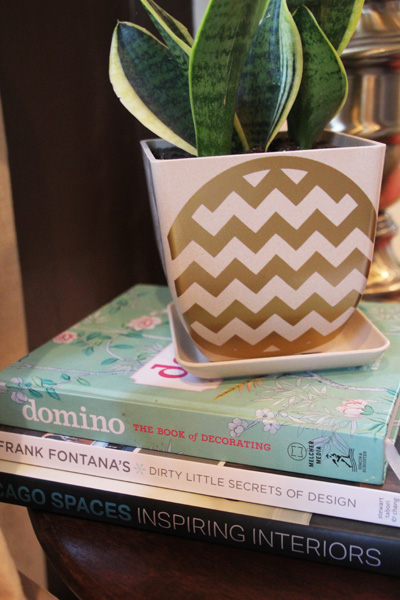 The room is slowly embracing my initial color palette as well, now it's time to add a few pops of coral and pink (I'm thinking in the form of a bit of DIY art, a new lamp? and a few new pillows):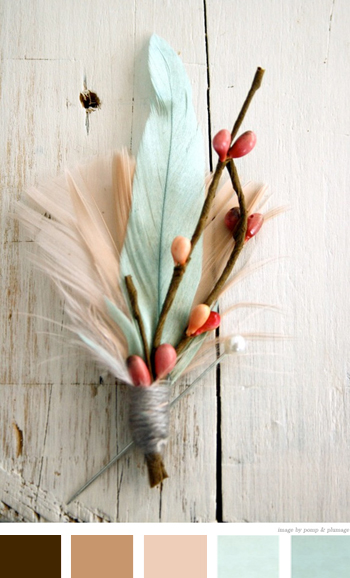 (Just for comparison's sake, here's what I first identified as these particular color plans in the room back in February):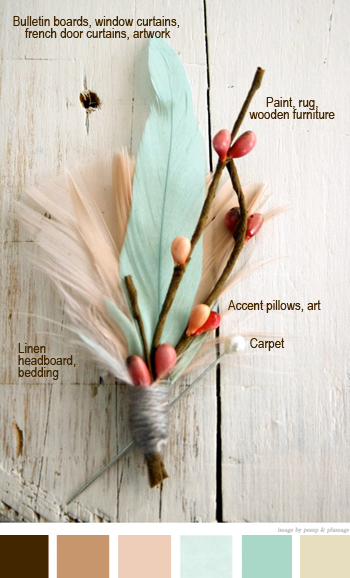 Pretty close, right? I would have bet that my ideas would have changed quite a bit in the last six months, and while they did – they didn't travel too far from the original.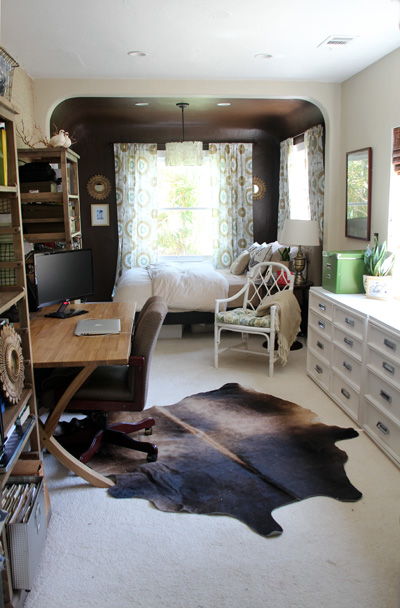 Next up, art for these walls, a bright coral or pink pillow for that chair (might recover the cushion? Did I mention I scored it for $25?), a new fabric roman shade for the big window over the dressers and a reupholstered office chair. Maybe more? Time will tell.
For more Office Makeover posts, check out: a new tufted headboard for the guest bed, our floor plan, color inspiration, a new trellis print rug, stuck in a rut, designing and sewing the curtains, diy fabric bulletin board panels, handmade capiz pendant light, organizing the bookshelves, wall collage part 1, part 2, fabric bulletin board inspiration, (new) inspiration board, new lamps, wallpapering open shelves, finding the perfect credenza, new trim, dining table-to-desk, a new desk & bookshelves, installing remnant carpeting, grasscloth wallpaper, painting the office nook, finding carpet for the office, chocolate brown wall ideas, plastering progress, inspiration for a diy desk, back in action!, desking hunting for under $300, bookcases under $300,inspirational rooms, room layout options, demo part 1 & demo part 2.
Tags:
Bedroom
,
Decorating
,
Green
,
Home
,
Office
,
Teal
,
Turquoise
Posted in
Featured DIY Project
,
Featured In
,
Guest Post
,
Home
,
Our Guestroom/Office
,
Renovating Adventures
|
5 Comments »
July 10, 2012
Terribly cheesy title I know, but today's post is all about one of my favorite new paint trends + a necessary home addition for a very busy toddler.
Lately Liv has turned into quite the independent lady. If it's at all possible (and she can figure it out), she wants to do it herself. 90% of the time that's a little tough, though we do try. 10% of the time it's to accomplish basic tasks like washing of hands after a messy breakfast. This type of independence I love, most toddlers run from a wet washcloth honing in on yogurt smeared cheeks, but Liv still finds cleaning up a delight.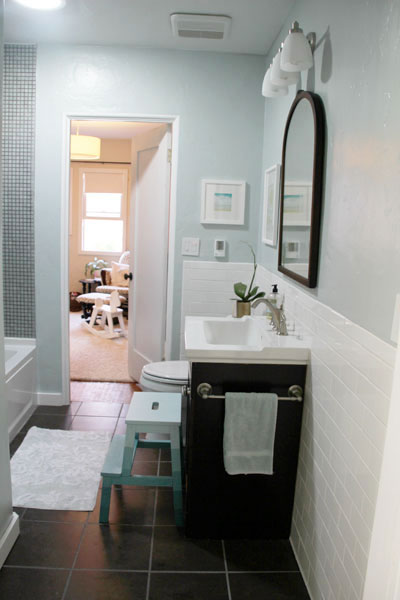 So I've been searching out a fun step stool for her bathroom. I was really hoping for something older with beautiful curved lines (more Jenny Lind – like Liv's changing table – less modern and boxy) but when I came across this little birch stool from Ikea for $15 I couldn't pass it up. It was begging for a fun coat of paint, too!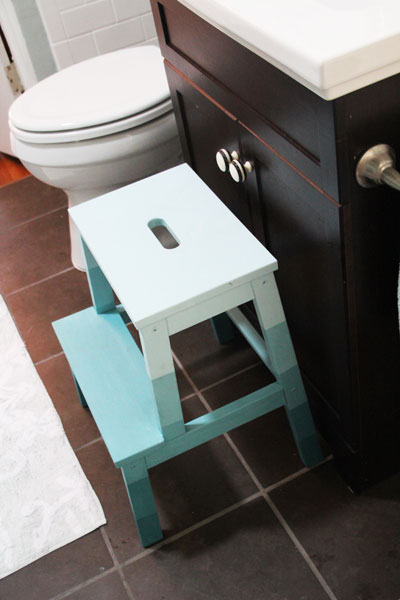 When Sherry and Katie announced their summer Pinterest challenge last week, I decided it was time to tackle this project and make it happen. (PS if you haven't heard of this fun challenge I definitely recommend checking it out. If you are a procrastinator like myself and thrive on deadlines, this is a great opportunity to give yourself a deadline to tackle one crafty project you've had your eye on).

The real Pinterest inspiration for this challenge is actually this coffee mug that has hunkered down in the back of my brain image gallery for some time.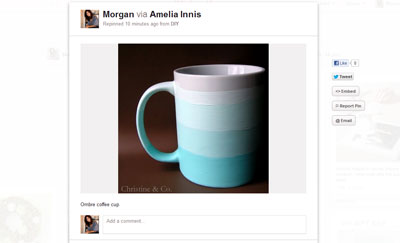 I've actually become quite enamored with the ombre trend as of late and have a few idea of else where in the house I might be able to spice things up with a bit of graduated paint colors…
And now for our much inspired ombre step stool: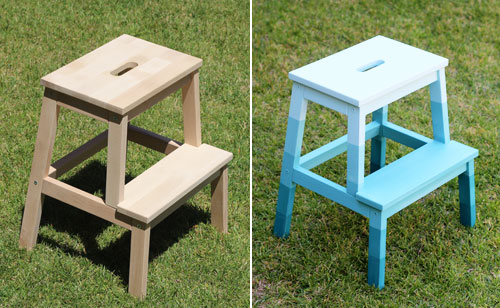 I used two paint samples and a quart of white paint to mix my ombre layers.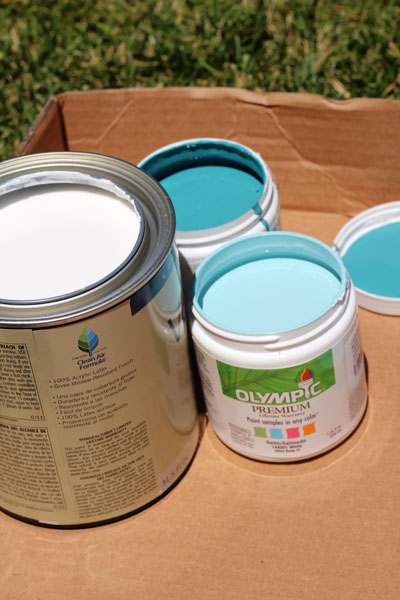 Which left me with five variations of teal blue – from a beautiful deep peacock to a clear summer's day sky blue.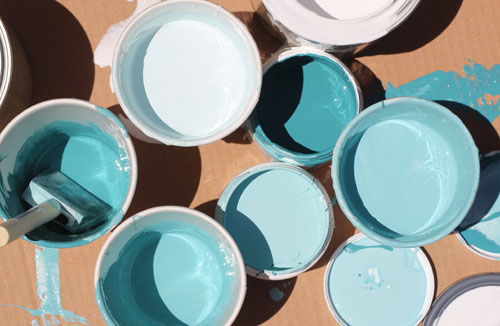 My first layers of paint were pretty rough. I began at the top and slowly worked my way down the stool painting in loose stripes and not bothering too much with exact lines.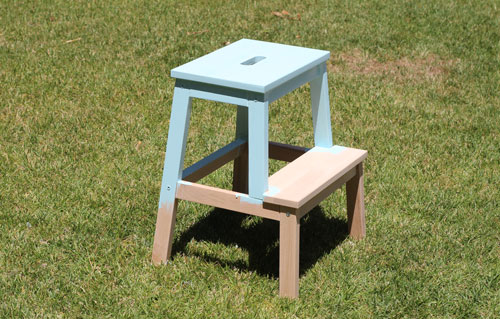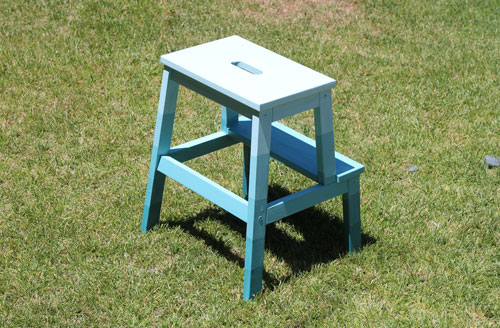 After some time in the sun, I went back with painter's tape and measured out my layer heights so that each transition could result in a sharp contrasting line.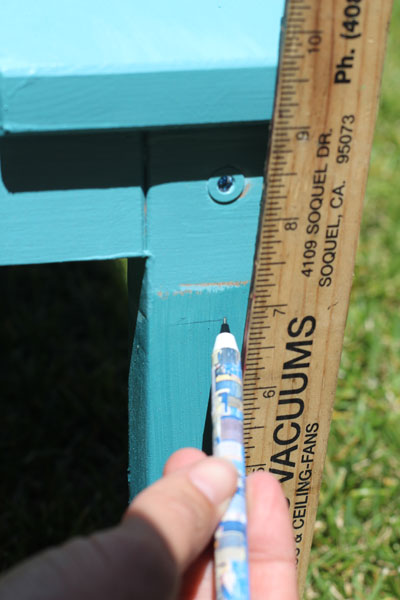 The top tier is the widest, slowly working down by 1/2″-1″ increments (roughly 5.5″ for tier 1, 4.5″ for tier 2, 3.75″ for tier 3, 3.25″ for tier 4, 3″ for tier 5) so that the stripes at the base were skinnier than the ones at the top.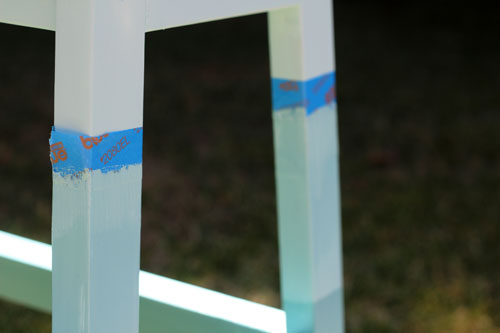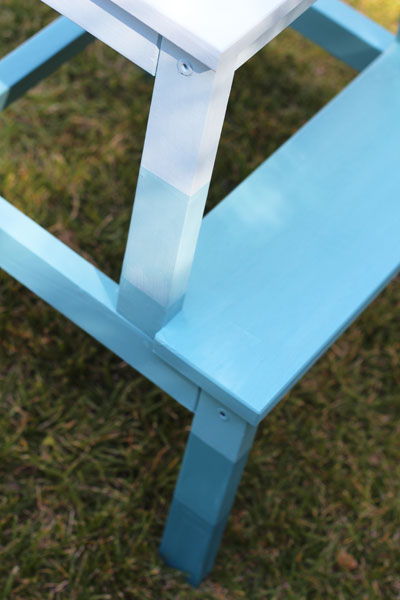 It turned out just as I had hoped for! I really dig the colors.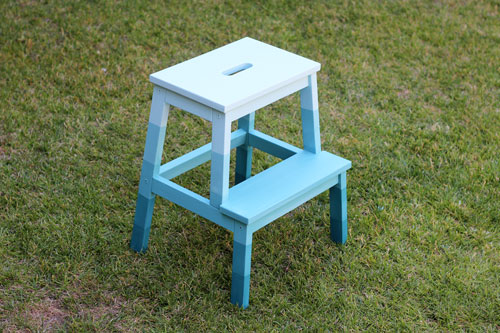 Nana helped to distract Liv on the other side of the yard, but occasionally she's wander up behind me and grab onto my neck. I ended up wearing paint for days and I'm still surprised she left the scene without a drop on her.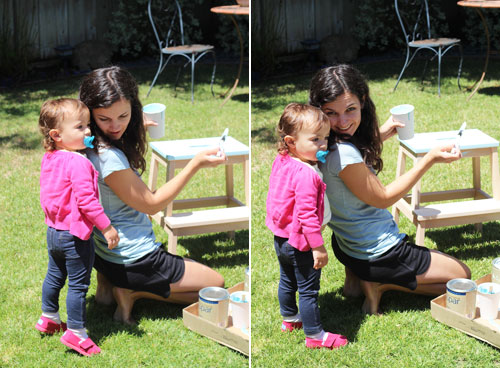 The stool is taller than I anticipated (it comes in a flat box from Ikea and I hadn't paid close attention to the overall height) but it seems to work really well with Liv's 18 month old reach.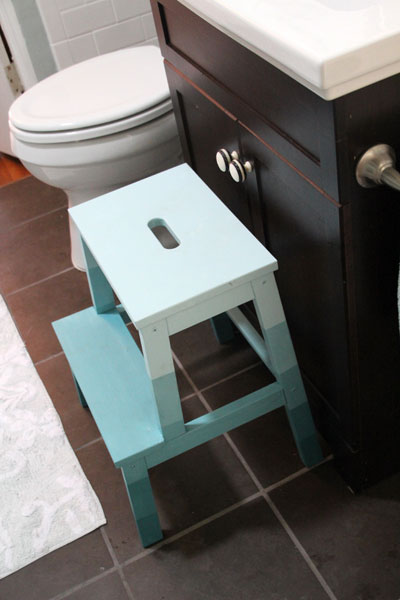 I had chosen the colors right from the existing shades in the space and I love how the turquoise pops against the tiles in the shower, the blues in the artwork, the pale hand towels.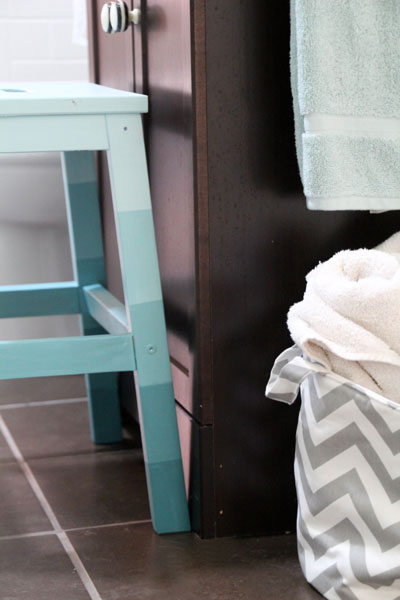 So far she dares to make it to the first step. It might get a little tricky after she figures out that she really can crawl to the top on her own.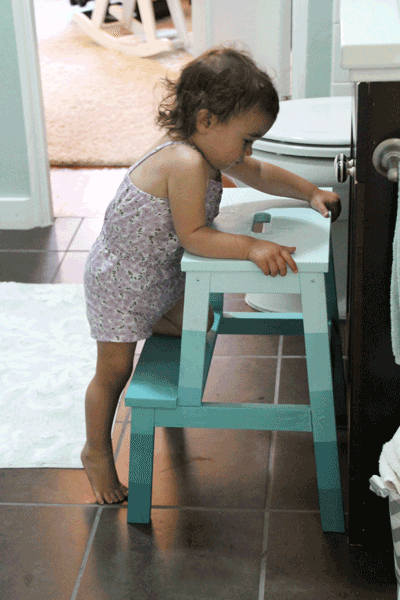 But when it comes to hand washing she gets a little help.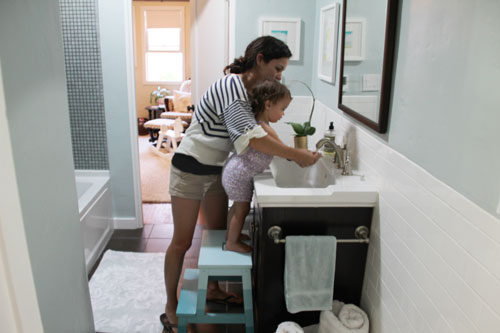 Oh wow how she loves it! After the stool moved its way inside, it was all I could do to distract her from trying to wash her hands every 10 minutes.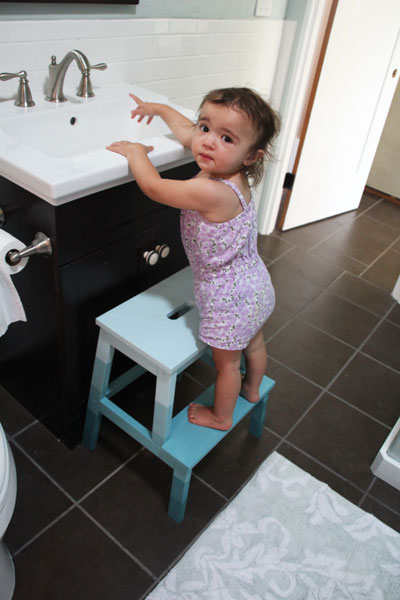 I'm glad she loves it as much as I do!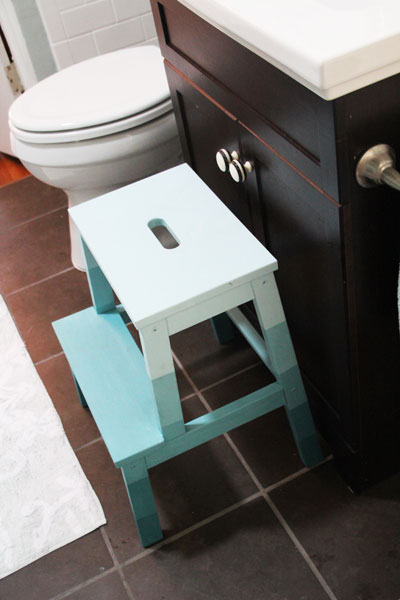 Yay for projects that make you get to-do's done.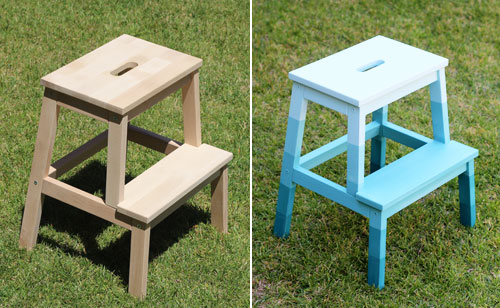 Here's a quick link to the previous Pinterest challenges that I've worked on. Still quite proud of that capiz chandelier, painter's tape wallpaper and gold mercury glass. But don't forget to head on over to Sherry's post and Katie's post (and Kate's and Michelle's! who are guest hosts) to find all kinds of crafty and fun ideas.
Tags:
Accessories
,
Before & After
,
Blue
,
Crafty Solutions
,
Decorating
,
DIY
,
Home
,
Paint
,
Pinterest Challenge
,
Teal
,
Turquoise
,
Tutorial
Posted in
Crafty Solutions
,
DIY
,
Home
,
Our Guest Bathroom
,
Renovating Adventures
|
11 Comments »