June 5, 2012
I would love to invite you all over for a rug party. But logistically that could be tough, so let's have a virtual one! I have been slowly *testing* out rugs over the past couple of weeks to see if one sticks and I've been photographing the journey so that I can play a game of comparisons.
Our dining room tends to be a fairly high traffic space – you need to pass through it to get to any other room in the house. It's also a space that welcomes you from near the moment you walk through our door, so it's equally important that it be warm and inviting. A couple of needs for this space that we had to keep in mind: must be pet-friendly (no dhurrie or woven rugs – bummer that they collect and hold onto pet hair because they're so well priced), kid-friendly (wool is usually better than jute for cleaning purposes and darker colors or patterns reign) and finally budget-friendly (we are traditionally Craigslist people even when it comes to this sort of thing *I love me a good rug cleaning though* because area rugs can be so expensive, but I've found a few options in the few hundred dollar range that I'm really loving). Ready? Let's start.
PS the dining room makeover all started here if you'd like to read these posts in order!
A classic jute…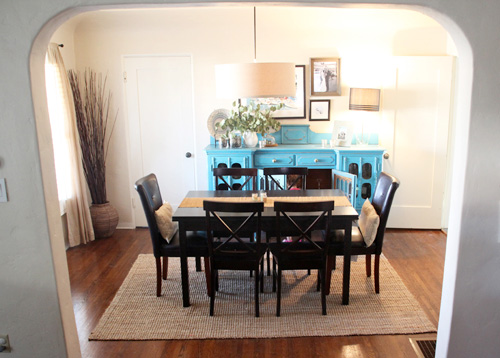 Fits the bill size-wise and price-wise (I believe with the family discount at Ikea this guy rang in at $70) and has a nice, neutral feel. Would easily work with any of the curtain options. I'm a huge fan of natural fiber rugs and while I usually opt for a softer version (with a wool or chenille mixed in), this Ikea jute rug might work well in an area where kids won't necessarily be playing on the floor.
The only con is that jute is tough to clean, even by the professionals (I buy Groupons for area rug cleanings twice a year these days – it's just one of those items I budget in with pets and a baby, but totally worth the trade off

). In fact I've found that natural fibers are doubly tough to have cleaned and often require special care and a trip to a shop if it gets a liquid stain (ask the poor hallway carpet after Halloween 2009 when Bodie chewed a mini pumpkin right into the slobbery fibers).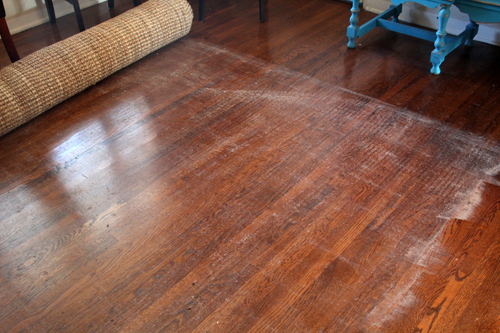 Plus they shed. At least cheaper jute rugs tend to. If this guy stays he'll be getting a rug pad (the above was only this bad once when switching out carpets. A quick mop and I haven't seen the likes of the loose fibers since).
Next up is an indoor/outdoor ikat option. Outdoor rugs can be just the best! Depending on the rug, cleaning can require as little as a hose, a scrub brush and dish soap in the backyard. This is a great rug by Ballard Design for a great price – but I do worry that I would be incredibly limited by curtain choice with this guy.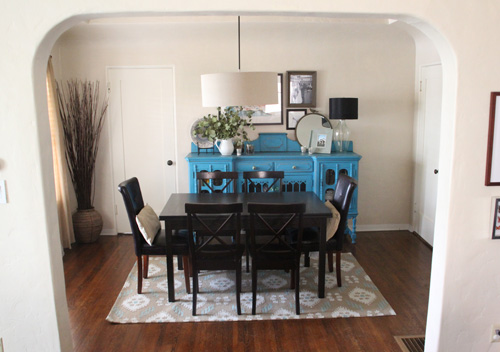 What about bringing that jute back in to add a little warmth?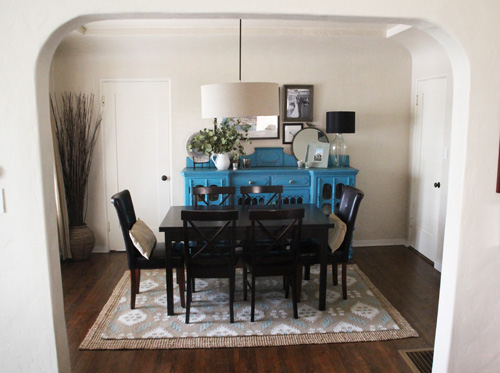 Hmmm… I love the general size of the Ikea rug (bigger than 5×8 but not quite 6×9, you know how those crazy Ikea metrics work) and the border is a nice addition. This is a nice solution for the space?
What are your thoughts on cowhide? I've been a fan of the look for some time and I especially love when hides are used in living rooms and dining rooms. Here's a little inspiration: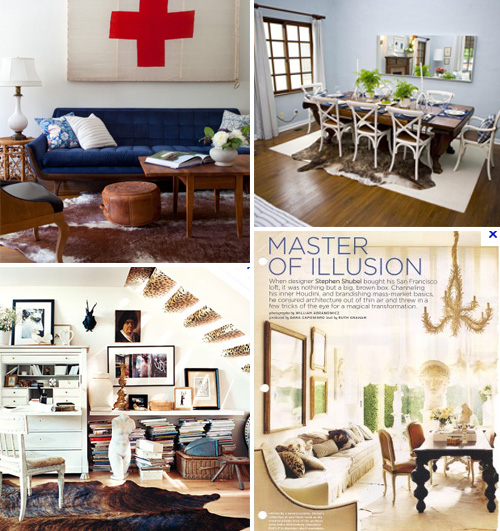 Sources: Emily Henderson x2, Domino, Tandy Leather – Girl in the World
White would not work so well in this space for so many reasons, but a darker cowhide would be easy to maintain (I'm thinking warm water and soap, or perhaps cutting a more permanent spill right out of the hair). So when a really wonderful deal popped up on Fab I pounced and ordered the rug to try it out.
The fact that it's an animal hide doesn't bother me so much. I like the idea of producing as little waste as possible and because we eat steak and meat on various (not too often but every once in a while) occasions means that using the by-products is a good thing. But now I'm starting to sound like I skinned the darned thing myself.

I really dig this look. Ignore that tripod there to the right…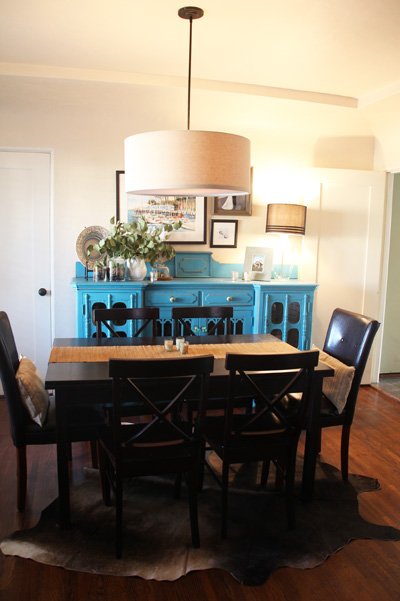 With that jute still rolled up on the left you can see where I'm going with the next idea: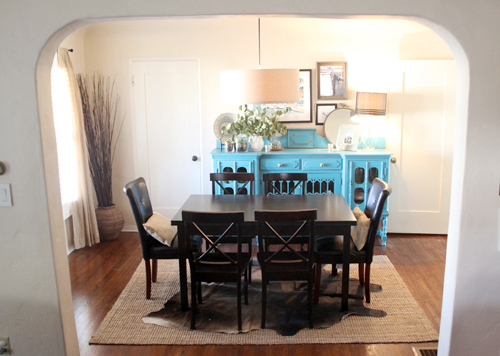 But maybe with the hide at a bit more of an angle.
Nothing is set in stone, *sigh* (I can be a horrible decision maker!) I can always use this rug in a different room or even resell on eBay for the crazy price that I was able to nab it for.
Here are some other rug ideas that I'm thinking about: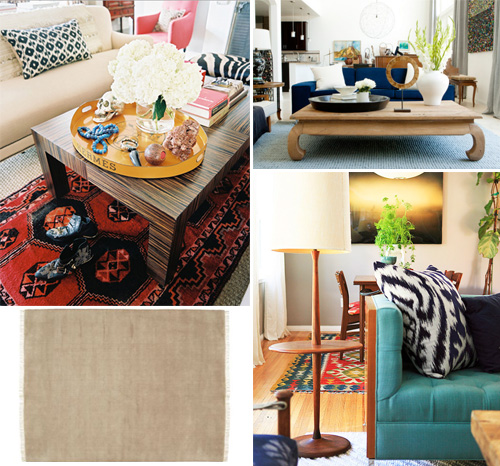 Sources: Little Green Notebook, Emily Henderson, Pottery Barn
What are your thoughts on dining room rugs? Practicality over design? Or can you accomplish both?
Read the full dining room story by back tracking from here: curtain call part 2, curtain call part 1, newly styled bookshelves, a buffet-over, upgrading the lighting, the before.
Tags:
Accessories
,
Blue
,
Decorating
,
Dining Room
,
Fabric
,
Green
,
Home
,
Patterns & Color
,
Teal
,
Turquoise
Posted in
Home
,
Our Dining Room
,
Renovating Adventures
|
12 Comments »
April 16, 2012
BIG news to share today, the guest bathroom is finished!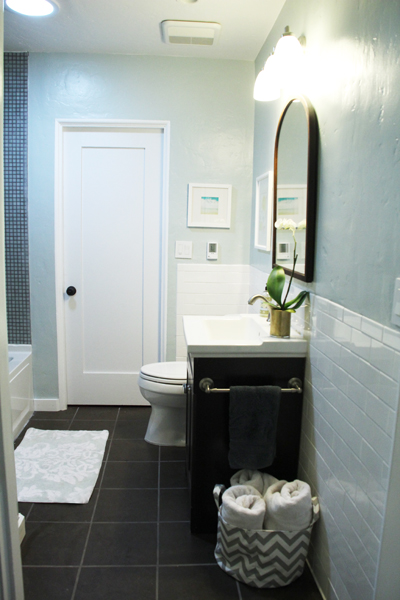 There are a few odds and ends that are still on the to-do list, like hanging hooks for damp towels, a large blank wall space that might potentially find itself with artwork or shelving in the future, etc. but for the most part we are calling it Finished! as of April 15, 2012.
Here's a shot coming into the bathroom from Liv's room. Because the space used to be three adjoining closets, now the bathroom opens up to both her nursery as well as the hallway for guests.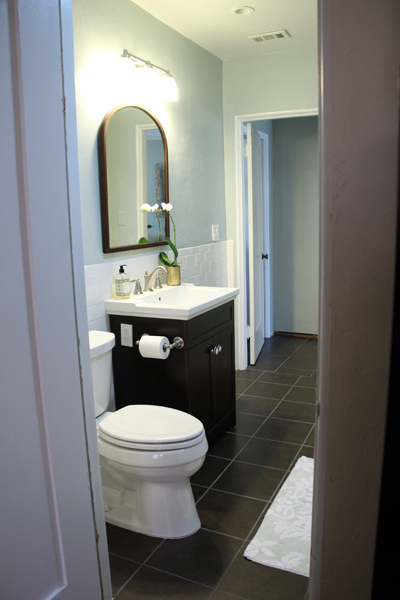 On any given day, we have silly bath time (Liv Loves bath time!) and then wrap her up in a fluffy towel and carry the little burrito into her room to get dressed.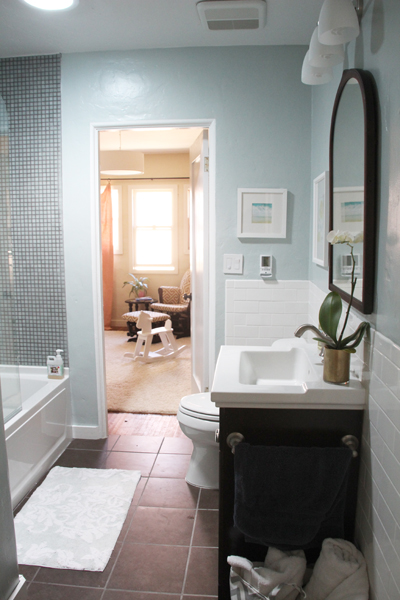 The lighting in these photos is really reading 'blue', but the actual space is much more turquoisey blue.
There are so many details that I love about the room, but most importantly that  every element was picked out, installed and fussed over by us. There's nothing more satisfying than knowing that as a team you accomplished the entire space together! With lots of patience, creativity and sweat equity.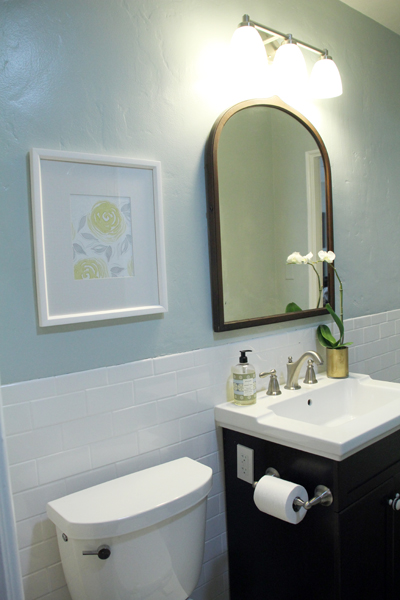 Here's a shot of the opposite wall with our recycled glass shower nook and single pane door: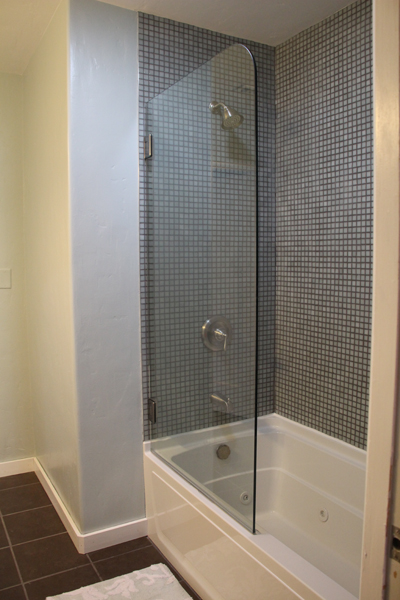 Take a peek into the shower and bathtub. It's so awesome to have a bathtub in the house now! We installed brushed nickel hardware throughout, from the sink faucet to the  shower and bathtub hardware.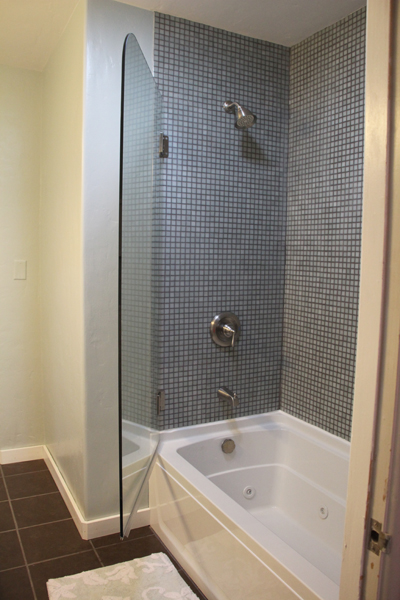 The grey grout brings in a little modern edge, helps to keep the tile grout from getting noticeably old (as white grout tends to do over the years) and matches our silver accents as well. For a full 360 degree view, here's a glance at the other side of the shower.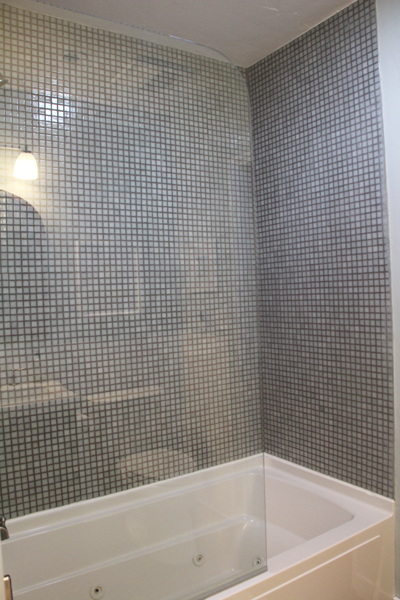 A few recent bath additions include a new mat in a soft turquoise color (matches the walls and tile perfectly) with a white damask print. I was so over the moon to come across it on Joss & Main!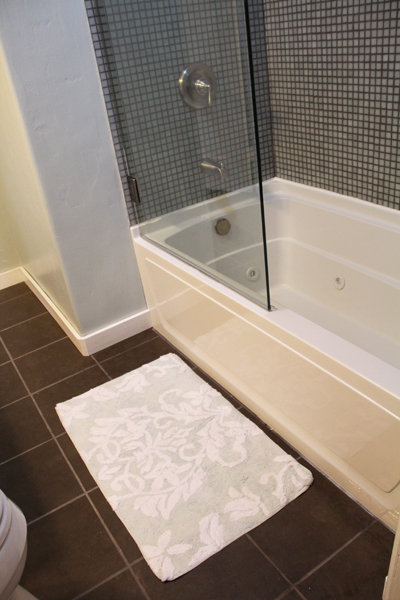 Adds the perfect amount of eye-catching pattern. Although I must admit, the bright white of the damask means that I'm throwing it in the wash every week.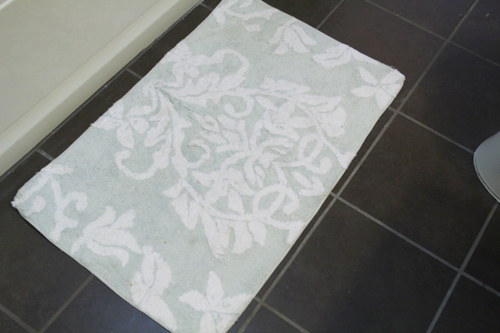 Other favorite details include my new art, two pieces that I scoured Etsy for for a long time and finally settled on for their calming color scheme and artistic vibe. I really searched these guys out… talk about indecisiveness! But I love my final prints and I loved working with the artists first hand.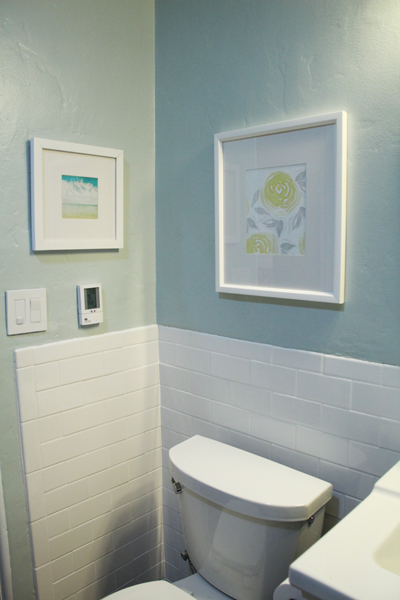 The yellow and grey watercolor featuring organic roses and grey leaves is by Stephanie Ryan: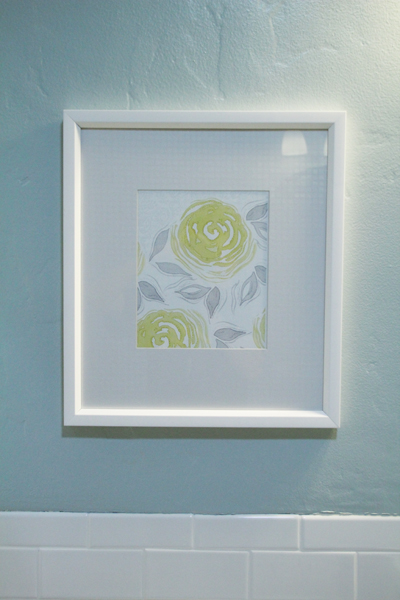 While the beautiful, overexposed ocean print is by Honey Tree.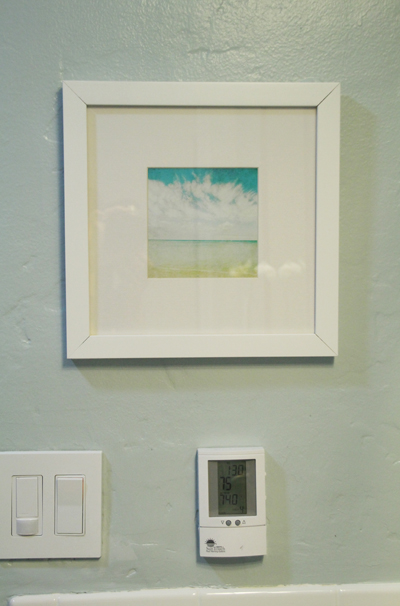 Sorry, it was hard to not get a glare on that guy. I really love both, but Kevin is a little uncertain on that bright pop of turquoise in the ocean print. We'll see how it sits with us for a few weeks and may end up changing the picture to something else (and I'll have to find another awesome spot to showcase the photo).
When it comes to framing, I find that ordering custom frames and mats online is always much more cost effective – plus you get the exact sizes that you need rather than what's on the floor at Aaron's Brothers or Michaels (though I use those sources plenty, too). I highly recommend this eBay seller for really great, inexpensive mats and professional frames.
Nicole of NikJDesigns was wonderful to work with! I brought her the idea of creating an Anthropologie-esq fabric bucket with handles for the bathroom (inspired by this guy) to act as extra towel storage, and this is what she created for me: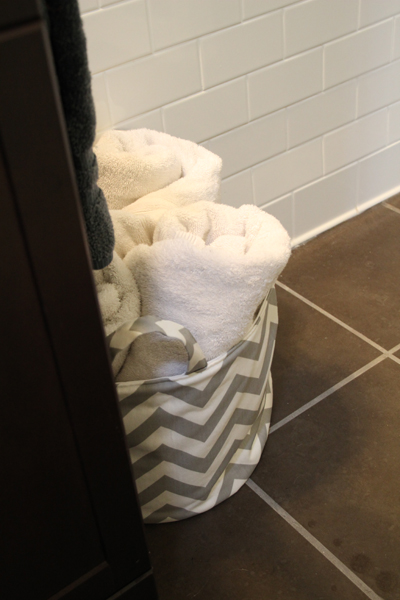 It's a soft, malleable bag that holds three rolled towels perfectly. It can actually be flipped inside out or you can roll the top down several inches to reveal the creamy white fabric inside.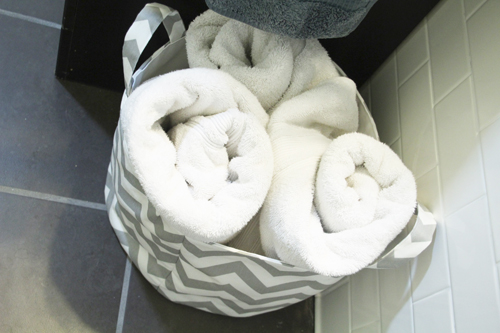 We used silver accents for the faucet hardware but brought in bits of gold and oil rubbed bronze in the form of a few decorative pieces, like this DIY gold mercury vase: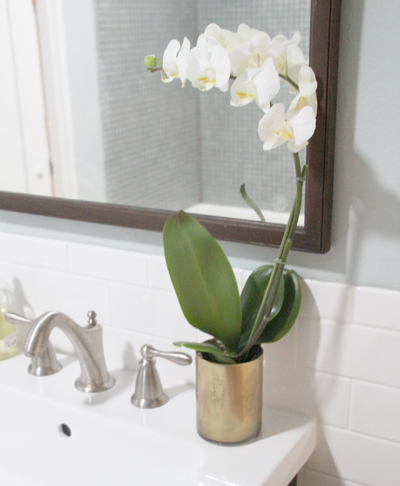 Really helps to warm the cool space up.
The new hardware on the door (which Kevin just finished stripping, sanding and painting this weekend) matches our kitchen door hardware and we'll try to eventually bring in the oil rubbed bronze throughout the house.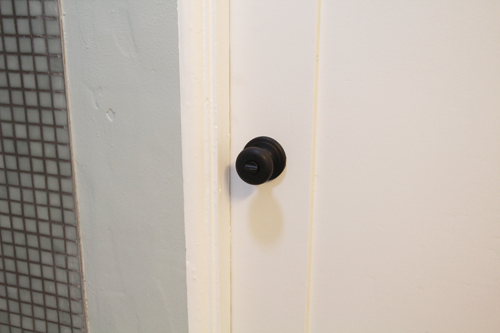 I changed out the factory knobs on the vanity for these Anthro options and I really love what they add.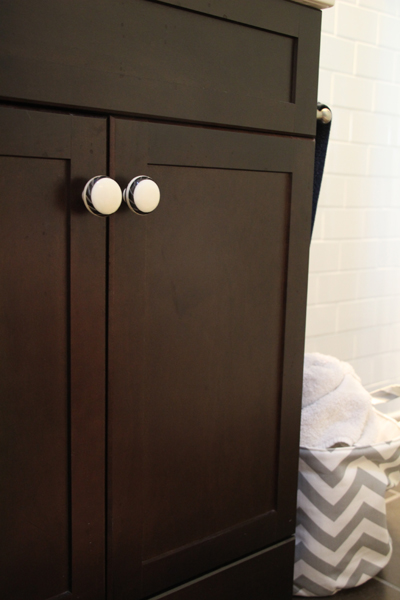 They're a beautiful bone color that works perfectly with all of the white in the space, the bold black stripe matches some of the darker hardware. Hoping to eventually add either these towel hooks in linen or a set of brushed silver.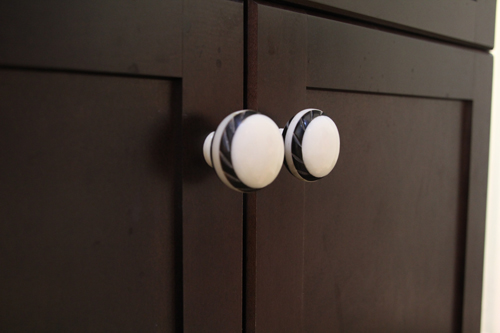 Another favorite is the natural light the new tube skylight brings in. Having natural light in this space makes all the difference.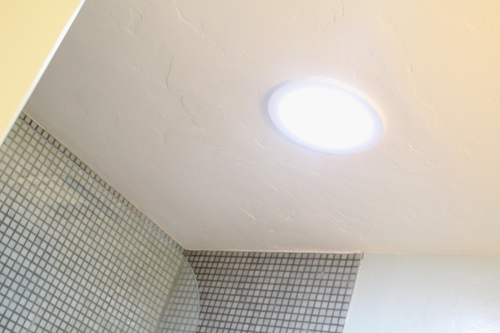 Big, huge kudos to Lowe's who helped us make it happen. This was a renovation that would have been much further down the budgeting line for us, but the awesome team over at Lowe's asked if they could help sponsor a project and we couldn't find a more fitting room to tackle! As you know if you've followed the space from gutted closets to finished bath, we used Lowe's for nearly all of the product throughout, from the WaterSense toilet to the radiant heating in the floors to the plumbing in those walls. Kohler ended up sponsoring an air jet tub that is out of this world! I have no idea how we ended up as the lucky blog recipient of their team's generosity, but I am enormously grateful that we were chosen.
It's hard to believe it all started with three hall closets!! Here's the gutted version of the closets: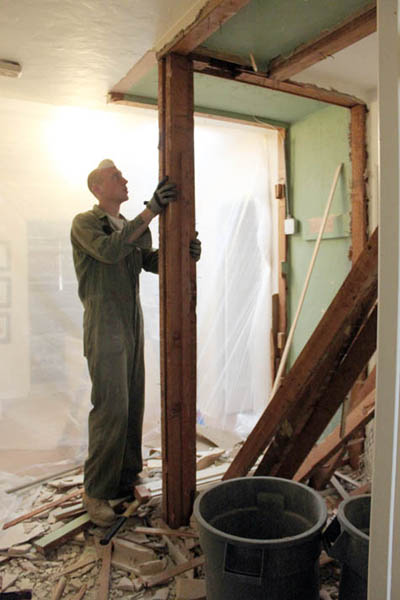 And a peek at the three closets and old hallway from the bedrooms before demo began: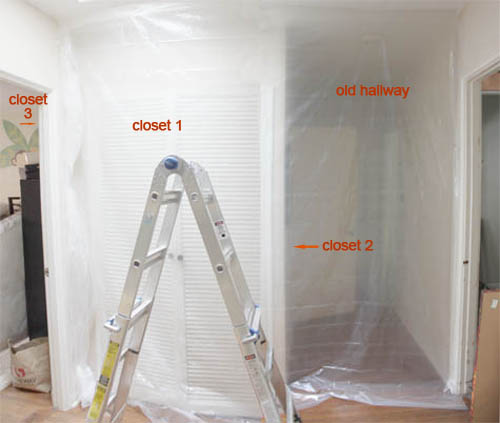 That wall is actually now this wall: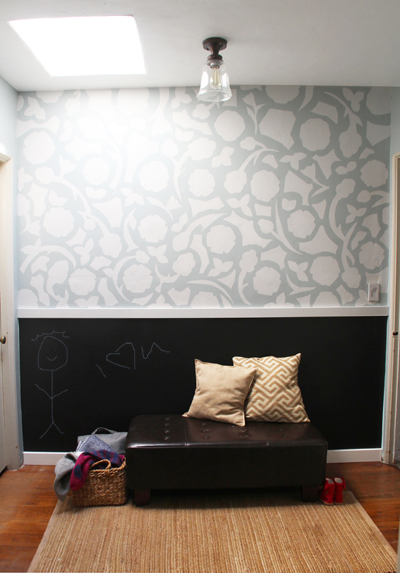 More on the painter's tape design and chalkboard transformation here.
For a better visual on how those three closets and hallway became a new bathroom, here's the floor plan before we started (the closets are in the very center in white):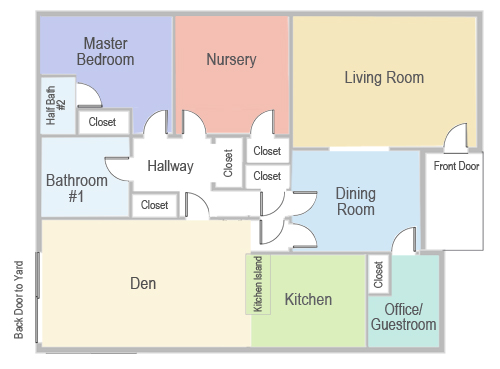 And how it all came together after: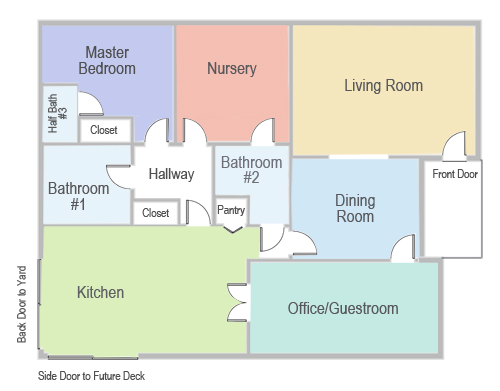 Here's a list of our resources:
*Shower glass tile: Elida Ceramica recycled glass tile in Moonlight
*White subway tile: American Olean subway tile
*Vanity: Java Broadway by Estate with a Kohler white sink
*Vanity faucet: Moen Caldwell in brushed nickel
*Vanity knobs: Black and white striped bone knobs by Anthropologie
*Vanity light: Portfolio
*Vanity mirror: thrift store find
*Toilet: Kohler WaterSense toilet
*Air jet bathtub: Kohler
*Tub and shower faucet: Moen Caldwell in brushed nickel
*Skylight: VELUX tubular skylight
*Radiant heating: Watts SunTouch Underfloor Warming Mat
*Floor tiles: Metro Leather porcelain tile by Arizona Tile
*Frameless glass door: Bob's Glass (a San Diego mom & pop shop)
*Chevron print bath bag: NikJDesigns
*Framing for bath art: Tabby7
*Ocean print: Honey Tree
*Roses watercolor: Stephanie Ryan
*Parisian bath mat: Joss & Main (though it was a daily deal find)
*Wall paint: Sea Salt Blue by Valspar
So, so very thrilled with the end result, and so happy to have our new bathroom-built-from-scratch finished!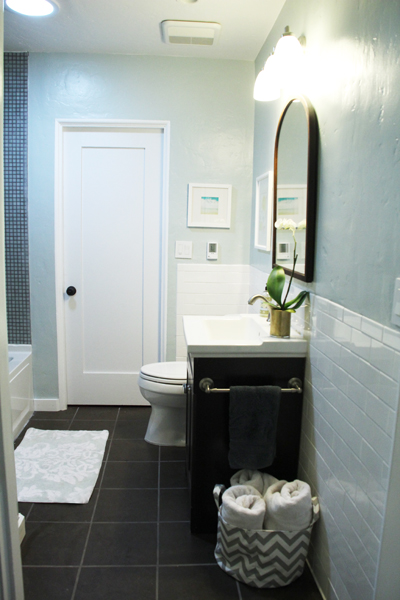 Follow the entire renovation adventure: installing the glass panel shower door,  a vintage mirror, installation time, vanity wars, subway tile installation, floor tiles and toe warmers, a quick catch-up on our work on the bathroom in 2011, tiling with recycled glass, choosing and installing a bathtub, demo time!, a peak at the layout, initial inspiration, partnering with Lowe's
We partnered with Lowe's on our bathroom remodel and had the opportunity to try out some of their product at no cost and some product at a discount. The ideas and stories shared in this post are entirely our own, promise.
Tags:
Blue
,
Construction
,
DIY
,
Home
,
Teal
,
Turquoise
Posted in
Construction
,
DIY
,
Home
,
Our Guest Bathroom
,
Product Review
,
Project Lowe's
,
Renovating Adventures
|
20 Comments »
April 5, 2012
If you're wondering what the heck is going on with our guest bathroom remodel, that makes two of us. We are officially one year into this project, but I think we're coming around the bend with the finish line in sight!
We finished the new kitchen in about four months so it was a surprise to both Kevin and me that this bathroom (which is so much smaller) is taking so much longer. I guess patience is a huge part of the home renovating pie. You really never can guarantee what you'll come across as you go, be it budget, construction obstacles, time delays unrelated to the renovation entirely (but inevitably affect it anyways), and you know how it goes… Many apologies for the drawn out story.
Happily we marked one more big install off of our list this week! Yes, after waiting far too long for this shower door to be delivered (long story short, the glass company was patiently waiting on us while we were patiently waiting on them… and finally we all communicated) she's looking so brilliant.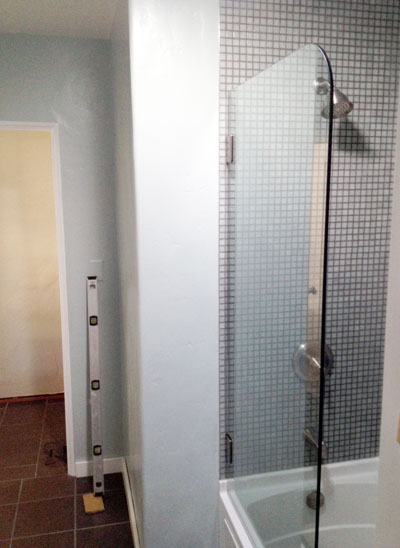 And here's a shot of her swinging a full 45 degrees open: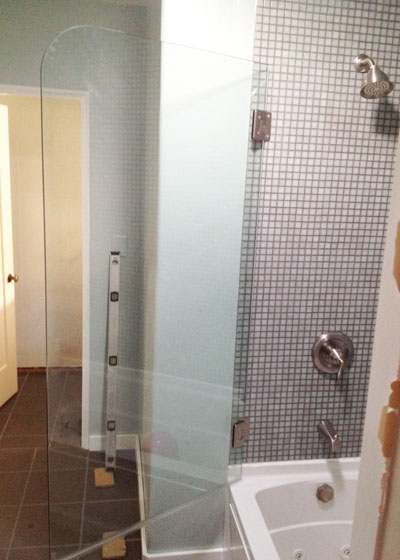 It's a frameless glass panel! And it was the best option/investment that we could make for this new bathroom. We contemplated a shower rod and curtain but we would cover up that beautiful recycled blue/green glass tile (the tile can't decide what color it is… it changes all the time depending on its mood. Maybe that's why it was called Moonstone??

).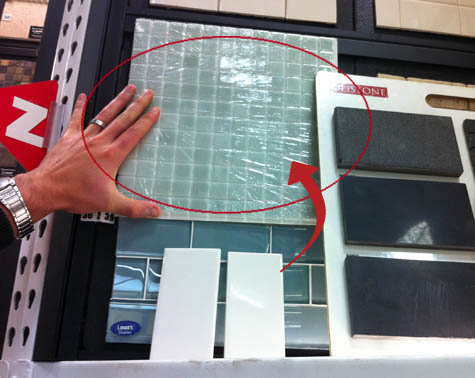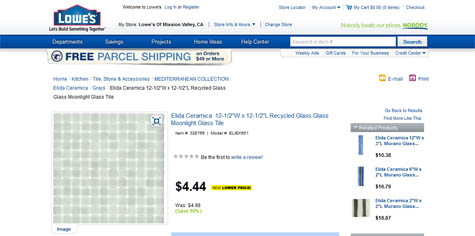 A framed glass sliding door was option two. But when it came down to the price we just couldn't mess with how open and airy and beautiful a solo glass panel looked (and compared with a full sliding glass door, it wasn't too much more). Since Lowes' Awesome team was helping us with components of the bathroom such as the bathtub, fixtures, skylight, radiant heating, vanity, tile and toilet, we had a little extra from our saved up stash (that we used on construction materials, plumbing, electrical and so on) to splurge on a wow stopper just like this guy.
PS we had the best experience working with Lowe's and they are my go-to. I cannot express how thrilled we were to make this entire bathroom happen with their help. Lowe's, you guys rock.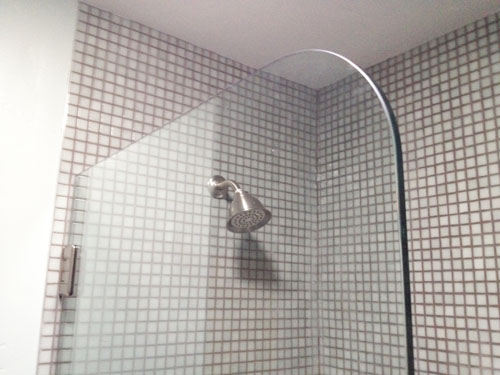 Our secret for saving a little extra here was to have a glass company cut the shatterproof glass panel for us (rather than a store that specialized in bathrooms) and then to have Kevin install it himself. We did take the glass company up on their offer to measure (just in case the walls of our older bungalow were tilted just enough to notice a slant in a straight piece glass panel) at an extra cost.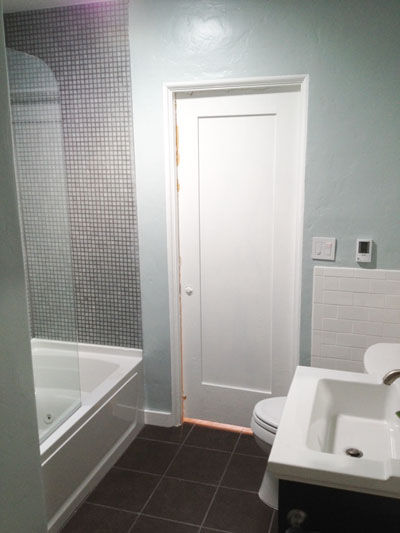 You can have the door panel cut as a perfect rectangle, but the radius on the upper corner is a feature I've seen before and one I loved. Here's the drawing I ended up sending over to the glass company: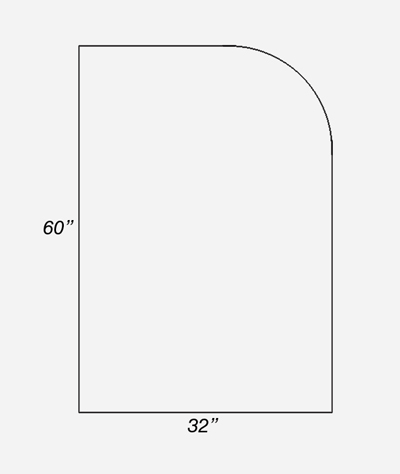 But we ended up choosing to extend the door out to 34″ and to a height of 64″ to make sure the shower spray wouldn't sneak up and around the single panel while someone was showering

.
Installation ended up being pretty basic – and easily saved us over $200. After measuring out the hinge holes in the tile wall, Kevin used a glass and tile bit drill through the tile, into the wall and into a stud (we had planned on some sort of shower door so we made sure to have a stud in this location when we were framing out the room). Up went the glass and the hinge which was then screwed into the predrilled holes. Note: unless you're super comfortable with all of the above, consider hiring a professional to do this if you find yourself installing glass anytime soon.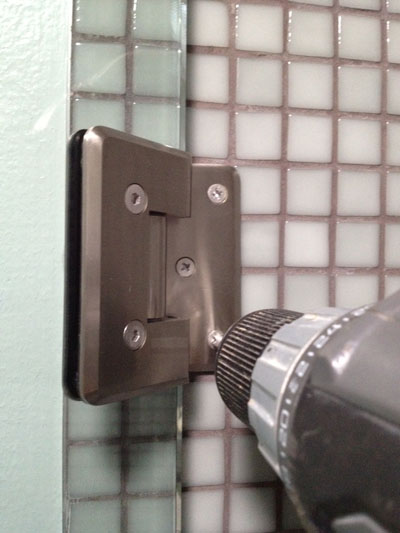 These hinges are heavy duty, the two alone are supporting the weight of the glass. They're also pretty: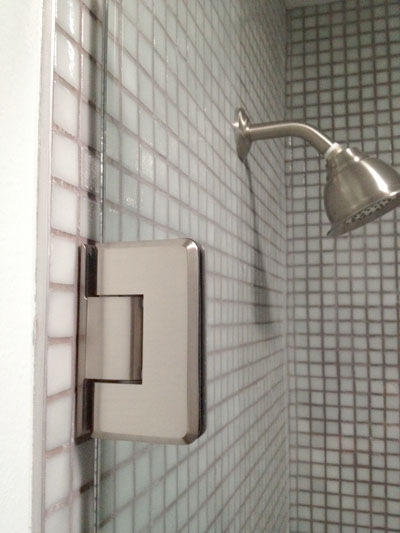 The edge of the glass panel that meets the tub is lined with a long rubber squeegee for a tight seal.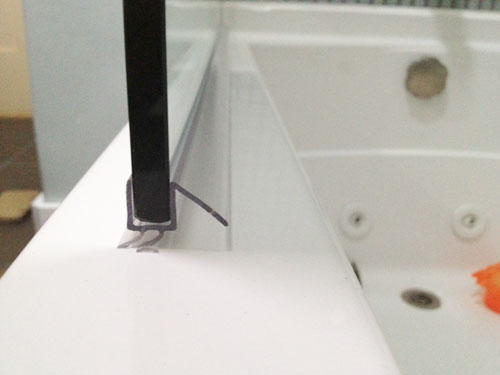 Still awaiting new art, towel hooks and that door back there is in need of a new coat of paint and a door handle (it used to be a closet door so there wasn't a handle on the inside, these days you'll find a little rotating disc  to open and close the door to Liv's room).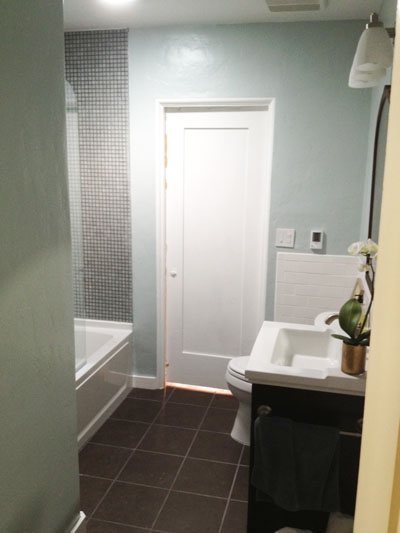 If the photos are coming through a little fuzzy on your end, Kevin took them with his iPhone and beamed them on over earlier this week. Liv and I are up in the bay area of California on a work trip while the hubby stays home for school and home projects.
And there's the handsome man behind it all: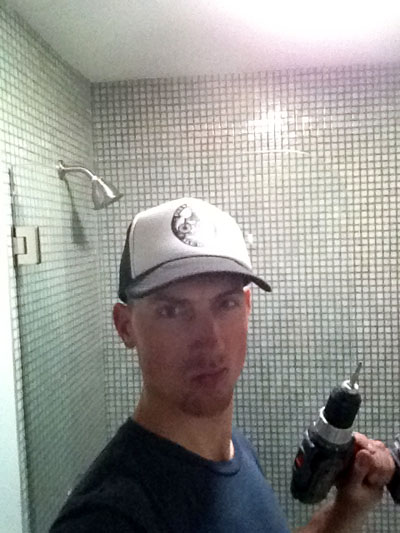 (I couldn't leave out the best pic he texted.)
Here's a round-up of more inspiration for frameless glass panel shower doors from DecorPad:

They're pretty cool looking, right?
More building a bathroom posts: a vintage mirror, installation time, vanity wars, subway tile installation,  floor tiles and toe warmers, a quick catch-up on our work on the bathroom in 2011, tiling with recycled glass, choosing and installing a bathtub, demo time!, a peak at the layout, initial inspiration, partnering with Lowe's
We partnered with Lowe's on our bathroom remodel and had the opportunity to try out some of their product at no cost and some product at a discount. The ideas and stories shared in this post are entirely our own, promise.
Tags:
Blue
,
Construction
,
DIY
,
Home
,
Teal
,
Turquoise
Posted in
Home
,
Our Guest Bathroom
,
Renovating Adventures
|
3 Comments »