April 5, 2012
If you're wondering what the heck is going on with our guest bathroom remodel, that makes two of us. We are officially one year into this project, but I think we're coming around the bend with the finish line in sight!
We finished the new kitchen in about four months so it was a surprise to both Kevin and me that this bathroom (which is so much smaller) is taking so much longer. I guess patience is a huge part of the home renovating pie. You really never can guarantee what you'll come across as you go, be it budget, construction obstacles, time delays unrelated to the renovation entirely (but inevitably affect it anyways), and you know how it goes… Many apologies for the drawn out story.
Happily we marked one more big install off of our list this week! Yes, after waiting far too long for this shower door to be delivered (long story short, the glass company was patiently waiting on us while we were patiently waiting on them… and finally we all communicated) she's looking so brilliant.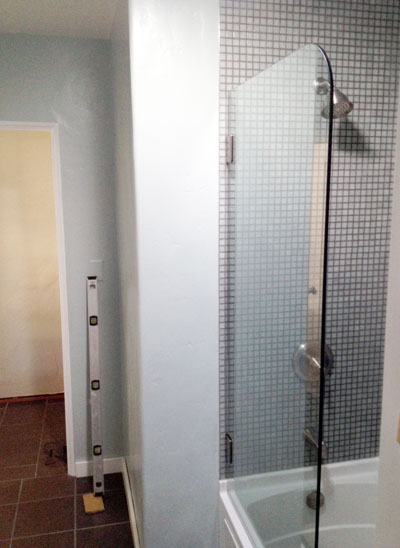 And here's a shot of her swinging a full 45 degrees open: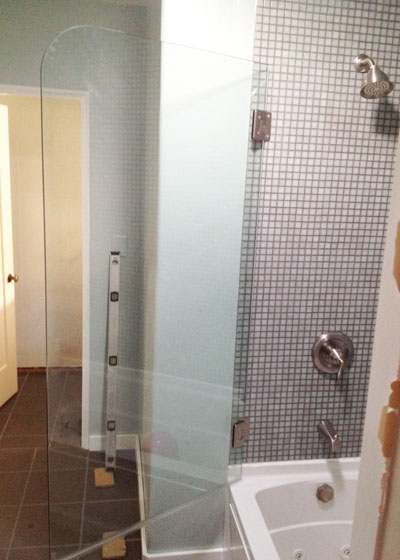 It's a frameless glass panel! And it was the best option/investment that we could make for this new bathroom. We contemplated a shower rod and curtain but we would cover up that beautiful recycled blue/green glass tile (the tile can't decide what color it is… it changes all the time depending on its mood. Maybe that's why it was called Moonstone??

).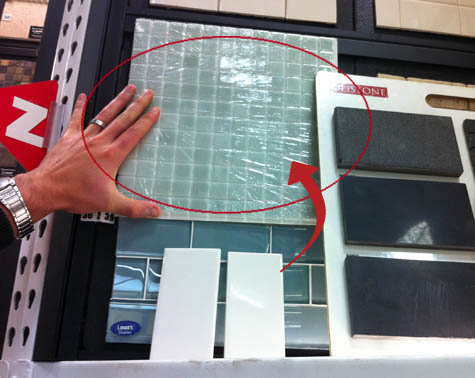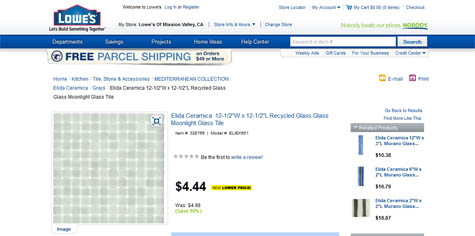 A framed glass sliding door was option two. But when it came down to the price we just couldn't mess with how open and airy and beautiful a solo glass panel looked (and compared with a full sliding glass door, it wasn't too much more). Since Lowes' Awesome team was helping us with components of the bathroom such as the bathtub, fixtures, skylight, radiant heating, vanity, tile and toilet, we had a little extra from our saved up stash (that we used on construction materials, plumbing, electrical and so on) to splurge on a wow stopper just like this guy.
PS we had the best experience working with Lowe's and they are my go-to. I cannot express how thrilled we were to make this entire bathroom happen with their help. Lowe's, you guys rock.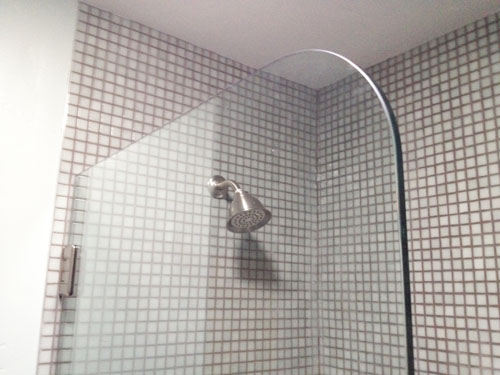 Our secret for saving a little extra here was to have a glass company cut the shatterproof glass panel for us (rather than a store that specialized in bathrooms) and then to have Kevin install it himself. We did take the glass company up on their offer to measure (just in case the walls of our older bungalow were tilted just enough to notice a slant in a straight piece glass panel) at an extra cost.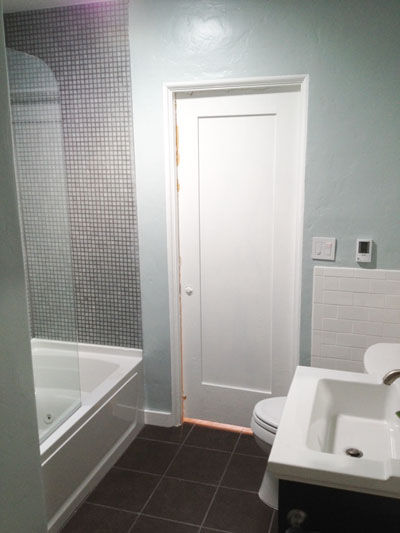 You can have the door panel cut as a perfect rectangle, but the radius on the upper corner is a feature I've seen before and one I loved. Here's the drawing I ended up sending over to the glass company: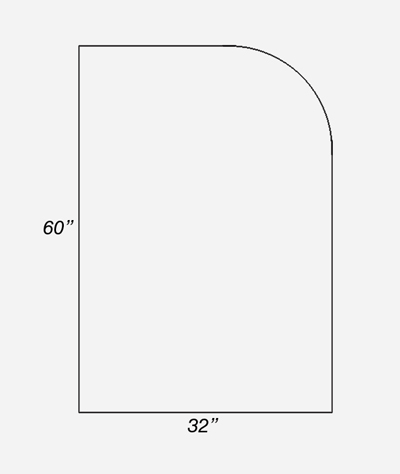 But we ended up choosing to extend the door out to 34″ and to a height of 64″ to make sure the shower spray wouldn't sneak up and around the single panel while someone was showering

.
Installation ended up being pretty basic – and easily saved us over $200. After measuring out the hinge holes in the tile wall, Kevin used a glass and tile bit drill through the tile, into the wall and into a stud (we had planned on some sort of shower door so we made sure to have a stud in this location when we were framing out the room). Up went the glass and the hinge which was then screwed into the predrilled holes. Note: unless you're super comfortable with all of the above, consider hiring a professional to do this if you find yourself installing glass anytime soon.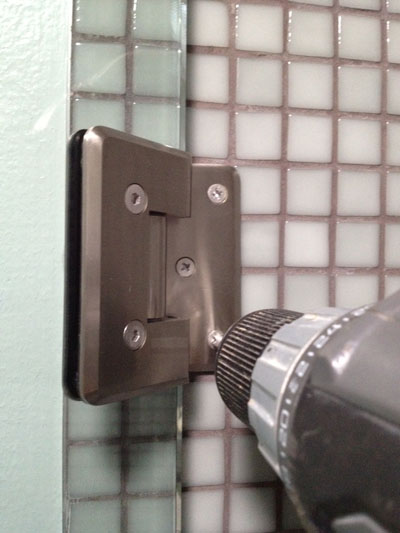 These hinges are heavy duty, the two alone are supporting the weight of the glass. They're also pretty: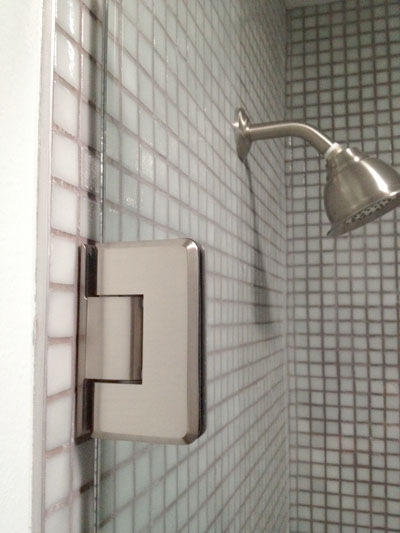 The edge of the glass panel that meets the tub is lined with a long rubber squeegee for a tight seal.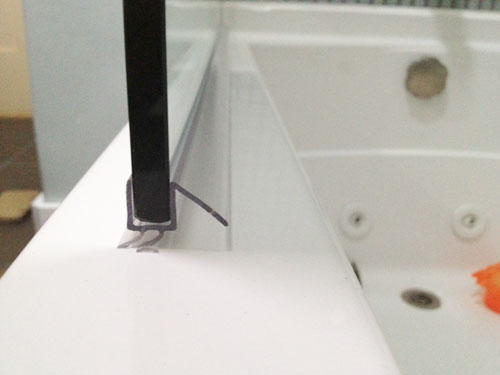 Still awaiting new art, towel hooks and that door back there is in need of a new coat of paint and a door handle (it used to be a closet door so there wasn't a handle on the inside, these days you'll find a little rotating disc  to open and close the door to Liv's room).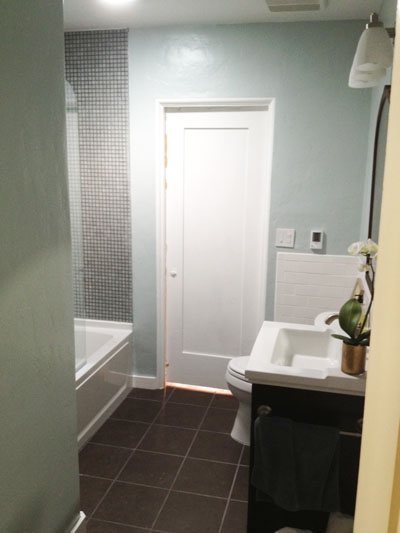 If the photos are coming through a little fuzzy on your end, Kevin took them with his iPhone and beamed them on over earlier this week. Liv and I are up in the bay area of California on a work trip while the hubby stays home for school and home projects.
And there's the handsome man behind it all: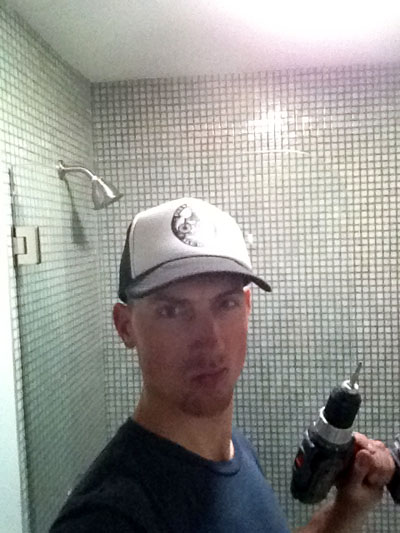 (I couldn't leave out the best pic he texted.)
Here's a round-up of more inspiration for frameless glass panel shower doors from DecorPad:

They're pretty cool looking, right?
More building a bathroom posts: a vintage mirror, installation time, vanity wars, subway tile installation,  floor tiles and toe warmers, a quick catch-up on our work on the bathroom in 2011, tiling with recycled glass, choosing and installing a bathtub, demo time!, a peak at the layout, initial inspiration, partnering with Lowe's
We partnered with Lowe's on our bathroom remodel and had the opportunity to try out some of their product at no cost and some product at a discount. The ideas and stories shared in this post are entirely our own, promise.
Tags:
Blue
,
Construction
,
DIY
,
Home
,
Teal
,
Turquoise
Posted in
Home
,
Our Guest Bathroom
,
Renovating Adventures
|
3 Comments »
February 17, 2012
I'm in a bit of a rut when it comes to our office/guestroom. So much of a rut that I really haven't touched it since putting up the new curtains in December. I stare at the space everyday since I work in the office from about 9 to 5 – and it stares back at me gloomily wondering when it will be finished.
See, I had this picturesque plan in my head of how I wanted the finished room to work and as I slowly decorated (after Kevin turned the room into an office from the old kitchen) I slowly realized that the pieces just weren't fitting together. But I couldn't put my finger on the problem.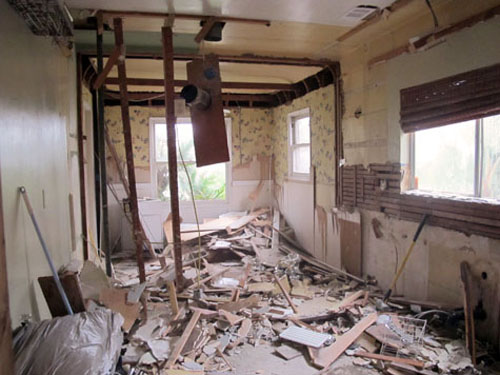 We demoed, dry walled, plastered, rebuilt a concave ceiling, carpeted (to cover up a mismatched wood floor), painted, hung grasscloth wallpaper, found and fixed up furniture: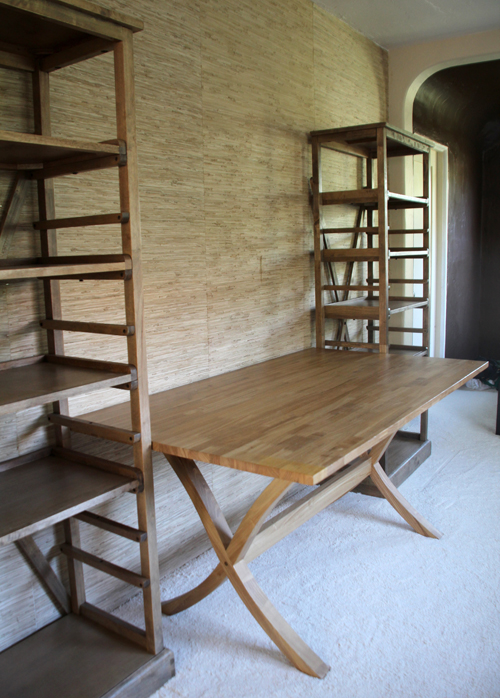 Organized bookshelves, built bulletin board panels: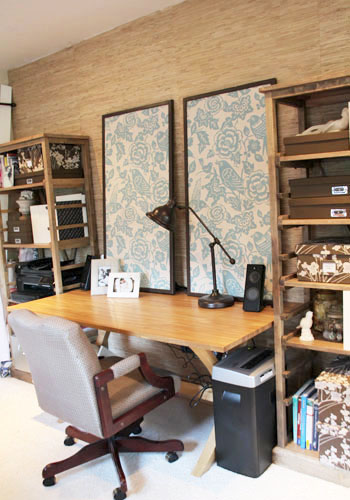 Designed curtains (using Spoonflower), created a capiz light pendant, started a wall collage: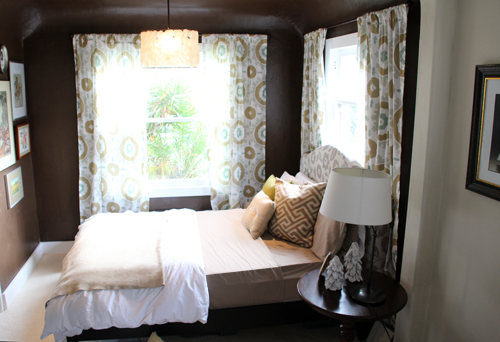 And then bam. Hit a decorating wall.
I didn't know where to go from there. I loved the new curtains but I was having a hard time making a bronze/tan/teal/mint green color palette feel fresh and not 70′s.
I knew immediately that the headboard that I had made from an old bed frame needed to be recovered. The silvery grey fabric was one of my favorites (left over from this event) but it just didn't fit. at all.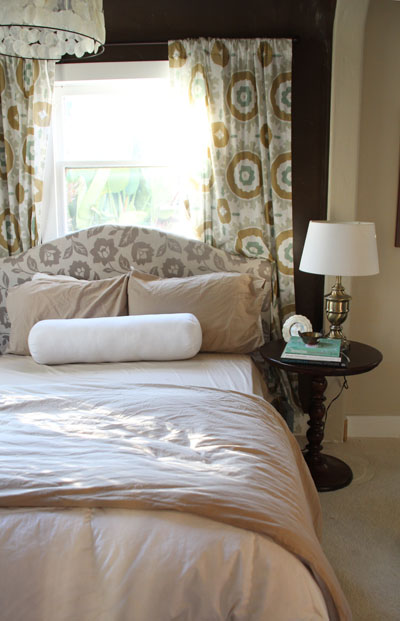 I thought one of my favorite crewel fabrics (left over from this event) would be just right for the space, so I draped it over the original headboard and have had it there for the last two months. But something still didn't feel right.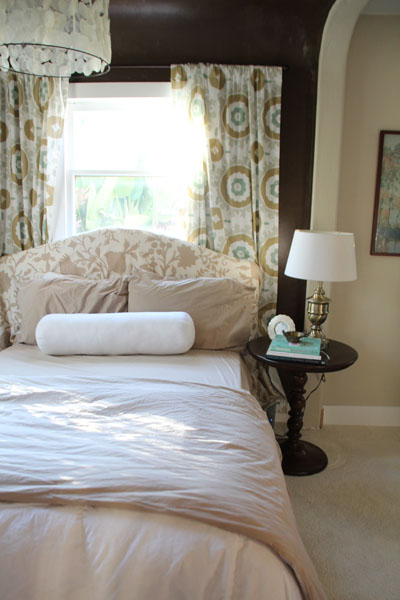 I might still need to come out of my color mixing shell, but I love a room full of patterns! I thought I would really love the curtains with the crewel (especially with a nice neutral bedding).
When my parents were here to visit near Christmas my mom casually suggested a solid tan headboard. No, I thought – that would be too safe and boring. Plus, I was kind of digging the pattern overload going on there. But after a month of that sitting on the back of my mind (and me becoming utterly frustrated with a non-progressing room) I headed down to my local discount fabric shop and bought 3 yards of tan linen for $30.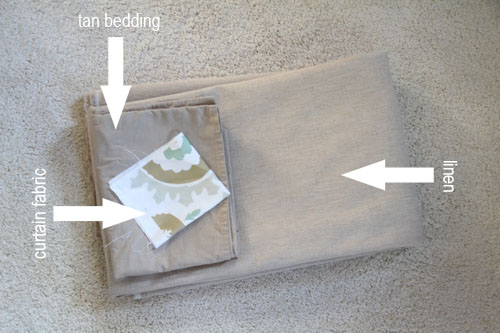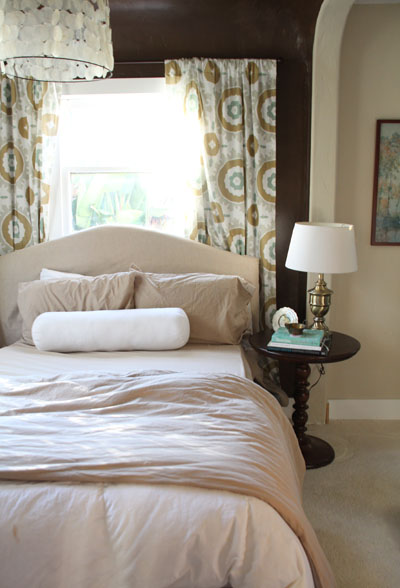 And it worked! Suddenly the room was breathing again and the space felt fresh and light. (All I can think about looking at the above picture is how wrinkled my pillow cases are!). This is a better shot: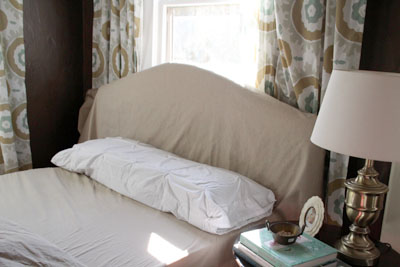 I haven't covered up the original headboard just yet – still letting this idea grow on me. It's just draped over the headboard for now.
I think that maybe if the pattern on the bulletin boards were subtler and the bookshelves didn't feel so overloaded with projects and work stuff then more pattern at the far end of the room wouldn't feel like so much. The room was becoming so busy!
Maybe I'll make the crewel into a duvet or throw: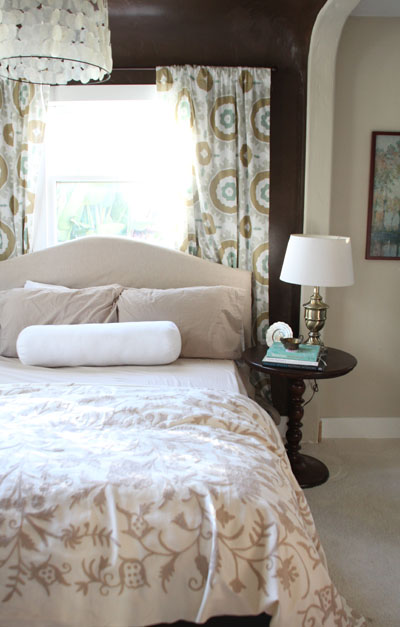 Then the patterns won't be so stacked and there will be enough neutral to help them breathe. It is so, so pretty – see how the floral pattern is raised up just a bit?
So that finally got the brain juices pumping again… and now I'm beginning to see where the space might go from here.
To find that extra inspiration, I started tearing out magazine sheets of rooms that used my color combo.
And every time I spotted a fabric that might work I picked up a little snip of it to test out.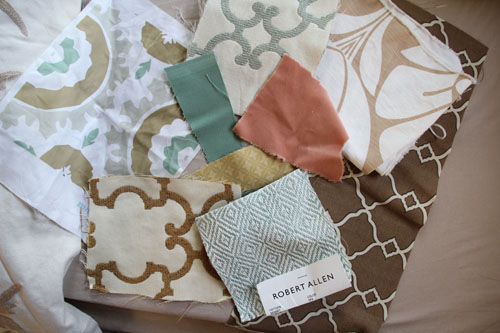 I'll have to narrow those choices down, but maybe light pink or yellow would work well as a contrasting shade to balance all of the tan & teal out.
And so the saga continues! Have a wonderful weekend! PS am I alone in this or have you ever found yourself in a room rut? PPS I am always open to suggestions!
For more Office Makeover posts, check out: designing and sewing the curtains, diy fabric bulletin board panels, handmade capiz pendant light, organizing the bookshelves, wall collage part 1, part 2, fabric bulletin board inspiration, (new) inspiration board, new lamps, wallpapering open shelves, finding the perfect credenza, new trim, dining table-to-desk, a new desk & bookshelves, installing remnant carpeting, grasscloth wallpaper, painting the office nook, finding carpet for the office, chocolate brown wall ideas, plastering progress, inspiration for a diy desk, back in action!, desking hunting for under $300, bookcases under $300,inspirational rooms, room layout options, demo part 1 & demo part 2.
Tags:
Decorating
,
Office
,
Teal
,
Turquoise
Posted in
Home
,
Our Guestroom/Office
,
Renovating Adventures
|
14 Comments »
January 25, 2012
Sounds like the title of the latest reality show, right? Well we're having a serious show down over here between several vanities that are vying for their spot in the new bathroom (at least in my head that's how I'm imagining the fight is working out).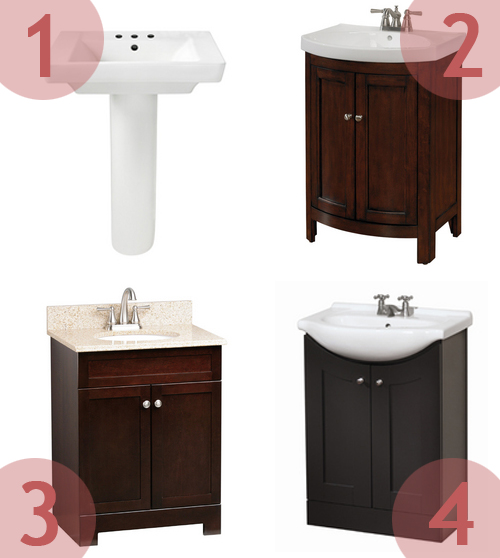 We bounced back and forth between a cabinet-style vanity and a pedestal sink and actually tried all four of these various models in the bathroom itself. Nothing speaks louder than a really outstanding visual!
The bummer with the pedestal (my initial favorite) right off of the bat was that because you entered into the bathroom looking at the side of the sink, the exposed plumbing was going to be more obvious than usual (such a bummer – if we had originally plumbed it with that intention it may have worked out). But alas, on to options with storage (woohoo!).  Standing in corners 2, 3 and 4 are the 25″ ish (the ideal size for the space – we learned the hard way by hauling in a 36″er) and are as follows: 2. Moravia by allen + roth, 3. Java Broadway by Estate, 4. Magick Woods by Eurostone Shaker.
Any of these vanities would have been perfect, but the perfectionist in me had a little vision in mind as to what I had hoped the ideal vanity would be: a more modern rectangular shape, a ceramic white vanity top and a little bit of storage below.
The Moravia by allen + roth had more of a potbelly feel with a rounded front and more ornate doors.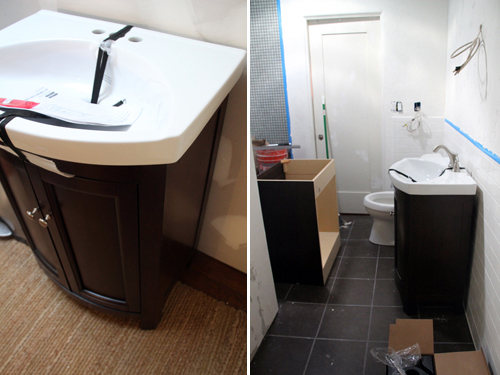 It was a little on the fancier side though it did have wood paneling sides and that was a nice touch, especially since you see the side first. The only thumbs down? The white of the top of the vanity was different white from the subway tiles and Kohler toilet. Pretty noticeable (I guess maybe especially to us since we're up to our ears in details right now

).
The Java Broadway by Estate was the ideal shape with classic shaker-style doors. Proportion-wise it was a fit as well with a depth of about 19″ and a 25″ width. The only bummer? It has a tan top. It's had to see in this picture, but the vanity top is on the warmer side with creamy tans and browns. We considered the top with the current blueish/green color palette for a few minutes but quickly decided that it contrasted too much with the cool tone of the tile in the shower and on the floor.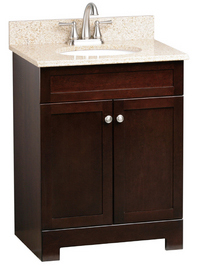 The Magick Woods by Eurostone Shaker was the most economical solution and shared similar shaker-style doors to my above favorite. The stain is significantly darker in person, more of an espresso vs coffee, and the ceramic bowl almost looks like a pedestal with a built-in cabinet. The major bummer was that it's a short 12″ in depth and after seeing the above options it felt like it was swallowed up in the bathroom. It's a shame because this guy would have been a great buy.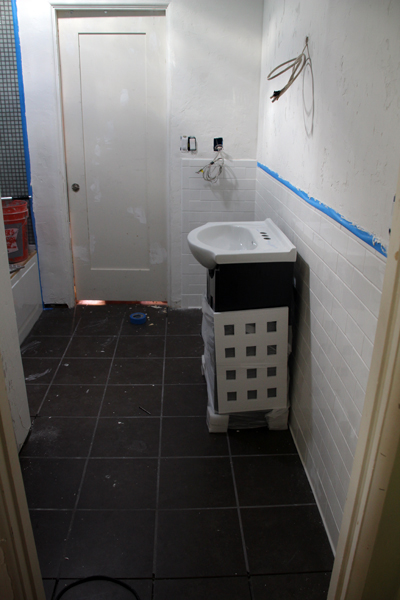 We spun circles around which decision to make -all three of the final vanity choices would have worked out great in the space! But we had to choose one that was most similar to how we imagined the final bath turning out.
The vanity that won out? Java Broadway by Estate! When we learned that it would be just a small expense more for a Kohler vanity top that matched the Kohler toilet we splurged the extra bit and upgraded to the best of both worlds.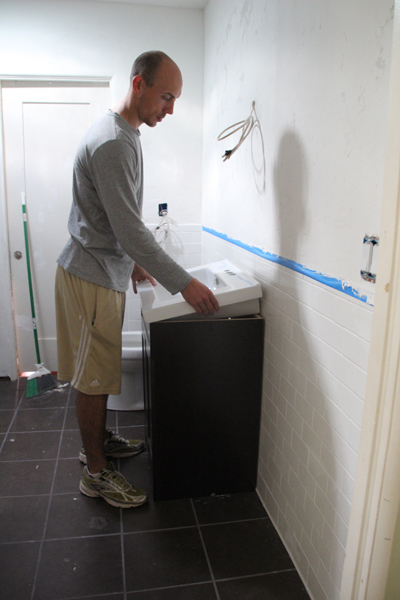 An up close shot with one of our hardware options we're thinking about…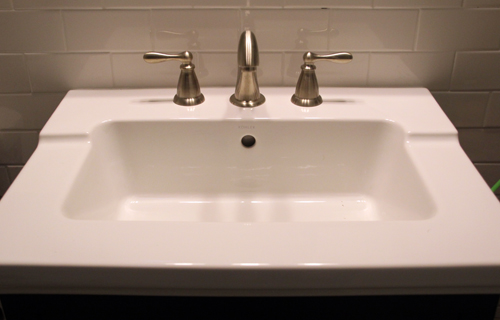 And the matching Kohler option looks really great up against the ceramic tile.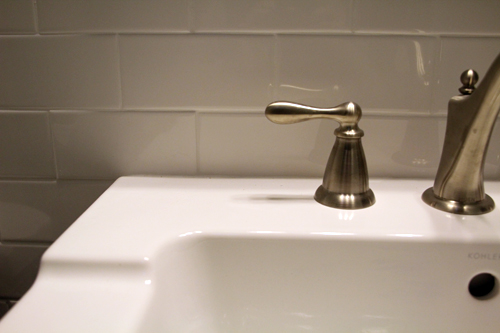 Next upm installing these guys and painting! A new bathroom is on its way…
More building a bathroom posts: subway tile installation,  floor tiles and toe warmers, a quick catch-up on our work on the bathroom in 2011, tiling with recycled glass, choosing and installing a bathtub, demo time!, a peak at the layout, initial inspiration, partnering with Lowe's
We partnered with Lowe's on our bathroom remodel and received some product at no cost and some product at a discount. The ideas and stories shared in this post are entirely our own.
Tags:
Blue
,
Construction
,
DIY
,
Home
,
Our Bathroom
,
Turquoise
Posted in
Construction
,
DIY
,
Home
,
Our Guest Bathroom
,
Project Lowe's
,
Renovating Adventures
|
5 Comments »