November 17, 2011
I thought that these would never be finished. Here's a project for the office that I started a couple of months ago and have finally completed!
I was really wanting a set of custom corkboards for behind the desk so that I could hang inspirational images, fabric swatches, photos of Liv, and maybe even a work pie chart in there somewhere.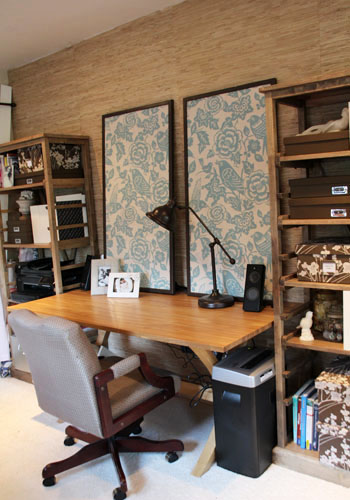 The frames were built from scratch out of engineered wood molding, the corkboards were upcycled from cork placemats from the Goodwill, the fabric is a beautiful Thomas Paul print from Calico Corners (found here) and the time and energy to assemble should have taken a few days tops but, sigh, it took a bit longer than that. (Remember when I shared my round up of bulletin board inspiration?)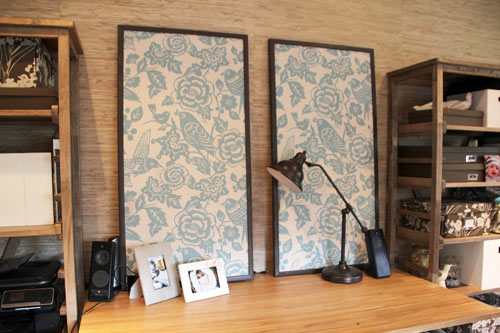 I love the colors up against the grasscloth wall and I think the dark brown frame plays nicely with the other lighter wood tones (while complimenting the bronze pharmacy lamp).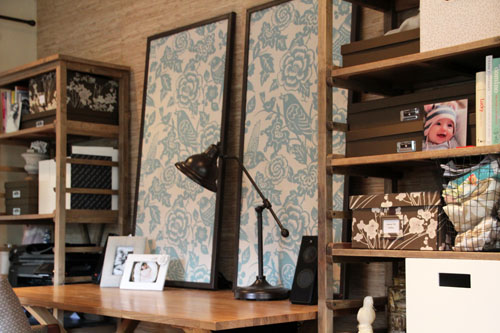 This is just a quick sneak peek – it's on its way to being covered in favorite tear sheets, remnants and pictures and I'll be sure to take better photos in the morning light. That plus the tutorial of building these guys coming soon.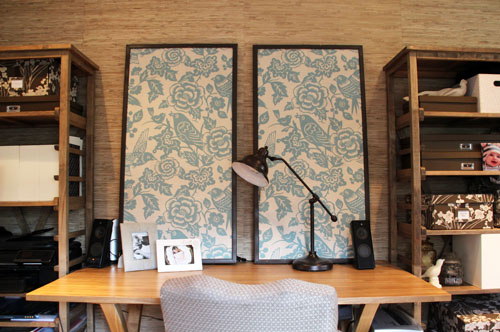 Yay! They're finished!
Also, please stop on by Daisy Dreaming and join me as I take part in Kelsey's wedding series where she asked me specifically about my wedding flowers – I am full of smiles when I think back on that beautiful day and I was thrilled to share my details with her.

For more Office Makeover posts, check out: handmade capiz pendant light, organizing the bookshelves, wall collage part 1, part 2, fabric bulletin board inspiration, (new) inspiration board, new lamps, wallpapering open shelves, finding the perfect credenza, new trim, dining table-to-desk, a new desk & bookshelves, installing remnant carpeting, grasscloth wallpaper, painting the office nook, finding carpet for the office, chocolate brown wall ideas, plastering progress,  inspiration for a diy desk, back in action!, desking hunting for under $300, bookcases under $300,inspirational rooms, room layout options, demo part 1 & demo part 2.
Tags:
Accessories
,
Crafty Solutions
,
Decorating
,
DIY
,
Fabric
,
Home
,
Office
,
Patterns & Color
,
Teal
,
Turquoise
Posted in
Home
,
Our Guestroom/Office
,
Renovating Adventures
|
13 Comments »
December 23, 2010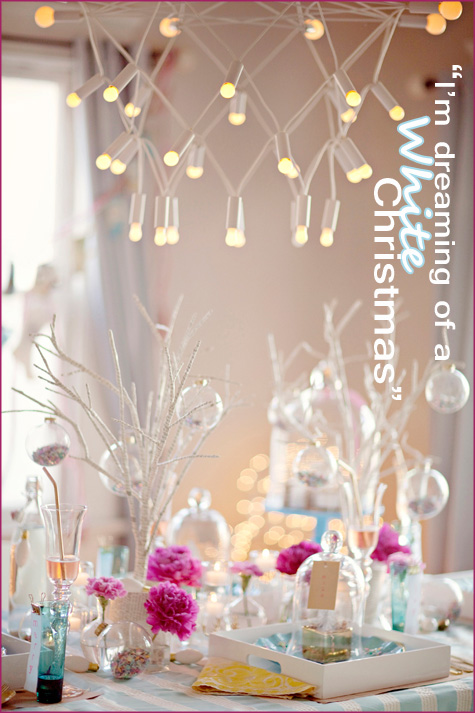 This Modern Christmas photoshoot by Sitting in a Tree is so fun. I love that it's full of non-traditional colors (no red or green to be found), shapes and patterns - it's creative, contemporary and a neat spin on the usual this time of the year!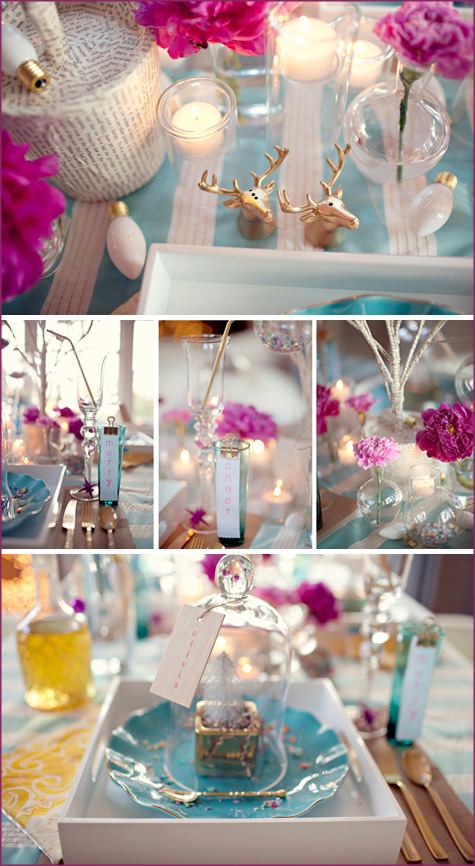 The playful patterns are the best! Oh how I'd love a linen closet full of turquoise stripes and yellow geometric prints. Mix that with a bit of fuchsia, glitter and gold and you have yourself a very merry modern Christmas.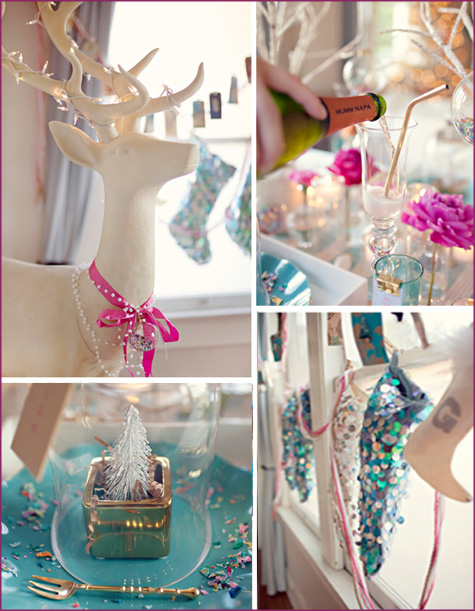 A few of my favorite ideas to steal: individual trays as place settings (you can buy these for just a couple of dollars each at online stores such as Oriental Trading and paint em up any way you choose), confetti ornaments (another great DIY project) and tree branch centerpieces wrapped in book pages (a quick coat of white spray paint and a dash of white glitter would be another sparkly alternative).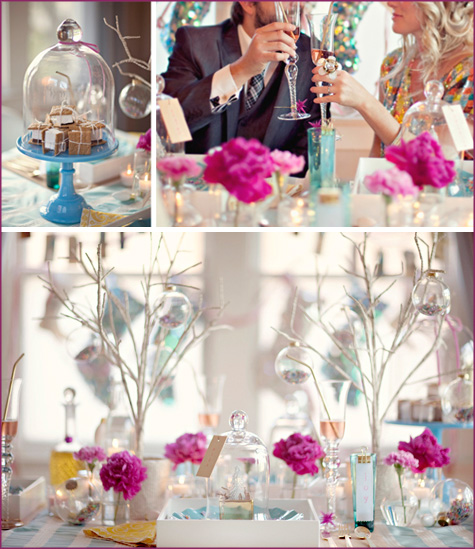 The entire design, including home decor inspiration, can be found here.
The shoot was set in San Diego and staged to replicate a new couple's first Christmas – out with the old traditions while welcoming in the new. Photography by Joielala.
Tags:
Christmas
,
Decorating
,
Dinner Parties
,
DIY
,
Modern
,
Parties & Entertaining
,
Patterns & Color
,
Pink
,
Teal
,
Turquoise
,
white
Posted in
Holidays
,
Parties & Entertaining
|
7 Comments »
December 15, 2010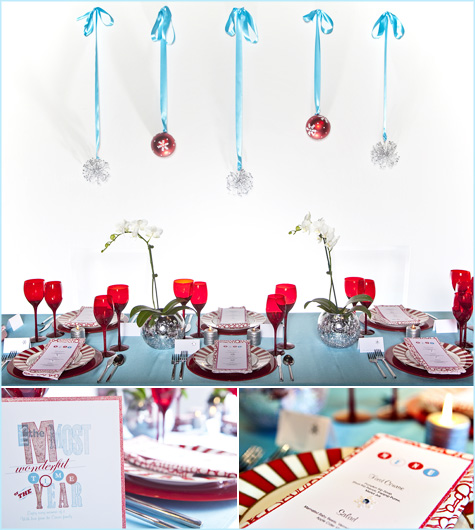 Melanie of Inspired Events sent over this darling Christmas tablescape and dessert bar – I'm loving the emerging red and aqua color scheme this year!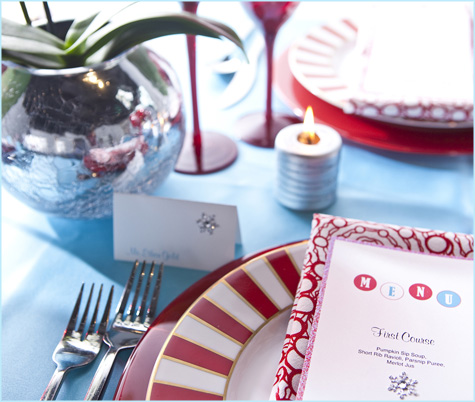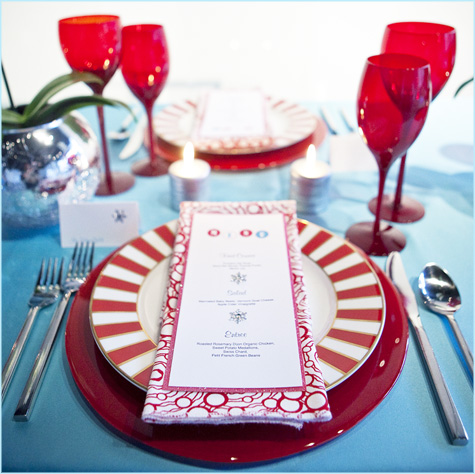 All of the litte details are beautiful. I especially love the look of hanging Christmas ornaments – be it in the window, doorway, above a table or over a mirror. Melanie decorated the dessert table with reusable apothecary jars, cake stands and glass pedestals from local home stores and filled them with delicious candies ordered from Candy Warehouse.
The candy cane martini's were made with rum, peppermint schnapps and a splash of grenadine. Oh yum!
Candy Cane Martini
Ingredients
* 3 fluid ounces rum
* 2 fluid ounces peppermint schnapps
* 1/2 fluid ounce grenadine syrup
* 1 small candy cane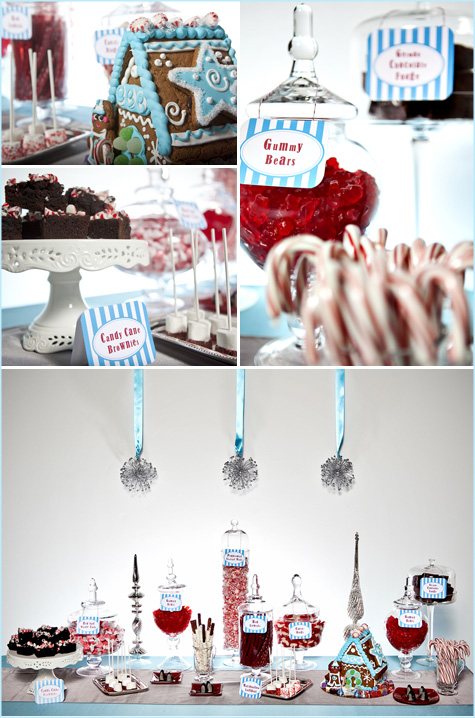 The candy cane brownies, marshmallow lollipops, white chocolate pretzels rolled in candy cane and German chocolate fudge were baked from scratch – the little holiday penguins were purchased at LA Burdick's and are made of hand-piped dark chocolate and lemon ganache (perfect to have as favors). Thank you for the wonderful inspiration, Melanie!
Vendors:
Decor and Design - Inspired Events of Boston MA
Stationary – Allure Invites
Rentals and Linens – Be Our Guest
Photography – Mike Diskin of Mike Diskin Photography (formerly of Stuff Magazine)
Venue - 5s pr space
Gingerbread House – Ginger Bettys
Tags:
Aqua
,
Blue
,
Decorating
,
Dessert Bar
,
Dinner Parties
,
Parties & Entertaining
,
Red
,
Teal
,
Turquoise
Posted in
Holidays
,
Parties & Entertaining
|
7 Comments »