July 23, 2012
This past weekend I had the honor of creating a wedding cake for my friend, Katie. Boy, what an undertaking that was! But because I'm always up for a good challenge and because I love to create personal gifts for those that I care about, I gave her an enthusiastic 'yes' at the request.
I'm breaking this saga into three parts: baking, filling & fondant, and assembly/wedding. Join me over the next three days to partake in the journey! If you're not really interested in the art of novice cake baking, feel free to head right on back here Thursday. If you love up close pictures of  chocolate ganache (that's so good you could just eat it right off of the computer screen) or are slightly amused by such a ginormic challenge, then I invite you to join along

.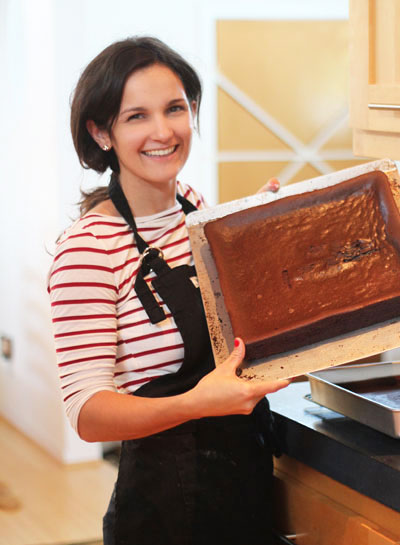 Let's begin. My mission was to design a wedding cake that melded the bride's organic, rustic-themed wedding (rustic might not be the right word, but think beautiful lace + rugged burlap) while also baking a deliciously yummy dessert that could feed the 150ish guests. Inspiration from the bride included: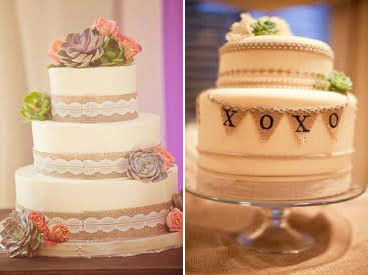 Beautiful! I was immediately smitten with the entire look and feel of this future cake.
But gah, I am no cake expert and wedding cakes are a category of their own. I have just two wedding cakes under my belt: the daisy covered cake I baked for a friend a couple of years ago (where I learned that buttercream and I are not best friends) and the beast of a cake that I did for my own wedding – which I really, truly loved (you can see pics of both by scrolling through this post). But even these two projects (years apart, really) make me an absolute beginner at the art of giant cake baking. You will find a million excellent tutorials on the proper baking and styling of wedding cakes from the galore of tasty food blogs out there (one such that I depended heavily on was this one) – but you might also enjoy the ramblings (fortunes and misfortunes alike) of me creating this special dessert. Just please don't judge (wink, wink).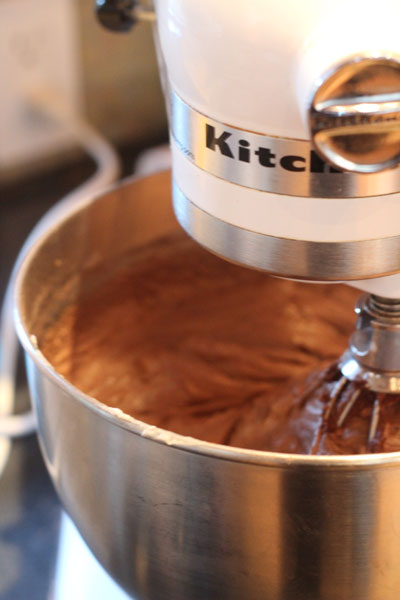 Let's start off with the world's tastiest cake recipe. I made a very similar version for my wedding, but I can report that this one is that much better. It is rich but not overwhelming, it is deliciously moist (in that dense sort of way) but also holds its form well. We went through the entire cake (the below is supposedly enough for 149 people, but maybe I cut too big), and I am hoping that that means I have finally found a good recipe. If you are in need of such a chocolate (with just a hint of of espresso) recipe, look no further. It's so good it's worth bookmarking.
Rich Chocolate Espresso Four-Layer Cake
Adapted from Smitten Kitchen's Chocolate Butter Cake (which was adapted from Sky High: Irresistible Triple-Layer Cakes)
I sought out this recipe because I was searching for a tried-and-true wedding cake story (not recipe but blog story, with plenty of reviews and suggestions included). I've found that there's a big difference between chocolate cakes and wedding chocolate cakes – the latter being sturdy, holding its shape well and still being tasty, just any ol' chocolate cake recipe won't do. Deb highly recommended this guy on her blog so I gave it a go.
Another huge plus is that this cake recipe is made nearly entirely in one bowl without the usual separating out of dry and wet ingredients. Convenient. Because of this unique assembly, Deb shared that she had issues with deposits of unmixed butter and flour that she had to scrape down often in her mixer bowl, I used very room temperature butter and didn't run into this issue at all, but it's worth noting just in case.
Makes one 12-inch square cake layer (or two 8-inch layers). My total cake is three tiers high with a 12″, 8″ and 5″ tier – four layers per tier.
3 cups flour (some use cake flour but I find the regular stuff works just fine and is quite a bit more economical)
3 cups sugar
1 1/2 cups unsweetened cocoa powder (not Dutch process)
3 teaspoons baking soda
3/4 teaspoon ground cinnamon
3/4 teaspoon salt
3 sticks (12 ounces) unsalted butter, at room temperature
1 1/2 cups buttermilk
3 eggs
1 1/2 cups freshly brewed coffee, cooled to room temperature
1. Preheat the oven to 325 degrees F (I should note that the original recipe calls for 350, but I have come to prefer to bake my cake layers for much longer than a recipe traditionally calls for and at a lower oven temp, and have found that this results in a deliciously rich, flat cake layer that is ideal for stacking). Line the bottom of a 12-inch square baking pan with parchment paper and butter/cooking spray the paper and edges of the pan.
2. In a large mixer bowl, combine the flour, sugar, cocoa, baking soda, cinnamon, and salt (because I'm making so many layers, I prefer to have these ingredients premixed in ziplock gallon bags. One recipe batch per bag and one more step that can be completed a day or two earlier). With the electric mixer on low speed, blend for about 30 seconds.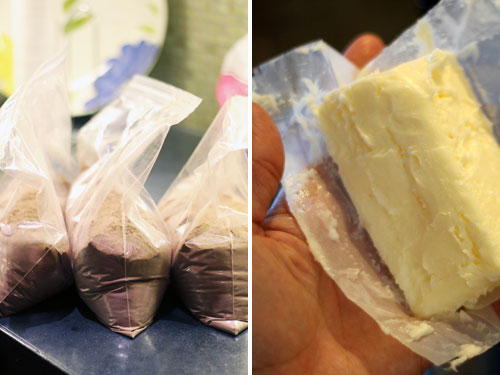 That butter should be soft.
3. Add the butter and buttermilk and continue to blend on low until moistened. Raise the speed to medium and beat until light and fluffy, 2 to 3 minutes (now's a good time to taste! Your batter should be amazingly delicious and sans eggs)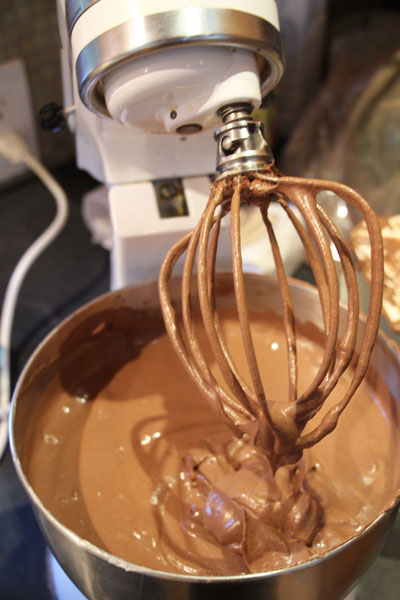 4. Whisk the eggs and coffee together (both should be room temp), and add to the batter in 3 additions, scraping down the sides of the bowl and beating only until blended after each addition. Pour into prepared baking dish. If using 8-inch pans, split between two.
5. Bake for 40+ minutes and watch carefully. 8-inch layers may take close to 40 minutes while 12-inch as much as 50-55, the lower 325 temp means that baking time is increased over the average cake but be sure to not over cook! Cake is finished when a wooden toothpick comes out clean. Carefully turn them out onto wire racks and allow to cool completely. I prefer to keep the cakes right side up (to prevent any breaking if the edges or center rises higher than average), so I flip them twice. Once to remove them from the pan (the layer is now upside down) and once again onto a wire rack for cooling (now it's back right side up). Leave those parchment paper liners on for refrigerating later.
*A couple of thoughts on baking a flat cake. I have used both a heating core (if you use, grease well!) and baking strips in the past and I find both to be helpful (especially at calming the nerves – so if you're that type I highly recommend), but the best tip I have ever received is to drop the temp of a recipe and bake for a longer time. As mentioned above this is already a step I suggest to create a dense cake, but it also yields near flat results as well. I baked near all layers above with neither the core nor the strips, but that's mostly because I forgot the former at my house (baking at my parents which is in the same city that the wedding is) and forgot to apply the latter to most cakes prebake.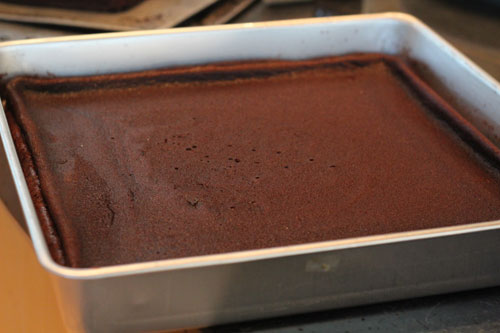 If you do end up with a tiny extra lip like above, a simple serrated knife should do the trick. Start at each corner and work your way towards the center.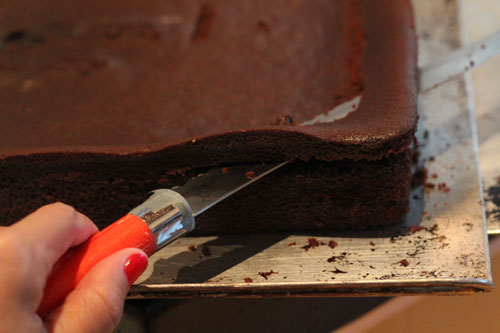 You can use this technique to slice thick layers in half (my ideal cake layers are 1/2-3/4″ tall and four layers thick per tier).
If you're keeping track, this three-tier, four-layer-per-tier cake calls for about 6lb of butter, a 5lb bag each of flour and sugar, 3lbs of cocoa, 2 dozen eggs, a half gallon of buttermilk and 12 parchment squares. Dang.
Next, I cut out foam core bases for each layer of the cake. This is crucial if you make the cake in advance and require refrigeration or freezing. Even if you're brave enough to bake the entire thing the day before, you'll want at least one foam core (or store bought cake board) per tier to serve as your sturdy cake tier base.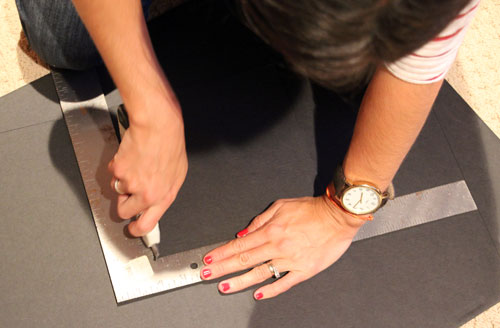 An exacto knife is super for this.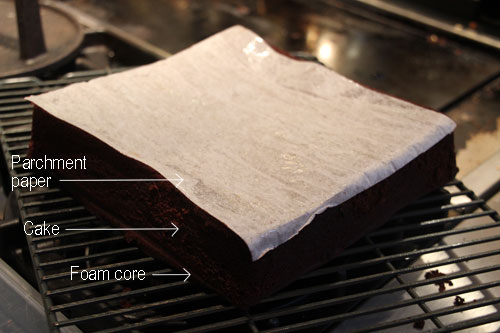 Each layer of each tier received a foam core base and a healthy wrapping of seran wrap before they were stacked in the fridge. I baked nearly all layers on the Wednesday prior to the wedding which meant that the plastic wrap didn't have to be terribly tight or thick, but if I were baking cakes a couple of weeks in advance (as I had originally intended) I would opt for at least three layers of wrapping and zero exposure of cake before freezing and finally moving to fridge five-seven or so days in advance.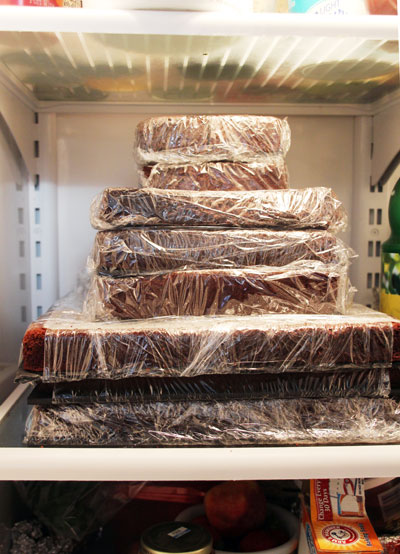 The above was my stash as of last Wednesday, Thursday brought with it the baking of at least one more layer for each tier plus a whole lotta buttercream and ganache. Oops on that little corner peeking out.
See you all here tomorrow! Where the baked cake gets its delicious raspberry ganache filling (another to-die-for recipe), buttercream crumb coat and fondant shell.
Tags:
Desserts
,
DIY
,
Tutorial
,
Wedding
Posted in
DIY
,
Family & Friends
,
Recipes
|
9 Comments »
July 16, 2012
I have an ever so subtle update to share today from the nursery…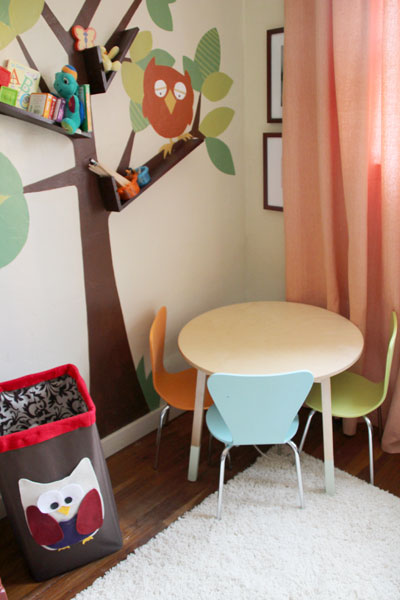 Notice anything new? Okay, I gave a little hint in the post title but I 'dipped' Liv's little table legs in a bright green paint as just a small added detail.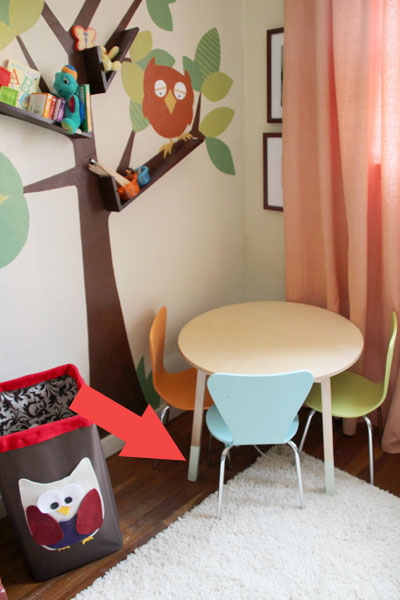 The idea stems a bit from this project but on a smaller scale, and I think it would be a fun addition for so many projects in the house, from dining room chairs to kitchen bar stools to house plant pots. An ever so subtle 'dip' of color.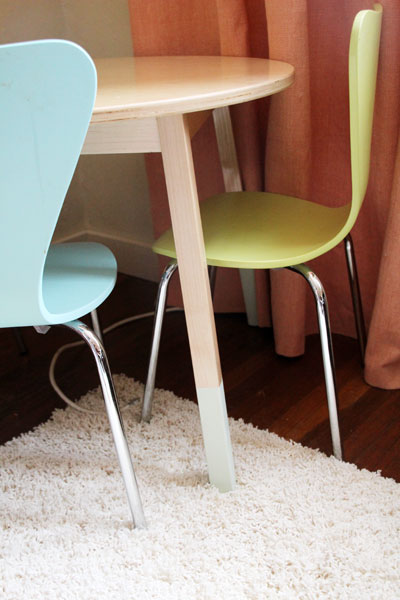 Hard to even see the contrast in these photos but the green is soft and subtle and really makes a nice difference to the birch table.
To accomplish, I simply flipped the table upside down, used painter's tape to help form my 'dipped' lines, and then painted away. Took me maybe 10 minutes with a sponge brush (which I really like to use on already painted/stained furniture to prevent brush marks), and then I repeated the process three times for a thick, seamless look (just like spray paint I prefer to add one layer of coat of paint – even if brush marks are visible – let dry and repeat until smooth).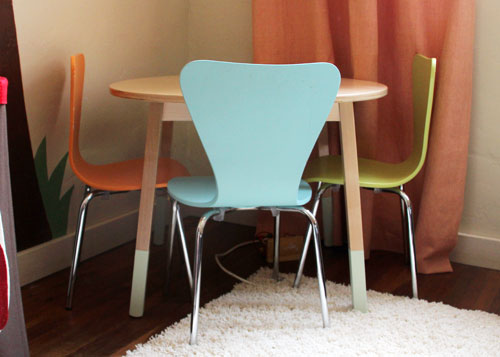 Sometimes it's all in the details! Have a lovely start to your week!
More Project Nursery posts found right here.
Tags:
Accessories
,
Before & After
,
Decorating
,
DIY
,
Green
,
Home
,
Paint
,
Tutorial
Posted in
Crafty Solutions
,
DIY
,
Home
,
Liv's Nursery
,
Renovating Adventures
|
9 Comments »
July 10, 2012
Terribly cheesy title I know, but today's post is all about one of my favorite new paint trends + a necessary home addition for a very busy toddler.
Lately Liv has turned into quite the independent lady. If it's at all possible (and she can figure it out), she wants to do it herself. 90% of the time that's a little tough, though we do try. 10% of the time it's to accomplish basic tasks like washing of hands after a messy breakfast. This type of independence I love, most toddlers run from a wet washcloth honing in on yogurt smeared cheeks, but Liv still finds cleaning up a delight.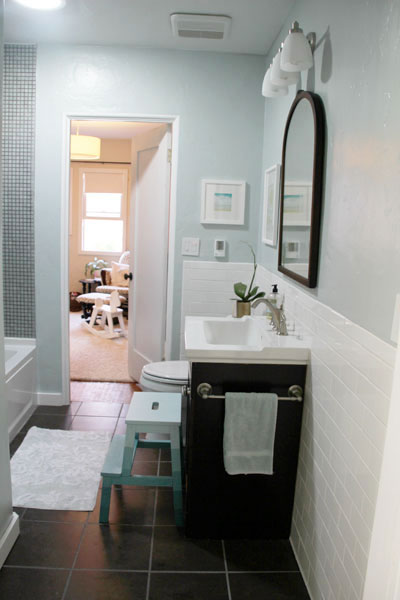 So I've been searching out a fun step stool for her bathroom. I was really hoping for something older with beautiful curved lines (more Jenny Lind – like Liv's changing table – less modern and boxy) but when I came across this little birch stool from Ikea for $15 I couldn't pass it up. It was begging for a fun coat of paint, too!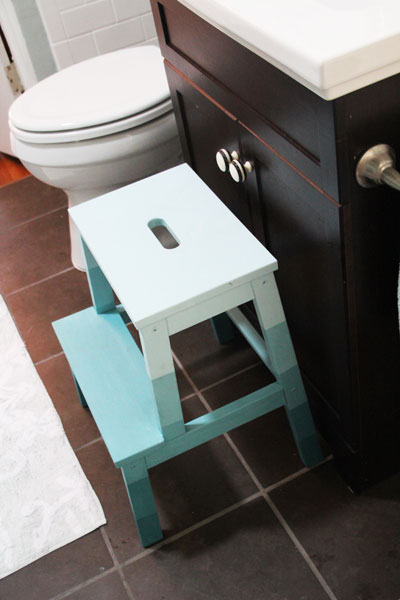 When Sherry and Katie announced their summer Pinterest challenge last week, I decided it was time to tackle this project and make it happen. (PS if you haven't heard of this fun challenge I definitely recommend checking it out. If you are a procrastinator like myself and thrive on deadlines, this is a great opportunity to give yourself a deadline to tackle one crafty project you've had your eye on).

The real Pinterest inspiration for this challenge is actually this coffee mug that has hunkered down in the back of my brain image gallery for some time.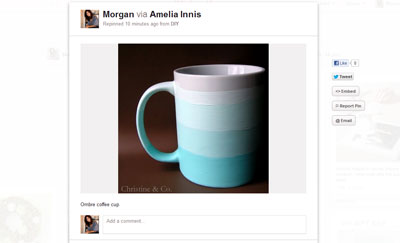 I've actually become quite enamored with the ombre trend as of late and have a few idea of else where in the house I might be able to spice things up with a bit of graduated paint colors…
And now for our much inspired ombre step stool: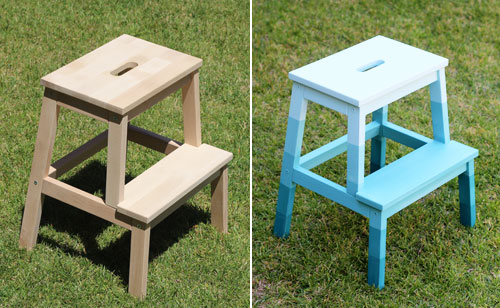 I used two paint samples and a quart of white paint to mix my ombre layers.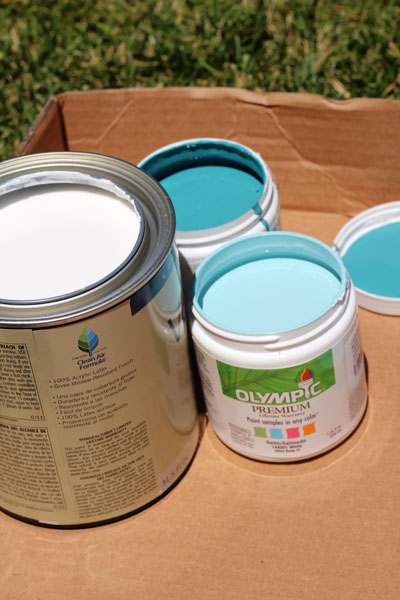 Which left me with five variations of teal blue – from a beautiful deep peacock to a clear summer's day sky blue.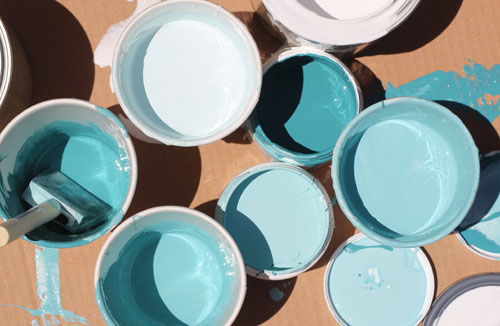 My first layers of paint were pretty rough. I began at the top and slowly worked my way down the stool painting in loose stripes and not bothering too much with exact lines.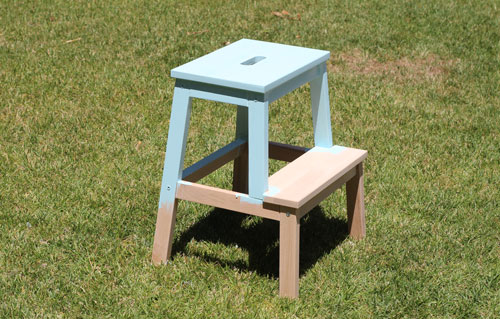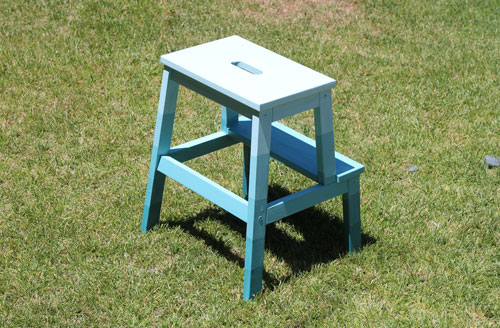 After some time in the sun, I went back with painter's tape and measured out my layer heights so that each transition could result in a sharp contrasting line.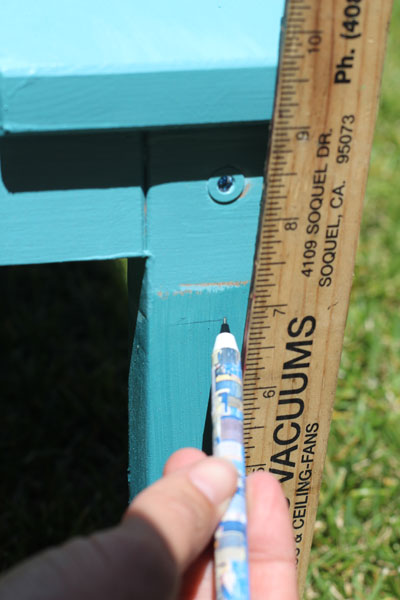 The top tier is the widest, slowly working down by 1/2″-1″ increments (roughly 5.5″ for tier 1, 4.5″ for tier 2, 3.75″ for tier 3, 3.25″ for tier 4, 3″ for tier 5) so that the stripes at the base were skinnier than the ones at the top.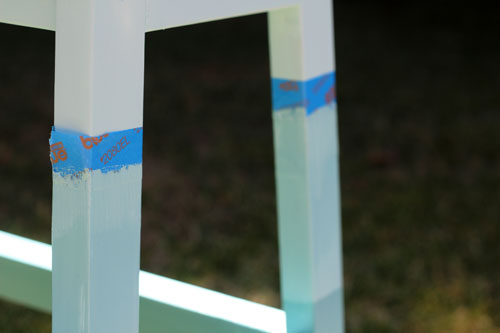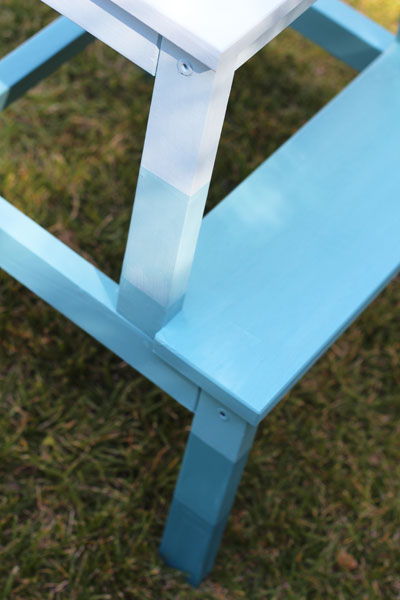 It turned out just as I had hoped for! I really dig the colors.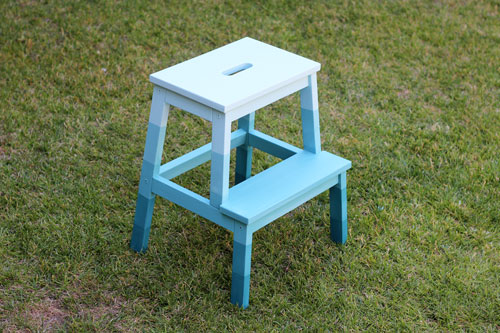 Nana helped to distract Liv on the other side of the yard, but occasionally she's wander up behind me and grab onto my neck. I ended up wearing paint for days and I'm still surprised she left the scene without a drop on her.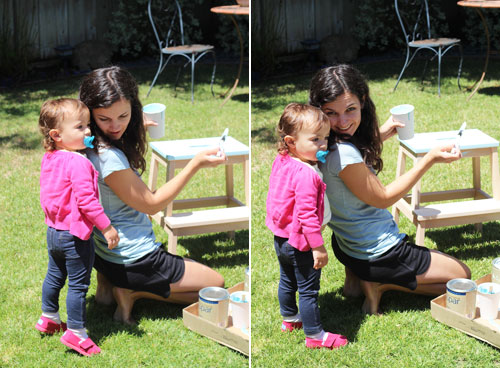 The stool is taller than I anticipated (it comes in a flat box from Ikea and I hadn't paid close attention to the overall height) but it seems to work really well with Liv's 18 month old reach.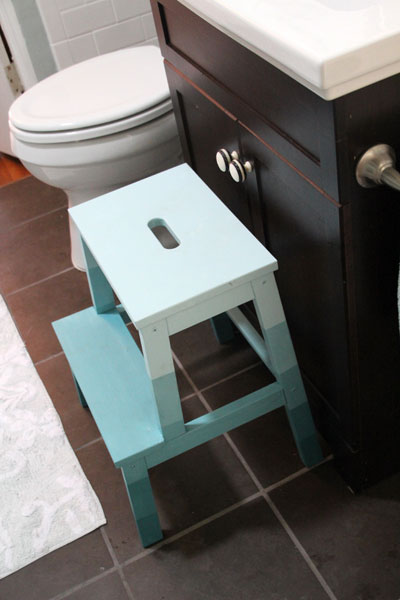 I had chosen the colors right from the existing shades in the space and I love how the turquoise pops against the tiles in the shower, the blues in the artwork, the pale hand towels.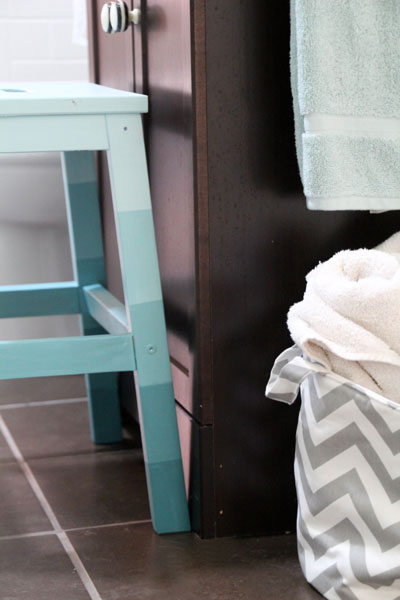 So far she dares to make it to the first step. It might get a little tricky after she figures out that she really can crawl to the top on her own.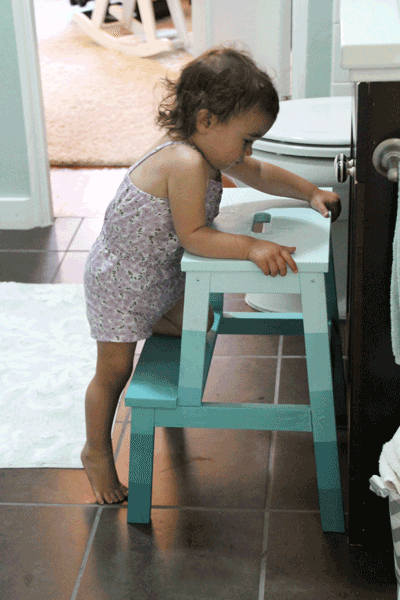 But when it comes to hand washing she gets a little help.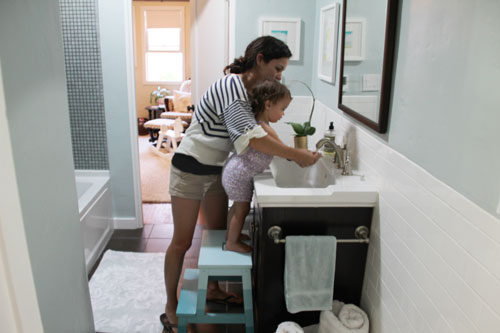 Oh wow how she loves it! After the stool moved its way inside, it was all I could do to distract her from trying to wash her hands every 10 minutes.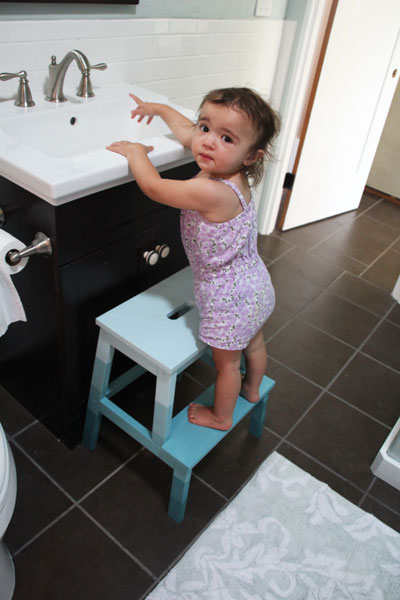 I'm glad she loves it as much as I do!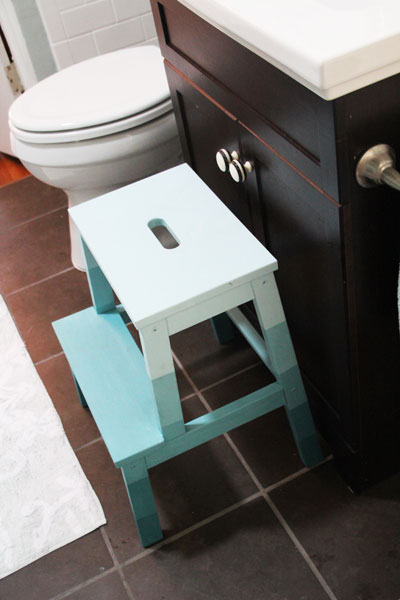 Yay for projects that make you get to-do's done.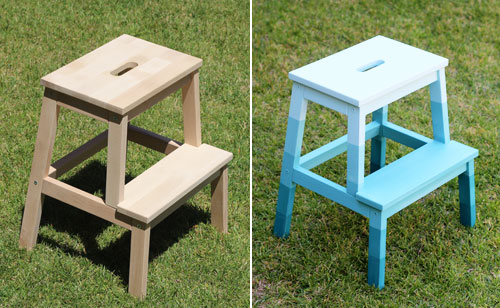 Here's a quick link to the previous Pinterest challenges that I've worked on. Still quite proud of that capiz chandelier, painter's tape wallpaper and gold mercury glass. But don't forget to head on over to Sherry's post and Katie's post (and Kate's and Michelle's! who are guest hosts) to find all kinds of crafty and fun ideas.
Tags:
Accessories
,
Before & After
,
Blue
,
Crafty Solutions
,
Decorating
,
DIY
,
Home
,
Paint
,
Pinterest Challenge
,
Teal
,
Turquoise
,
Tutorial
Posted in
Crafty Solutions
,
DIY
,
Home
,
Our Guest Bathroom
,
Renovating Adventures
|
11 Comments »