August 29, 2011
Despite the drywalling, plastering, painting, wallpapering, carpet installation, furniture moving and moulding projects that have consumed the new office/guestroom over the past month, we've managed to fit in not one but three sets of guests! It's great to put that new room to use.
I'm not going to lie… my parents (1) helped sort through boxes while they were here, my in-laws (2) had to deal with piles of books, magazines and office supplies during their visit – and our more permanent guest (my brother – 3) who just moved to San Diego and is a student looking for housing at the moment – has had to officially relocate from guestroom to couch three or four times to accommodate a handful of projects, including this one.
But it all started about a month ago… anticipating the arrival of family, I sat down to do a bit of research on beds and what was the most economical/comfy solution for our visitors.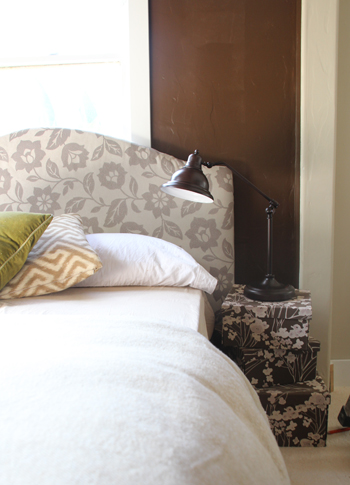 In the end, we purchased a mattress from Costco and a basic platform bed from West Elm to pair with my diy fabric headboard from last year. As you can tell from the pile of boxes as the night stand, the room is still very much in-progress!
I try and space out purchasing furniture for a new room so that it can be budgeted over the course of months or even a year. Pieces that I know that we'll need are easy to buy in advance – such as this bed. Purchasing the bed in June meant we could add the mattress in July! We considered several different room layouts a while back, including the possibility of a daybed that would have left us with more floor space, but in the end the double won out. Our guests often come in pairs and we think that even a small full is comfier than a seamed bed or a trundle.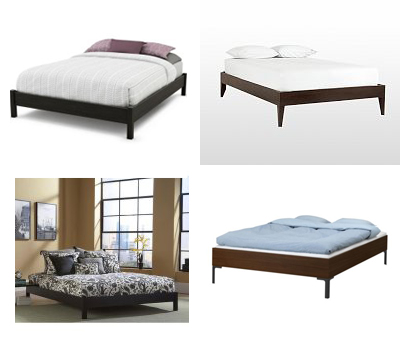 The contenders included South Shore's Gravity Bed ($179), West Elm's Narrow-Leg Frame ($224 on sale), Leggett & Platt's platform bed ($169.50 on sale) and Ikea's ENGAN bed ($149). We ultimately chose the West Elm narrow-leg bed frame because of a merchandise credit and an awesome sale – but if it had come down to just the dollars, I would have happily scooped up that ENGAN Ikea bed with those great metal legs!
I knew the platform bed was the way to go for us because I had been dying to use a fabric headboard that I had made from an old Craigslist find last year: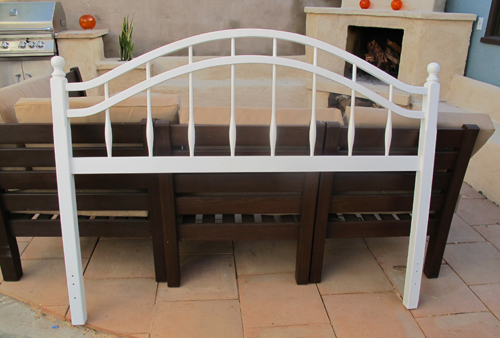 You can read all about the makeover here, but the quick and dirty: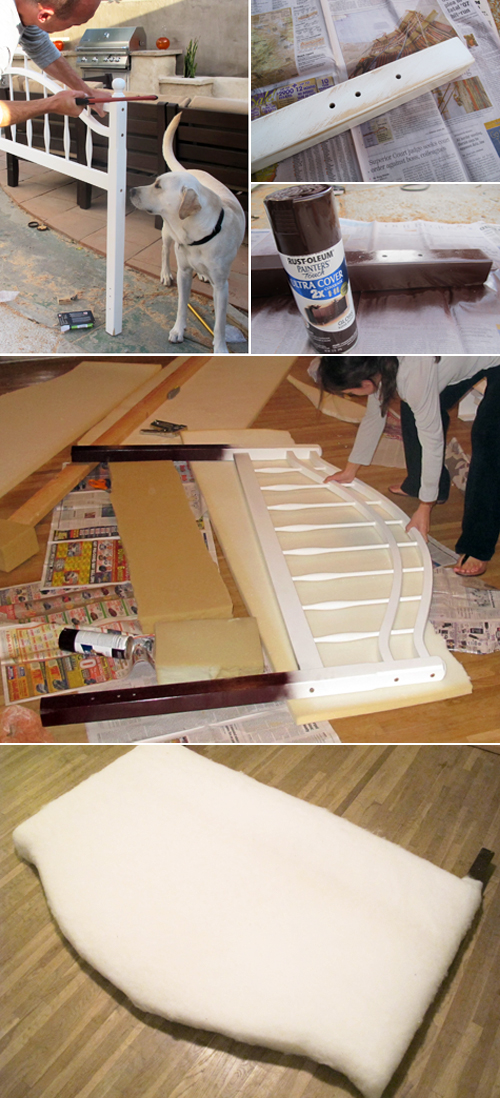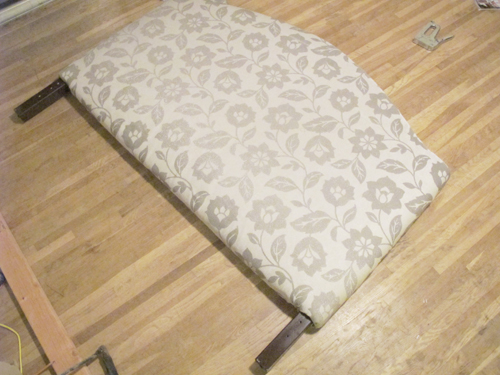 The only unfortunate part? The fabric headboard is for a queen sized bed and it is quite large on the new full sized frame.
Ignore that random cable poking itself out of the wall on the left side. We still have plenty of cat5 Ethernet cables to rewire 'round here. See what I mean about the wide headboard? I'm hoping large shams and poufy comforter covers will hide the issue, though it feels pretty pronounced right now. Hmmm…. white or tan for the bedding? Or maybe something colorful?
As for purchasing a full instead of a queen? You can probably already tell from the photos but the guestroom portion of this space is a tight squeeze and a full fills the space without overcrowding it. Couples will have to cuddle, but we think the bed is still big enough to offer sweet dreams.
I adore the headboard in the new room. There's a reason it's been patiently waiting over 15 month for its home… by the way the fabric is Luxor Silver and it's currently on sale over at Calico Corners. I love the simple pattern and colors, and I love how cozy it looks against the chocolate brown walls.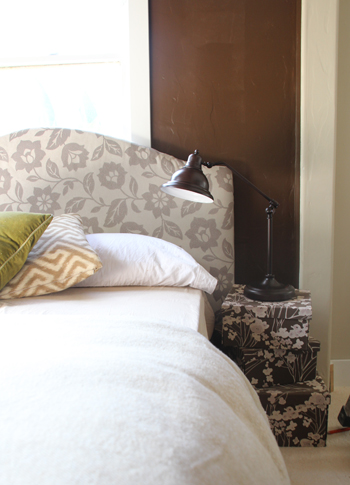 A great and affordable fabric headboard resources – for the non-crafters – is: MoreHeadboards.com ($199-349). Any big projects or great finds on your end?
For more Office Makeover posts, check out: 'finishing' with moulding, dining table-to-desk,  a new desk & bookshelves, installing remnant carpeting, grasscloth wallpaper, painting the office nook, finding carpet for the office, chocolate brown wall ideas, plastering progress,  inspiration for a diy desk, back in action!, desking hunting for under $300, bookcases under $300, inspirational rooms, room layout options, demo part 1 & demo part 2.
Tags:
Before & After
,
Crafty Solutions
,
Decorating
,
DIY
,
Fabric
,
Home
,
Parties & Entertaining
,
Patterns & Color
,
Tutorial
Posted in
Home
,
Our Guestroom/Office
,
Renovating Adventures
|
7 Comments »
August 25, 2011
With a three-day weekend quickly approaching at the end of the month, I thought it would be fun to share this creative idea from guest contributor Karina over at Hostess with the Mostess.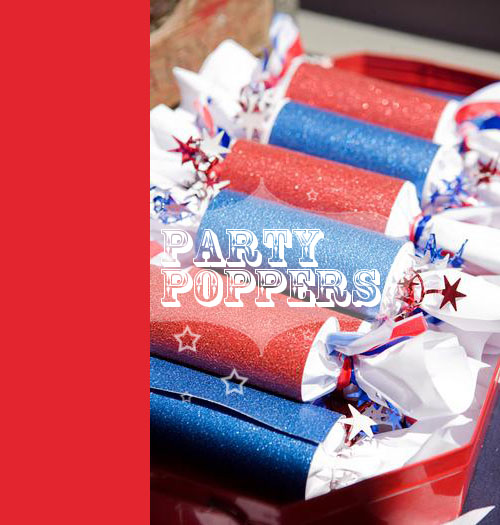 She designed an adorable Red, White & Blue party that includes a fun treat for kids or adults: party poppers!
They make great favors, name cards (across a dinner plate) or prizes. A quick Google search revealed a super easy party popper tutorial, materials include: goodies for inside the popper (candy, little toys, a handmade fortune), toilet paper/paper towel roll, cracker snaps (from a local packaging store or online at packaging/party supply site), tissue paper, ribbon, cardstock, tape or glue. Read all about assembly here.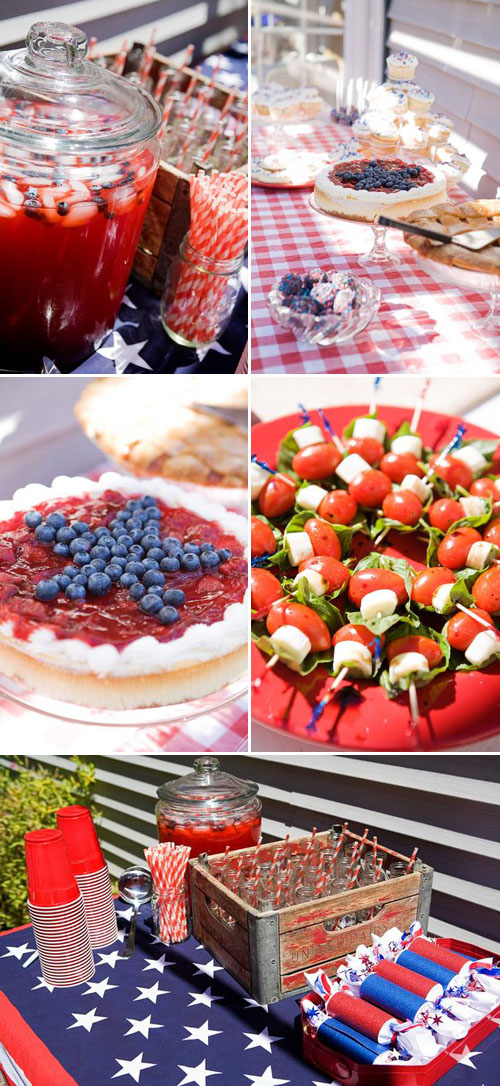 Looking for more Labor Day inspiration? Check out this link which sorts through all July 4th, Memorial Day and Labor Day parties & ideas shared on the blog!
Tags:
DIY
,
July 4th and Labor Day
,
Kids Party
,
Memorial Day
,
Paper Goods
,
Parties & Entertaining
,
Tutorial
Posted in
Parties & Entertaining
|
4 Comments »
August 11, 2011
So the sun has been shining with full force and the weather has been warm! and then just like that the switch was flipped and this morning we have grey skies here in San Diego. Oh funny weather…
A way while back I had mentioned finishing up a couple of sewing projects that involved zippers, one being new throw pillows for the living room. And these aren't just any zippers, they're the infamous invisible zippers! I accidentally purchased a ton of these for a few new projects around the house, and then realizing my mistake (and being a bit stubborn) I set out to tackle the invisible zipper rather than return for the regular version.
You'll find invisible zippers on most store bought cushions and pieces of clothing, they're great because when applied correctly, the zipper literally disappears within your fabric.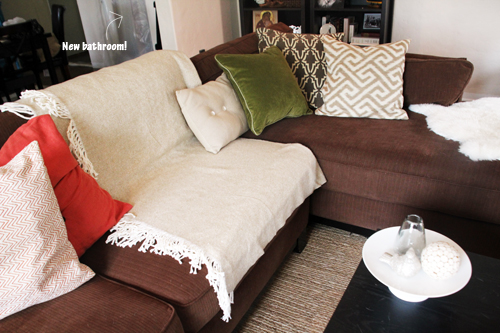 The new bathroom project is hiding there in the background. We've had to pause that guy temporarily while we wait on permits and Kevin works on summer school.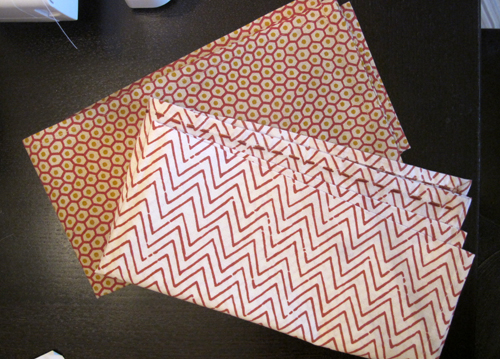 I found a few clearance napkins at West Elm that fit with my color scheme and I knew they'd be perfect for the project at just $4 a pop. That plus left over fabric from my favorite nursery glider makeover (that awesome tan ikat) left me with three new pillows that were quick and easy to sew up.
I researched a few slipcover pillow ideas but settled on adding a zipper because I knew that I wanted these pillows to really stand the test of time. Plus, I was dying to experiment with zippers, something I haven't tried in ages. The first pillow was a challenge (think twisted, inside out fabric and thread), but as soon as I had the 'invisible zipper' down, the other two were easy peasy. It looks difficult, but I promise that if you go that extra step to hide your zippers, you'll love the results.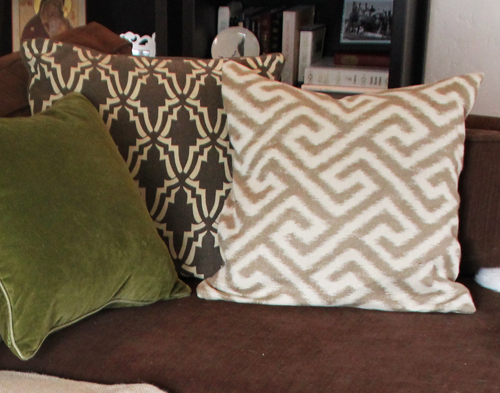 For stuffing, I usually cover up an existing throw pillow. You can also purchase bags of filler at your local fabric shop for a few dollars. If you go that route, I recommend making an insert for your pillow as well so that you're not constantly fighting clumps and wisps of filler material as you zip and unzip your covers.
***************************************************************************************************
Sewing Throw Pillows with an Invisible Zipper
a
Materials: 2 19×19″ squares of fabric for one 18″ pillow OR a set of cloth napkins, an invisible zipper (two inches shorter than one side of your pillow, though you can always shorten a longer zipper by sewing across the zipper, too), zipper footer for your sewing machine, complimenting thread, threaded bobbin, pins, scissors, pillow stuffing/inserts

1. To sew an 18″ pillow, cut your fabric into two 19×19″ pieces. This should allow a 1/2 hem on all edges. Remove one set tags if you're using a napkin – I like to keep one set hidden inside with washing instructions for the future. Baby + dog + dinner parties = definite spots

. Cloth napkins are great because they're already hemmed and provide a clean finish on the underside of your new pillows. Plus, they're the perfect size!
2. Pin the fabric/napkins together at the corners with the top sides facing each other (we're going to do this first step with the pillows inside out).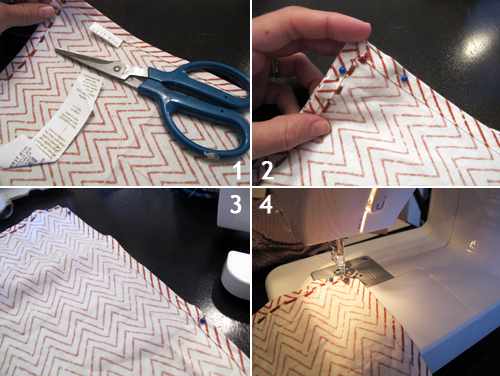 3. Add a pin roughly half way between each corner.
4. Sew three sides of your pillow together, leaving just the edge for your invisible zipper open.
5. Now comes the tricky part. The easiest way to add your invisible zipper is to pin it in place as you imagine it functioning. Go ahead and pin your zipper in a couple of inches from the edge so that you leave yourself a little working space. We'll close that up at the end.
6. Then flip your pillow right side out and try it. If the zipper opens and closes correctly without twisting any fabric, great job – you nailed it on the first try. It took me a couple of times of pinning, flipping, repinning to get this just right. Note: if you'd like, you can iron your invisible zipper flat before pinning to help you get as close of a stitch to the zipper part as possible.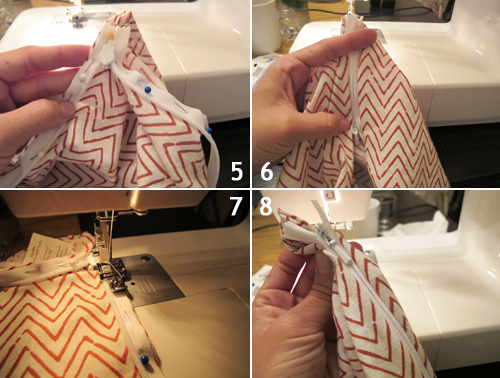 7. Add your zipper foot to the sewing machine. It usually comes with your machine in that little parts bag below the main compartment, but you can also pick a plastic one up from the store for a few dollars. Sew your zipper edges to the fabric running that little zipper foot right up against your zipper.
8. If you flip your pillow inside out now, you'll notice that your zipper closes (yay!) and that your fabric edges are hidden.
9. This picture illustrates the end of the zipper which has been left open – that's the extra 'working space' we left from step 5.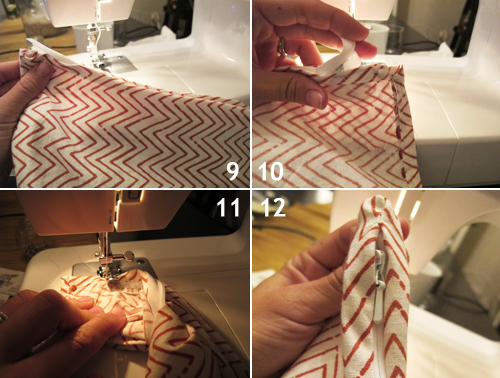 10. Lifting the zipper out of the way, pin together the two loose ends of the pillow.
11. Now sew the two pinned pieces together, don't forget to repeat on the other side (don't worry about the loose zipper portion, it's hidden inside your pillow).
12. Flip the entire pillow inside out and you should have a clean, finished end and an invisible zipper!
Stuff your insert in your cover and your throw pillow is done!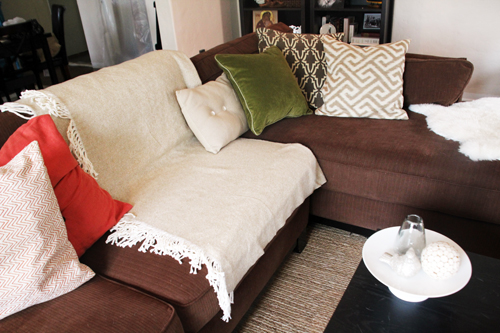 Love how the new pillows look, the added patterns were just what the space needed.
Tags:
Crafty Solutions
,
Decorating
,
DIY
,
Fabric
,
Home
,
Living Room
,
Patterns & Color
,
Sewing
,
Tutorial
Posted in
Crafty Solutions
,
DIY
,
Home
,
Our Living Room
,
Renovating Adventures
|
4 Comments »