February 23, 2011
Back to the sewing machine we go to finish off the curtains for the new nursery! Check out Part 1 here for an intro to the project and the first steps in sewing lined drapery panels.
Just before the weekend we left off at Step 6, where the lining is initially pinned to the top hem of the drapery fabric in preparation for sewing the two panels together.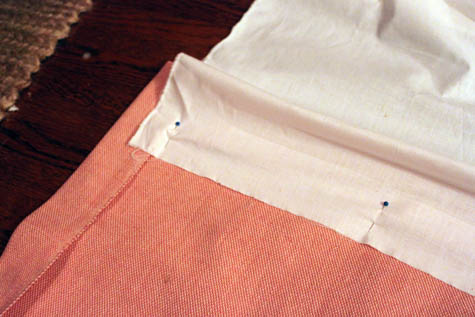 I followed Janell's tutorial carefully (I'm quite the sewing novice) and if you're searching for in-depth directions on how to accomplish lining curtains, I recommend hopping on over to check it out.
Step 7: Sew along the newly pinned top hem of the drapes and flip fabric over. Press newly connected fabric + lining.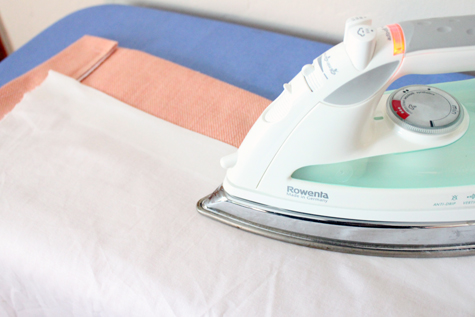 Step 8: The process of sewing the lining to the sides of the curtain fabric is a bit tricky. In fact it took me quite a few 'trial' attempts (with pins rather than the machine) to figure out the best way to handle this inside-out-contorted-fabric conundrum.
The goal is to hide the thread lines into the side hems and to do this you must pin the fabric accurately, turn the panel inside out and then sew. For the pinning of the lining to the panel to be intuitive to me, I began by casually pinning the lining to the fabric and turning inside out to check out how well it lined up (the first few times resulted in bunched or waved fabric across the panel so I definitely recommend playing with the pinning before you make your stitches permanent with the machine).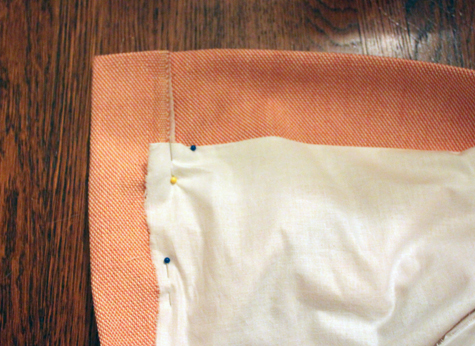 The above image shows how the lining will 'fit' into the top and side hems of the curtain. To get that lining underneath the overlapping curtain hem, you must pin the curtain inside out. But use the casual above pinning as a guide to show you were to pin when the fabric is inside out.
You can see in the next image that the fabric was pinned with the edge of the lining to the edge of the curtain fabric and then flipped inside out. I'm showing the pinning (which is hidden when it's inside out) to demonstrate how these two fabrics connect edge to edge (when you flip it right side out, the large side hems will come back!).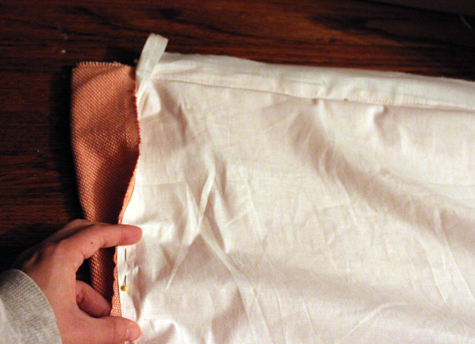 Step 9: Using the pins as your guide, sew your side panels together. Since both sides need to be sewn top to bottom (if one is sewn bottom to top you'll end up with wavy fabric – I know it's awkward though), one side should be fairly easy: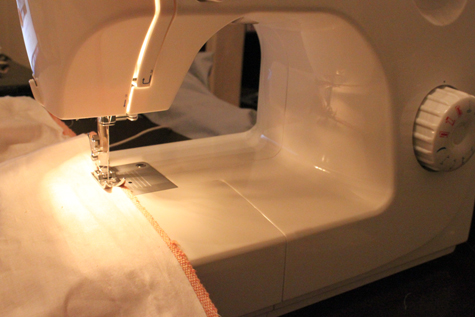 And the other will be much more difficult (is there any easier way to do the opposite side without stuffing your entire drapery panel into your machine?):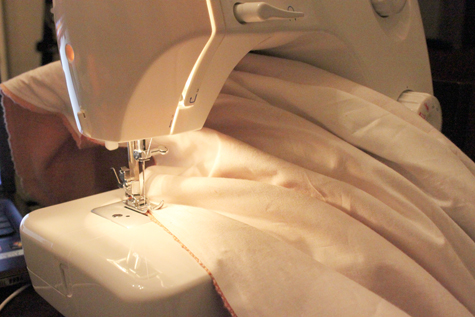 Challenging!
Step 10: Press out all of your hems and admire your work!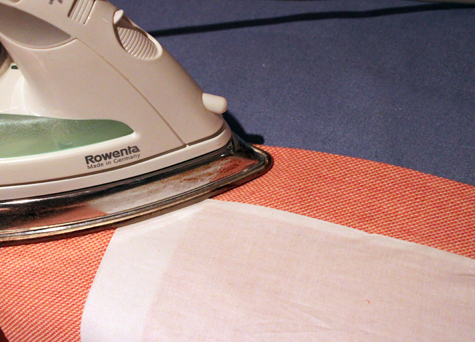 I should have a full curtain shot here to show you the result

. Even though most of the side panel areas turned out clean and smooth, there was the occasional pucker and error: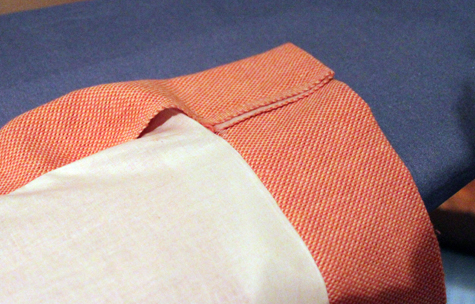 I've learned plenty of lessons during round 1 – next time I have a better idea of how to correct these little errors. But a little hand sewing will fix most of these buckles in a cinch.
I'm pressing everything out now and hanging the curtain rods! The new lined panels will be up very soon. Woohoo!
If you're catching up on Project Nursery, here's a link to the sewing the curtains part 1, nursery fabric board, curtain fabric selection, rocking horse find, new pendant light, vintage wall art addition, changing table makeover, nursery wall striping tutorial, painted animal project, the initial inspiration board and the before picture posts.
Tags:
Decorating
,
DIY
,
Fabric
,
Nursery
,
Sewing
,
Tutorial
Posted in
Crafty Solutions
,
Home
,
Liv's Nursery
,
Renovating Adventures
|
5 Comments »
February 18, 2011
I could oogle over those newborn photos from yesterday all day. 'Preciousness' in that last post is used in the verb form (the mom baby talk verb form), not as a noun – don't worry, Liv's nickname isn't 'Preciousness'. We call her much more exciting things like 'monkey', 'squish', 'booger' (why do parents get away with names like that?) and even 'lovie' (my favorite because it's also a play on 'Liv').
But back to other adventures. And by Adventure I mean my perhaps comic encounter with the sewing machine this past week. Just to preface, I haven't visited the old Singer since I was 14 (I keep relying on that excuse…).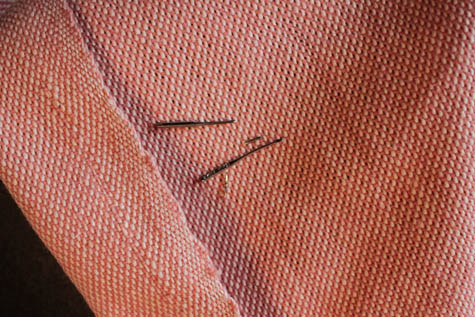 Yes, those are broken needles. Just two of three that I snapped yesterday, actually.
I'm sewing curtains for Olivia's room out of what I think will be the perfect fabric for the space (hence my taking on the massive project of cutting, pinning, infusing, lining and sewing my own drapes). It's a coral/pink fabric that compliments the colors that already exist in the gender neutral room, and it's a heavy enough weave that should hang nice and pleated (and with just a bit of lining) keep the bright sunlight at bay during nap time.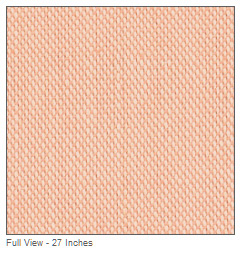 Because it's been so long since I've threaded a bobbin, I asked my good friend Trish to come over for dinner and a sewing 101 lesson. I was hoping it would be like riding a bicycle (you never really forget…) but a little guidance was a must. We made two new throw pillows from leftover remnants (more on that later) and I was back in the proverbial saddle.
I've never sewn lined drapes before, but I figured if I was going to sew my own darn drapes I was going to do it right and do it well .
I followed Janell's (from Isabella & Max Rooms) tutorial for lining drapes, she has included plenty of helpful photos and detailed descriptions to guide you though the process. If you're embarking on a similar first time adventure, I highly recommend following along. But here is a shortened version of my overview as well.
Sewing Lined Curtain Panels
Materials: Curtain fabric, fabric lining, fusible interfacing, pins, iron + board, sewing machine, fabric rings
Step 1: Measure your window space and cut your fabric panels to the appropriate height and width, being careful to include enough fabric for your hems. I added an extra 4″ for a hem at the bottom of the curtains (to give it a bit of weight) and 4″ for a hem at the top (to hold the folds of the fabric as well as the rings to hang the fabric with). Because my fabric is a solid color, I didn't have to take into account matching up patterns between the panels (you'll want to make sure your fabric starts at the same pattern point on all panels).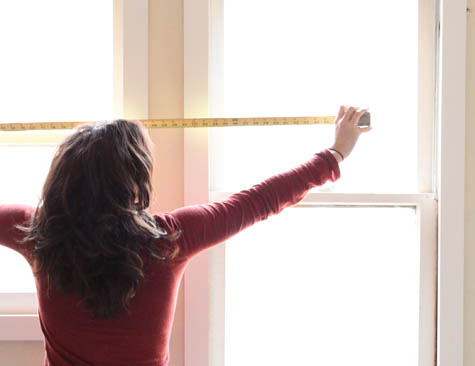 A good width ratio is 2:1, or being sure that your fabric is twice the size of your window space (my curtains won't be as wide because of the awkward size of the three windows in the nursery, but we'll make it work.)
Step 2: I added a strip of fusible interfacing to the top curtain hem to help support the structure of the final curtains. I probably could have gotten away with skipping this step because my fabric is so sturdy, but I included it anyhow and I can see how this would be a must for most fabrics.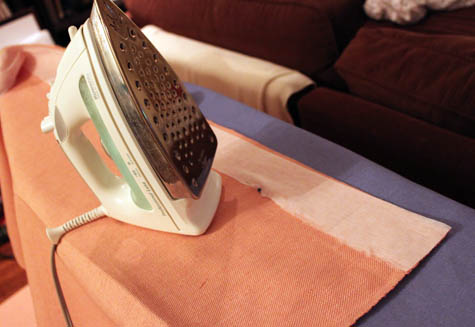 Interfacing is cut to the width of your fabric and at a 4″ length (or the length of my hem) and pinned into place. Pinning helps to ensure you're interfacing stays lined up with your edges the entire time. Follow the directions on your particular fusible interfacing package, but I used the iron on the wool setting and applied the course end of the fusible fabric directly to my curtain fabric.
Step 3: Fold over your top hem (right over that interfacing) and re-pin, press the hem closed with your iron.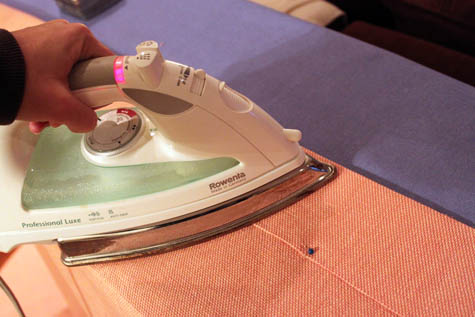 Now you have a very sturdy top hem!
Step 4: Start your side hems. Fold the fabric edges 2″ over at each side and press into place (it's extremely helpful to press everything before sewing it!).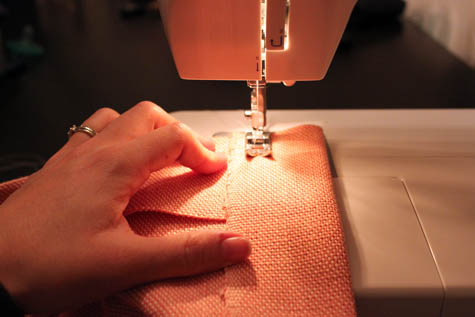 Then bring that newly pressed corner edge over to your machine and run a quick line of thread down to the edge of the hem. See that area under my hand? That's the top hem we just created with the pressed fusible interfacing inside. I simply folded over the outside fabric to create the corner. You could also sew this step by hand instead of using your machine.
Step 5: Now we start inserting the lining. Your lining should be cut to fit the inside of your hemmed curtains + enough for a small hem for the lining. Confusing, no? Check out Janell's diagram here.
Press the bottom of the lining to create your bottom hem (mine is 2″). Janell recommends sewing the entire bottom of the lining here as well to avoid having to do that when the lining is attached to the curtain.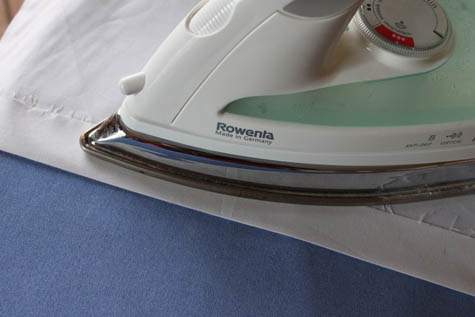 Step 6: Now the top of the lining gets pinned into place just inside the curtain hems. Here you can see that when my lining is flipped back over, the pins will be underneath the lining and the hem will be invisible. Sew into place.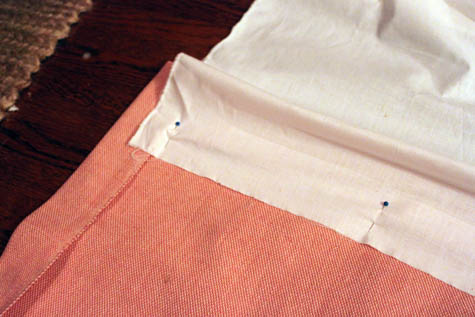 Let's pause here. That's a lot to take in!
Don't get frustrated if you find yourself doing a lot of this: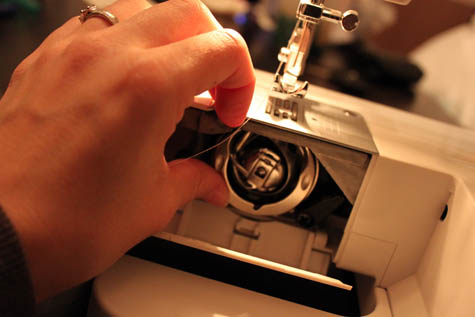 Or this: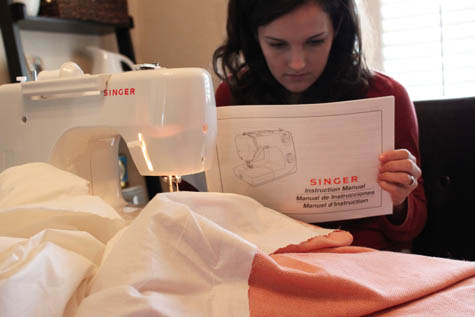 After all, that's what happens when you do this: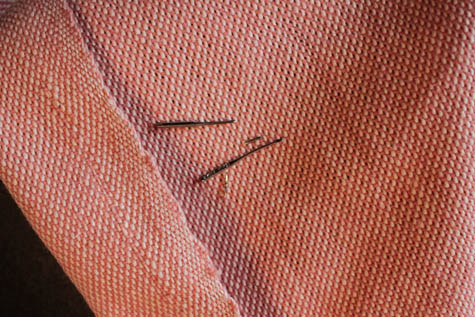 And after banging my head against the wall I calmly returned to the machine, replaced the needle, and kept on going. Because I'm really proud of these curtains. And because I really can't wait to see how they look when they're up!
To be continued! (Oh, be sure head on over to Isabella & Max Rooms, what I cover in two sentences Janell patiently explains in several thorough posts. And it's wonderful.)
If you're catching up on Project Nursery, here's a link to the fabric board, curtain fabric selection, rocking horse find, new pendant light, vintage wall art addition, changing table makeover, nursery wall striping tutorial, painted animal project, the initial inspiration board and the before picture posts.
Happy three day weekend!
Tags:
Decorating
,
DIY
,
Fabric
,
Nursery
,
Sewing
,
Tutorial
Posted in
Crafty Solutions
,
Home
,
Liv's Nursery
,
Renovating Adventures
|
9 Comments »
December 17, 2010
When I was working on the inspiration board for our bedroom I had my heart pretty set on simple drop cloth white curtains. What could be a cheaper material and a more classic look than basic white canvas?
Ahhh if they only sold basic white canvas drop cloths. I checked five hardware stores (which sort of takes away from the low-cost mission) and came up with tan/natural options only. I even considered a) ordering online and paying to have the canvas shipped to me or b) purchasing canvas fabric from the local discount fabric shop and hemming them myself. Both seemed too time consuming for what was supposed to be a basic project…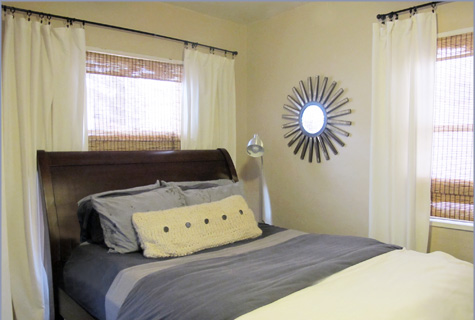 Thankfully a recent trip to Ikea revealed white panels for $14.99/pair. Perfect! Drop cloth canvases from Lowes were roughly the same price for a similar amount of material.
Drop cloth curtains would require curtain clips, so I modified my Ikea panels to create a look slightly more jazzed up look by trimming each tab off of the top of the curtains.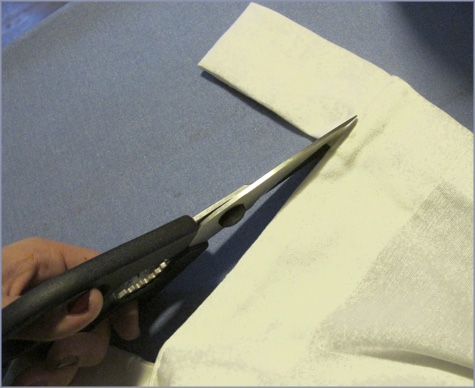 Then up went the rods and bamboo roman shades!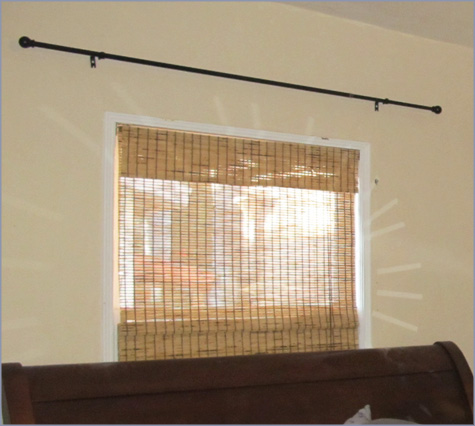 I like to hang rods slightly higher than the window frame to add a little drama.
Each curtain panel received a set of curtain clips (you can find these at your local home improvement store or home decor store) and a very thorough ironing.
I wanted the curtains to pool a bit at the bottom so I didn't bother hemming them (that's not a pretty pool job above, but you get the idea…). A quick application of iron-on hem tape would take care of raising the length if need be.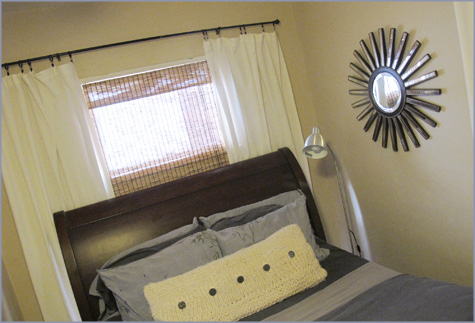 And there they are! Not much to holler about but a clean, basic, affordable solution to what were empty and boring windows. It also has always bothered me that the window behind the bedframe was so much smaller than the actual headboard, now the curtains help to balance out the proportions.
One more project for the master bedroom down!
Tags:
Bedroom
,
Before & After
,
Blue
,
Crafty Solutions
,
Decorating
,
DIY
,
Fabric
,
Home
,
Tutorial
,
white
Posted in
Home
,
Renovating Adventures
|
13 Comments »