February 22, 2010
Update: I finally made my own ottoman out of a coffee table and you can read all about it over here, feel free to check it out for even more tips and tricks.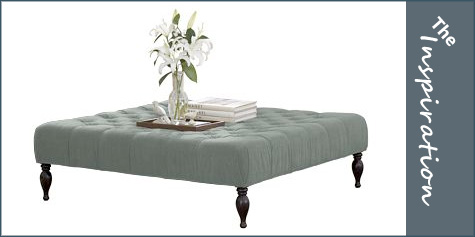 Here's a little project from Little Green Notebook that I've been so anxious to try. Jenny has transformed an everyday, unexciting coffee table into a beautifully cushioned ottoman!
After falling in love with the above Restoration Hardware design (that came with a hefty $1200 price tag), Jenny refashioned a Craigslist find into the perfect replication (for $60!):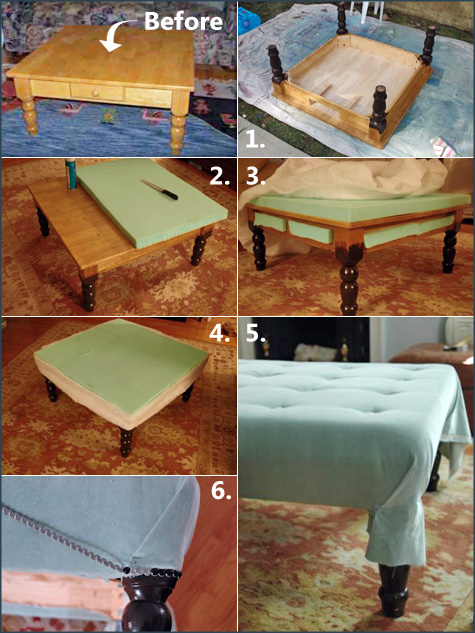 In a very simple wrap-up, Jenny (1) painted the legs, drilled holes for her tufted buttons, (2) added foam padding to the top and sides, (3&4) covered the table in batting and then her light blue fabric, used a button kit from JoAnns for the buttons (attaching to table through drilled holes with an upholstery needle and thread), (5) folded the fabric under the table and tacked around corners, and (6) finished off the edges with upholstery nails. Whew!
For the entire scoop (with great suggestions for tackling on your own), check out the full post here.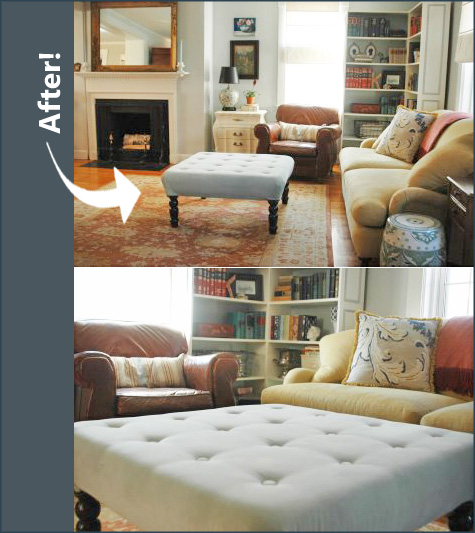 I'm amazed and completely inspired to take on my own coffee table refashion for an ottoman in the living room, or perhaps by the foot of the bed, or maybe in the dining room for extra bench seating? Too many options.
Tags:
Accessories
,
Before & After
,
Blue
,
Crafty Solutions
,
Decorating
,
DIY
,
Furniture
,
Home
,
Tutorial
Posted in
Crafty Solutions
,
Home
|
22 Comments »
February 9, 2010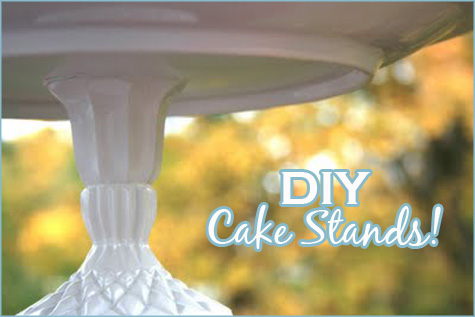 Here's a recent idea I found for an upcoming shower… I'm so excited to give these a try. I have a special affection for all things cake stands, especially pretty ones that make lovely silhouette shapes in my kitchen shelves!
Handmade cake stands are simple and easy, here are two tutorials that outline the step-by-step directions for (1) an eclectic vintage mix and (2) a lovely all-white dessert buffet: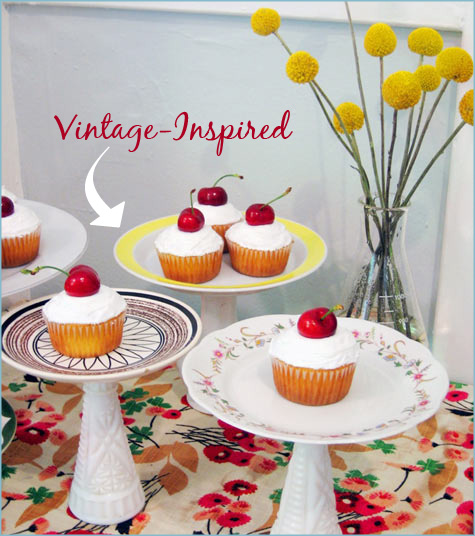 Kate's recycled cake stands (shared on design*sponge back in 2008) make the perfect eclectic tea party addition. These would make beautiful table centerpieces for an outdoor shower as well.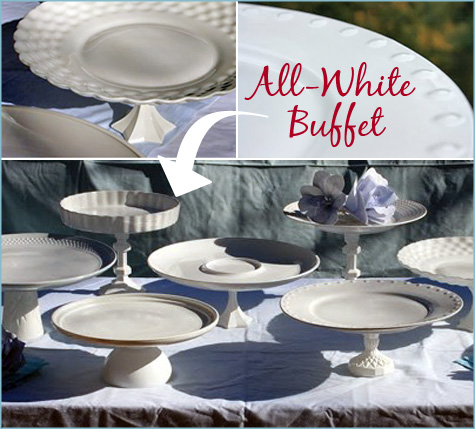 I originally found this classic white dessert bar tutorial on Weddings & Cookies, but Renee's creations are featured here on design*sponge as well! I love the clean, crisp look of all white – it would make a lovely dessert buffet for a wedding or party.
These would also look perfect lined neatly in a buffet cabinet or on floating shelves in the kitchen/dining room (for a fraction of the price of a store-bought collection!)
Can you believe they started as this?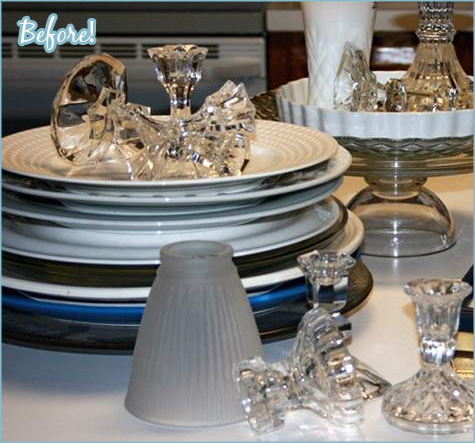 Before we jump into the How-To, be sure to check out great Etsy artists like Burlap & Blue as an easy alternative if you're looking for an option to purchase.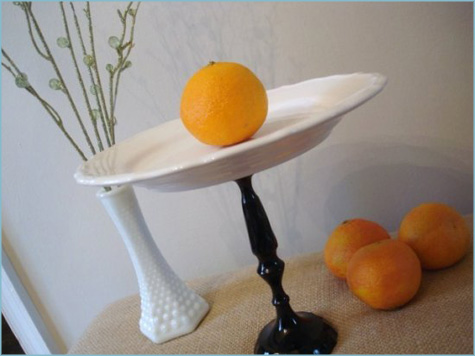 More pictures (and the How-To) after the jump! Read more »
Tags:
Baby Shower
,
Before & After
,
Birthday
,
Bridal Shower
,
Crafty Solutions
,
Decorating
,
Desserts
,
DIY
,
Kids Party
,
Parties & Entertaining
,
Tutorial
,
Wedding
Posted in
Crafty Solutions
,
Parties & Entertaining
|
14 Comments »
February 3, 2010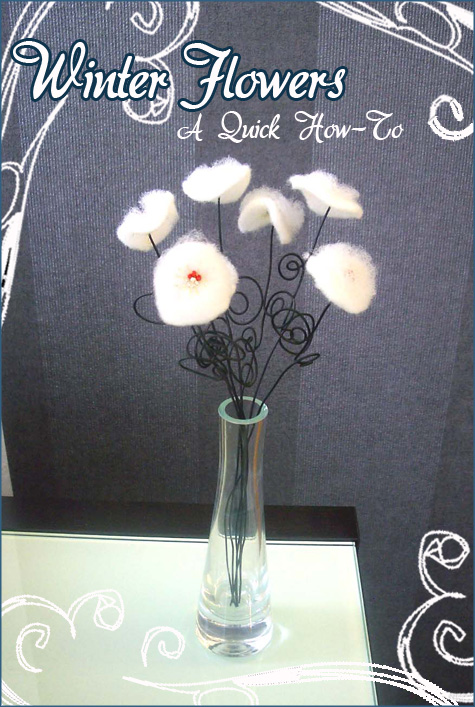 I came across these beautiful handmade flowers while searching for the perfect year-round indoor bouquet – a little something lovely and sweet for a bud vase next to the bed, on the dresser or perched up in one of our doorless cabinets.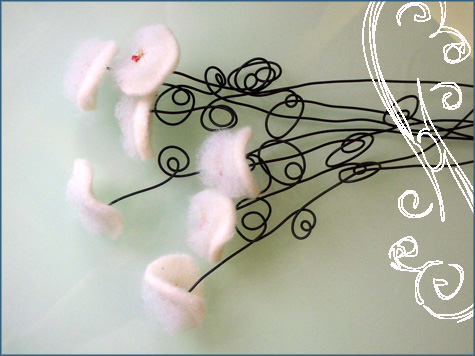 Imagine my surprise when Rasa, the artist behind these creations and LiRaDesigne, not only offered to give me a sneak peak at the process of making the stems, but also step-by-step directions to share here!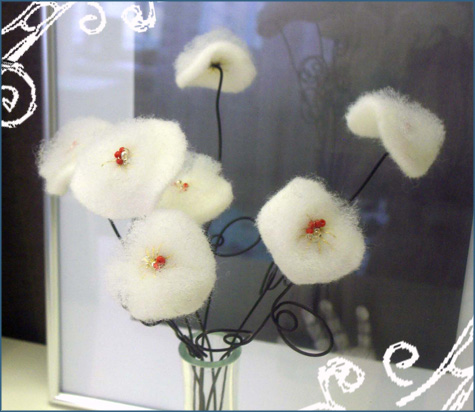 I adore the simple and soft look of the cotton flowers – the glass beads in the center add a delicate touch.
Rasa calls them 'Waiting for Spring' Winter Flowers, but I would display them all the time for every season. If you'd like to purchase the finished product instead of making each by hand, check out LiRaDesigne shop here. They're very much within the budget!
For step-by-step directions (with a super helpful photo gallery), follow the jump! Read more »
Tags:
Crafty Solutions
,
Decorating
,
DIY
,
Home
,
Tutorial
,
white
Posted in
Crafty Solutions
,
Home
|
5 Comments »