January 28, 2010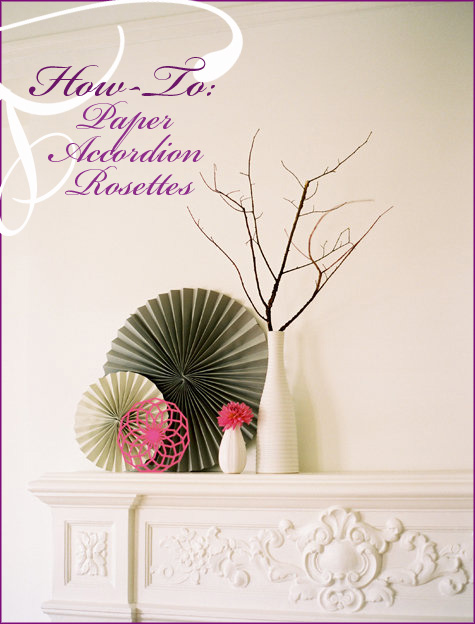 I love when you find inspiration in the most unexpected of places… the other day I was thinking about those little accordion paper fans I used to make as a little girl by folding up 8 1/2×11 sheets of white printer paper. They might turn into turkey tails for Thanksgiving or maybe even folded hearts for Valentine's Day.
I found this lovely inspiration board (below) at Paper Crave and it brought me right back to the 2nd grade. The grown-up version of paper accordions comes in the form of folded maps, book pages or antique wallpaper.
I really love the simple way these accordion paper poms fit into every type of party decor. I can imagine them delicately hung above a wedding reception dance floor, lined neatly over a bridal shower dessert buffet or in bright & bold hues for a child's birthday party.

The rosette 'table confetti' is my favorite. And how pretty are the button and brooch centerpieces? A little pearl bead would be perfect.
Once Wed designed an entire grey, green & pink dinner party around this theme (see top top photo), and design*sponge shares it here. To make your own paper accordion rosette, Paper Source provides a free downloadable pdf. And finally, a super easy DIY awaits after the jump! Read more »
Tags:
Baby Shower
,
Birthday
,
Blue
,
Bridal Shower
,
By Color
,
Christmas
,
Crafty Solutions
,
Decorating
,
Dinner Parties
,
DIY
,
Green
,
Grey
,
Kids Party
,
New Year's Eve
,
Paper Crafts
,
Parties & Entertaining
,
Patterns & Color
,
tea party
,
Tutorial
,
Wedding
,
white
Posted in
Crafty Solutions
,
Parties & Entertaining
|
8 Comments »
January 11, 2010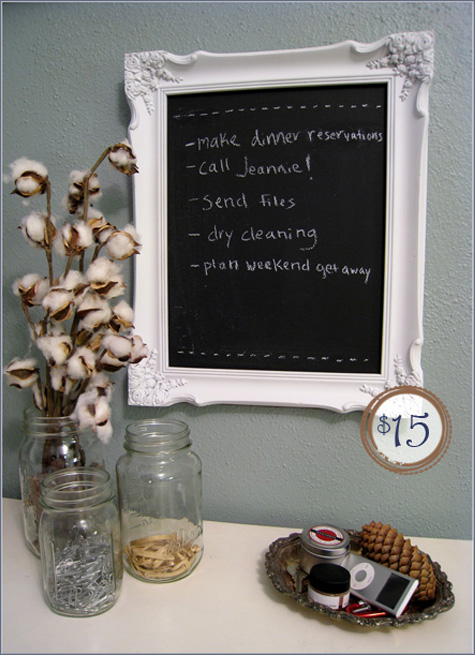 This is an oh-so-clever idea from the very crafty b*spoke that I just love! How simple and how sweet. I'm thinking this little board would look just perfect in my kitchen, and that I might have an ideal frame lying around from a recent garage sale find…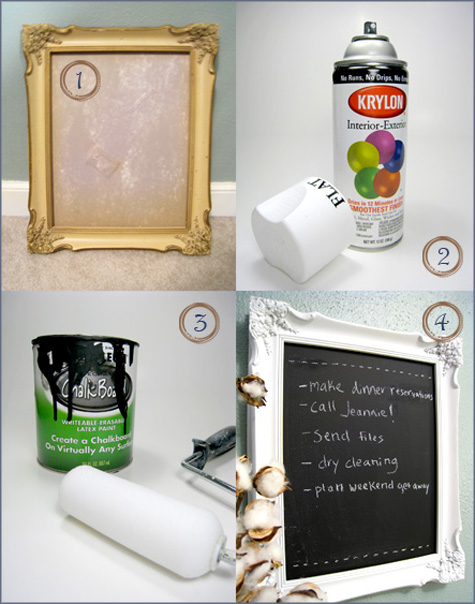 The quick and dirty directions:

(1) Paint your frame your favorite color
(3) Use chalkboard paint to thoroughly cover inner glass
(4) Hang and admire
Jump on over to the FULL DIY instructions here! Check in on her great tips and tricks for making this project as easy as possible. Bethany is incredibly talented and b*spoke is scheduled to be featured in an upcoming Friday Guest Blog post… stay tuned!
Tags:
Accessories
,
Before & After
,
Crafty Solutions
,
Decorating
,
DIY
,
Home
,
Kitchen
,
Paint
,
Tutorial
Posted in
Crafty Solutions
,
Home
|
7 Comments »
December 26, 2009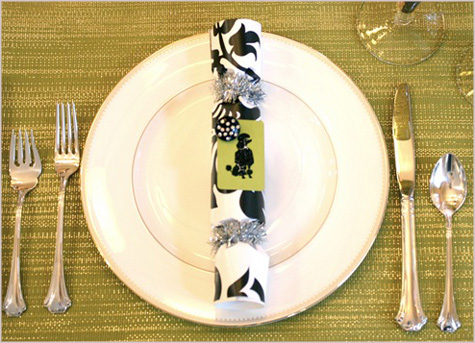 Here's a neat idea for this New Year's Eve. If you're hosting a get-together or dinner party consider this thoughtful treat for your guests — a homemade party cracker! Danielle and Centsational Girl share how.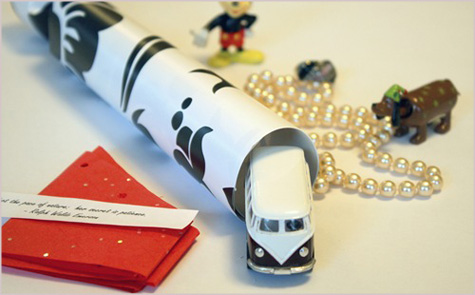 This decorative tube (an empty paper towel holder in this case) is usually filled with little knick knacks (paper crowns, fortune messages, small toys…) and is wrapped in bright shiny colors. Tradition holds that two people pull from each end of the cracker until it *pops*, emptying out the contents. Read more »
Tags:
Christmas
,
Crafty Solutions
,
Dinner Parties
,
DIY
,
Kids Party
,
New Year
,
New Year's Eve
,
Parties & Entertaining
,
Tutorial
Posted in
Crafty Solutions
,
Parties & Entertaining
|
Comment »