February 14, 2013
***Update: I've just uploaded Anna Kate's style boards from yesterday into the Wardrobe Style Board Gallery – ohhhh computer issues – sorry for the delay! And I've labeled her previous maternity boards as 'Pregnancy Style Boards' so now they're easy to find for us moms-to-be***
Liv and I combined her birthday thank you notes with Valentine's Day cards this year and I think it might be our new norm. It's a good reason to spend some fun time crafting and creating (she loves when she can participate with stamping or punching holes) and we save stamps by sending out Valentine's Day cards plus thank you notes in one (though I'm probably wayyy past the 'thank you card' due date etiquette at a month late…). We sent out quite a few and even Olivia's sitter helped us cut out a ton of the cute monsters inside of the cards.
This idea has been done before (see here and here as two examples), but it was too cute to pass up!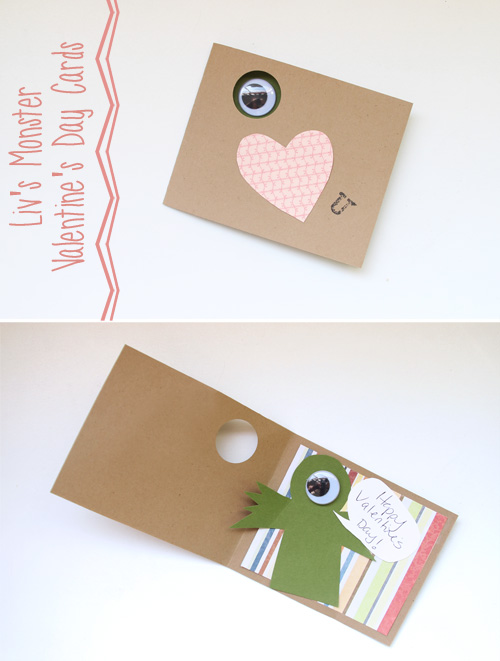 Perfect for our parents and grandparents as a way to say 'I Love U' and 'Thank You!' in one. We sent these all out with our Kisses Treat Bags - though being the procrastinators that we are they might arrive a day or two late.
The outside of the card consists of a cut out heart, a stamped 'U' and a simple punch (I have used this circular label punch for SO many projects, including these wine glass charms/labels that were featured on HWTM ages ago).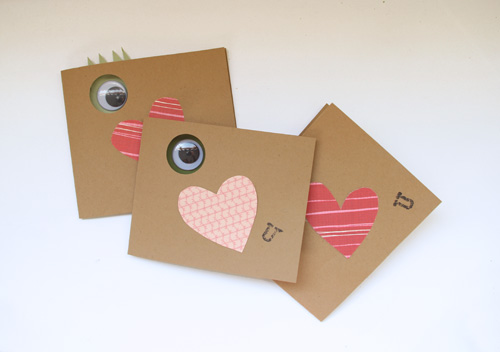 The inside includes our little monster! A green construction paper monster with a googly eye and brightly colored paper backing. Plus Liv's message to family and friends.
I asked Liv to add a little of her own crayon art and she was happy to oblige.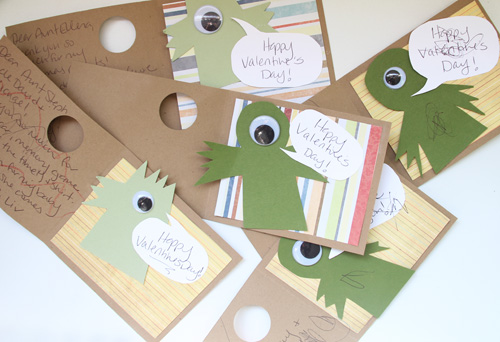 Happy Valentine's Day!
Tags:
Cards
,
DIY
,
Kid's Crafts
,
Paper Crafts
,
Paper Goods
,
Tutorial
,
Valentine's Day
Posted in
Crafty Solutions
,
DIY
,
Family & Friends
,
Holidays
|
2 Comments »
February 11, 2013
***Congrats to Ashley D. on winning the $100 Minted.com giveaway!! Thank you to everyone who entered***
Liv and I made little Valentine's Day treat bags for her grandparents and great grandparents (they were inspired by this version we made last year for Mother's Day with drawings by Liv and taffy), and this time around we filled the little clear bags with Hershey's kisses to officially send 'Bags of Kisses' through the mail.
BUT, before I share this super easy and customizable candy bag, I have to share that we had our little gender reveal party yesterday and it was so much fun! So neat to experience the awesome surprise of what we're having with everyone at the same time!! Caught it on camera so I can share the surprise with you all. But you have to wait just one more day or two while I edit the video! So sorry for the suspense… let me just say I was totally caught off guard!
Okay… back to the cute little baggies

.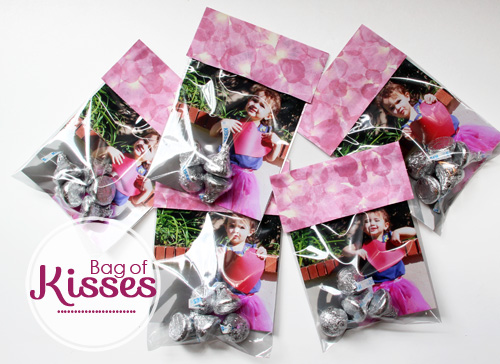 ********************************************************************************************
'Bag of Kisses' Treat Bags
m
Materials: pretty paper, clear treat bags (almost any size will work – I used 5×7 bags for this project and 4×6 bags for today's project), an optional photo or image for the bag, Hershey's kisses, paper cutter, glue/stapler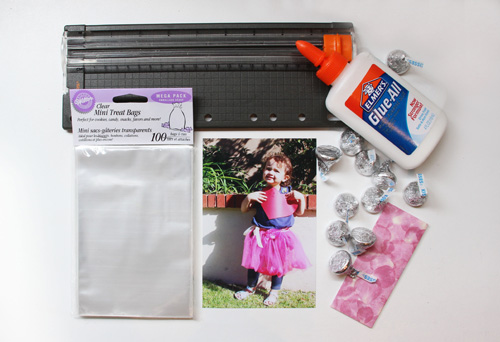 A very quick and simple project to assemble.
First up was Liv's Valentine's Day photo shoot! I actually caught Liv on a day that she was wearing her little tutu (as a 'ballerina' – which rarely happens) and handed her a construction paper heart to play with (I made two which turned out to be the smartest plan because the first was crinkled and torn before I had even pulled out my camera).
Then we shot away!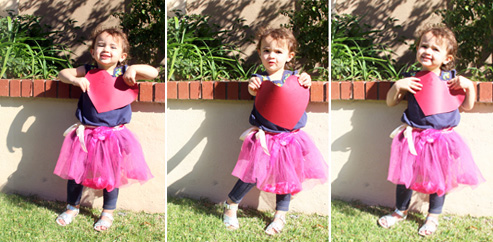 500 pictures later (in about 45 seconds) and Liv was smiling and standing and carrying the heart in the same photo. I love that middle shot – I always have to take a ton, but it's always worth it.
Actually this might be my favorite: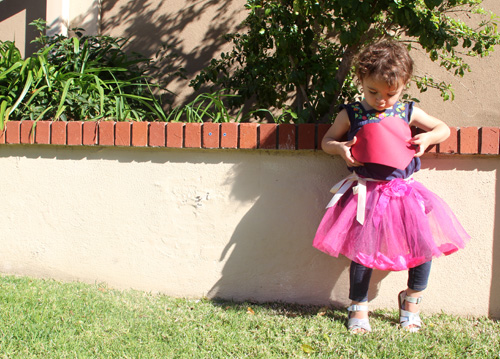 We turned it into the little card that we'd send out with the bags: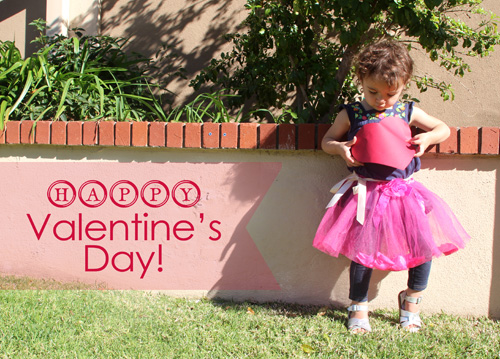 Ahhh and here's Liv last Valentine's Day! One year makes a huge difference.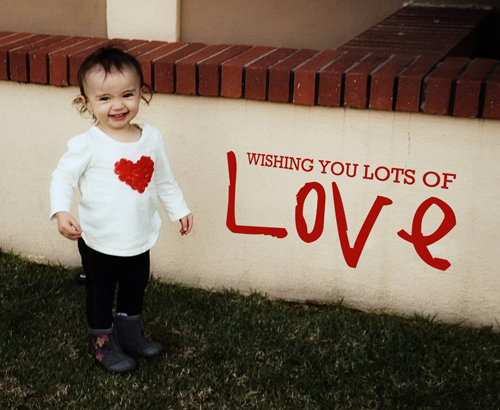 After processing the photos, I ended up cropping both the bag and photo to make the finished bags just a little smaller.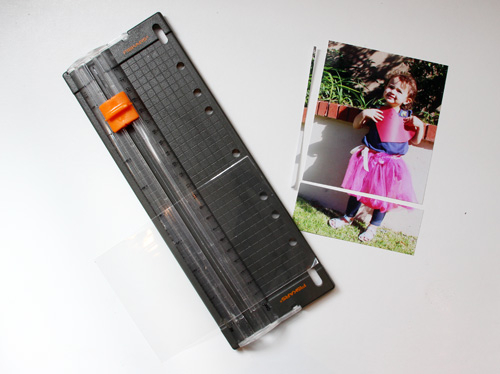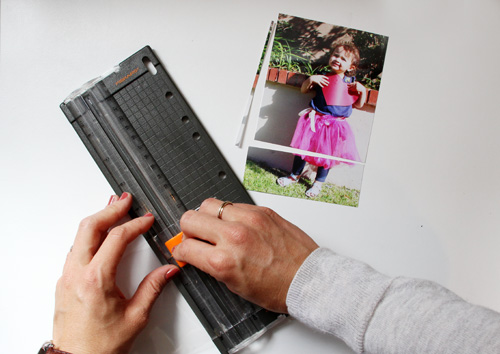 Then into the bag went a handful of kisses and on the top of the bag a cut rectangle of a pretty paper (from the scrapbooking aisle) that was folded in half. You could easily staple the top directly onto the clear bag as well, but I tried something new for a seamless look this time around with glue.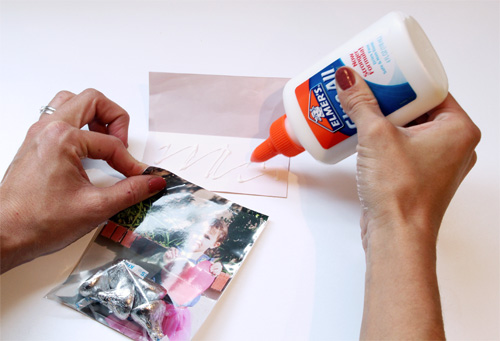 Finished!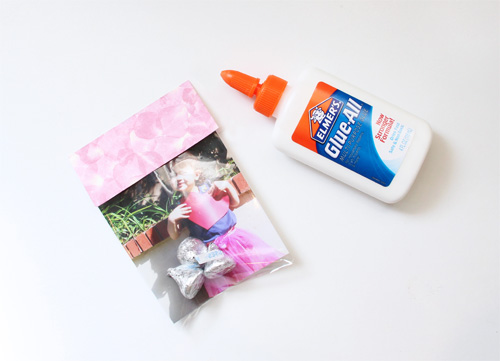 I couldn't decide on which pose I loved best, so I made several of each: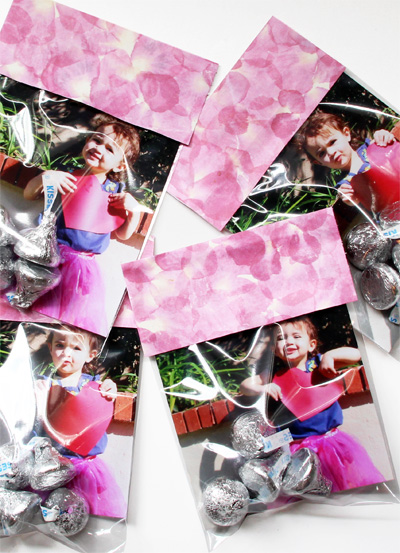 Here's the entire project in one quick collage: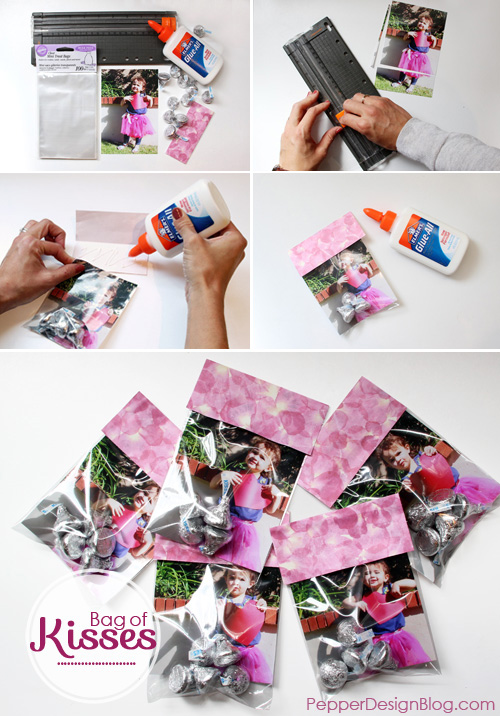 ********************************************************************************************
This is a favorite and easy project in our house, we've made them for Mother's Day (which I referenced above here) but you could use them for parties (they make great favor 'thank you' bags) or as treats for school. You could really add any image (be it a favorite photo, paper, fabric square, etc) as the backdrop or even leave it blank as a clear bag. Use a solid piece of paper at the top to include a little message, too! And we've also filled these with miscellaneous goodies such as confetti or glitter just for added fun.
Valentine's Day is just around the corner! Here's a quick link to search by all heart-day related posts.
Tags:
Crafty Solutions
,
Parties & Entertaining
,
Party Favors
,
Pink
,
Red
,
Tutorial
,
Valentine's Day
Posted in
Crafty Solutions
,
DIY
,
Family & Friends
,
Favorites
,
Handmade Gifts
,
Holidays
,
Olivia
,
Parties & Entertaining
|
6 Comments »
January 31, 2013
Do you ever puzzle over which type of paint should go where? Flat or gloss for the kitchen? What type of roller for the cabinets? Should I invest in a synthetic or natural brush for latex paint? To prime or not to prime (that is the question). I am always quizzing the paint desk folks at my local home improvement store with questions like these.
This in mind, here's a cheat sheet that I've put together with the help of paint specialists Nicole Jones and Kimberle Greene of Olympic Paint. Olympic teamed up with us to paint the exterior of our home and I have been blown away by their helpfulness and expertise with the project!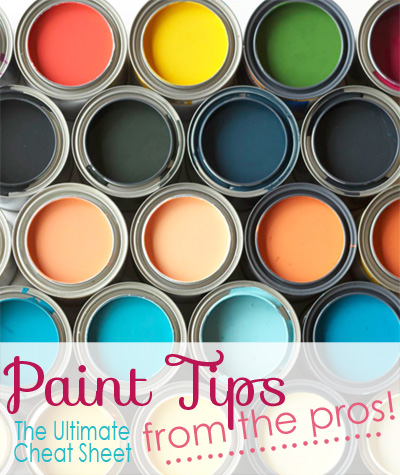 This post includes super helpful tips on topics such as how to choose your brush type, when and where to prime, and even stain application suggestions for wood makeovers.
But because I'm all about a visual cheat sheet, if I could wrap all of the paint sheen tips into one graphic that would be easy to pin, print out for a trip to the store or post on my bulletin board, here it is: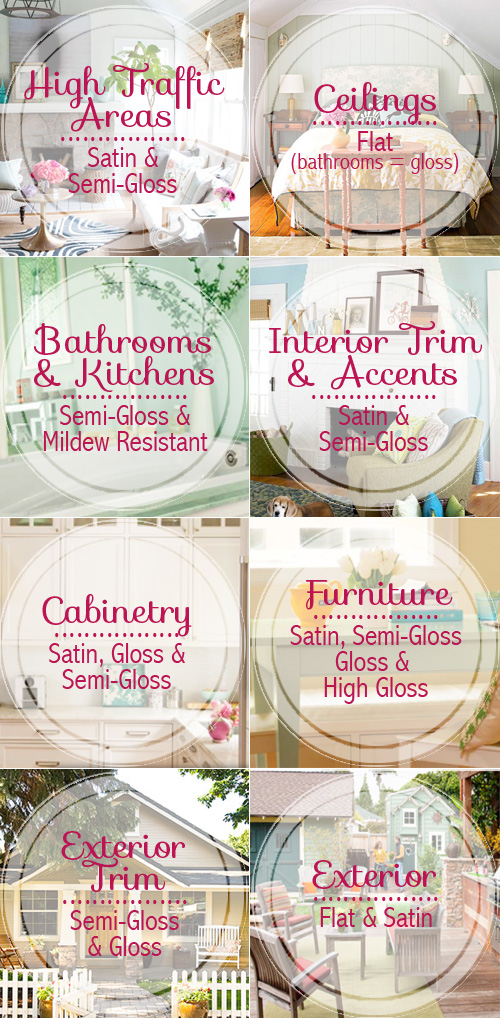 Now I need to process all of that through my long term memory asap. But first, let's jump into the full Q&A with Nicole and Kim!
Let's start off with a frequently asked question… what are your tips for high traffic areas and living spaces?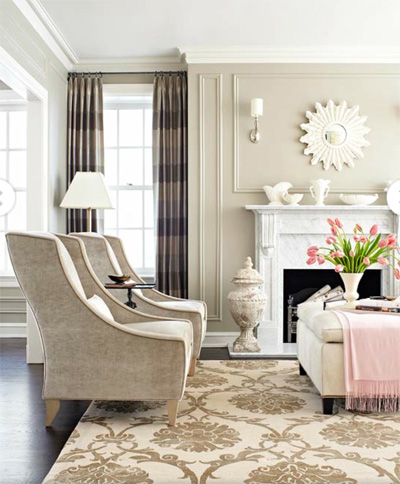 Flat to satin for most rooms depending on how busy your home is and satin/semi-gloss for bathrooms, kitchens and kids rooms or even laundry rooms.  When choosing the right paint for a project, it is important to consider the durability attributes of the paint and sheen. Typically, the higher the sheen, the higher the durability; therefore, satin and semi-gloss sheens are usually recommended for high-traffic areas where the paint finish needs to withstand multiple scrubbings and resist staining. Super-premium paints like Olympic ONE, however, have advanced durability benefits like superior scrub and stain resistance in all sheens.
What about bathrooms and kitchens?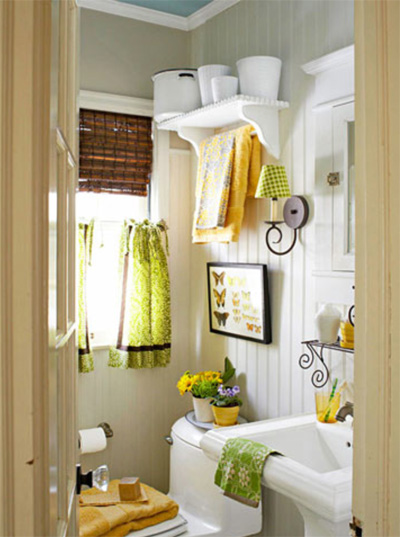 In high-moisture environments, like kitchens and baths, rooms require paint with mildew-resistance. Some paint lines have kitchen & bath specialty products and some paint lines offer mildew-resistance in all sheens. In the Olympic line, our ONE paint has mildew-resistance in all sheens and is appropriate for high-moisture areas, and we also offer Premium Kitchen & Bath Semi-Gloss.
Lets talk about ceilings and trim work for a moment.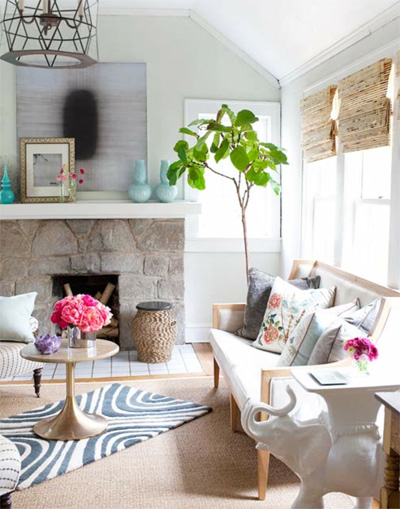 Flat works best for ceilings, however if you're painting a bathroom, kitchen or kid's room a semi-gloss may be more appropriate considering the high levels of moisture and or accidents that can occur in these areas. The higher you go in sheen, the easier it will be to clean. Though, if there are problem areas, flat will be best in all cases (glossy paint tends to accentuate flaws such as uneven walls or textures).
Satin and semi-gloss sheens are great for trim. Though if using Olympic ONE interior paint, any sheen could work including flat for those that prefers no sheen.
What type of paint do you recommend for furniture?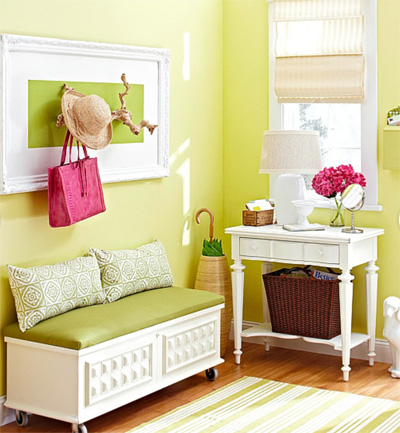 A satin to high gloss sheen of paint will work great here. First however, if there is an existing coating of varnish or lacquered paint finish that already exists on the piece, sanding and priming may be required to dull/remove the sealer or glossiness and prepare the surface prior to painting. NOTE: The paint finish should be allowed to cure (dry) fully prior to everyday use.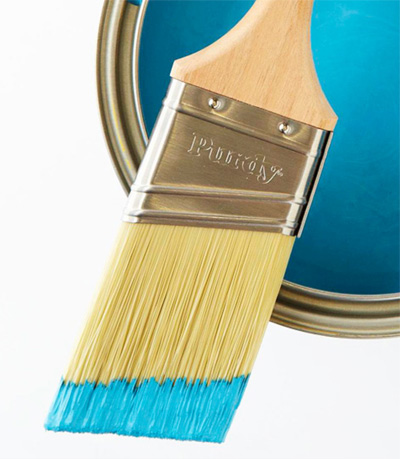 When and where must we prime, and when can we skip it? 
When in doubt of whether or not to use a primer the first test that can be performed is the water test. In an inconspicuous area spray some water on the wall. If the water absorbs quickly, a primer will be needed. If the water beads and rolls down the wall without much penetration a primer may not be needed. However, if not sure whether latex or alkyd paint is currently on the wall, another test can be performed using nail polish remover (acetone). Apply a small amount of the nail polish remover to a cloth and wipe the wall in a circular motion. If the paint comes off onto the cloth, then the current coating is latex. If the paint does not come off on the cloth, then the current coating is alkyd. When applying a latex coating over an alkyd coating, a primer is recommended.
A primer is also recommended when dealing with the following:
-Difficult stains such as water marks or smoke
-Visible debris, oils etc.
-Shifting from an extremely dark color to a n an extremely light color
I've recently been experimenting with staining wood to bring it back to its natural brilliance, any suggestions for this process?
Make sure that the surface is clean. If any sanding or puttying is needed, be sure to take care of it before applying the first coat. Always keep a wet edge, in other words once you start be sure to complete the entire area before stopping to take a break (i.e. if you're staining a chair and you start on the back, complete the back before moving to another section). After applying the stain use a varnish or polyurethane to seal it and provide a protective finish.
If I'm attempting to hide wall stains (not mold or water damage but more of the kid's marker/previous home owner variety), what do you suggest?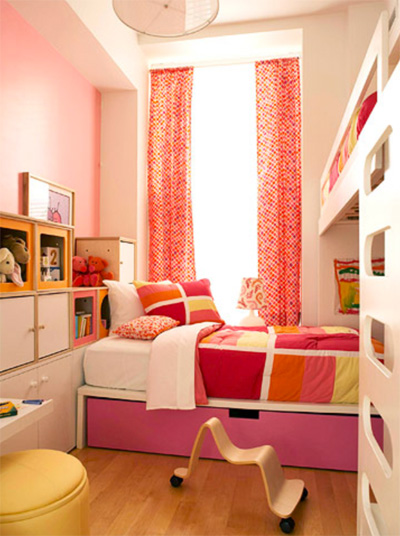 If you're referring to stains such as dirt, oil, marker etc. spot priming would be fine so that the stains are sealed in and don't bleed through the paint finish.
We recently tackled the exterior of our home and learned quite a bit from Heather, our Olympic paint rep. What are your thoughts for choosing exterior sheens?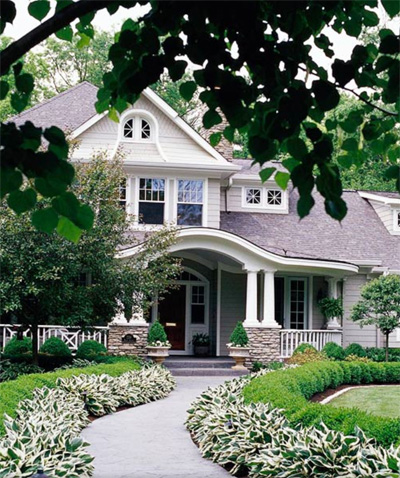 For exteriors, flat and satin are typically recommended for siding. Flat is less likely to show imperfections. Semi-gloss and gloss are recommended for accents (such as shutters) and trim – the higher sheen allows these architectural details to pop. It is also important to consider a paint that will resist dirt, mildew, cracking and peeling to provide a longer lasting finish. Additionally, super-premium exterior paints can "bridge" hairline cracks, helping provide a smoother finish when painting over old paint. In the Olympic line, our Premium Exterior paint features a proprietary technology called Dirtguard™ that helps rain naturally wash away dirt and grime, keeping siding cleaner longer, in addition to offering the other properties that help provide a longer lasting finish.
Lets talk about tools. When should I use an angled brush, foam brush, roller, etc? Natural, synthetic, nylon, foam – there are so many choices?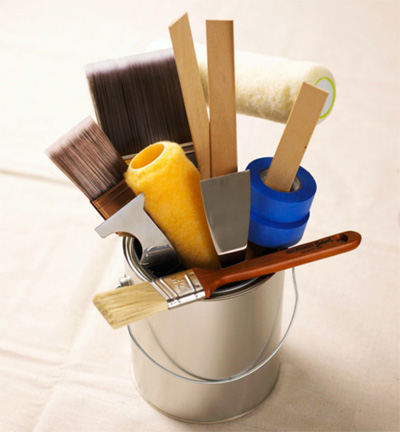 Use a brush (2 ½" angle brush to cut-in the walls (paint the edges and corners)) or for painting trim. Be sure to use the appropriate brush with the product i.e. if your painting using a latex based paint, then you would not want to use a natural bristle hair brush because the filaments will swell and make it difficult to paint. A synthetic blend or nylon will be best.
Quick brush guide:
-Use a foam brush or roller when painting super smooth surfaces (cabinets)
-Use a roller to paint in the remaining unpainted area once cutting in is complete. The roller will allow you to cover more area and at a faster pace than brushing alone.
-The type of roller will vary by the smoothness or roughness of the substrate. Smoother walls/substrates will require a shorter nap (3/16", 3/8") whereas a semi-rough to plaster wall may require a 1/2" nap or more.
-Rags are appropriate for staining. There are also brushes that are specific to staining.
Additional resources:
We have a lot of great color tips on our website (my favorite is the visualizer color tool) and here's a link to our full range of color brochures. Give this fun color personality game a go, as well!
***************************************************************
Thank you so much, Kimberle and Nicole!
Images can be found at Olympic.com and BHG.com
Tags:
Construction
,
Decorating
,
DIY
,
Home
,
Paint
,
Tutorial
Posted in
Construction
,
Crafty Solutions
,
DIY
,
Favorites
,
Guest Blog
,
Guest Post
,
Home
,
Project Lowe's
,
Renovating Adventures
,
Tips & Ideas
|
5 Comments »