January 7, 2013
I've been on the hunt for a lighting solution for our little hallway for quite some time… but not many pre-made ideas have a. hit the head on the nail for the right look or b. fit the little budget we have in mind.
Here's that hallway now, badly in need of some cool lighting love.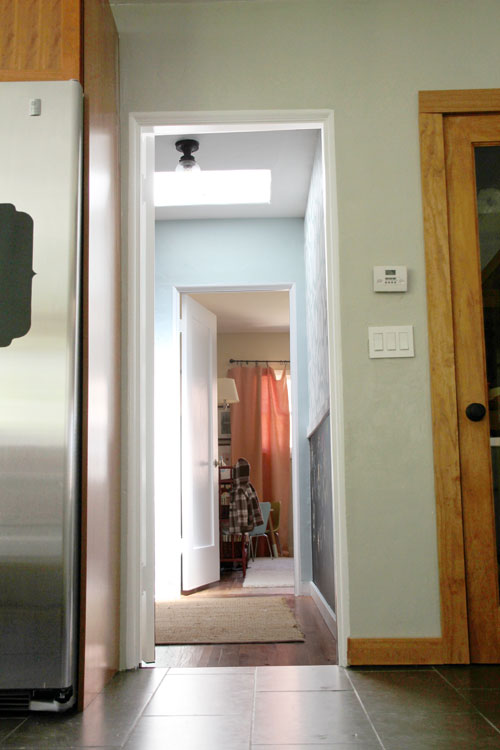 Especially against the new painter's tape wallpapered wall!
I played with the idea of something large and white and modern, something bright and contrasting in color – maybe with beads??, something in the black or gold or basket variety (see all pinned ideas right over here) and eventually settled on something woodsy. A concept that's a little vague, I know…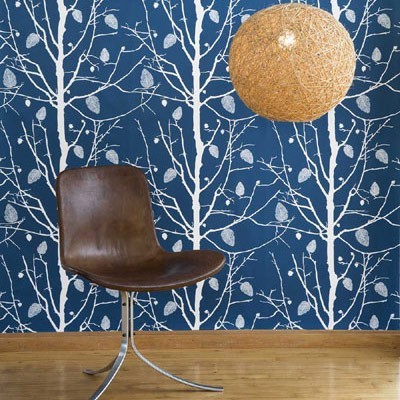 I didn't know what woodsy might specifically might be, but I love the look of raw or slightly honey-stained wood and blue. They're so perfect together! Birch and navy (image above) play very well together, or check out the walnut mirror below and how it 'pops' off of those awesome walls! (image) It's hard to tell in the very top photo, but the accent wall in our hallway is blue, actually I suppose all four are blue.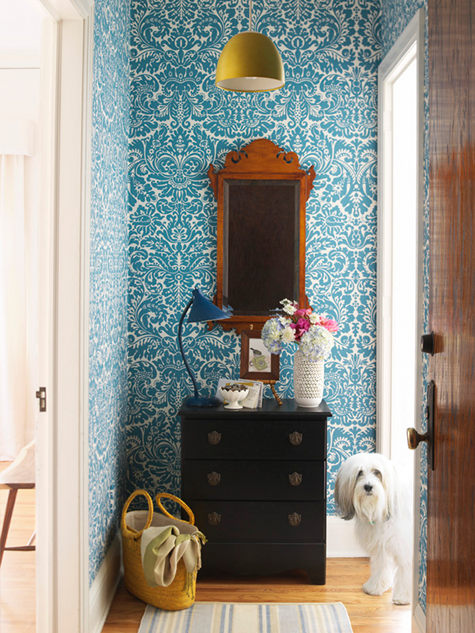 There is just something about blue and natural wood… same goes for gold (image).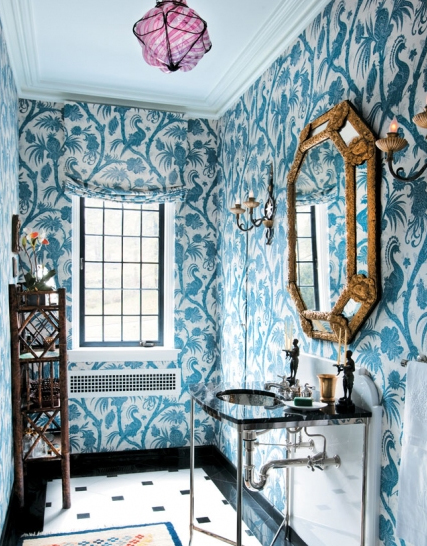 I was originally inspired to build a light out of wood veneer (kind of like this one, but I was thinking big and couldn't manage to get the wood veneer sphere to hold its shape once my play pendant grew larger than about 14″ in diameter), here are a few examples of the inspiration I played around with: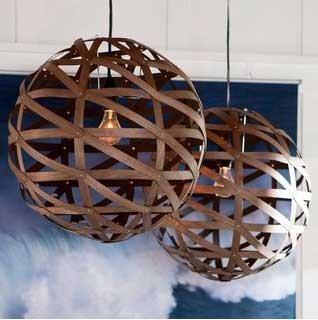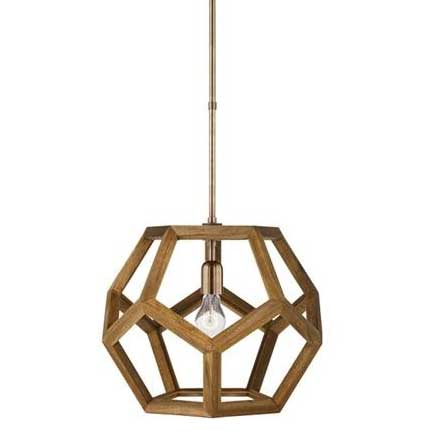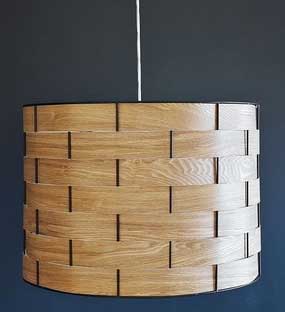 The round guy at top is a little dark in color but the shape allows plenty of light in (image) which is crucial for this hallway space at night, the honeycomb version is a very cool idea with its unique design (image) which is sure to make people stare up at it when they walk by, and the third option on my list is one of my favorites with its weaved wood veneer and traditional drum shape (West Elm, but no longer available). I actually thought that guy might be the easiest to DIY.
But I was looking for something a little less ordinary and perhaps a bit more organic in style and shape? Sort of like this one? (image) But maybe not sooo crazy.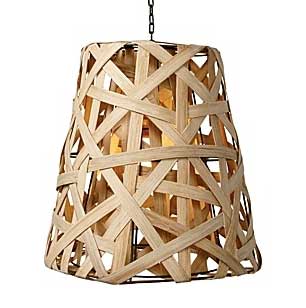 Time to DIY!
I should warn you now though that this project failed. Womp womp.
Before you get too excited for me for finding and then DIYing the perfect, most amazing pendant that ever walked this earth… it didn't happen. But I gave it an honest effort. Still shedding a tear over it.
On to the good stuff.
Materials included 4 packs of 3/4″ wood veneer edging from Lowes and a vintage wire lampshade: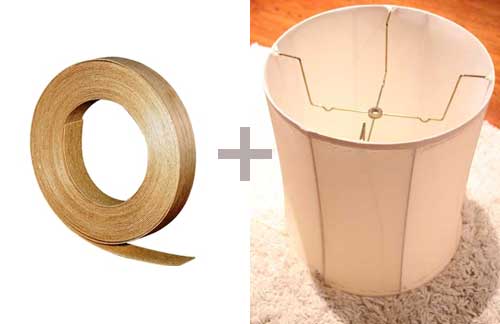 That night I stripped that lampshade down to its bones: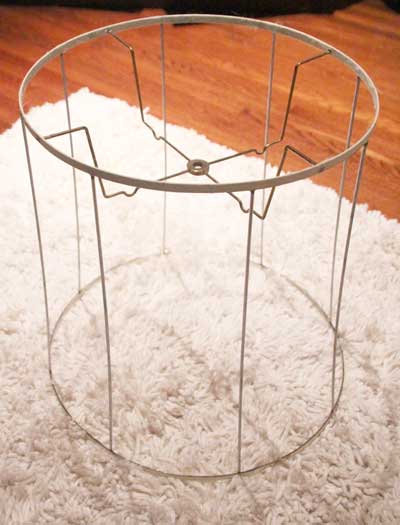 And then began using that wire structural design to add veneer strips to the shade. Using office clips, I first outlined several ideas on how this might look, later I could glue my favorite design in place (highly recommend this less temporary solution for any major project while in the 'playing around stage').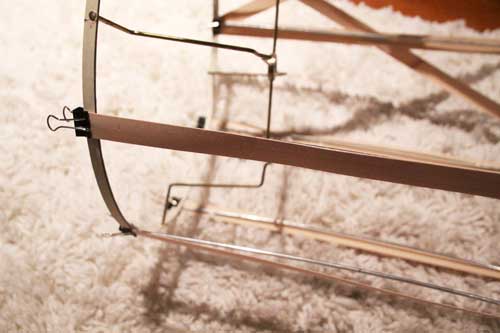 I settled on a design with a pattern, though a slightly unusual one at that. Then it was time to glue (I recommend a wood glue for extra support), and be sure to leave those clips on with the glue overnight (though I was careful not to glue any clips, and I moved my pendant out to the garage for the drying portion of this project).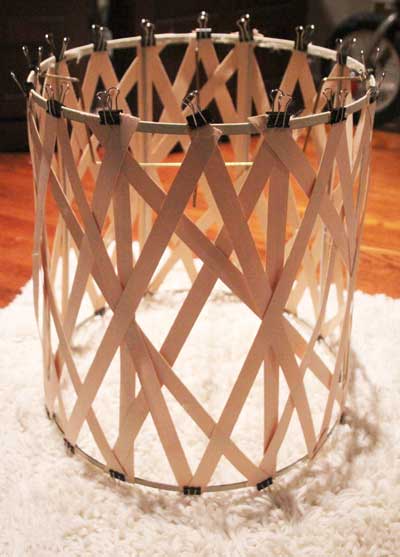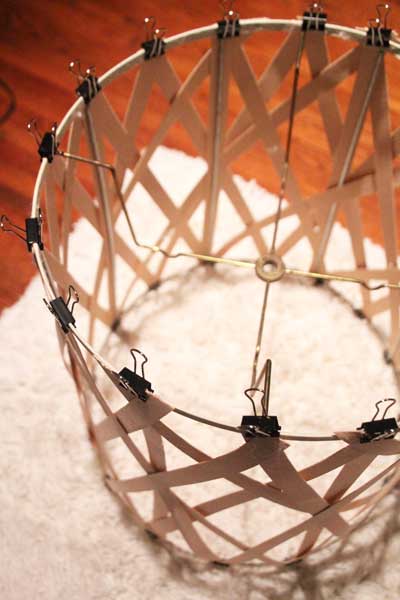 I eventually lined the wires (and top and bottom) of the inside of the shade in veneer as well, so that if you're looking up or down into the body of the shade it looked as if almost all of the wire had disappeared.
This is the womp-womp part of the project… my new shade looked so neat there on the floor all perty and structural and finished!
But as soon as we played with how it would hang in the hallway it became very clear that the shape and size was just not right, and that the color (which looked so cool and birch-like up close) looked much more like raw, unfinished wood from the next room over.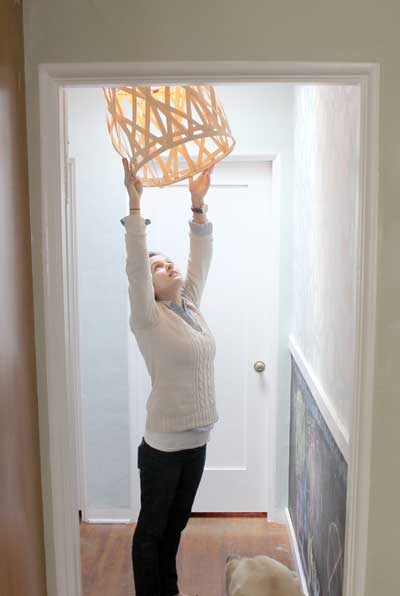 Oh man, so disappointing. But sometimes you just know when a project is not right.
I'm hoping to reuse the shade or materials for something else around the house and to start over on the hallway light. On the plus side, I'm a little wiser on what will look appropriate up there – I'm not opposed to something over-sized or structurally interesting, but now more horizontal, less vertical and perhaps something stained.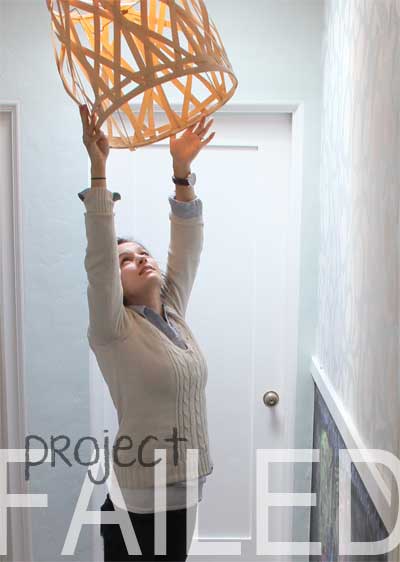 You win some, you lose some.
Tags:
Accessories
,
Crafty Solutions
,
Decorating
,
DIY
,
Home
,
Tutorial
Posted in
Crafty Solutions
,
DIY
,
Home
,
Our Hallway
,
Renovating Adventures
|
13 Comments »
December 25, 2012
Today is such a special day! Christ is born to us on earth, a little babe in human form.
It is a special day indeed, full of hope and joy and family, but we have one more Christmas gift that we are very excited to share with you…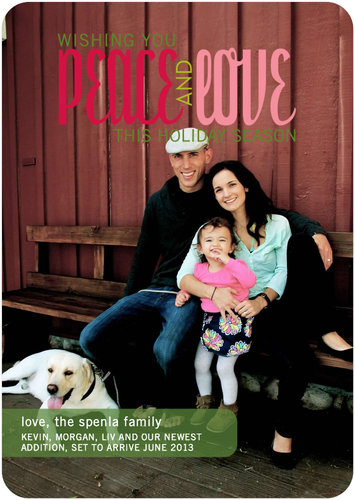 Did you read the bottom of that card carefully? Yes! We are expecting a new little member to our very own family in June! Make that June 21st ish.
Here's a shot of the little peanut at about 9 weeks, he/she has grown a bit since then and is now roughly the size of an apple at just over 3 months: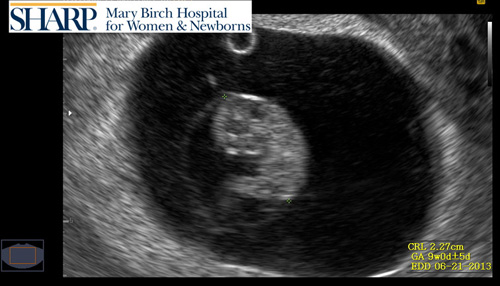 Looks a little bit like an old man? Ahh but pure joy. We are so excited to nurture and prepare for the arrival of this little one. And this has been one hard secret to keep!
And Liv is over the moon! She's into babies now (rocking her dolls, shushing them, walking them in her new Christmas stroller) and the idea of a 'baby brother/sister' – while a little subjective at this point – makes her so happy. When I ask her where the new baby is growing, she proudly pulls up her shirt and points to her little protruding toddler belly.
A few more outtakes from our Christmas photo, I think we captured the only shot in which Liv is truly smiling (even with hand in mouth) versus the distracted 'what's happening over there?' glance in the wrong direction. We borrowed our friend Anna (many thanks!!) and a red barn wall in Old Town, San Diego to snap a few photos a few weeks ago: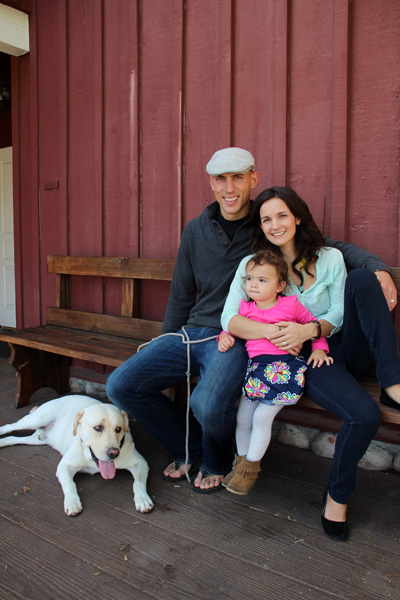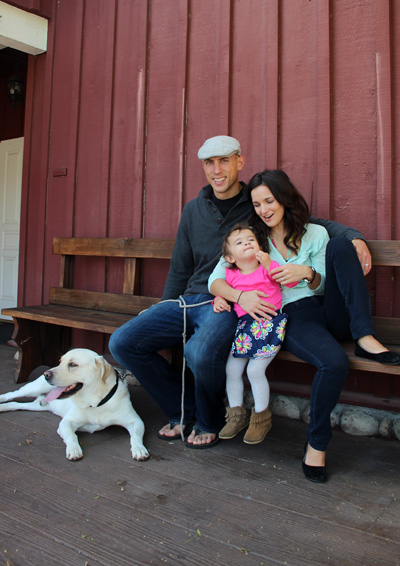 Liv's hiding!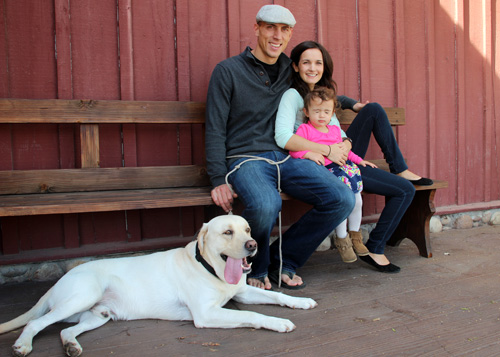 And a few dozen pictures later…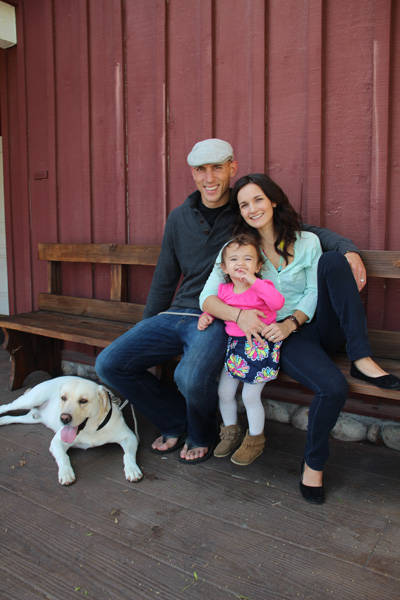 Liv shows the camera a little love, Bodie is laying at our feet, and Kev and I both pull off a presentable shot.
The picture right out of the camera will do, but with a bit of Photoshop playing in the form of Pioneer Woman's Boost Action: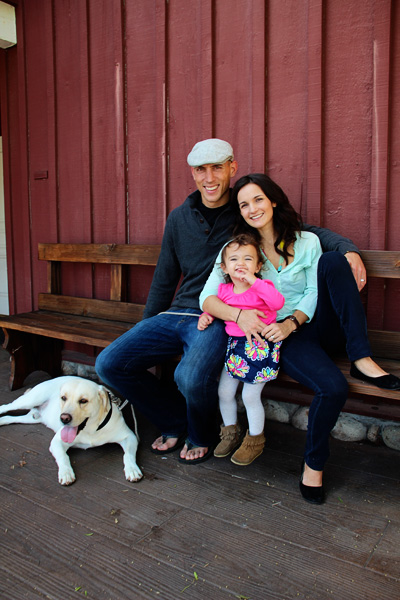 Plus a very light 'warm' photo filter and an adjustment of the brightness/contrast to make that red wall pop: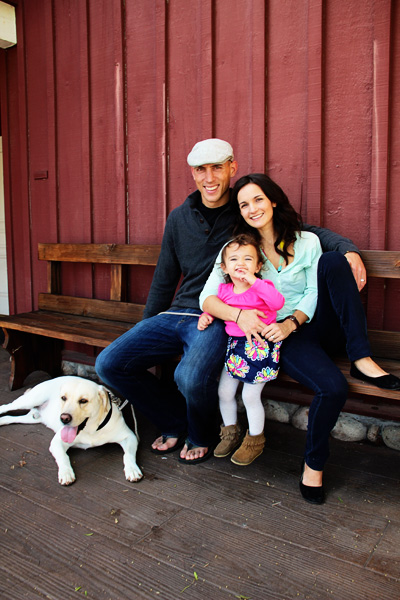 And I'm really happy with how the final photo turned out.
More editing tips can be found in this Christmas Card break down (highlighting both Photoshop and free image editing programs) from last year.
We teamed up with our awesome sponsors over at Tiny Prints again and played with LOTS of favorite designs before finding one that fit the family well (not cropping out Kev's head or Bodie's body) and with a font and layout that we loved.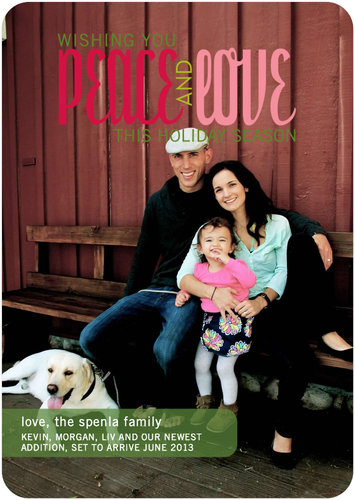 Merry, merry Christmas!! So happy to let you in on our exciting secret!
Tags:
Christmas
,
Photography
,
Tutorial
Posted in
Family & Friends
,
Holidays
|
14 Comments »
December 22, 2012
I haven't had much time to blog about the different types of handmade gifts I've been working on, but just in case you're scrambling for a certain someone on your list, here are four more semi-DIY gift ideas that ended up under our tree for family and friends.
Fort Kit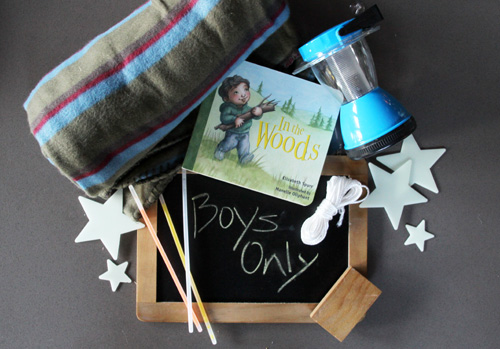 I put this kit together for three special toddler-aged boys and I hope that it's something that will inspire fun living room camping (a favorite past time of mine!). All of the above was placed in a muslin bag and labeled with 'Fort Kit' in stamped letters (similar to the Felt Town Kit below).
This was so easy to assemble and while I relied on Amazon (my best Christmas friend) for many of the above components, you could find most of these goodies around the house, at the Dollar Store or local home improvement center. My kit included: a flannel blanket to build the 'fort', rope and little suction cups to keep it assembled, a camping book to snuggle up with, a mini lantern to read and play by, glow-in-the-dark stars for star gazing, glow bracelets for fun and a chalkboard sign to post outside. You could also include: clothespins, zip ties, rubber bands, twine and a flashlight or head lamp (instead of a lantern).
Cocktail Kit (French 75)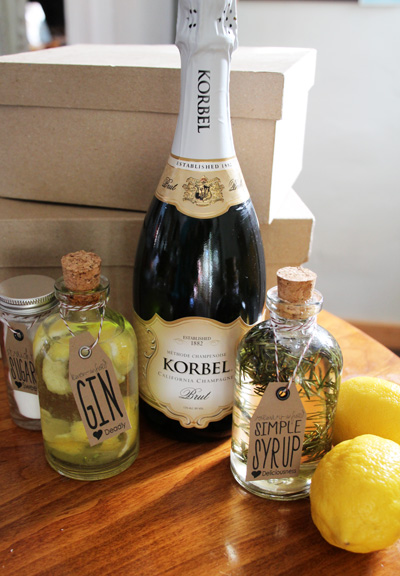 This little semi-DIY project could really be for any favorite cocktail. It's all about assembling each piece of the chosen drink (including garnishments and maybe even tools or glasses) in one sweet presentation so that the giftee might even be able to enjoy their drink when opening. Perfect for a hard-to-shop-for guy in the family, for the novice bartender or as a hostess gift. I created a Bloody Mary Kit one year for Kevin (complete with unique pickled oddities that are only for the true connoisseur) and discovered that a Cocktail Kit can be pretty easy and fun to assemble and create – even last minute.
A girlfriend and I attended a cooking class together where we learned how to make a delicious lemon, rosemary and gin French 75. To remember the night, I assembled a 'French 75 Kit' and went ahead and premade some of the more intricate ingredients for her. This included lemon-infused gin (I used a bottle from this project and added lemon rind directly to gin from our own bar) and rosemary-infused simple syrup (same style of bottle, but to make the simple syrup boil 1 part sugar and 1 part water with your herbs, voila). Extra ingredients like sugar for the rim (used an extra jar from this project) and lemons for garnish were thrown in for fun. The final ingredient? Champagne.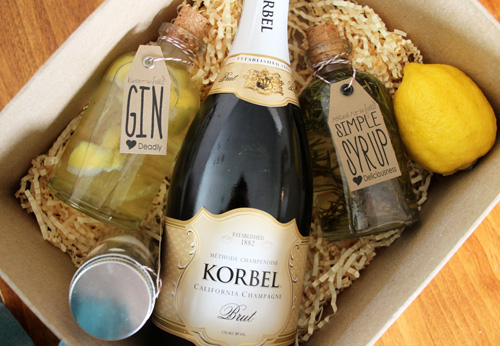 The label on the front of the box offered the recipe and a list of the contents inside.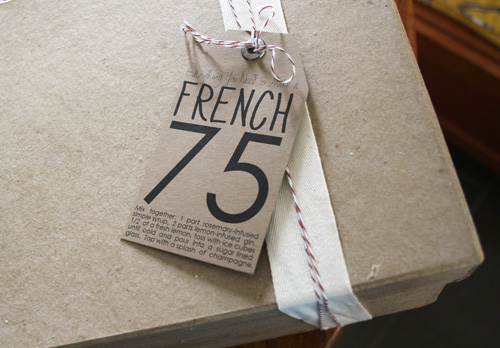 Personable and unique!
Stationary Kit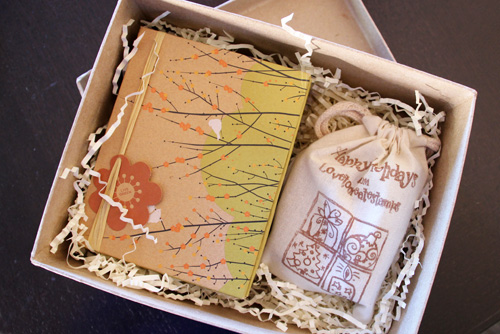 Here is an easy kit that involves assembly only. I have an Aunt who is an avid letter writer with a recently engaged daughter, and I thought that a self-inking address stamp and cute stationary would be the perfect combo for her to stay on top of pre-wedding notes, invites and thank you cards. The stationary is from Paperie and the address label from this Etsy seller (love the cute little bag they provide, too).
I dressed it up in a brown box and twine! My favorite wrapping combo this Christmas.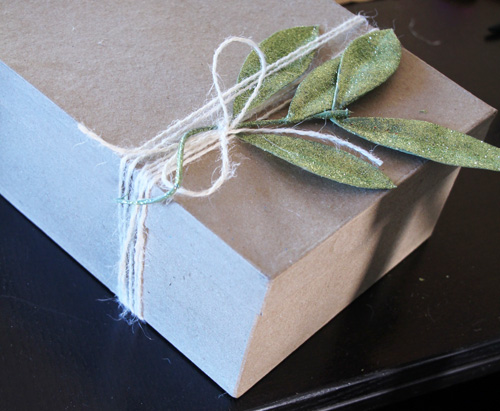 Felt Car Kit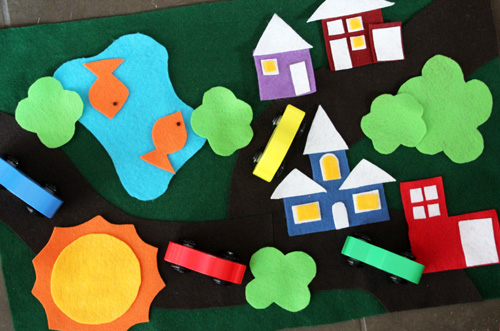 Liv pulled her buddy Isaac's name for our annual gift exchange amongst friends. We made him a little felt town and car kit – complete with what I hope looks like a firehouse, Church and pond – for him to play with while on the go (running errands, doctor's office, appointments, etc).
The only permanent pieces are the below road sections: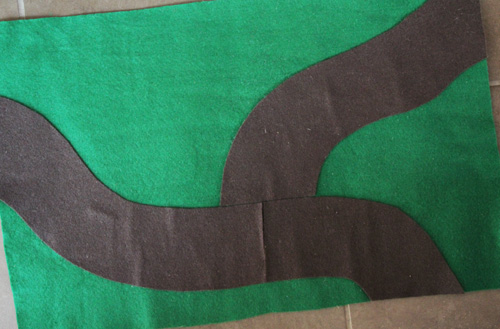 The houses, big sun, fishies, trees and other decor are all movable to build different 'towns', though the small little pieces that make up each of the buildings are glued together as well. Bonus part? Felt has become a staple in our household (since this felt Christmas tree project) and most of the materials needed were already on hand.
Melissa & Doug wooden cars help bring the town to life: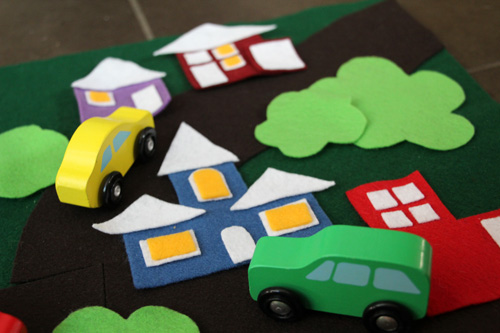 and a muslin bag makes carrying around and storing the felt car kit easy.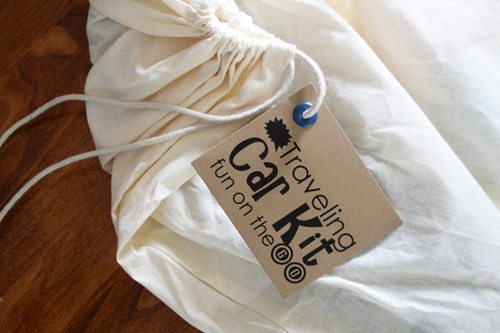 ****************************************************************
There you have it! Four more ideas that will hopefully make last-minute gift giving fun and easy this year. You can also check out the Cupcake Kit, Rosemary-Infused Olive Oil and Lavender & Lemon Sea Salt projects that we tackled in early December for a few more ideas.
Merry Christmas!
Tags:
Christmas
,
DIY
,
Kids Party
,
Parties & Entertaining
,
Recipes
,
Tutorial
Posted in
Crafty Solutions
,
DIY
,
Gift Guides
,
Handmade Gifts
,
Holidays
,
Parties & Entertaining
|
5 Comments »