June 23, 2010
A big thank you to Jenn over at HWTM for featuring all of the details of our big day three years ago! I'm borrowing a few of her images today for this post

.
Today marks Kevin's and my third wedding anniversary. I can't believe the past few years have flown by so quickly! We've purchased our first home (an oldie but goody that we're remodeling piece by piece), taken time out to travel to beautiful and exotic places, and are now preparing for the next big surprises in our life.
But because this is such a special day for us… here's a quick recap of our White Wedding.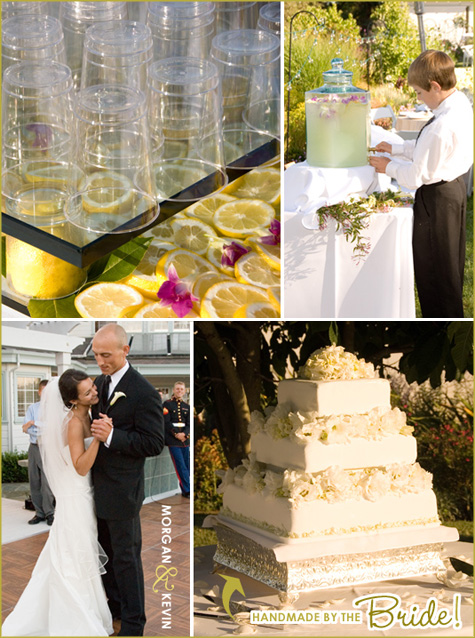 The perfect site for our Santa Cruz mountains reception ended up at a home that we rented for the occasion (a common option in my hometown since venues are hard to come by). The house sat perched on top of a hill with beautiful views of the ocean, vineyards and mountains in each direction.
The rest of the wedding was 100% DIY… from the flowers to the cake to even asking close friends to DJ. We loved keeping it homemade and adding special touches that personalized the day and kept our guests comfortable. The goal was to create an atmosphere that captured a whimsical and romantic celebration.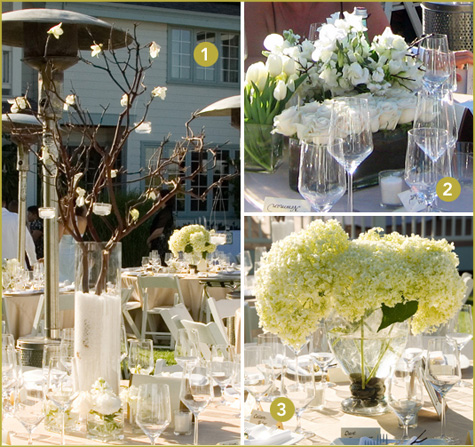 Designing the day was my favorite part – we had to really get creative to come up with classy and outdoor-friendly décor on a budget for a party of over 250 guests! Because we were starting from scratch, we rented everything from the pale pink tablecloths to the forks – that helped us to price out each and every detail so that it fit our budget.
I found vases in various sizes on ebay and craigslist and created three separate centerpieces to accommodate the finds. Two days before the wedding we went down to our local wholesale florist's warehouse and scooped up everything in all white (don't worry, we gave them a heads up). Without being too picky on the type of flower and instead concentrating on the color we were able to say within our budget.
To sum up my favorites:
1. Handmade manzanita trees with dendrobium orchid blooms wired to the branches (sitting in pool/chlorine grade salt from Home Depot)
2. White roses in floral foam and sand (straight from the beach), bunches of tulips grouped together, and vases filled with an assortment of rununculus, mums, sweet peas, stock and lisianthus
3. Garden hydrangea hanging out of fish bowl vases with river rock fillers (from Home Depot)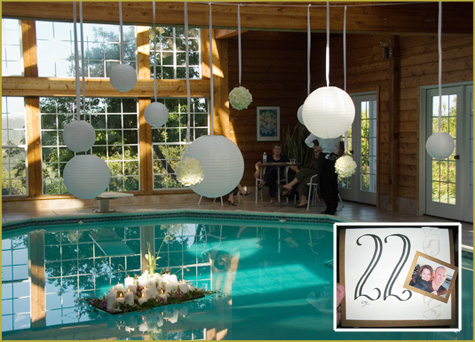 The home had a beautiful pool house that we covered with white paper lanterns and floral balls (fake flower blooms from Michaels poked into foam). The floating candle island in the center was built by my brother, who used kick boards to keep a piece of plywood covered in candles (securely nailed down) and flowers afloat.
To mark the tables, we used leftover paper from our invitations to create table numbers that corresponded with a picture of each of us at that age.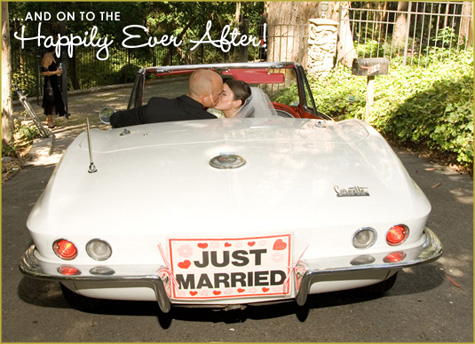 MANY more photos and all of the gushy details after the jump… Read more »
Tags:
By Color
,
Crafty Solutions
,
Decorating
,
DIY
,
Parties & Entertaining
,
Wedding
,
white
Posted in
Parties & Entertaining
|
16 Comments »
June 16, 2010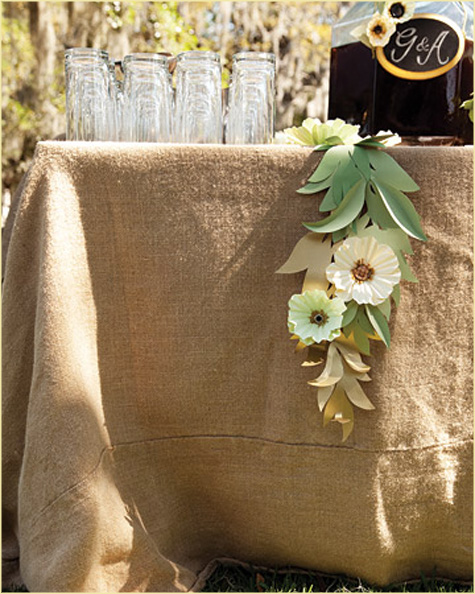 These are beautiful! A simple and elegant paper flower garland lights up a summer party – and it's so easy to recreate. Erin Heath handmade these paper flowers for Grace Bonney's wedding (of design*sponge). I adore the garland swags and would replicate this idea in a minute for a baby or bridal shower this summer.
For an easy paper flower tutorial (from my vintage nesting shower this spring) using the same button embellishments, check out this link here.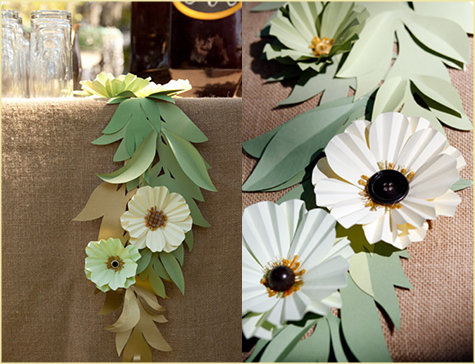 Erin made the garland by cutting different shades of green paper into leaves; to make the flowers cut your petal forms from similar paper and fold to create the ridged texture. Add a complimentary center using vintage buttons, trimmings and handmade paper.
There are so many wonderful details to share from Grace and Aaron's wedding, to get an overview of the rest of their DIY projects jump out to d*s's wedding roundup.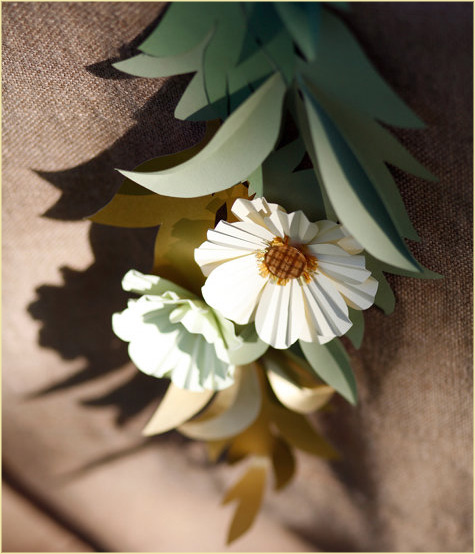 Tags:
Baby Shower
,
Birthday
,
Bridal Shower
,
By Color
,
Crafty Solutions
,
Decorating
,
Dinner Parties
,
DIY
,
Green
,
Paper Crafts
,
Parties & Entertaining
,
Wedding
,
white
,
Yellow
Posted in
Crafty Solutions
,
Parties & Entertaining
|
4 Comments »
June 1, 2010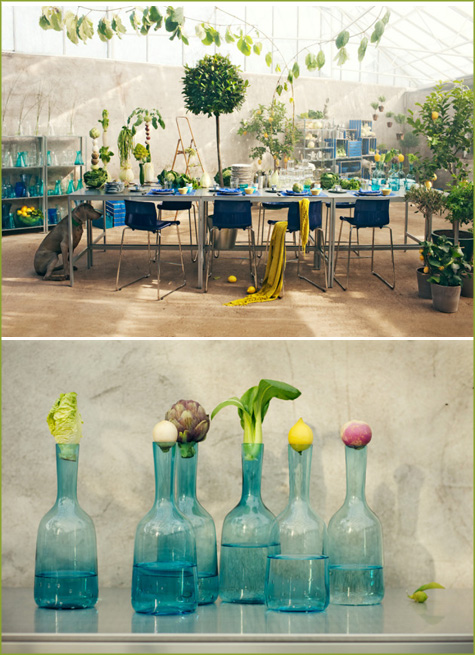 When it comes to beautiful presentation few do it better than the bona fide Stylists, so I thought it might be fun to take a quick look at one of my favorites for a few ideas and inspirations for a future party. Lo Bjurulf is a prop and food stylist for Agent Bauer: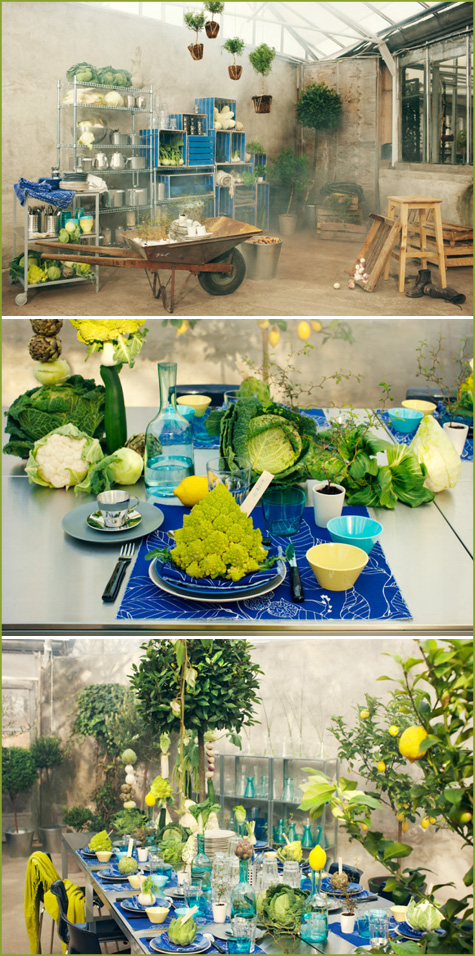 An earthy garden party complete with veggie centerpieces, beautiful blue glass bottle displays and enough casual draping and carefully placed silverware to create a realistic and stunning table. This would be so fun this summer and easy to pull together for an impromptu gathering – everything on the table could probably be found in your kitchen right now, from simple plates and glasses to veggies from the fridge!
This next one is one of my favorites – I think of it as a Moroccan Barnyard Dinner Party!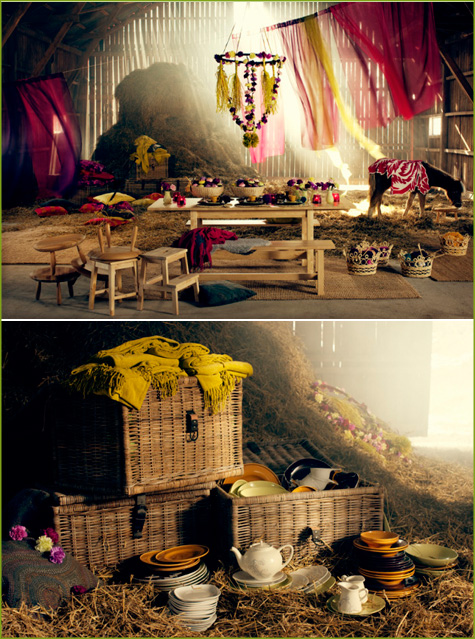 The images are whimsical and imaginative but offer great inspiration for thinking out of the box. What I love about the storyboard is how it highlights the understated importance of staging a party so that it's as eye-catching for all of your guests as you'd hoped it would be.
Staging basics offer a few rules we often forget, like:
*decorating at all eye-levels (bright pillows on the floor, a show stopping centerpiece mid-height and a beautiful chandelier just above the head – or how about those billowy curtains in the backdrop?)
*choosing the proper setting (no need to find a barn…)
*incorporating colors that work well together (be it complimentary or contrasting)
*and don't forget the finite details that makes everything come together (such as the flower blossoms scattered like confetti in the image below or the softly stacked afghans that leave guests appreciative of a considerate hostess on a chilly night – I actually attended a party where they were readily available and I couldn't wait to start my own collection for guests).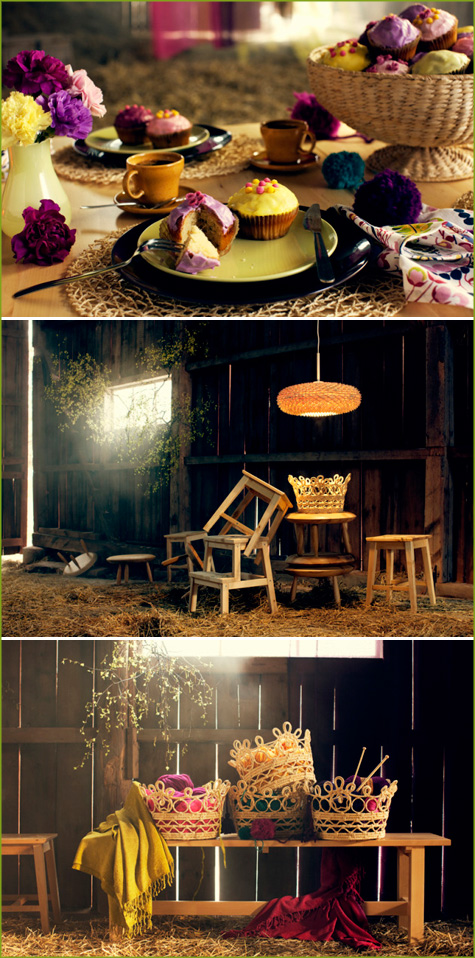 So beautiful! I'm so inspired by these images and the creative possibilities…
Tags:
Baby Shower
,
Birthday
,
Blue
,
Bridal Shower
,
Decorating
,
Dinner Parties
,
DIY
,
Green
,
Parties & Entertaining
,
Patterns & Color
,
Pink
,
Purple
,
Teal
,
Wedding
,
Yellow
Posted in
Parties & Entertaining
|
3 Comments »