September 6, 2010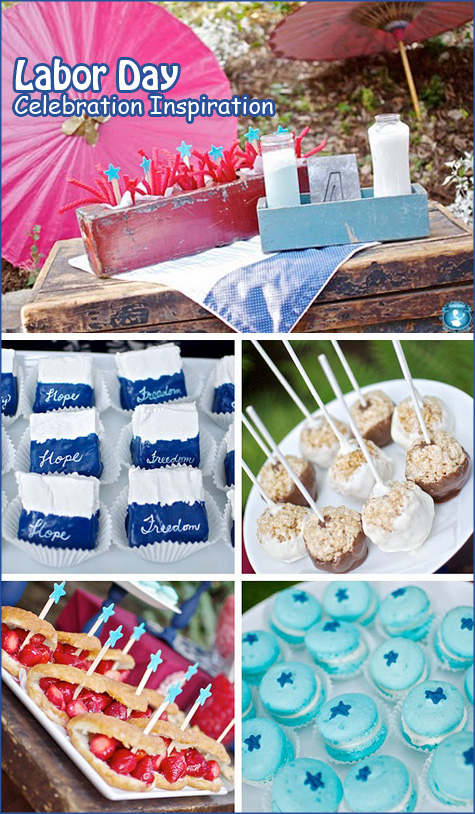 Hope you're having a restful and relaxing Labor Day! Here's to a full Monday of catching up on the to-do list, BBQing in the sand somewhere or just sleeping in a bit later than usual…
*An inspiring vintage-accented Labor Day party can be found here
*Dig in to this delicious BBQ menu here
*Spoil everyone with one of these red, white & blue desserts
*Or serve up a cool summer drink from this yummy list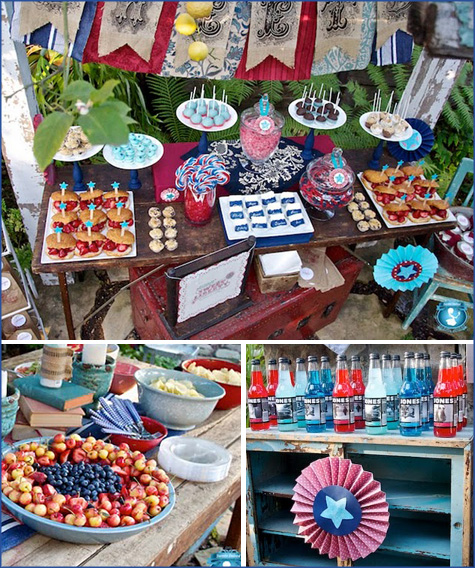 Sweets Indeed created this American-themed party complete with paper pinwheels and a very mouth watering dessert table. Check out more great photos over at Celebrations At Home.
Tags:
Blue
,
By Color
,
Decorating
,
Desserts
,
DIY
,
July 4th and Labor Day
,
Labor Day
,
Memorial Day
,
Parties & Entertaining
,
Red
,
white
Posted in
Parties & Entertaining
|
1 Comment »
August 10, 2010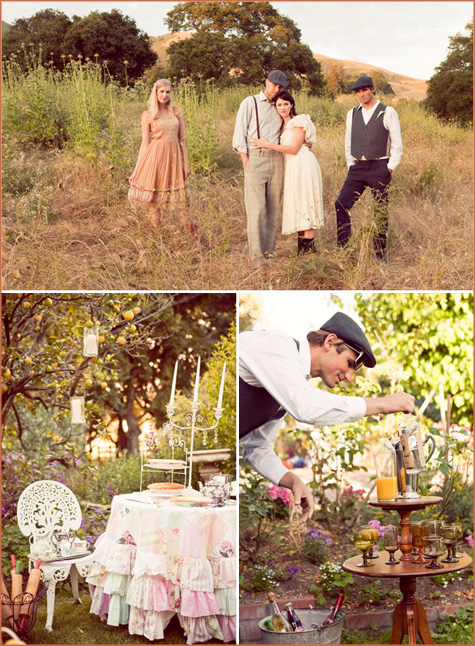 Thank you everyone for your wonderful feedback on my fabric headboard project! I'm disappointed that I don't have a *final* picture yet of it in place… the bedroom is still in it's early stages.
When I found this wedding shoot via Made By Lex I knew I had to share it here. I love the vintage accents and the beautiful details, plus the scenery is from my hometown of Santa Cruz, California.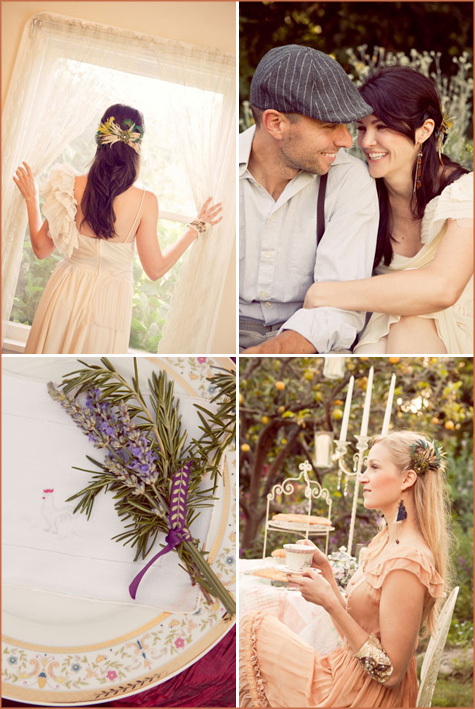 Alexis of Made By Lex designed the wedding dress (beautiful shoulder detail) and a friend from school looked over much of the styling. The soft colors of plum, peach and pale yellow offers an antique sweetness to the decor and I love love the cowboy boots and feather hair pieces.
I'm inspired by this photoshoot because of how well the different vintage elements come together. Makes me want to pull every mismatched plate and crystal vase out of my cupboards and decorate the dining table with wild flowers, peacock feathers and bunches of herbs.
So lovely! I'd love to use this theme for a baby or bridal shower, girlfriend's birthday or maybe just a shabby chic tea party outside. How fun to ask everyone to arrive in vintage dresses and cowboy boots…
More beautiful photos at the full post here on Green Wedding Shoes.
Tags:
Bridal Shower
,
Decorating
,
DIY
,
Parties & Entertaining
,
Peach
,
Purple
,
tea party
,
Vintage
,
Wedding
,
white
,
Yellow
Posted in
Parties & Entertaining
|
3 Comments »
July 27, 2010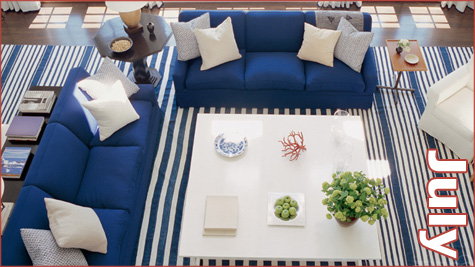 Pulling together my favorite inspirational images for the month is one of my favorite posts… and July was so fun to concentrate on. (More Rooms Inspired by the Month over here).
What comes to mind this time of the year is one of my husband and my's favorite things to do, which is sail the sea. We have a 25′ MacGregor – aptly named 'Madness' – that Kevin bought pre-marriage. He's put plenty of love into the boat and takes her out at every opportunity!
Nautical themes are calming and serene – and the marine blues, navys and whites work beautifully with pops of red (which reminds me of another great July holiday…). So without further ado, here's a little July inspiration…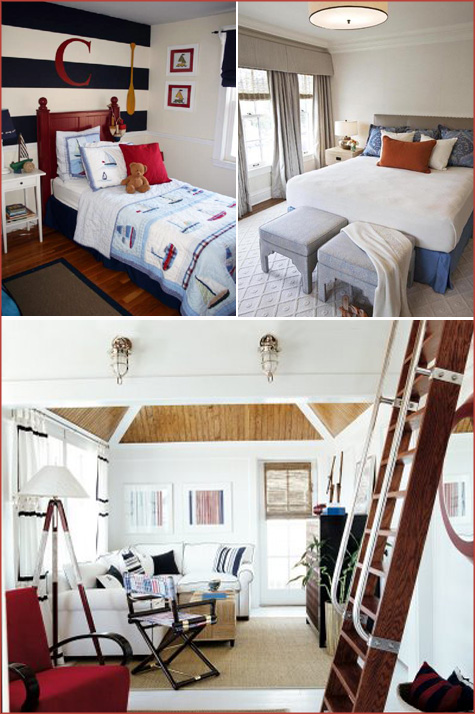 Crisp white is refreshing and wonderful!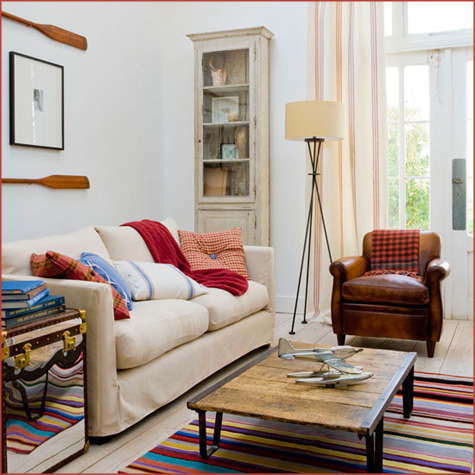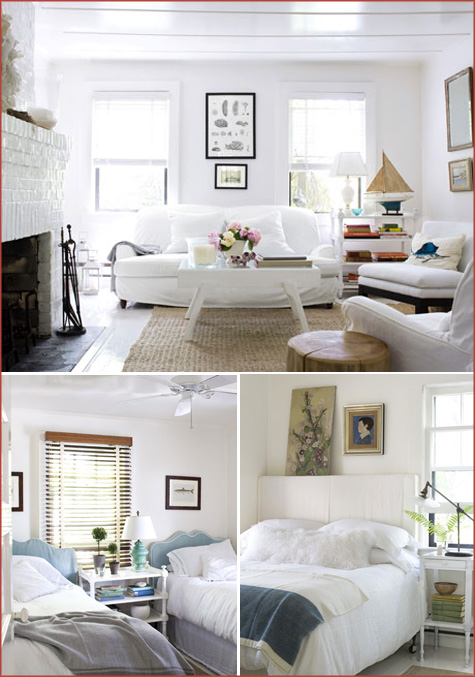 I love the look of cottage decor, natural elements (like jute rugs and woven baskets) as well as stripes, gingham and seagrass.
This next room is my favorite – I love the map decor on the walls, the storage baskets, and the striped duvet and pillows. What a great boys room!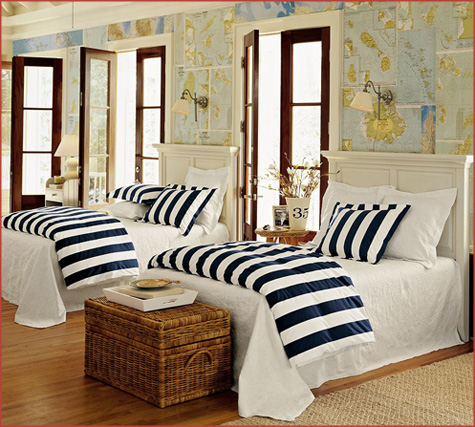 I got a bit carried away with nautical inspiration… so there are many more great photos after the jump. Read more »
Tags:
Bedroom
,
Blue
,
By Color
,
Decorating
,
Living Room
,
Marine
,
Navy
,
Red
,
Rooms Inspired by the Month
,
white
Posted in
Home
|
1 Comment »