April 17, 2012
I left this out of yesterday's post! But just in case any of you are interested in taking advantage of a sweet little offer from Nicole over at NikJDesigns for a cloth bag (a seriously awesome storage solution), please check out her site and use code: PEPPERDESIGNBLOG15 for an extra 15% off.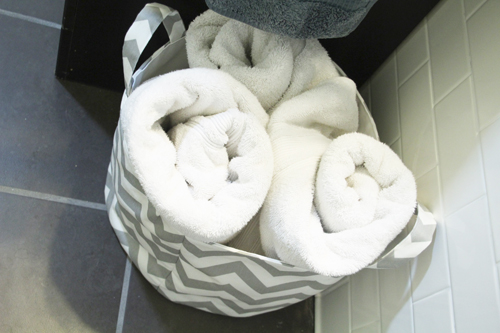 I wasn't paid or perked to share this, but loved her work so much that I wanted to be sure I extended to you the promo code that she offered up for all readers

.
This bag can serve so many functions for us (you should see her adorable patterns for kids rooms, etc – great way to wrangle toys) but the subtle grey and white is just the right color scheme for the space and to hold a few extra towels for guests.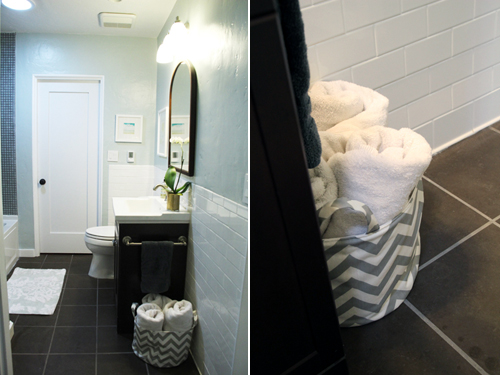 Here are a couple of additional shots: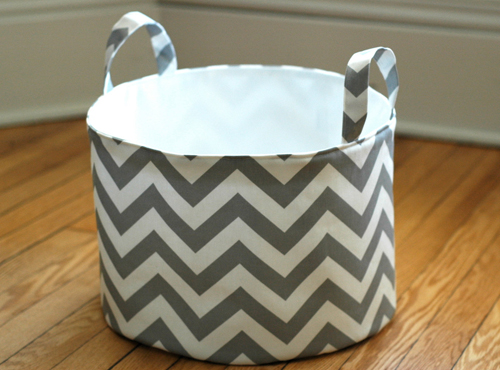 The top edges roll down to reveal the fabric inside: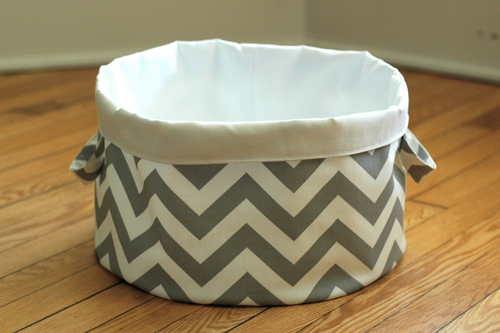 And the entire bag is actually reversible, which is pretty cool too: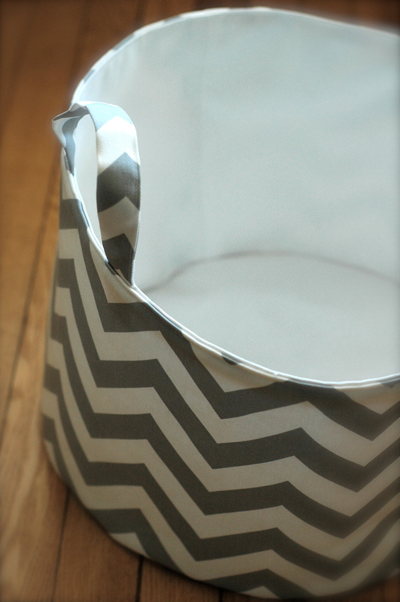 Check out Nicole's store here, and tell her I sent you : ).
PS You can see the finished guest bathroom and read abut the renovation process right here!
Tags:
Accessories
,
Grey
,
white
Posted in
Organizing
,
Our Guest Bathroom
,
Renovating Adventures
|
7 Comments »
April 13, 2012
I came across this beautiful photoshoot and I had to share. It's absolutely stunning! I love the creativity that went into the beautiful tablescapes, floral displays and vignettes surrounding an unusual medium – yarn! As a knitter myself, I think it's especially cool. For non-knitters, you have to love where this vintage, desert-setting, Spring-time party leads you.
This would be beautiful inspiration for a bridal shower – though it would be equally stunning as a baby shower, chic birthday or vintage wedding.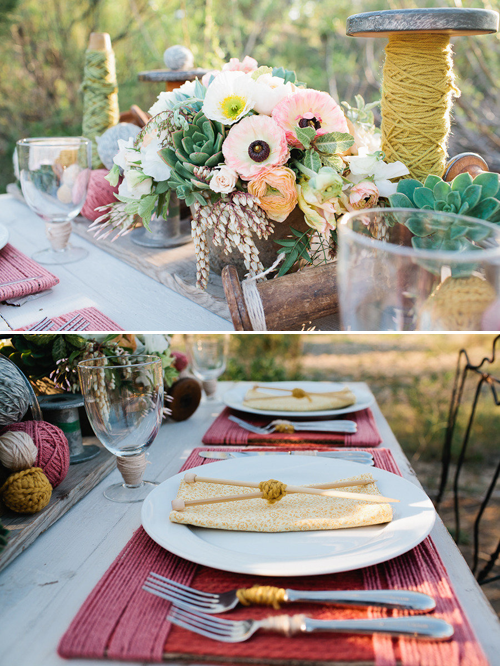 Those giant spools of thread! The browns, peaches, mustards, pinks and sage greens of the florals…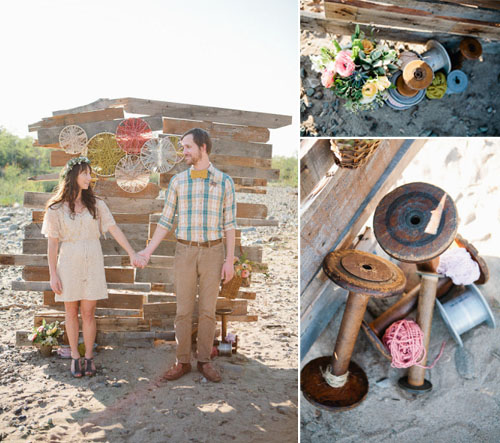 The entire shoot evokes a rustic, natural, organic feel in the styling: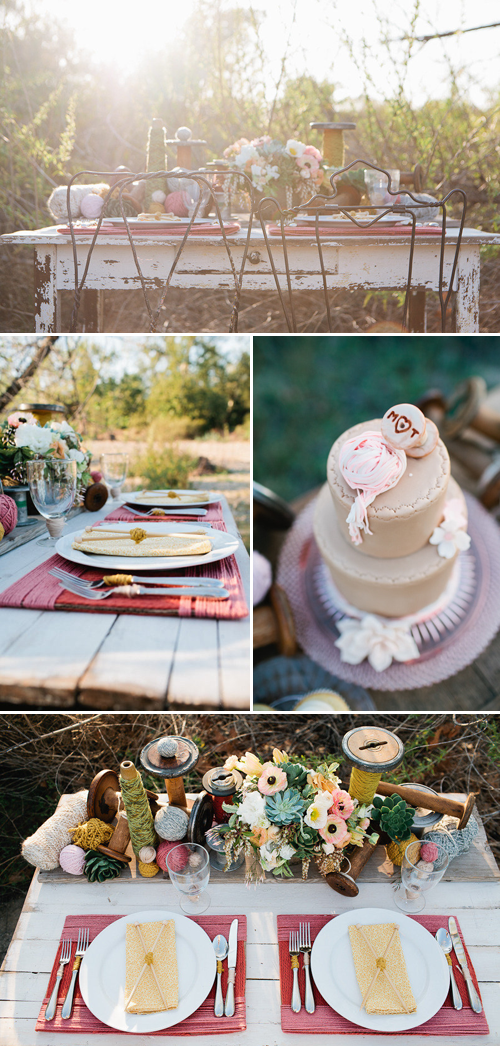 Look at those colors together.
The knitting needle plate setting (above) is adorable, and the embroidery hoops wrapped in yarn (below) is a wonderfully creative backdrop for the party.
Other creative uses for incorporating knitting and yarn: wrapping the placemats, lining the lowest level of the tiered cake, adding buttons to the floral arrangements and wrapping the silverware.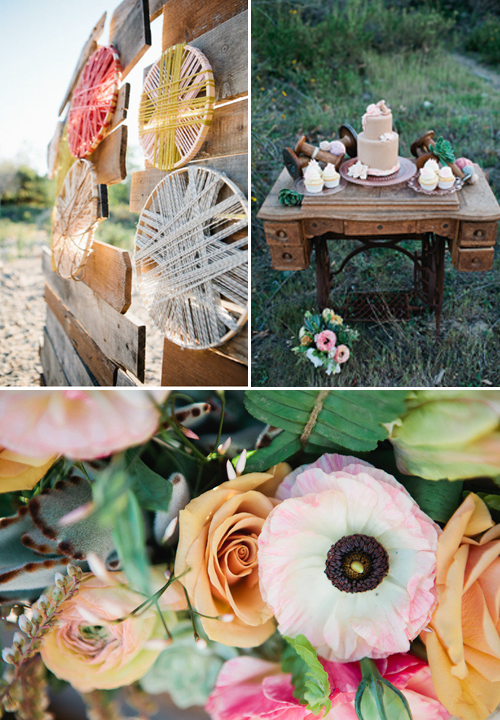 Have a lovely Spring weekend!
Featured on: Style Me Pretty, photography: Megan Hartley Photography, styling: Whitney Mittmann of Whit Mitt Design and Events, floral design: Art with Nature Floral Design
Tags:
Bridal Shower
,
Decorating
,
Dinner Parties
,
Parties & Entertaining
,
Patterns & Color
,
Pink
,
Wedding
,
white
,
Yellow
Posted in
Parties & Entertaining
|
3 Comments »
April 2, 2012
Easter is just a week away! It is a favorite holiday of mine for so many reasons… one of those being the significance of new life, the passage of winter to bright, fresh spring. It's also a holiday that we celebrate with extended family. This year my aunt is pulling my Dad's side together to spend time with my Grandma who is turning 85 and I'm really looking forward to it.
Speaking of fresh, spring colors, these tablescape ideas are right up my Easter brunch alley. Perhaps I'll see if I can't call dibs on hosting the egg hunt next year.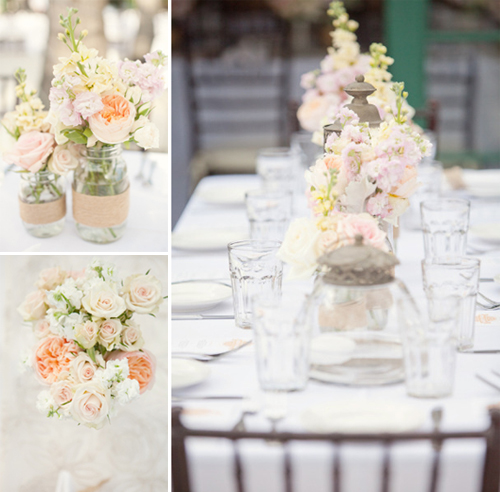 I love the muted coral, pinks and whites of this traditional table setting, and the sweet burlap, vintage jar and striped straw accents add thoughtful detail, as do the handwritten food labels.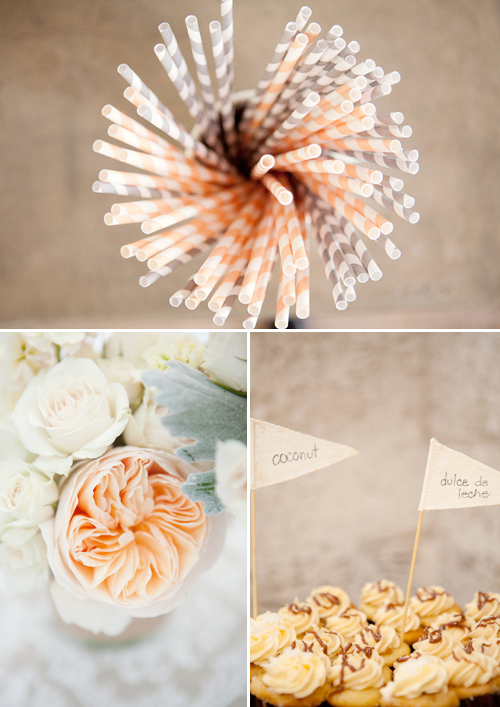 An alternative and brighter Easter palette to play with includes pops of fuchsia, burgundy and pink. Love the hanging floral spheres below (craft your own inexpensively from foam balls covered in hot glued plastic hydrangea flowers and hung from thick ribbon – we used white for our wedding five years ago and the floral spheres were hung high enough that guests were none the wiser of the faux decor).
A tablescape featuring a long fabric runner in a solid color and a hodge podge of silver vases full of wild flowers is the perfect centerpiece – pull brightly colored accents (such as throw pillows, a mirror or candles) into an outdoor space to tie the theme together.

Both parties found right here at Style Me Pretty.
Here's a nifty idea from Decor8′s contributing writer Leslie for incorporating pastel ribbons into an Easter tablescape. She suggests rummaging through your current supply to find unique ways to show off bits and pieces left over from other projects, including tying around vase stems or rolled napkins for breakfast.
And a grown-up Easter basket idea?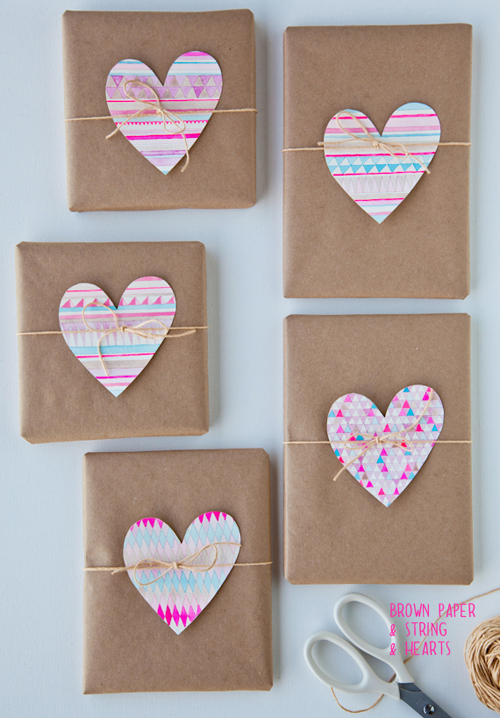 A box of trinkets, a favorite book or a boxed chocolate rabbit wrapped up in butcher block paper and tied in twine.
Happy Monday, and happy Easter preparations!
Tags:
Baby Shower
,
Bridal Shower
,
Decorating
,
Dinner Parties
,
Easter
,
Parties & Entertaining
,
Pink
,
Red
,
Wedding
,
white
Posted in
Crafty Solutions
,
Parties & Entertaining
|
7 Comments »