January 24, 2012
Back with a few more details from Liv's 1st birthday. When it came to creating little invitations for her party I was a big time procrastinator. Actually, it was during my few days off between Christmas and New Years that it suddenly dawned on me that her birthday was just a few weeks away! and we needed to get something in the mail asap.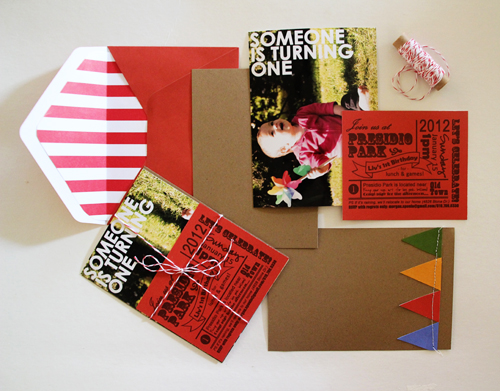 It was fairly simple to throw these guys together quickly. I used Photoshop to add some cute, bold text to two of my favorite photos of Liv (I couldn't pick between the two! So half of the invitees received one and half the other), but you could use one of the free programs reviewed here to do the same.
I sandwiched that photo between a smaller red card (bought a set of red envelopes and matching cards at Michaels and printed the party info in fun fonts directly on to the red inserts, then cut them to size) and a piece of brown construction paper.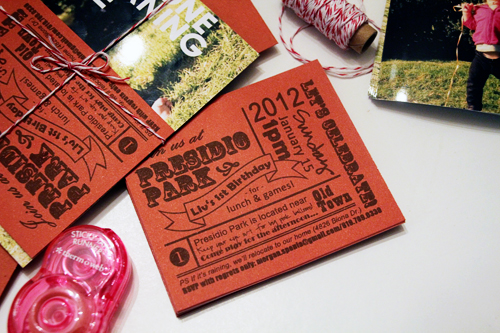 Inspired by this creative girl's Christmas card and this beautiful invite from Pinterest, I tied up the bundle with Martha Stewart's striped baking twine (found in the scrapbooking department in a pack of 6).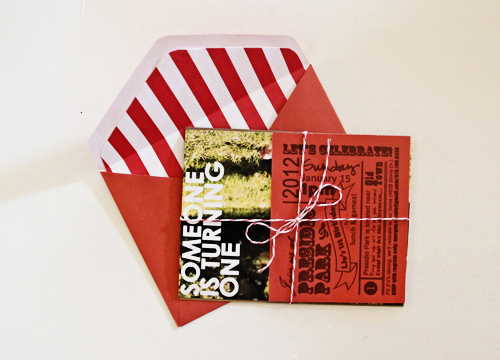 The other half of the fun was creating envelope liners that for me really made the entire invite. I love the peak of red and white striped paper and it tied in perfectly with the rest of the party. It was a little teaser of what was to come!
To make the envelope liners (by the way, they've been on the back of my mind since seeing this adorable version), I created a simple template of the inside of the envelope (trace the shape of the envelope on to thicker paper, cut out and then snip off about 1/3″ of an inch from each side) and then cut out about 25 from 12×12 striped scrapbooking sheets of paper from Michaels. I used double sided scrapbooking tape to adhere into place.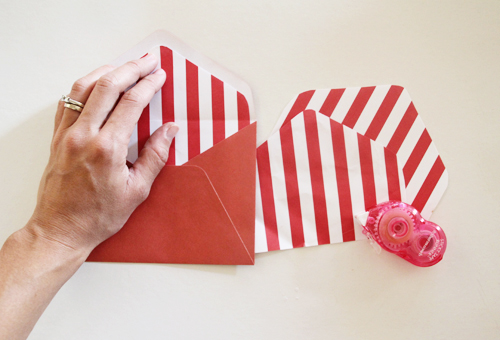 My last addition was a failed attempt. I had originally hoped to sandwich the information card and photo of Liv between a piece of paper bag brown construction paper (that was the specific color I was on the hunt for

) and a top piece of the same size but with cute, colorful bunting (a la a few images from my Pinterest board on Liv's party).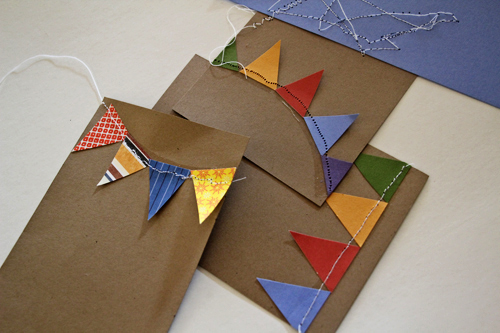 Sewing paper is seeeeeeew difficult (see that crazy stitching above?), and after a half hour of testing, tearing, tangling and tormenting I decided to omit the addition.
But I was thrilled with the results of the invites and we got those puppies in the mail just in time to notify friends and family that there was a par-tay coming up!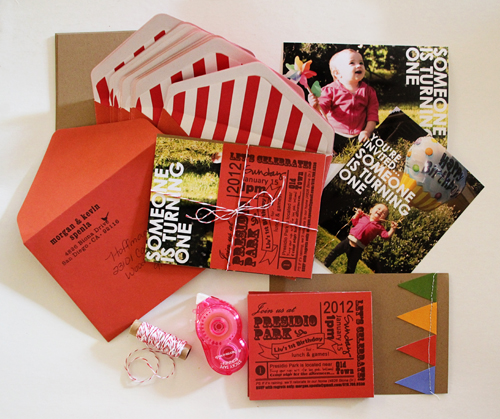 Total cost was about $.25 per invite and from the time I hit 'send' on my online Costco photo order to the time I picked up my pics at our local Costco, all of the supplies at Michaels and assembled the invites, it took just a day or two to get them finished and in the mail.
And just for fun, here was my assembly workstation: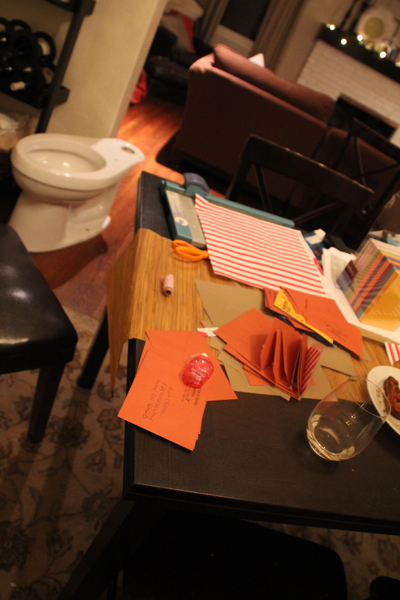 Wait, you don't have a toilet in your living room? Just us?
Tags:
Birthday
,
Carnival
,
Circus
,
Crafty Solutions
,
DIY
,
Kids Party
,
Liv's 1st Birthday
,
Paper Crafts
,
Paper Goods
,
Red
,
Sewing
,
Tutorial
,
white
Posted in
Crafty Solutions
,
DIY
,
Family & Friends
,
Parties & Entertaining
|
7 Comments »
January 23, 2012
Valentine's Day is just around the corner! While searching recently for some inspiration for that special someone in my life (because in the past I've always been a tad late on putting something thoughtful together for this holiday – always), I actually came across quite a few ideas that I loved for the ladies. These gifts remind me of the types of presents I might make for a friend or Mom or Grandma just to say I Love You. Taking inspiration from Mrs. Stewart, I pulled together a few of my favorite themed gifts from her gallery (the one inspiration photo in each collage) and added a few of the resources needed for making that special something for that special someone.
Feel free to forward to your boyfriend/husband/significant other.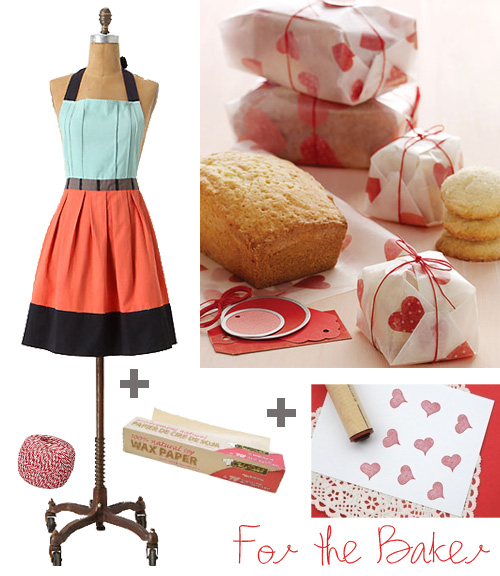 Stamp parchment or wax paper with a small heart shaped stamp to create your own unique wrapping paper. Tie up a bundle of your favorite homemade lemon cookies or a loaf of zucchini bread with baker's twine and deliver to your loved one. Feeling like going above and beyond? This apron from Anthroplogie is the perfect addition for another lover of baking.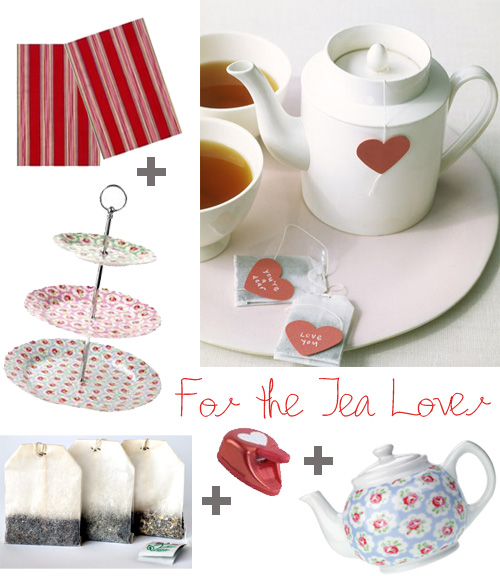 A tea lover will be over the top surprised to receive a custom tea set complete with small heart shaped tea labels for each tea bag. To recreate, invest in a paper cutter like this one, a few sheets of red construction paper and a box of your favorite tea. Cut out small hearts and share a message on each in a white colored pencil, then affix to the tea bag string with a dot of glue. Feel like going above and beyond? Include this beautiful tea pot, these striped tea towels or this adorable cake stand.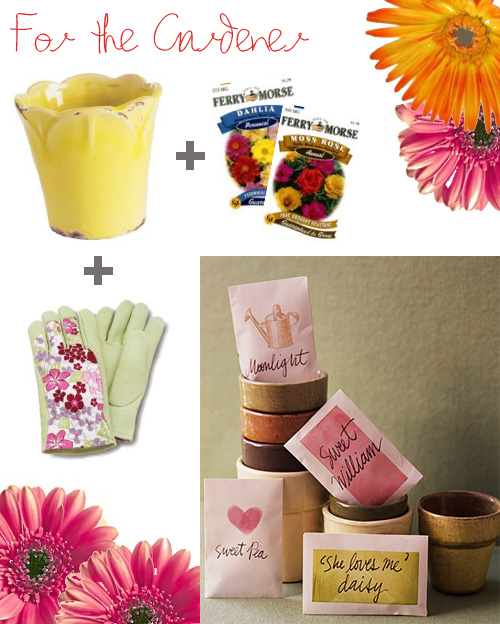 Friends with a green thumb will find custom seed packets especially endearing. Create small envelopes yourself with construction paper and add seeds from pre-purchased bags or affix custom labels to each little seed packet. Add your new seed packets to a beautiful and brightly colored pot and deliver. These gardening gloves add a little something extra.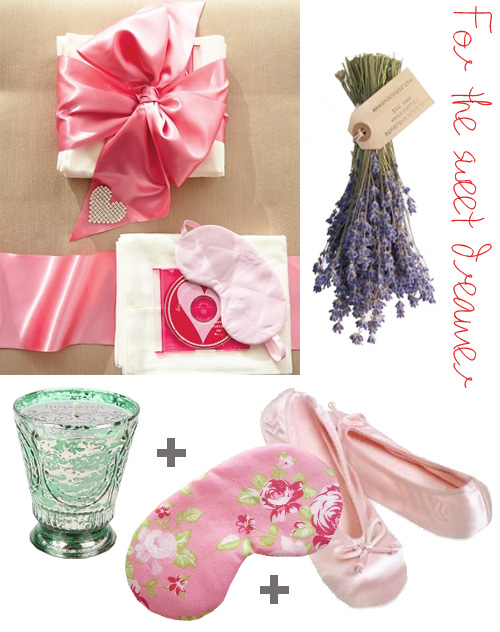 Create a special dream-themed gift for your Valentine by packaging up a luxurious candle with the softest slippers (I own these in black and love them for chilly wood floors around the house). Go above and beyond by including a handmade sleep mask (found this beautiful floral version on Etsy).
Four Valentine's Day ideas that are customized, special and unique, because there is nothing like opening up a gift that was created just for you. Plus, themed gifts can be really fun to pull together as the giver – the possibilities are endless once you get the creative juices flowing!
Tags:
Gift Ideas
,
Pink
,
Red
,
Valentine's Day
,
white
Posted in
Holidays
,
Valentine's Day
|
3 Comments »
December 28, 2011
Hope you had a wonderful and relaxing Christmas! We're trying to still keep it low key around here as we soak in as much holiday as possible before the New Year. This is always one of the best weeks.
I wanted to share with you one of the handmade gifts that I put together this Christmas. Oh I had high hopes of sharing this project with everyone before Christmas! but… you know how that goes. There I was on the 23rd of December after everyone had gone to bed and I'm finishing up spray painting stencils by backyard patio lights at my in-laws. Haha! Motivated to create a truly handmade present for family this Christmas, I had started this project several weeks earlier but as luck would have it I finished just in the nick of time.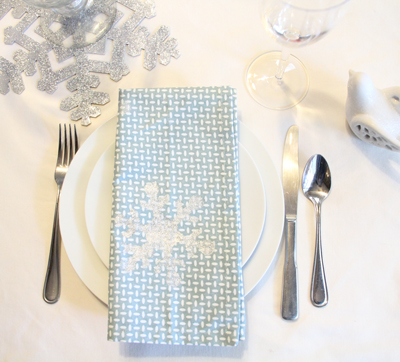 Simply Spray contacted me back in November about a product review regarding their fabric spray paint. Immediately the wheels started turning with creative present ideas for family and friends this holiday season. My initial idea was to track down basic white flour sack towels and several wintery stencils to design some fun kitchen gear for our Grandmas, moms and aunts.
After much searching, I stumbled upon inexpensive white flour sack towels at Rite-Aid (I think they were about $1 a piece), and several sets of patterned cloth napkins and solid-colored oven mits at Target. For the record, I also scooped up a couple of white and tan table runners from Ikea but I haven't finished those yet (sigh).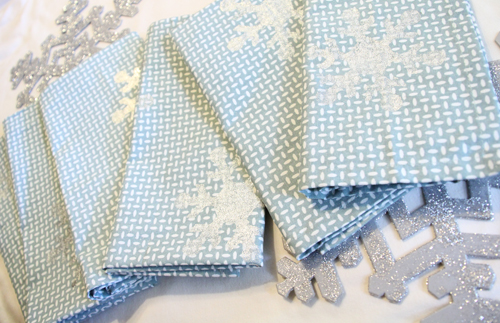 Simply Spray sent me several different types of fabric paint to try out. They carry an upholstery spray (think spraying an entire chair or even couch), a fabric spray (for use with a stencil, soft to the touch, soaks into the fabric) and stencil paint (more of a silkscreen effect staying on top of the fabric). For these projects I used the stencil spray in gold glimmer, silver glimmer and textured white.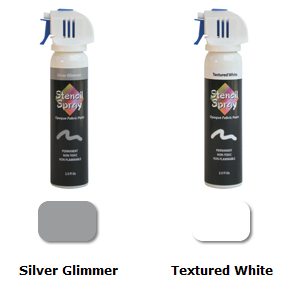 Creating a stencil was a bit more challenging. I first took advantage of Kevin's seriously honed x-acto knife skills (from years of architectural modeling) and printed snowflake designs on thick white paper.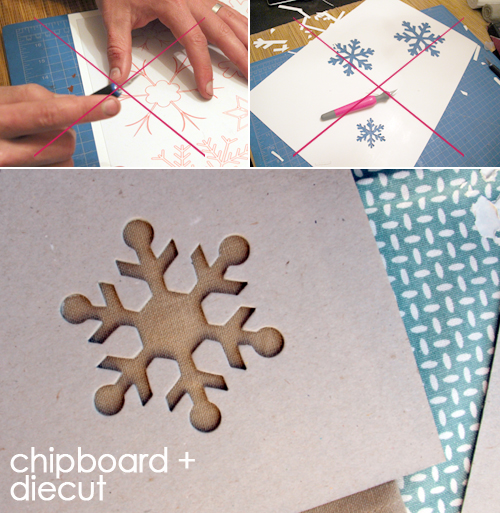 But the process was time consuming (poor Kev) and the stencils lasted for just one use. Where oh where could I find the outline of a snowflake to use as a stencil? That's when I thought of a cricut machine and ended up at a scrapbooking shop where I learned that you can use chipboard (super sturdy) in a diecut machine! Perfect. For about $.30 a pop I made 10 ish snowflake stencils out of chipboard.
*****************************************************************************************
Stenciling with Fabric Paint
s
Materials: cloth napkins/tea towels, chipboard stencil, spray adhesive, Simply Spray Stencil Paint, cardboard (or hard surface to lay out fabric on), newspaper to keep your space clean! plastic gloves to keep your fingers clean

– optional
To stencil the snowflakes onto my cloth napkins and tea towels, I first gave the back of the stencil a quick douse of spray adhesive to keep my stencil in place on my fabric and to help prevent bleeding. (Note – it's best to do this holding the stencil up rather than spraying at a surface such as this countertop – but for picture purposes here's the example)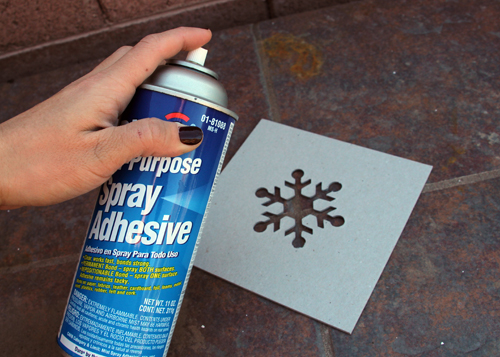 Apply your sticky stencil to your fabric and follow the instructions on the stencil spray can for application (basically, shake shake shake). Before you spray your actual napkins, towels, etc be sure to test the spray out on scrap cloth. A few lessons learned from scrap cloth: the cans drip and they can cause giant droplets on your fabric and the spray is not always even. It's easy to compensate for once you play around a bit.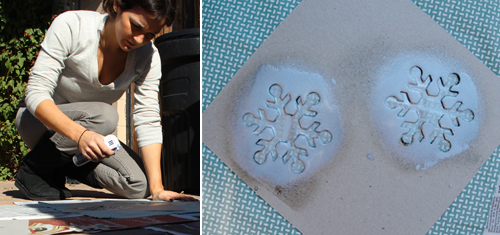 A quick email to Simply Spray resulted in the suggestion of starting and ending the spray 'off' of the fabric (such as in a paper towel), this helped a ton. A couple of other tips from me would include: 1. the white textured spray has quite the 'spray' that will end up all over your fabric regardless of your aim – use chipboard to cover the entire piece except for the stencil area to prevent any sort of splatter (not an issue with the gold or silver glimmer spray), 2. the gold and silver glimmer spray tended to bleed quite a bit – I found it best to get about 6-8″ above fabric and quickly swoosh over stencil area with a light flow (the bleed doesn't go away, the watermark look will dry and stay), 3. I needed roughly two cans to finish six cloth napkins and three tea towels which I didn't anticipate, so I did end up making a Michaels run half way through the project.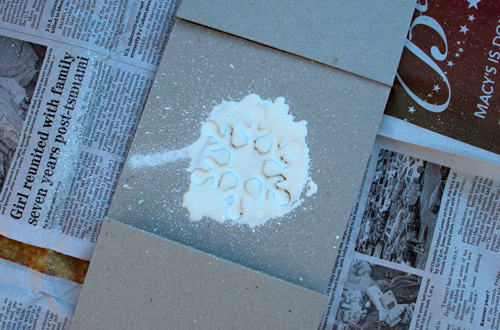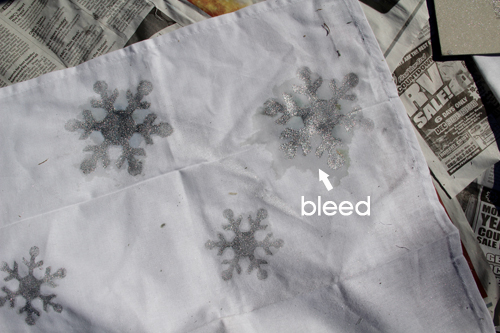 Let dry in the sun for several hours to cure, then wrap up and gift!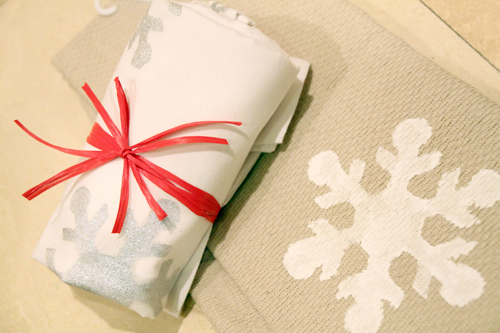 *****************************************************************************************
I played around with different materials, including a terry dish towel, dark brown napkins and even several oven mitts.  I attempted a bit of lettering but the white bled through around the edges.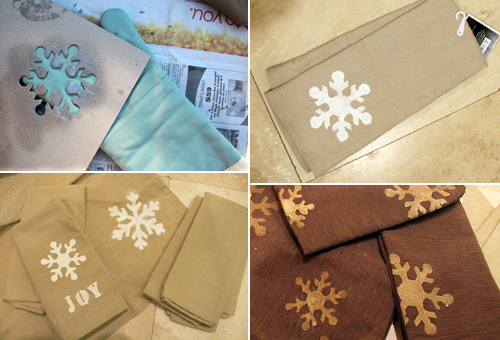 In the end, the projects that I ended up gifting and loving the most were the white flour sack tea towels and the light blue patterned napkins I found at Target that I covered in a few subtle silvery snowflakes.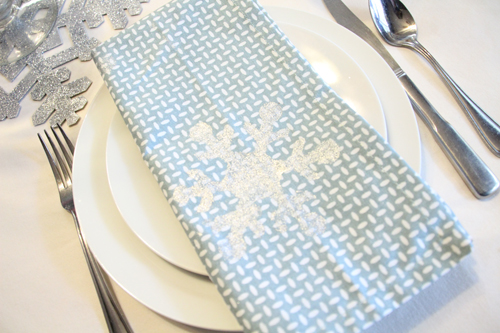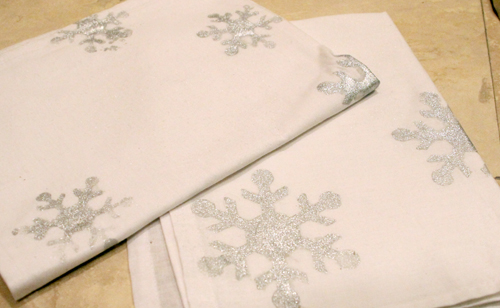 The tea towels each received three or so small snowflakes and two large in one corner so that about 1/3 of the towel was covered with a random pattern.
The napkins were painted with three ish snowflakes in one corner in a random pattern. Having some snowflakes just half on the napkin helped to create a random and pretty look.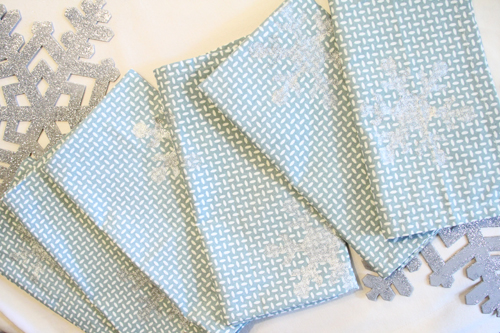 It was a fun project! Simply Spray is revolutionary in that it's the one and only aerosol fabric spray paint brand (I've heard the spray bottle versions are super messy) and it's really fun to work with. Be prepared to mess up on a few of your fabrics (I bought eight cloth napkins to create six) and make sure to set up a station covered in newspaper for painting and drying. I think my mom, mom-in-law, aunt and cousin dug their new towels, napkins and mitts.

Tags:
Blue
,
Crafty Solutions
,
Dinner Parties
,
DIY
,
Fabric
,
Paint
,
Parties & Entertaining
,
Silver
,
Tutorial
,
white
Posted in
Crafty Solutions
,
DIY
,
Holidays
,
Parties & Entertaining
,
Product Review
|
Comment »