November 28, 2011
Hope you had a wonderful Thanksgiving! We spent ours with family from both my mom's and dad's side and I had the chance to catch up with friends from my hometown over the weekend. It was a really nice four day break from the usual hustle and bustle.
The best part about Friday, November 25? Christmas music. I ventured out for a black Friday sale or two with a friend but what I loved even more than the discounts was 'Jingle Bells' playing on the radio! My favorite holiday has finally arrived.
It's not too early to start decorating, right? Here's a little Christmas tree project I recently put together for our guest room: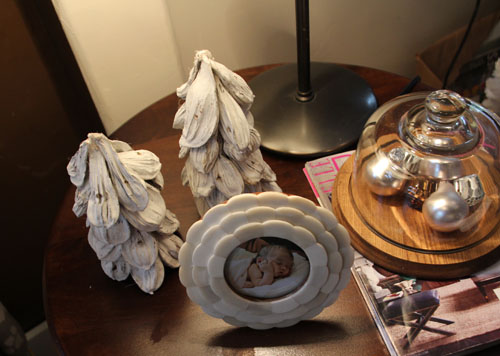 The little white washed Christmas trees are made out of wooden seed pods and cost a mere $1 each to make. Their current home is on the sweet new pedestal side table that we just recently found on major sale at World Market: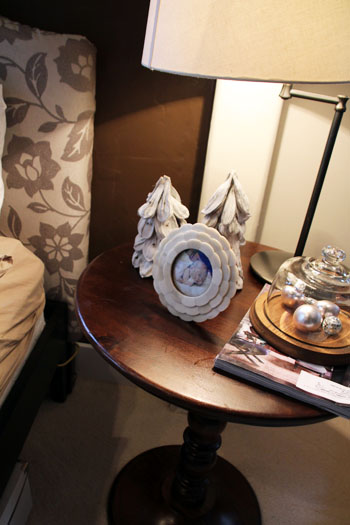 Sorry about the awful lighting. I assembled my diy trees in our living room late at night while watching a movie with Kevin.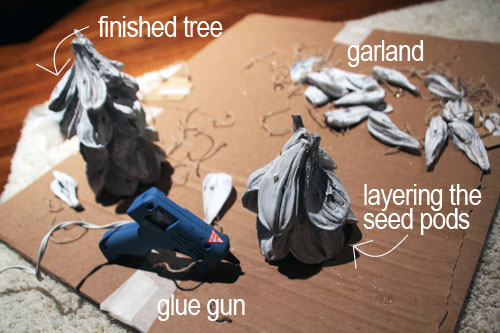 I was inspired a while back to build little driftwood Christmas trees after seeing trees like this or these, but finding the right driftwood was near impossible (so jealous of all those that live on Lake Michigan). I searched high and low and they do sell bundles on Etsy and even eBay, but boy are they pricey little bundles.
Then when I was perusing our local West Elm, I came across the neatest white washed wooden 'pods' (or giant seeds?) in hanging strands in the clearance section. Each bag had been marked down from $16 to $.97. Sweet, really really sweet. (I've searched and searched for a West Elm link but it seams these garland strands are waaaay last year and might only be available at a West Elm in your city, they're called the Nipa Pod Strand and they might be at the very bottom of the Sale bin.)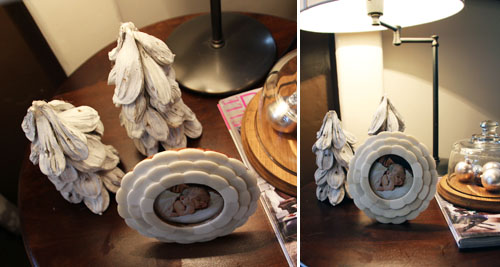 Assembly was easy. I cut my garland strands apart and built little pyramids by stacking the pods (it kind of reminded me of how you lean pieces of wood against each other to start a campfire) and gluing into place with a glue gun. Then I continued to layer.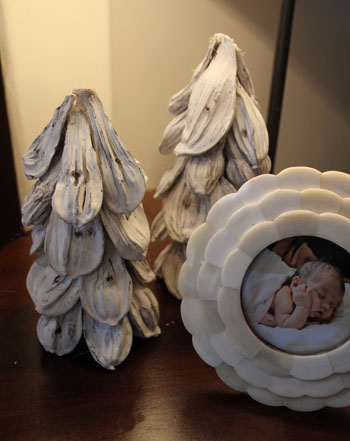 I love the results – they're the perfect little shabby chic accent for the guestroom this Christmas and the colors tie in great with the neutral space.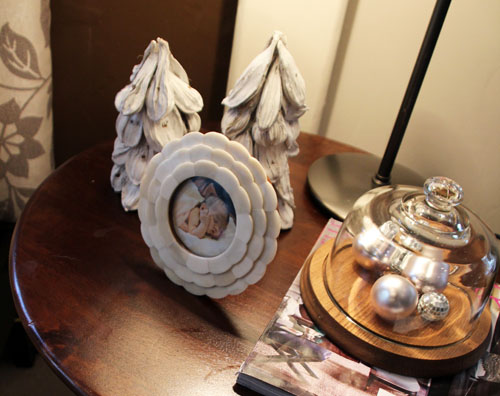 Christmas is here!

Tags:
Brown
,
Christmas
,
Crafty Solutions
,
Decorating
,
Home
,
Tutorial
,
white
,
Winter
Posted in
Crafty Solutions
,
DIY
,
Holidays
,
Home
|
3 Comments »
November 16, 2011
As mentioned last week, Maryam from Milk-Friendly will be joining us as a regular wardrobe style board contributor! If you're new here, you can find a mix of collages over there in the left hand sidebar under the 'Wardrobe' button, and now I'm hoping to make sure it's fresh and regularly updated with great ideas by inviting Maryam to help me out.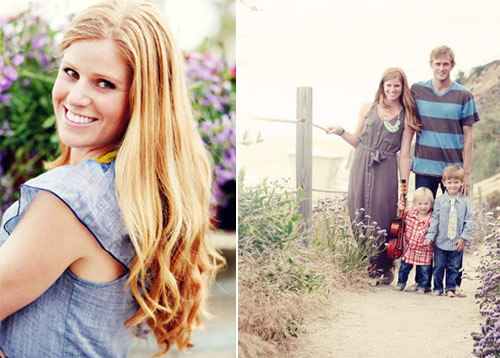 I love Maryam's casual but fashion-forward sense of style. Blending just the right amount of trend with practical, every-day classics, her looks are very Anthropologie-esq (as evident by her clothing and photoshoot posts on her blog over here). Maryam is great with statement pieces (a big, chunky necklace or fabulous shoes) and they always look so effortless on her, even if it's for running errands or a trip to the park! Which is why I know that everyone will appreciate the inspiration she shares. (PS check out that adorable family!)
I'll let her take over from here:
********************************************
Hello Dear Pepper Readers!
I am so honored to be able to contribute to Morgan's already fabulous styleboard gallery. I am a mom of two young boys (22 months & 3 1/2 years) and I am determined to keep my fashion identity throughout these (sometimes) crazy years of motherhood.
We are also in the midst of packing up everything here in San Diego, CA and moving to Oahu, HI. Very exciting and insane at the same time! And as much as I am dying for the warm weather year-round, I will honestly miss all my cold-weather fashion. So being able to create more styleboards pertinent to places with changing seasons is very fulfilling to me. So thank you!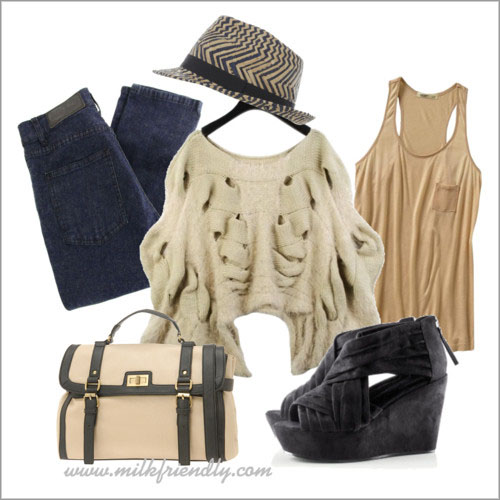 For some reason I was very attracted to this funky chunky sweater. Isn't it intriguing? I adore pieces like this because they have something interesting to say, without being totally out there. In my mind, I imagined tucking in the tank to the high-waisted skinnies, which I know not every lady is comfortable with. But I truly love the look of it, so I say give it a try (at least in the privacy of the dressing room.)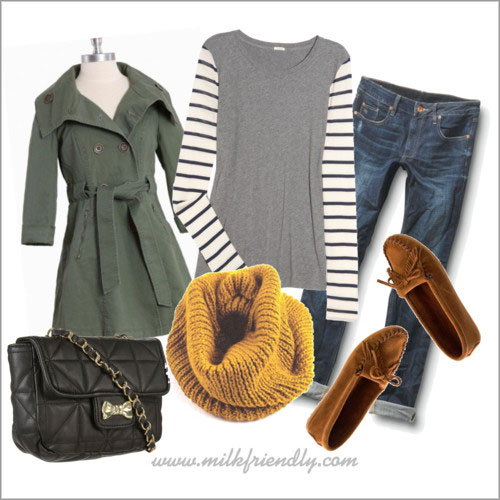 A great trench is always chic, no matter how much fashion trends seem to change. It's one of those items you leave on the entrance coat rack, and grab in a rush when the kids need to get out for a change of scenery. I thought this trench was cute and a little untraditional. Also, I am one to wear stripes every single day, but I know that it doesn't always work for every size and shape. This long sleeve from J Crew has just enough arm stripes without being too overbearing and can be paired with a fun cowl neck scarf or an interesting necklace.
Well that's it for now from me. I look forward to coming back and sharing more style inspirations with all of you!
********************************************
Sources, links (even pricing for all of the pieces) and more inspiration found over here at the full gallery!
Tags:
Fall
,
Fashion
,
Winter
Posted in
Wardrobe
|
4 Comments »
October 10, 2011
It's been far too long since that little button marked 'Wardrobe Style Boards' over there in the left sidebar has received any attention.
I'm here today with a fall update! I've loved the lace inspiration that has inspired both summer and fall clothing lines this year and I'd love to find a casual way to incorporate it into an everyday wardrobe.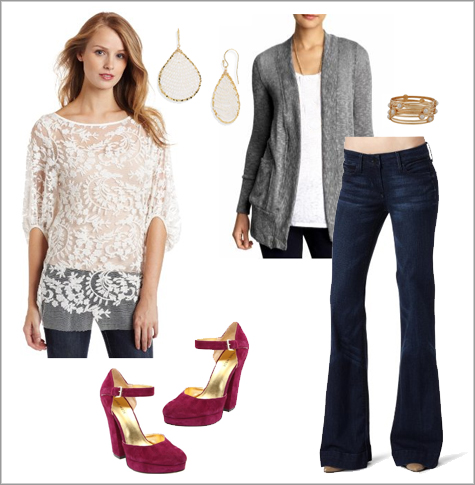 Enter the lace tunic. An ideal top that could be tucked in, belted, worn with a skirt, over a dress or as a layering blouse over trouser jeans for a Casual Friday at the office. So versatile and absolutely a piece that can be both dressed up and dressed down for any type of occasion.
Pair with a pop of color in the form of adorable pumps or handbag, a super soft fall cardigan and simple gold jewelry and you have my fall staple. Minus the heels… perhaps a pair of classic black or cheetah print flats for everyday wear and tear.
For more style boards, head on over here or click that 'Wardrobe' button in the sidebar to the left! Prices and sourcing after the jump.
Tags:
Fall
,
Fashion
,
Summer
,
Winter
Posted in
Wardrobe
|
3 Comments »