March 24, 2010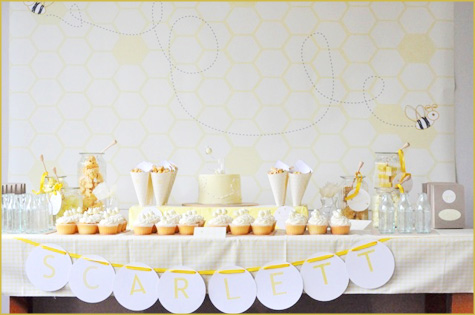 A 'bee'autiful first birthday party by a crafty mom (who happens to own Scissors.Paper.Cake) to which I can say I.Love.Much. How wonderful is this party for her daughter Scarlett's first birthday?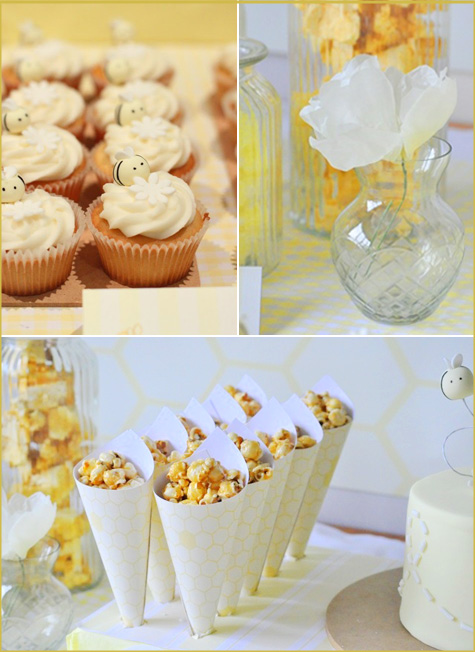 From the adorable dessert buffet (and backdrop!) to the hand-designed invites and labels, I can't decide which detail I like best. The color is wonderful though, isn't it? I love to see spring parties in such a light and happy shade! Many more adorable pictures after the jump. Read more »
Tags:
Baby Shower
,
Bridal Shower
,
By Color
,
Crafty Solutions
,
Decorating
,
DIY
,
Kids Party
,
Parties & Entertaining
,
Wedding
,
Yellow
Posted in
Parties & Entertaining
|
5 Comments »
March 8, 2010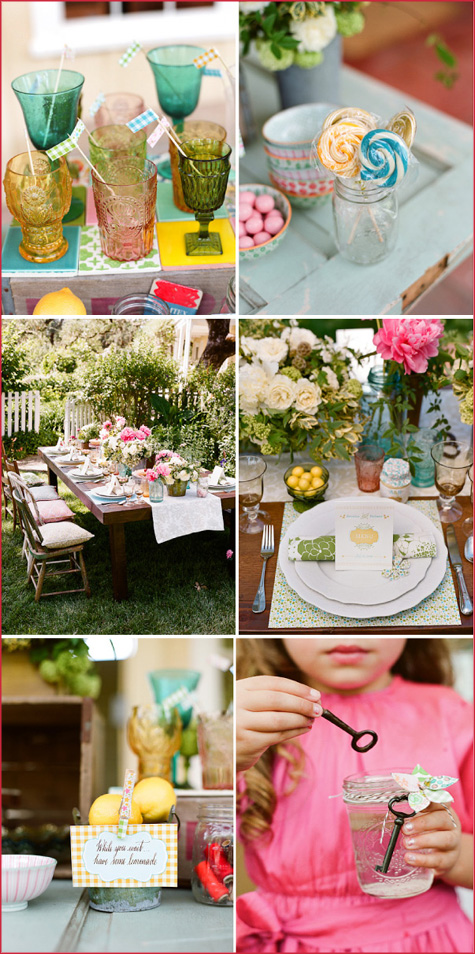 Ready for a little spring eye candy? I almost fell out of my chair when I came across this absolutely adorable 'recycled chic' backyard party. I'm loving the idea of a *sweet* celebration for the coming months!
A vintage candy & cakes theme would work just as well for a shower, a wedding or even Easter.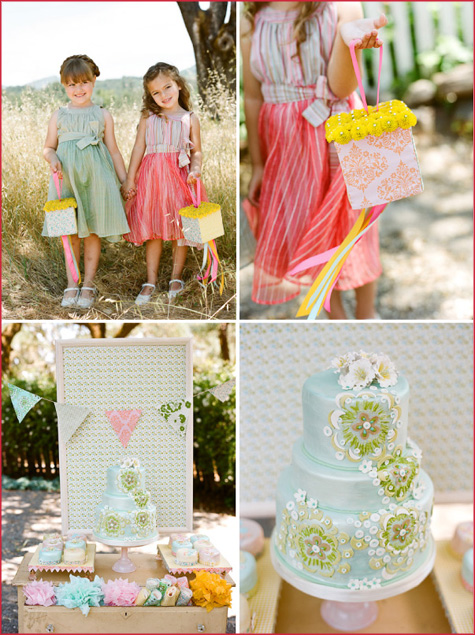 Style Me Pretty shares this lovely photoshoot, complete with colorful poms, a delicious dessert table (make that the most adorable bookshelf you've ever seen!) and vintage place settings. I'm head-over-heels in love with every detail.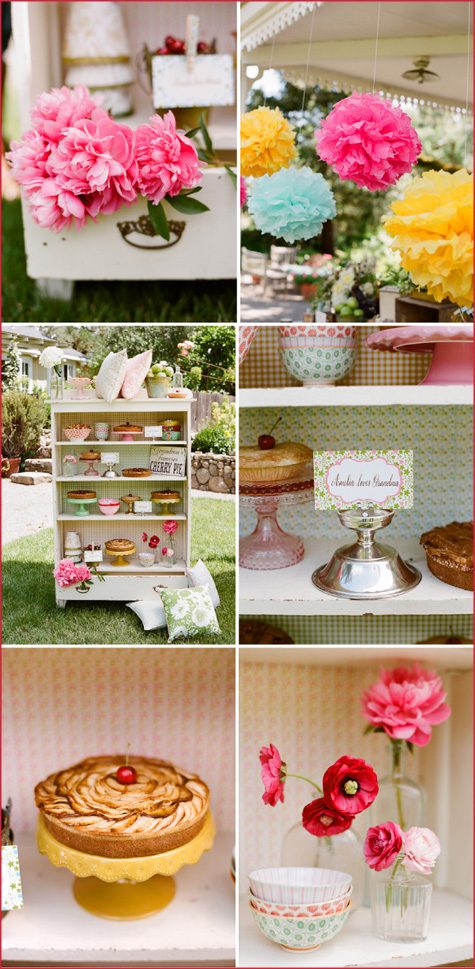 I can't decide which perfect little piece of this party I like best. Is it the mis-matched paper prints (on the signs, as drawer liners, the background for the cake table, as place mats…) or the amazing floral designs (did you see that tablescape up top??) or the mouth-watering desserts!
More delicious photos - including the invitations, adorable handmade pillows and petite cakes - after the jump! Read more »
Tags:
Baby Shower
,
Birthday
,
Bridal Shower
,
Cake
,
Decorating
,
Desserts
,
Dinner Parties
,
DIY
,
Easter
,
Kids Party
,
Parties & Entertaining
,
Patterns & Color
,
Pink
,
Wedding
,
Yellow
Posted in
Parties & Entertaining
|
13 Comments »
March 2, 2010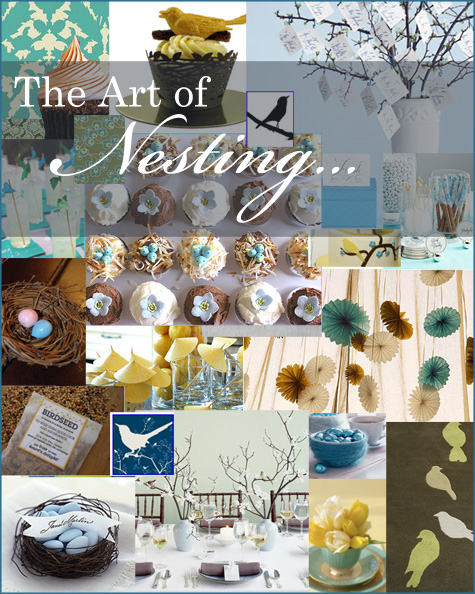 I've been working on a special shower for a dear friend… and have some delicious ideas up my sleeve. Here's a little sneak peek at the inspiration for the celebration.
As I watch all of these mama's-to-be feather their nests with the anticipation of a little one, I couldn't help but be inspired to turn the theme into a shower that reflects the age old art of nesting. Whimsical blues, teals and yellows… milk glass cake stands and thrift store goblets… perhaps a few branches and paper accordion rosettes? So fun to plan.
We're not following the traditional Saturday afternoon etiquette either. I jump at every opportunity to where one of my favorite tea party dresses, but instead we'll host this shower mid-week for a dessert and latte bar celebration for a twist on the everyday baby shower. Plus, it means that most of our guests will likely be in town (no weekend plans to stand in the way) and our budget is a bit more friendly without the cost of a meal.
Lauren Lee of L&Co., one of my co-hosters, created these beautiful invites that are in the mail! Can't wait to share the details of the day soon.
Tags:
Baby Shower
,
Blue
,
Bridal Shower
,
Decorating
,
Parties & Entertaining
,
Yellow
Posted in
Parties & Entertaining
|
5 Comments »