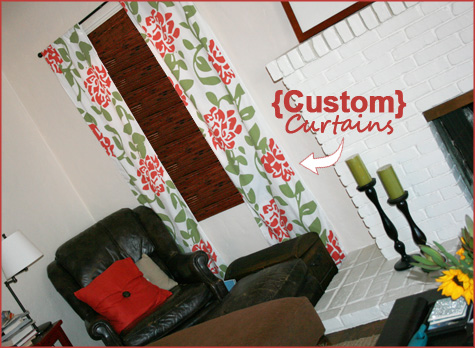 My living room is a room in progress: from day 1 of purchasing our little Spanish cottage in San Diego, it was my goal to get the living room in livable-lovable shape despite the rest of the construction in and around the house. This would be the room where we'd unwind from the day, congregate with friends, sip wine and read a book while a fire warmed our feet. My room requirements included friendly, cozy and just a touch of modern.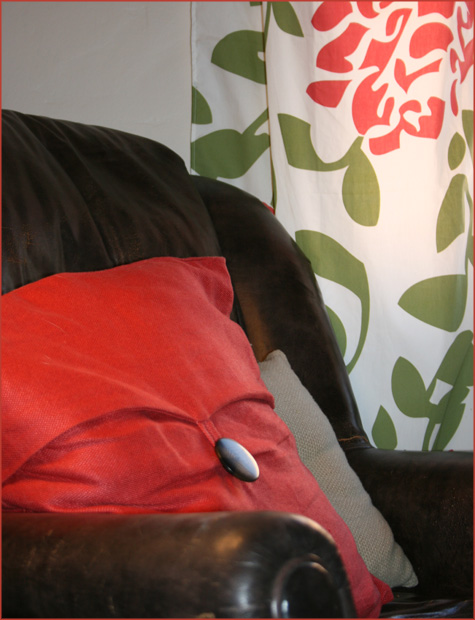 I'll pause here for dramatic effect… and to keep this post short. But follow the jump to continue my living room adventure & learn about my new favorite site: Spoonflower!
I started with a clear image of the living room in my mind — it would be a cross between Anthropologie chic and your Grandpa's cozy den. I found a great set of Pottery Barn bookcases from Craigslist, we invested in a big comfy sectional couch, used black and white photos of family, friends and our wedding generously around the room, and bought a beautiful rug for the reddish brown hardwood floors. My husband's smoking chair (a 30 year old piece he inherited from my Dad — neither smoke) had to be added despite my protests (see big, brown leather chair above).
My accent colors to compliment the rich browns (and add a bit of life to the cozy den feel): a sage green and raspberry red. The throw pillows were easy and admittedly change regularly, BUT try as I might, I could not find those 'Anthropologie chic' curtains to top off the space — I searched online as well as every department, specialty & fabric store I could think of — but that's the problem with having the 'perfect' image in your head! Nothing else will do.

On a whim I googled 'custom fabric' and I discovered every perfectionist-gone-crafty's favorite site: Spoonflower. Here, you can design your own fabric patterns (as a graphic designer I use Illustrator and Photoshop, but you can even scan paper drawings) and they will print any yard quantity. And now I have new curtains! Despite some color issues (they happily reprinted when the original yards came back a stale green and orange — I highly recommend asking them to mail you a 'color chart' before you order) the curtains came out just as I had hoped!
I'm really loving creating my own patterns and now I'm off to the next project… stay tuned.